Want to bring something unique and symbolic to your wedding ceremony? We've done a deep dive into the custom of handfasting, and spoken to an expert who explains what makes this ancient tradition so special.
Every wedding ceremony is unique because no two couples are alike. But for couples wanting to go the extra mile to have something out of the norm in their nuptials, you should definitely check out a handfasting ceremony.
We recently spoke to Gold Coast wedding celebrant Marilyn Verschuure from Marry Me Marilyn about handfasting and why couples across Australia want to get literal about 'tying the knot'.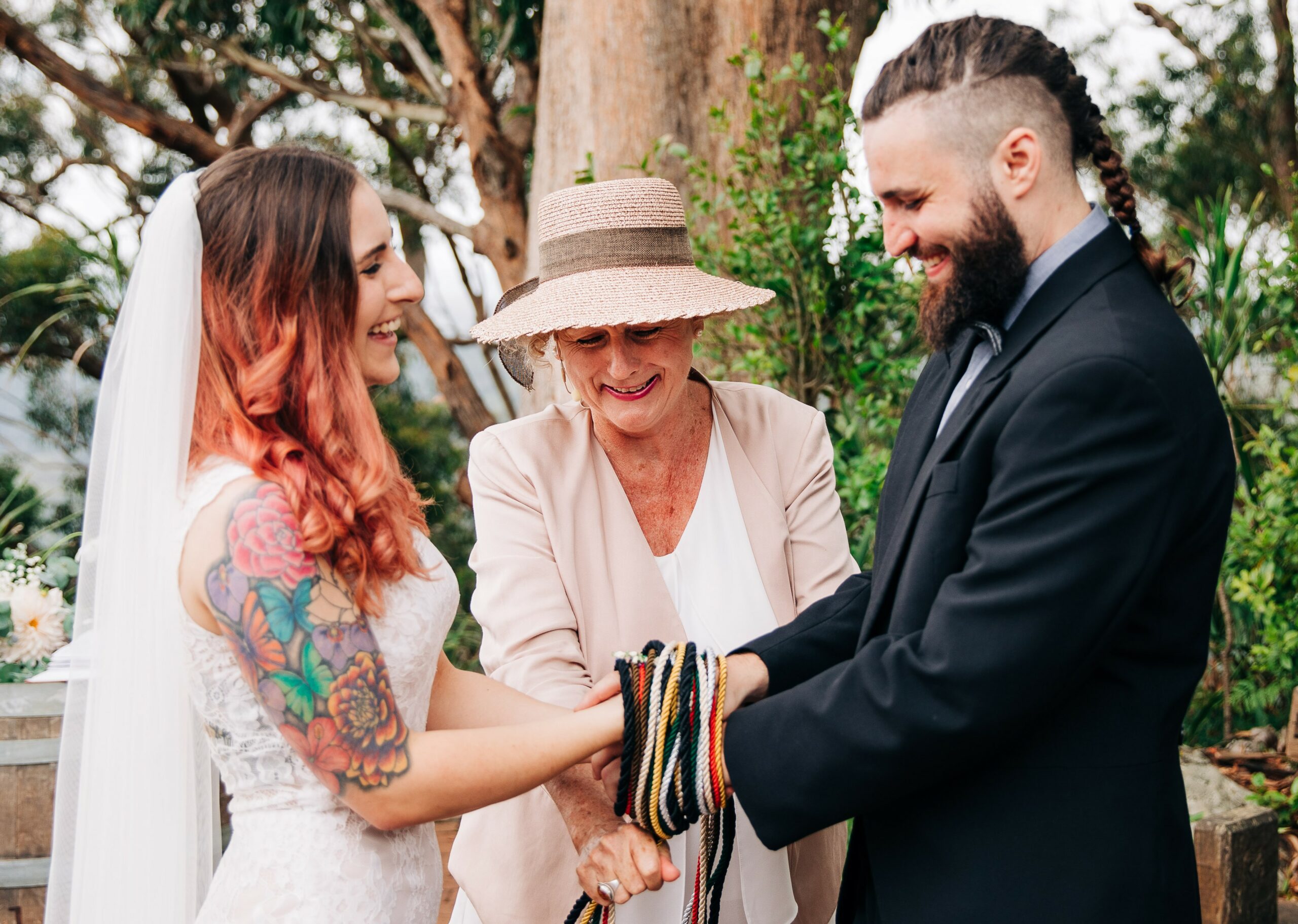 What is a handfasting ceremony?
An enduring marriage tradition with ancient Celtic origins that pre-date Christianity, handfasting is the act of binding a couple's hands with braided cloth, cords, or ribbons. Typically seen in Wiccan and Pagan ceremonies, handfasting is rapidly becoming a mainstay in modern weddings across Australia and internationally.
The term handfasting comes originally from the Old Norse word hand-festa meaning to strike a bargain by joining hands and the Anglo-Saxon word handfaestung. Many cultures have a version of handfasting, including Chinese, Indian and Hindu, Indigenous American, Islander, and Maritime.
Marilyn from Marry Me Marilyn reports that original Celtic and Scottish handfasting is the most popular request she gets from couples. "It is often chosen by couples whose heritage includes handfasting as a marriage tradition or couples who are nature-oriented or because it is beautiful, magical and moving," Marilyn explains.
This style of handfasting incorporates the four elements: Fire, Air, Earth, and Water, as well as the four cardinal directions: North, South, East and West. Marilyn combines this with a traditional Scottish pledge.
What happens during a handfasting?
The handfasting process can be adapted from couple to couple. Your celebrant will explain the ritual and what it means to you and your partner so your guests are aware of what's going on.
Typically, the handfasting ritual occurs just after the ring exchange.
They will define that it symbolises couples binding their lives together, and the union of your dreams and plans for the future. The couple then joins hands, showing that you are freely entering into the marriage.
As your celebrant reads a set of vows, they (some couples ask family members to take part here) wrap a series of cords around your clasped hands. There isn't a specific type of cord; you could use coloured ribbons (that match your wedding colours!), braided cloths, or a separate cord for each vow.
Your celebrant will then announce that the binding is complete, and you and your partner can exchange any additional vows you want to share. At this point, some couples with keep the cords on until they jump over a broom.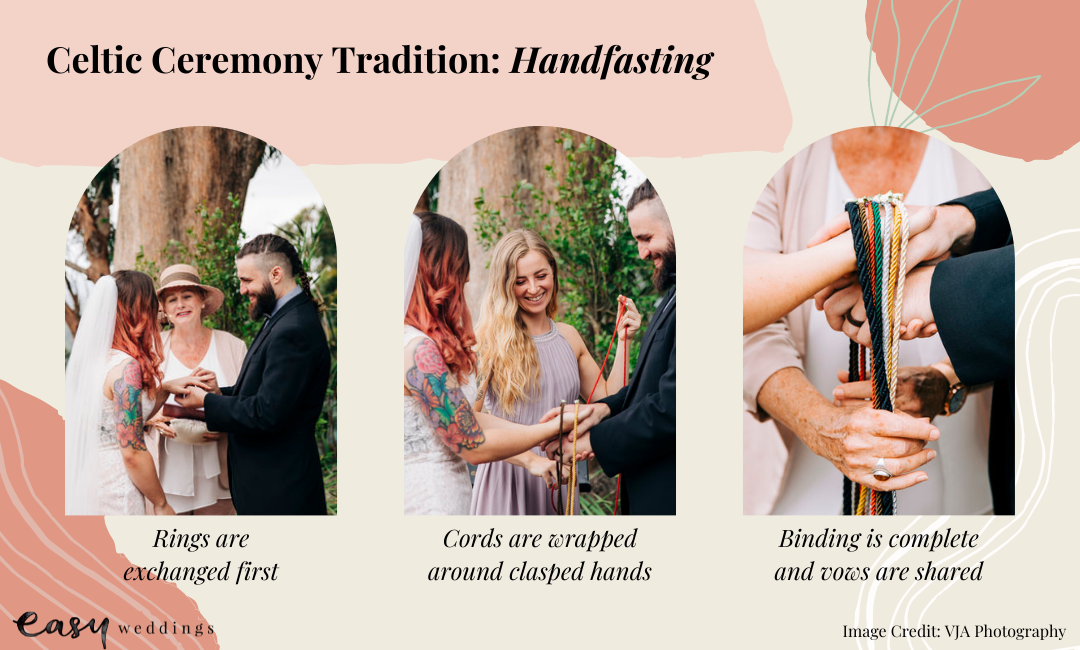 Can I incorporate handfasting into a more traditional ceremony?
Marilyn says, "Absolutely!"
There are no rules when it comes to your wedding ceremony (though you do have to follow legal proceedings to make it official), so many couples find that incorporating a handfasting into their traditional ceremony works seamlessly. Many celebrants are able to perform both the standard ceremony and a handfasting.
"These days most couples use the handfasting ritual as a highlight within their legal wedding ceremony or it can be used for commitments and renewal of vows," Marilyn says.
"This combination of the ancient and modern lends itself well to creating ceremonies that are unique and personal to each individual couple."
Do celebrants need a special qualification to perform a handfasting ceremony?
Fortunately, you don't need to find your local Celtic druid to perform the handfasting at your wedding. Any celebrant can learn the handfasting custom without requiring special qualifications. However, you should definitely ask your celebrant if they've performed handfastings in the past, and how familiar they are with the process.
To really evoke that sense of ancient tradition and symbolism, Marilyn recommends finding a celebrant who has a special presence about them, as well as knowledge and experience performing handfastings that are authentic or original.
"It is also important that they know how to choreograph the handfasting to create the most beautiful energetic connection between you and your family and friends and advise on the best photographic opportunities to capture your special moments," she adds.
Need help finding a celebrant who can perform a handfasting? Our expert team can point you in the right direction.
What questions should I ask my celebrant about handfasting?
Want to introduce a handfasting element to your wedding ceremony? Here are Marilyn's top questions you should ask your celebrant.
How many handfastings have you performed and what type do you offer?
Do you make handfasting cords?
Can you advise me on making my own cords?
Where can I buy the cords?
To work with Marilyn on your Gold Coast, Brisbane, or Northern NSW ceremony, enquire here.
---
To find a marriage celebrant who can talk through the many worldwide and historic wedding ceremony traditions with you, head to our directory.
---
Prefer more hands-on help finding a celebrant? Our Wedding Packages are a personalised option to help you assemble the right team for your perfect day.
---