There's nary a bride who wouldn't like clear, healthy skin on her wedding day. Here's how you can improve your skin from the inside out.
It's an occasion where all eyes will be on you. You've spent approximately 50,000 hours thinking about your wedding, paid for professional wedding photography, and will be talking to every Tom, Dick, and Harry from both sides of your family. So, you'd very much like for any underlying pimples to nick off, thank you very much. Put simply, on your wedding day, you want your skin to bring its A-game and then some.
Of course, professional-grade skincare and lots of sleep will do you wonders, but if you're looking to address your skin health holistically, there's another aspect you're going to want to focus on: gut health. While it may not be the first thing that springs to mind when you think about glowing skin, your gut health is essential in how your skin looks and feels.
Find your wedding skincare specialist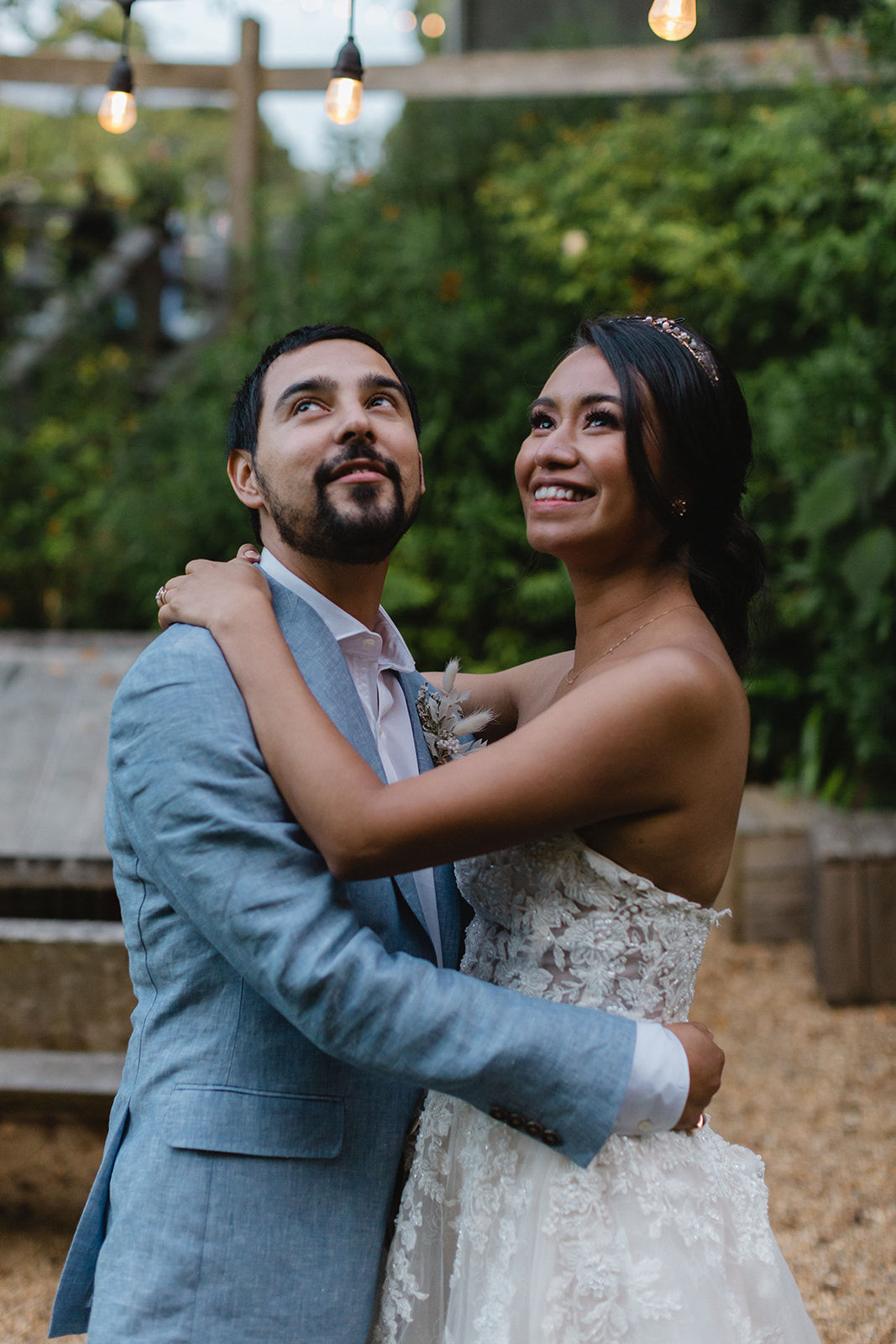 Clinical nutritionist, Bridie Williams (@nourishedbybridie), says this is because our gut and skin are in conversation with one another. "There is actually a two-way conversation happening between our skin and gut called the gut-skin axis," says Bridie.
"It's a conversation of sorts that signals backwards and forwards that influences our skin structure, the production of skin oils and causes, or helps reduce inflammation, depending on the health of our gut. This is why a healthy, diverse gut is essential for glowing, healthy skin."
View bridal hair and makeup artists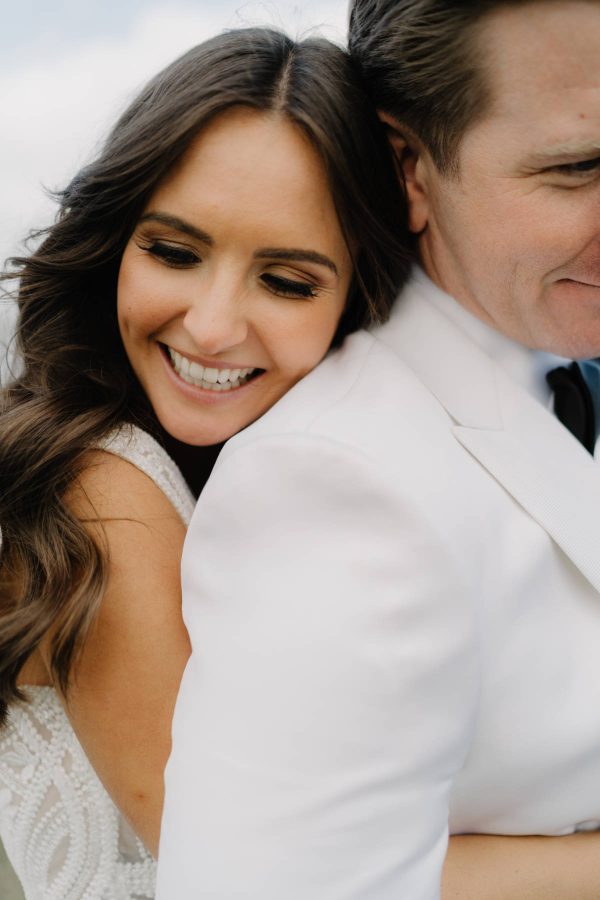 Foods for glowing skin.
So, how does one look after their gut health? According to Bridie, there are three things to consider. "There are three key principles when it comes to gut health: more of the good bacteria (probiotics from yoghurt, kefir, sauerkraut and kimchi), what the good bacteria like to feed on (prebiotics from bananas, leeks, oats, asparagus, onions), and foods that nourish the actual structural integrity of the gut such as glutamine", says Bridie. "The gut also likes a variety of nutrients found in fruits and vegetables".
Similarly, naturopath and member of the Australian Traditional-Medicine Society, Rachel Aldridge (@rach_in.natures.hands), also suggests upping your intake of vegetables and increasing the amount of probiotic-rich foods in your diet. Here, Rachel shares her best tips for clear, radiant skin.
Plenty of water. Hydration and going to the toilet is a big one and something so easy to address. I like to use the rule of thumb to drink 3% of my body weight a day. So, if you weigh 60kg, you should be at least drinking 1.8L of water a day.
Enjoy some probiotic foods. This includes yoghurt (if you have skin issues, I would avoid dairy, so head to coconut yoghurt), kombucha, miso, kimchi, tempeh, kefir, fermented vegetables and natto.
Increase your veggies! This is literally the easiest thing anyone can do for their gut health! The recommended daily intake is 5 serves a day – with 1 serving equal to a cup of salad or 1/2 cup of cooked veggies! Vegetables are rich in fibre, and in some cases, this fibre acts as a prebiotic supporting the growth of bacteria in the gut. If bloating is an issue, then you may want to steer clear of eating large amounts of typically 'windy' vegetables such as broccoli, cauliflower, cabbage, and sprouts.
Increase foods high in polyphenols. These are essentially colourful plant-based foods. They can act as antioxidants (reducing free radicals that could damage your cells and increase your risk of disease) and reduce inflammation.
Increase foods high in essential fatty acids. This includes oily fish, avocado, olive oil, hemp seeds, and flaxseeds.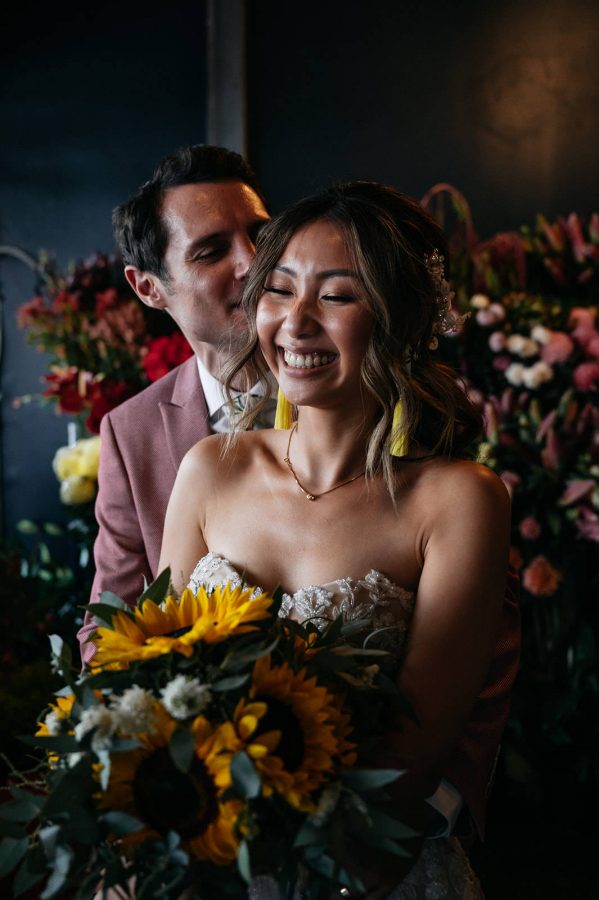 What vitamins do I need to improve my gut health?
If you're looking to go one step further, and want to nail down the vitamins and minerals needed for radiant skin, Bridie has you covered.
She explains that for our skin to look and feel its best, we need "lots of vitamin C – which is required for collagen production, vitamin A, which helps with healthy skin cell turnover, and zinc, which helps to prevent and can help treat breakouts."
You may also like to increase your consumption of good fats, which can assist with healthy oil production and help reduce inflammation.
Foods to avoid for better gut health.
While we don't believe in dieting or restrictive eating, there are certain 'sometimes' foods you may want to consume less of if you're after clearer, healthy skin.
These 'sometimes' foods can simultaneously damage your gut health and promote inflammation, which is not something brides usually want when they're about to have their photo taken!
'Sometimes' foods include refined carbohydrates, such as white bread, white pasta, white rice, refined sugar, and trans fats (which you'll find in all kinds of delicious but not-so-nutritious foods, such as cakes, fried foods, biscuits, and pastries).
Of this, Bridie says, "Some people will also notice their skin health improve if they remove certain foods such as chocolate, gluten, or dairy from their diet, but I recommend you consult a nutritionist before doing this."
As a general rule of thumb, to improve your gut and skin health, aim to eat more homemade food and less takeaway or food from packets.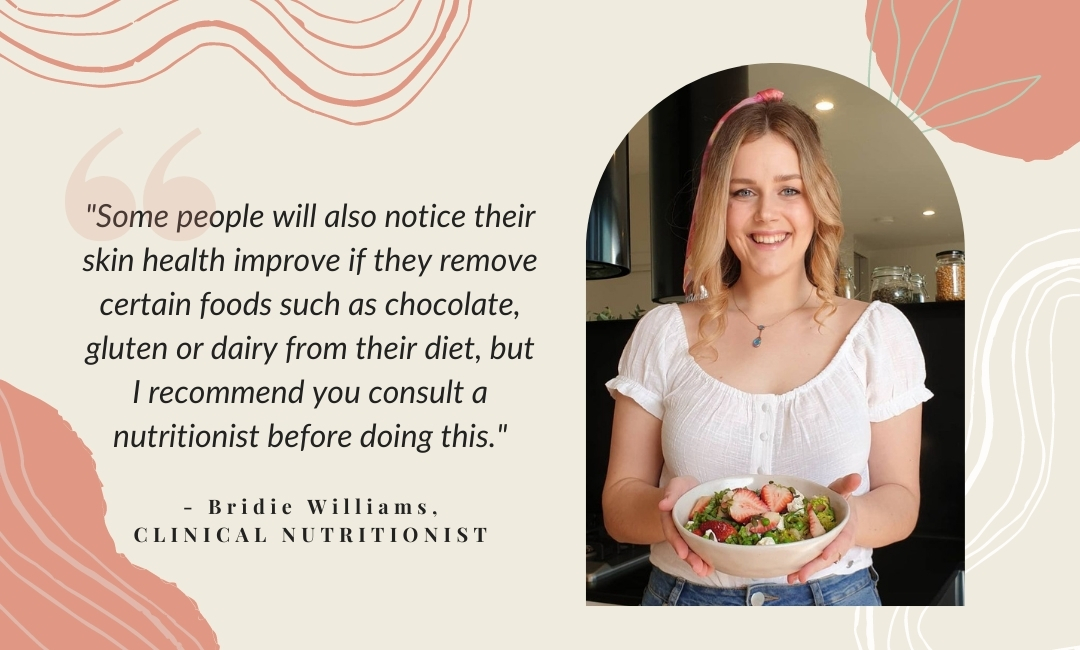 How stress affects your skin and your gut.
Calling all stressed-out brides! If you're looking to rock up to your wedding with a luminous glow and radiant skin, naturopath Rachel recommends you find some relaxing activities to calm your frazzled mind.
Rachel explains, "When we are really stressed, this sends signals within our body to create more hormones, such as cortisol, which is the body's major stress hormone. This can directly affect our skin by increasing sebum production (which can then clog our pores), increasing inflammation and compromising our immune system. Stress also increases inflammation in our bodies".
To help manage your stress, Rachel recommends a combination of exercise, meditation, breathing techniques, and EFT tapping.
Tell me more: Restorative beauty services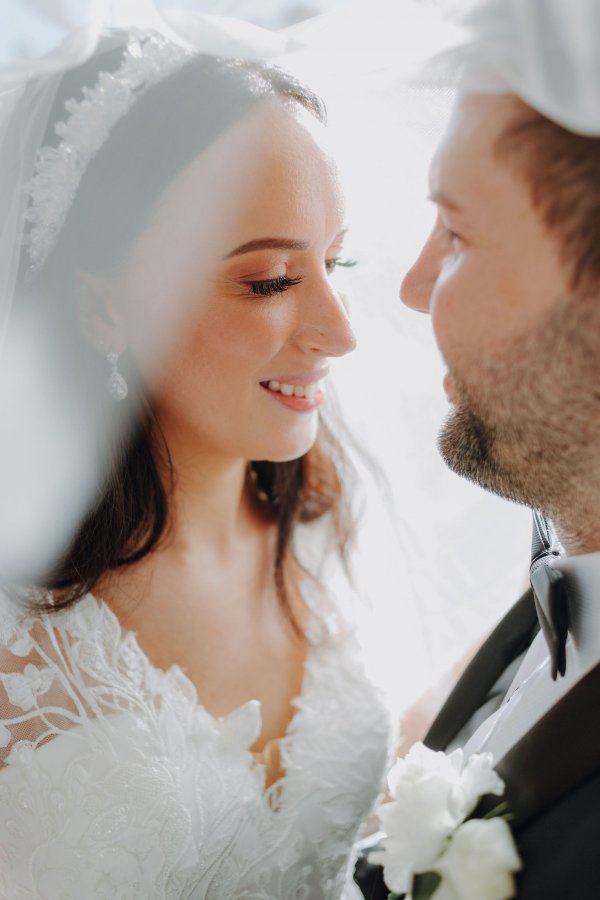 How to get clear skin before wedding.
Addressing your skin from the inside out is a surefire way to improve its appearance; of course, you can certainly give your gut a helping hand by upping your skincare game, too.
Speaking of wedding day skincare preparation, The Lash Code's Kirsten O'Brien says, "Skin prep is so important and key to a flawless look!" Her advice? "Invest in a good skincare regime that includes using sunscreen. Sunscreen is anti-aging as it prevents the UVA and UVB rays, which increases the signs of ageing and pigmentation."
Before googling 'natural skincare wedding' or 'best products for clear skin', stop. For a personalised skincare regimen, you'll want to schedule a visit to your local skin clinic. Professional skin therapists will provide you with a regimen that specifically targets your skin issues, which will help you look and feel your best on your wedding day.
What you need to know about The Lash Code
---
Once you've nailed your pre-wedding skincare routine, find a local makeup specialist who can help make your skin look flawless in our Beauty Directory.
Get your wedding day glow