Now we've established who's in the top 10 most popular marriage celebrants in Melbourne, VIC as ranked by their customer reviews on Easy Weddings, it's time to give some love to the celebrants with fewer reviews, but just as much sparkle. So, without further ado, and in no particular order, here's 7 Melbourne Celebrants with something extra special, as selected by the editor (me) by how entertaining their storefronts are.
Striving to have you and your guests "in stitches", Melbourne celebrant Benny Roff promises to make your ceremony about the marrying couple, instead of just repeating formalities that may have no personal relevance to you. Liking to roll between fun and serious, Benny Roff Fun Weddings promises to keep your guests genuinely entertained and engaged throughout the ceremony. And, as he says, "I'm not sure if it's a testament to my story telling or an indictment on my professionalism, but I seem frequently to be mistaken for somebody the couple knows… I like to think it's the former."
Example review: "This guy! Absolute legend. Benny made this wedding everything we wanted and more! From the awesome introductions and jokes, to recognising the importance of the bond between us, mixing us a cocktail to cement this and symbolise it, to making us feel at ease through the whole lead up, and enjoy the ceremony to the max. We loved it and wouldn't change a thing. His tone, humour, and use of music was spot on. Could not have lucked out with a better celebrant."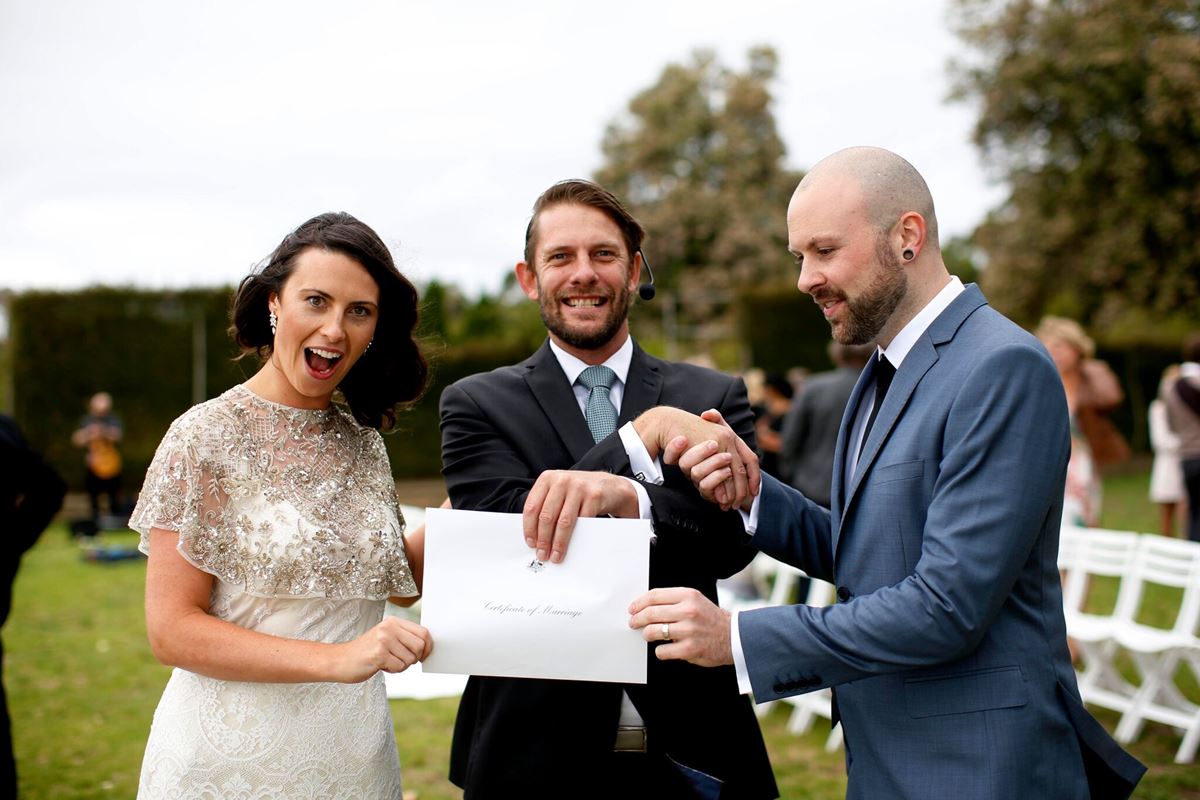 Working with you, Melbourne celebrant Zena Lythgo promises to create an unforgettable experience for you and your guests, and to properly celebrate the love you share and the life you've created together. Striving to make your experience fun and easy, calm and enjoyable, and organised and authentic, Zena Lythgo shares your story – shaped by you, for your people.
Example review: "Zena was an absolute delight to deal with. She made everything easy, we felt comfortable opening up with her to share our story. Everyone commented on how real and beautiful the ceremony was, and that they felt the love in the room. It was exactly what we wanted."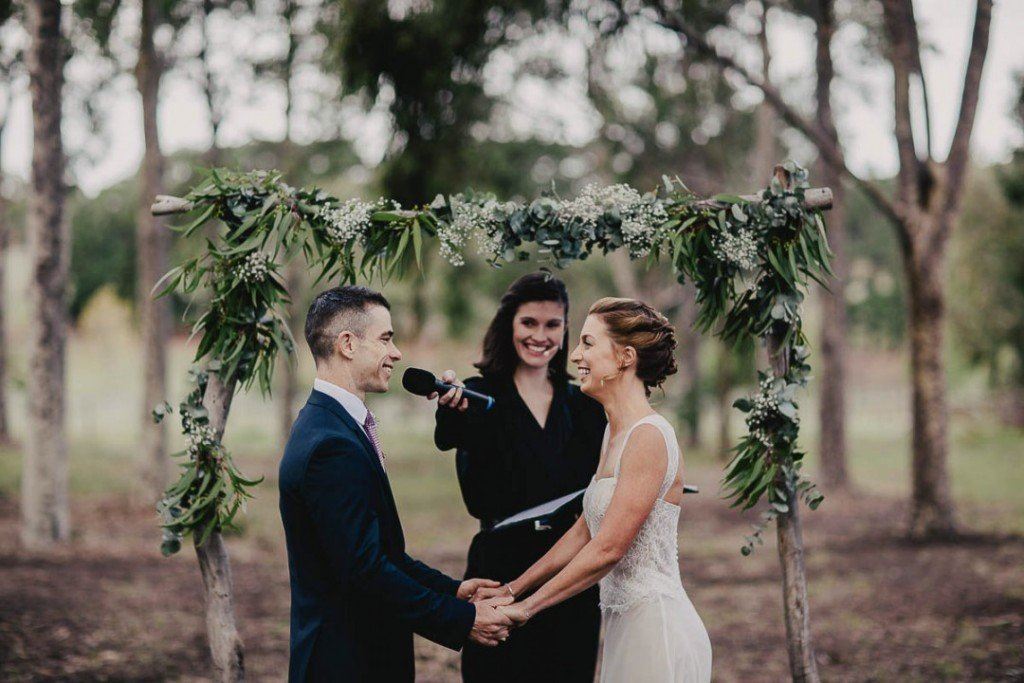 Promising to deliver a "ceremony so fun even your mother-in-law will smile", Paul Bonadio stands for fun, laid-back ceremonies with lots of chuckles and a dose of sentimentality. "I want your favourite uncle to choke on his chewy with laughter," he says. He also offers a 'Pimp My Celebrant' feature, where you can choose what you want him to wear!
Example review: "Paul made us feel relaxed and made us feel like old friends straight off the bat! He made the whole process so easy and so relaxed, and produced an amazingly funny and genuine ceremony for us. Paul Bonadio – Stand up Comedian. Stand up Man. Ten stars out of five."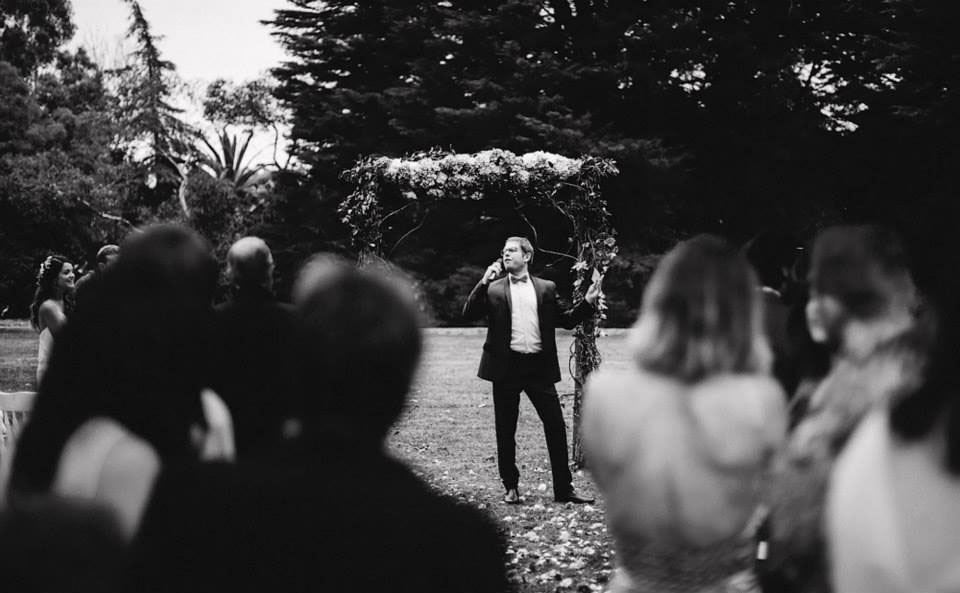 Describing himself as a 'new age celebrant', it's Benn Stone's mission to be the finest purveyor of modern, fun, people-orientated ceremonies "on planet earth." Creating something truly unique and individual for your special day, Benn Stone promises to create a fun, memorable, and moving wedding ceremony, that accurately reflects the values and experiences of the couple.
Example review: "Excellent! Exactly what we wanted – someone modern, fun, and happy for us to say what we wanted! Benn helped us make the things we love about each other into personal vows that weren't too gushy or boring. Our grandparents absolutely loved his style and all the guests commented how engaging he was and how he made the ceremony suit us perfectly. Would highly recommend him to anyone wanting a fun and vibrant ceremony."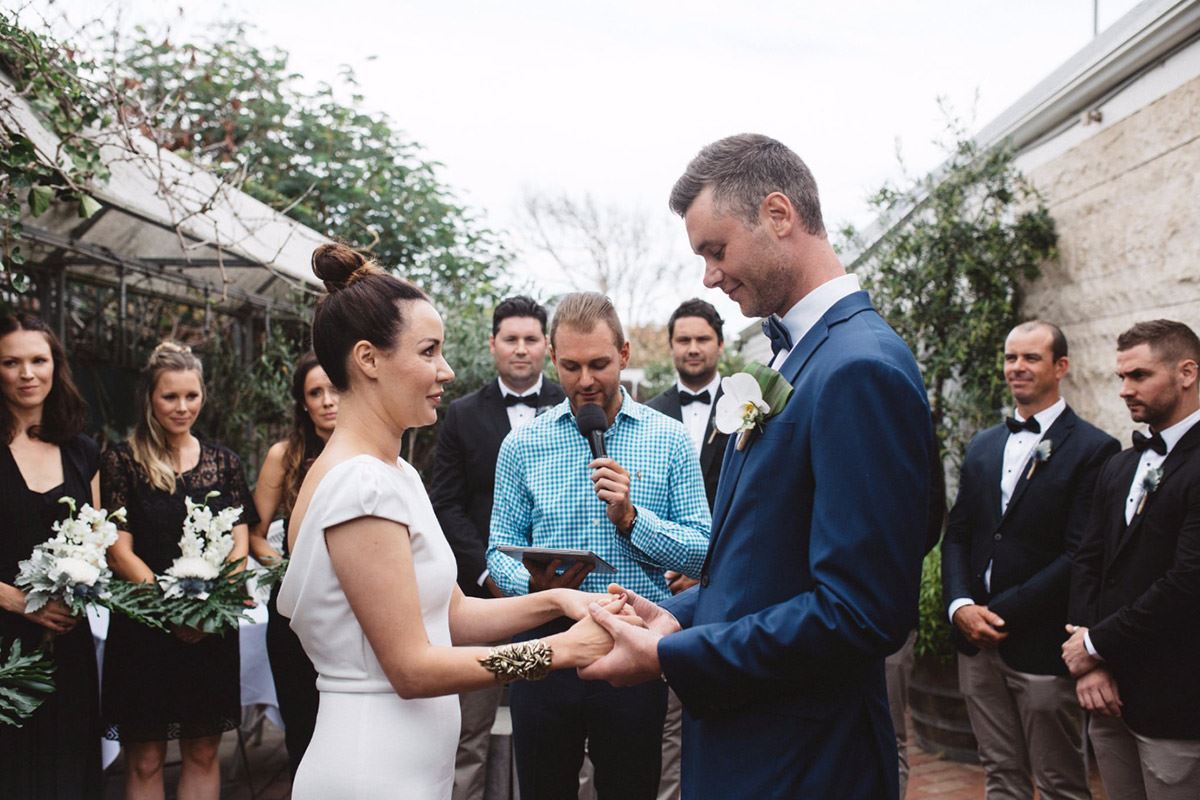 Self confessed "fun celebrant dude", husband, dad, NBA addict, sneaker junkie, hiphop head, and disco lover, Russ Macumber Celebrant understands weddings ceremonies are usually the part of the day your guests sit politely while they wait for the bar to open… But what if your ceremony was fun? Promising to have your guests laughing, crying, and cheering, Russ Macumber guarantees "no cheese – no awkward moments." Check out what other happy couples have to say about their experience with Russ Macumber, Melbourne Celebrant.
Example review: "Russ – what an amazing dude! From the minute we met him we both knew that he was the celebrant for us. We loved his relaxed, funny nature, and his love of music and sneakers! The process was super easy and stress free, and the ceremony was an absolute dream. Russ was able to capture us perfectly and made getting married so fun. His vibe fitted us so well that many of our guests thought he was a friend of ours. We couldn't recommend him more highly."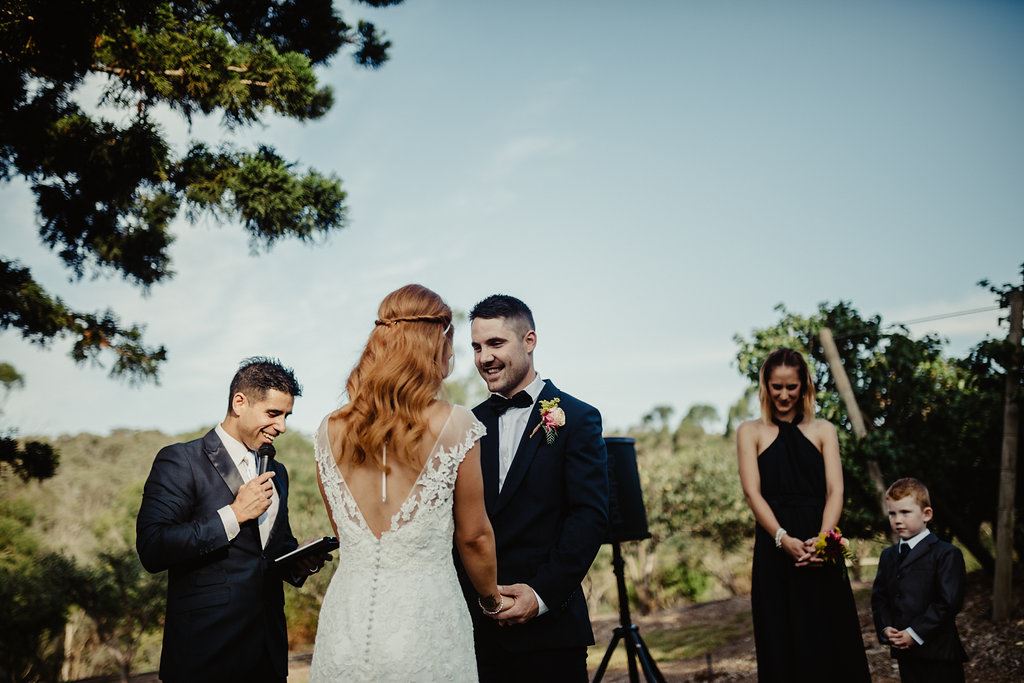 Having experienced a truly great celebrant at his own wedding, Anthony Cribbes strives to do the same for the couples he works with. "I love a good wedding!" he says. Creating a ceremony that's unique and personalised, Anthony promises that no two weddings officiated by him are the same. Anthony Cribbes invites you to talk more over coffee, or "Maybe a cheeky wine or beer if it's that time of the day".
Example review: "Anthony is an absolute rock star. Right from the get go we loved his relaxed and fun style. His ceremony speech was one of the highlights from our day and all of our guests couldn't stop raving about him. We can't thank him enough for what he did for our special day, and would highly recommend him to any lovebirds planning their wedding."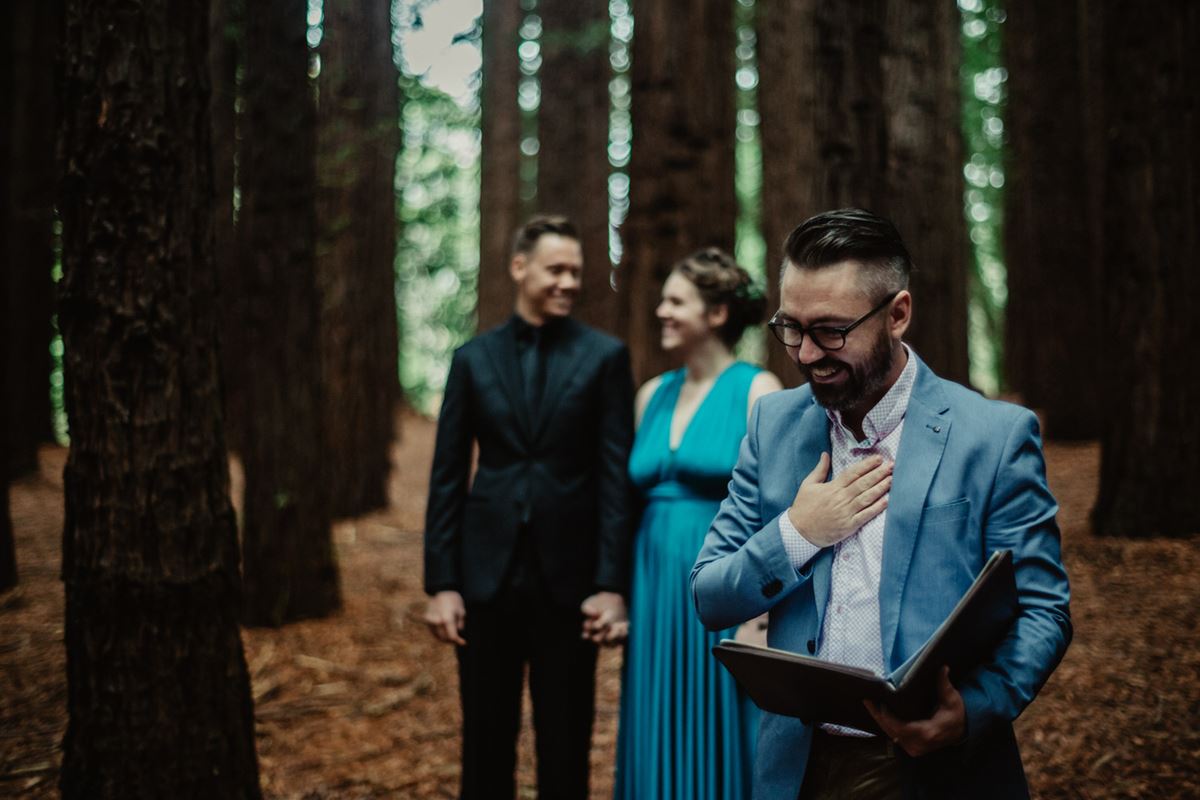 A self-professed 'modern-day celebrant', promises to be that fun, outgoing, open to ideas celebrant you've been chasing! Free of rules and tradition, Matt Finch believes it's his job to create a ceremony that's right for you and your beliefs, inclusive of race, religion, and lifestyle. Whether you're after something classic, or something with a twist, Matt Finch is your guy!
Example review: "Most amazing celebrant ever. Words cannot begin to describe how thrilled we were with Matt Finch as our celebrant. His professionalism and personality shines through from the first meeting. Matt spent the time getting to know us to ensure that our ceremony reflected who we are and we couldn't have been happier with the result. Matt helped us guide through preparing our vows and the ceremony, and created the most amazing ceremony that our guests continue to rave about!"