Excited to discover some of the most creative wedding menu ideas around? From gourmet barbecues to interactive dining experiences, your options are endless. Here are some of our favourite innovative menu options for you to consider.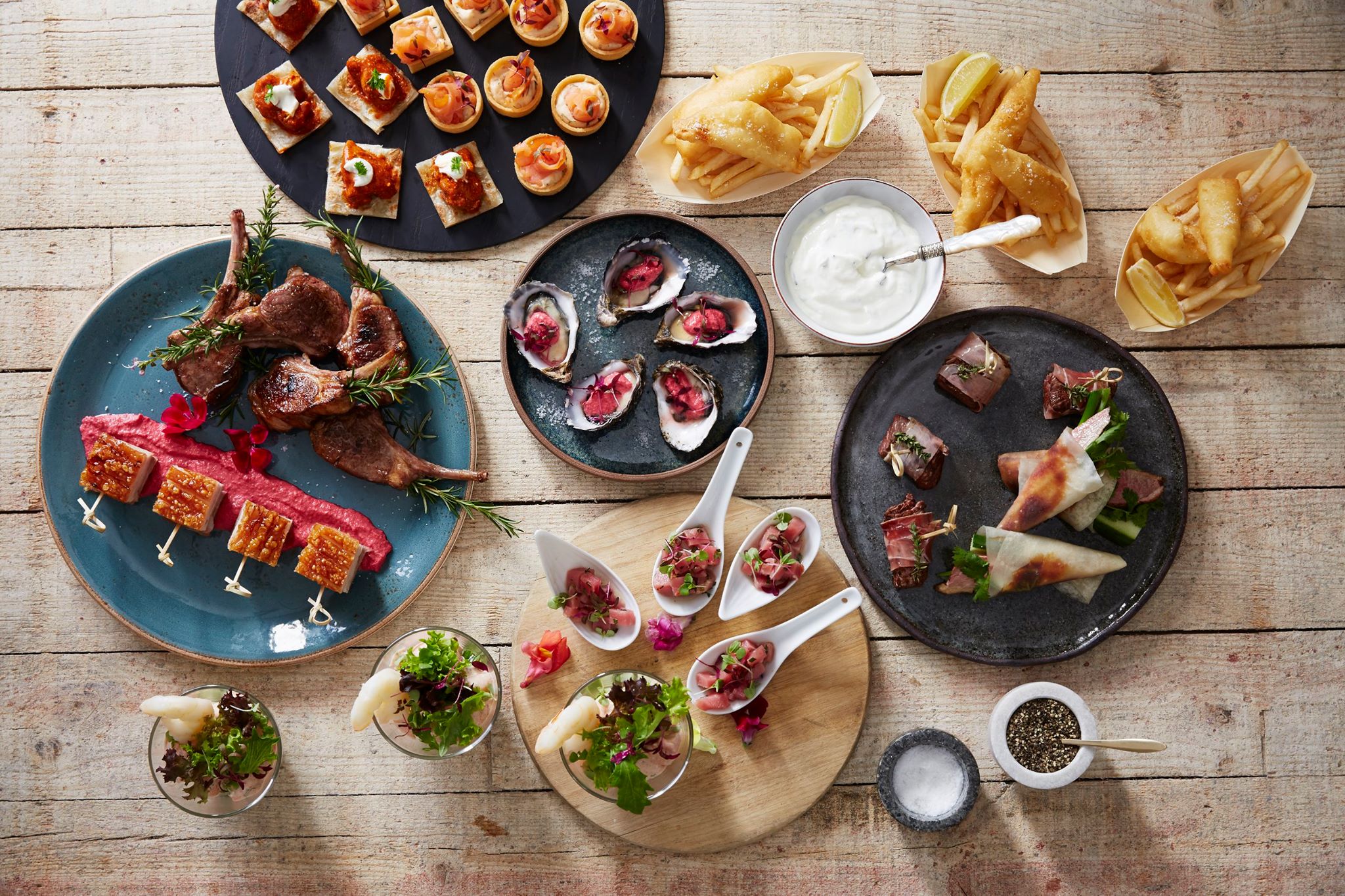 Suppose the food and beverage experience at your wedding is your top priority. In that case, you have the chance to put on your creative caps and consider the endless menu possibilities available to you.
Our Sydney wedding venue specialist Steph Harrison is a self-professed food connoisseur whose favourite wedding venues always have the best food and wine experiences. If you're struggling to find the right venue to bring your foodie dreams to life, our expert Venue Specialists work with some of the best venues in Australia and will help you find a gorgeous wedding venue with killer menu options.

If you want the catering at your wedding to shine, it's important to start brainstorming some creative wedding menu ideas before turning them into a delicious reality. Here are some for you to ponder:
Creative Canapés
If a formal sit-down meal or communal grazing table isn't your cup of tea, opt for cocktail-style canapés that not only taste incredible but are also artistically presented. They can set the perfect tone for the festivities to come, and ensure your wedding day goes off with a bang (of flavour).
The fantastic thing about canapés is the opportunity to shrink down some of your favourite foods, whether juicy sliders or crispy chicken bao, into delectable bite-sized pieces that your guests won't be able to resist.
For mouthwatering, innovative canapé ideas, Perth-based Creative Catering boasts some of the most visually appealing (and insanely delicious) appetisers, including adorable bite-sized cones filled with a variety of savoury fillings, mini pork tacos with avocado and corn salsa, and many more!
Suppose stuffed forest mushrooms, and double chocolate and macadamia brownies strike your fancy. If so, you should check out Sydney's Paddock to Plate Catering Co's incredible canapés – all meticulously crafted to treat your eyes as well as your taste buds.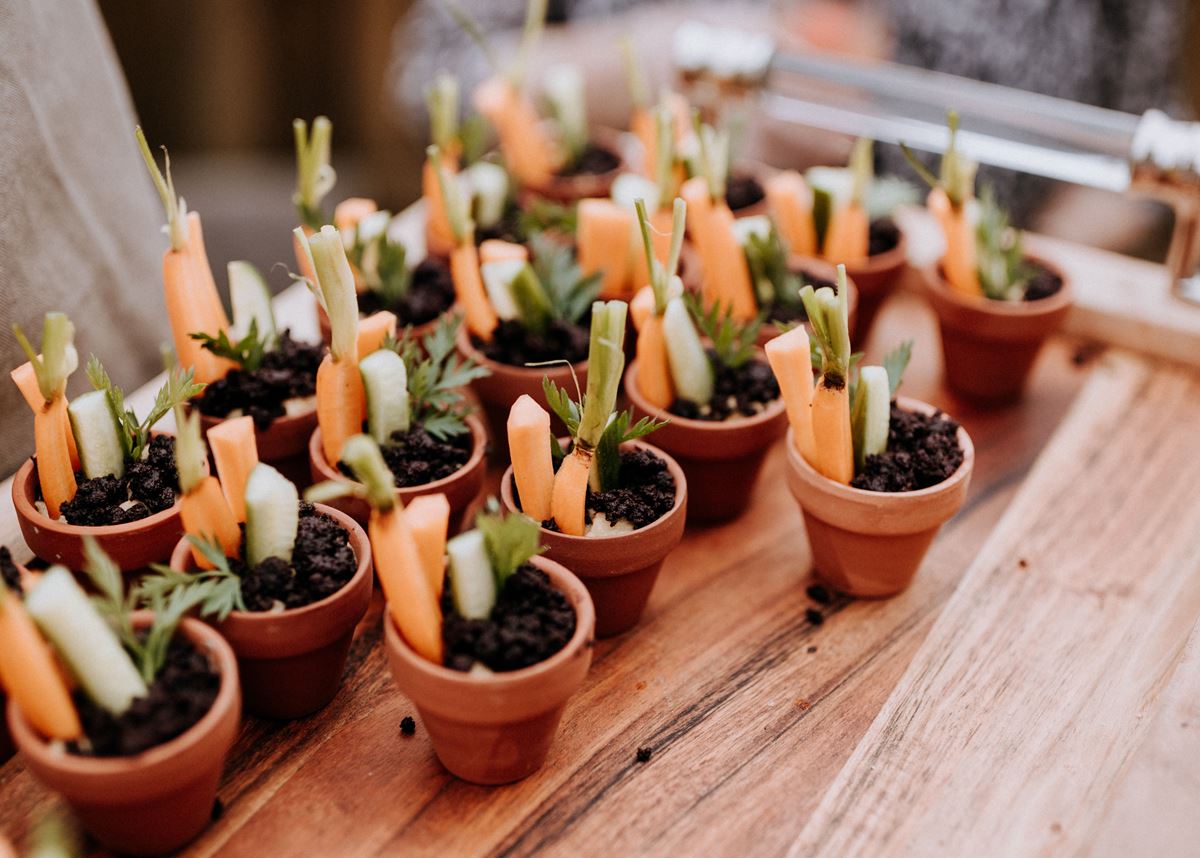 Buffet Feasts
Why not pass some creative control over to your guests and allow them to choose whatever their hearts desire from a fabulous buffet feast? One delightful perk is that you can fill the dinner table with as many cuisines and dietary preferences as you like.
If you're Melbourne-based and looking for a scrumptious buffet feast caterer, Fabulous Catering boasts extremely photogenic, mouthwatering tables for you and your guests to revel in. You can also have fun designing your buffet feast around your specific wedding theme, colouring, and style.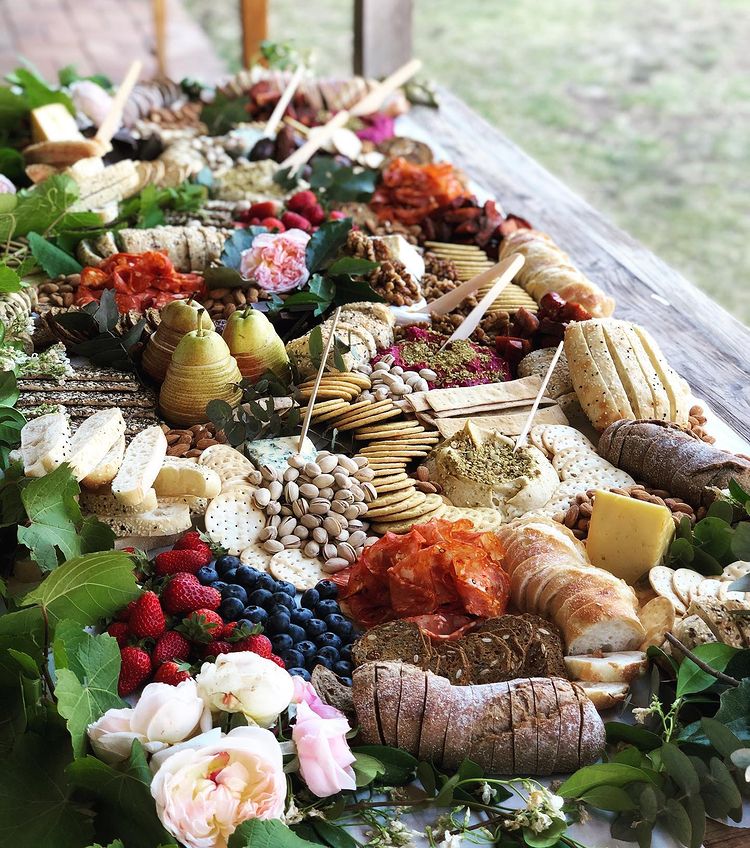 If you're not keen on having a communal grazing table at your wedding, check out some of our favourite COVID-safe alternatives.
Sharing Menus
Family-style sharing menus are a great way to get your wedding guests chatting over dinner, as they pass around a variety of delicious dishes from the centre of their tables. Think large sharing plates piled high with slow-roasted meats, fresh salads, and lots of wholesome veggies.
For enticing, glamorous shared platters, we recommend Mudgee Made Catering in New South Wales. They offer everything from slow-roast lamb, rolled pork loin, spiced pumpkin, and moreish sides such as baby honey-roasted carrots and buttery potatoes.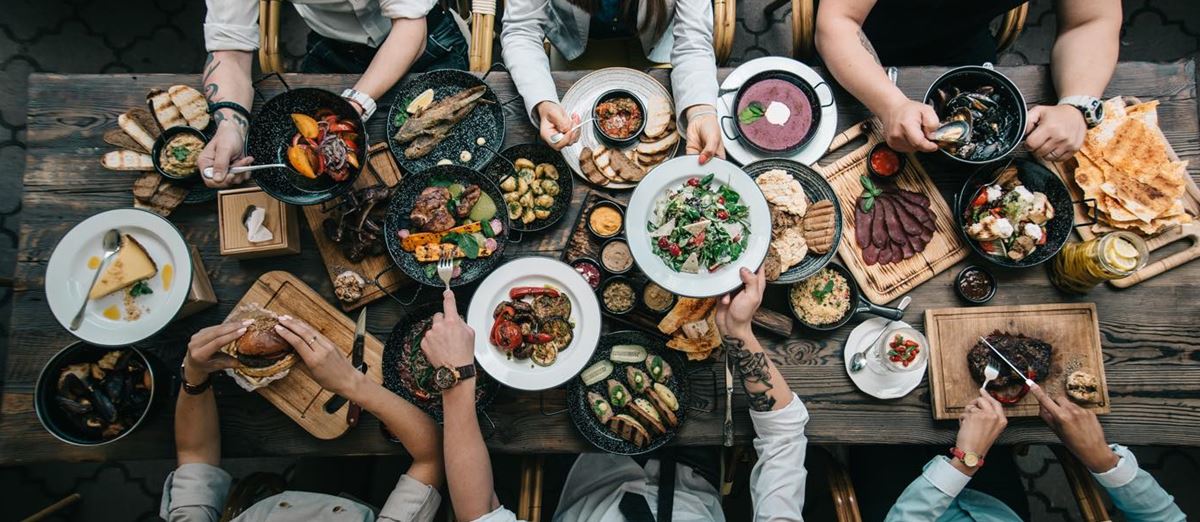 Gourmet Barbeques & Spit Roasts
Delicious gourmet BBQs and spit roasts are popular among couples planning a rustic, country-style wedding. If an outdoor wedding filled with the rich aromas of Australia's fresh, native ingredients cooked over a variety of smoking woods sets your soul alight, we recommend revisiting Paddock to Plate Catering Co. Their elemental approach to cooking is evident in their use of spits and fire pits to create the tastiest food for your wedding day – not to mention a lively, fragrant atmosphere.
Victoria's Fabulous Catering are another mouthwatering option and could wind up being a wedding gift in itself, with their delicious quality meat cooked slowly over a period of 18 hours.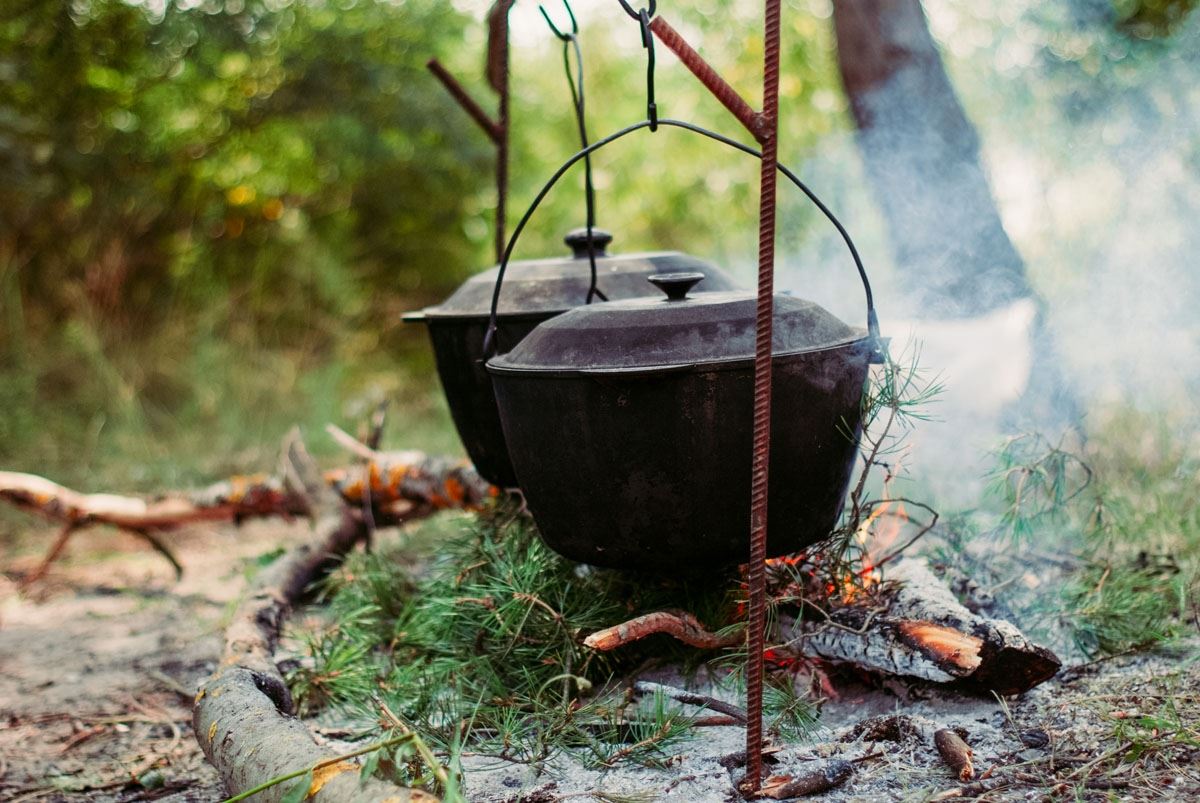 Interactive Dining Experiences
Interactive dining experiences are becoming more and more popular among modern couples. If you wish to hop on the bandwagon (or food truck) consider one of these creative wedding menu ideas:
Self-serve food stations. If you're in love with a specific cuisine or several, consider decking out your wedding venue with different food stations, such as a spud or dumpling bar, woodfired pizza oven, fresh seafood station, or a sushi-rolling area.
Food trucks. Encourage your guests to move about, enjoy your outdoor entertainment and bond over a food truck culinary experience. The perks of food trucks include locational flexibility, diverse menu options, easy clean-up, and cost-efficiency. If your wedding is Melbourne-based, we suggest checking out Happy Camper Pizza. Their fabulous 1960s vintage trucks and caravans churn out delectable woodfired pizzas, gelati, salads, and grazing table options.
Live cooking stations. If you're after a truly unique, fun, and creative menu idea that your guests will love, consider Perth's Paellas & Tapas. This innovative wedding catering company offers an authentic Spanish experience by cooking traditional tapas and paella right before your eyes.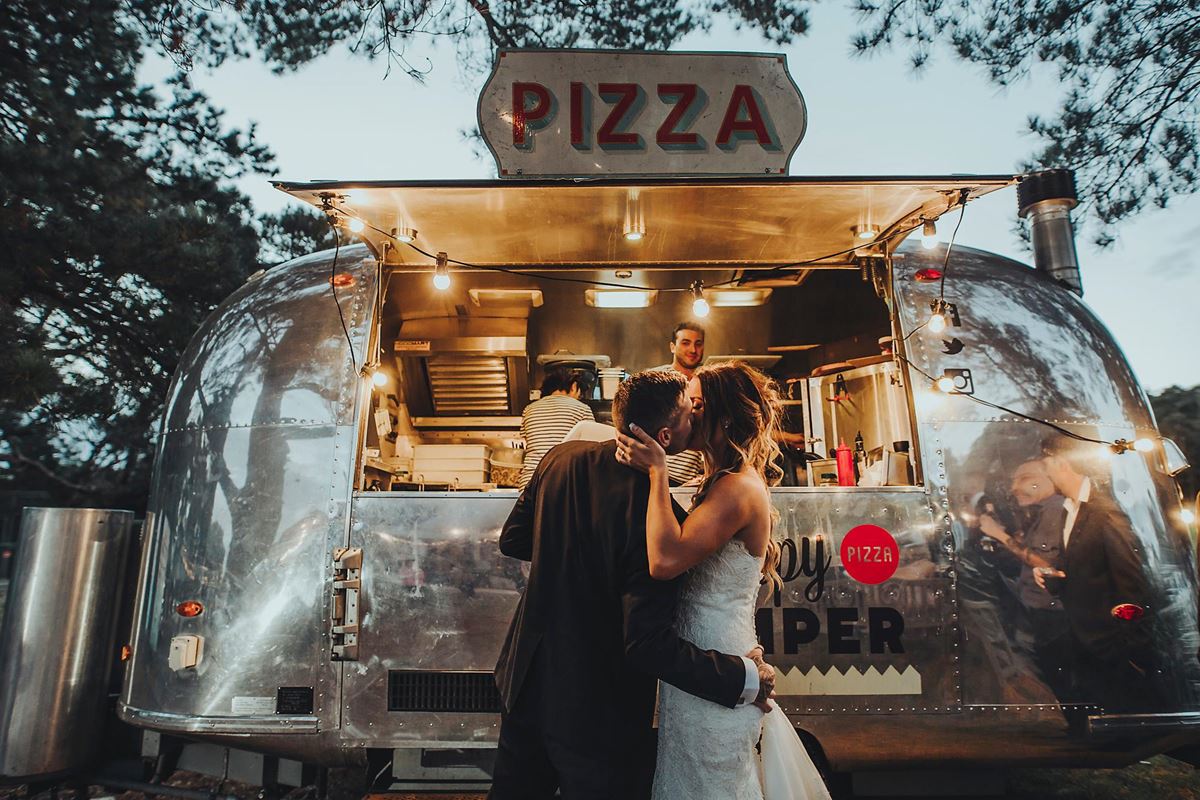 ---