If you're getting married in the coming weeks and even months, then no doubt you're aware of the changes that the government has begun to make to lift COVID lockdown laws.
If you've been waiting to see what the government may do, this might be the time you're looking for what you can do with your wedding. For some, it could mean going ahead with a smaller wedding. For others, it could mean that you do have to put your wedding plans on hold.
We've put together some advice on what to do now, and how to do it, so you can make the best out of an unfortunate situation.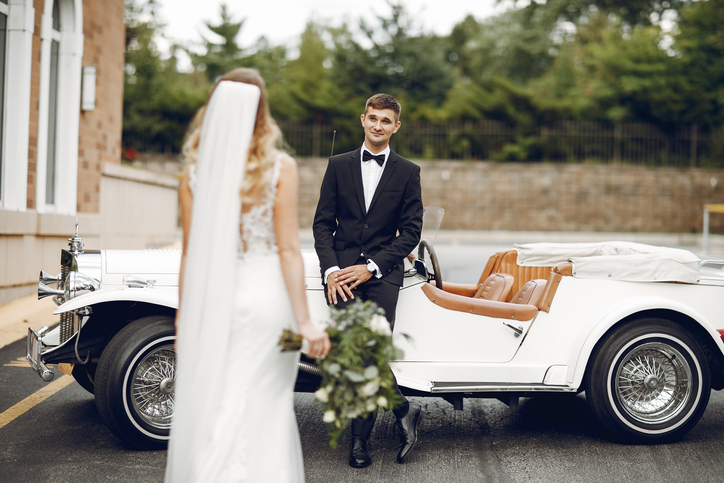 Firstly, take a moment to deep breathe. 
Take a moment to accept that your wedding might not be exactly how you had planned in your head. It's okay to be upset, but please, don't panic. We're here to support you and no matter what you choose to do, we will continue to give you the most up-to-date information and advice we have at hand.
Just because restrictions are lifting doesn't mean we can start putting more people at risk. The restrictions in place are to prevent the rapid spread of COVID-19, which can be fatal to the elderly, those with immunity issues, and people with respiratory issues. Weddings are important (especially to you!) but protecting these people is paramount at times like these, and we need to respect that.  Wedding businesses are working around the clock to try to reschedule plans and make alternative arrangements for couples going ahead with their plans.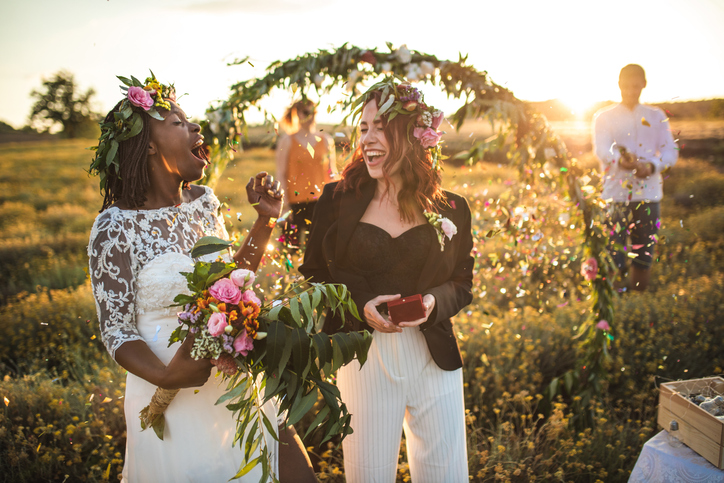 Then, you need to decide what the best way forward is for your event.
This will depend on guest numbers, location, guest health and your suppliers. You may find that some of your guests are still choosing to self-isolate, cannot make it from interstate or overseas, or are anxious about attending events in the coming weeks anyway. You will need to assess your given situation and move forward from there.
On May 8, the Government announced a three-step plan to bring Australia's economy out of isolation restrictions. Each state and territory will be taking these steps in their own time, so there's currently no telling what date the restrictions will change. But the Federal Government is hoping that we'll be able to reach step three by July. Make sure to be across what your state or territory is doing.
Step one states that a wedding can go forward with 10 guests, in addition to a couple and their celebrant. Step two increases this to 20 guests, in addition to a couple and their celebrant. And step three means that weddings can go ahead with 100 people, which will include couples, their celebrant, guests and other vendors and staff.
At every stage, holding a COVID-safe wedding requires recording the contact details of every single person in attendance. This is so that, in the case of an outbreak, getting in touch with everyone who may have been in contact with someone who has COVID-19 is quicker and easier, reducing the potential for further spread.
Weddings under each of these steps will also have to adhere to strict physical distancing guidelines. Venues will only be able to operate under an average of one person per four square metres. This means that smaller venues might not be able to host as many guests, even when they reach step three.
Previous restrictions left couples with no option but to postpone to go ahead with just 5 people. Fortunately, these steps mean that there are now a few more options for couples when it comes to your wedding. We'll outline some of these for you to help you decide how to go ahead.
What does this mean for couples? 
Depending on when your wedding is scheduled, you may or may not be able to go ahead with a large group. Unfortunately, because we don't know how lifting wedding restrictions is going to play out, there's no saying when each step will be implemented. The government has said they will reassess restriction guidelines based on the number of COVID cases every three weeks.
If you're looking at going ahead with a larger wedding under step three, you will need to contact your venue based on their size. If your venue is 400sqm, you should be able to go ahead with 100 people if step three is in place. However, if your venue is smaller than that you may have to downsize based on the physical distancing guidelines. These are the same restrictions that were first put in place before weddings were cut down to 5 people.
Unfortunately, it looks like interstate travel might not open until step three, and that will still be up to each individual state. So if you have your heart set on celebrating with guests from interstate or overseas, or you cannot downsize your wedding to the regulations at the time, then you should chat with your vendors about postponing. Postponing is always a better option than cancelling.
We recommend that couples getting married before July look at downsizing their weddings to 10 or 20 guests or postponing. Those getting married in July should be cautious about planning their weddings with 100 guests, as there is no certainty that step three will be implemented in July. Or, if it is implemented in July, what the actual date will be. For all couples getting married before August this year, we recommend making a decision 4 to 6 weeks out based on advice at the time, if you have not already postponed.
For those getting married from August to October, we recommend going ahead with planning at this time. You can be cautious about your plans and guest list, and keep an eye on the latest updates to make a decision closer to the date. If this is you, don't lose your planning motivation. There are still things you can plan for your wedding that you'll be able to use no matter when you get married.
Most couples who have already postponed have rescheduled to November 2020 and beyond. We recommend you continue your planning as usual. The best thing you can do at the moment is to keep your mind positive with thoughts of your wedding. Wedding vendors are also going to be extremely busy in the first half of 2021 catching up on a wave of postponed weddings. So make sure you book in your favourites early to ensure they're available.
Postponement:
Postponements are no longer the only option for 2020 weddings, but we understand that this still might be the best option for your plans. Work with your vendors to find a suitable date. We strongly encourage you to look at days other than Saturdays if you're hoping to still get married sooner rather than later, as more businesses will have more non-weekend availability. And we already know that this time next year is going to be extremely busy with postponed wedding plans.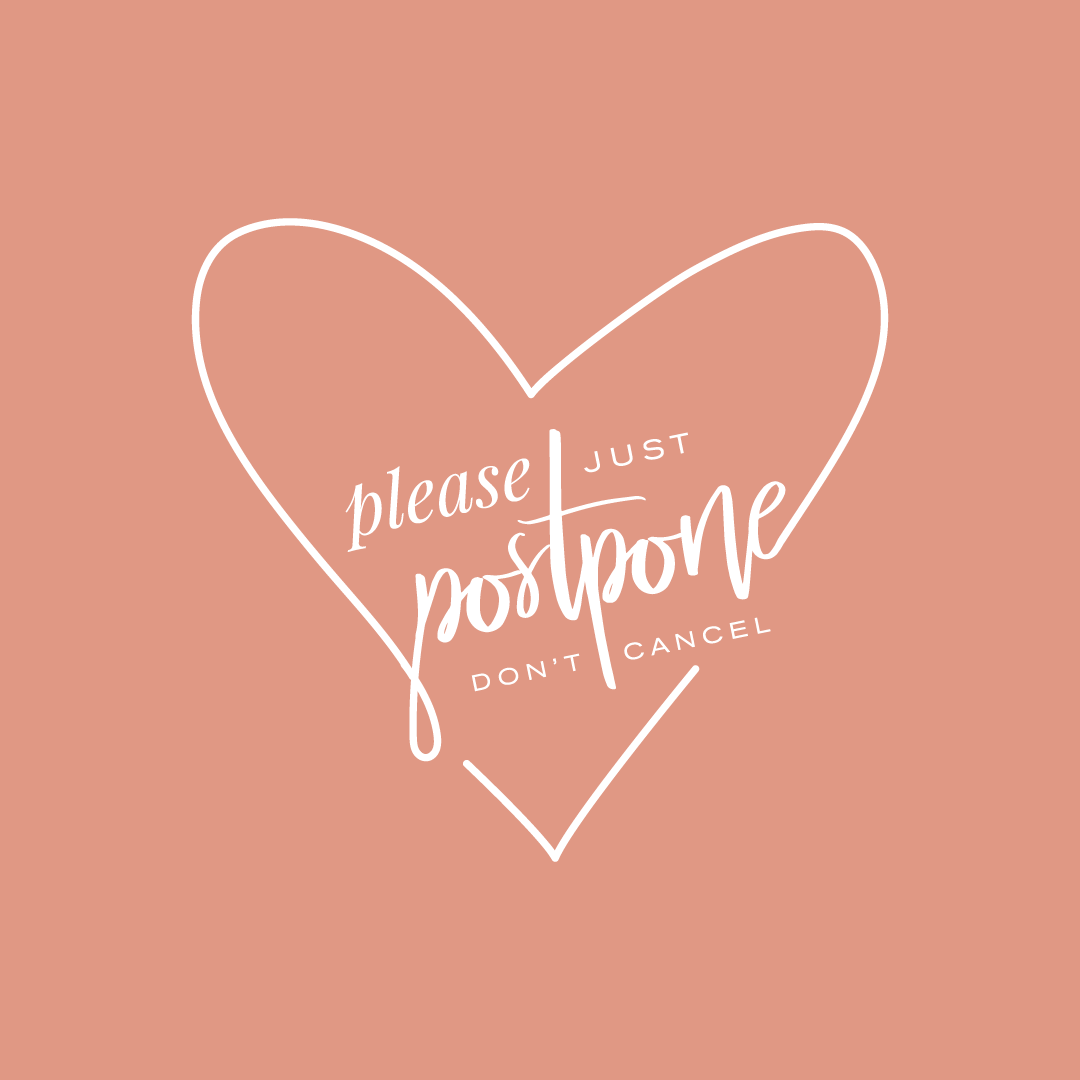 Staylopement/legals only:
What's a Staylopement, you ask? Like an elopement but in a close-by place, not a destination. This would involve having a legals-only ceremony/celebration on your preferred date with your celebrant and two witnesses! You could still postpone your reception/non-legal ceremony to later, so this is actually an ideal compromise. You get to be married ASAP, and still get the wedding you wanted after all. This is essentially what weddings were under the restriction of just 5 people in attendance. But if you're having trouble deciding who your guests are going to be with a smaller weddings, this could be the ideal solution for you.
Microwedding or downsizing:
Downsizing your wedding to make it work with current rules might work for you if you're getting married under step one, two or three. A microwedding is a term for having a small wedding and making it ultra-personal. And in light of the current circumstances for step one and two, it's ideal!
Those who might be planning for a wedding under step three will be able to have more guests, but the chances are you're still going to have to downsize in some respect. You might have to cut people to allow some of the vendors and wait staff you need on your day. Or, your venue might not be able to service the full 100 people due to their size.
But… how do you downsize your guest list?
Start with your closest family and friends, and then slowly move out from there. Keep the current health advice on hand and make some calls with your partner on who you could potentially cut. If you don't feel capable of calling these people to explain, ask a close friend or family member to do so for you. Trust us, they will understand!
Livestream your wedding:
For those guests you can't invite, those interstate, overseas, or elderly guests who are safer in social isolation at the moment, you can always task someone technologically able to live stream your wedding. Zoom, Facebook Live, Facetime and YouTube are the most popular ways for couples to stream their weddings at the moment. You can even ask your videographer to do this for you.
Alternative suppliers:
If for any reason your supplier can no longer perform your wedding, whether they're in self-isolation or aren't able to move to your new date, most suppliers have a network of other professionals that are willing to step in. If they are unable to provide you with an alternative, our team would be more than happy to help. Give us a call on 1800 155 122 or take a look at our wedding directory, where you can find wedding businesses in your area, and even view virtual tours of some venues from the comfort of your own home.
Cancellations:
We strongly encourage against cancelling your wedding for two reasons. One, you want to get married and have a wedding and therefore you still should do it! And two, this will be a hugely negative financial impact to both wedding businesses and to you… because couples may potentially lose their deposits. Each situation will depend legally on the contracts of each individual business of course, but ideally, an alternative can be reached between you and your wedding squad.
Once you have decided what to do, update your guests.
Use social media, text, email or your wedding website to let your guests know what is going on. Even if just to say: 'We're working on an alternative date, we will keep you updated".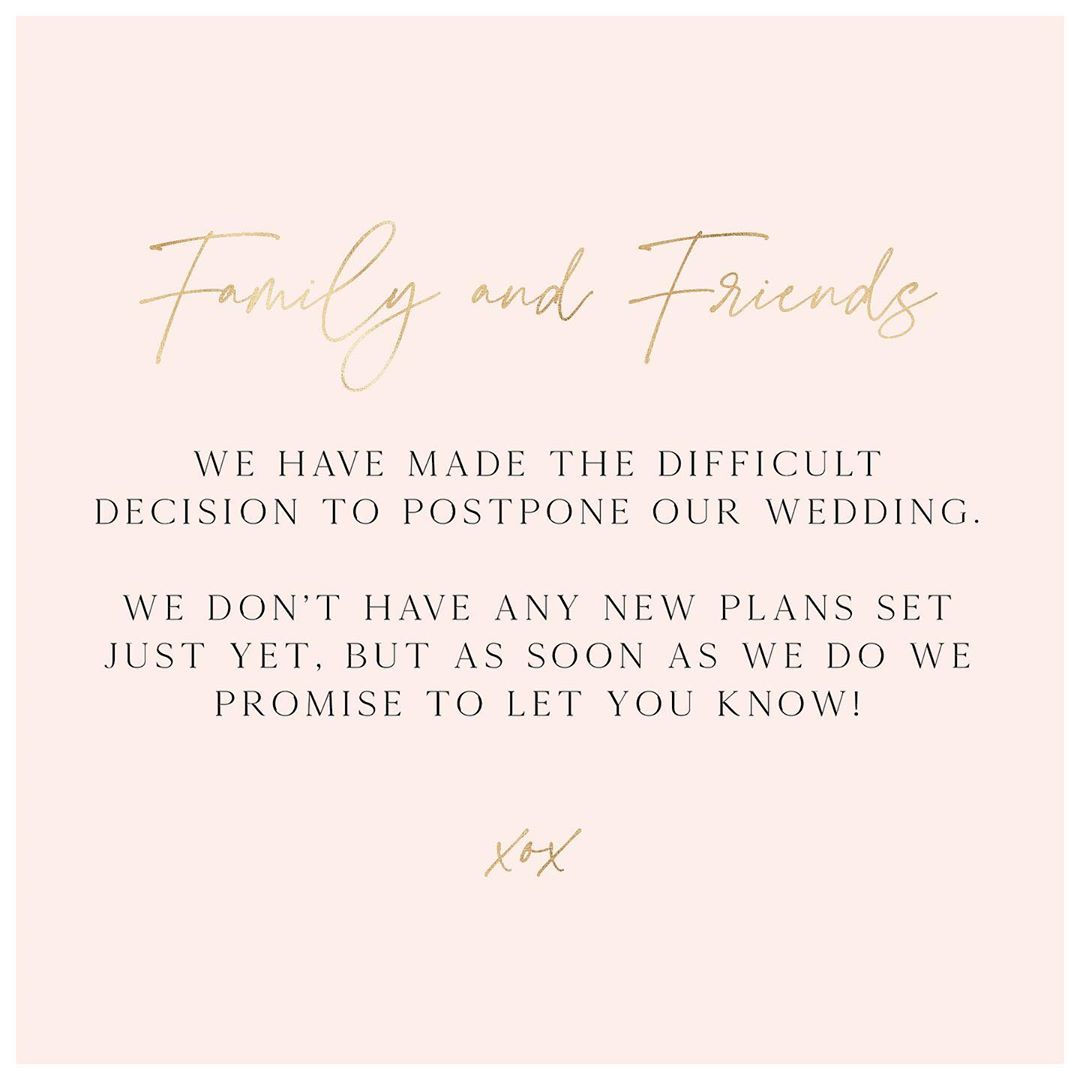 Things to remember:
Remember that although your wedding is a very important and special day, it is just one day, and plans can be adjusted. It is okay to be anxious, sad and even to grieve what could have been. But stay calm, and remember the most important thing of all… you have someone who loves you and wants to get married and that in itself is worth celebrating. Try to keep perspective and remember to practice gratitude. We are all in this with you and want to help you to have the best day ever, regardless of the date it falls on.
Support for couples:
If you want to chat with likeminded couples or discuss the impacts of this on your wedding, please join our Facebook group, The Wedding Party. 
What you can do to support wedding businesses and other small businesses at this time:
Keep your booking, postpone, or adjust your booking. Finalise payments wherever possible. Support these businesses in other ways. For example, can your cake supplier make you a birthday cake? Can your photographer do a family shoot? Can your makeup artist do your makeup for another occasion? Can you book your celebrant for a small wedding then a vow renewal later? Order food to be delivered. Buy a gift card.
The way we support small local businesses in times of hardship can mean a world of difference to them.