Being asked to be in someone's wedding party is such an honour. It can really cement a relationship, or sometimes break one apart.
We're here for the first scenario! We hear so many stories about bridesmaids or groomsmen falling out with a couple before the big day and we don't want that to happen to you.
Being honest and being able to communicate with your friends and family is crucial to being able to fully celebrate together. Part of that comes down to wedding costs. Being honest about what you expect your wedding party to contribute to and being realistic about what you do and don't want are all key areas to explore.
So who does pay for what?
We've broken down the different categories and what is realistic to expect of your wedding tribe, groom squad and bridal party costs.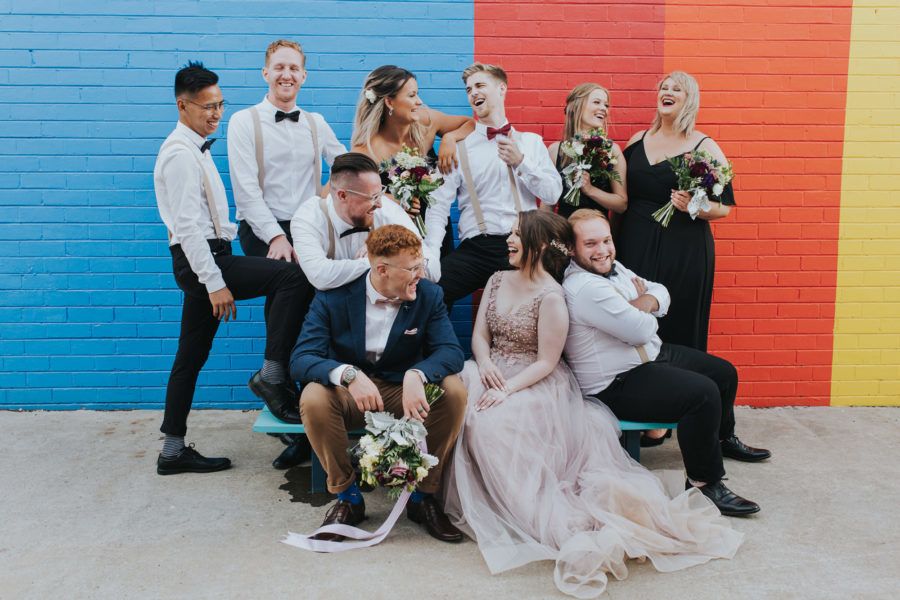 Managing wedding costs together
There are typically three different options when it comes to paying for items for your wedding party.
One is for the couple to cover all of the costs.
Another is for the wedding party to cover all the costs.
And the third is for you to come to an agreement and split the costs.
The third option is generally the most popular with couples as it means you can come to an agreement on what you do and don't want to contribute to. You can also work together on keeping the costs affordable for everyone.
If you're in a wedding party you can expect to spend between $500 and $1000 on that wedding depending on your relationship with the couple. It's important to have an honest conversation and set a budget that works for everyone in advance. Particularly if you're a couple who would like their bridal party costs to exceed $1000 each.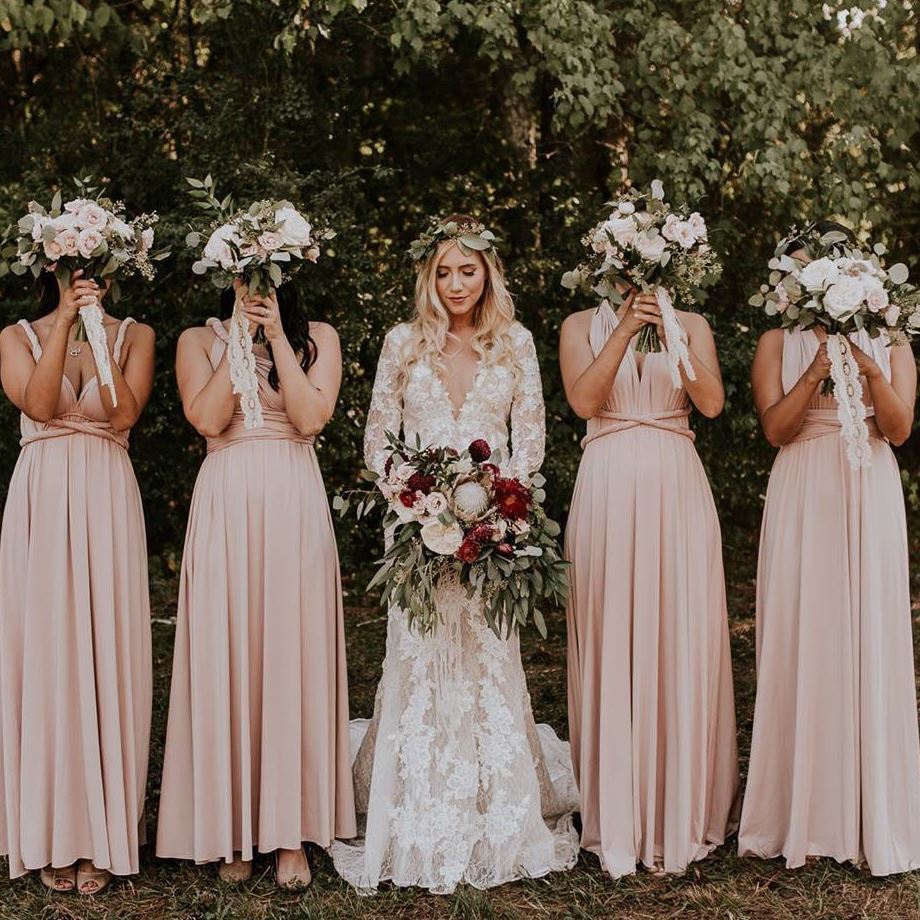 Bridesmaids dresses and groomsmen suits
Dresses and formalwear are the first challenge you'll come across when it comes to who pays.
It's important to recognise that everyone is at different stages of their lives and budgets. Your wedding party will be made up of your closest friends or family so we know that you want to be considerate of them.
Anyone in the wedding party should also be considerate of the couple who are getting married. They are planning the vision for their perfect day after all.
A dress, suit or suit hire priced under $200 each is considered reasonable for the wedding party to pay. An item between $200 and $500 should generally begin a conversation over splitting the bill. If the couple has chosen formalwear that costs more than $500 each they should offer to pay for it.
Other factors to consider include what style of dress or suit you are purchasing and whether the person in your wedding party can wear it again. You may have chosen something that you love that will never see the light of day after your big day!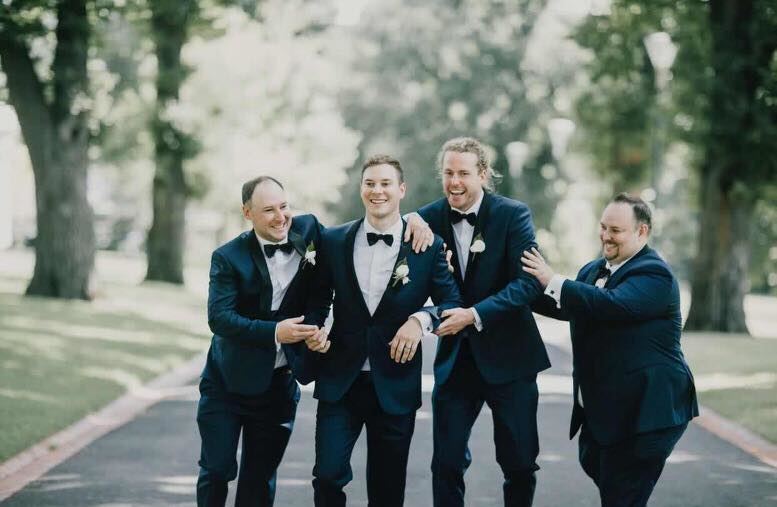 Wedding shoes and accessories
Many couples will opt for a specific style of shoe for their wedding day to match the rest of the wedding party and theme.
Footwear up to $150 can generally be covered by the wedding party. If it costs between $150 and $300 you should have a conversation about splitting the bill. If the shoes cost more than $300 the couple should offer to pay.
We're seeing more of a trend towards casual footwear when it comes to wedding shoes, which does make it easier for the wedding party and cost split. Some couples are specifying a colour of shoes and letting their wedding party select something suitable that matches the theme. That way they can choose something they like and will wear again, therefore covering the costs.
Consider how the costs are adding up when it comes to the outfits for your day. If someone is spending $500 on a dress then another $300 on shoes can become a bit steep. If those shoes are only $100 it's suddenly more affordable.
The same goes for accessories. Consider what you'd like your wedding party to wear and whether they're affordable. Anything under $50 could be covered by the wedding party.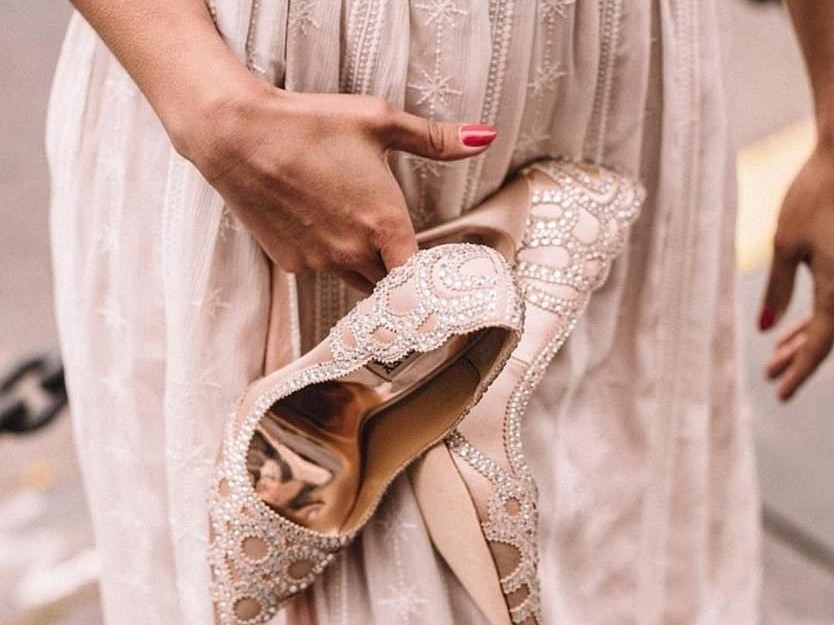 Hair and makeup
This is still a category reserved for brides and bridesmaids, despite more grooms opting for barbershop treatments or pampering ahead of their big day.
The couple will traditionally pay for hair and makeup for the bridal party. If you do want this cost covered it's typically split with something else in the list. For instance, you might pay for the dress and shoes and have your bridesmaids pay for their own hair and makeup.
Services like beauty treatments, waxing, or getting nails done before the day should typically be paid for by members of the wedding party.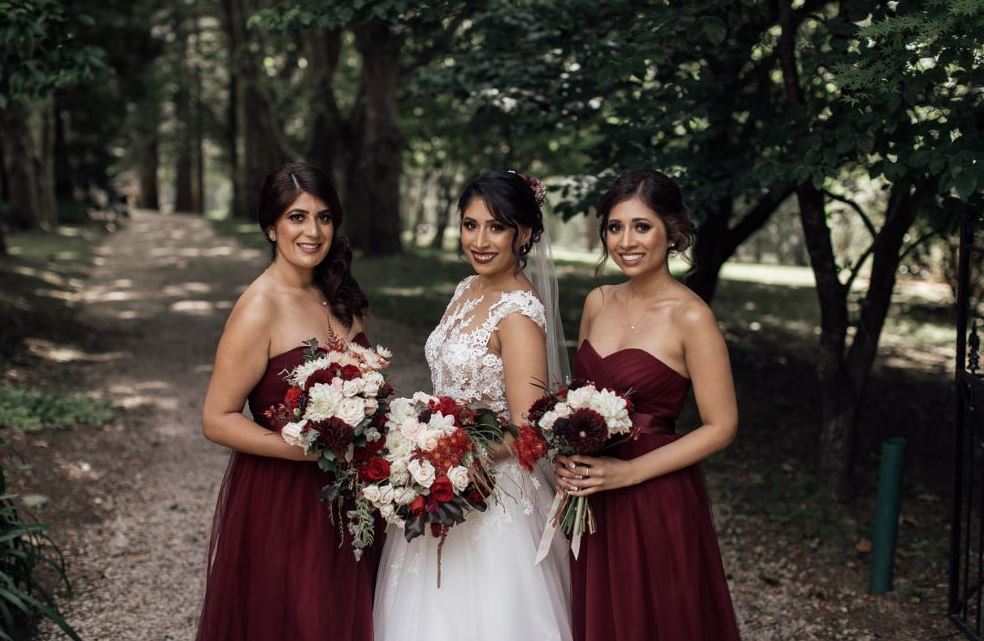 Accommodation
If you're not having a local wedding then your wedding party will typically stay overnight for one or two nights. Which means there are accommodation costs involved.
These costs should be covered by the couple who are getting married if it means the wedding party needs to stay the night before the wedding. The wedding party can cover the costs if they are paying the night of the wedding. This is a good way to split the bill and factor in plus ones or other guests needing accommodation.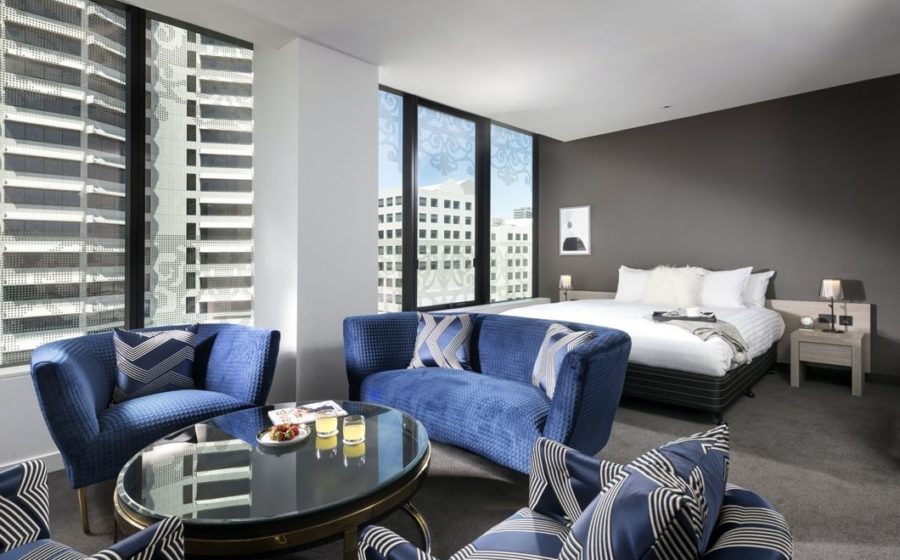 Hens Nights and Bucks Parties
This is the one cost that is usually covered by the wedding party.
Grooms and brides need not worry about the cost of their hens night, bucks party or joint celebration. However, it is up to them to choose an activity that isn't going to break the bank for everyone!
Most celebrations typically have two parts which are covered by the wedding party and the guests attending the event.
Planning, decorations, deposits, games, transport and other details can be covered by the wedding party. Meals and drinks will then be covered by the guests who are attending. If you do need to recuperate costs for some of the other aspects you can add an additional $10-$15 per head for each guest.
Guests shouldn't be expected to spend more than $100-$150 on a hens night or bucks party. Having opt-in events where they can spend a lower price or higher price (eg. $80 or $120) can be a good way to give people more of a choice. If you have a more expensive activity make sure you chat with all guests about the price well in advance.