We all know that finding the perfect wedding dress is no small task, but once you find The One, your wedding starts moving from fantasy to reality quickly. But where can you find the best wedding dresses in 2020? Here are our top 2020 wedding dresses that are stocked in bridal boutiques around Australia.
Even during COVID-19, wedding dress designers are still working away, making timeless masterpieces in all kinds of wedding dress styles. Below, we recommend 2020 wedding dresses from some of Australia's top designers, including related boutiques where you can find them in-store.
---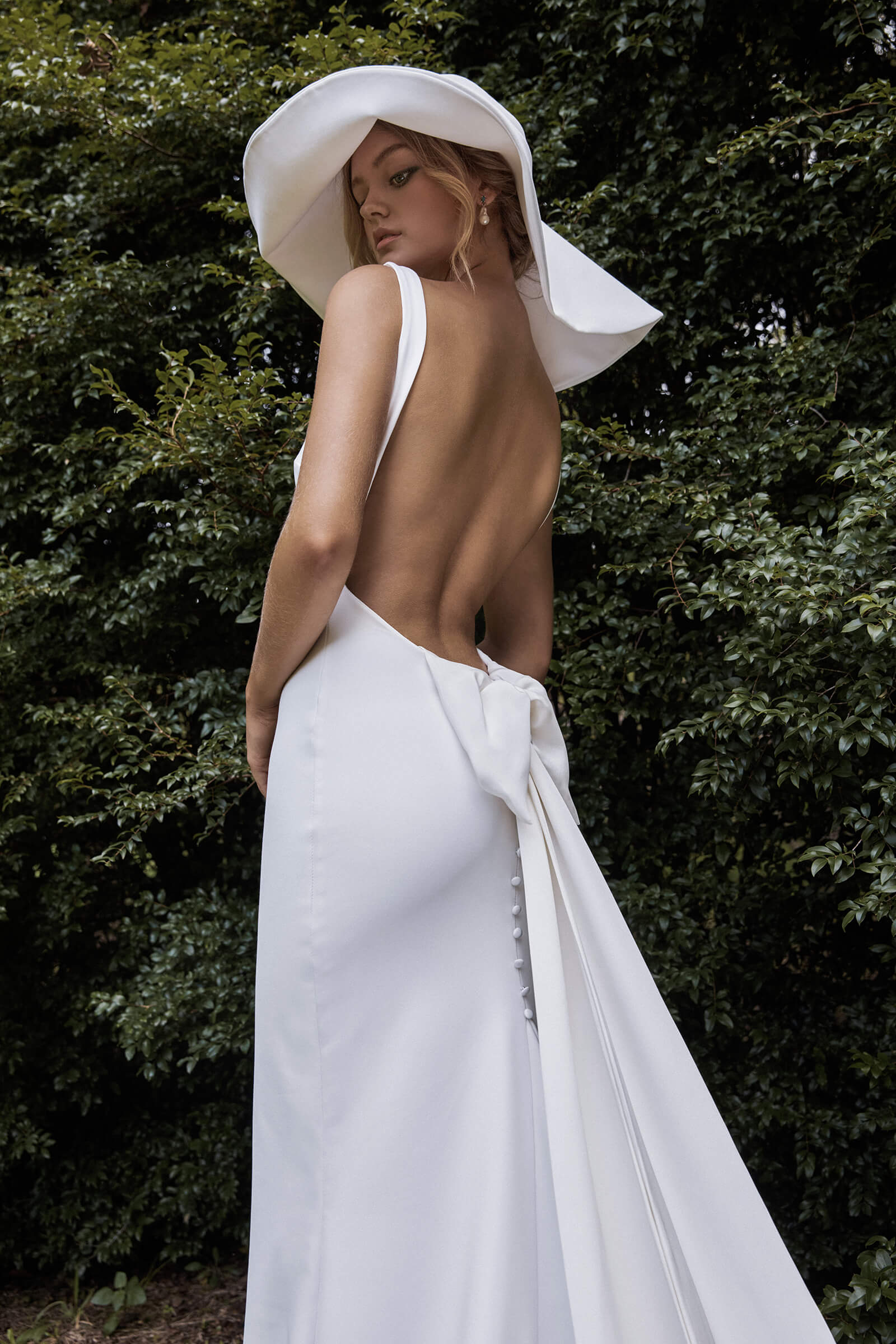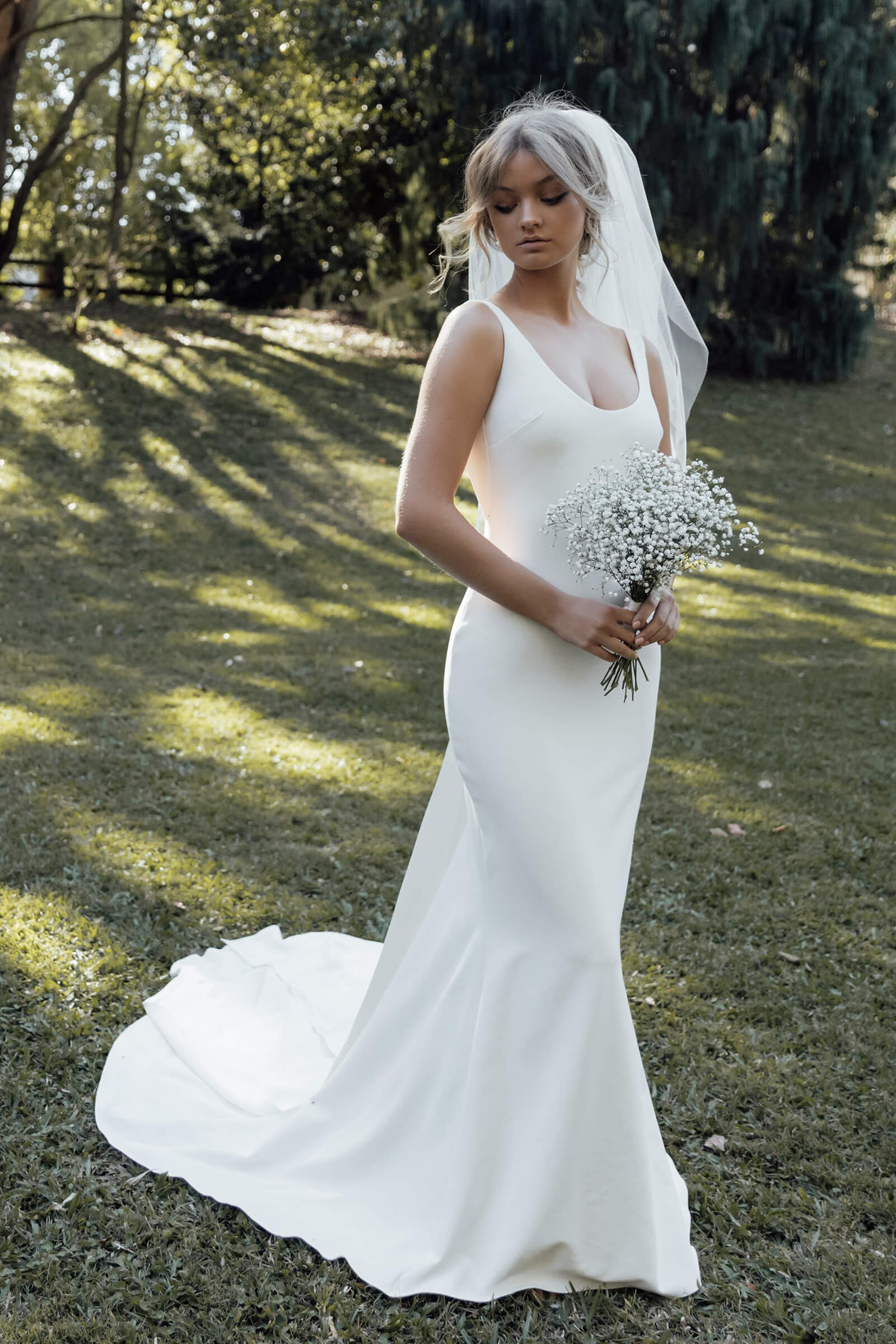 Grace Loves Lace has introduced an effortlessly chic new collection this year, and this modern design really stood out from the crowd. Martini projects a feeling of luxury, girl-power and confidence. The scoop neckline looks stunning in soft stretch crepe, and it's complemented by the ultra-low, daring back. The design features a detachable back bow, made from double-layer silk. This outfit is for a bride who isn't afraid of a little drama in her fashion choices, and it's certainly one to watch on our list of the best wedding dresses in 2020.
Shop Grace Loves Lace's 2020 wedding dresses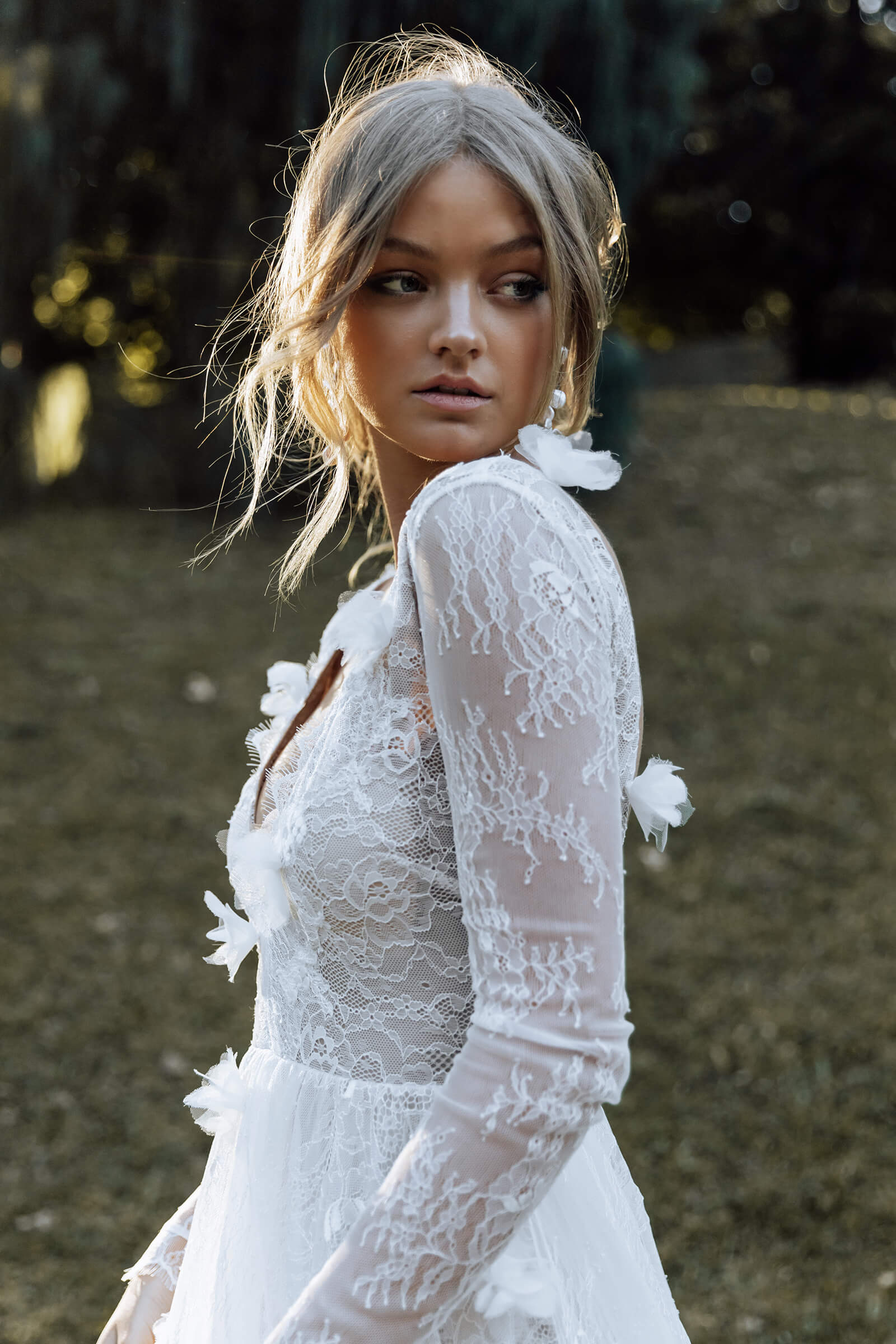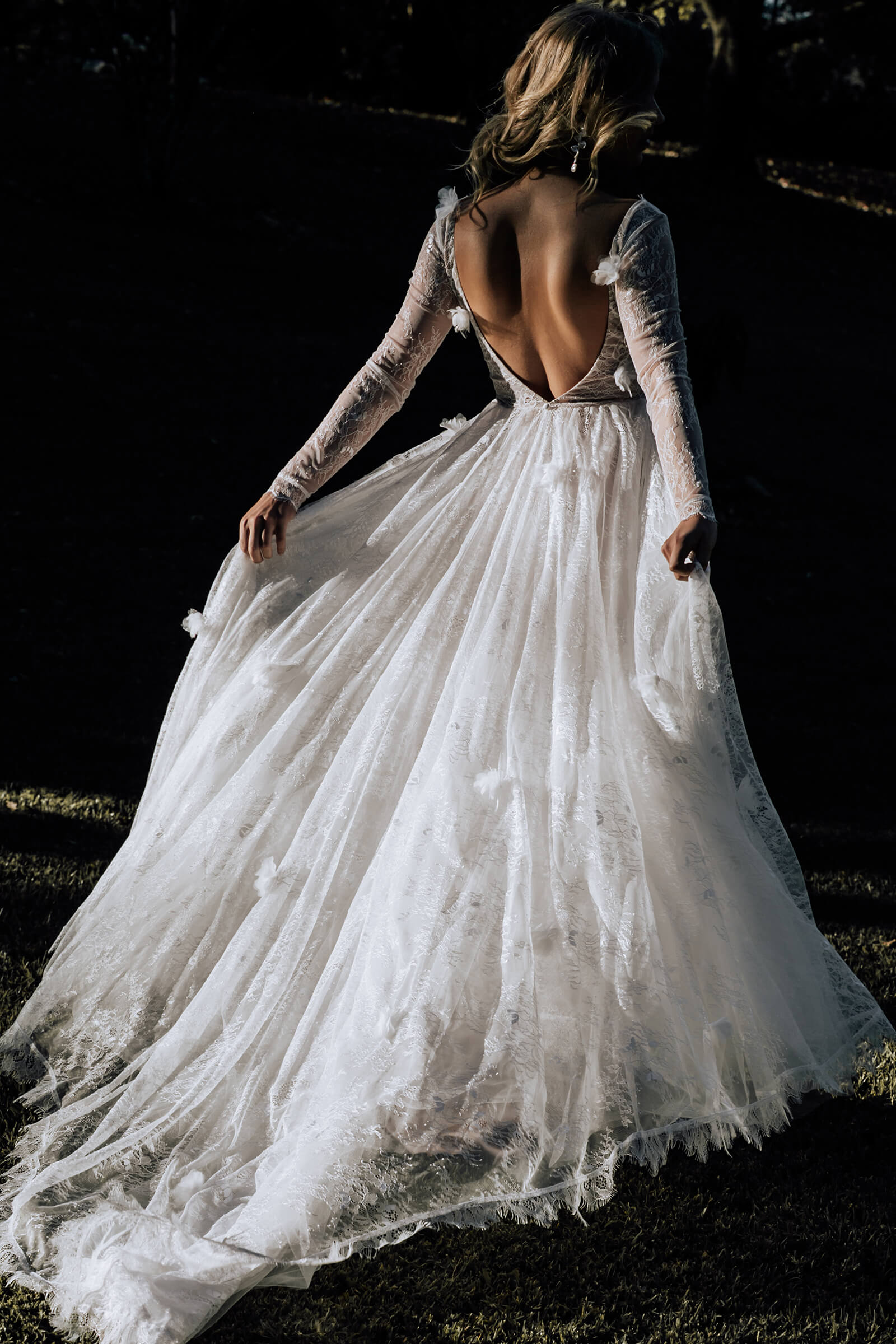 Monet is a very poetic gown, with a sensational circle skirt featuring delicate floral motifs. The beautiful ivory lace contrasts beautifully with the nude coloured lining. The neckline shape is a V-shape, as is the back, which is very flattering for the wearer. Embrace your romantic side with this gorgeous wedding dress, sold exclusively in the Grace Loves Lace showrooms on the Gold Coast, Sydney, Melbourne and Perth. This iconic brand has taken the world by storm, and their effortless styles are some of the most wearable wedding dresses in 2020.
Shop Grace Loves Lace's 2020 wedding dresses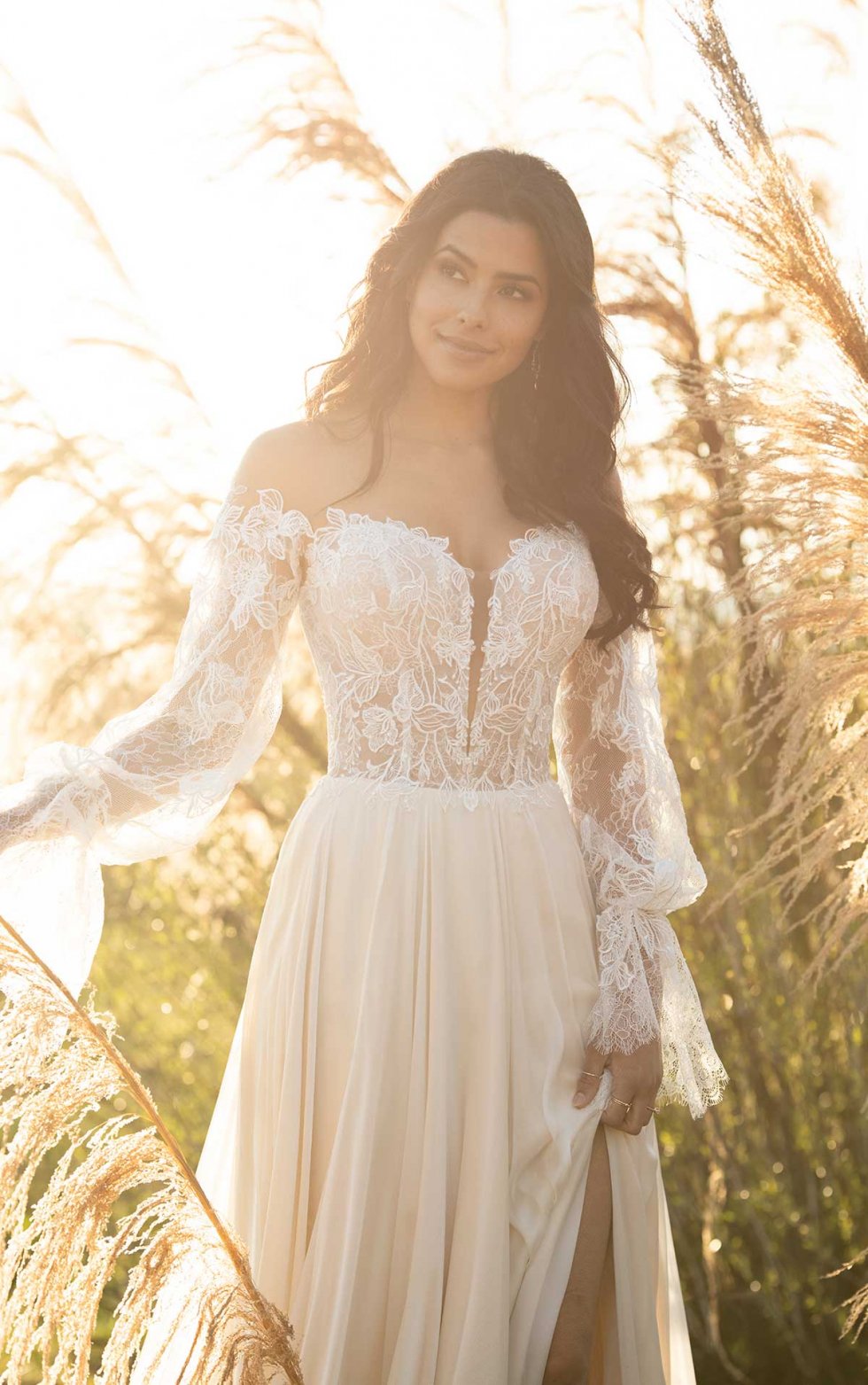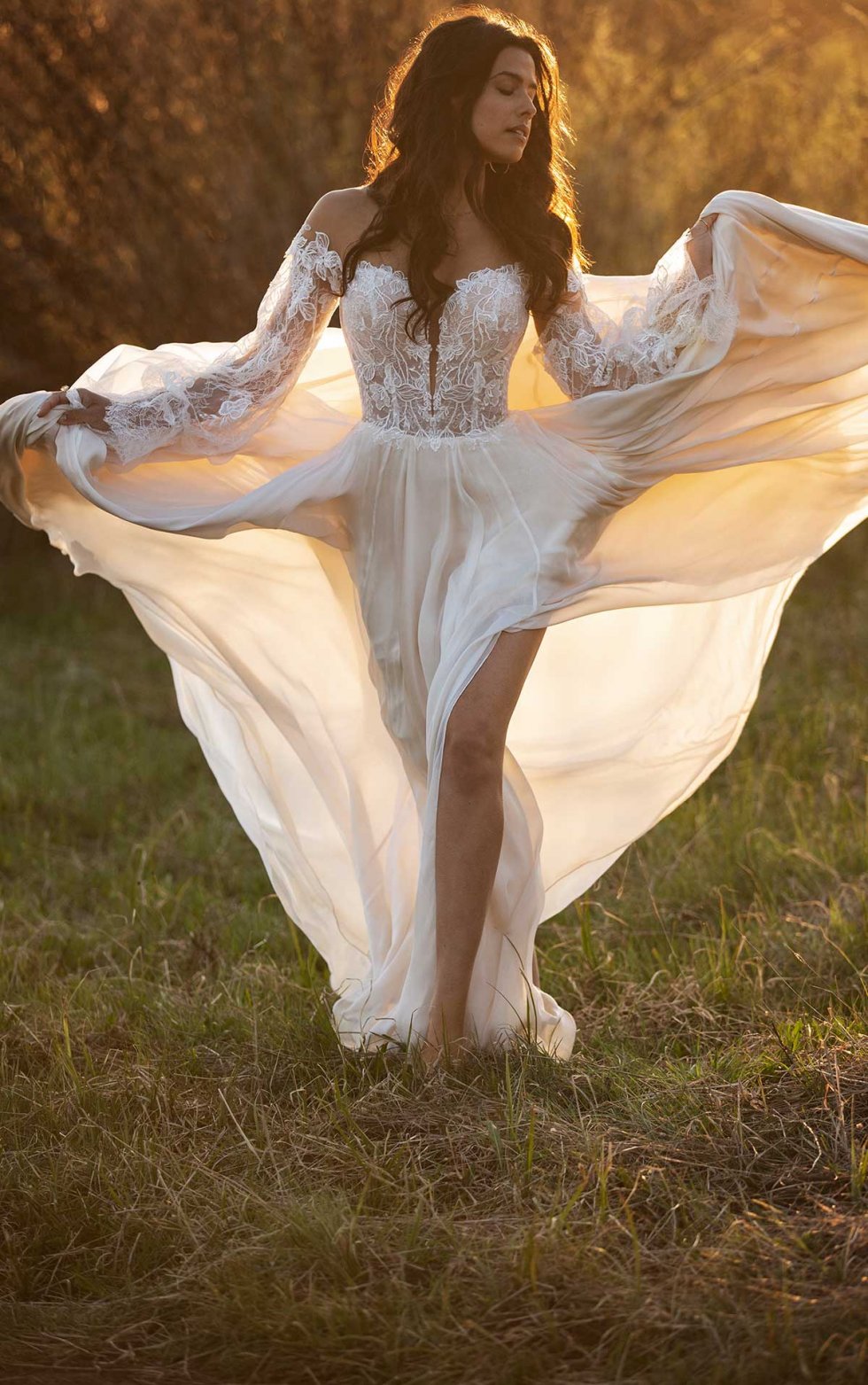 All Who Wander wedding dresses are made for the curious souls, the adventurous spirits and brides looking for a bohemian touch. We particularly love the Finn dress with detachable bell sleeves. It's a dress that brings old-world charm into the present in an ethereal way. Its soft, angelic details include a clean skirt of pure silk chiffon and a bodice of organic-inspired laces. The skirt slit also allows for freedom of movement and the sun shines through the delicate fabrics. Its an effortless and photogenic 2020 wedding dress that will always be on-trend.
Shop The Finn Dress at Fairytales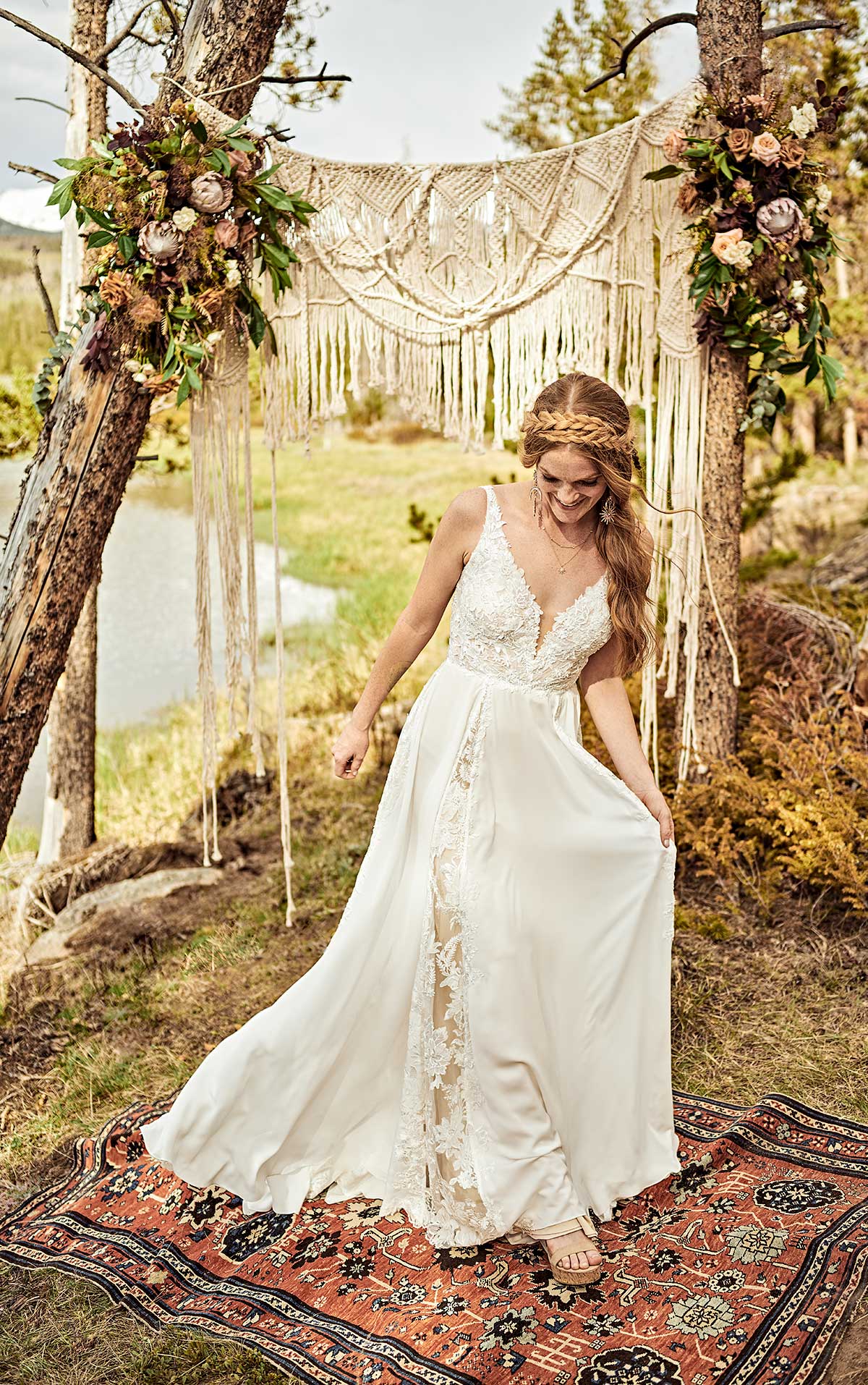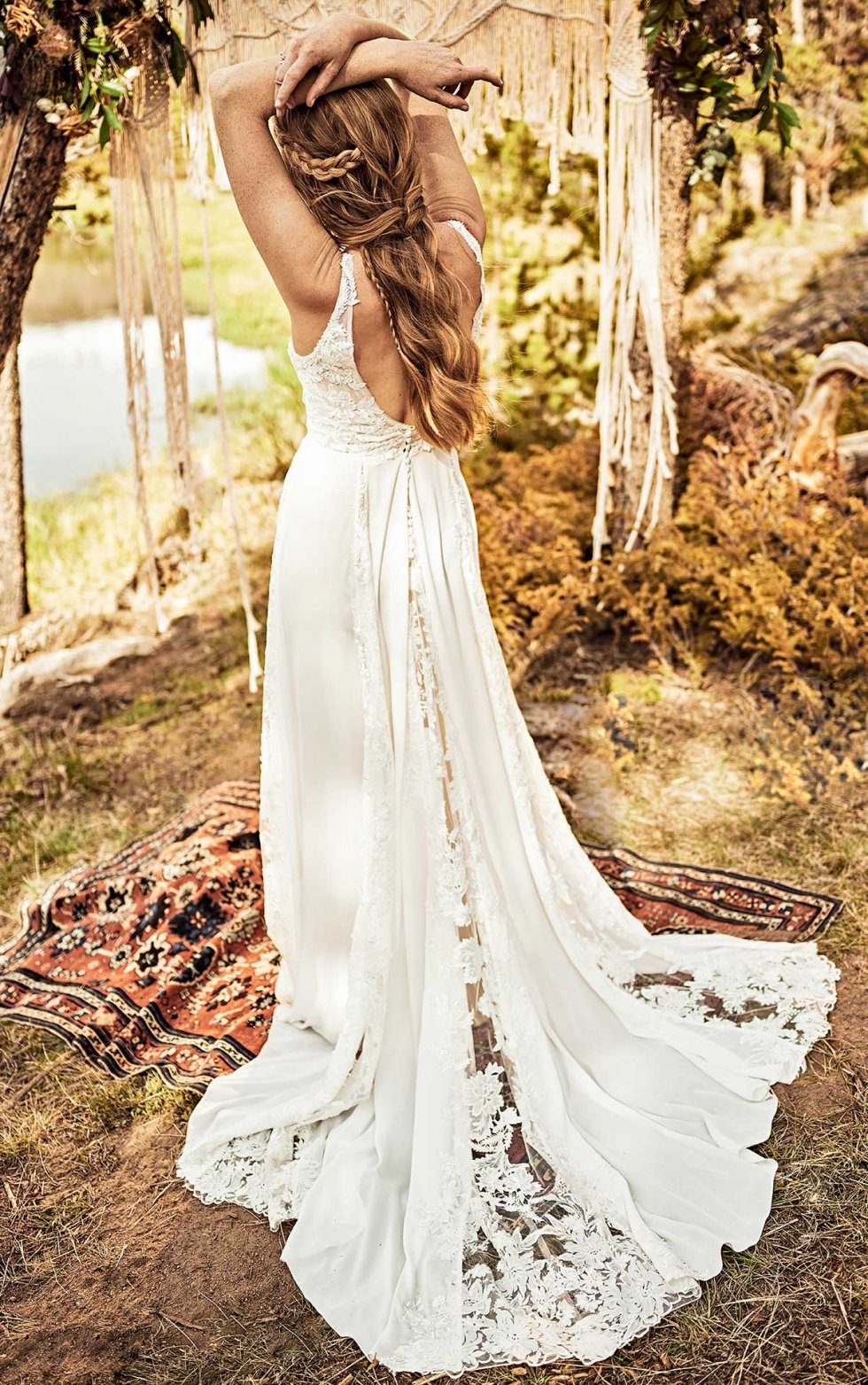 The Skye dress is a bohemian fashion dream. Its delicate lace panels are woven with crepe chiffon to create an unusual multidimensional wedding dress style. We admire the combination of sheer and breathable fabrics, backed by a subtle floor-length nude lining that adds another comfortable layer. The supportive wide-set straps, modest V-neck and stretchable fabric also make the Skye wedding dress one of 2020's most stylish maternity wedding dresses. No matter what your size, this gorgeous gown has a natural flow that works for any modern bride.
Shop The Skye Dress at Fairytales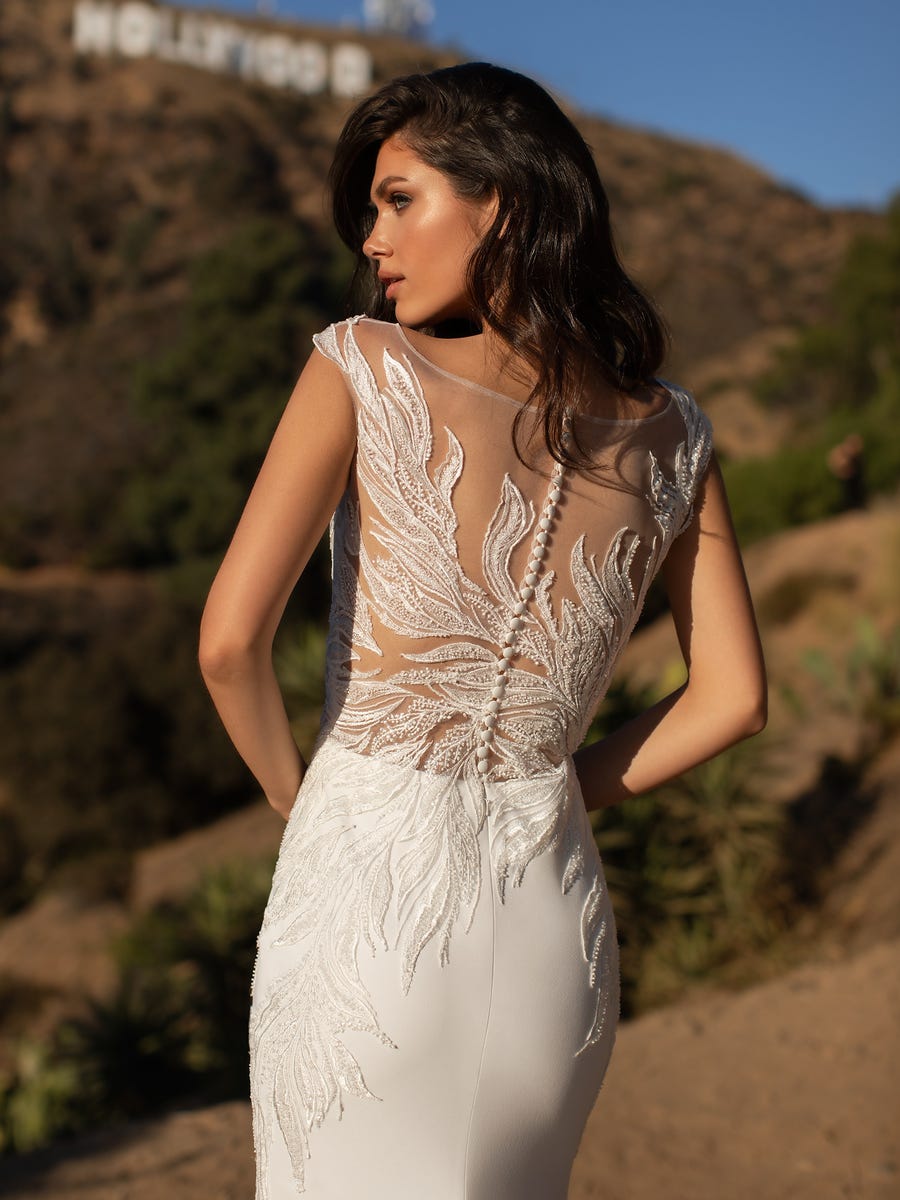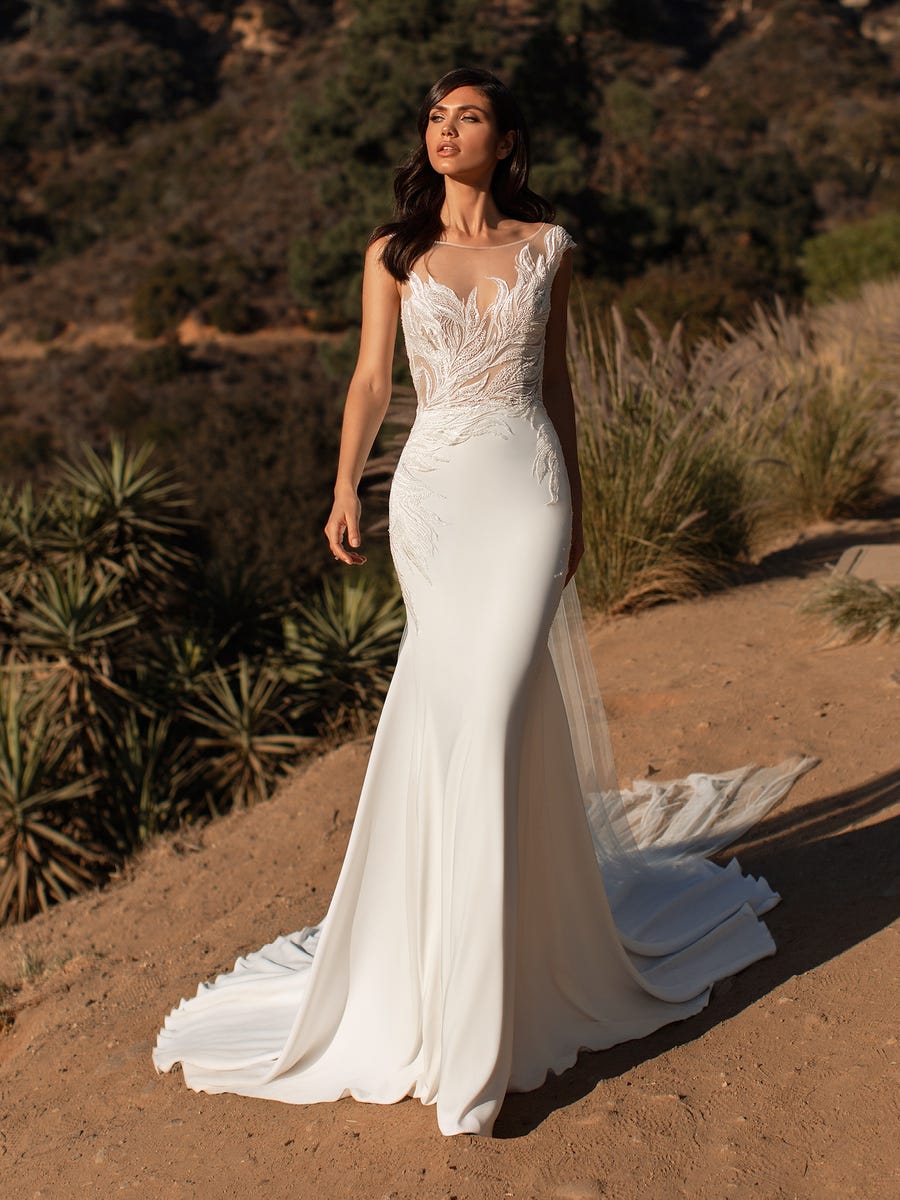 A sensual statement wedding dress calls for a nude bodice decorated with delicate appliqued lace. The Ladd wedding dress by Pronovias has a stunning feathery pattern that curls around the upper body, and the back of the dress has a slinky seam of dainty silk buttons. On the lower half, a fluid crepe skirt and train trails behind, which gives the dress a mermaid look. It's a sophisticated gown that fits like a dream, and one that we're obsessed with this year. If you're looking for an elegant gown with unusual details, this could be your perfect 2020 wedding dress.
Shop The Lad Dress at Luv Bridal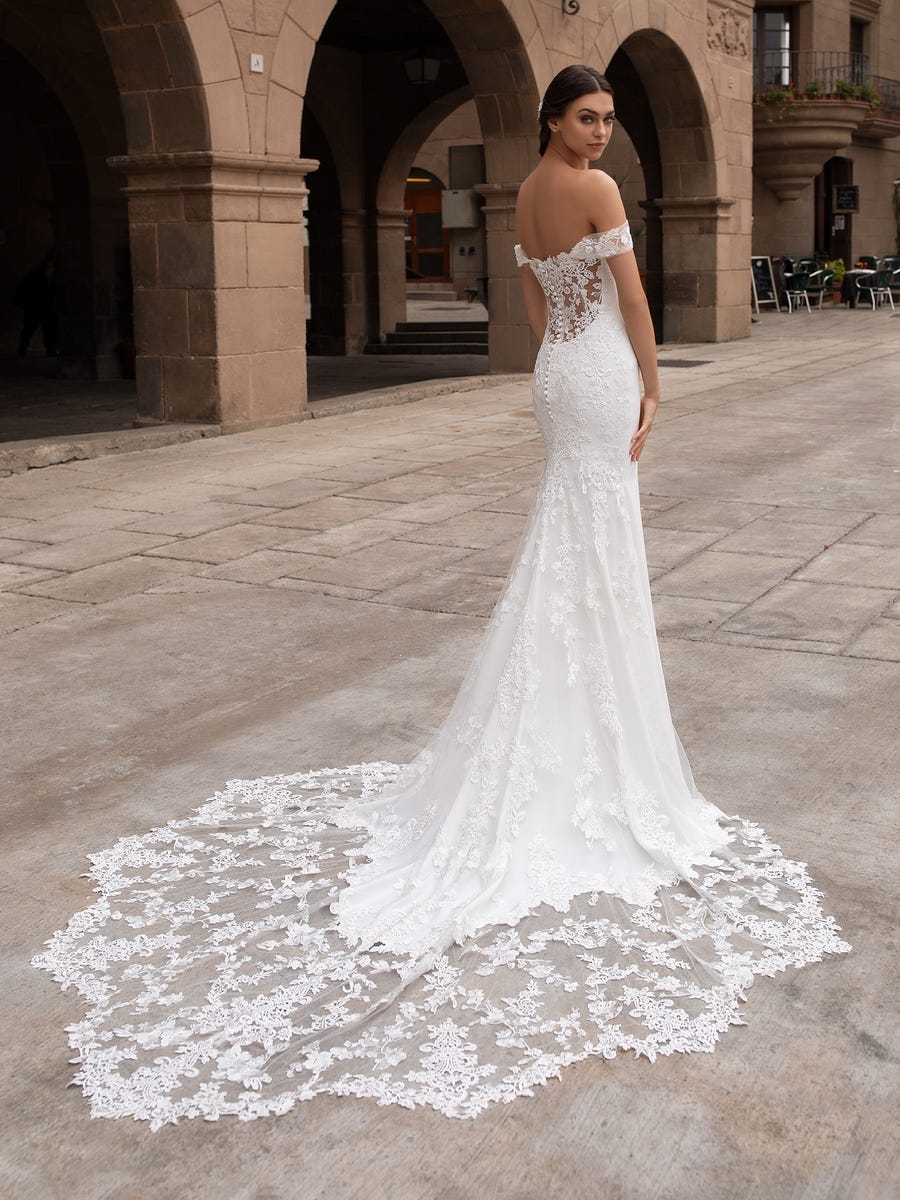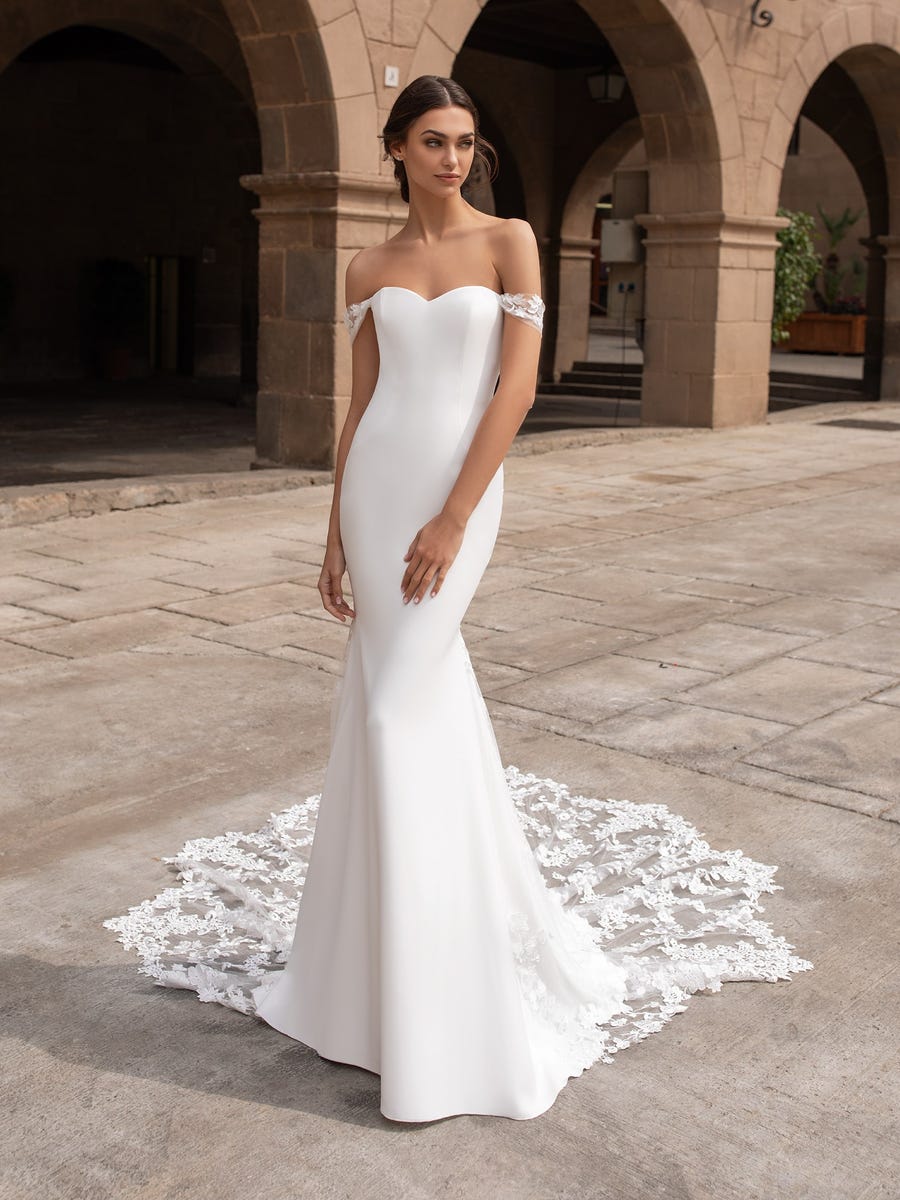 This angelic and feminine wedding gown by Pronovias has a figure-hugging silhouette and an intricate lace train that pools onto the floor below. White lace petals flutter around the off-the-shoulder sleeves, giving an extra delicate feature to the clean white crepe façade. If you like 2020 wedding dress styles that juxtapose floral lace with crisp modern lines, the Syrinx dress has it all. It's a flattering Spanish made wedding dress that will look amazing in any environment, from a city centre luxury hotel to a glamorous sunset ceremony on a beach.
Shop The Syrinx Dress at Luv Bridal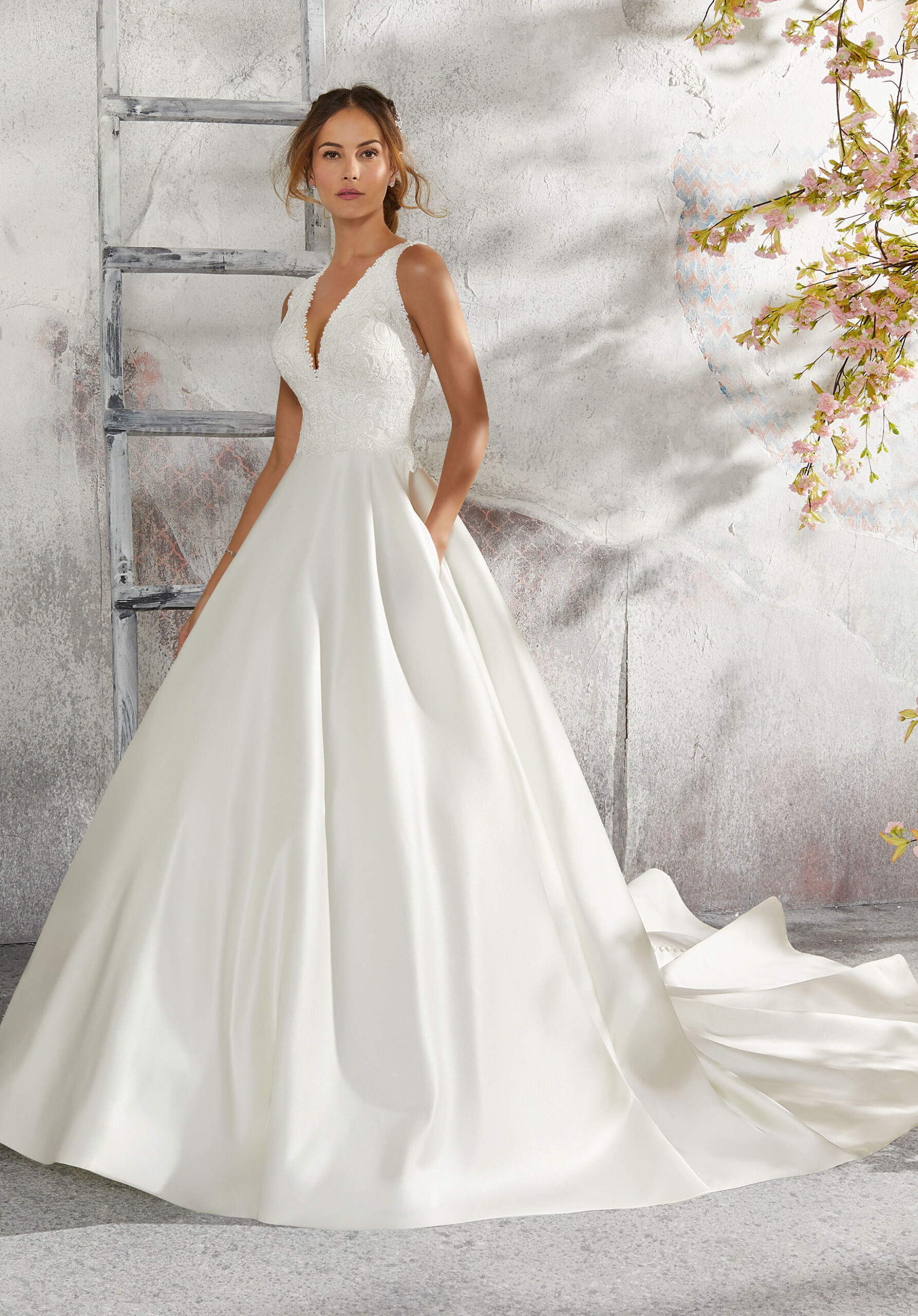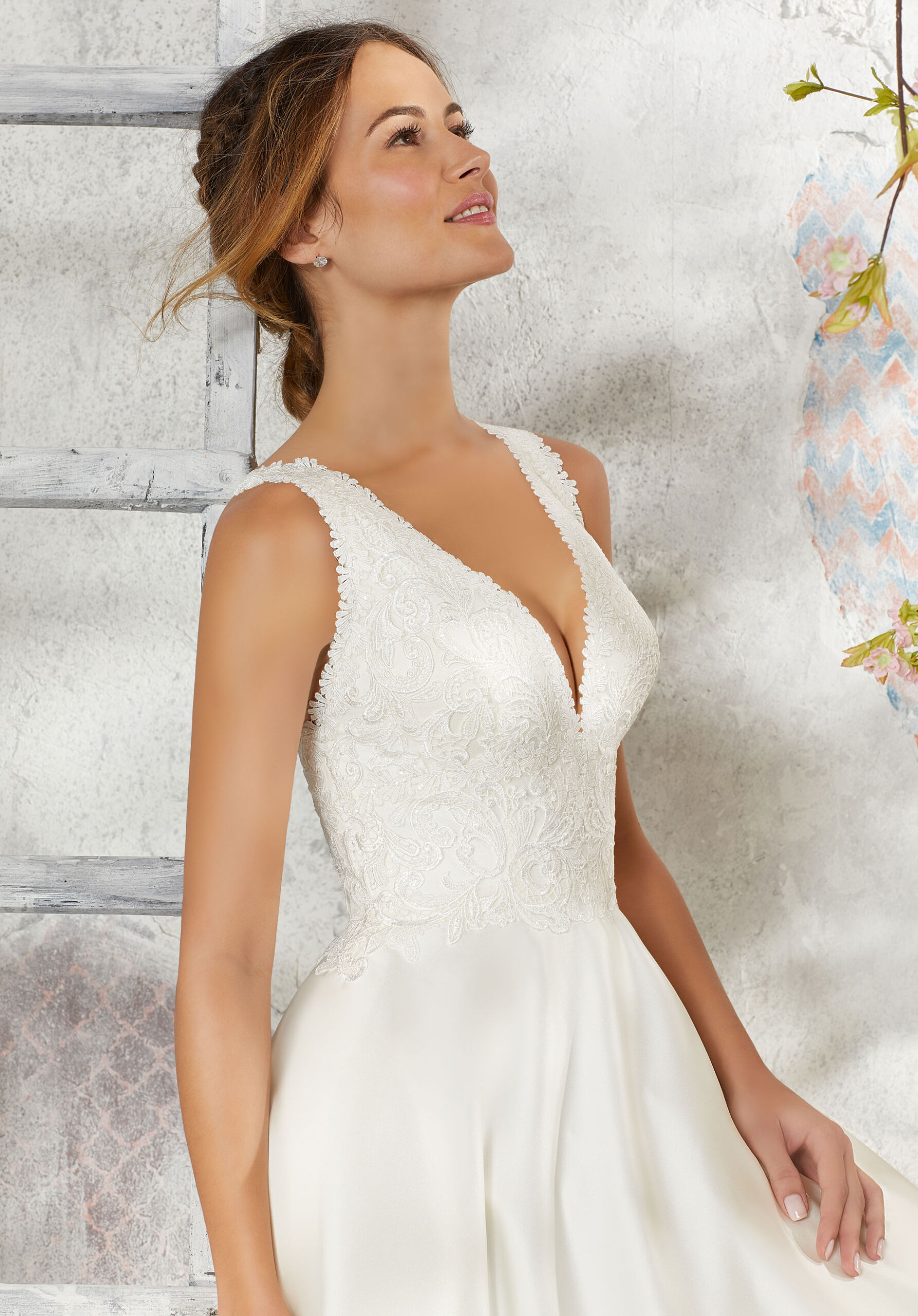 For something more traditional, we've included the Laurie dress by Morilee is one of the best wedding dresses in 2020. Complete with luxurious satin fabrics, a V-neck design and a ballgown skirt with pockets, this dress is a modern-day fairy tale. At the top, the bodice is adorned with beaded lace appliques and thick elegant straps which make it ideal for summer celebrations. The dress is also available in both white and ivory, so you can go for a crisper look or a warmer tone. Overall, the regal A-line silhouette of this designer gown never goes out of style.
Shop The Laurie Dress at Strutt Design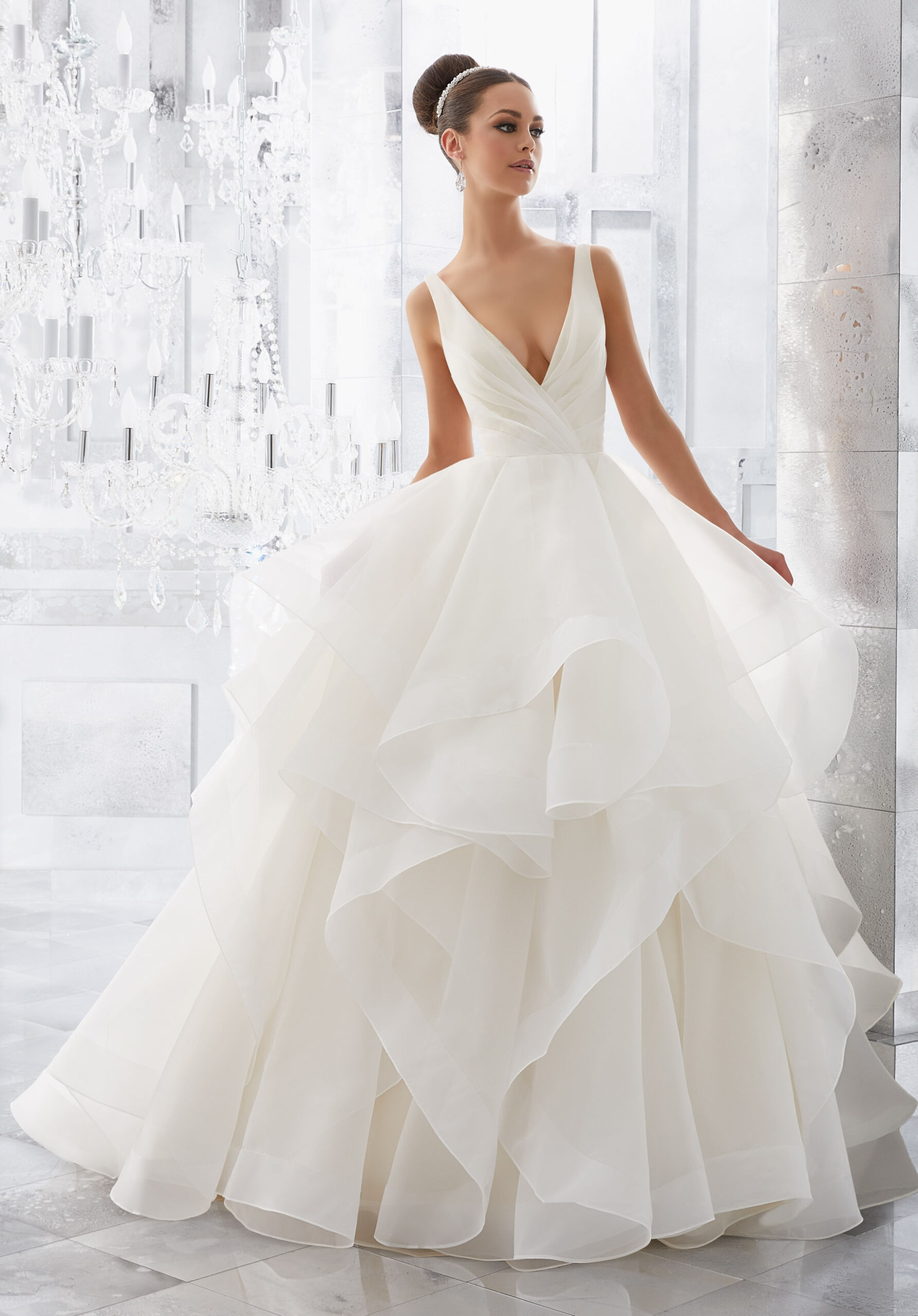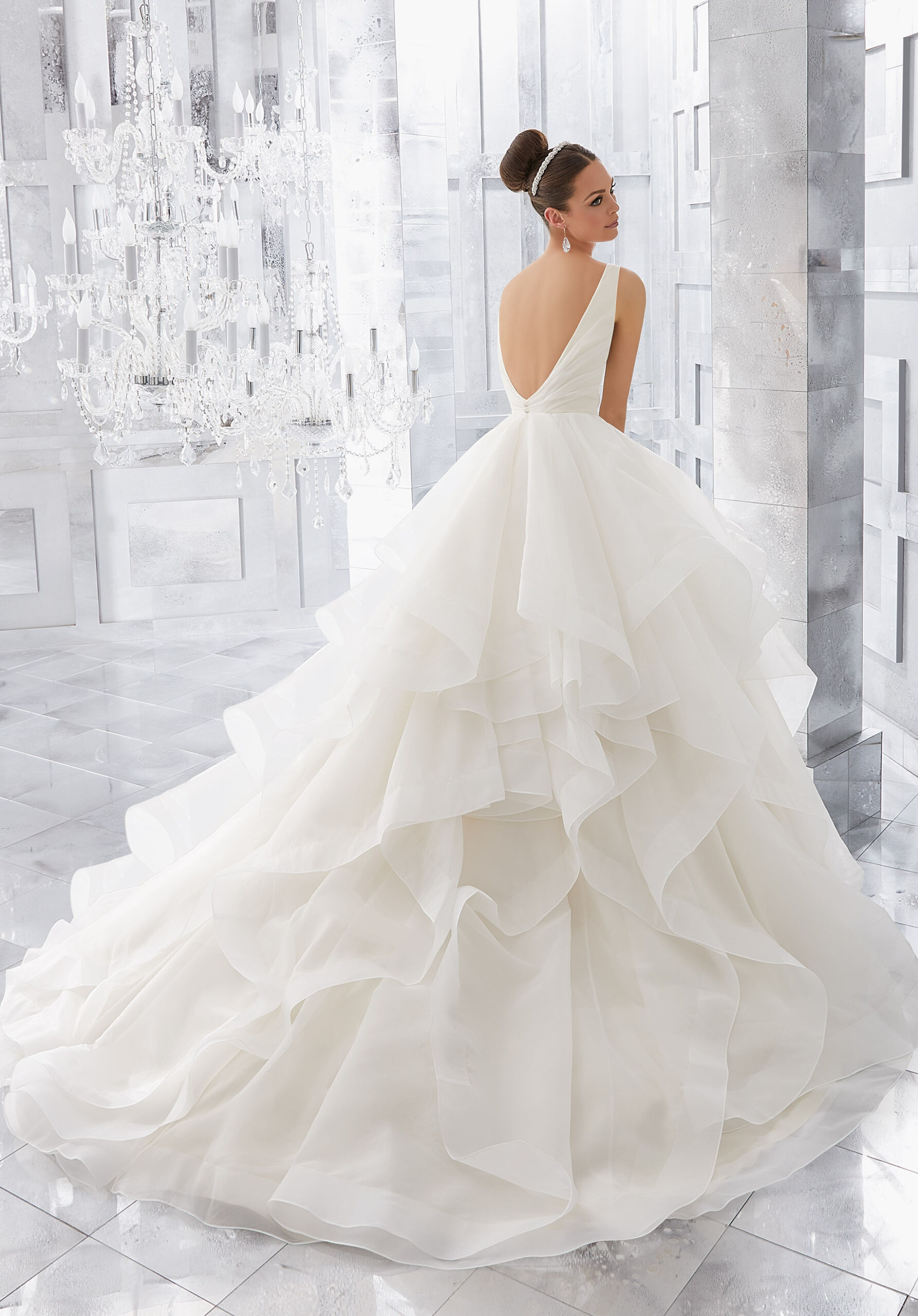 Another sleeveless number from the Morilee collection is this flamboyant Milly gown. It's a playful, light and airy wedding dress style that moves and turns beautifully. The dress is accented by a plunging V-neckline and a large flounced organza skirt that flows out from the waist. The Milly dress is also available in white and ivory, so you can match it with your skin tone, and you can adjust the length to suit your height. It's certainly a refreshing addition to our list of top 2020 wedding dresses, that will make a real entrance as you walk down the aisle.
Shop The Milly Dress at Strutt Design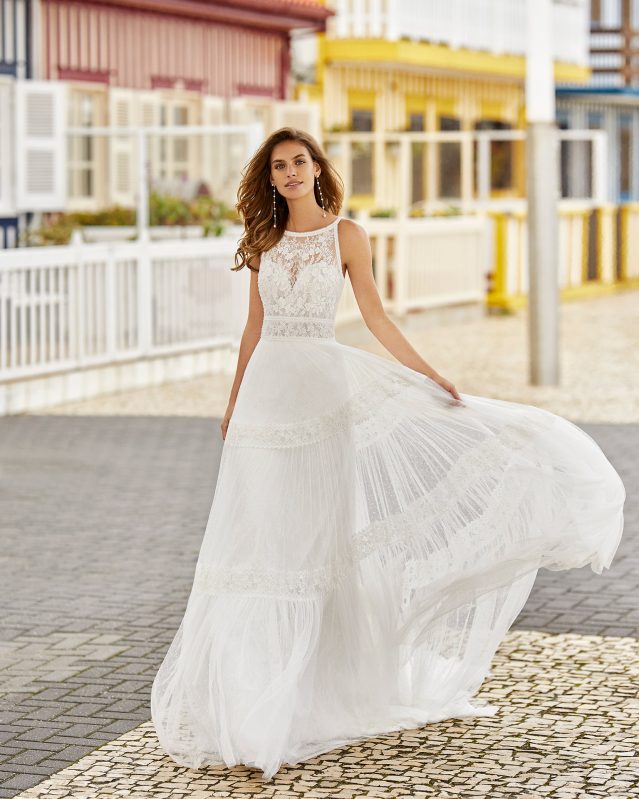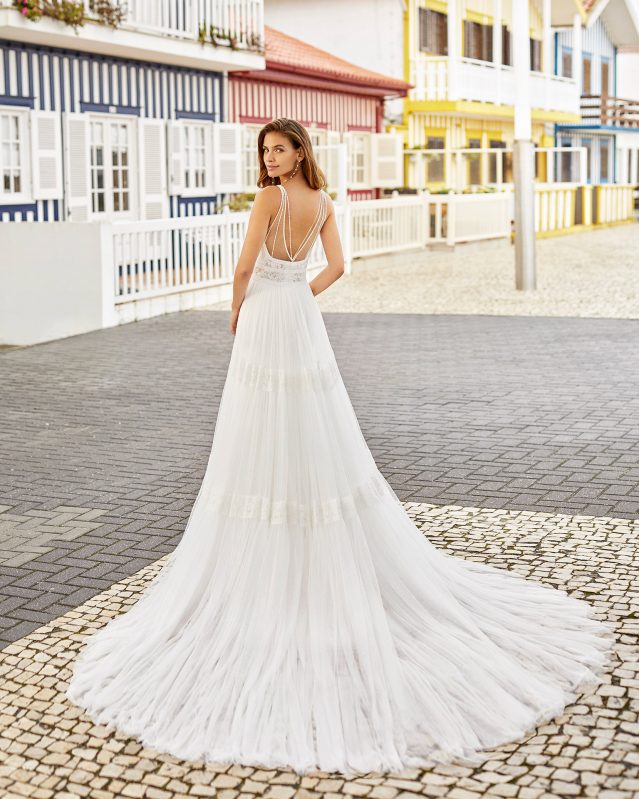 The Hassel dress by Spanish brand Rosa Clara is a truly unique choice for your upcoming Australian wedding. Marrying delicate lace and a flowing tulle skirt with pretty spaghetti straps at the back, there are so many elements that make this piece a dream to wear and photograph. The high neck adds another modern touch to the ensemble, and the beautiful panels of lace separate the skirt into various panels as it descends towards the floor. The light and airy design make it one of the best beach wedding dresses of 2020.
Shop The Hassel Dress at Marry Me Bridal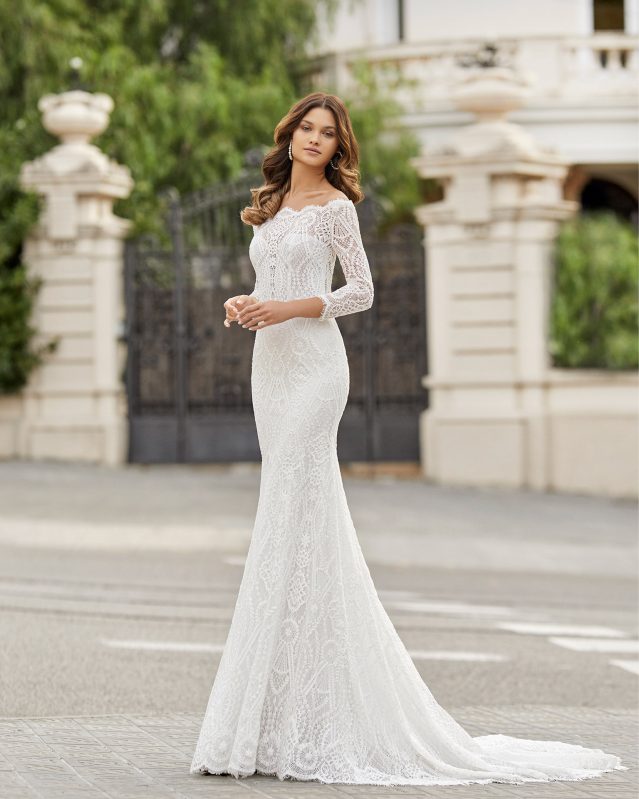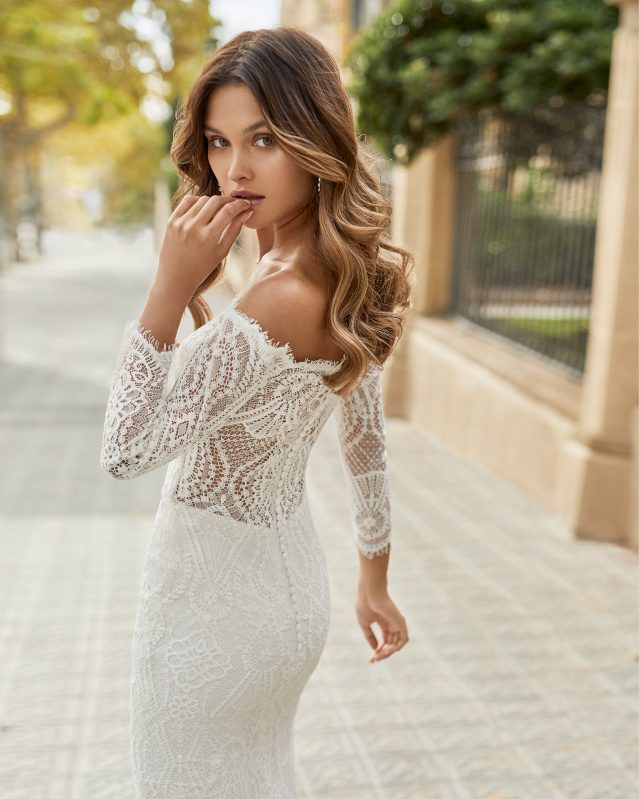 If sleeves are important to you, this alluring Tauro dress by Rosa Clara is a real winner. The intricacy of the lace pattern channels through the whole silhouette, from the illusion back to the bracelet sleeves and the scalloped off-the-shoulder edge. It's a vision of vintage elegance that we can imagine working beautifully for a winter wedding as well as an autumnal celebration. The mermaid cut enhances all of your stunning natural curves and will make you feel a million dollars. There's no doubt that all eyes will be on you in this striking 2020 wedding dress.
Shop The Tauro Dress at Marry Me Bridal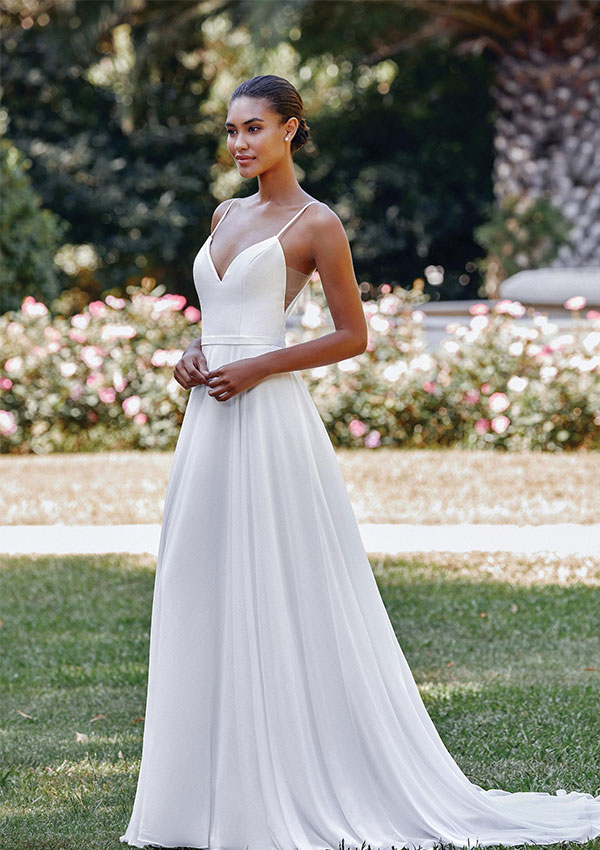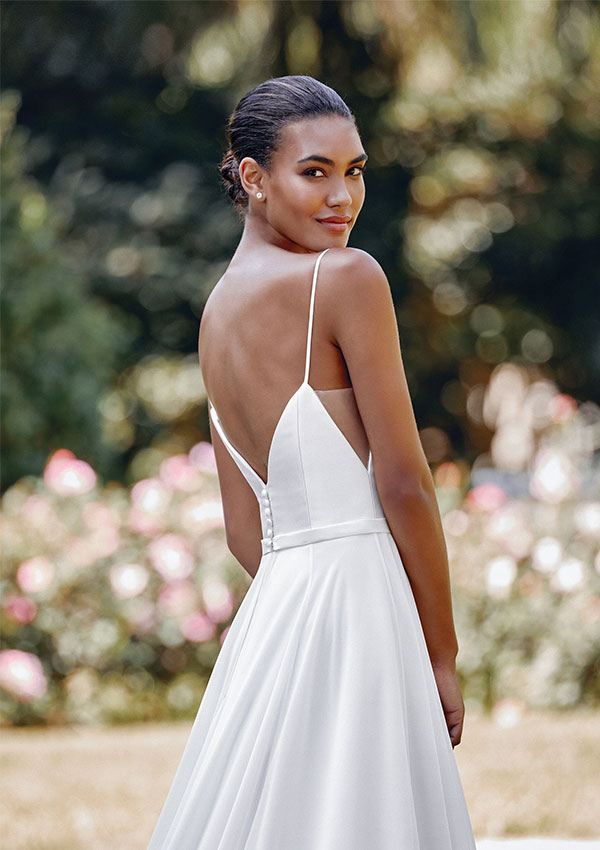 Simple yet refined, this chiffon A-line dress is perfect for brides who want something unfussy yet luxurious on their wedding day. Featuring a mikado bodice with illusion cutouts and spaghetti straps, it's a bold and beautiful design that looks flattering on lots of body shapes. We love the low V backline and neat matching mikado belt that combine to create a polished and sophisticated look. This 2020 Sincerity wedding dress looks incredible with long flowing hairstyles or a chic low bun that allows the silhouette and accessories to do all the talking.
Shop 2020 A-line Dresses at Brides of Beecroft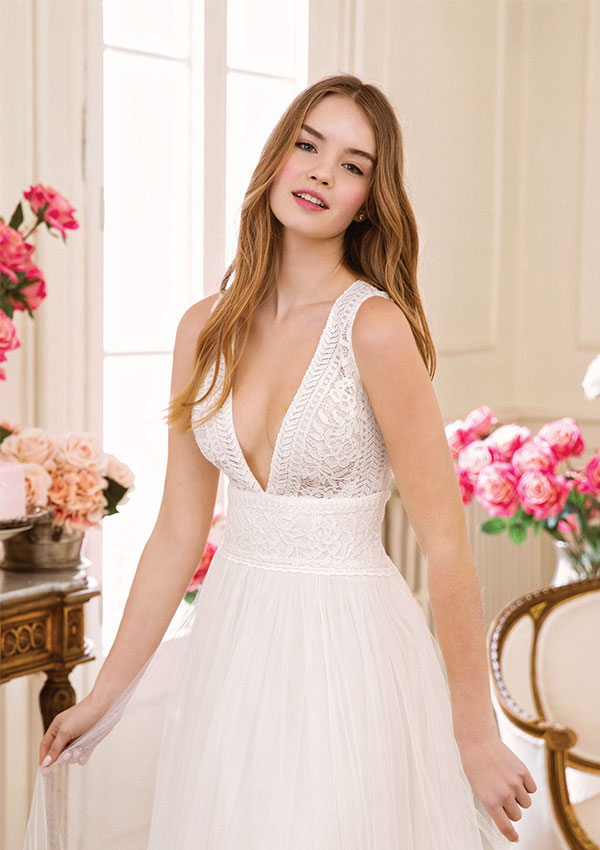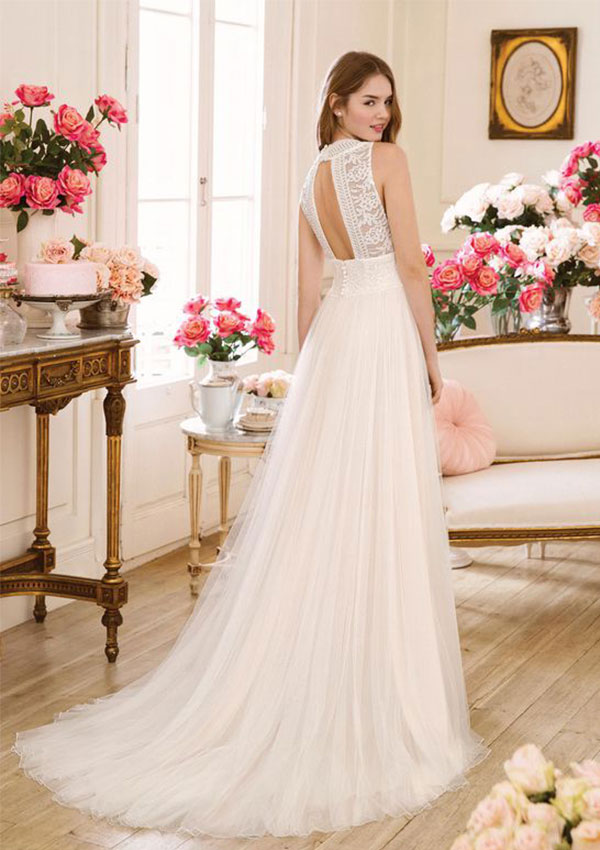 Romantic and whimsical, this flowing Sincerity dress has a plunging V-neckline and a lace keyhole back that will turn heads as you walk down the aisle. The lace cummerbund meets the flowing tulle skirt to give a flattering shape to the gown. The composition hugs in at the waist and falls naturally in typical A-line fashion. The thicker shoulder straps give further support and comfort to the upper body. It's a stunning wedding dress style that works perfectly for a garden ceremony, followed by a glamorous ballroom dinner dance. The options are endless.
Shop Romantic 2020 Dresses at Brides of Beecroft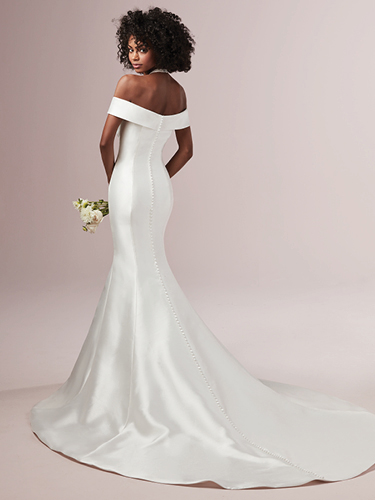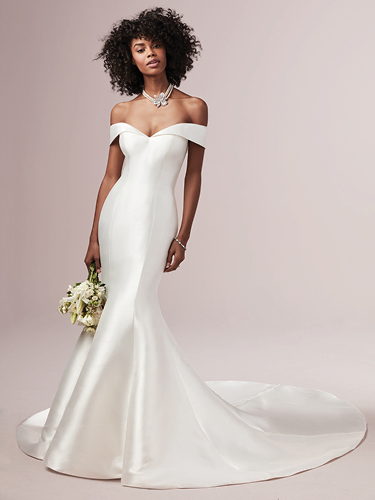 The Josie dress by Rebecca Ingram has a timeless appearance, making it one of our top wedding dresses for 2020 and beyond. The beautiful sweetheart neckline elegantly frames the shoulders and the swathes of Huron mikado fabric create the perfect fit-and-flare silhouette. A trail of buttons adds an extra decorative detail down the back of the gown, and if you prefer a shorter length, it also comes in a vintage tea dress style called the Josie Lane. We think this would have been the style that fashion icon Marilyn Monroe would have picked off the rail.
Shop The Josie Dress at Sweethearts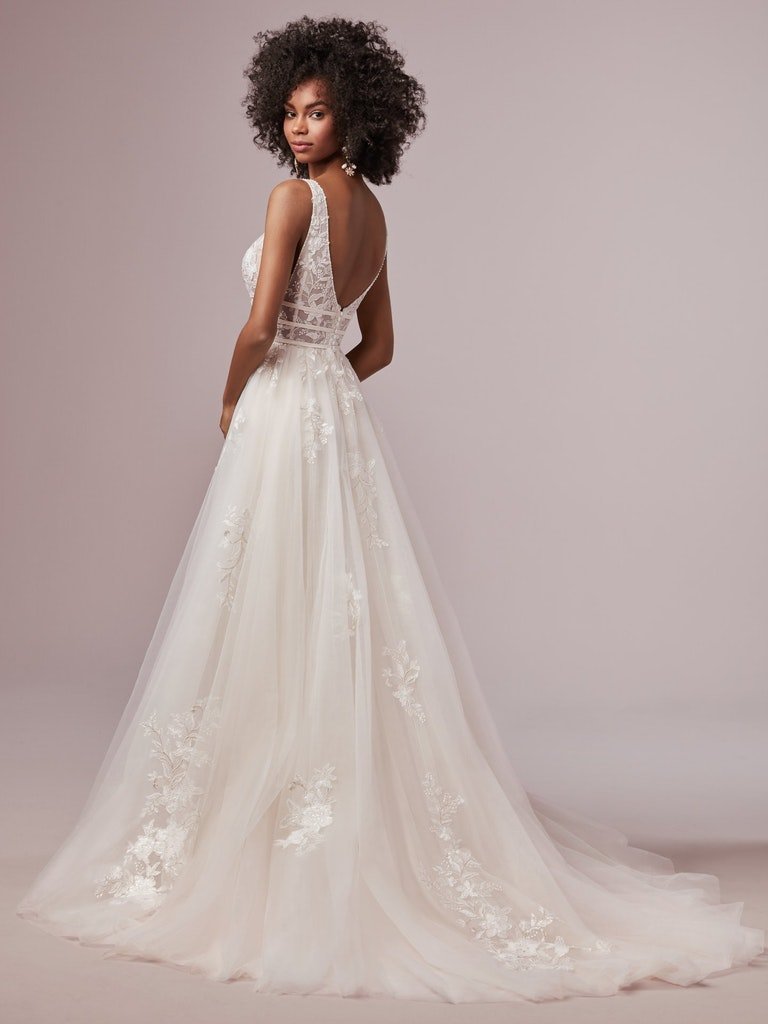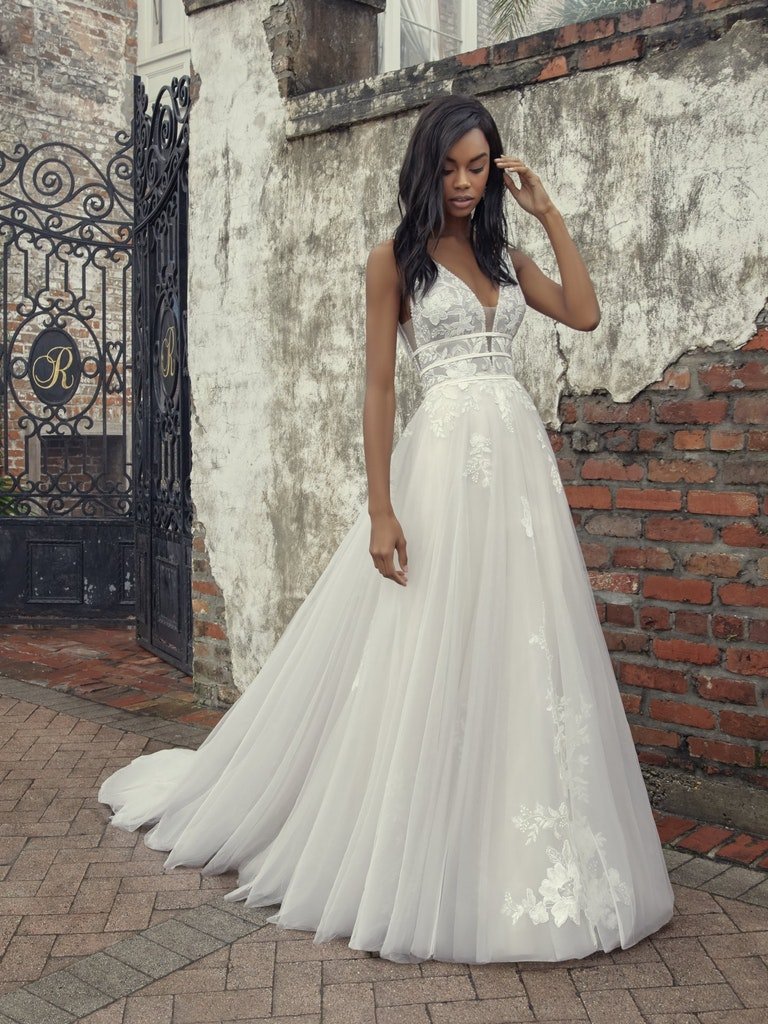 Raelynn is a delicate and flirty wedding dress style that makes an impact in all of your wedding photographs. The upper section features lace motifs and structured banding around the décolletage to create an illusion lace bodice. The plunging V-neckline and backline add a little drama to the overall look, to contrast beautifully with the flowing tulle skirt. If you are unsure about the low neckline, the dress is also available with a lined bodice and a raised front. Rebecca Ingram has thought through all possibilities to make brides feel their most confident.
Shop The Raelynn Dress at Sweethearts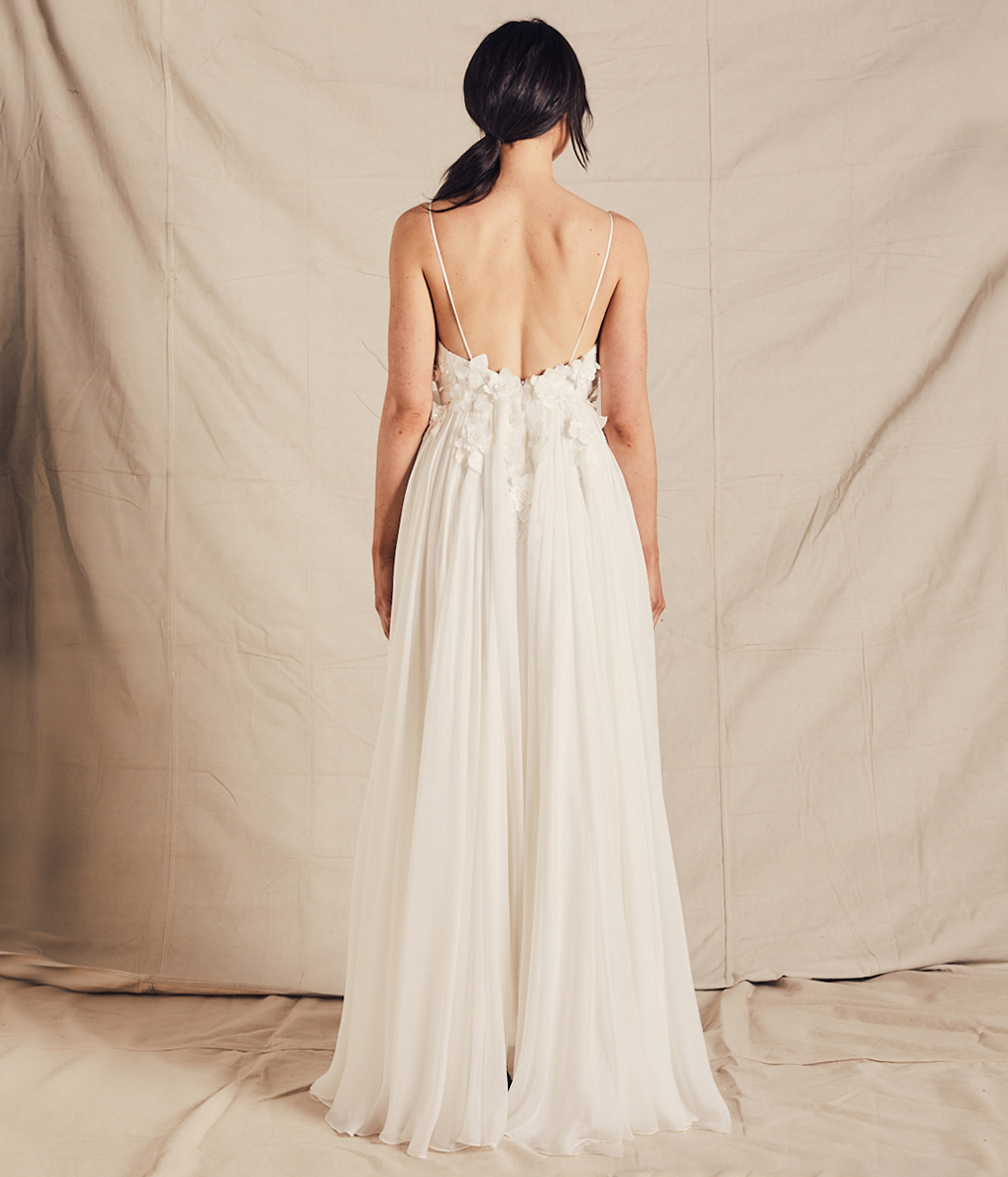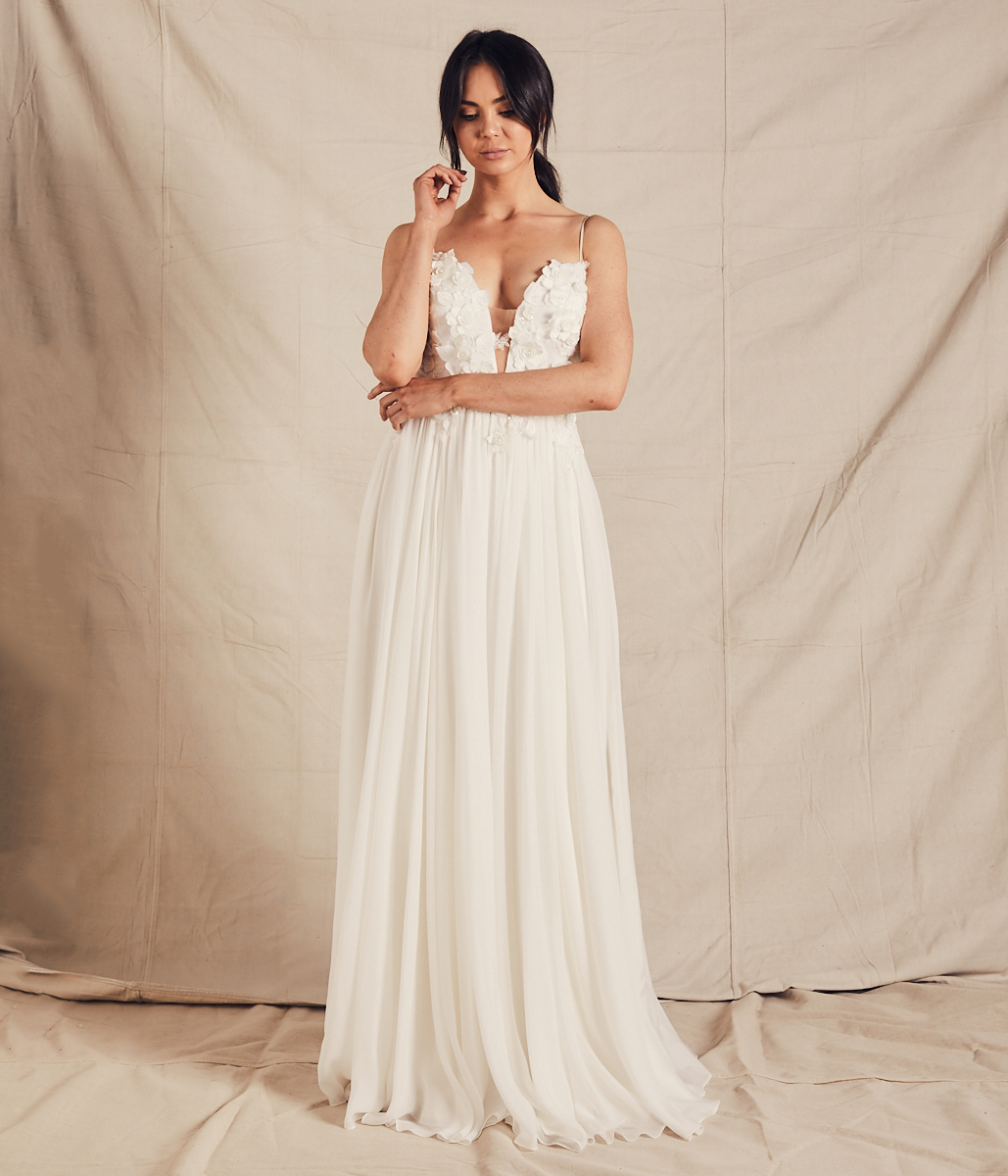 The best 2020 wedding dresses reflect the relaxed bride who wants to have an amazing day no matter what curveballs are thrown into the mix. The Nicolet dress resembles all of this and more. An eclectic floral lace bodice is paired with a romantic tulle skirt, and the spaghetti straps keep the focus on the intricacy of the applique detail. Below the stunning low back and high waist, the loose fit also works as a flattering maternity wedding dress. We can imagine Nicolet being worn in an enchanting garden wedding venue or a chic city restaurant.
Shop The Nicolet Dress at Kay Elizabeth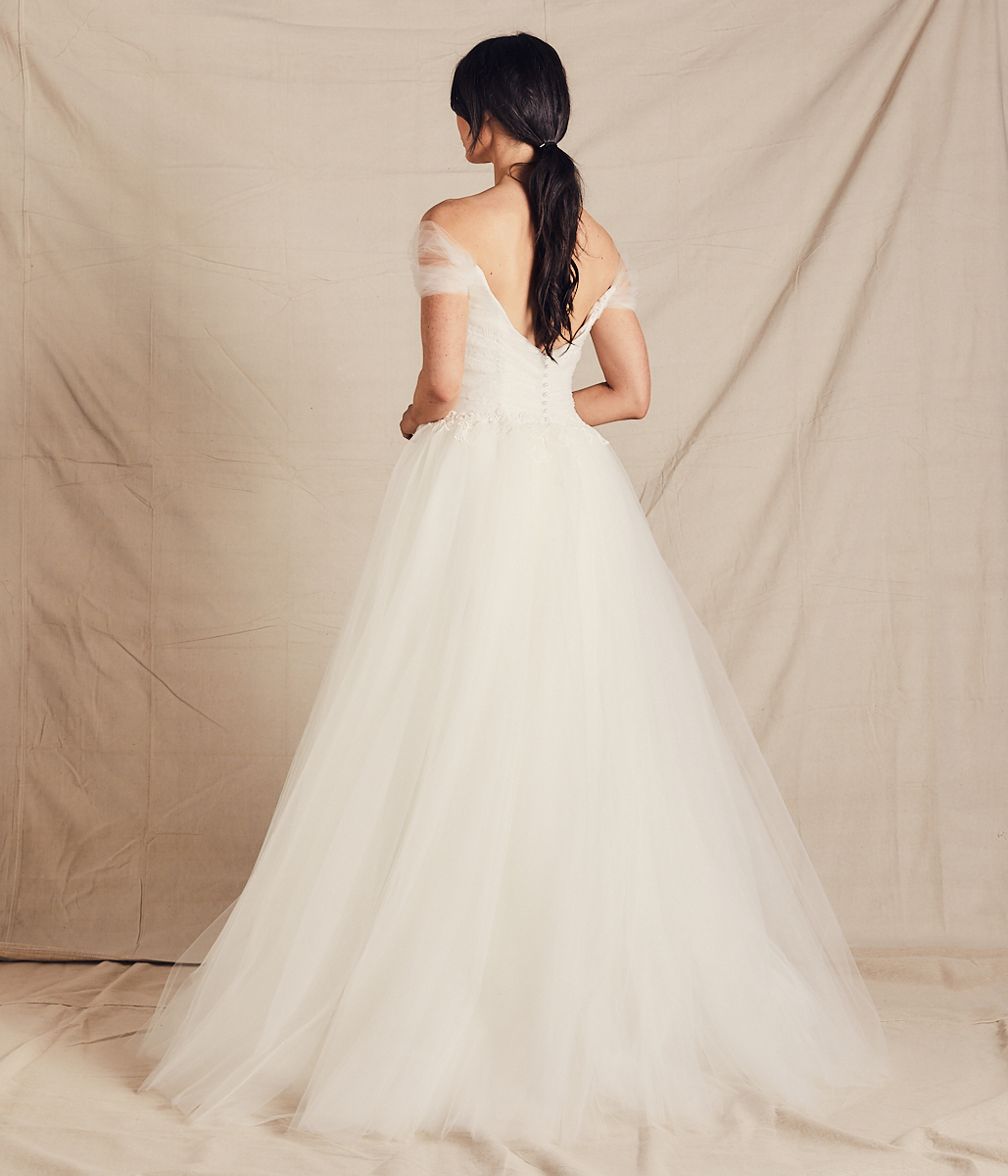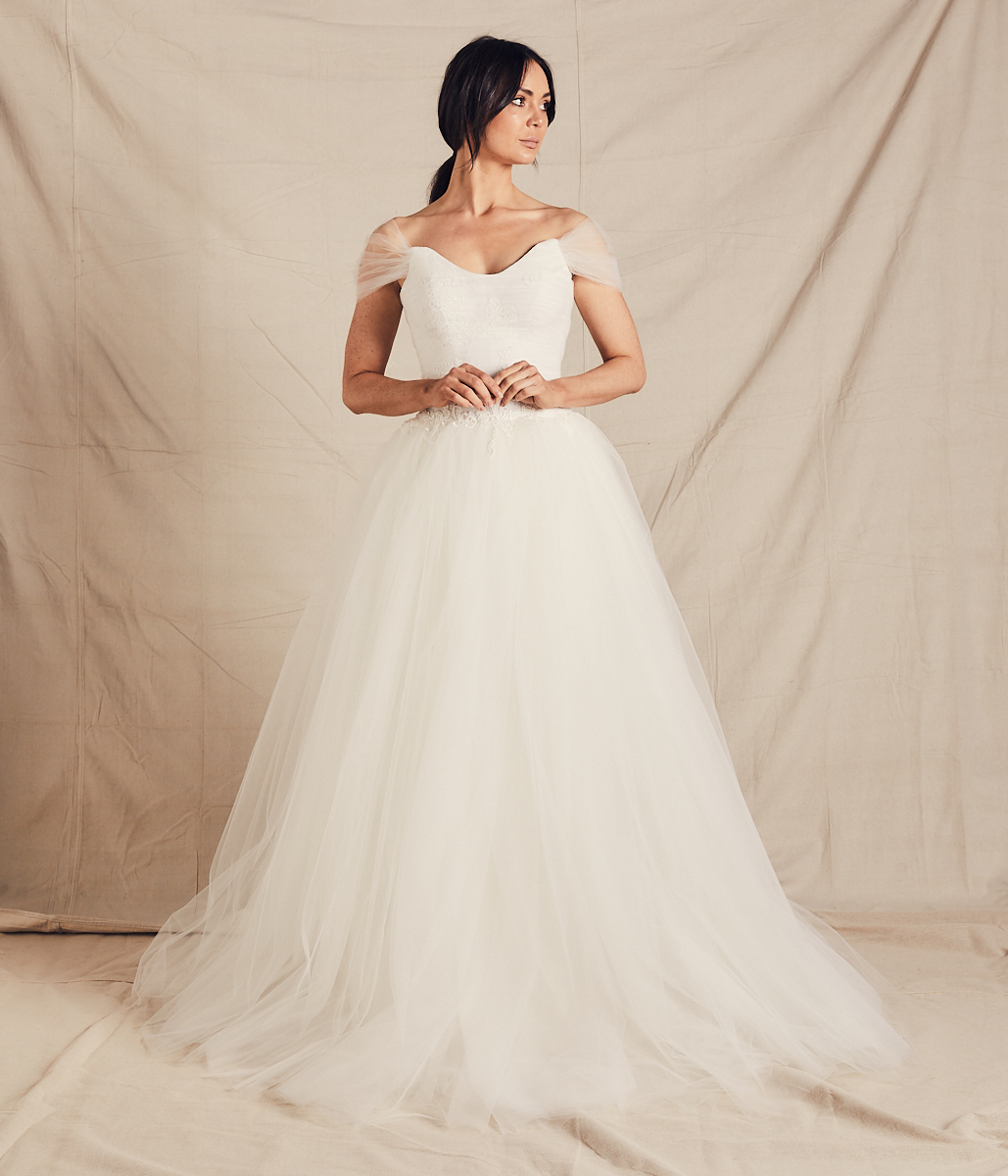 The Daphne Dress is a ballroom essential. We love the way the sheer off-the-shoulder sleeves match the full tulle skirt, and the sculpted bodice sits beautifully on the chest. If you want to make a grand entrance on your special day, this is the wedding dress to choose. From every angle, it's a stunning gown that will still be as fashionable as it is now in years to come. The Daphne would look incredible in a luxury hotel wedding venue, a period home or even a fairytale castle. It's a versatile, comfortable and eye-catching gown that is sure to never go out of style.
Shop The Daphne Dress at Kay Elizabeth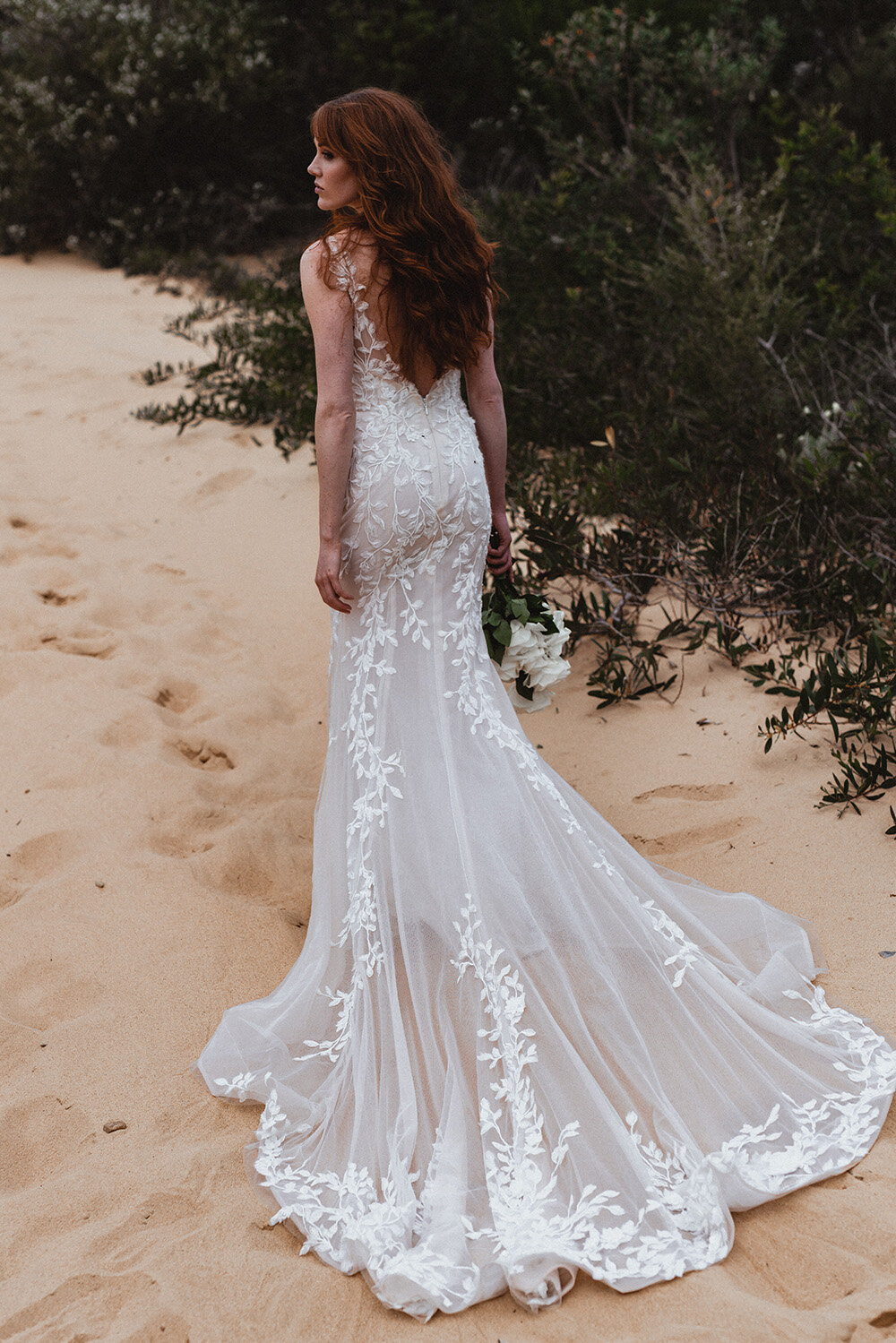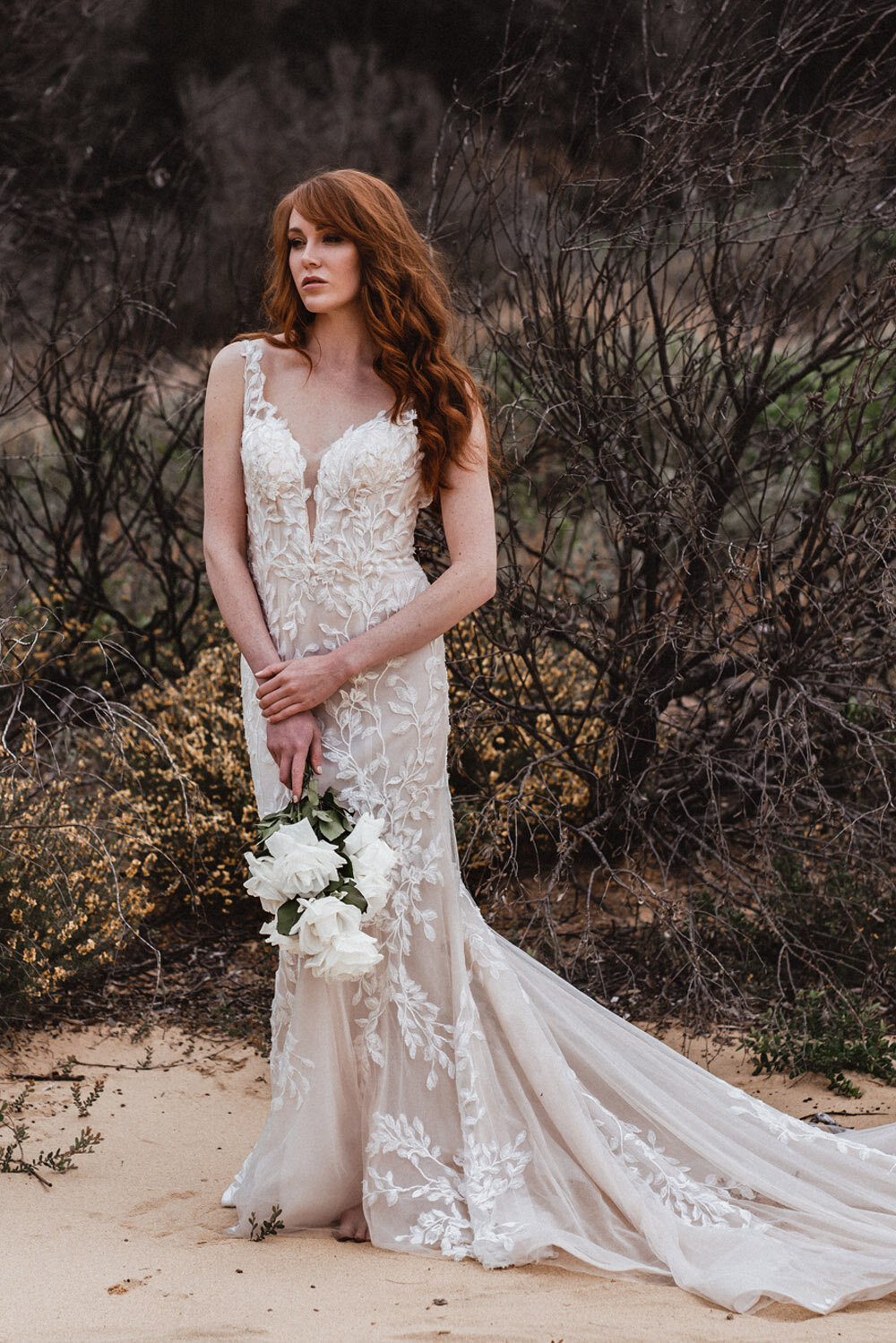 Next on our list of 2020 best wedding dresses, the Olivia Dress is a divine mermaid style gown with dainty beaded lace appliques. Composed of light fabric, illusion lace tank straps and a deep V neckline, the dress is a work of art. From strolling along the beach to a luxury hotel wedding venue with sea views, the Olivia dress looks the part in any kind of setting. The 1-metre train adds another dimension to the dress as you walk, with delicate horsehair trim around the hem. The Olivia dress is made to order in all sizes, so you can trust that it will fit perfectly on the day.
Shop The Olivia Dress at Blanche Bridal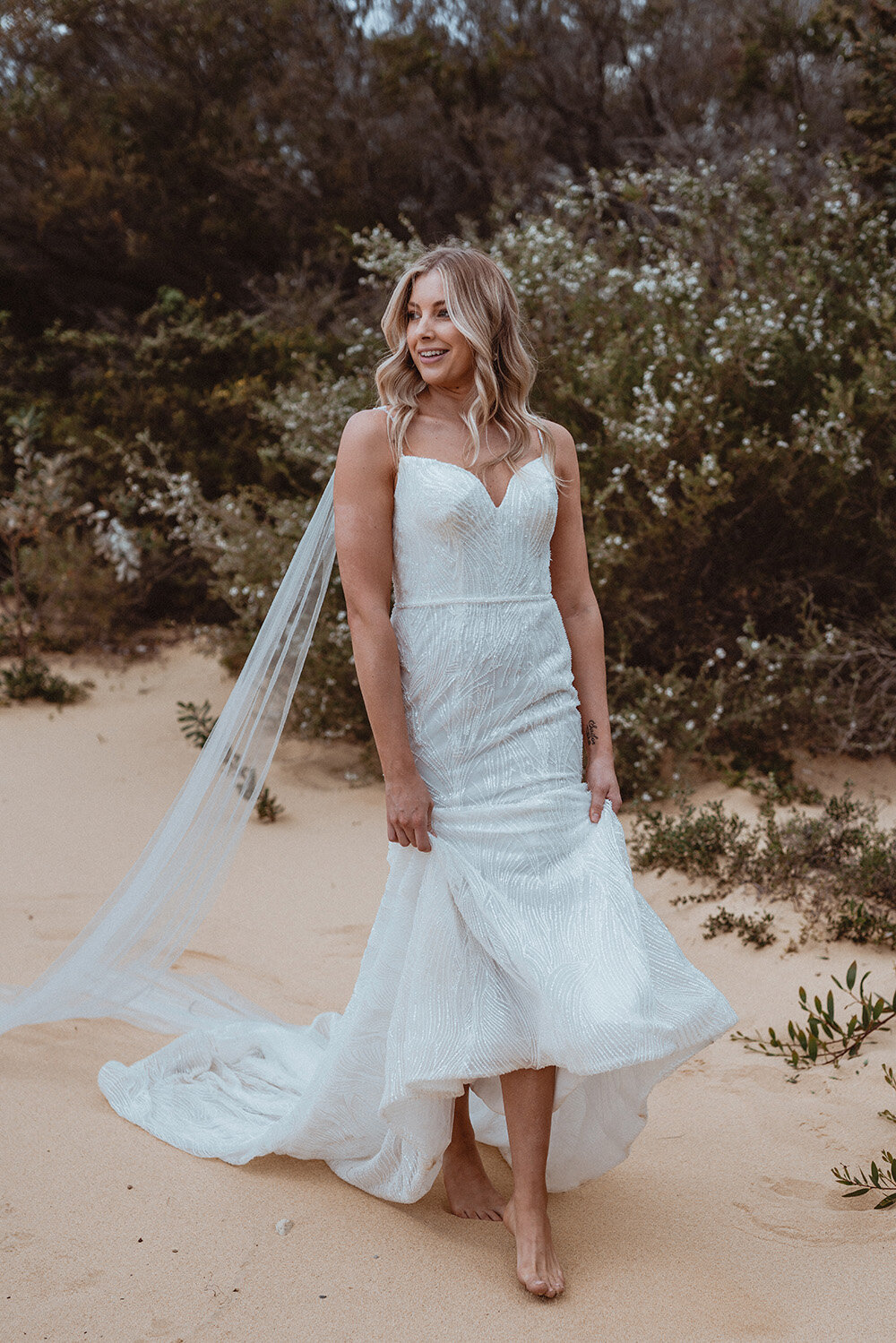 Last but by no means least, the Odelia dress by Blanche Bridal is a breathtaking lacy number with delicate beaded motifs. The fine tulle veils float behind, attached delicately at each shoulder. As this bride showcases, the gown makes a stunning beach ceremony dress and it fits in perfectly with a coastal vibe. The Odelia is effortless, easy to wear and forever on-trend. Of all wedding dress styles, this laid back slim fit is easy to transform into evening wear if you want to recycle it for future occasions. It's a 2020 wedding dress that's loved by all who wear it.
Shop The Odelia Dress at Blanche Bridal
Looking for your perfect 2020 wedding dress but need to see more options? Check out our full range of gorgeous wedding dress boutiques that stock Australian and international designers.