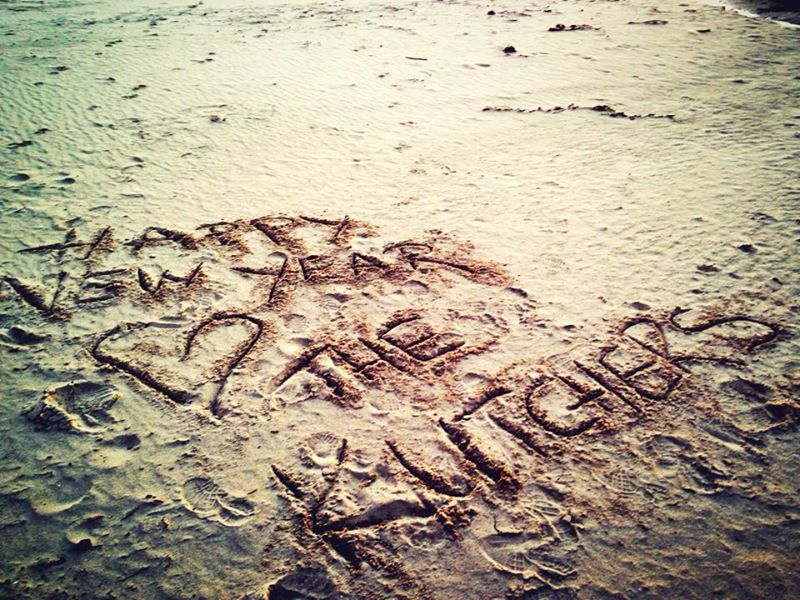 Did actors Ashton Kutcher and Mila Kunis marry in secret over the Christmas holidays?
That's the question being asked by fans the world over after Ashton, star of Two and a Half Men, posted the picture above on his Facebook page in the week hours of New Year's Day, 2015.
It's a simple New Year message, scrawled in the sand, but it's signed 'The Kutchers.'
Naturally, fans are reading into it that by 'The Kutchers' Ashton, 36, is referring to him, possibly his new wife (Mila), and their baby, Wyatt, who was born on October 1, 2014.[ew-supplier-carousel]
The star couple became engaged in February 2014 after dating for about three years and Mila, 31, is on record saying that when she does marry, she wants it to be in secret.
"I never wanted to get married. From the age of 12, I prepared my parents for no marriage," the Black Swan actress told W magazine at the time.
"Then things changed. I found the love of my life. Now my theory on weddings is: Don't invite anyone. Do it privately and secretly. My parents are okay with that. They're just excited that I said yes."
Well, it seems Mila that she got her wish and she did marry very, very privately.
If the couple are in fact wed, this will be Mila's first marriage and Ashton's second. He and 51-year-old actress Demi Moore divorced in 2013 after several years' marriage.