A surprise message from Guy Sebastian? Tick. Glamorous nuptials by a Real Housewife of Melbourne? Yes. Love like we're going into lockdown? Hells yeah.
On the last weekend before three long months of lockdown, Melbourne brides Cathi and Jackie celebrated big love in a big way, with a glamorous vineyard wedding on the Bellarine Peninsula, dripping in black tie and bling.
The luxury oceanview winery setting on March 14, 2020, was thanks to Terindah Estate – award-winning Geelong wedding venue with an enviable backdrop of the You Yangs and Port Phillip Bay.
Ninety guests and the girls' pampered pooches, Bonnie and Buddy, came together for a day that was a visual feast as much as it was a delicious one by the boutique wedding venue. Both brides were a vision; Cathi wearing a D'Italia lace wedding gown, and stylist Harper & Co was tasked with bringing the couple's romantic upscale aesthetic to life – aided by outstanding florist Ivy & Eve and a slew of other creative contributors.
Reality star turned marriage celebrant, Gina Liano, delivered a tear-jerking ceremony that followed a celebrity videogram to Jackie from Guy Sebastian – a surprise gift by Cathi for their intimate first look.
Every interval of the day was marked with music by Rutherford Entertainment – an acoustic duo during canapé hour; a DJ during dinner, and a saxophonist for party hour.
Our wedding was the weekend before Melbourne went into 115 days lockdown. It was the last party that our friends got to attend before going into isolation and we are so happy it was a big one and that everyone had a blast before the big lockdown. It was everything!!! We could not go on a honeymoon (COVID!) so did a renovation of our house, and a year and one week later we had a massive housewarming party where we brought most of our wedding guests back together and danced the night away until the early hours. Its was lovely as we were able to relive the truly special feeling you get on wedding day.
Cathi & Jackie
---
Cathi & Jackie's glamourous vineyard wedding was captured stunningly by Ashley K Weddings.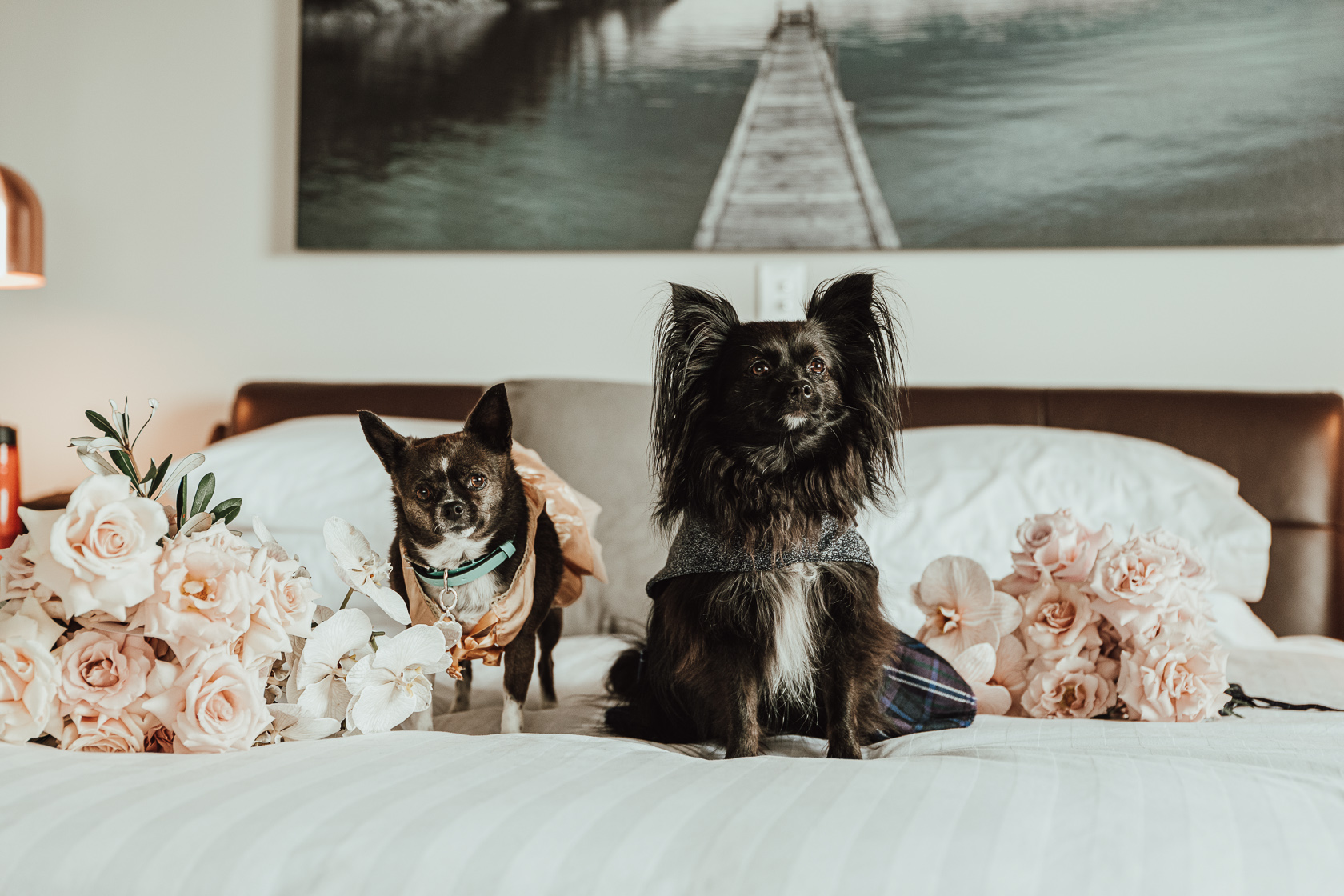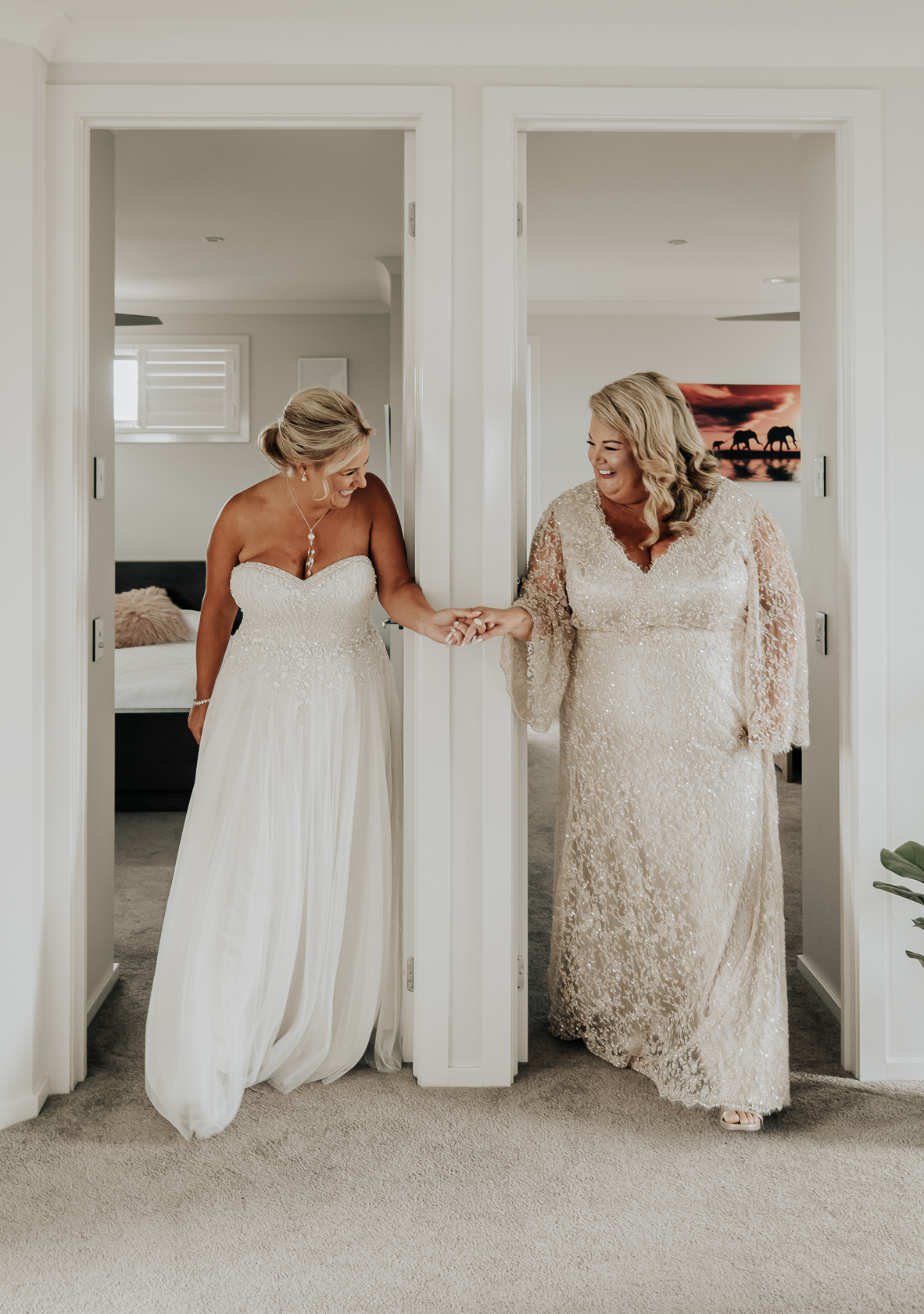 Jackie (pictured left) was dressed by Raffaele Ciuca and Cathi (right) wore a custom gown by Tania Stokes Couture with luxury fabric by D'Italia.
My fabric came from the wonderful D'Italia who couldn't have been more perfect in helping me choose an incredible Italian beaded fabric and champagne satin lining. The designer and dressmaker was Tania Stokes Couture who perfectly translated the fabric into my dream dress. I was in love with the fabric, so to see the dress perfectly capture the beauty of it was a dream come true.
Cathi
CHECK OUT D'ITALIA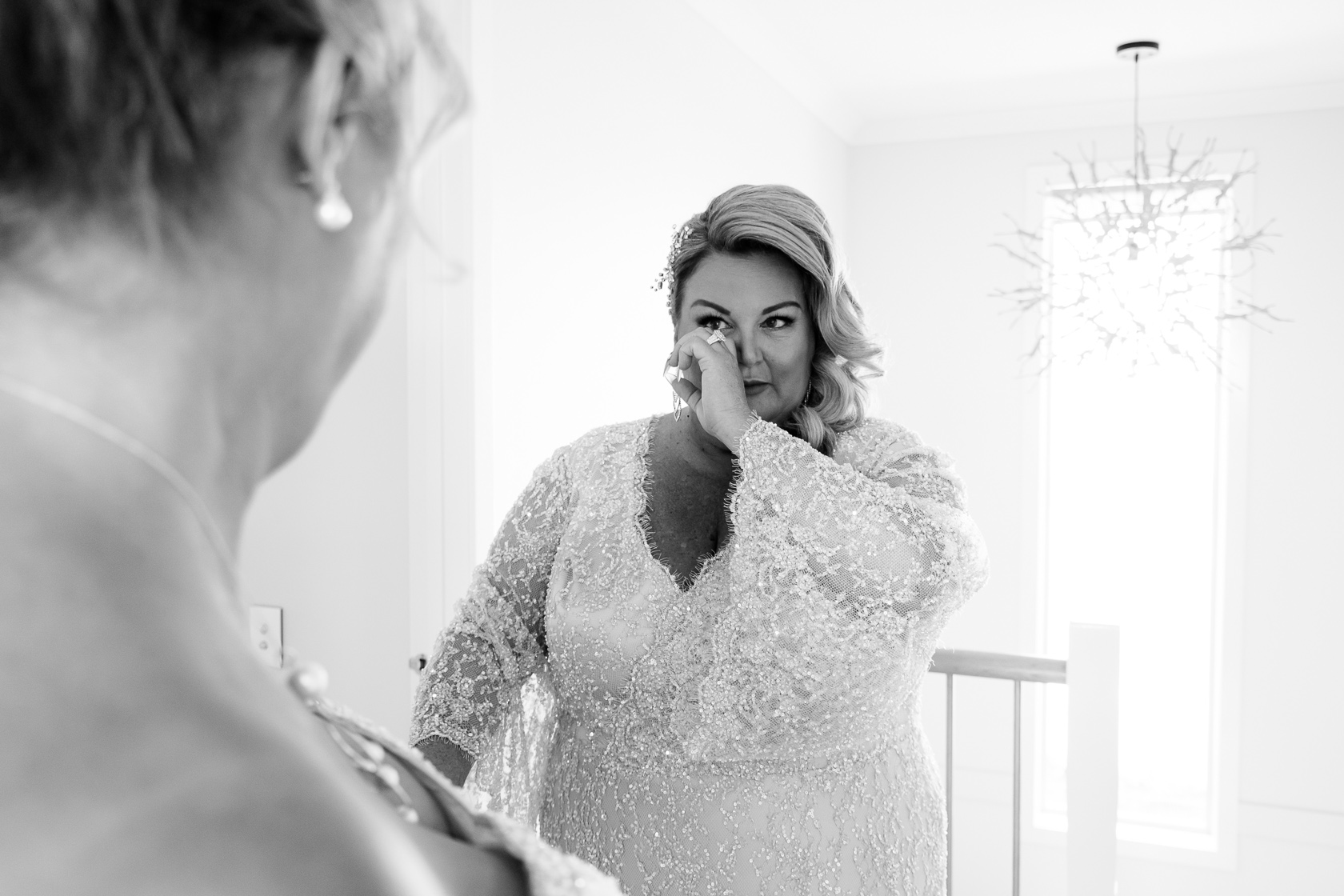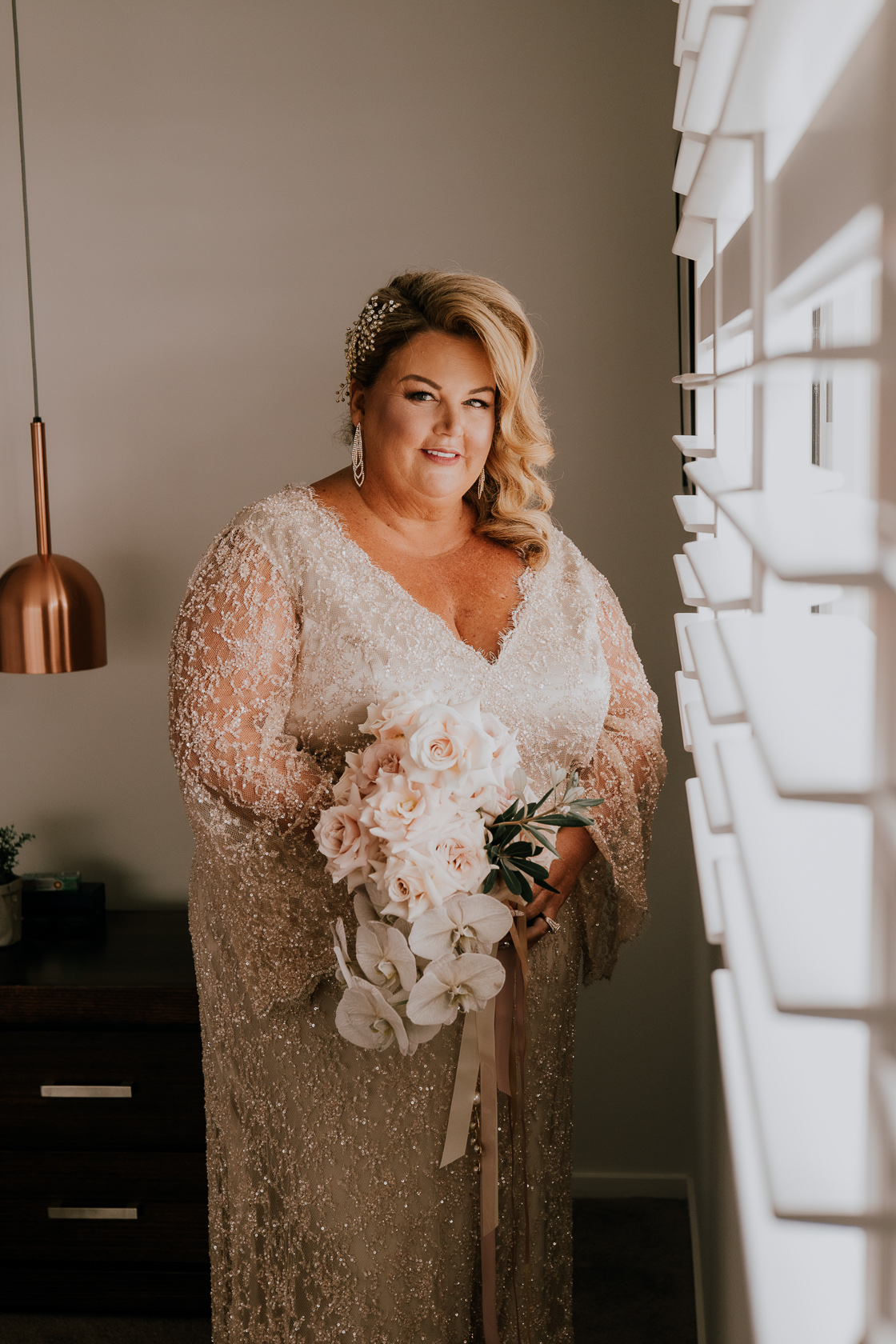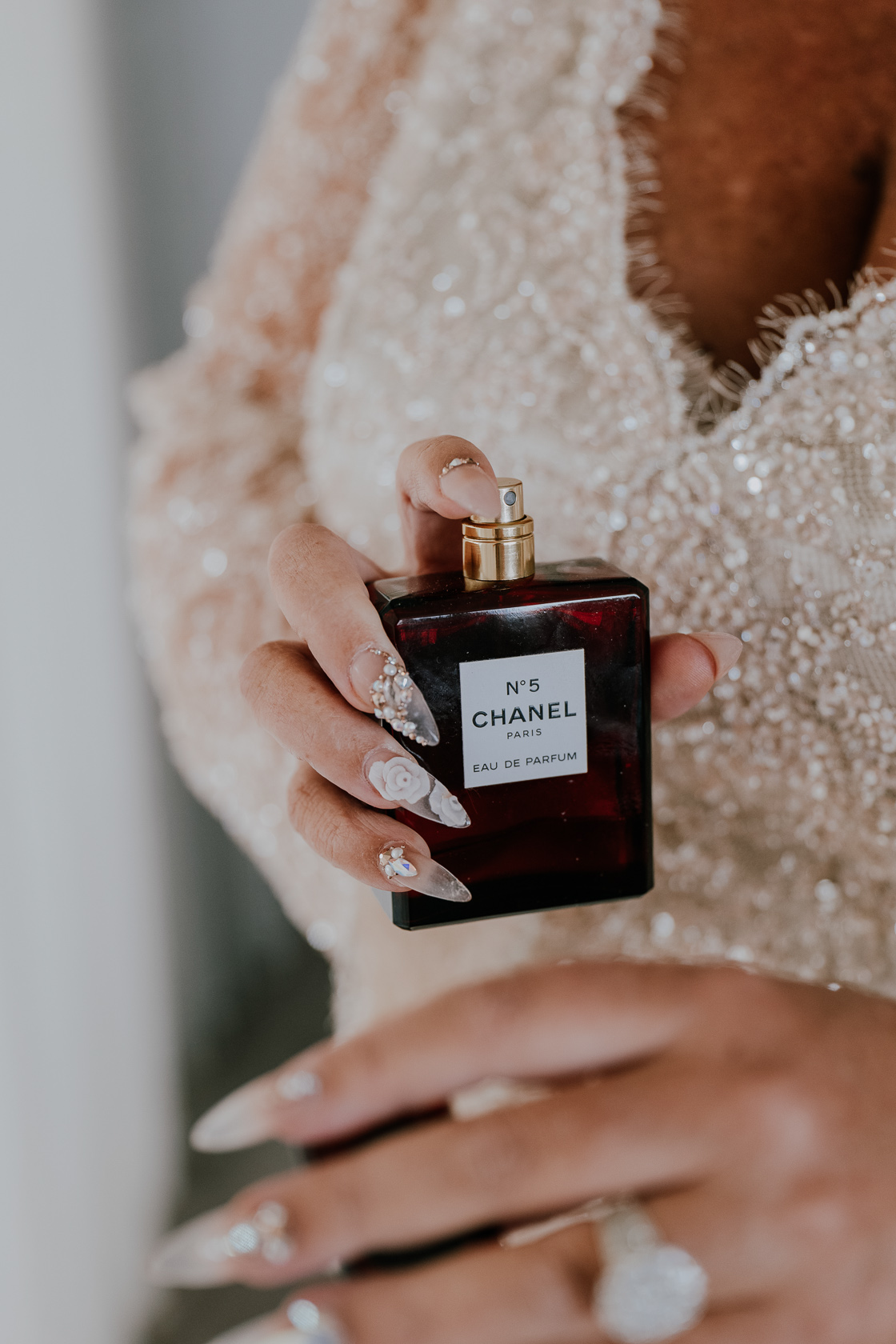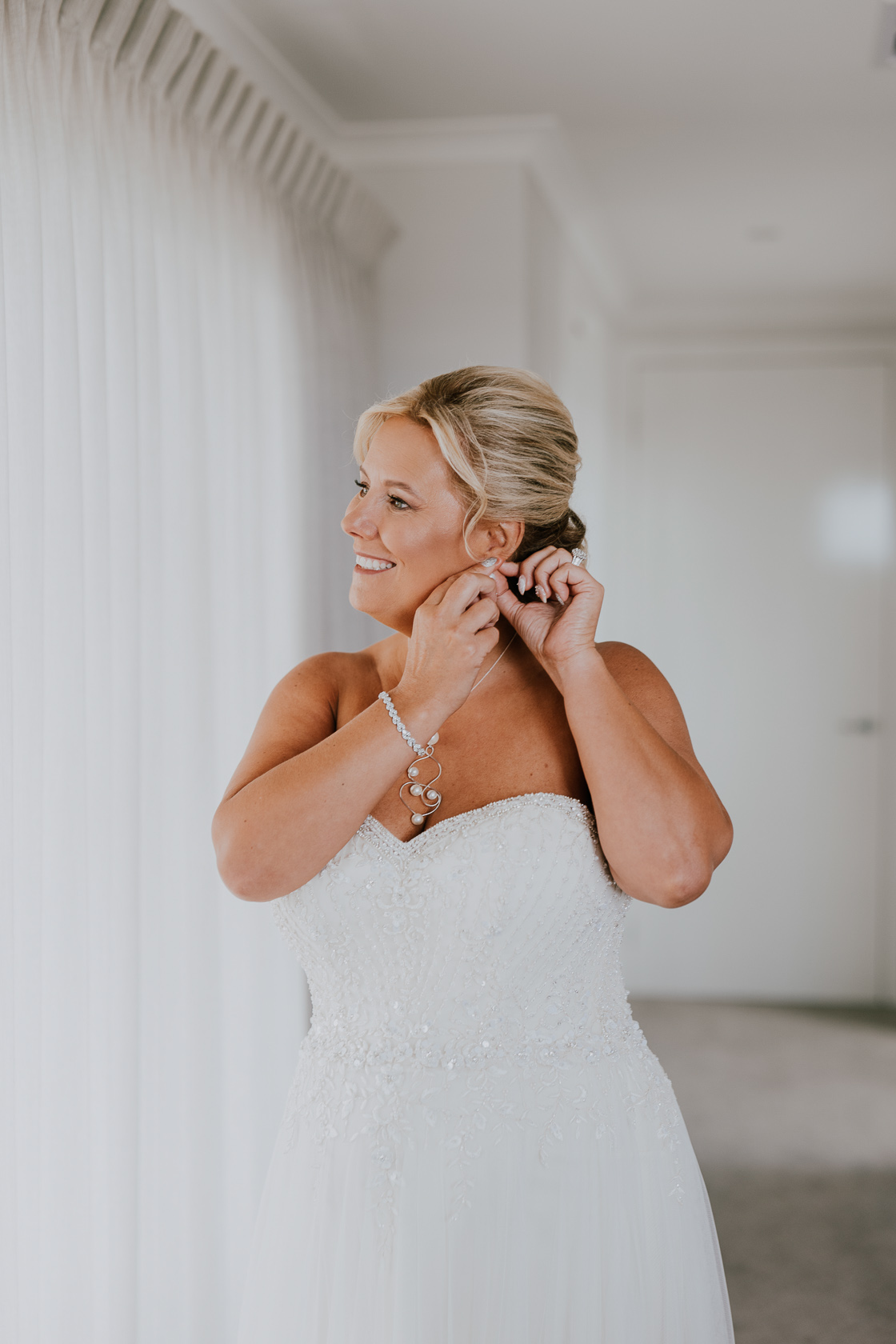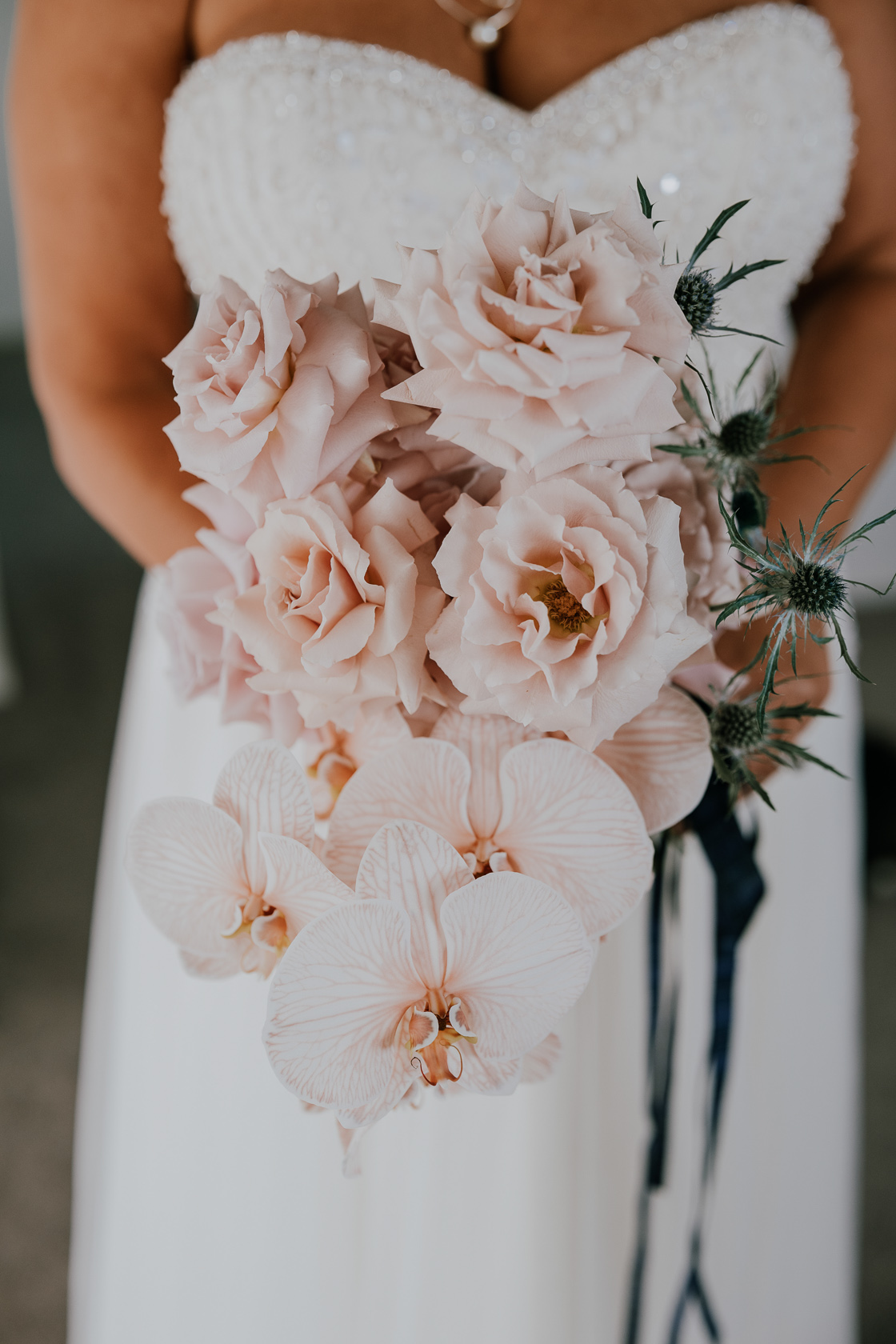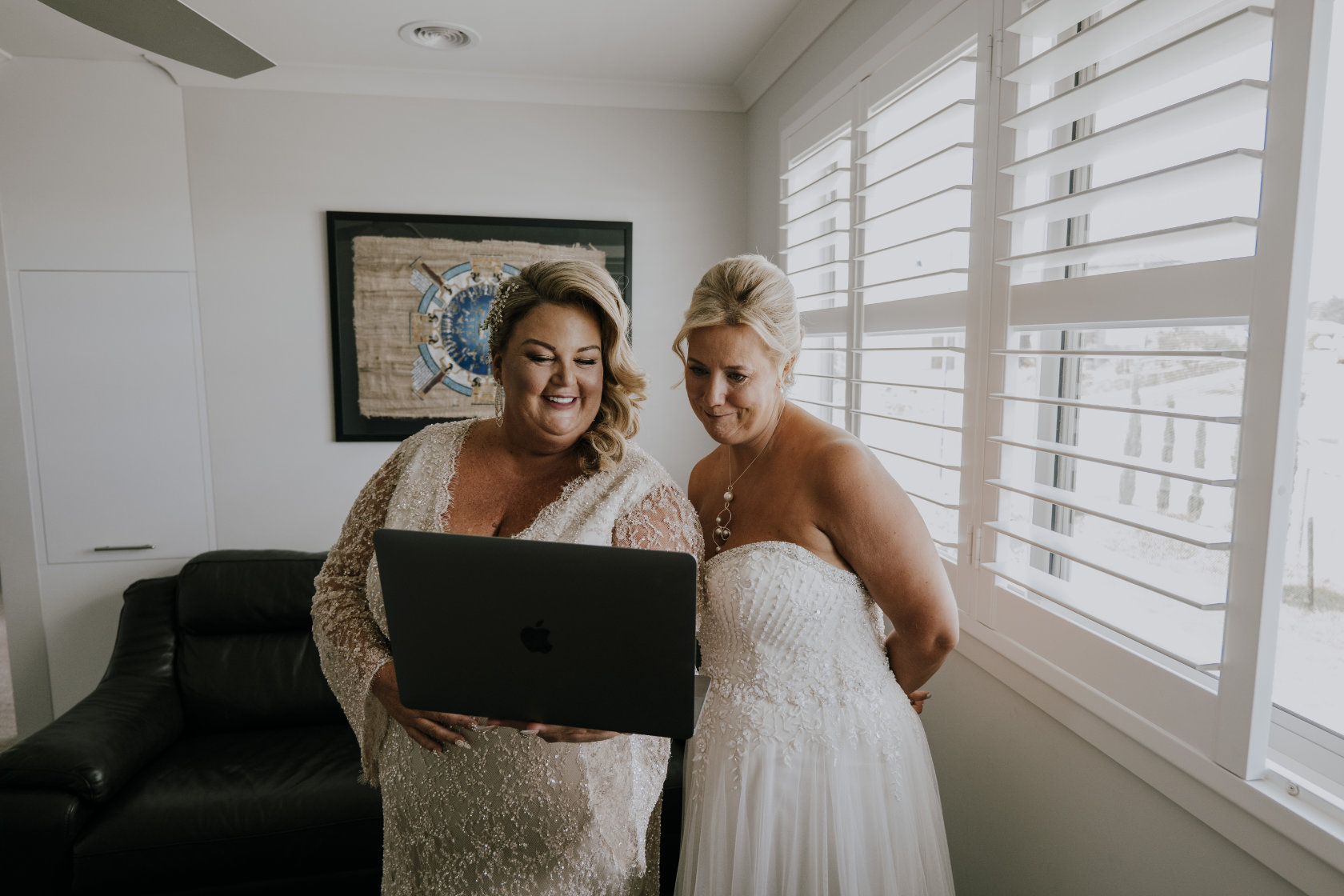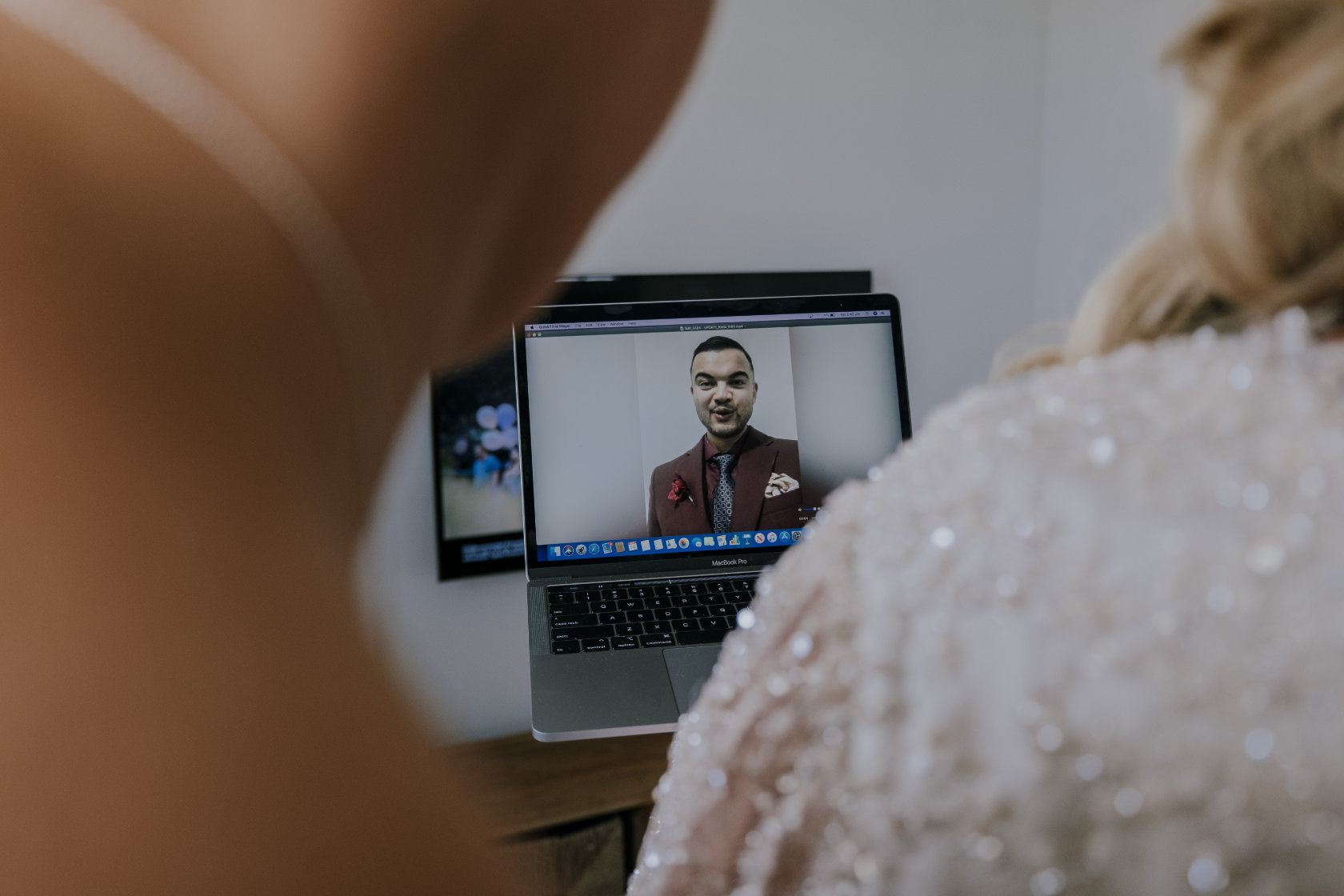 Cathi organised a surprise message to fangirl Jackie from the one and only Guy Sebastian!
Jackie and I both love Guy and had been to a number of his concerts and bought his albums etc. I hosted a work conference where he was the talent so I asked if he would record a surprise video message for me to play to Jackie when we did our first look. He agreed! It was a gorgeous message and she had tears in her eyes as she watched it. She was totally thrilled! I was delighted. He shared how special his own wedding day was and how quickly it flew by, and wished us all the best.
Cathi
BROWSE WEDDING MUSICIANS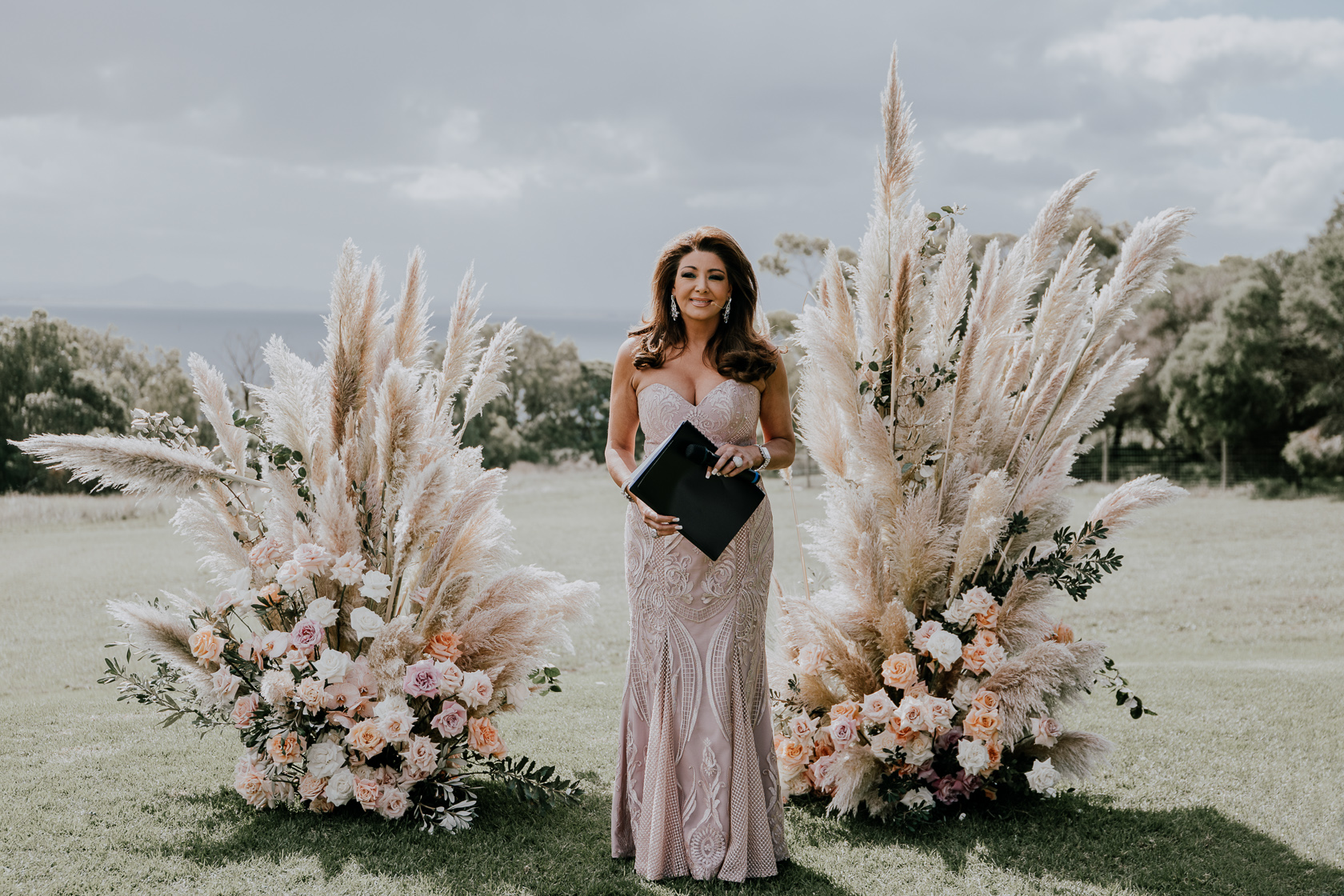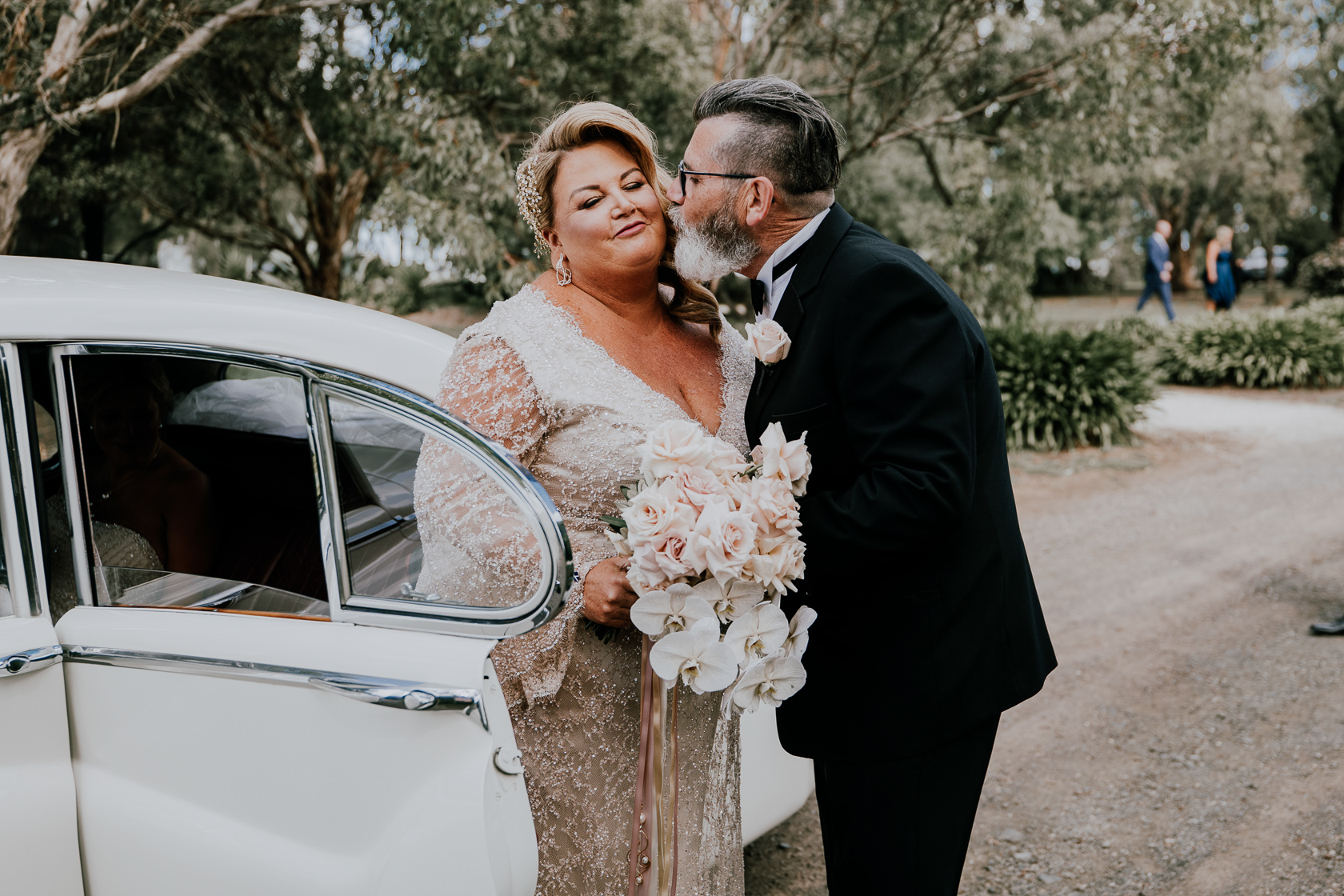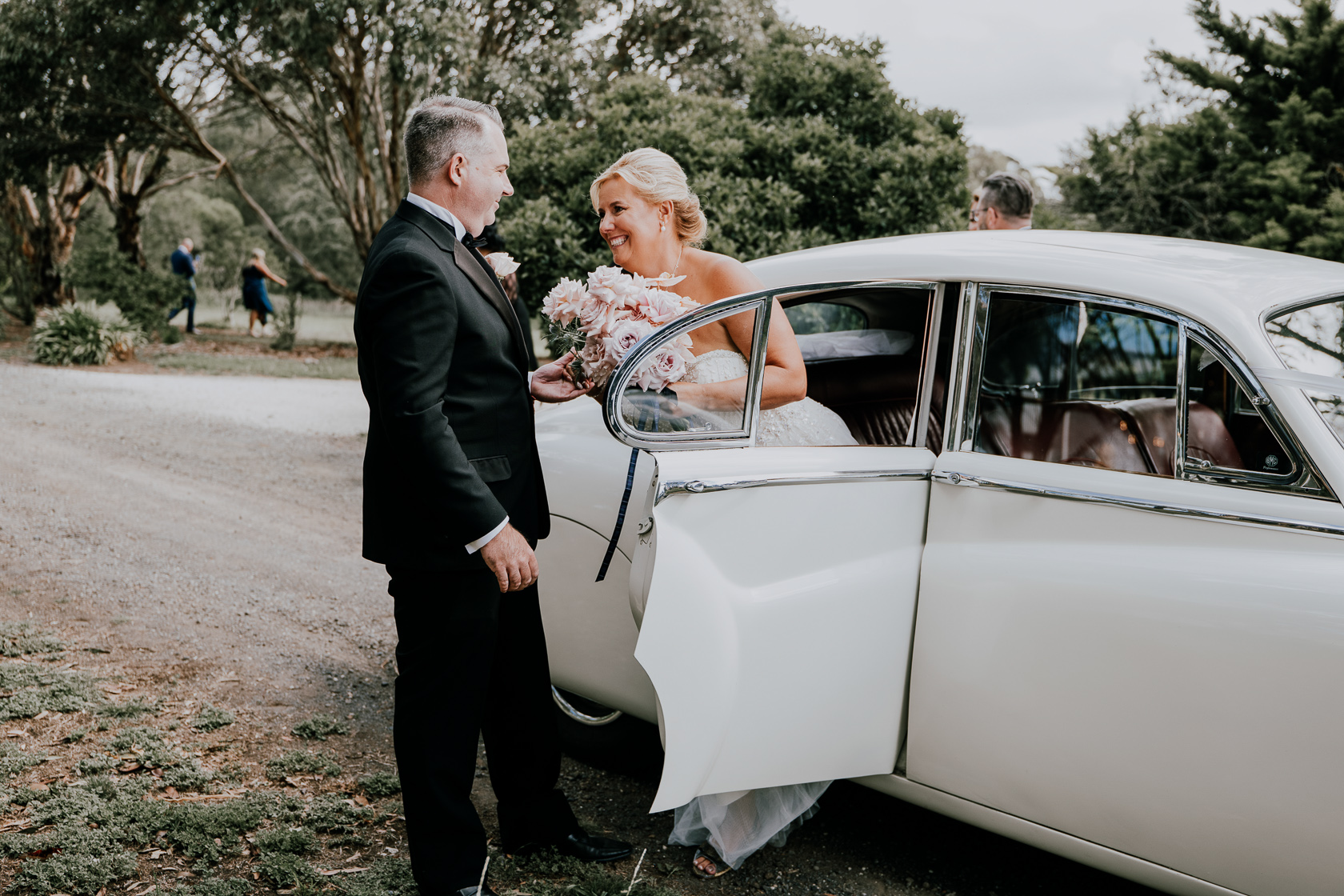 "We knew it would be our last moments before we tied the knot so thought we would share them."
We came in a car together and had our wedding party meet us there. The car was a Jaguar and it was from Wedding Jaguars of Geelong.
Cathi
CHECK OUT WEDDING JAGUARS OF GEELONG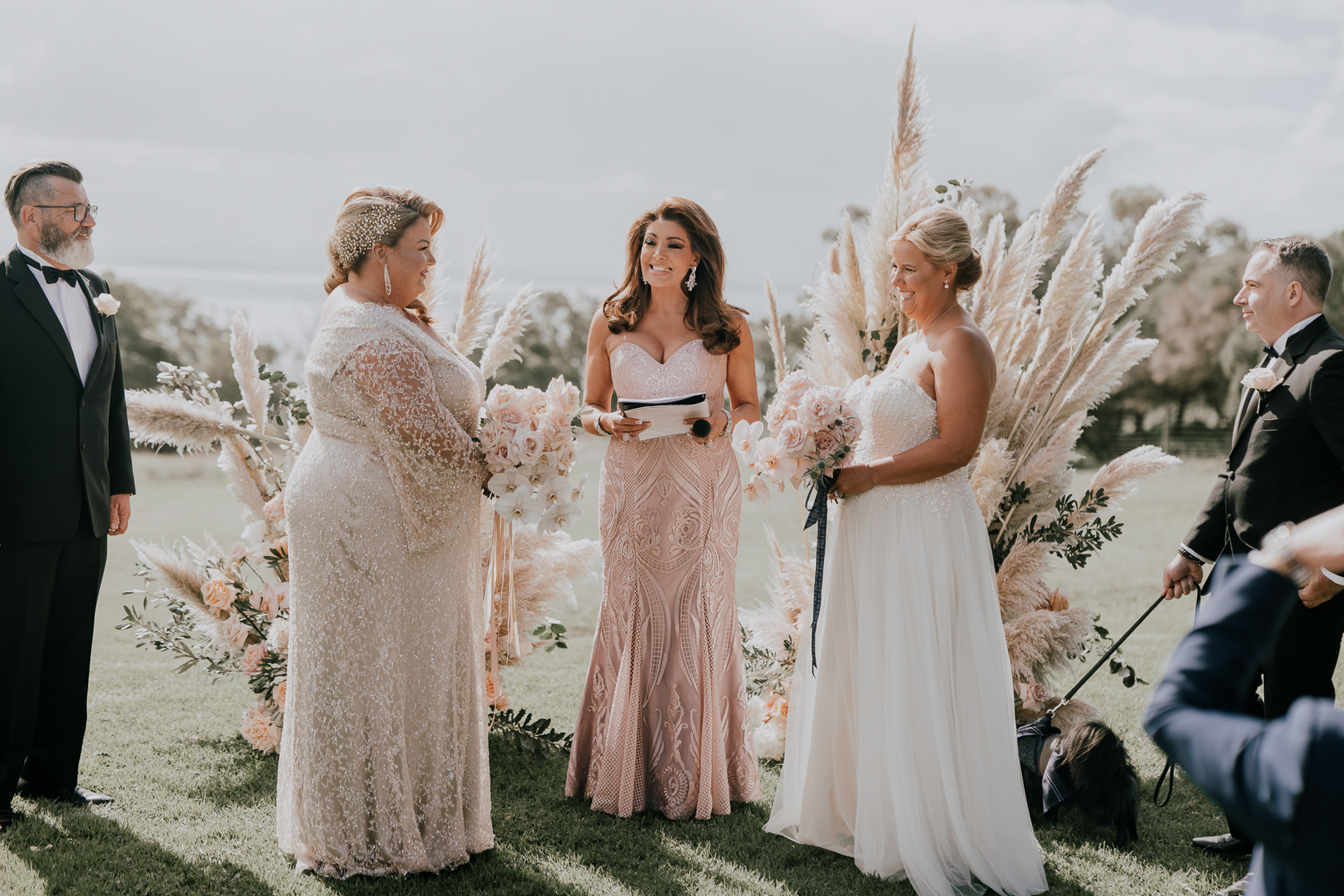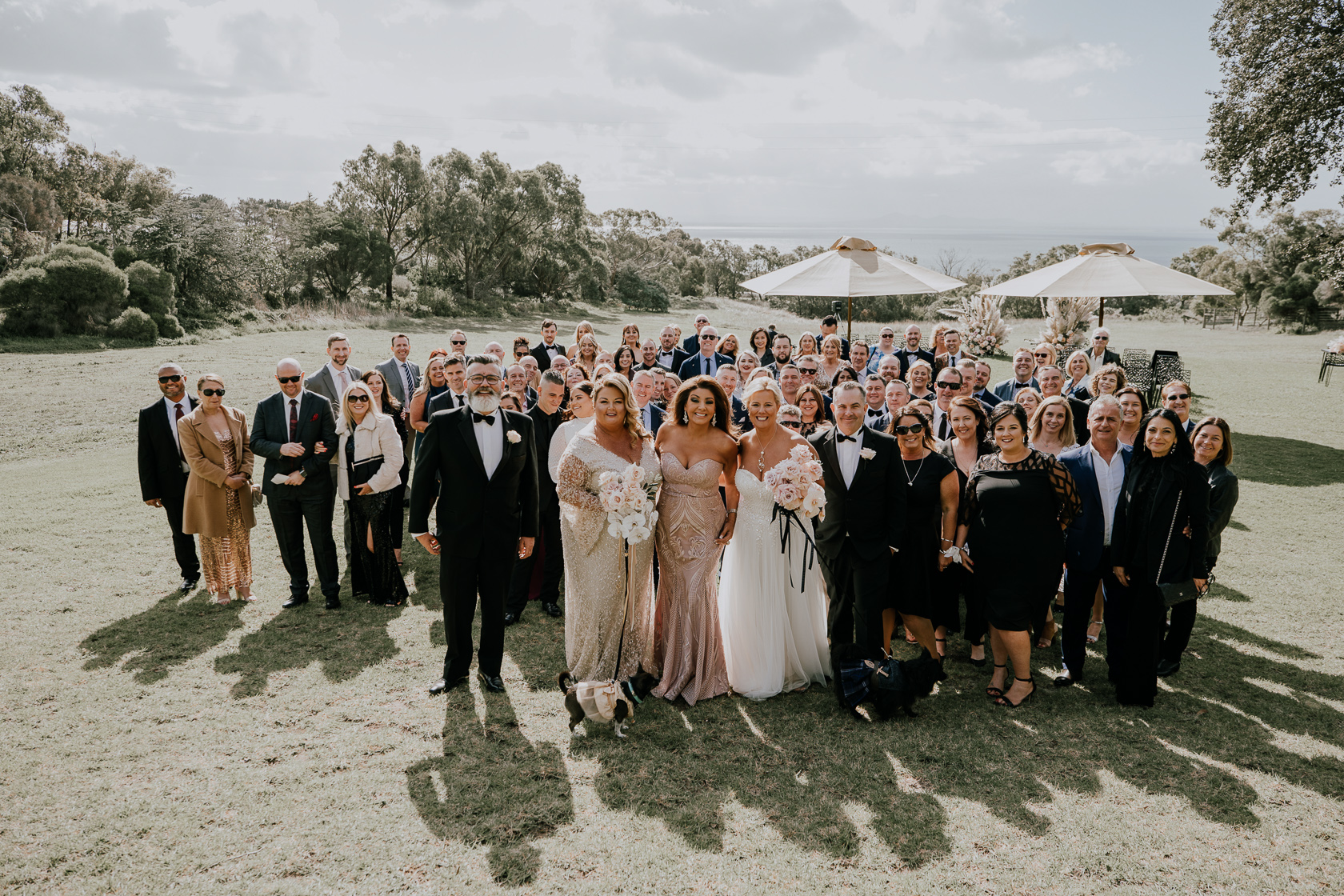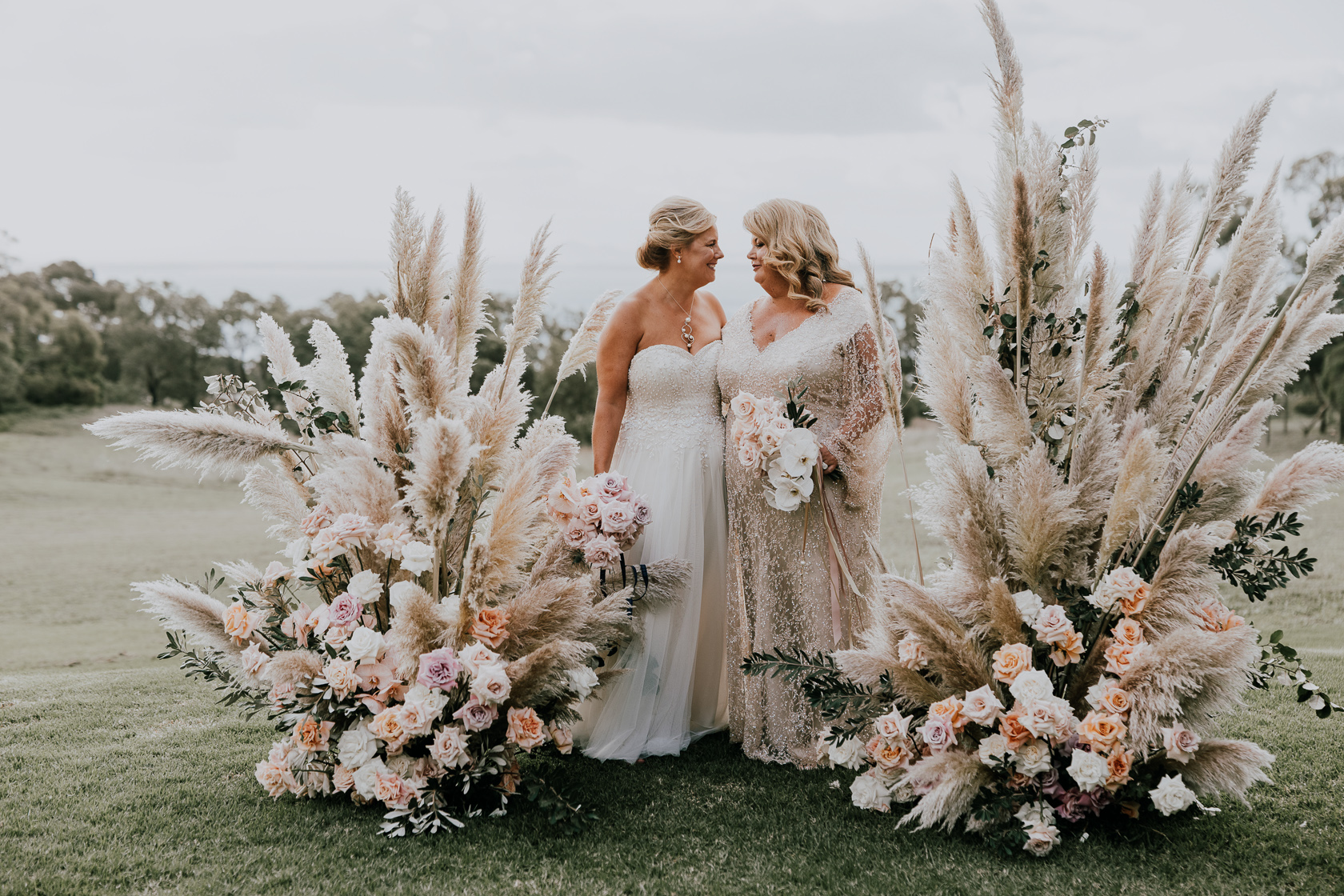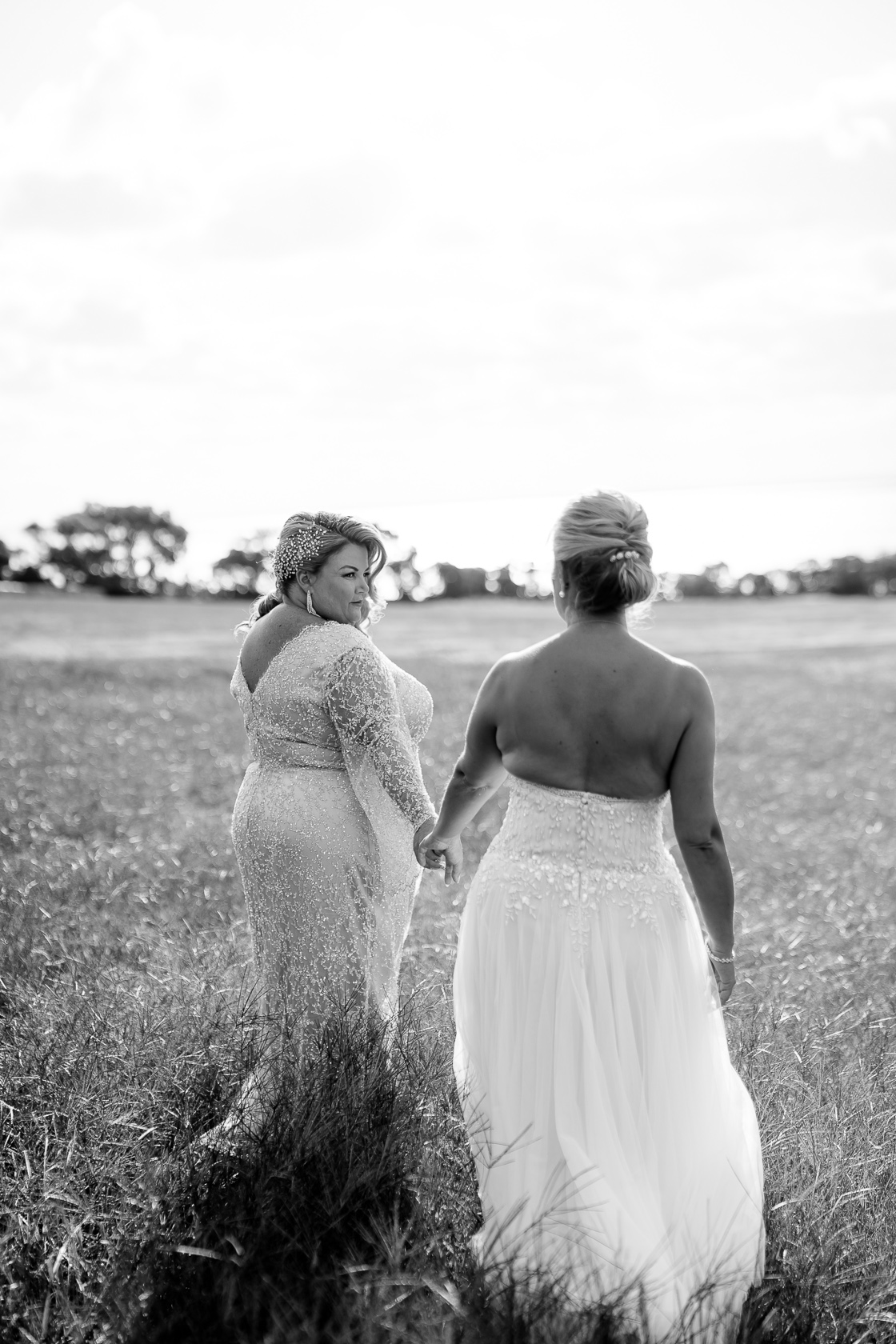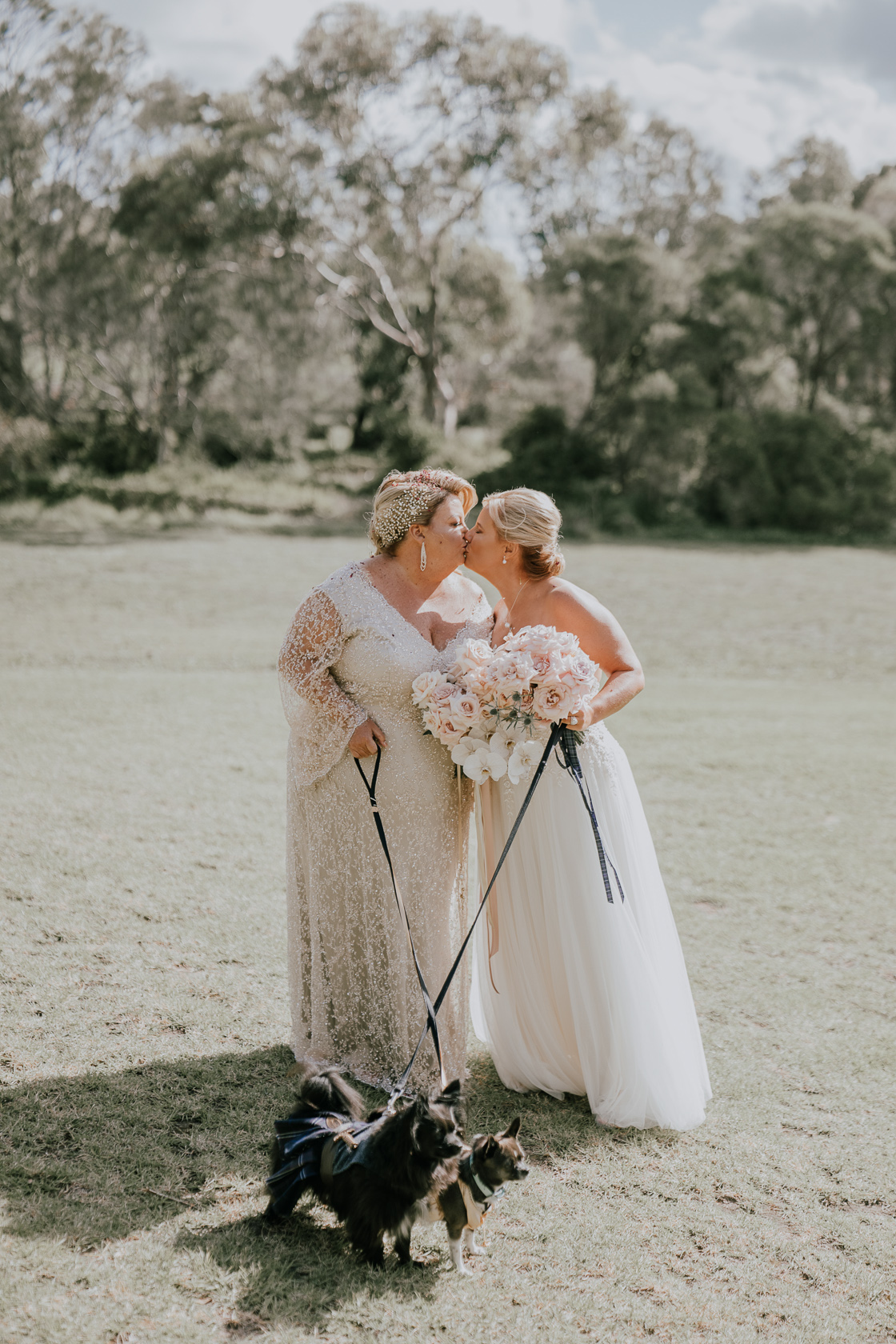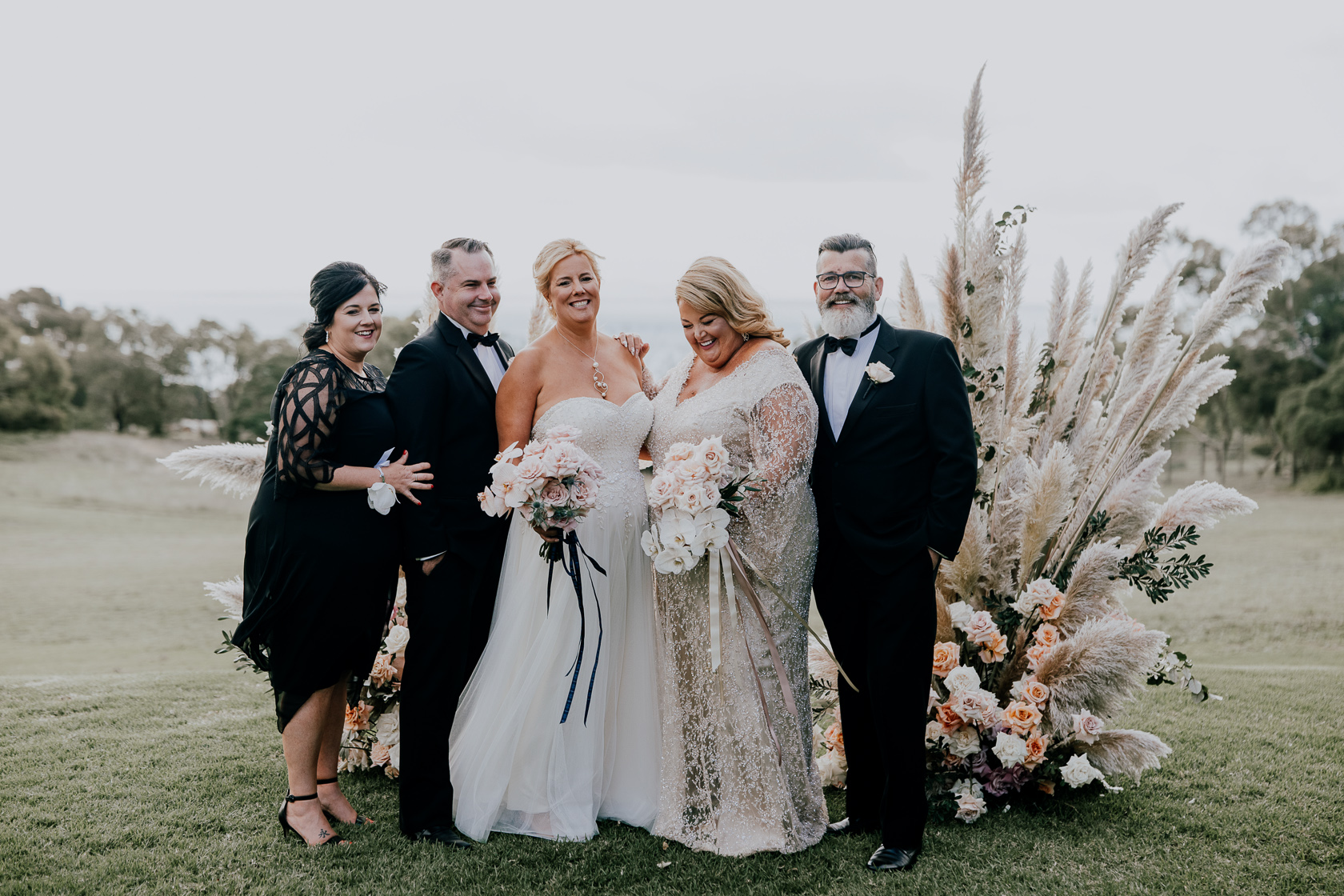 "We didn't have bridesmaids but rather a maid of honour and a bridesman."
We wanted them in black tie so John wore a tux hired from Trevor West Formal Hire in South Yarra and Kelly's black dress came from Modlily purchased online.
Cathi
CHECK OUT TREVOR WEST FORMAL WEAR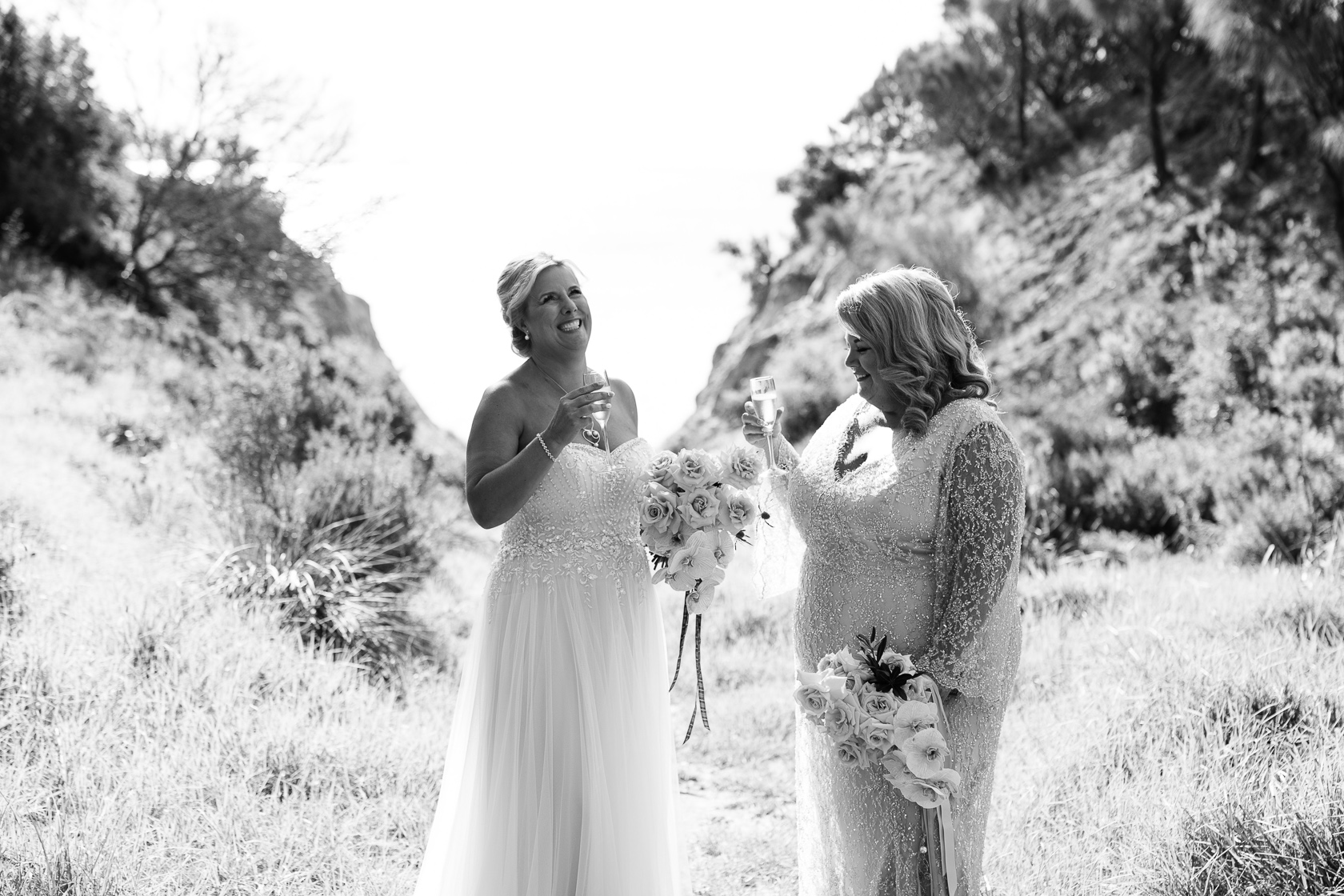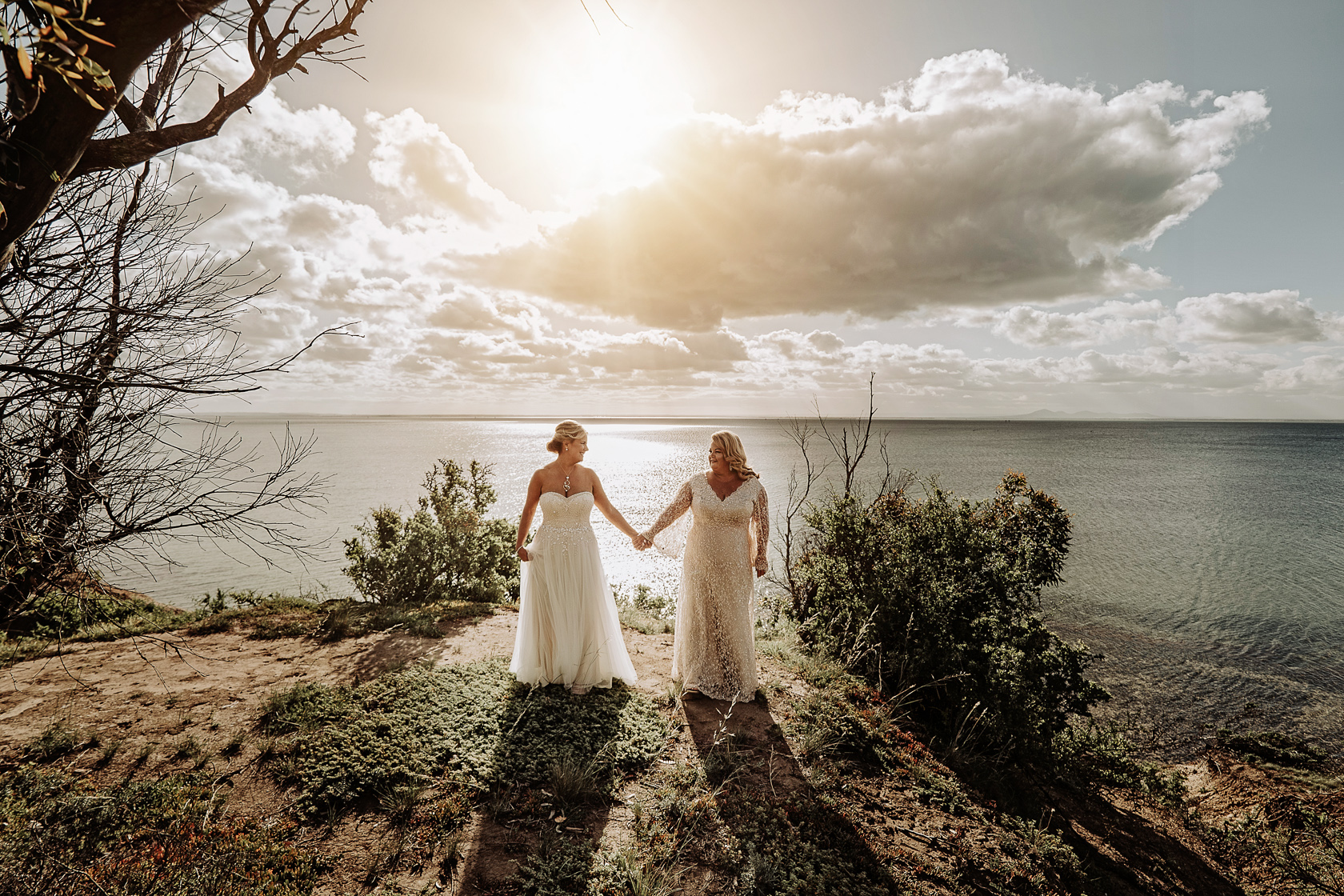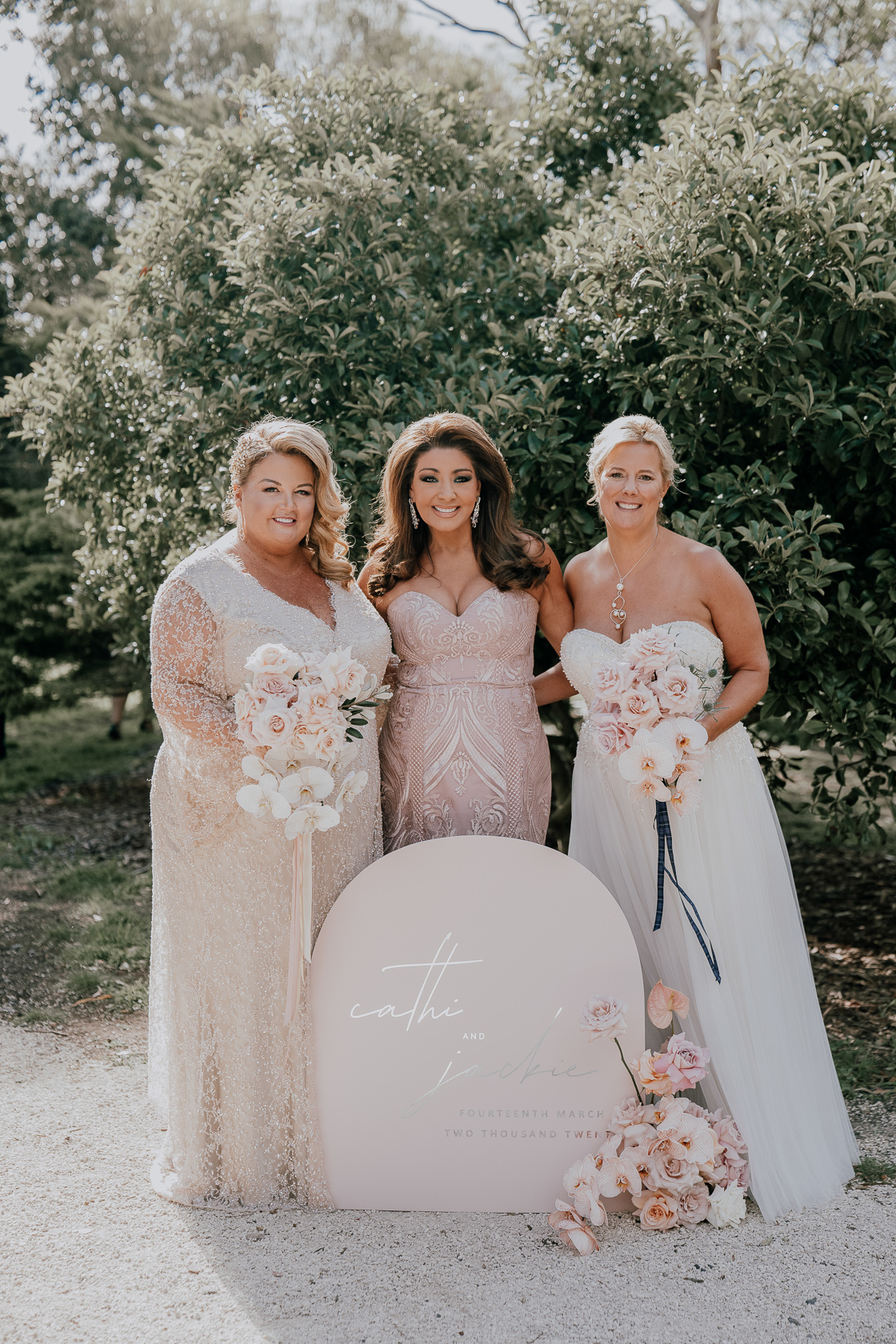 "Our celebrant was the fabulous Gina Liano, ex-Real Housewives of Melbourne."
We knew we wanted her when we saw she was doing weddings, and she was a delight to deal with. Given we wanted a glamorous wedding we knew Gina would fit the bill. She did not disappoint and was so beautiful in the ceremony with her lovely words and the way she interacted with the guests, involving them in the ceremony with a vow to have a wonderful time and drink and dance lots.
Cathi
BROWSE WEDDING CELEBRANTS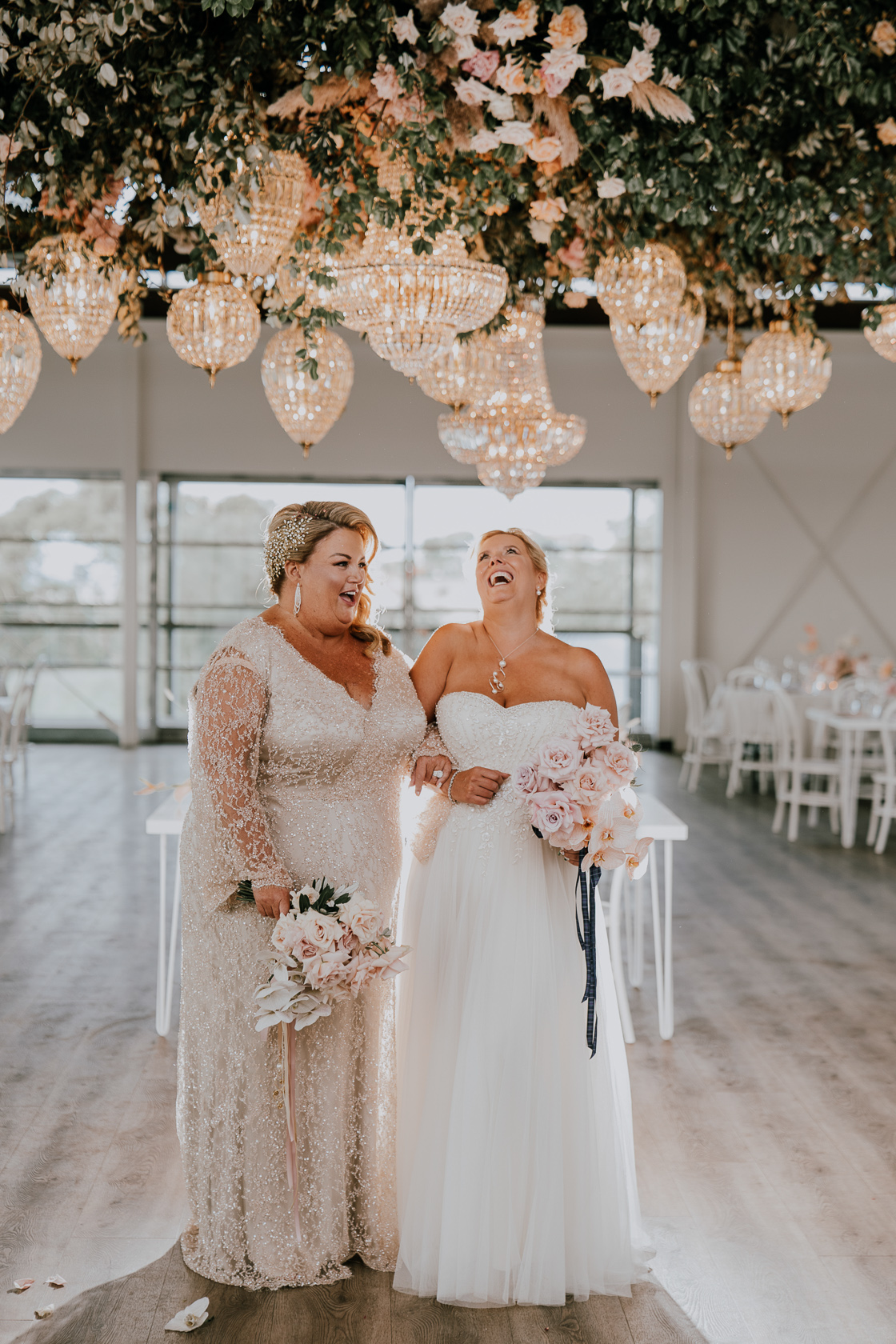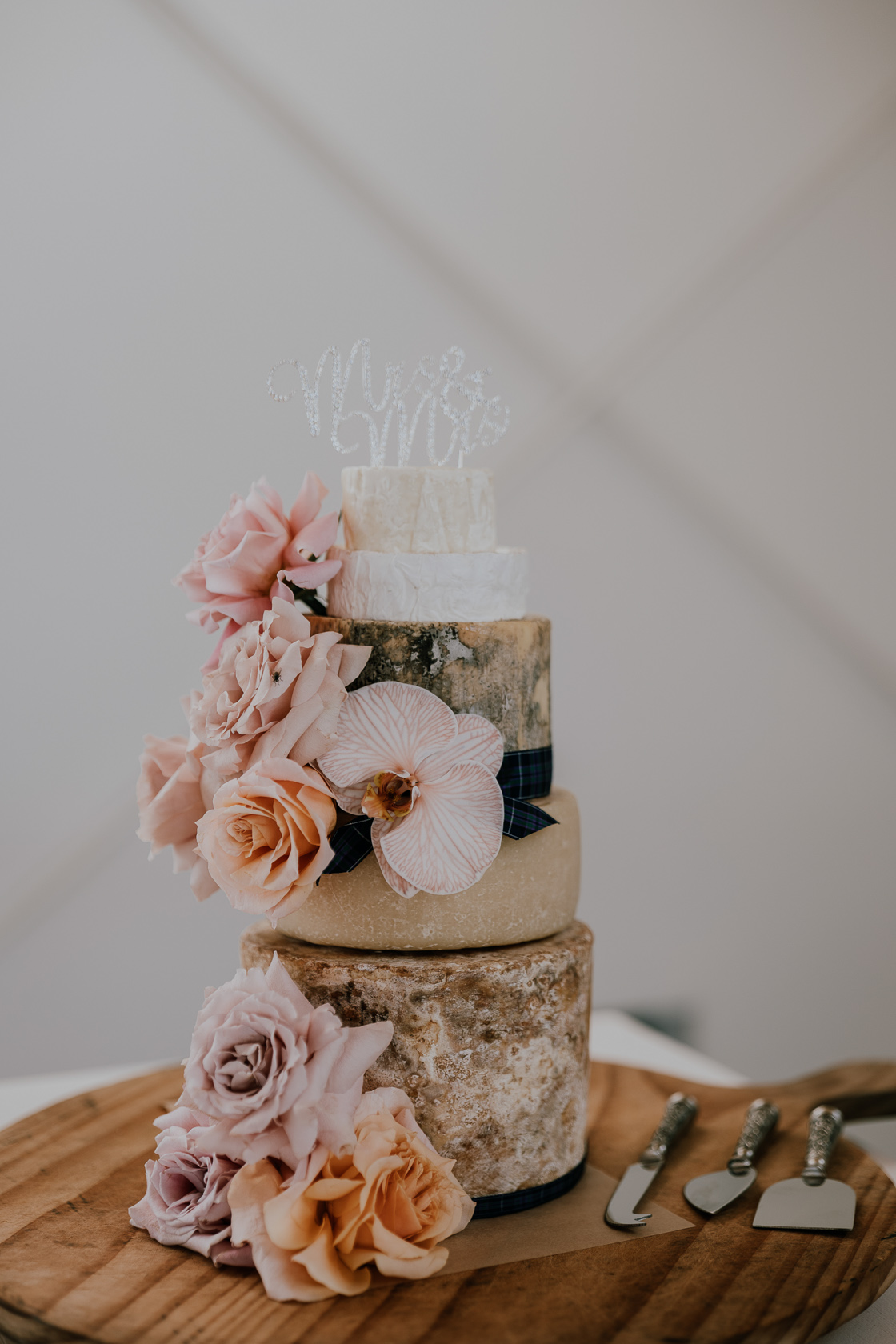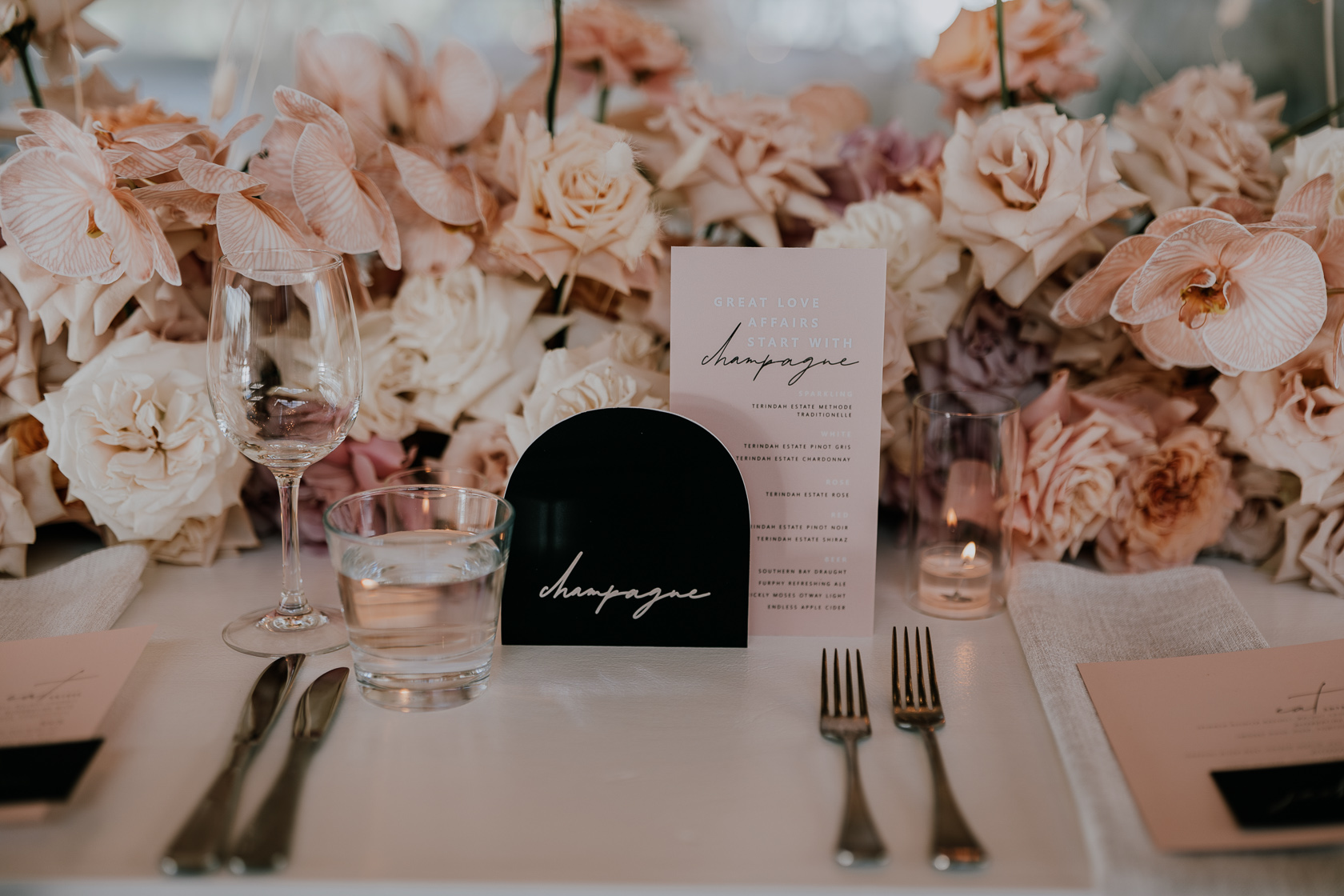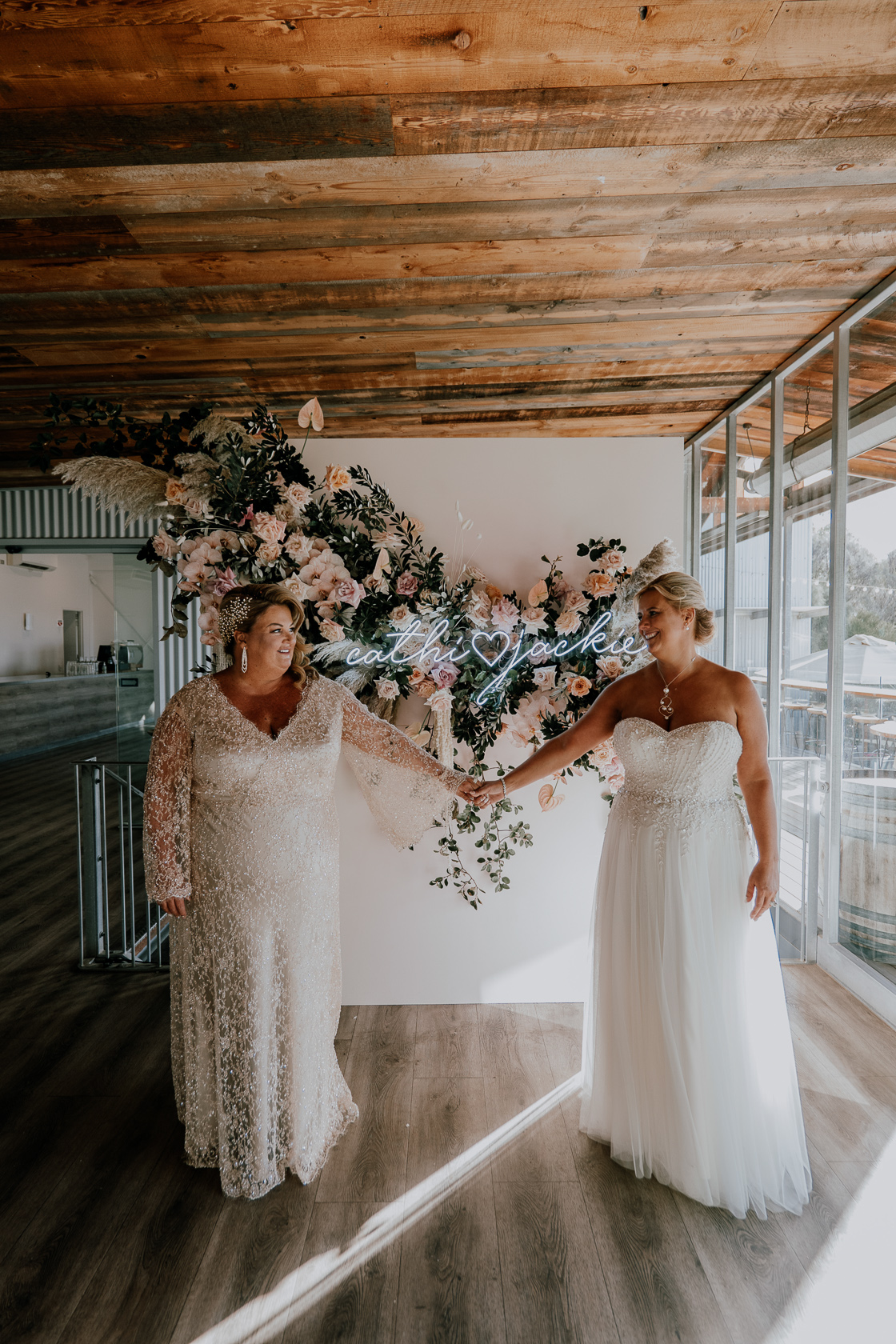 "We hired an incredible stylist and it was a godsend."
We went with Nadalie from Harper and Co and can't speak highly enough about her and the way she bought our vision to life. She took care of the look and feel of the day, coordinating with our vendors. She looked after all our signage requirements including tablescapes and the bar area, entry signage etc; designed the floral installation with the 22 chandeliers and the overall thematics of the wedding, organised the neon 'cathilovesjackie' wall as a surprise for Jackie on the night, and all the linen, chairs, wedding invitations and mirrored wishing well. She made sure that everything connected and stayed in theme.
Cathi
BROWSE WEDDING STYLISTS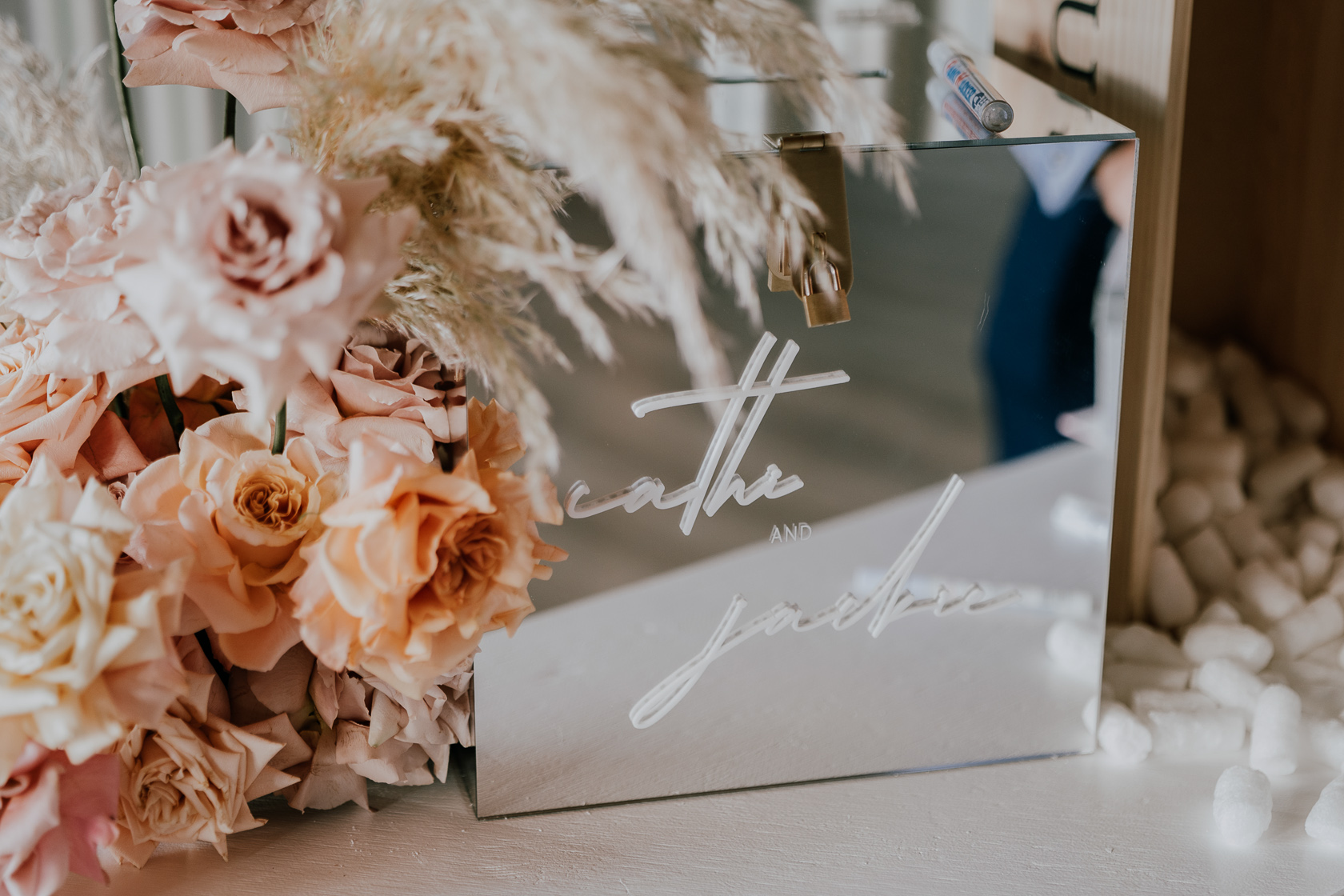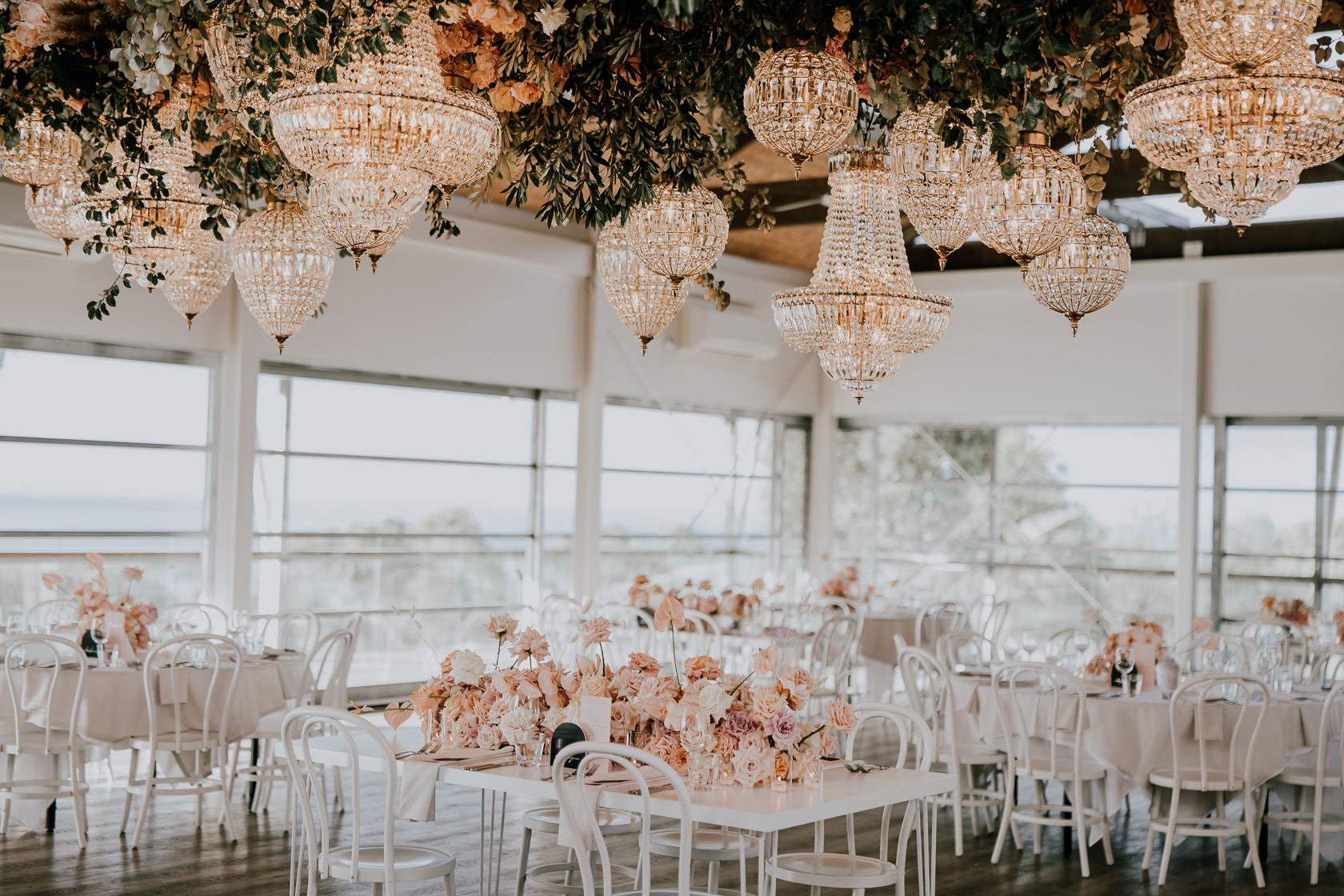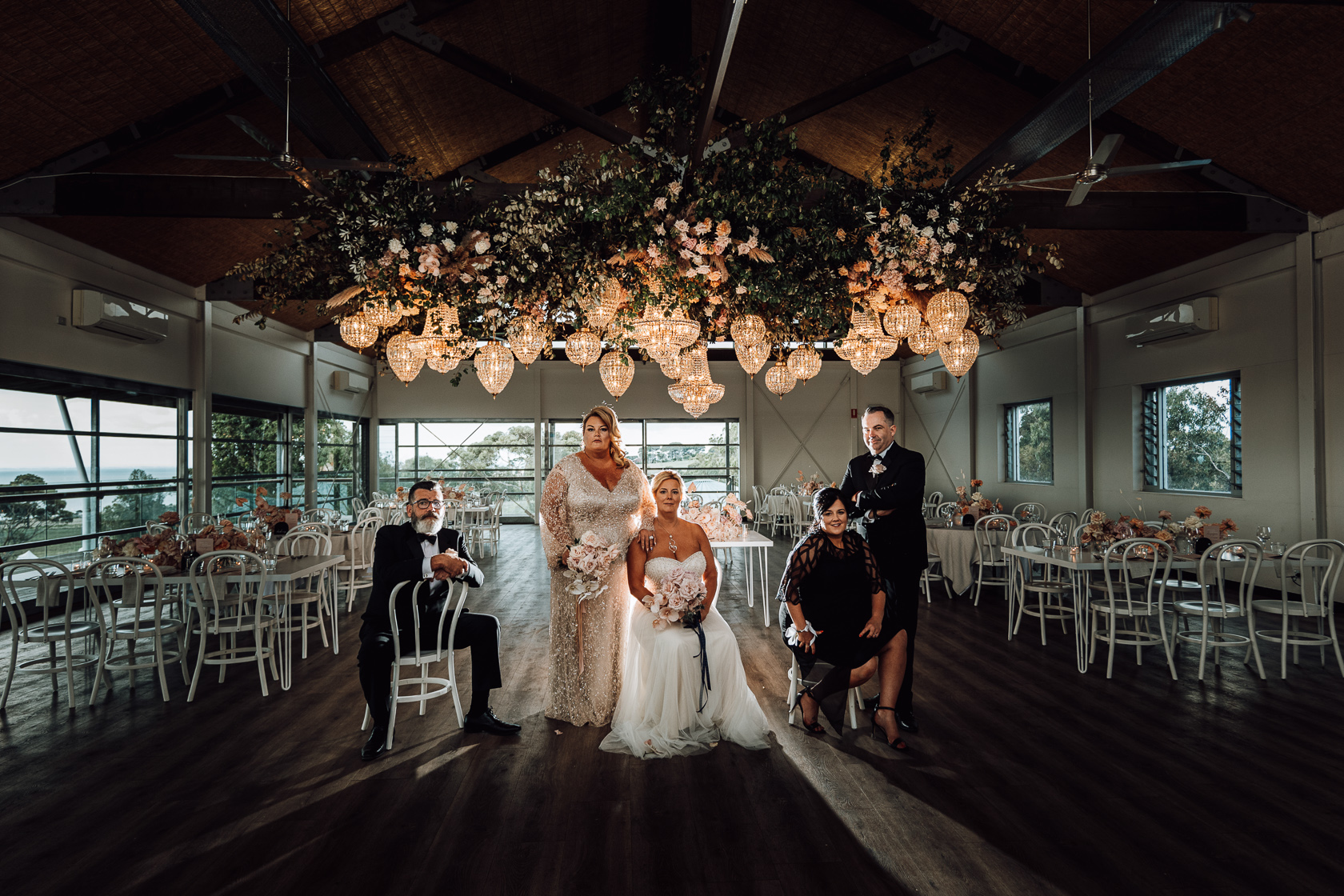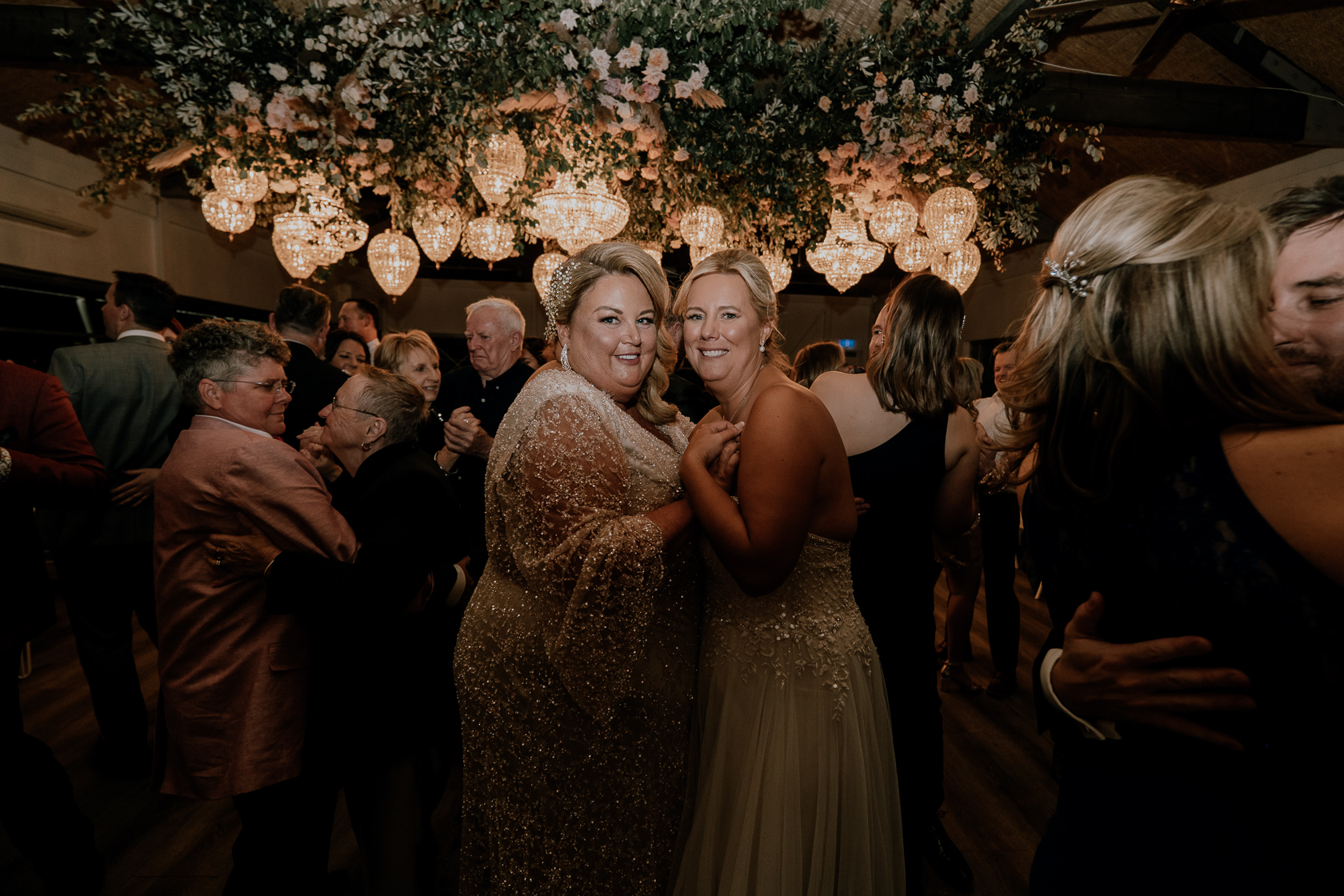 "Ashley managed to capture two brides in a really beautiful and touching way."
Ashley K Weddings was a dream to work with and Ashley was a calming influence from the first meeting to the wedding day. She got some great candid shots of our guests and us, and her creativity in the way she shoots meant we felt like our special day was captured perfectly. Ashley has a wonderfully funny and warm personality that makes it so easy for you to feel at ease even if getting your photo taken is not your thing. We love the Vogue-style shot she did for us with our wedding party. The wedding album she created for us is truly stunning!
Cathi
---
Inspired by Cathi and Jackie's glamorous vineyard wedding? Let our supplier specialists pick out personalised vendors matched to

your

unique vision. (Save time and money, too.)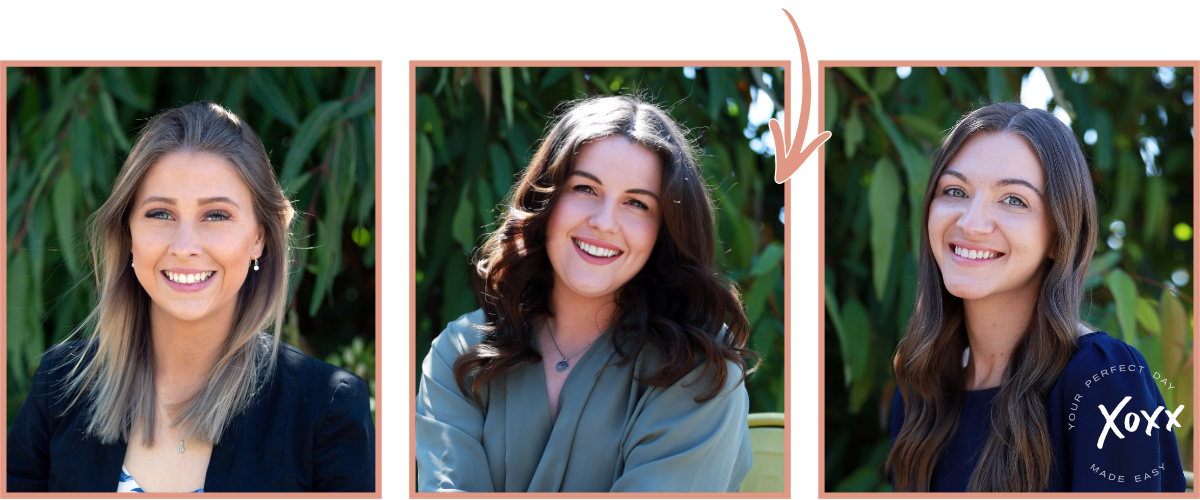 SPEAK TO A PLANNER HERE