Tweed Heads' Casey Newie met Kiwi Sean Sloper when she packed her life into two suitcases and flew across the country toward her new life in the mines of the Pilbara, WA.
When Sean, 27, first saw 28-year-old Casey onsite, he said to his mates: "I'm going to marry that girl!"
The heavy haulage train drivers were best friends before love truly blossomed, but Casey says, "The moment I knew he was the one for me was when I saw how much my brothers loved him. To watch my closest family love someone as much as I do made me very happy."
The pair were holidaying on the Gold Coast when Casey's brother suggested she take Sean up to Fingal Light House. "It has always been one of my favourite spots to watch the world pass by," she recalls. And it was there, while she sat on the headland watching a pod of dolphins, that Sean got down on one knee and popped the question.
"Turns out he had planned it with my brothers," Casey says. "He even called my parents to ask their permission!"
On September 17, 2016 Casey and Sean said "I do" among 120 guests at their Byron Bay wedding in Ewingsdale, NSW.
They entrusted their wedding suppliers to "embrace their creative side", particularly event planners Sugar and Spice Events. "I had complete faith in the team and our wedding surpassed all my expectations," praises Casey.
"We danced, sang, laughed, and happy-cried our way through the night with our closest family and friends," she recalls. "Our wedding was a true reflection of ourselves and the way we like to celebrate – loudly with a great band!"
Photos courtesy of Figtree Wedding Photography.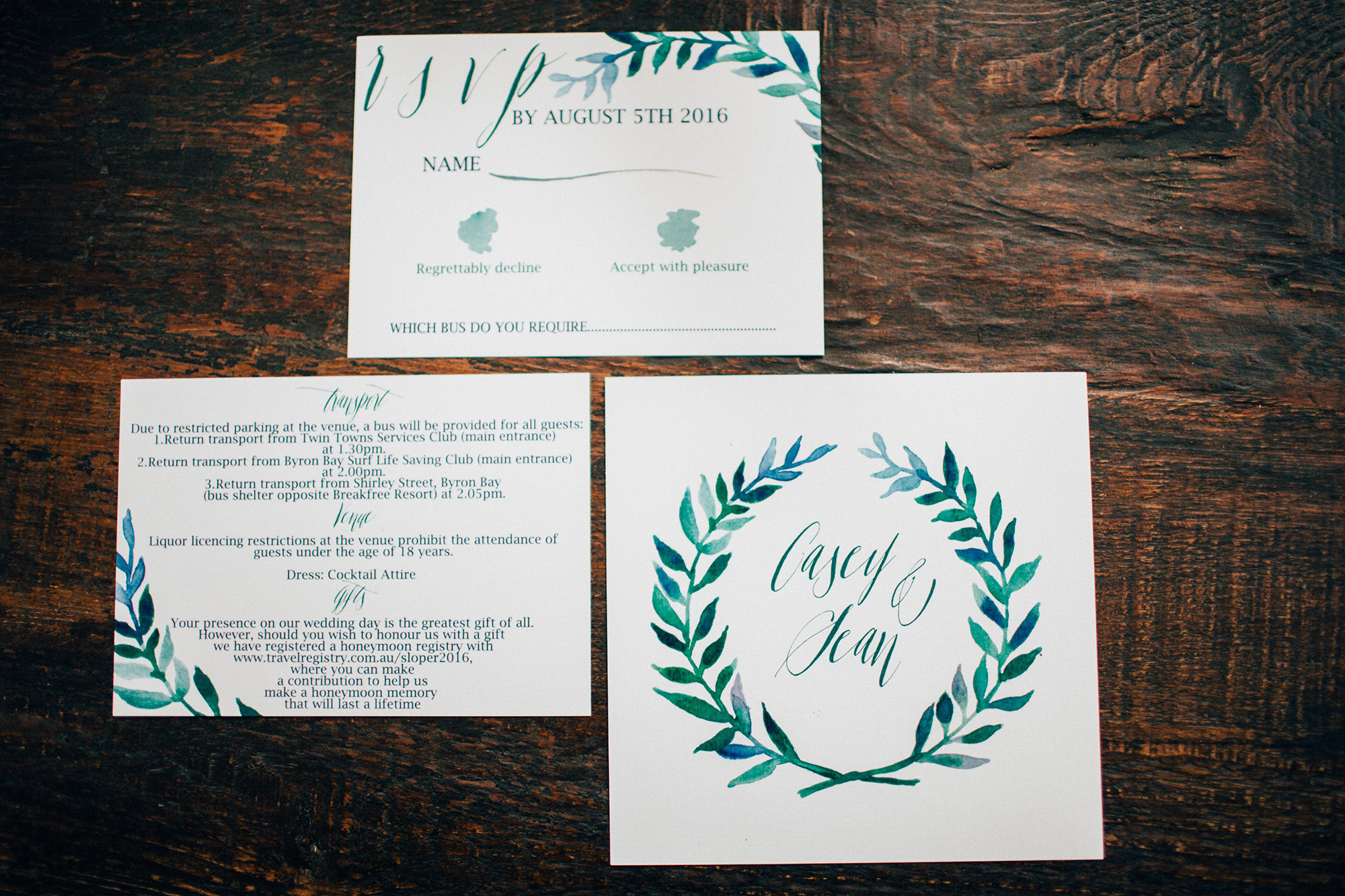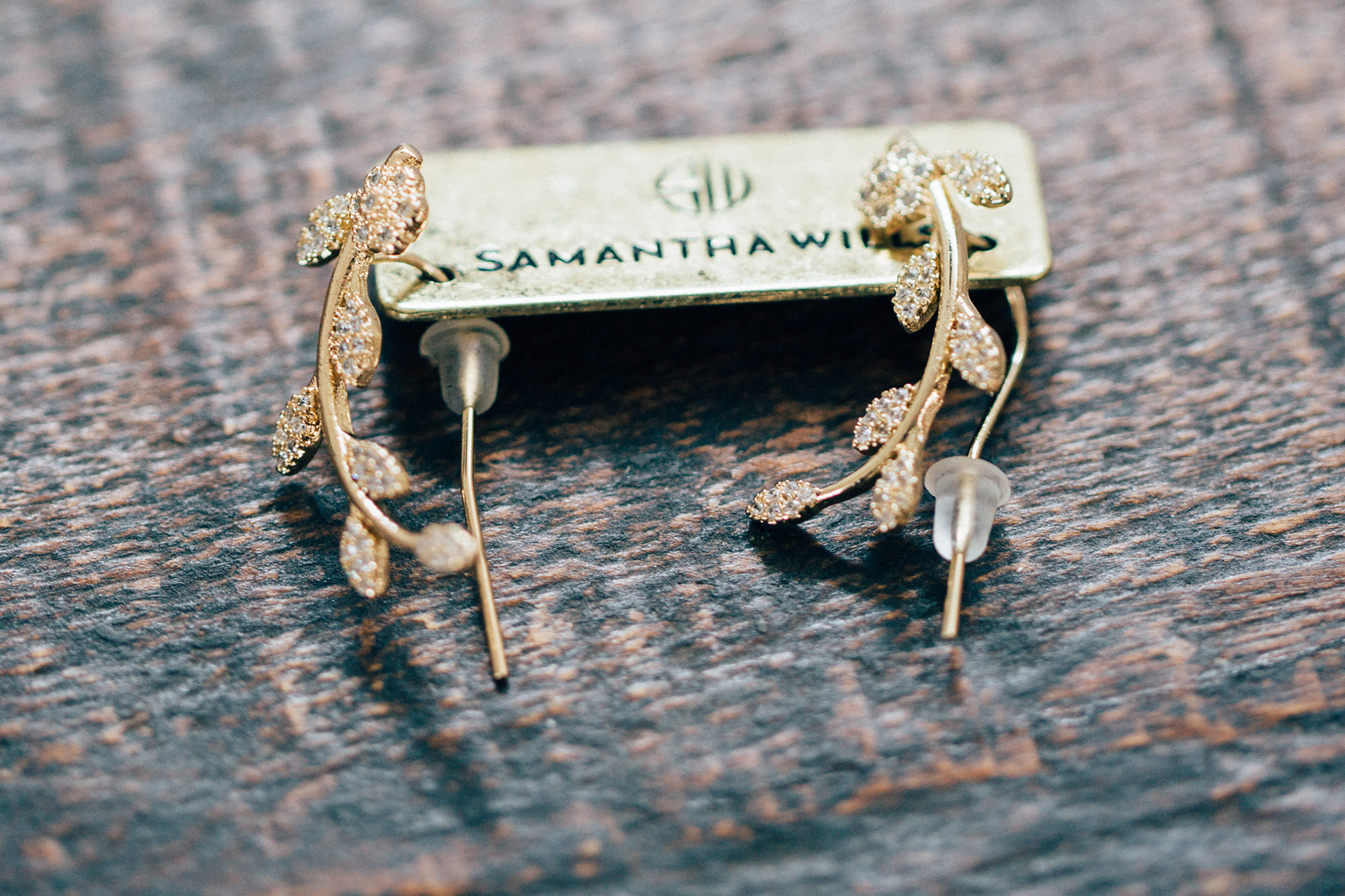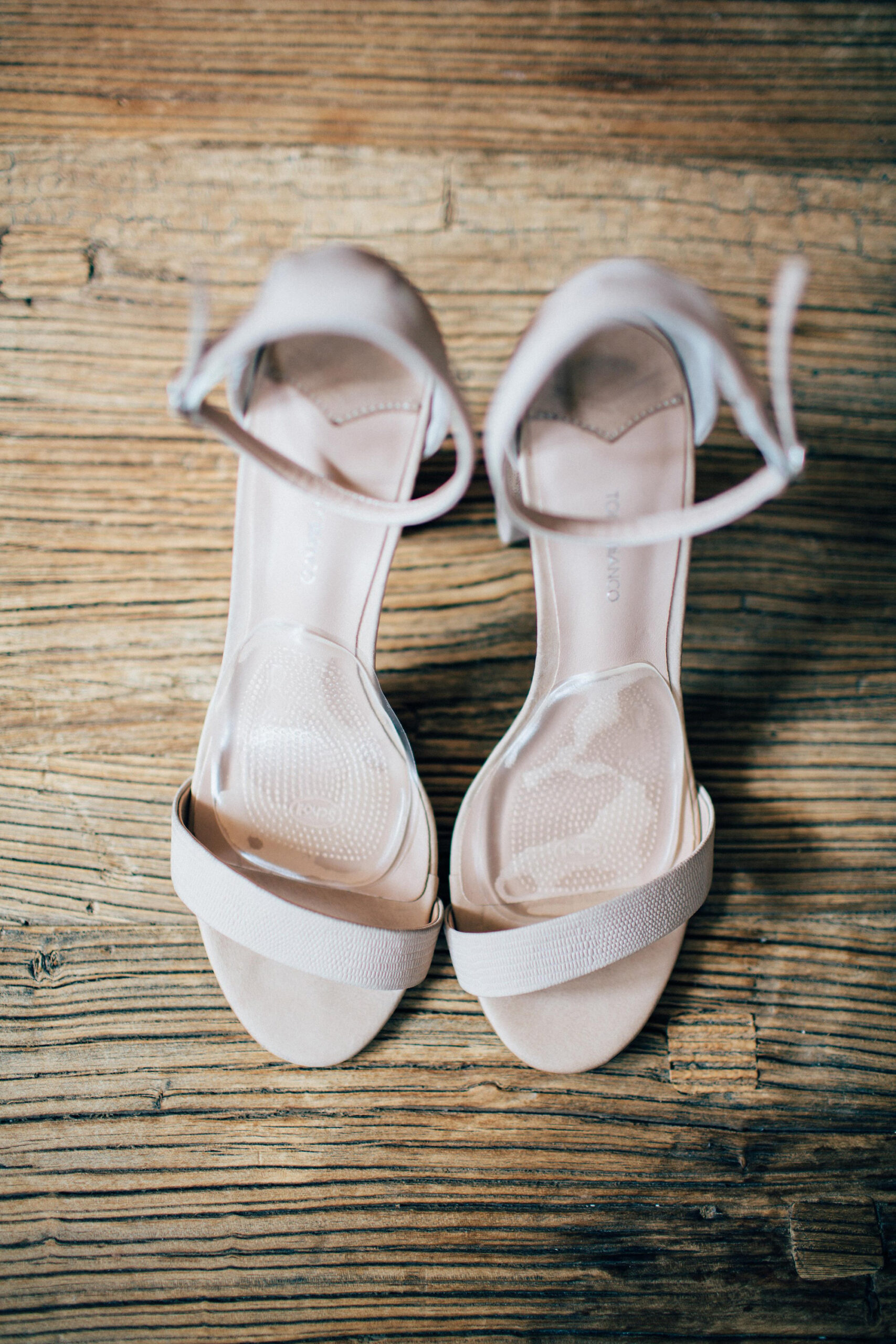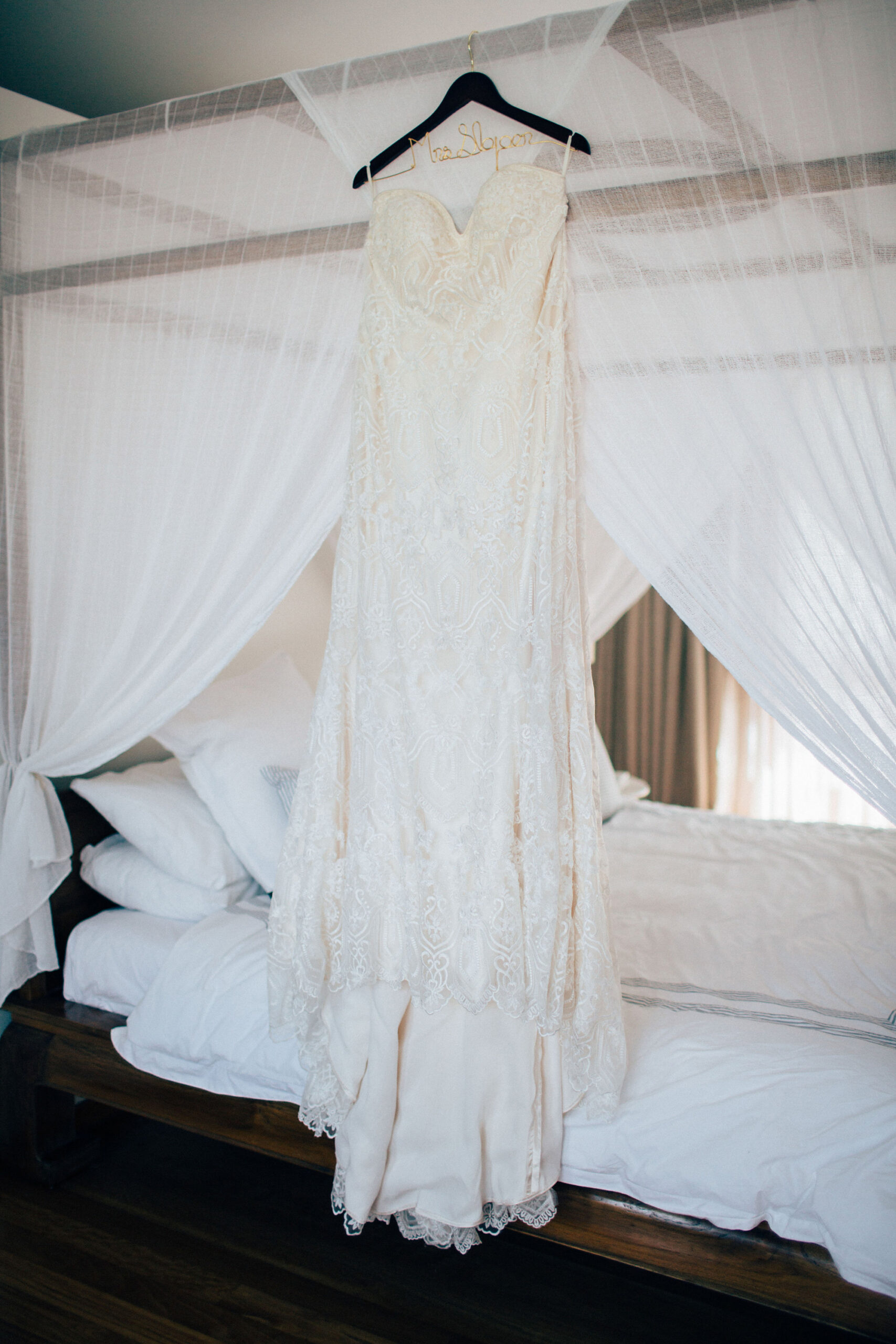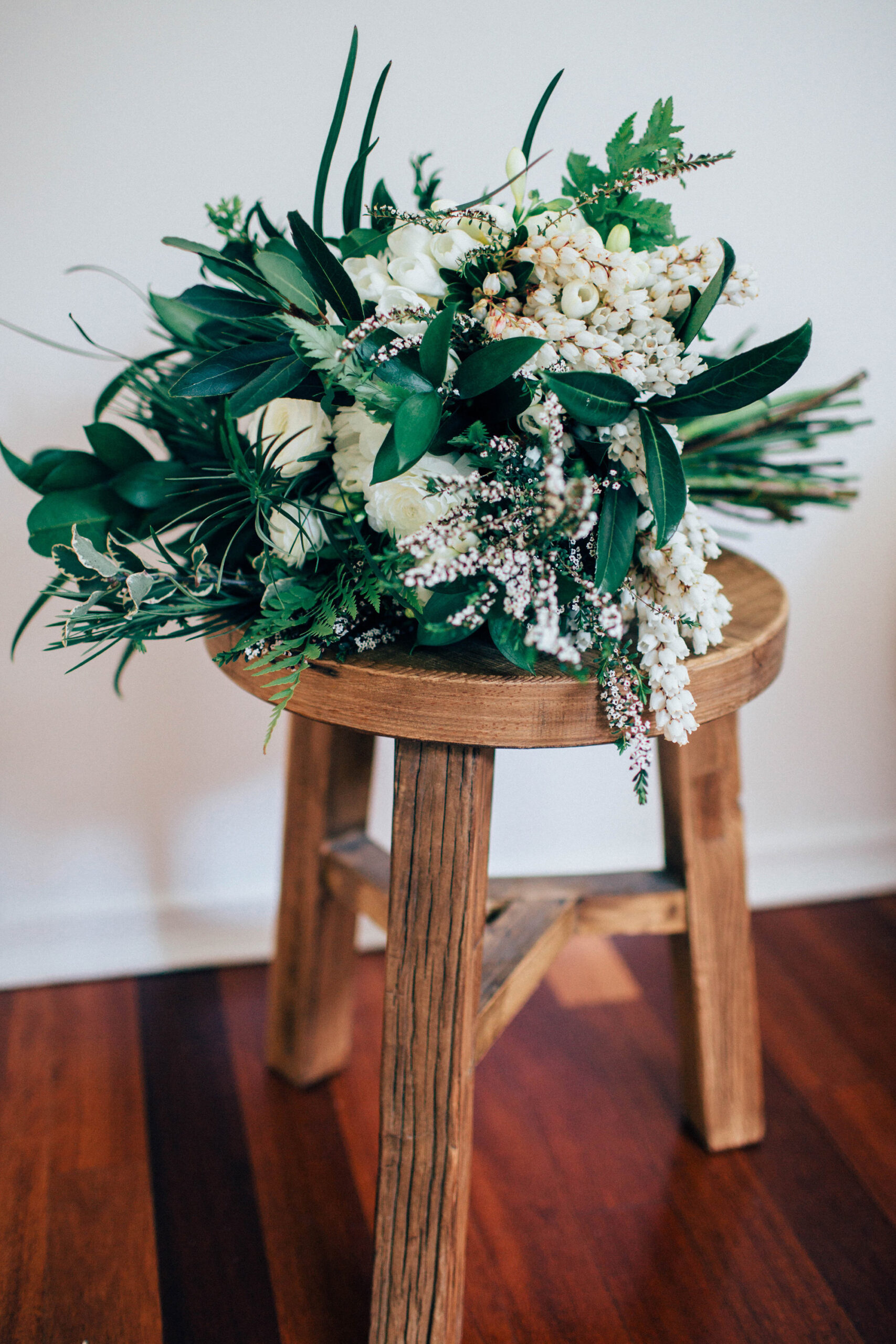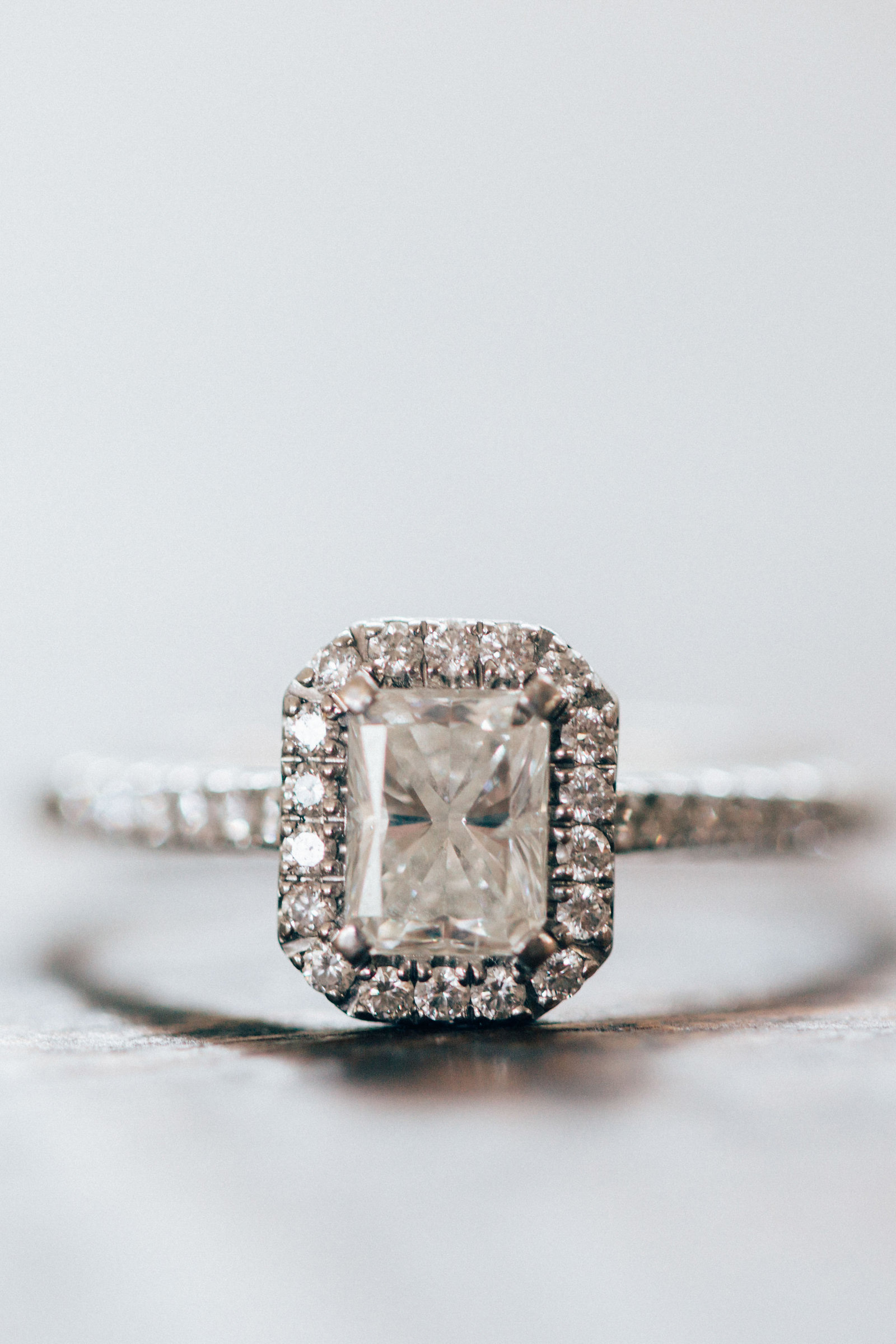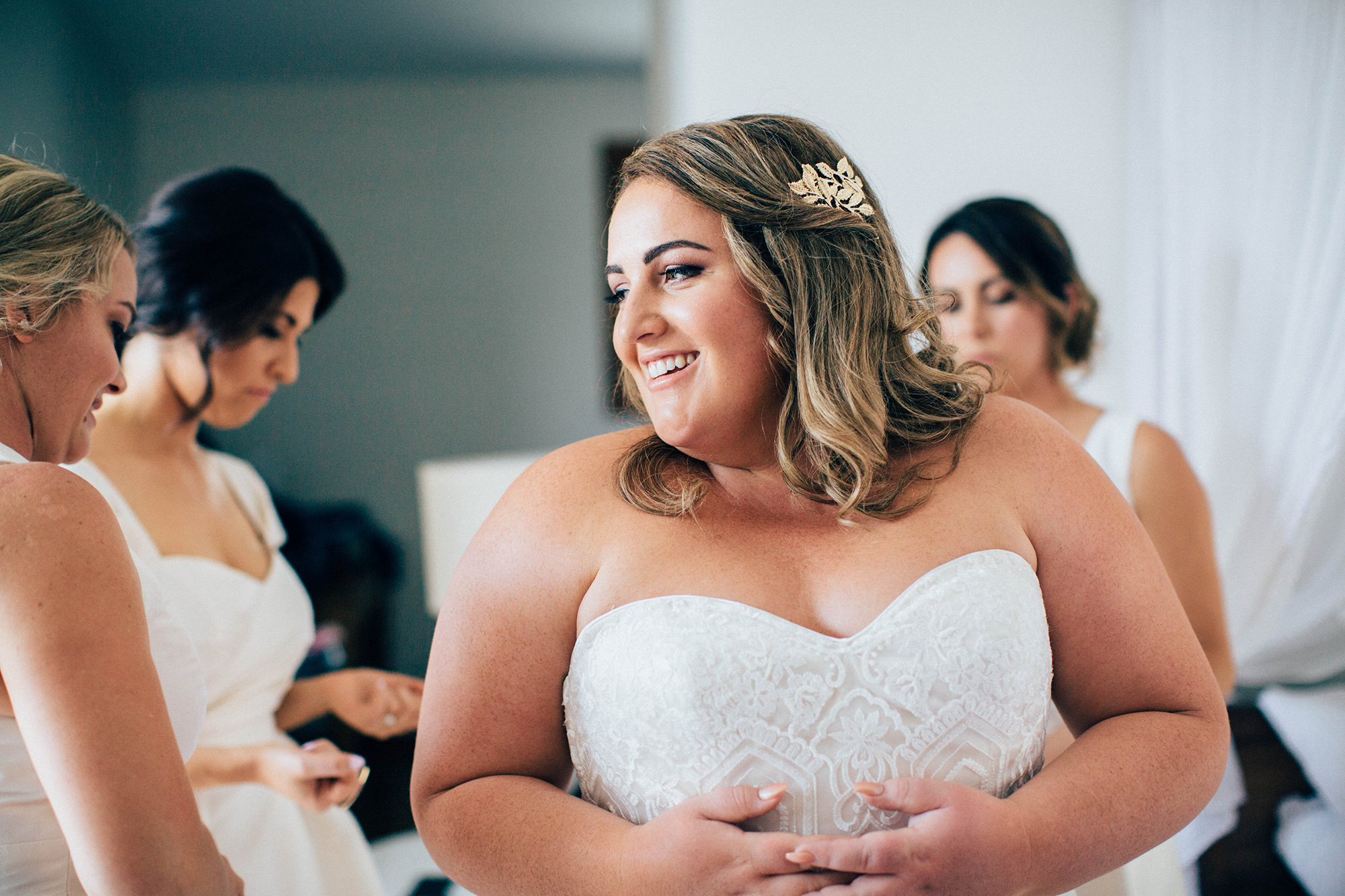 Casey first decided "That's my dress!" when she saw her A-line gown in a photo. Though she found a Brisbane boutique that stocked the dress, unfortunately the store didn't have a sample size she could try on – so Casey did the unthinkable. "I ordered the dress without trying it on! Luckily when it arrived it was even better than I'd imagined."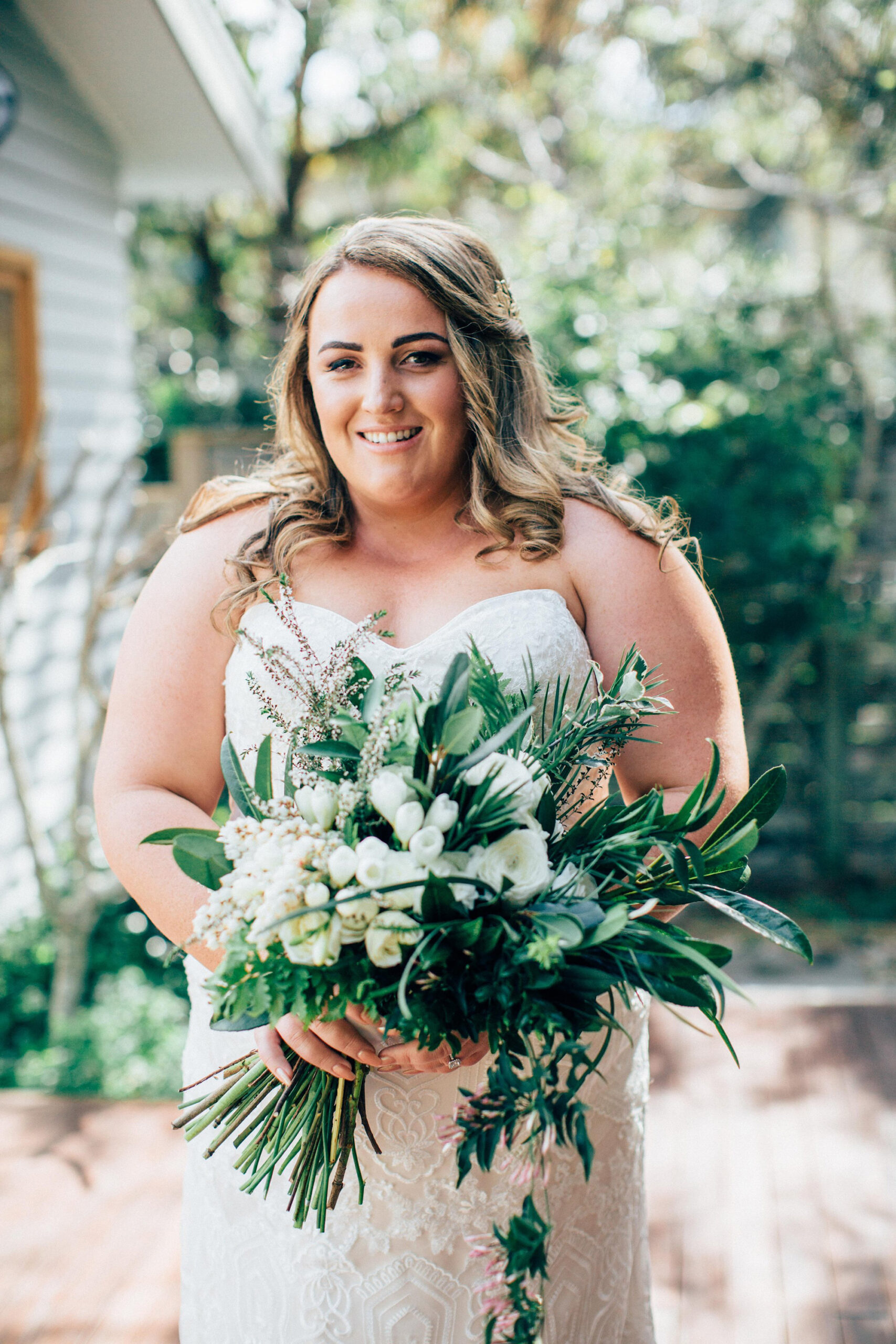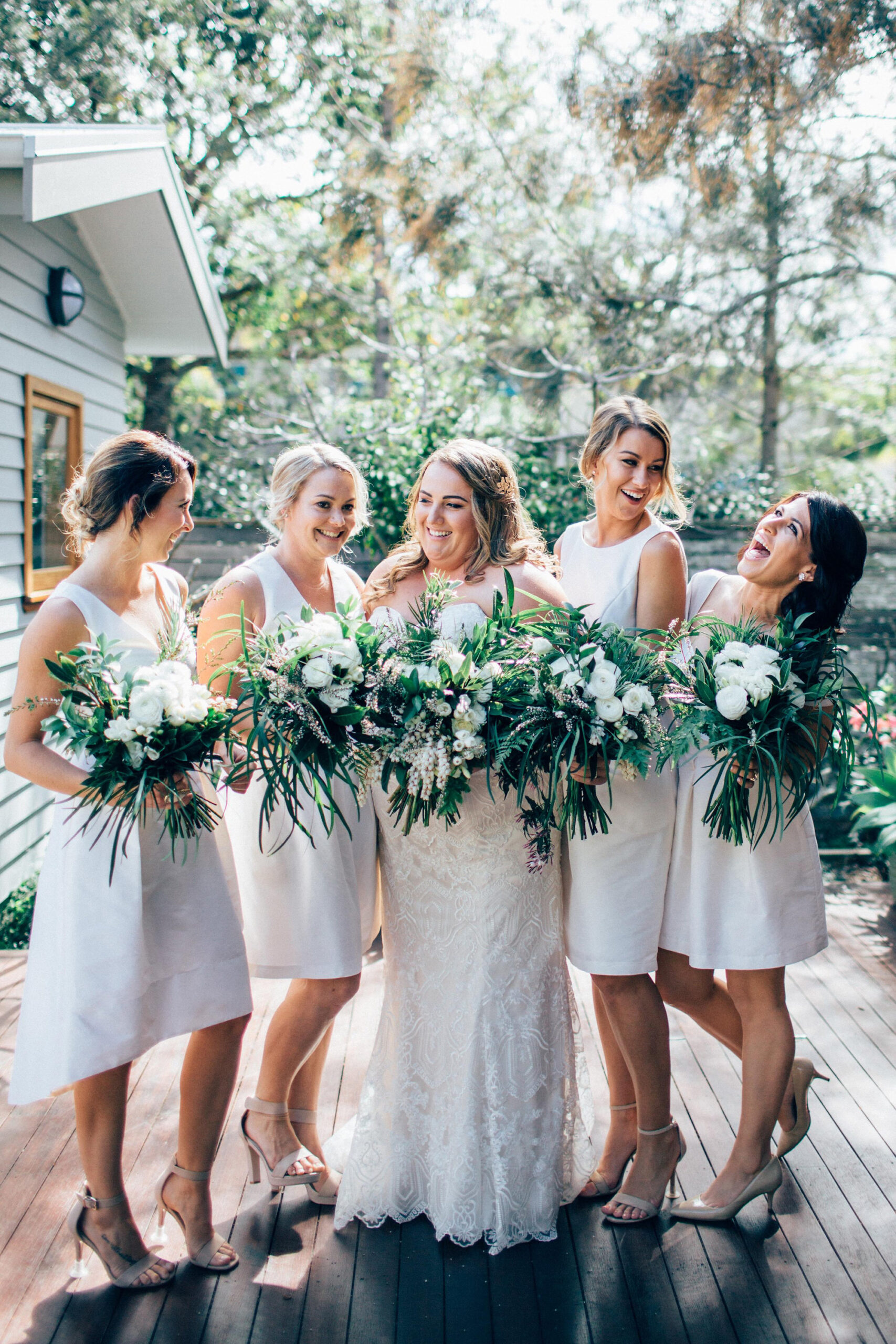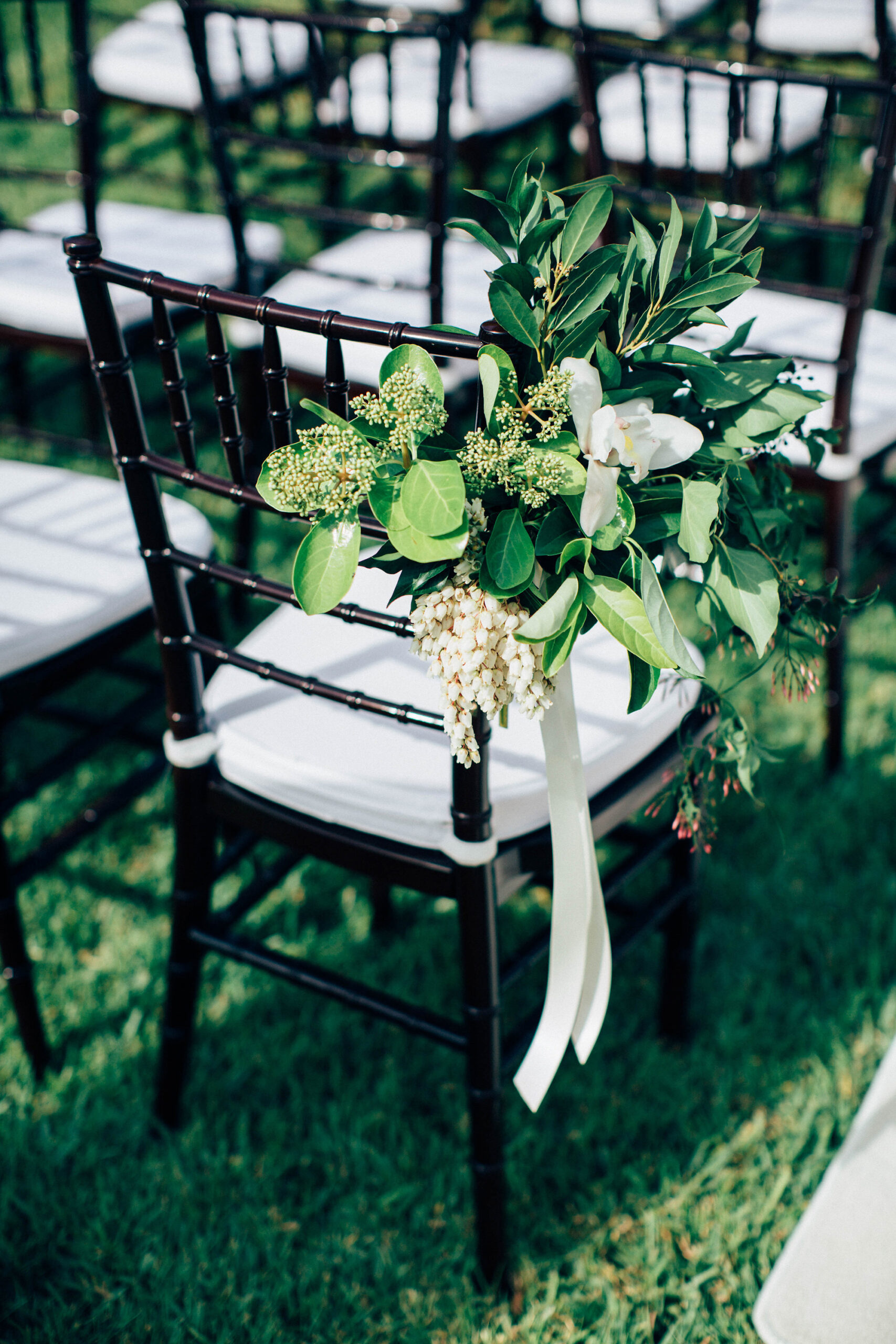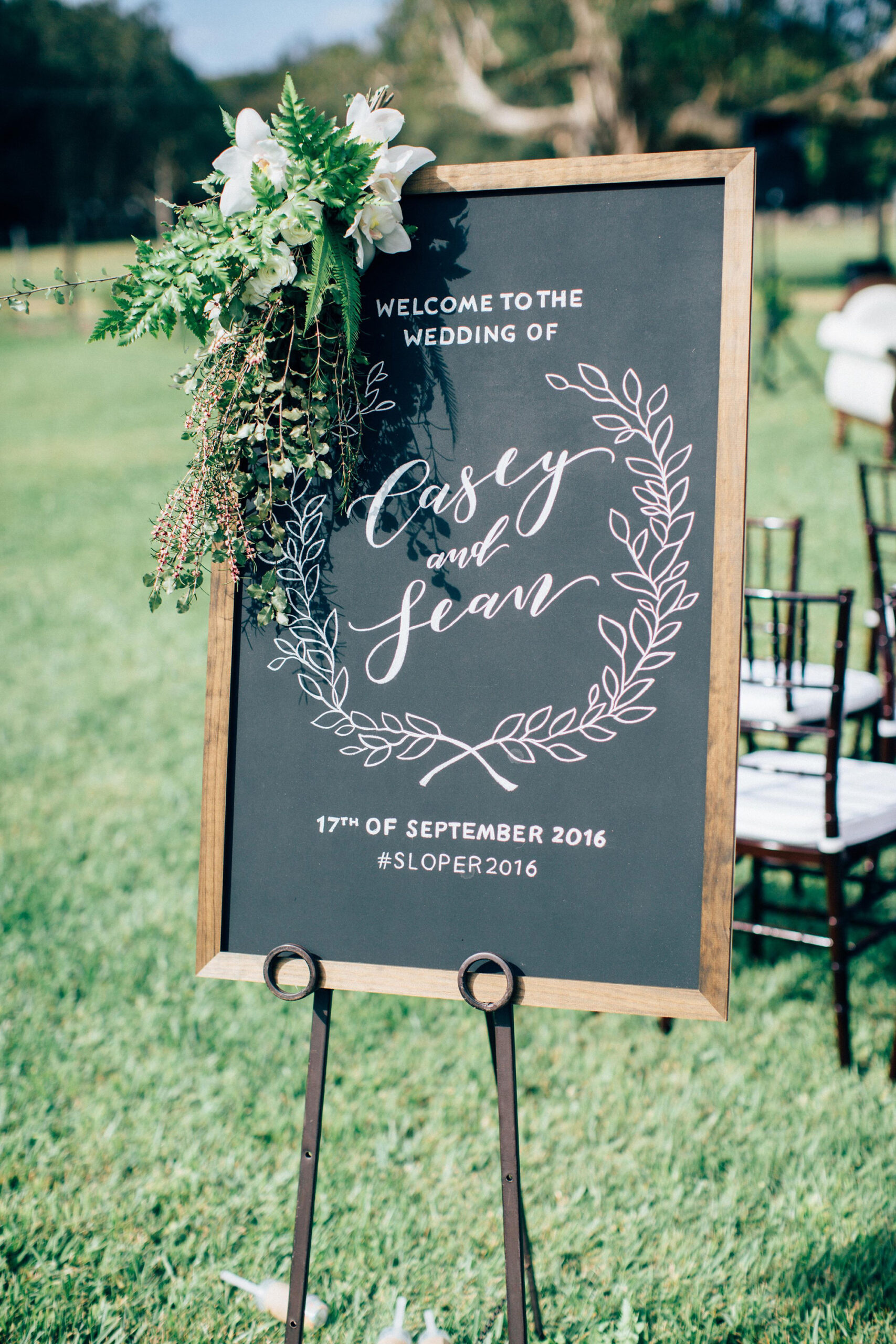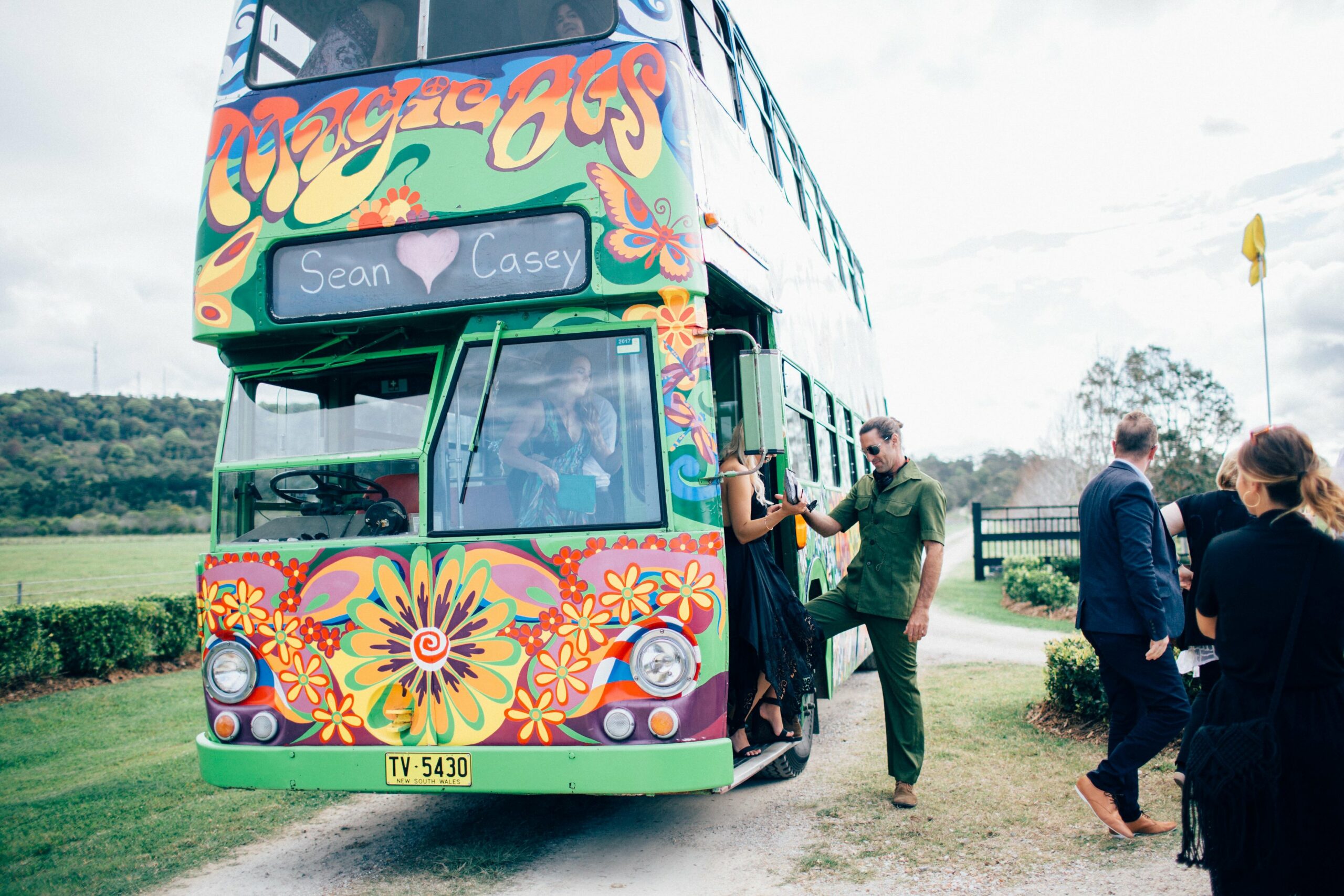 Guests arrived in hippy style by Magic Bus Byron Bay.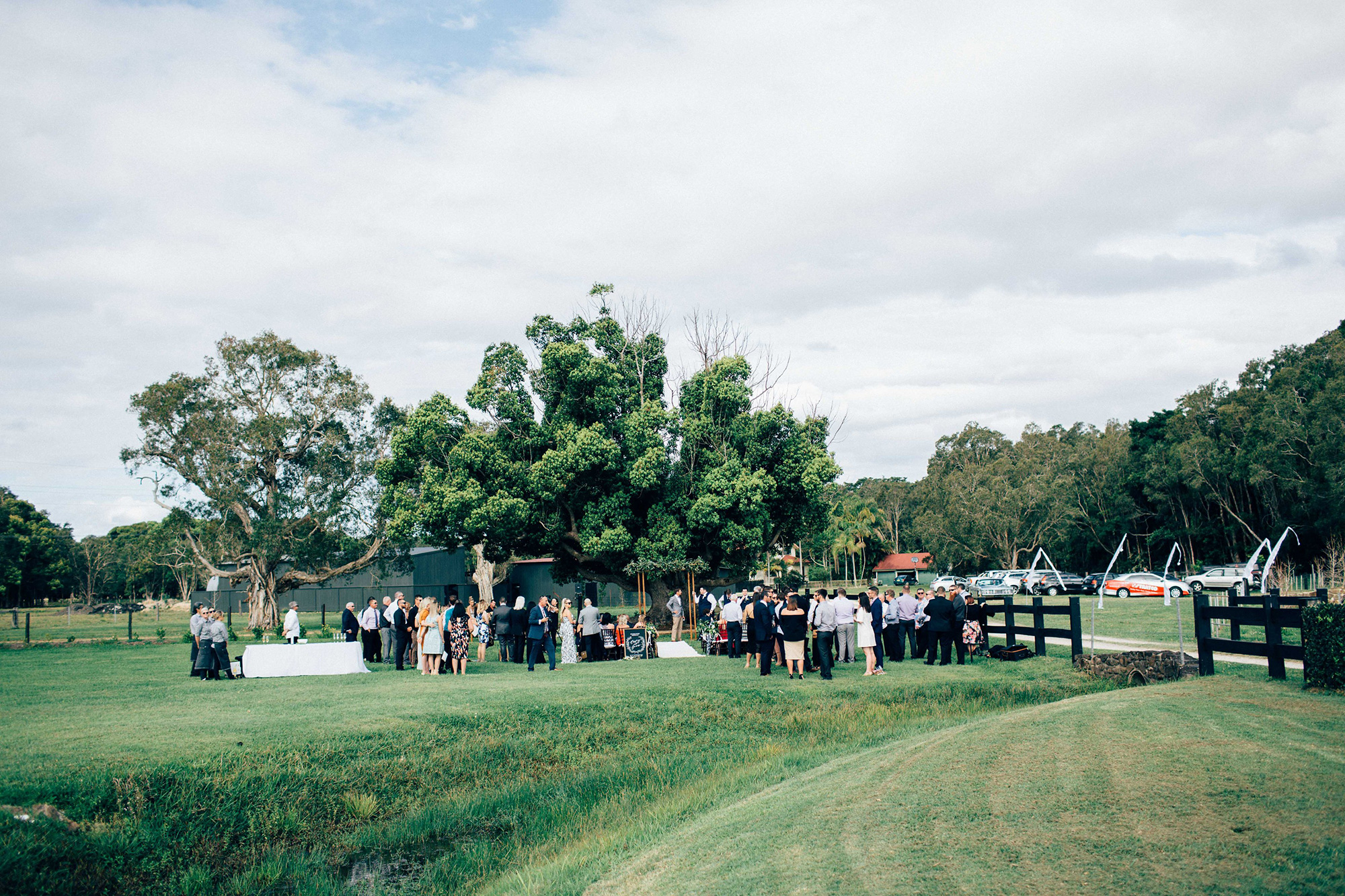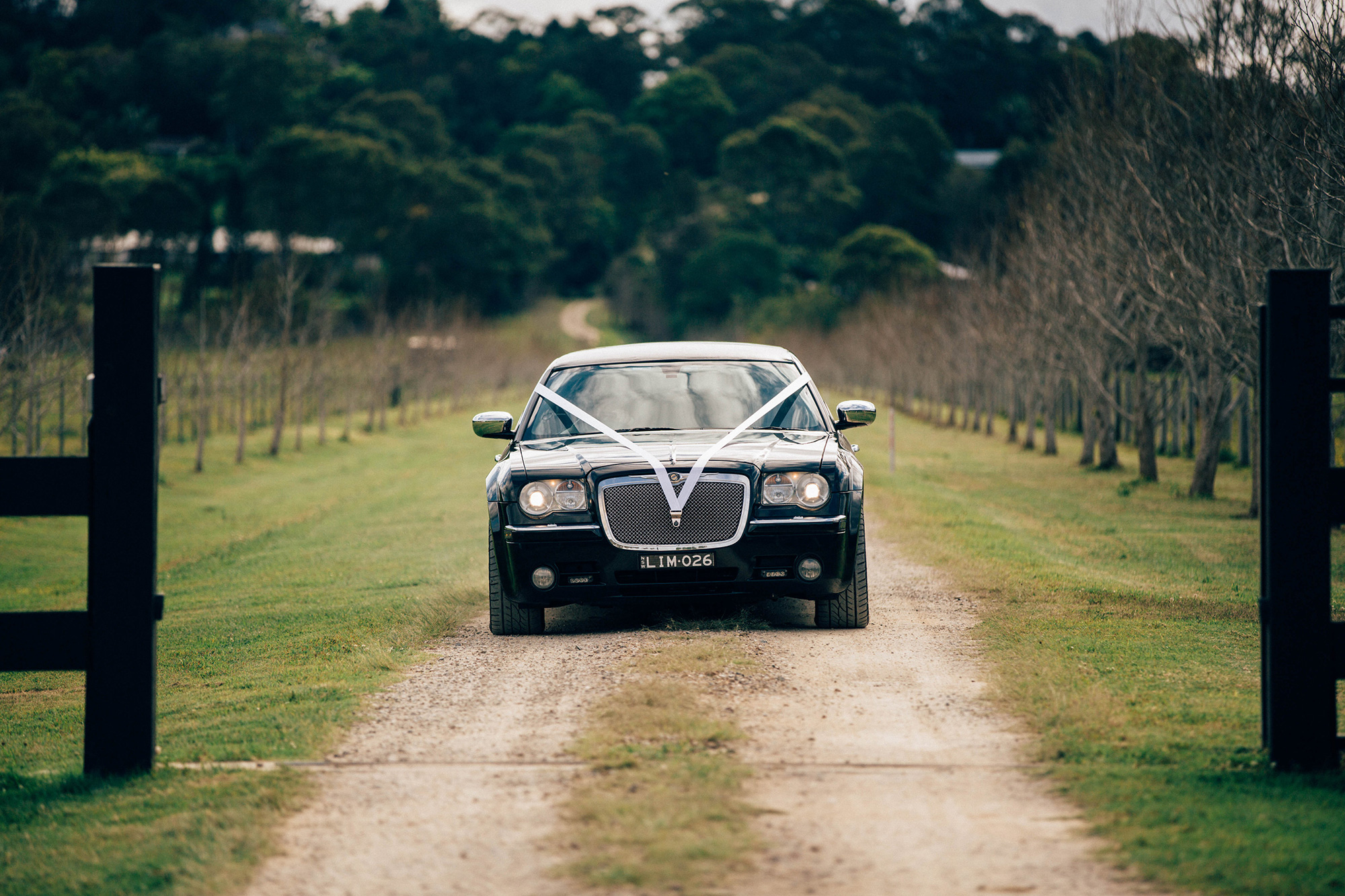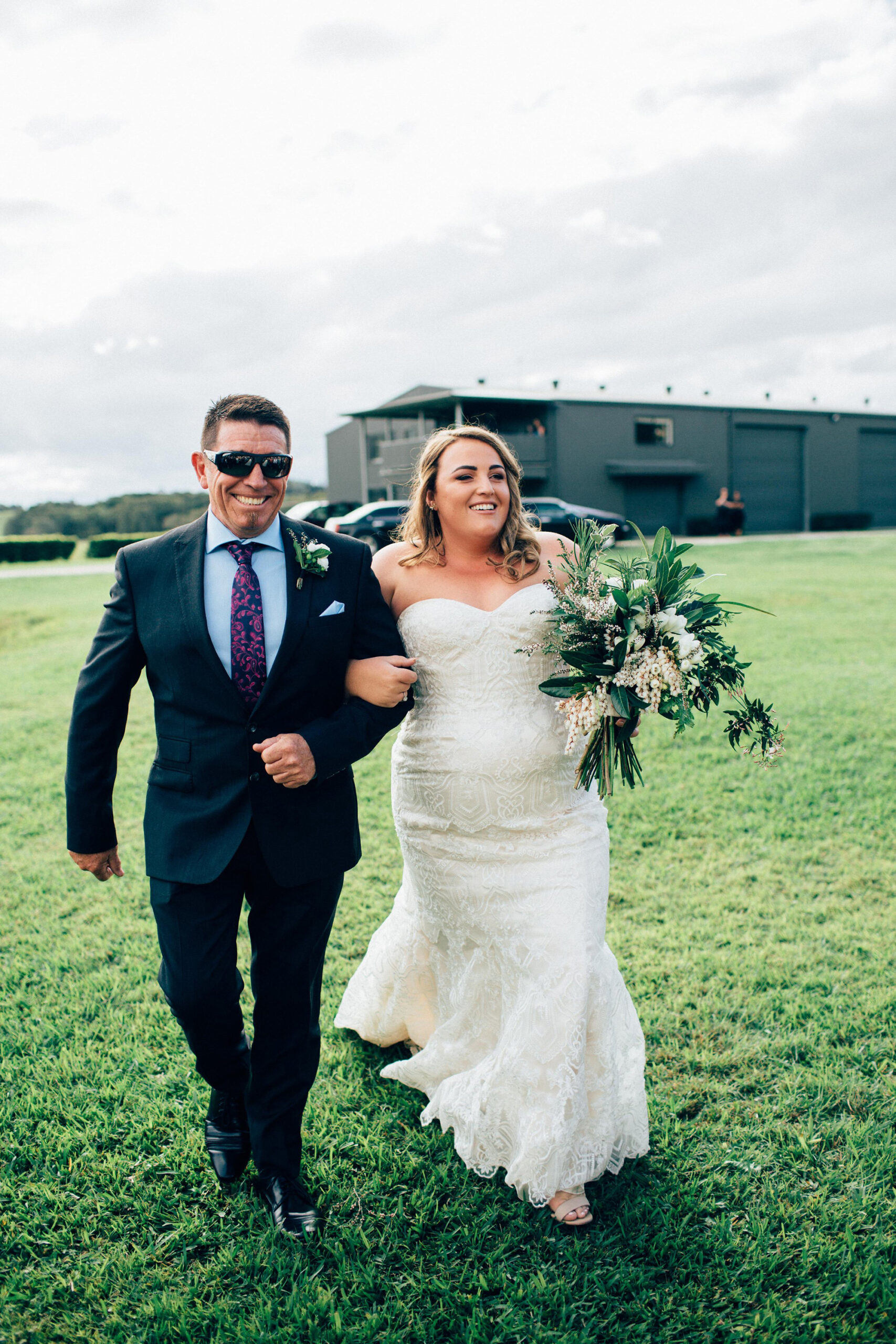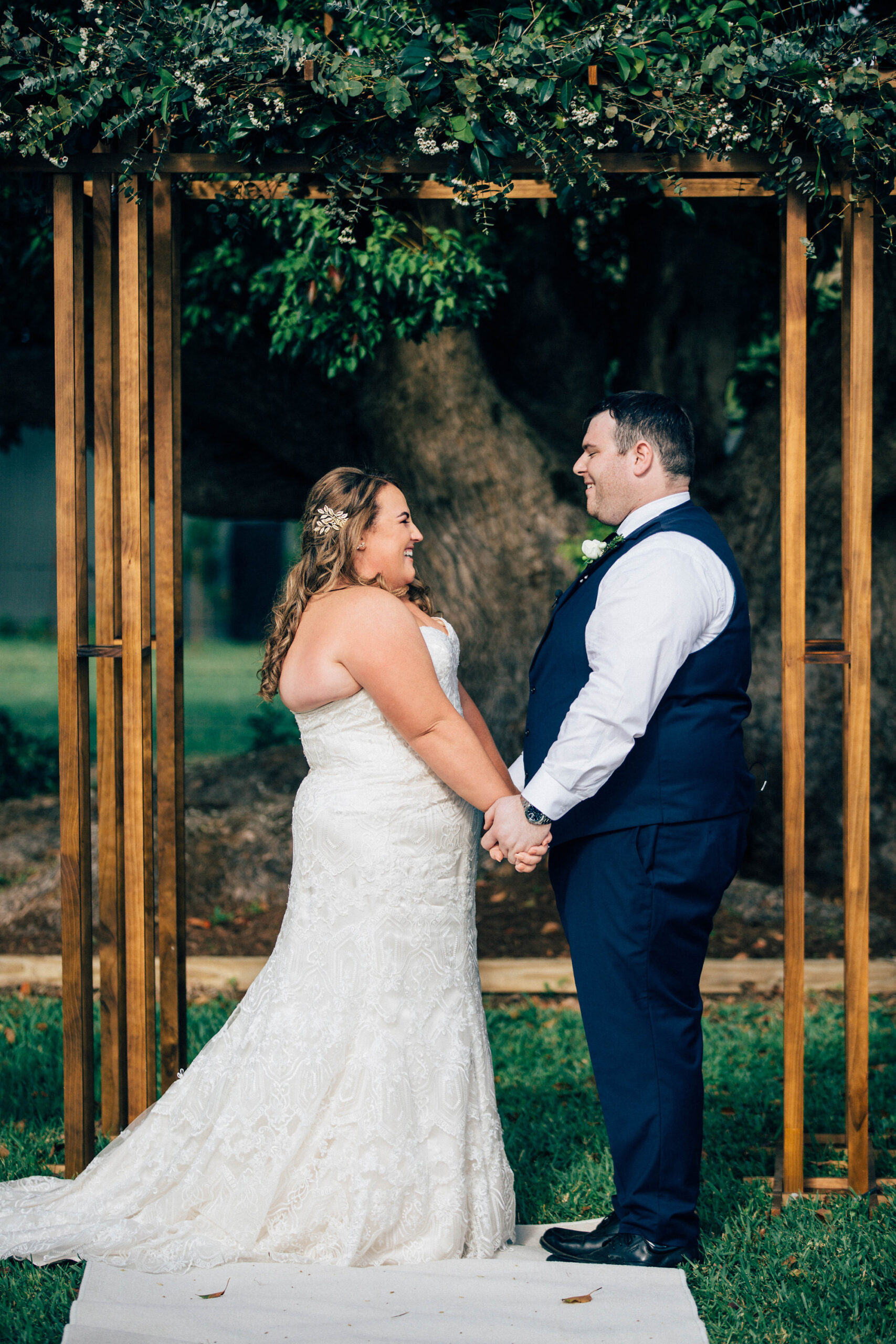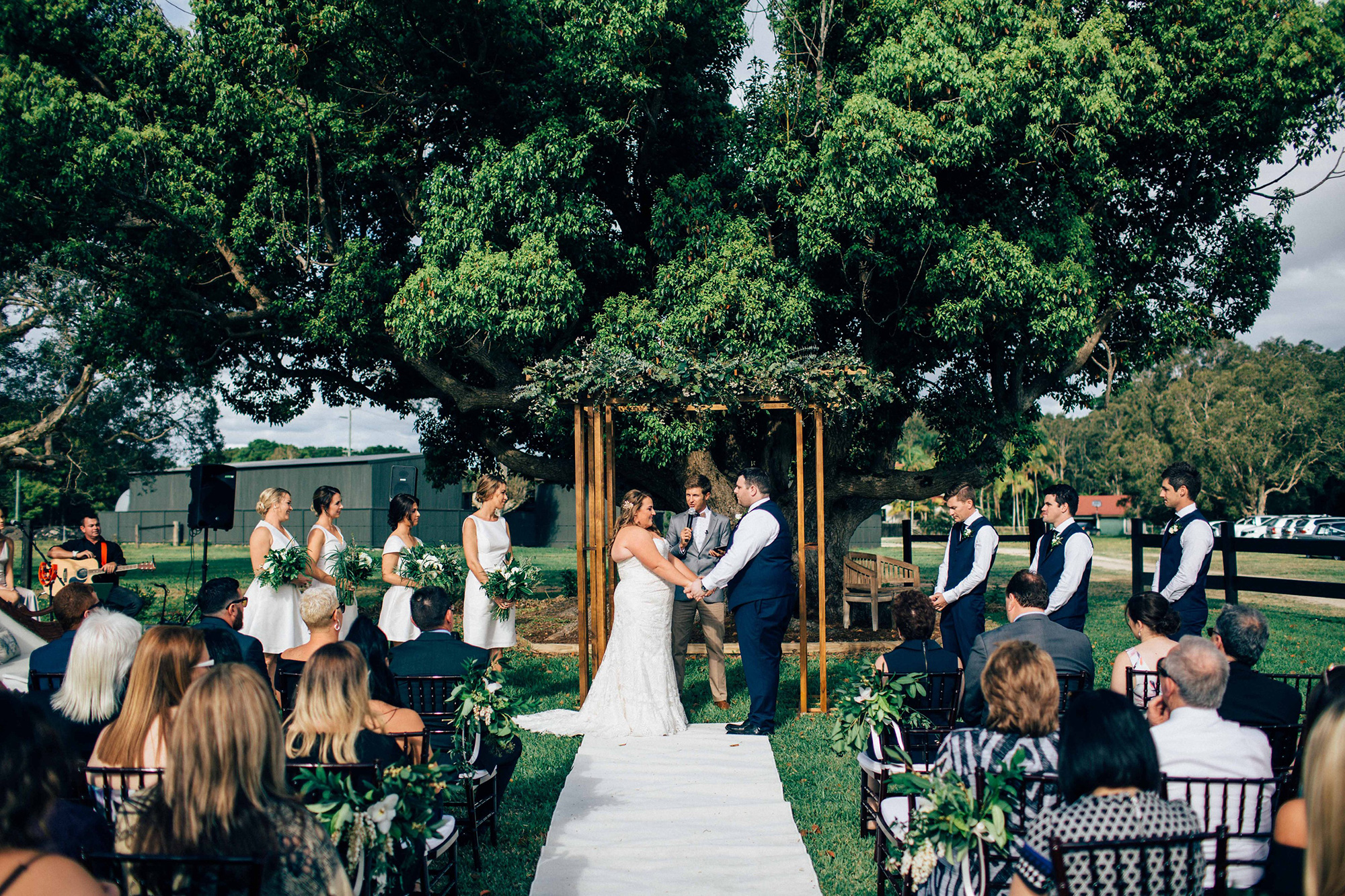 "Our ceremony was full of laughter and happy tears," Casey recalls.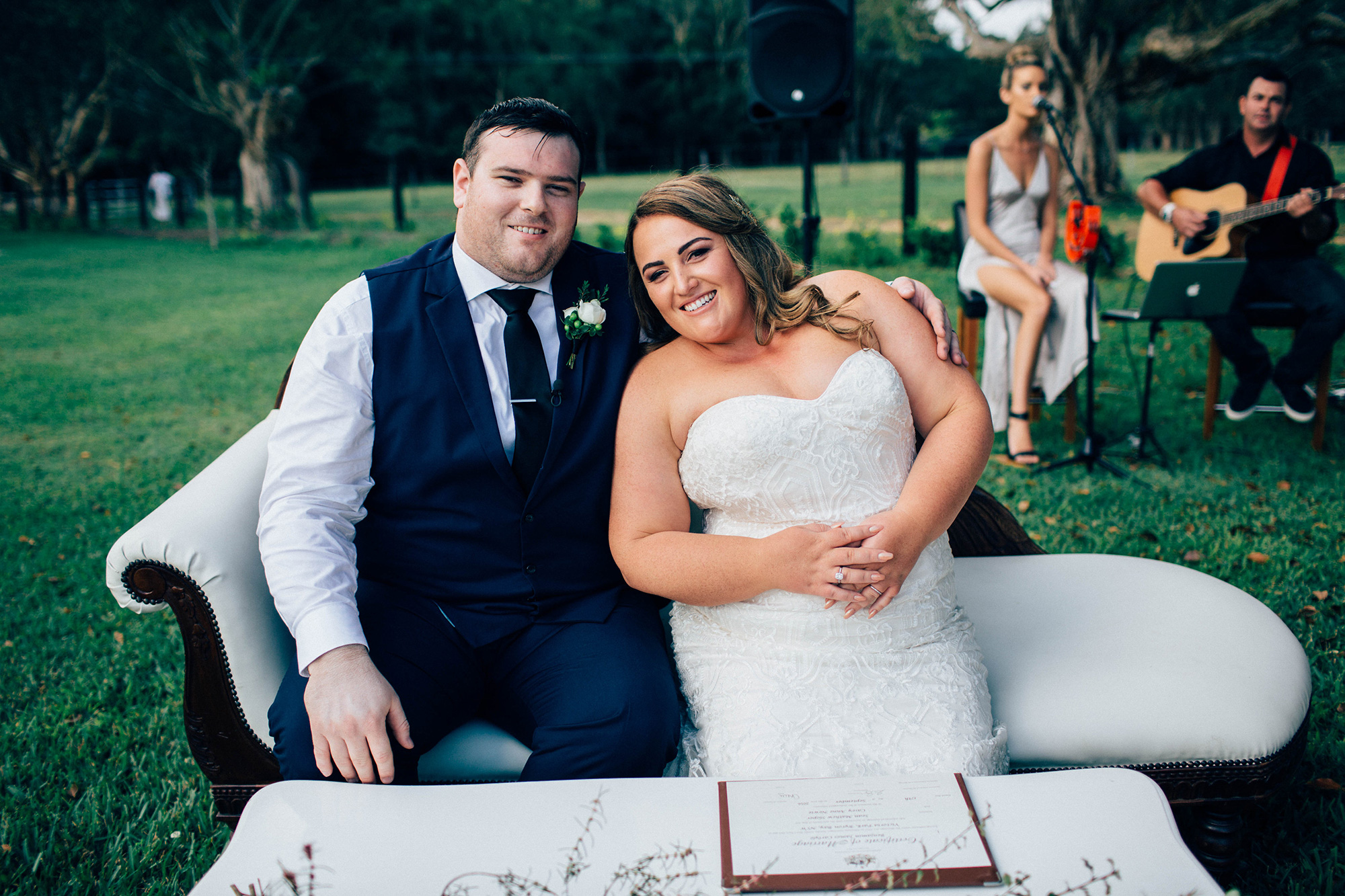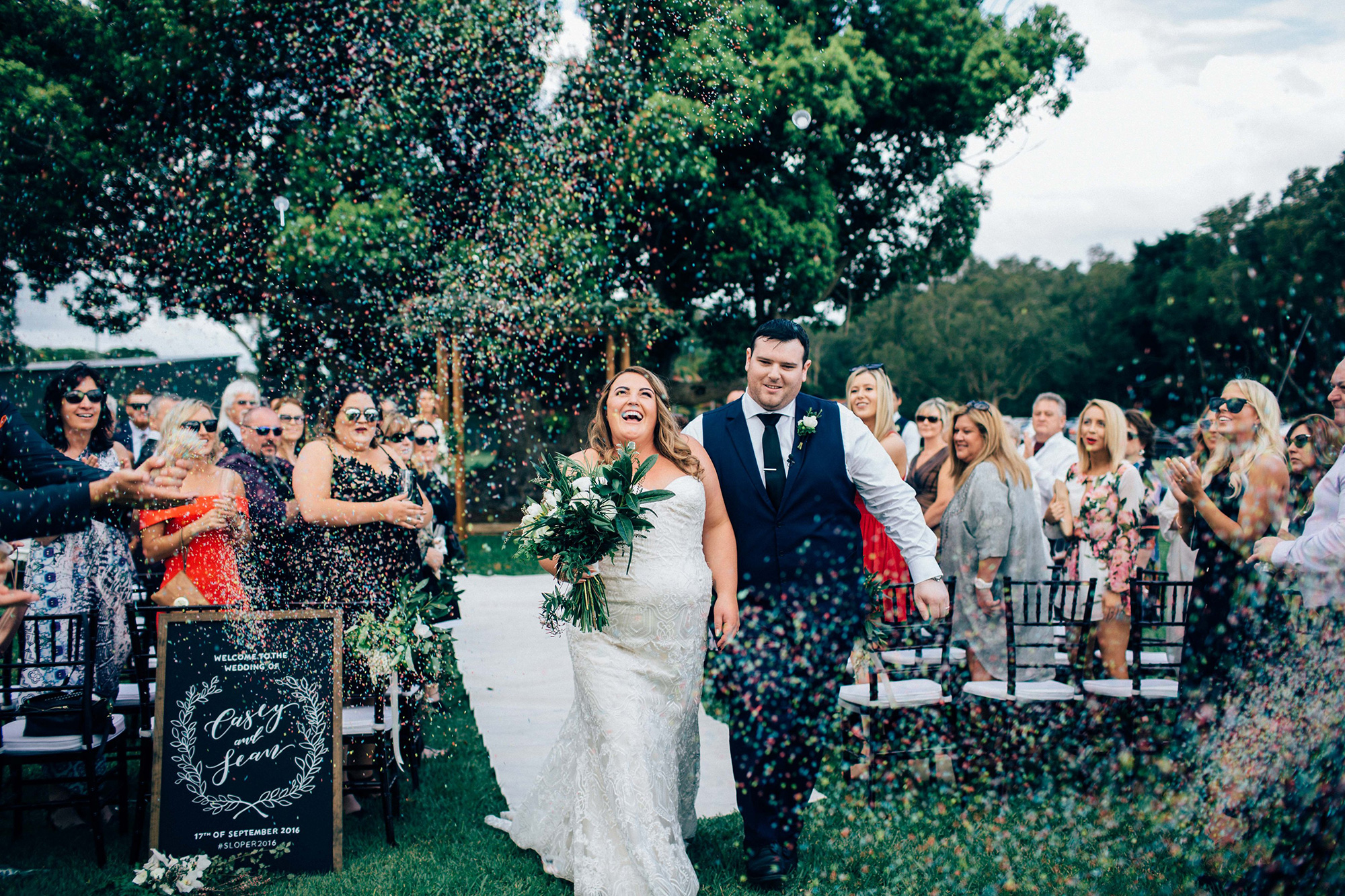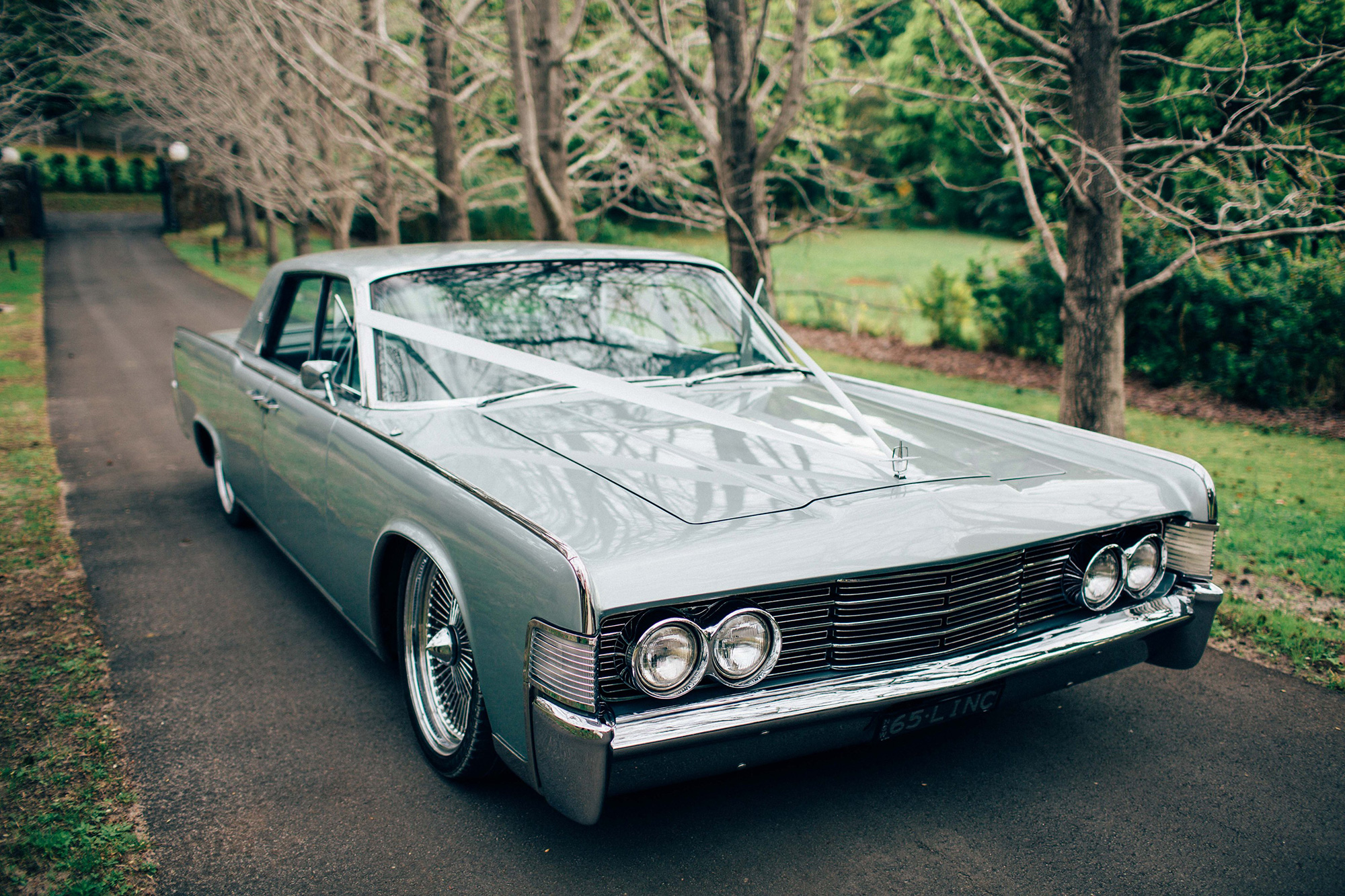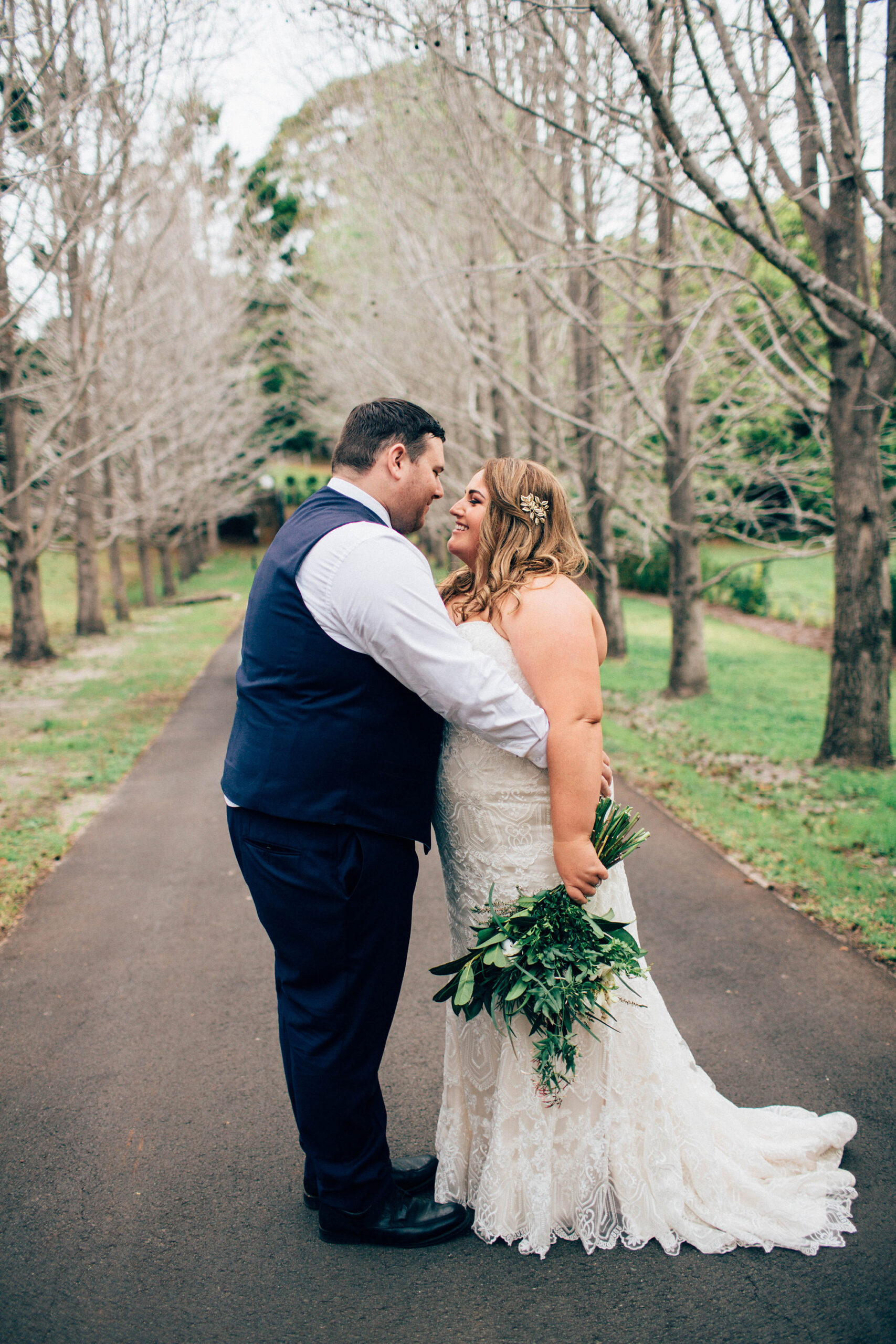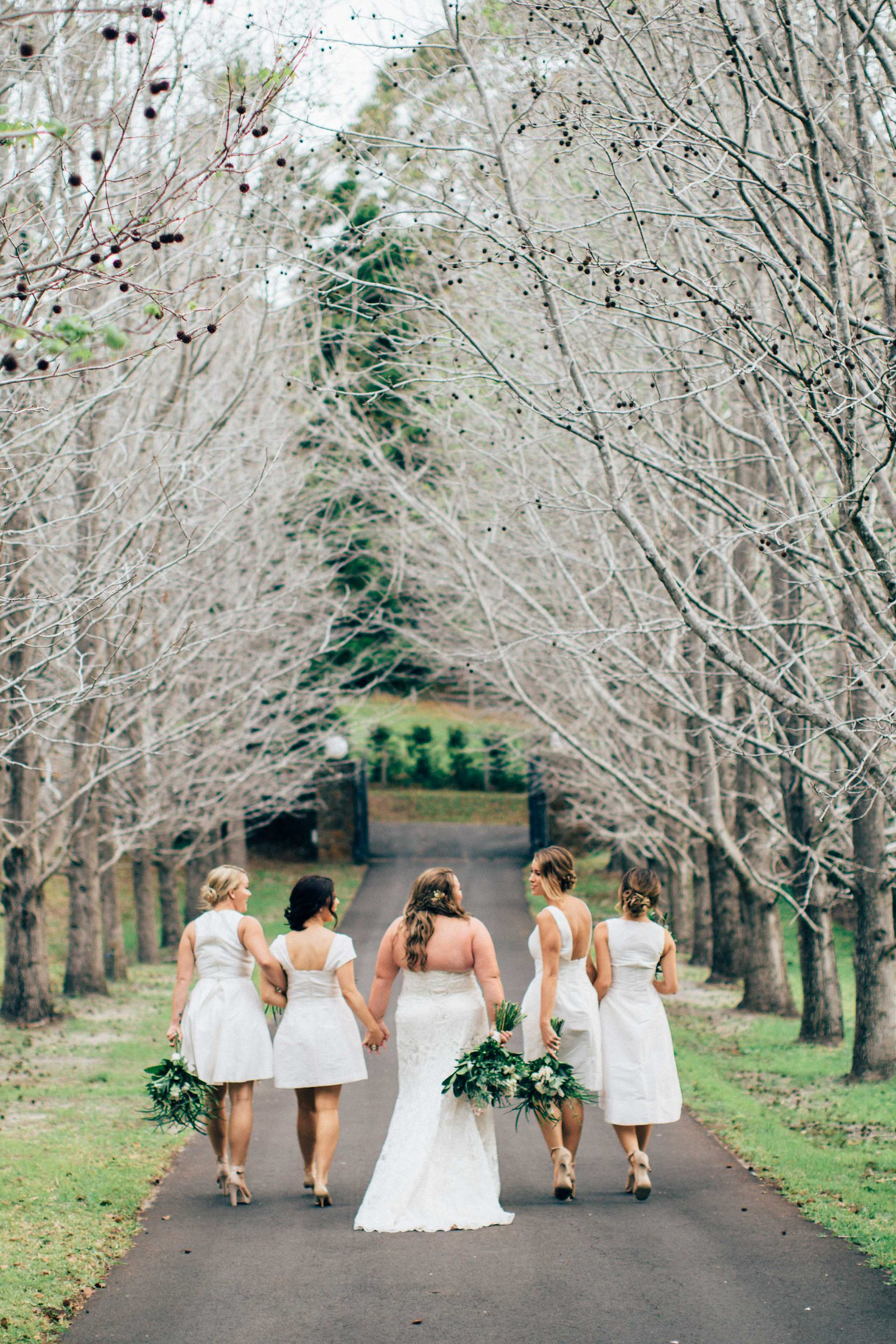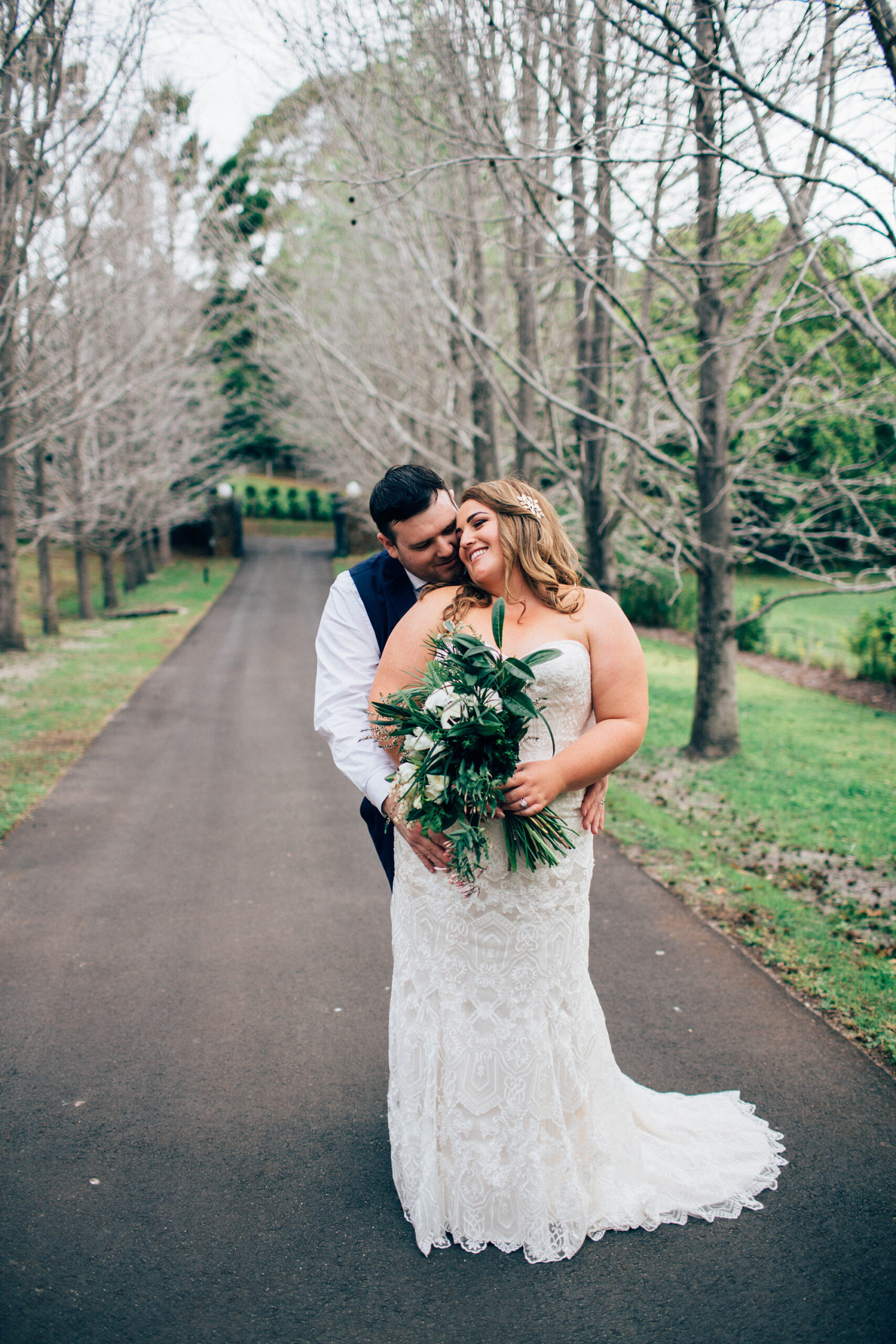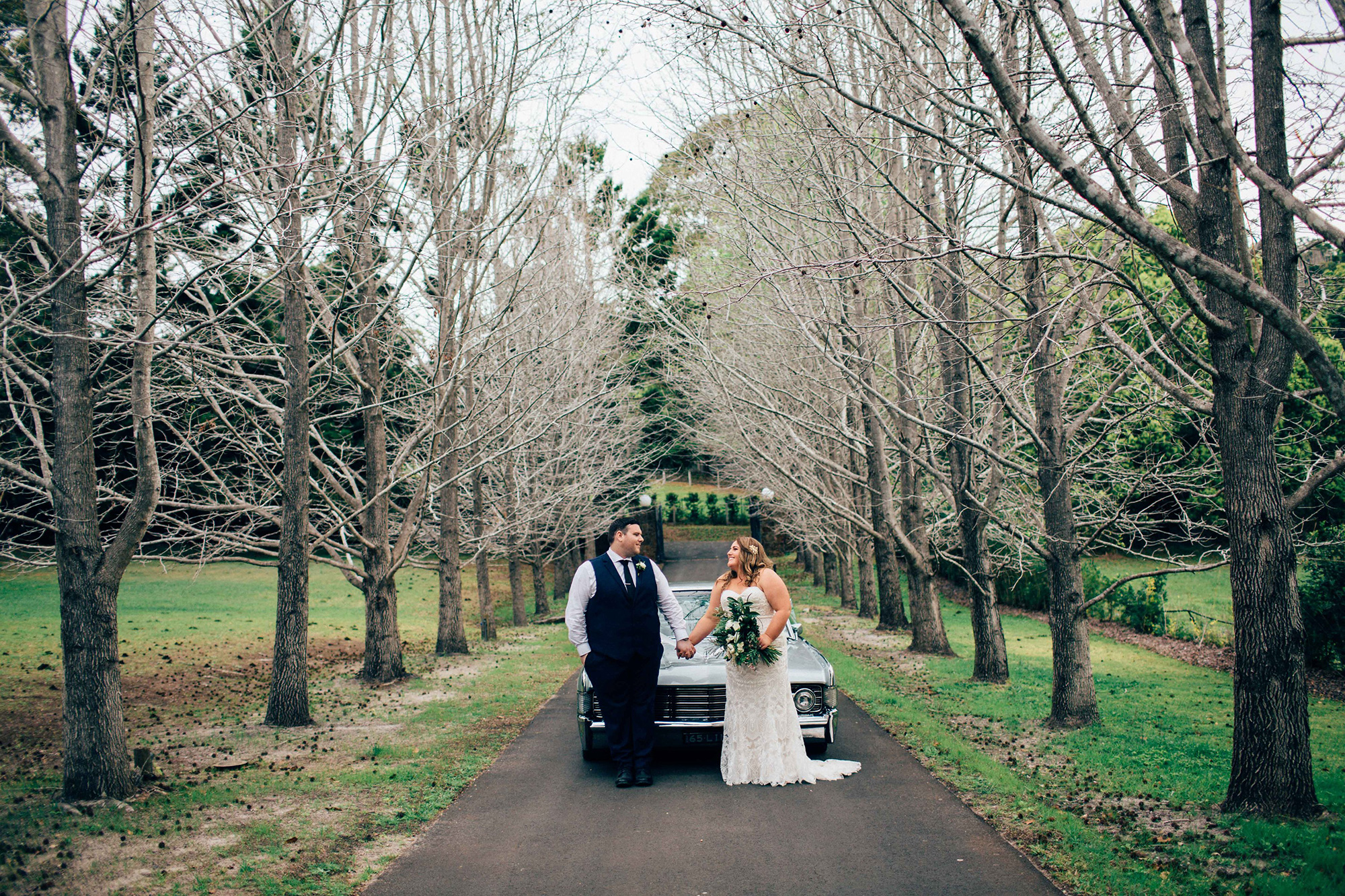 As the pair had already been living together for a number of years, Casey and Sean gave guests the option to put money toward their honeymoon instead of gifts. With the gifted money, the newlyweds spent their honeymoon on Tokoriki Island, Fiji.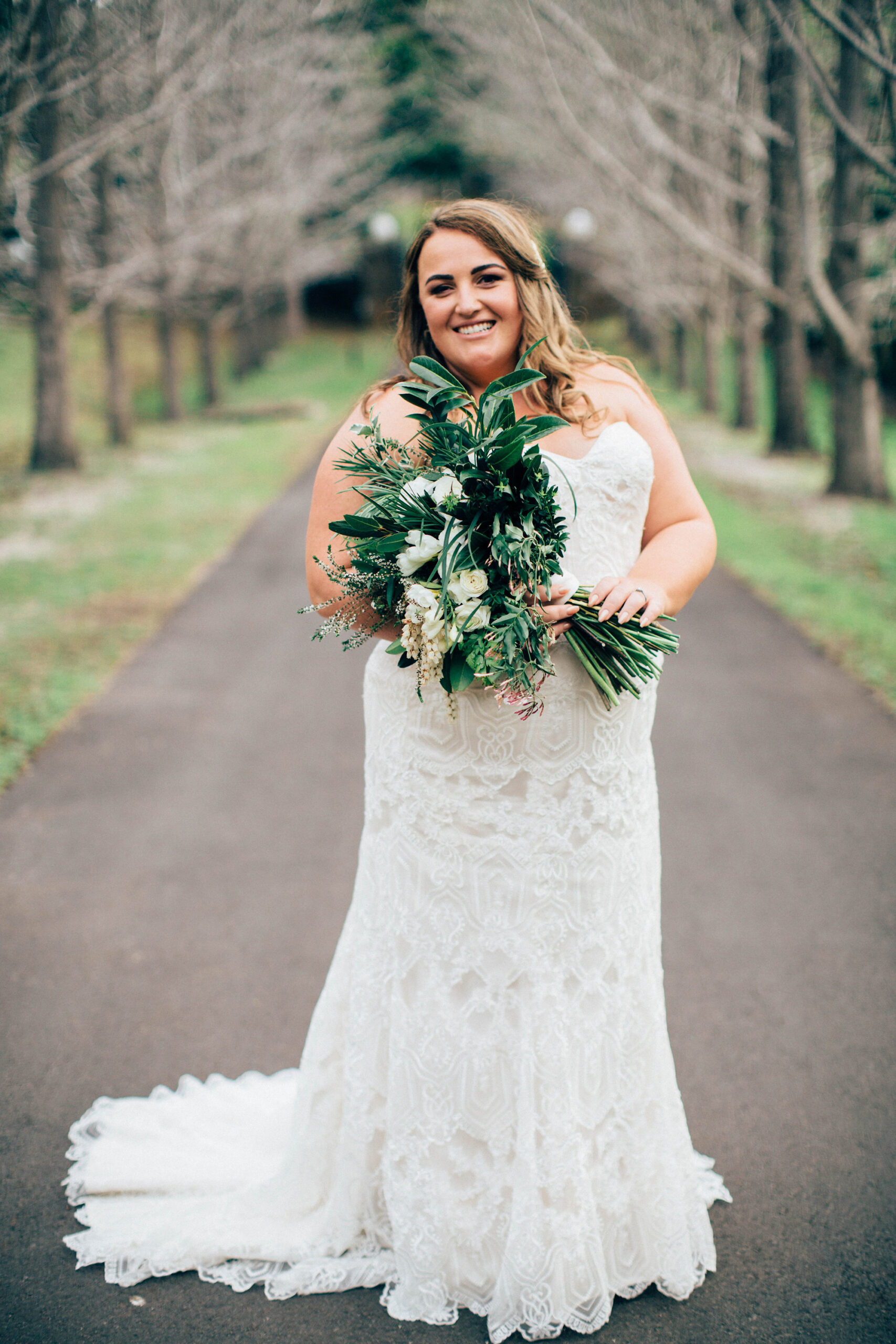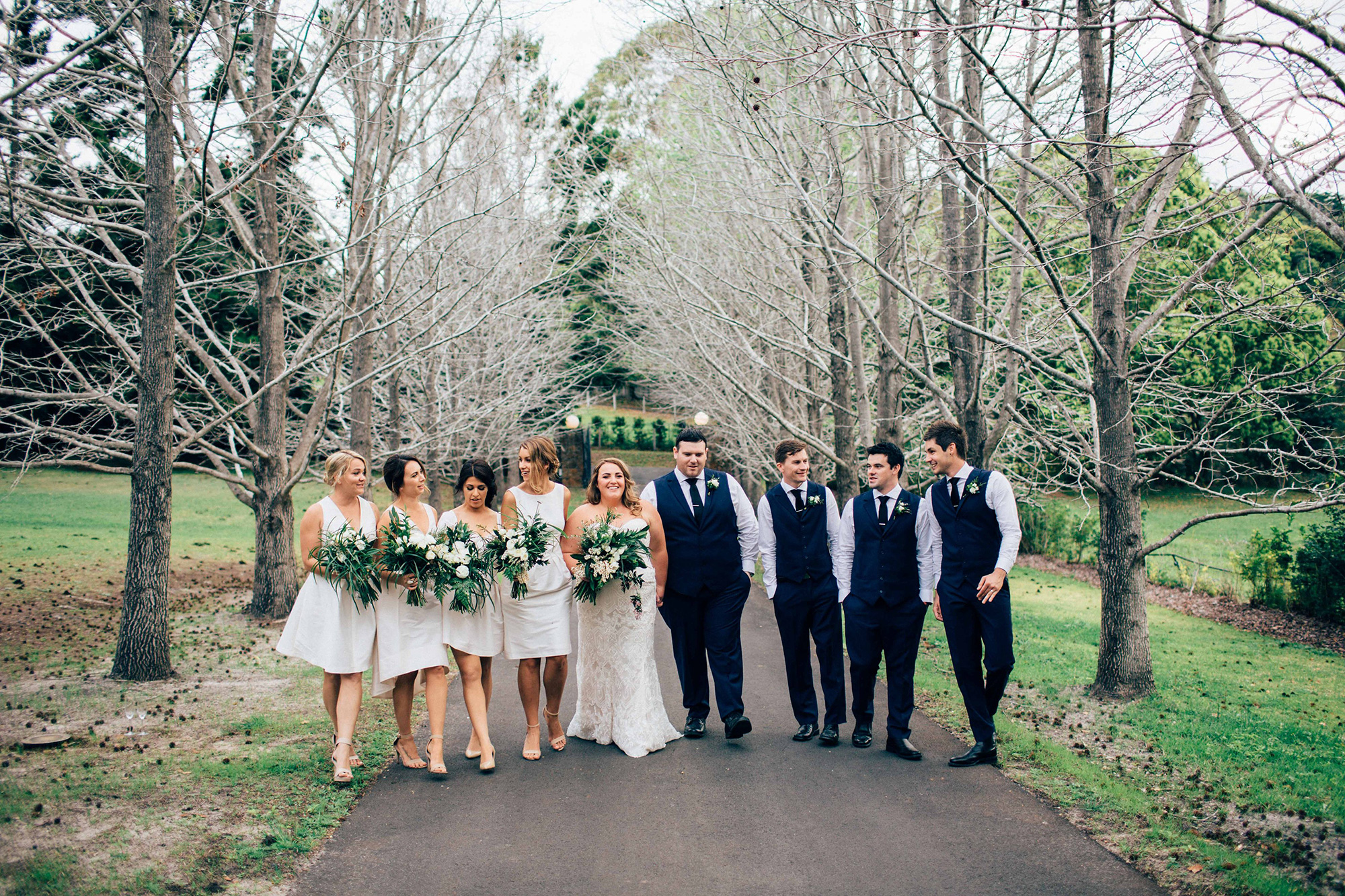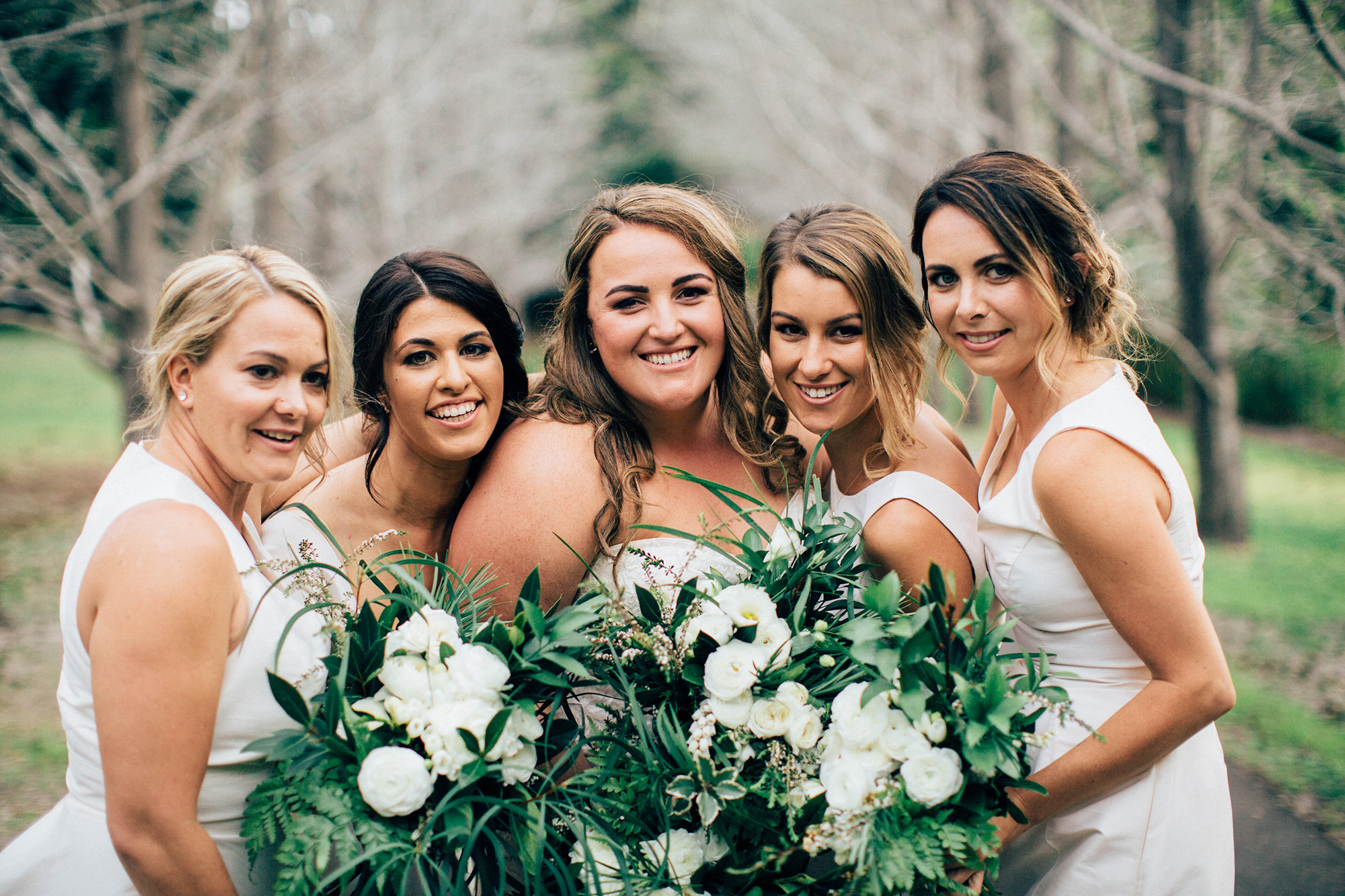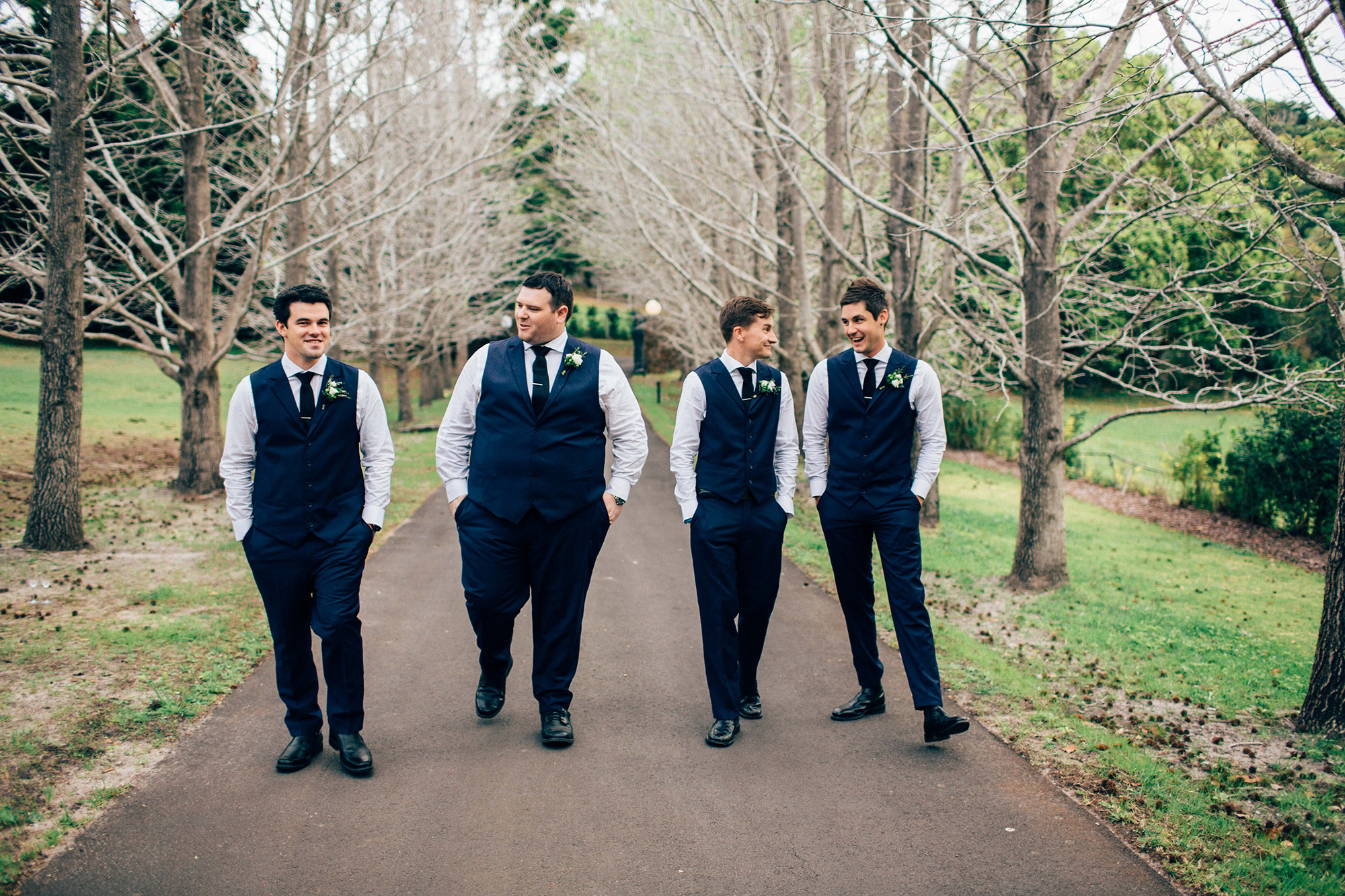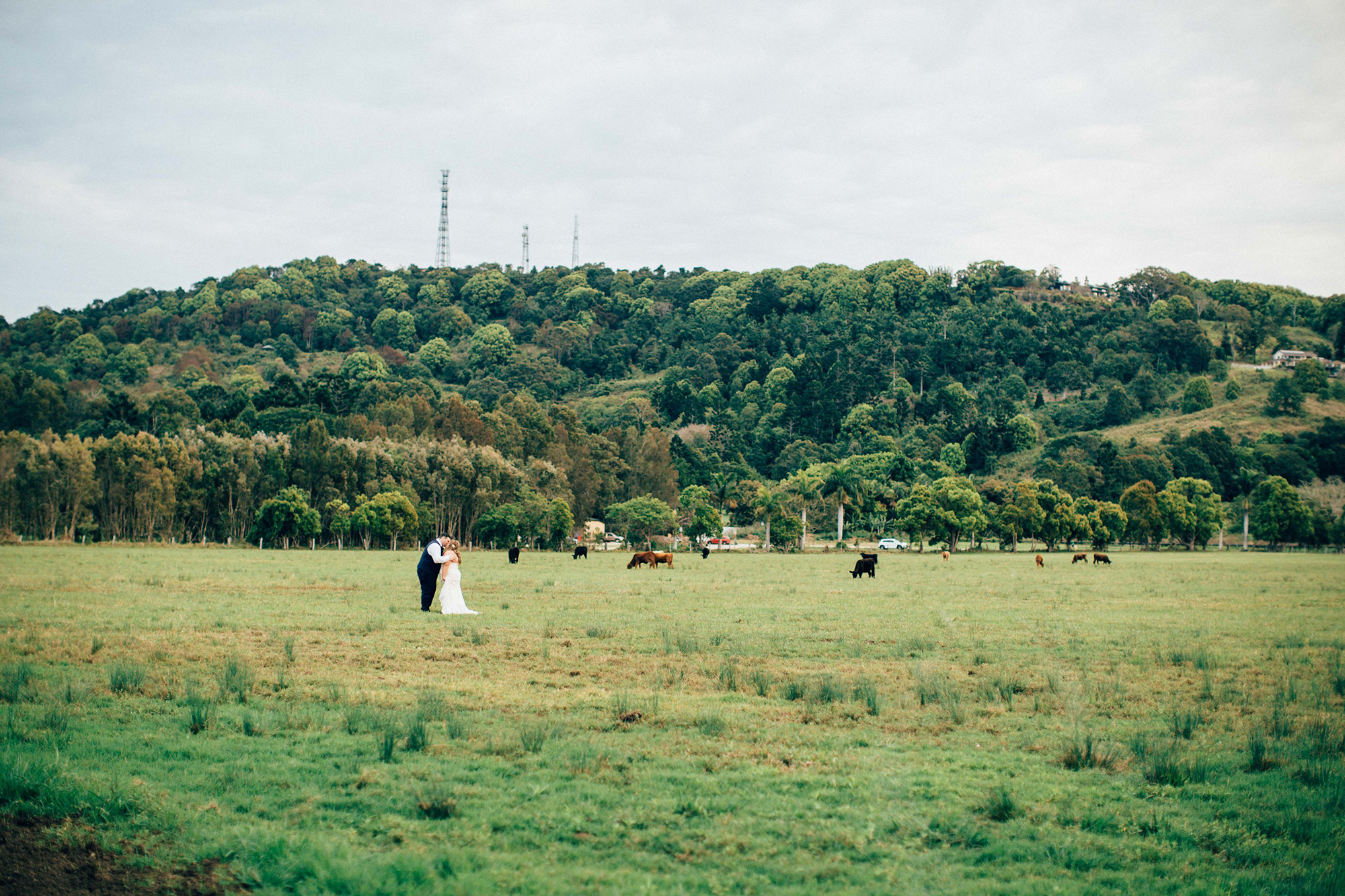 Casey and Sean chose their venue as they loved the idea of being in a paddock surrounded by trees and rolling green hills.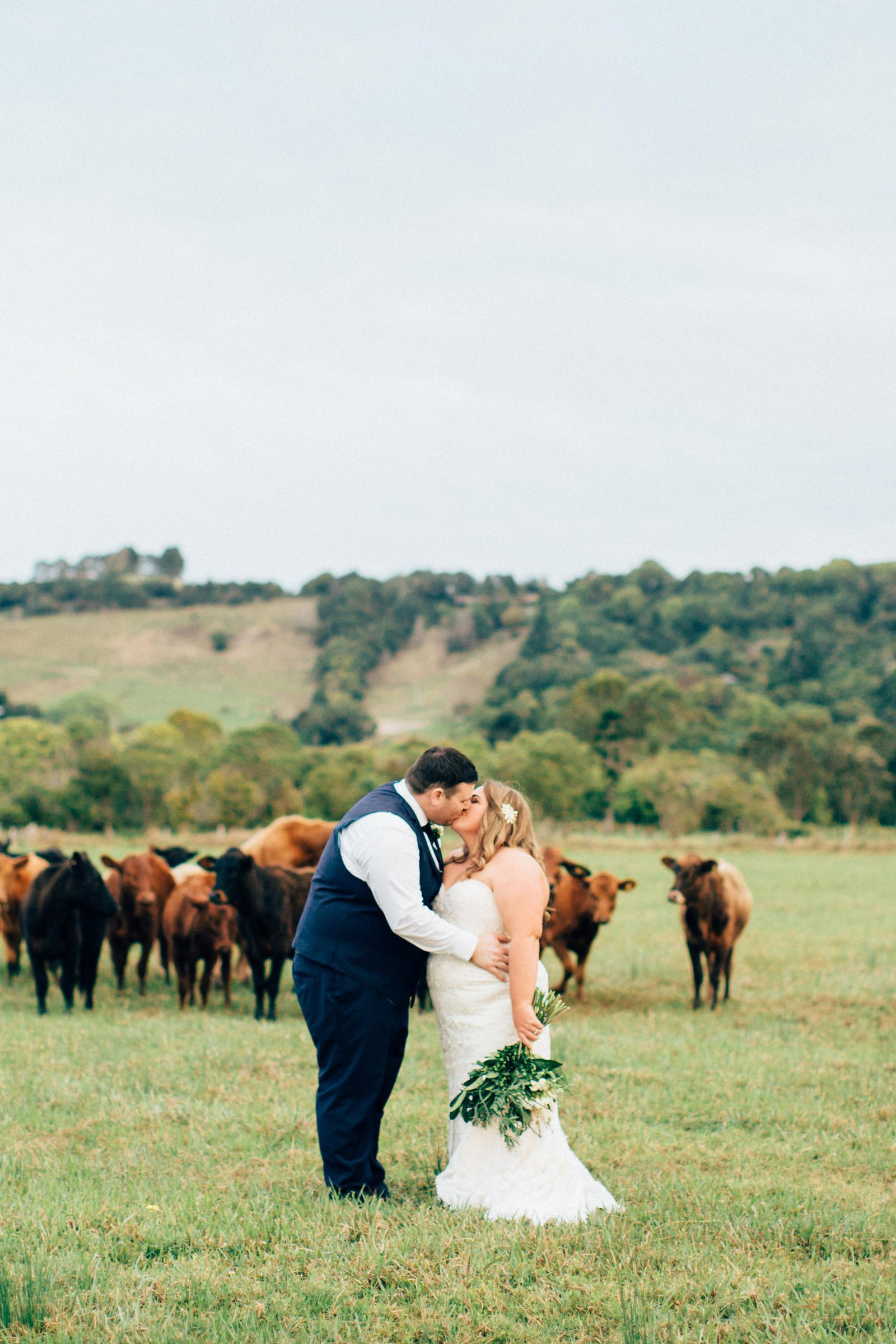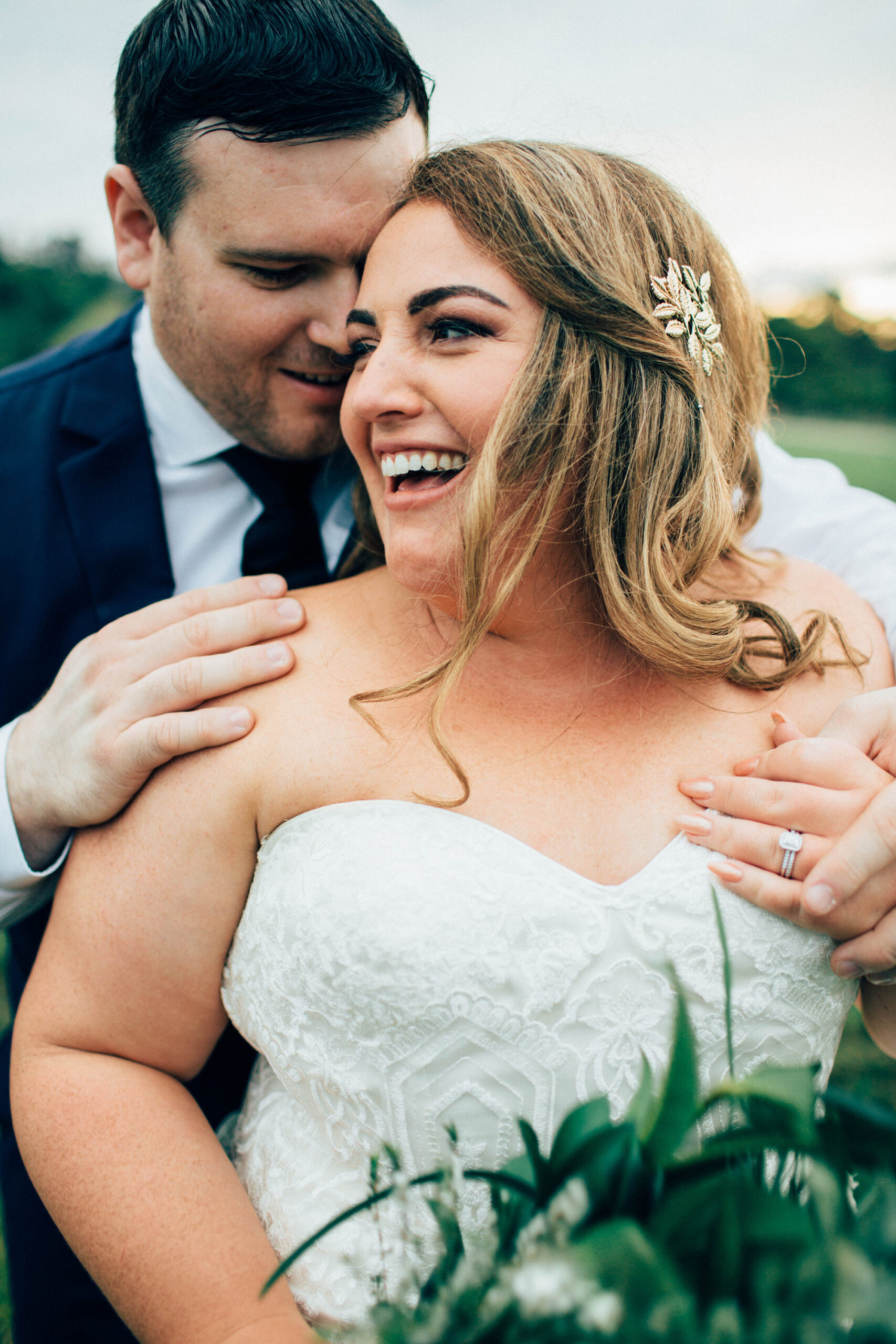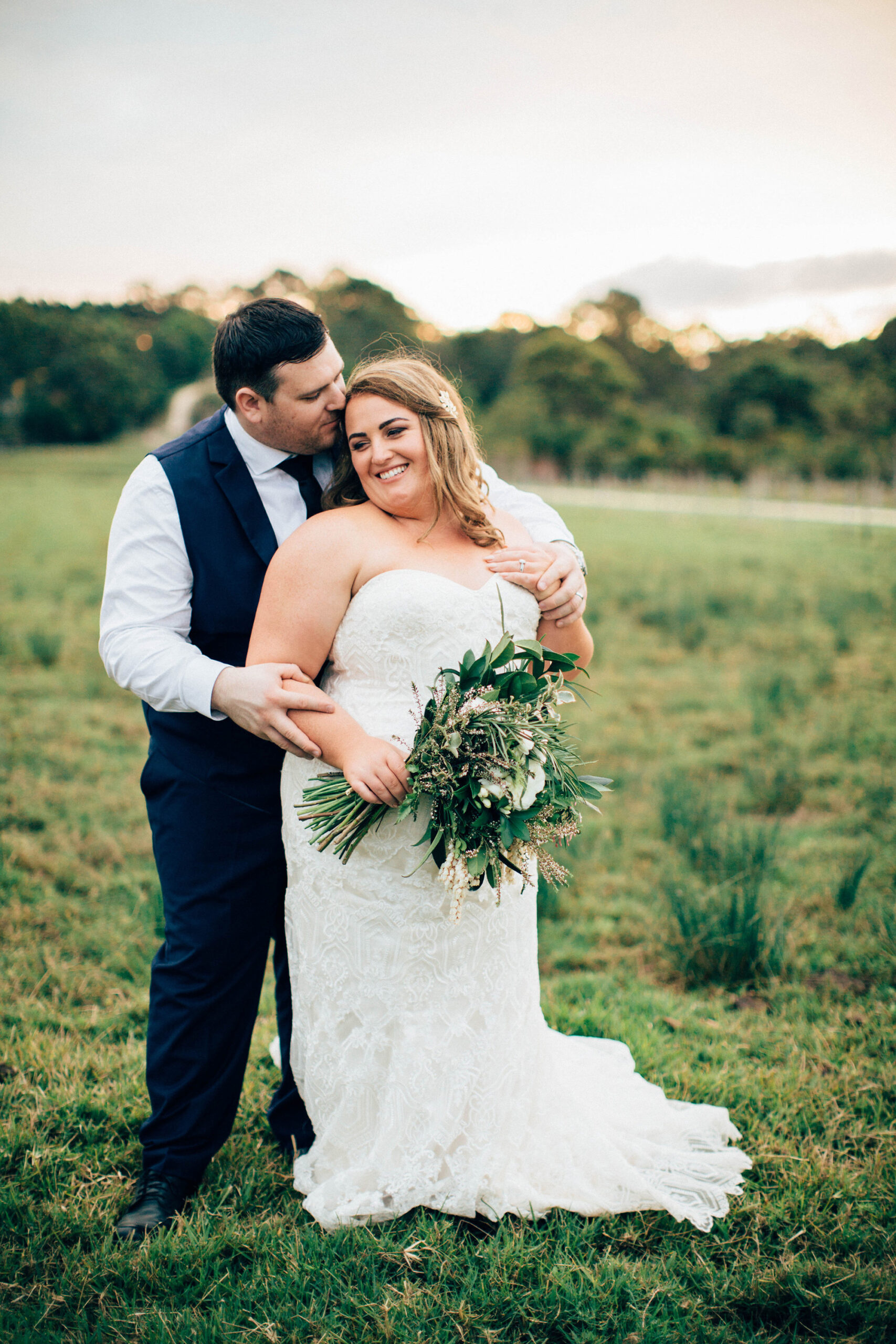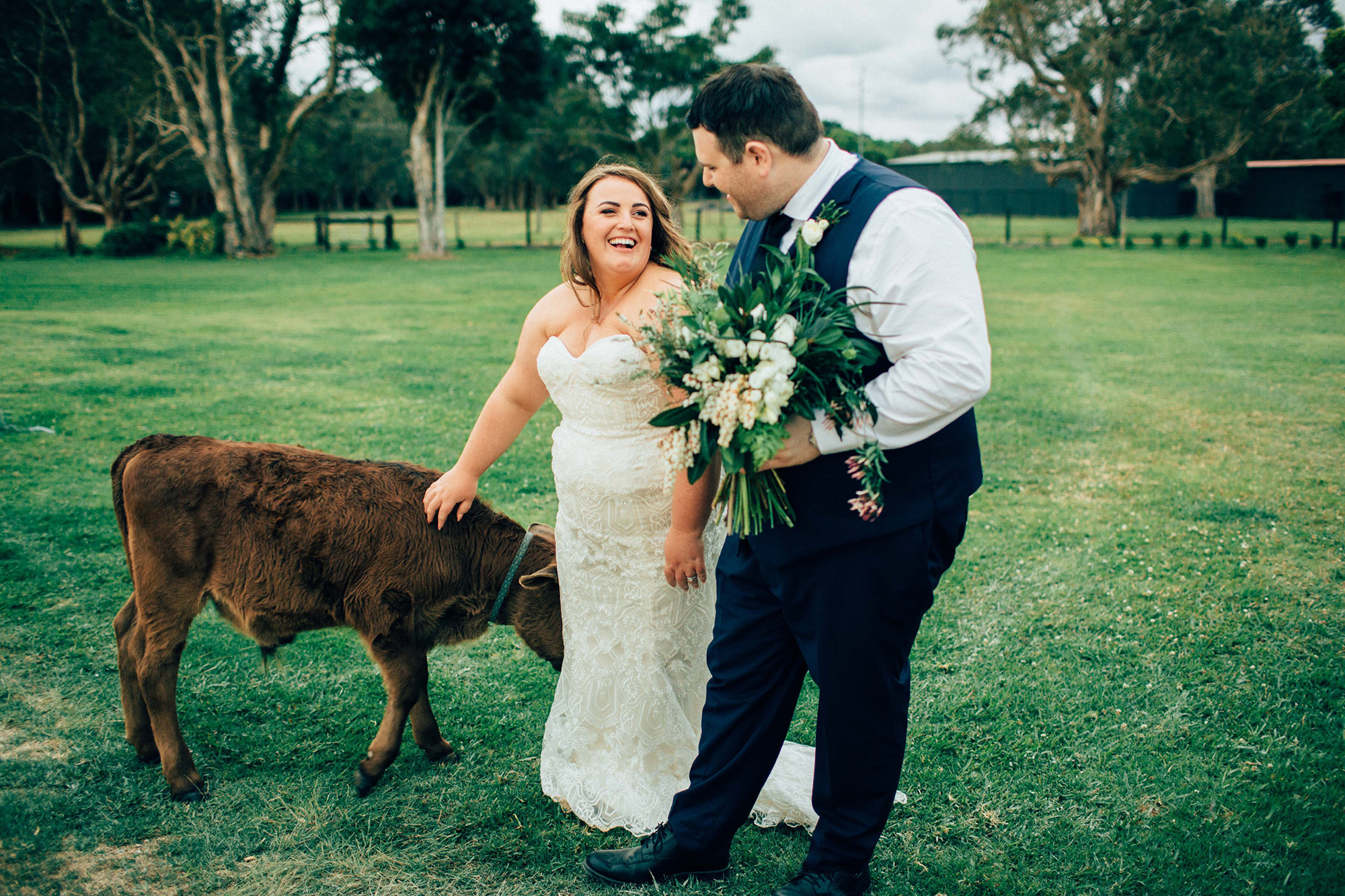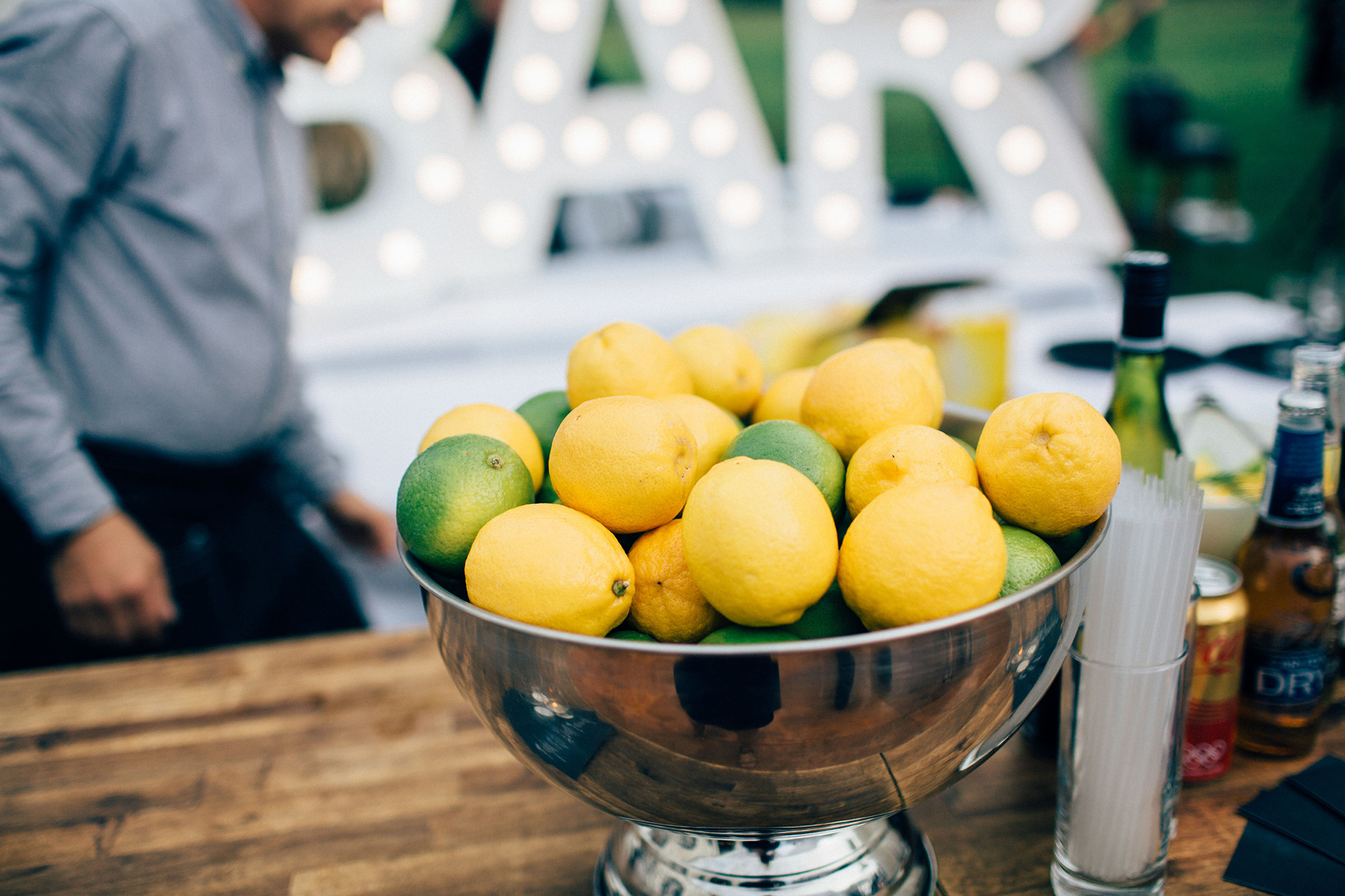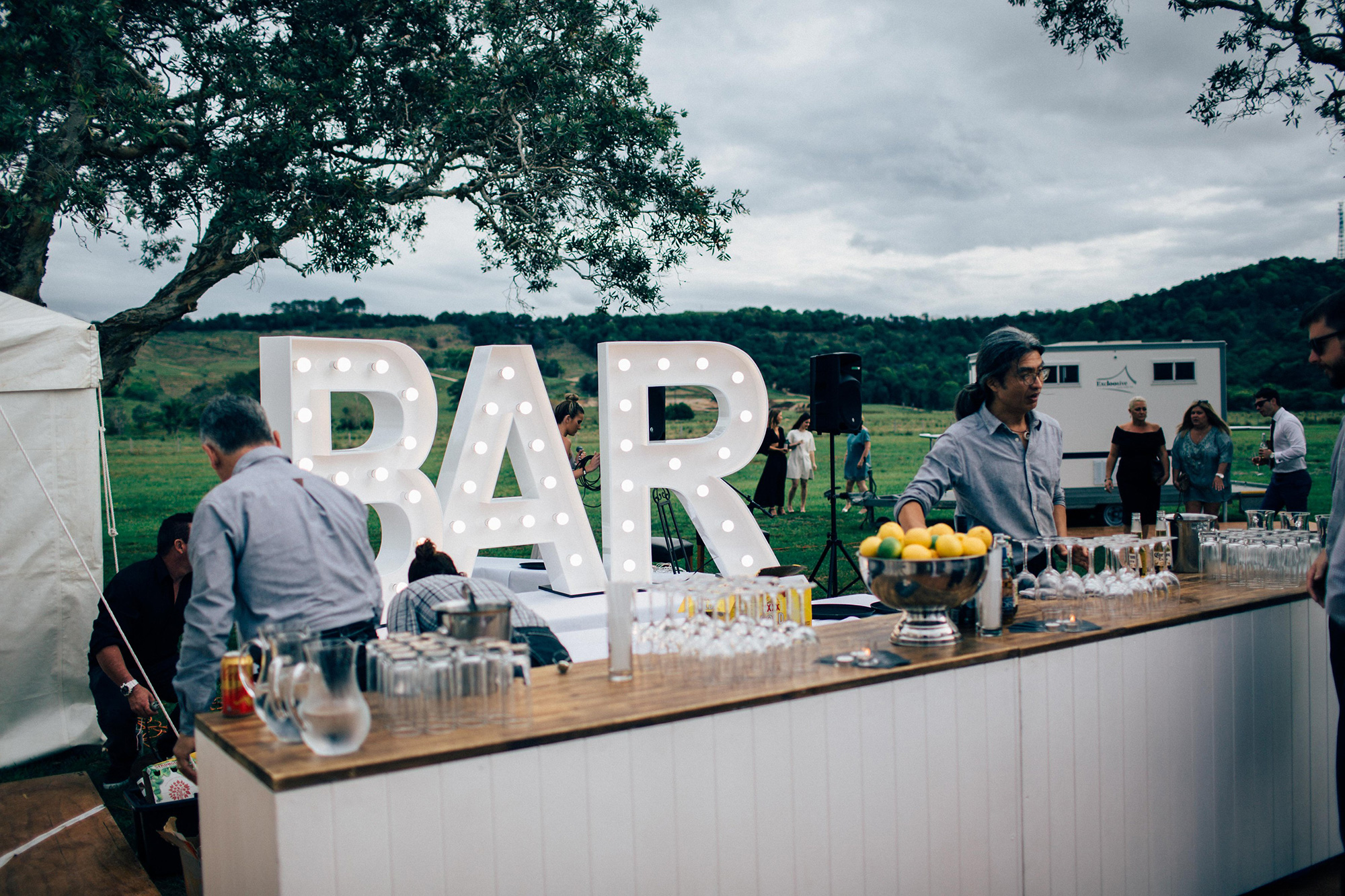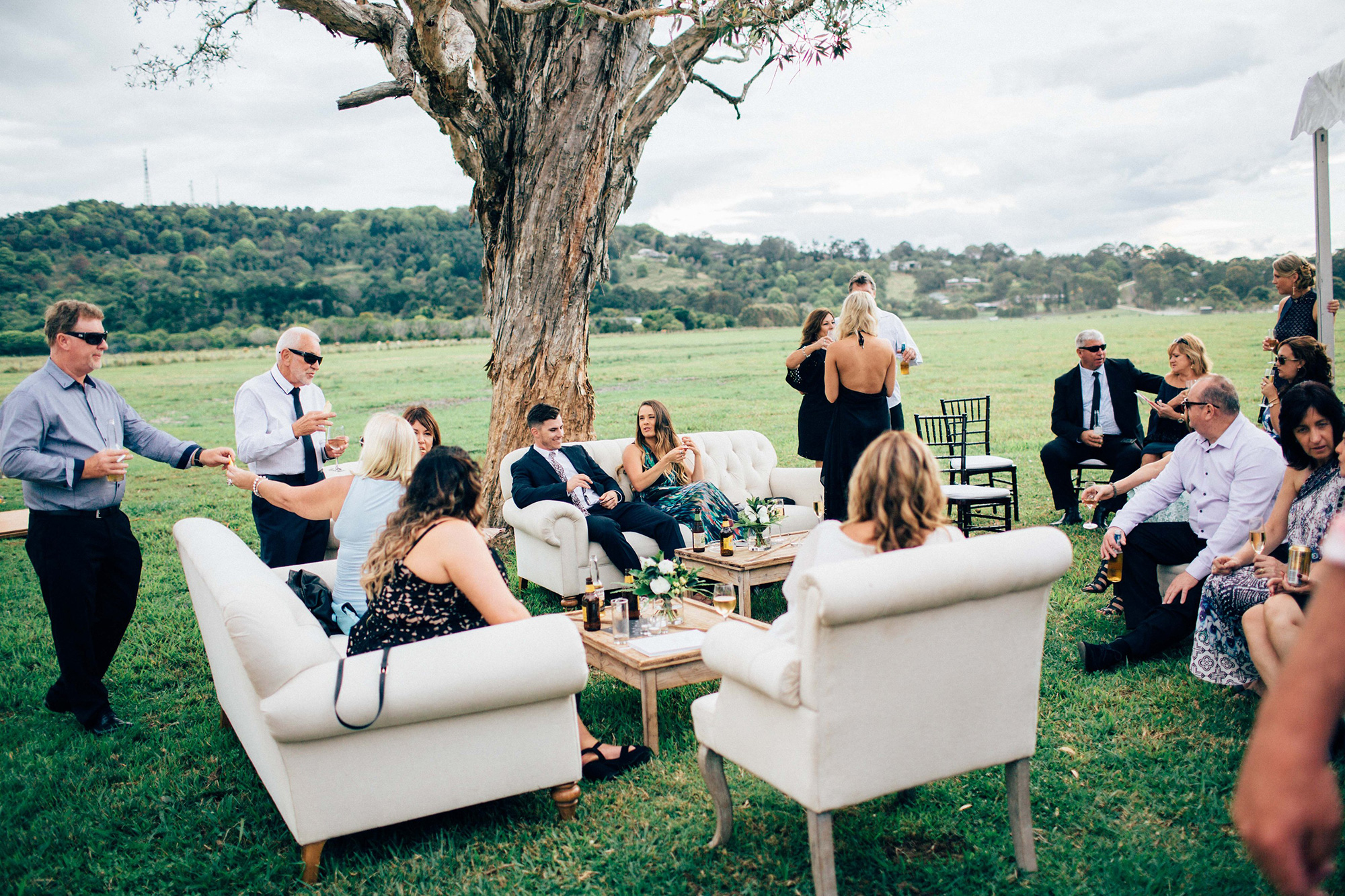 "We wanted a relaxed atmosphere where our family and friends could mingle under the stars and spend all night on the dance floor," Casey explains.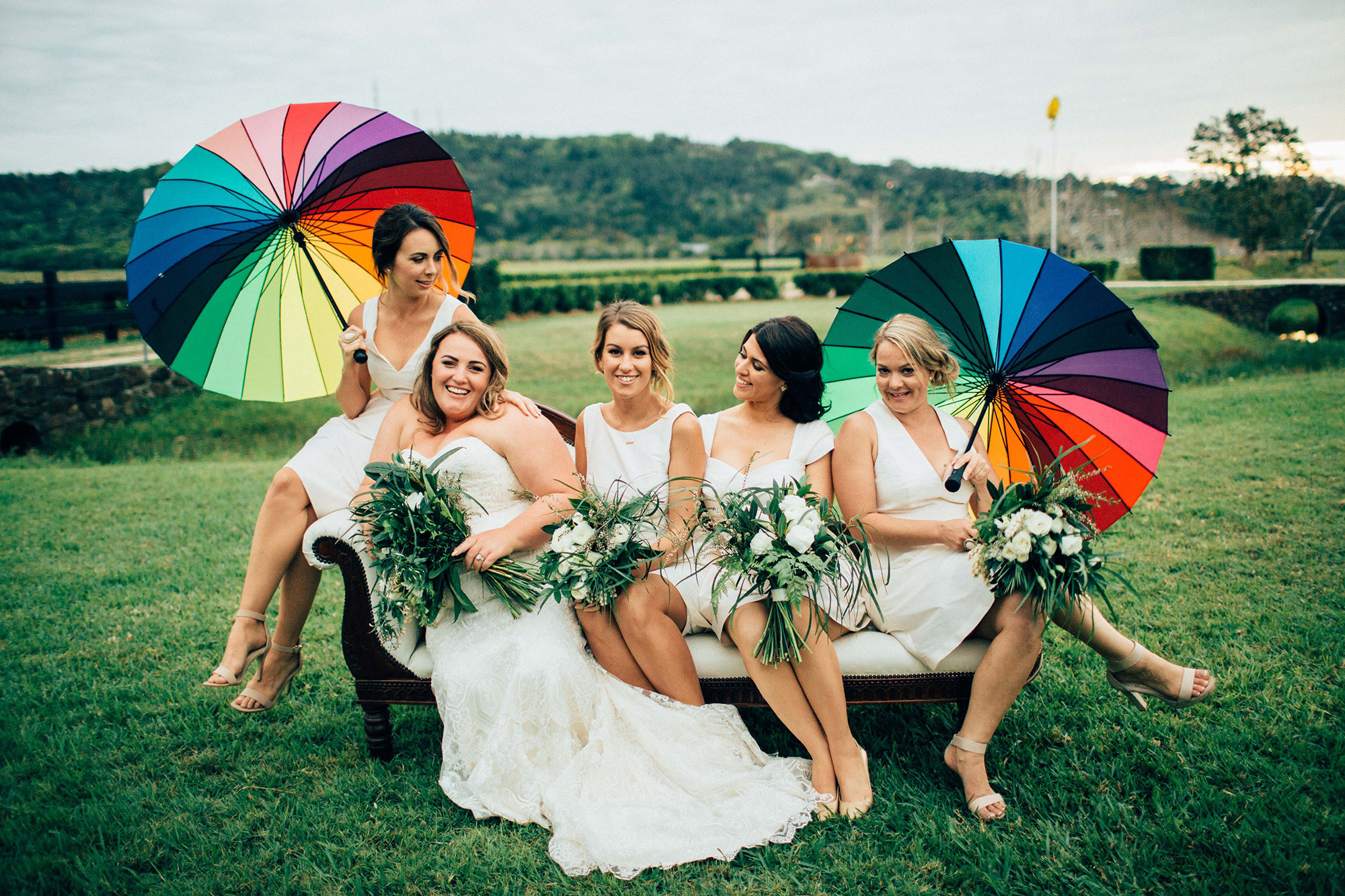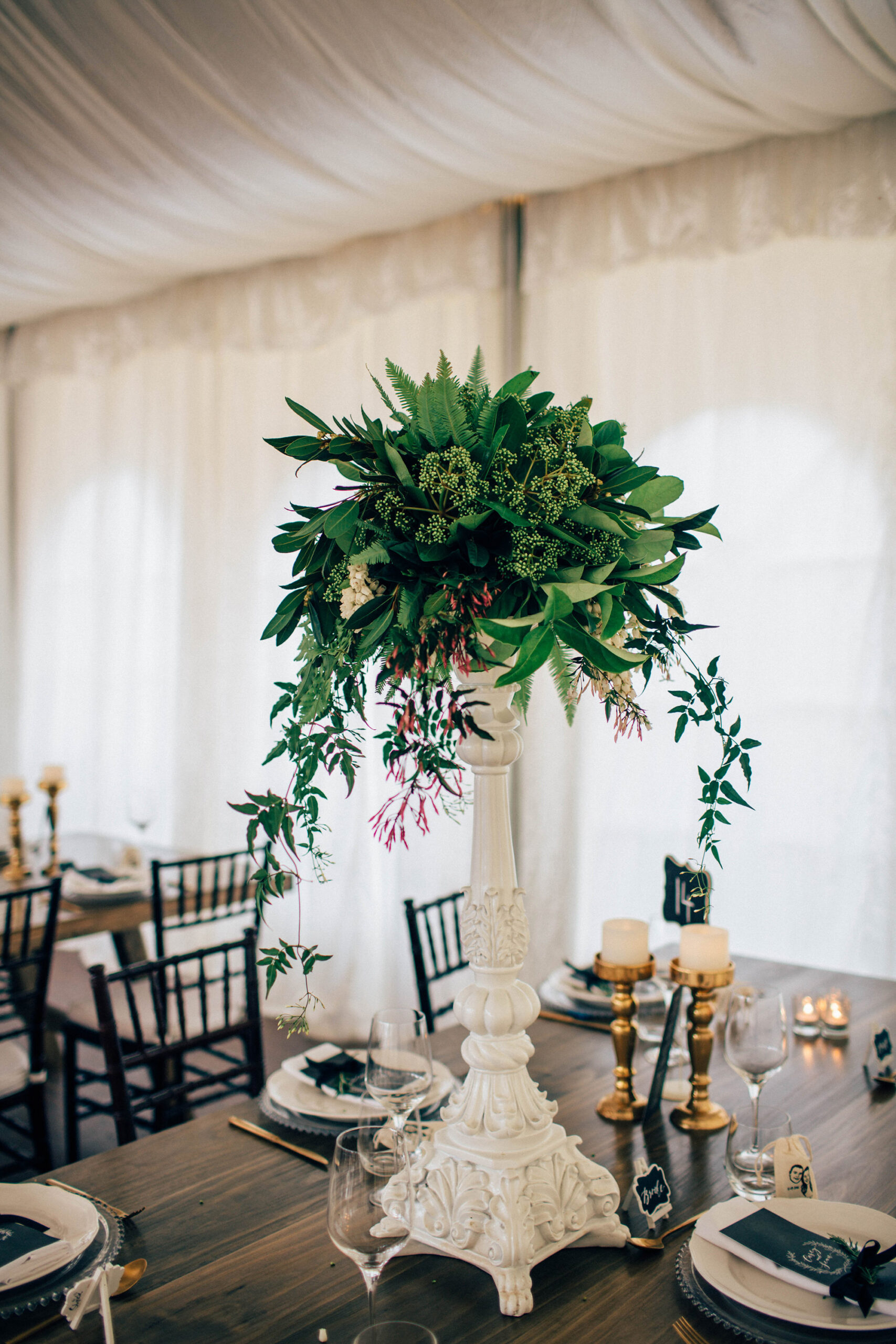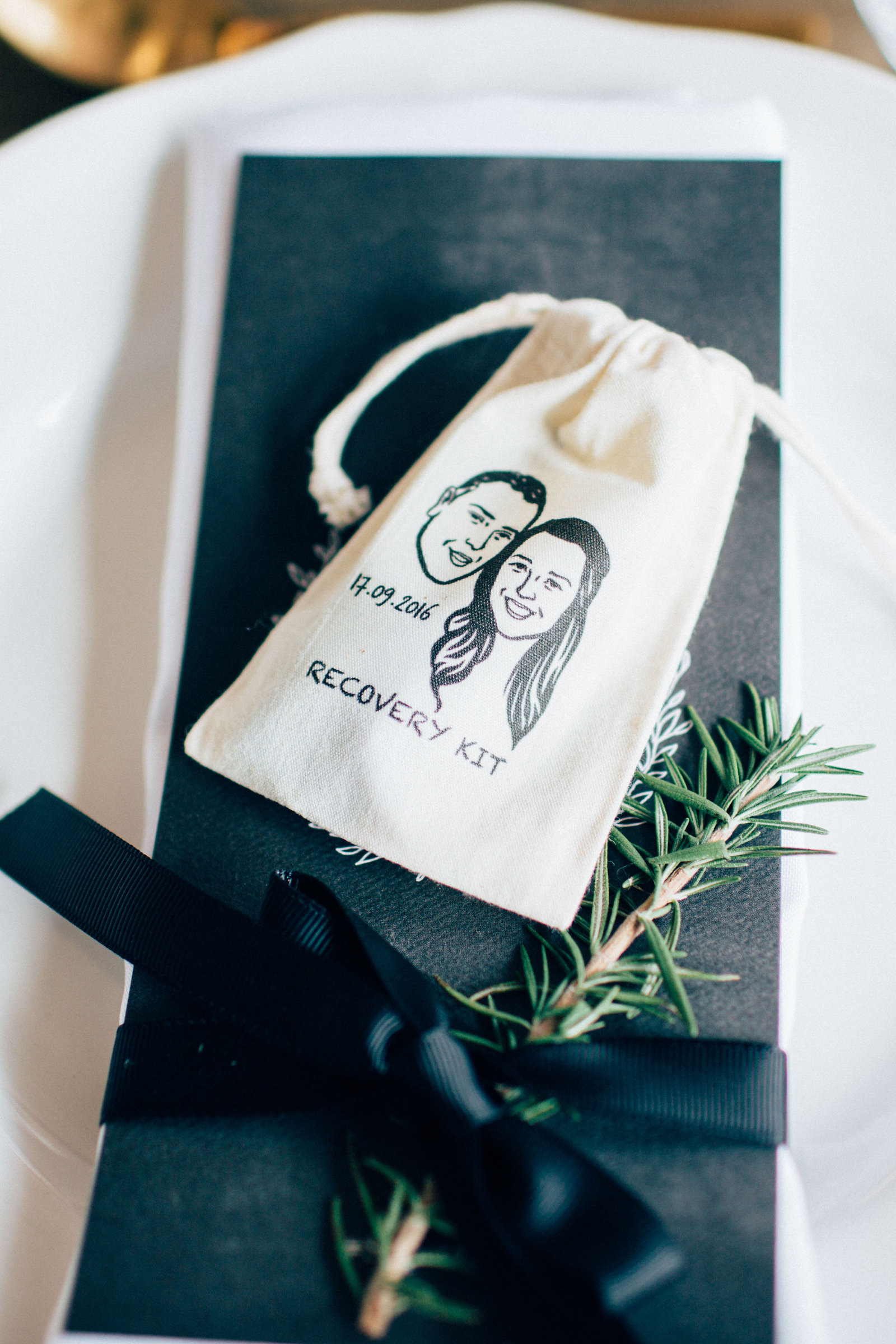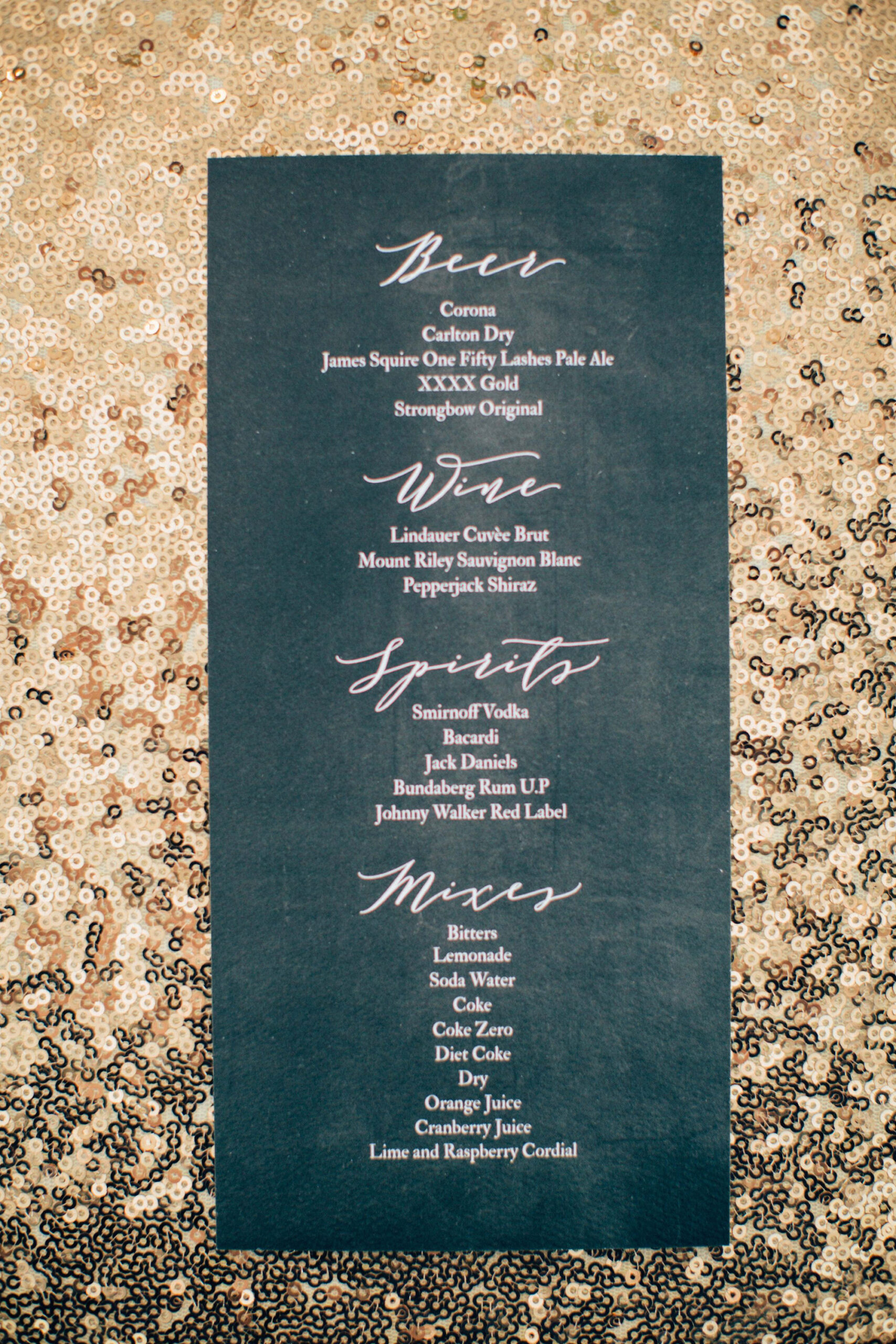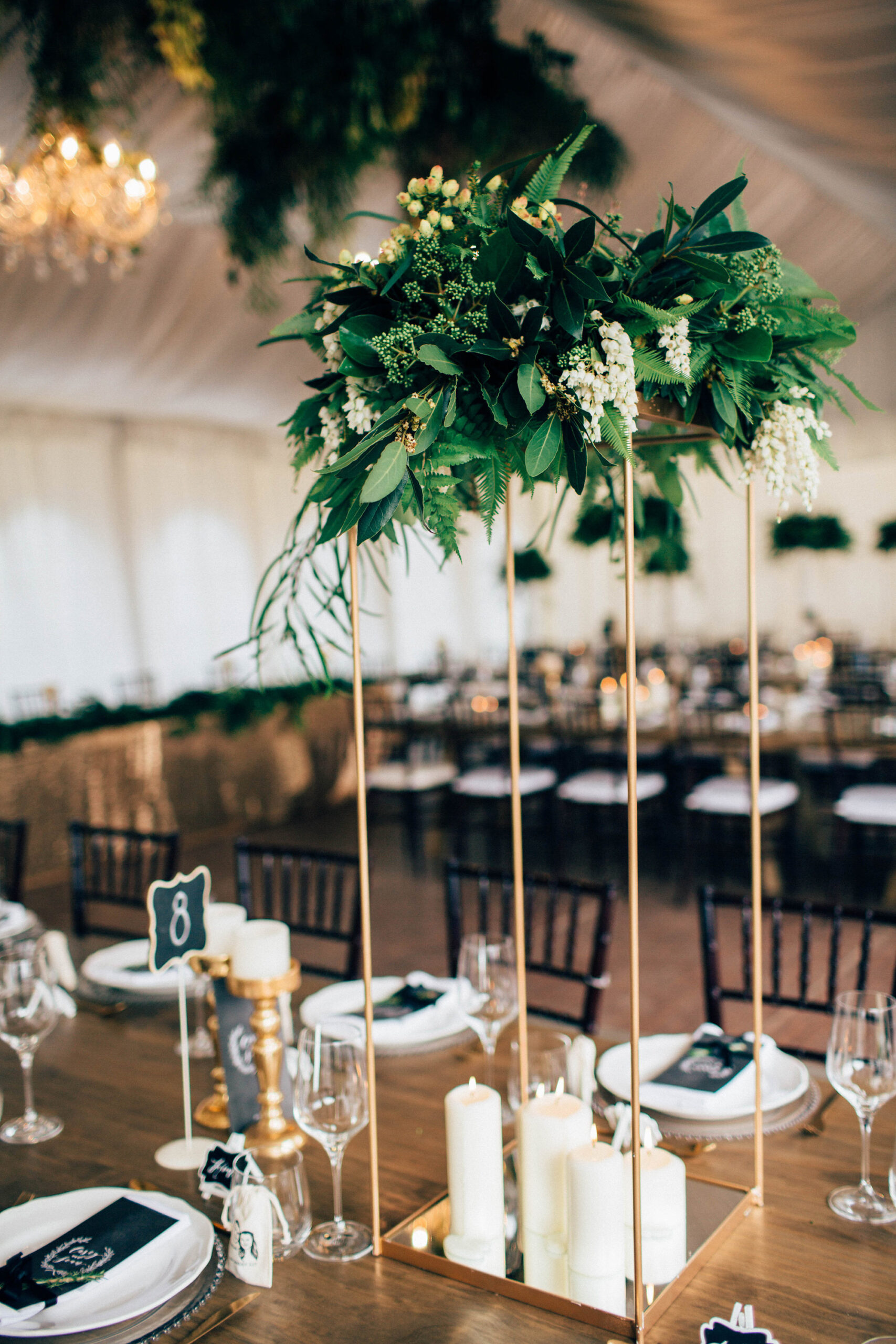 Casey and Sean meticulously planned their day with their guests' in mind, even down to facing the marquee west so they could enjoy the sunset over the hills during cocktail hour!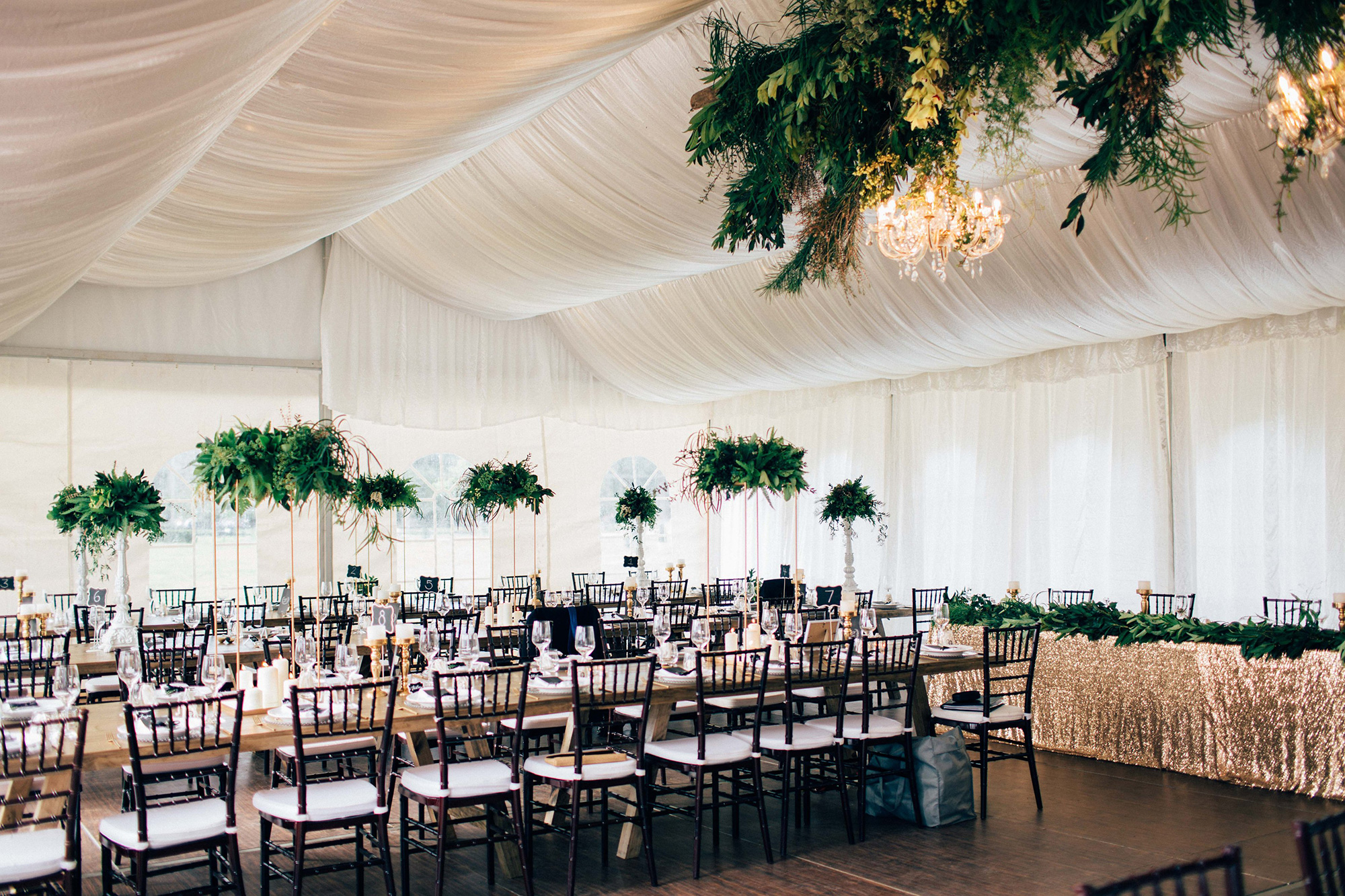 Decinda from Sugar & Spice Events describes, "We planned every single glorious detail, from the magnificent suspended garden with gold and crystal chandeliers, to a sparkling bridal table clad with gold sequins, long banquet tables set with towering centrepieces and sporadic candles to make room for a feasting banquet and glamourous gold cutlery with vintage French-inspired crockery and glass chargers."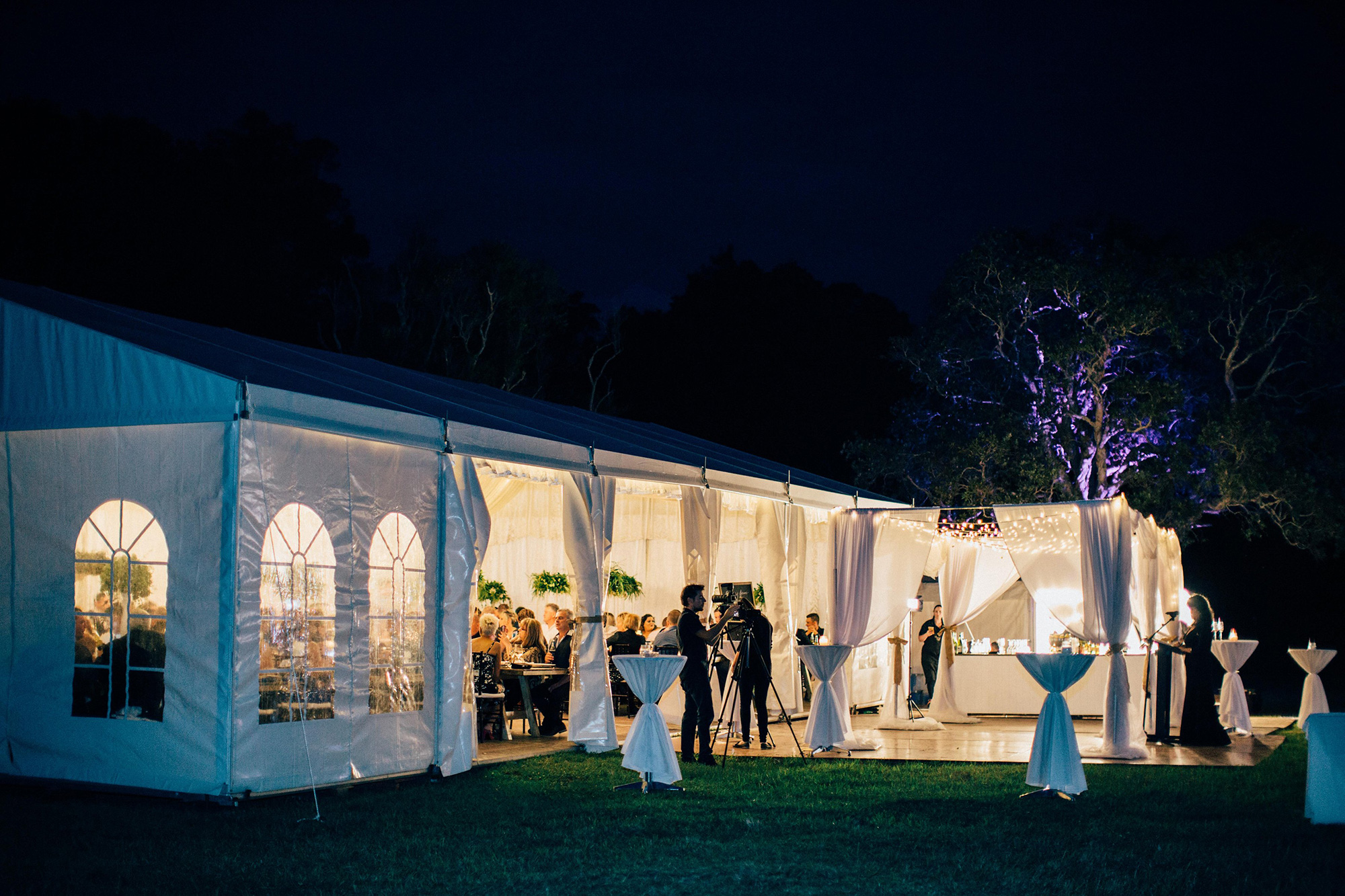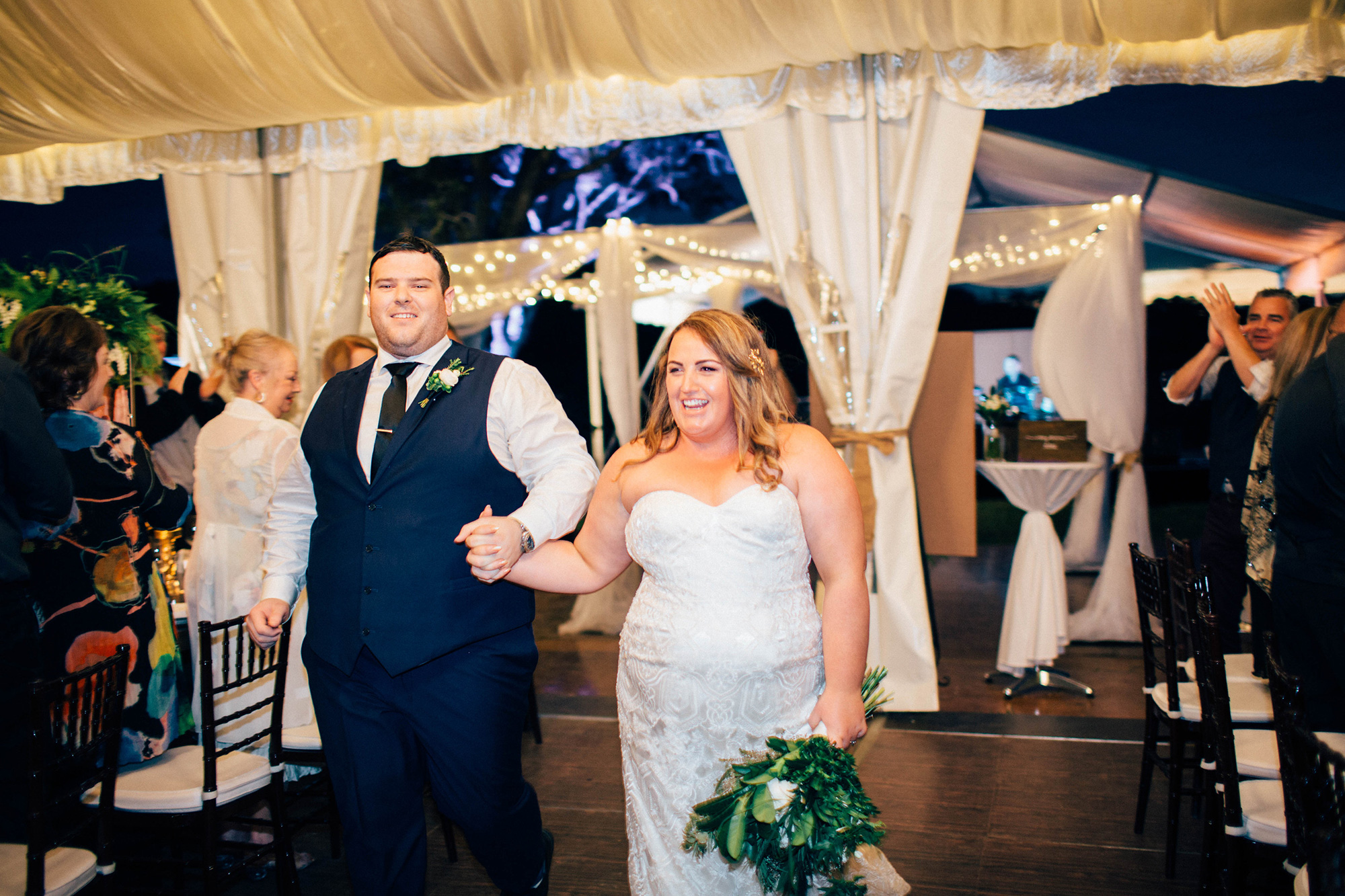 Video by Lemon Tree Film House.