The results are in. From surveys of almost 600 wedding businesses and 3,500+ engaged and recently married couples, Easy Weddings shares our2023 Australian Wedding Industry Report.
Here's what wedding businesses need to know about 2023 wedding planning trends and consumer behaviours of future couples, and how the industry can adapt to the market.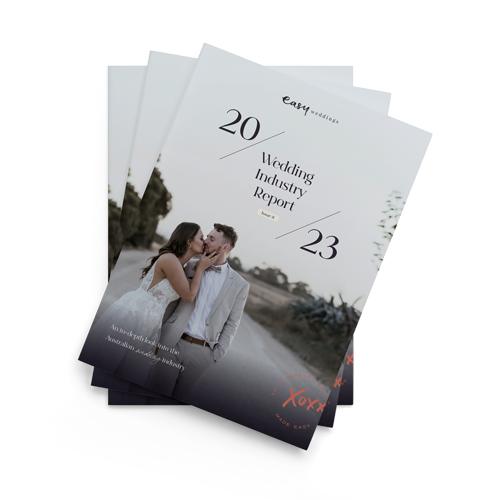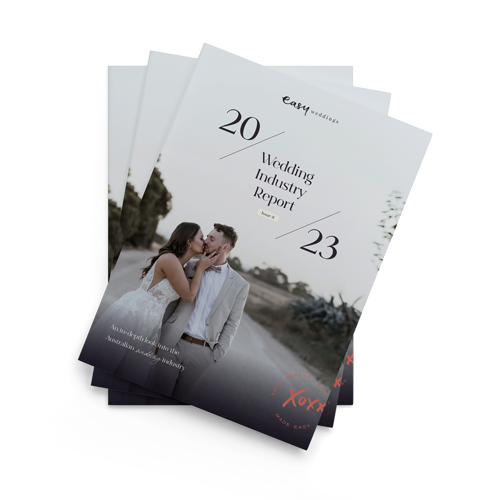 2023 ANNUAL WEDDING INDUSTRY REPORT HIGHLIGHTS
Looking ahead, the latest survey responses suggest weddings and wedding planning are largely reverting back to pre-pandemic times, with the exception of budgets.
As most of Australia's COVID-postponed weddings have now been rescheduled, vendor availability is becoming less competitive than we saw in 2021-22. Couples are again preferencing Saturday weddings, with fewer weekday weddings expected in 2023 and beyond — although the option is particularly to couples opting for lower-budget weddings.
The average cost of a wedding has increased 8% from last year. With the pressures of increasing supply-chain costs on vendors, coupled with inflation and cost-of-living pressures, it is unsurprising that sticking to a budget is the number one stress for 2023 couples.
Let's start by identifying the biggest pan points for wedding vendors across all categories.
6 biggest challenges facing wedding industry businesses
1. Competitors and vendor saturation
This number 1 challenge was felt across the board, but most commonly felt in celebrants. To set yourself apart from your competitors, identify your unique selling points and be clear about them in your storefront blurb and images.
2. Understaffing
Staffing issues has become a widespread impact of COVID across most industries, so it's unsurprisingly affecting wedding businesses that are not sole traders, like venues and car providers.
3. Leads and conversion
Sales is a widespread challenge across the industry every year, even for the top vendors, so follow-up is the key. Wedding musician Adam Ray, from Something Borrowed, schedules a second or third follow-up until he gets a "no". He says the difference between being persistent and pushy is in your tone, not in the frequency of your correspondence.
Read our article about his conversion strategy here.
4. Marketing challenges
Wedding suppliers say they spend almost a quarter of their revenue (24%) on marketing and advertising. This is where Easy Weddings can help. Listing with Australia's #1 wedding platform gives wedding vendors increased visibility and helps to bring leads to you. If you are already a current advertiser and not getting the level of enquiries you'd like, speak with our customer success team for some tips by calling 1800 155 122 or email service@eayweddings.com.au.
5. Time management
As mentioned above, Easy Weddings' high online visibility for key wedding terms can take some of the work away from your marketing efforts so you can get back to running your business. Additionally, you might benefit from connecting with a business coach or networking with other industry peers to learn how they do business more efficiently. Look out for Easy Weddings webinars and networking opportunities in your city throughout the year.
6. Cost increase/supply chain issues
Again, this is an impact not limited to the wedding industry. To help balance inflation, consider charging a premium for services during peak times during the most popular months of Spring and Summer. Additionally, there are five Saturdays in April, July, September, and December in 2023, so use them to your advantage.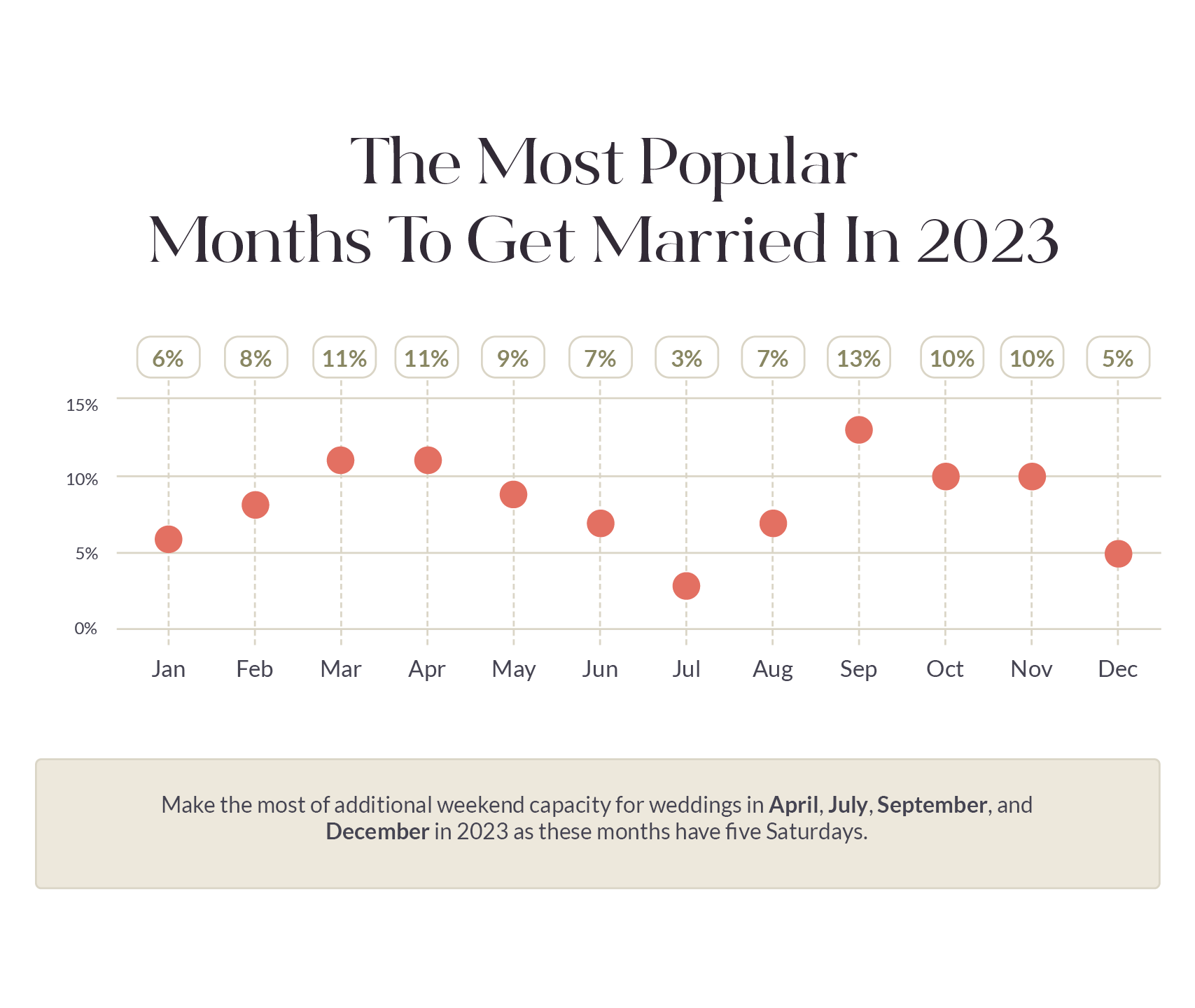 Who is the Australian couple
The demographic of engaged couples has remained fairly unchanged in recent years.
The average planning cycle of 22 months is consistent with previous years (up one month from last year). The panning time of almost two years means suppliers need to play the long game. Couples might save the vendor to their list early on in the engagement process, but not enquire until a year later.
The average age of couples remains relatively consistent at 31 years old, so be mindful of how you are marketing to, and communicating with the younger Millennial to older Gen Z target audience, to help with conversion.
Rather than just one partner doing most of the planning, 6% more couples are taking a joint approach to their wedding planning this year. While 71% of couples are still in favour of one partner doing most of the wedding planning (generally the bride), more grooms are becoming involved in the process, so suppliers need to take an inclusive approach to marketing and in their communication.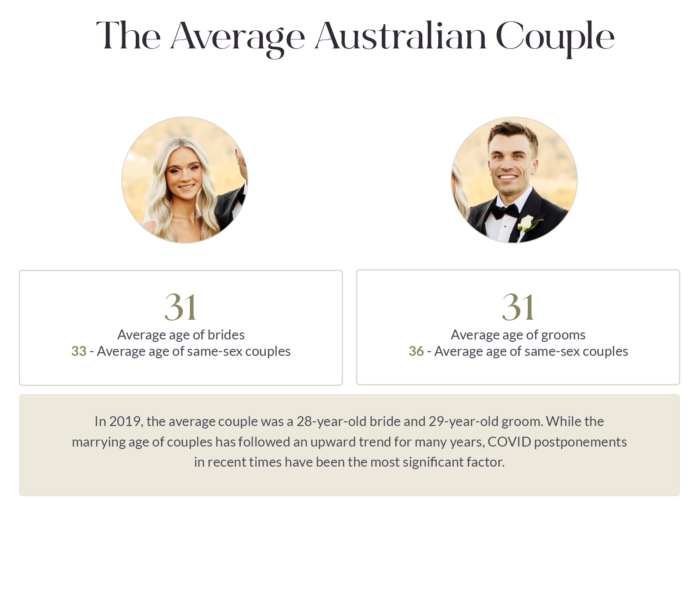 How couples prefer to communicate
82% of couples favour email when making contact with suppliers
Less than 8% wish to communicate with suppliers via phone call
10% of couples like communicating with suppliers via their website, social media or SMS.
19% of couples book the first supplier that got back to them, while 62% booked suppliers based on the information they received within a reasonable time frame.
As we have seen in recent years, modern Millennial (and Gen Z) couples are not too fond of telephone calls! We recommend suppliers respond to enquiries in the same way that the couple made contact with them, and ask couples from that first interaction how they would prefer to communicate with you moving forward.
Responding to enquiries as soon as possible ensures you are top of mind, however two-thirds of couples (62%) book suppliers based on the information they received within a reasonable time frame. This highlights the importance of ensuring the information in your response answers their main questions.
To help, have several email templates set up and ready to go once an enquiry comes in. You can do this easily in the Easy Weddings WedCRM. To get real-time notifications of enquiries, download the WedCRM app from  iTunes or Google Play and set up notifications on your phone.
Some suppliers find it handy to save draft responses in their mobile phone notes to respond easily on the run.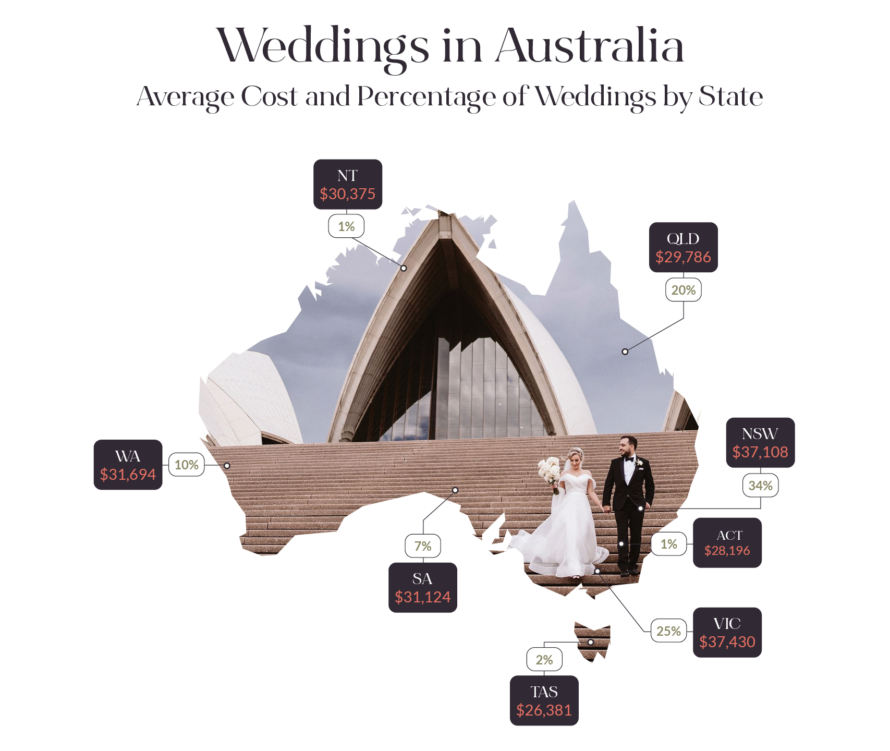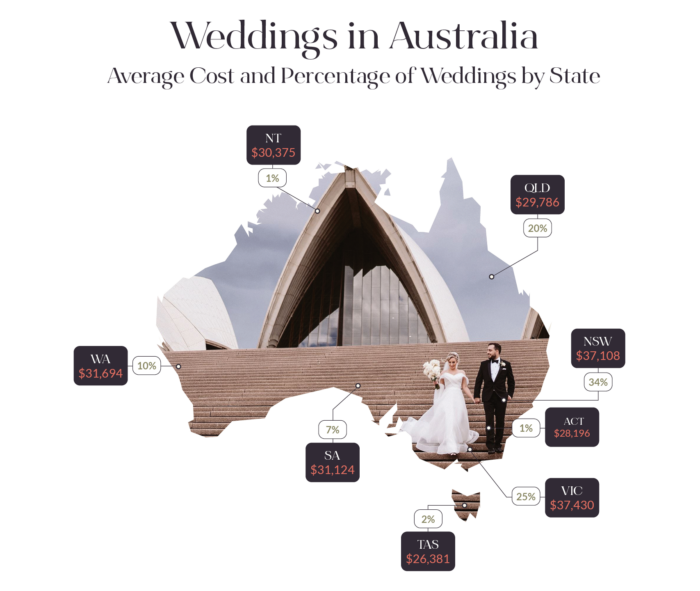 How budgeting affects wedding plans
The average cost of a wedding is now just under $35,000. At $34,715, the average is an increase of 7.7% from last year's average of $32,228.
The average wedding budget has gone up 8.5% this year and couples spend a quarter more (26%) than their initial budget.
Fewer couples are relying on families to contribute to their wedding expenses than in recent years. Less than a third (31%) are combining funds from the Bank of Mum and Dad (down 14%) while more than half (52%) are paying for their wedding on their own, up 7% from last year.
To reduce costs, 9% of couples are cutting guest numbers, while 23% are scaling back in other areas like videography or downsizing floral arrangements.
We expect to see a rise in budget-conscious couples. To improve your lead conversion rate and reduce 'ghosting' after an enquiry, here are some tips:
Include a price or price range (or a downloadable brochure with price list) on your Easy Weddings storefront.
Have price options to accommodate various budgets. Consider more affordable weekday pricing to appeal to budget-conscious couples, and offer these as options.
If you only want to do luxe/upscale weddings, ensure your photos match that vision to attract those couples. If no updated pics are available, set up a styled shoot and hire a professional photographer.
Want to read more of these results? Click the below button to download the 2023 Australian Wedding Industry Report.
Download the 2023 Wedding Industry Report
Are you advertising on Australia's no. 1 wedding business advertising platform? If not, learn more today about what Easy Weddings can do to help you grow your business.