Whether you're a wordsmith or not, the prospect of crafting and giving a wedding speech can be a little nerve-wracking — particularly if you've never had the pleasure. To make things easier, we've compiled 10 tips to help you nail your wedding speech.
If you've been sitting in front of a notepad for approximately two hours and three coffees, procrastinating writing a killer wedding speech because you haven't the foggiest where to start, then let us provide some relief and inspo.
Between the team, we've brainstormed 10 tips we think will help you nix the butterflies, knuckle down, and write a bangin' wedding speech that guests will be talking about (favourably) for years to come.
10 tips for writing the perfect wedding speech.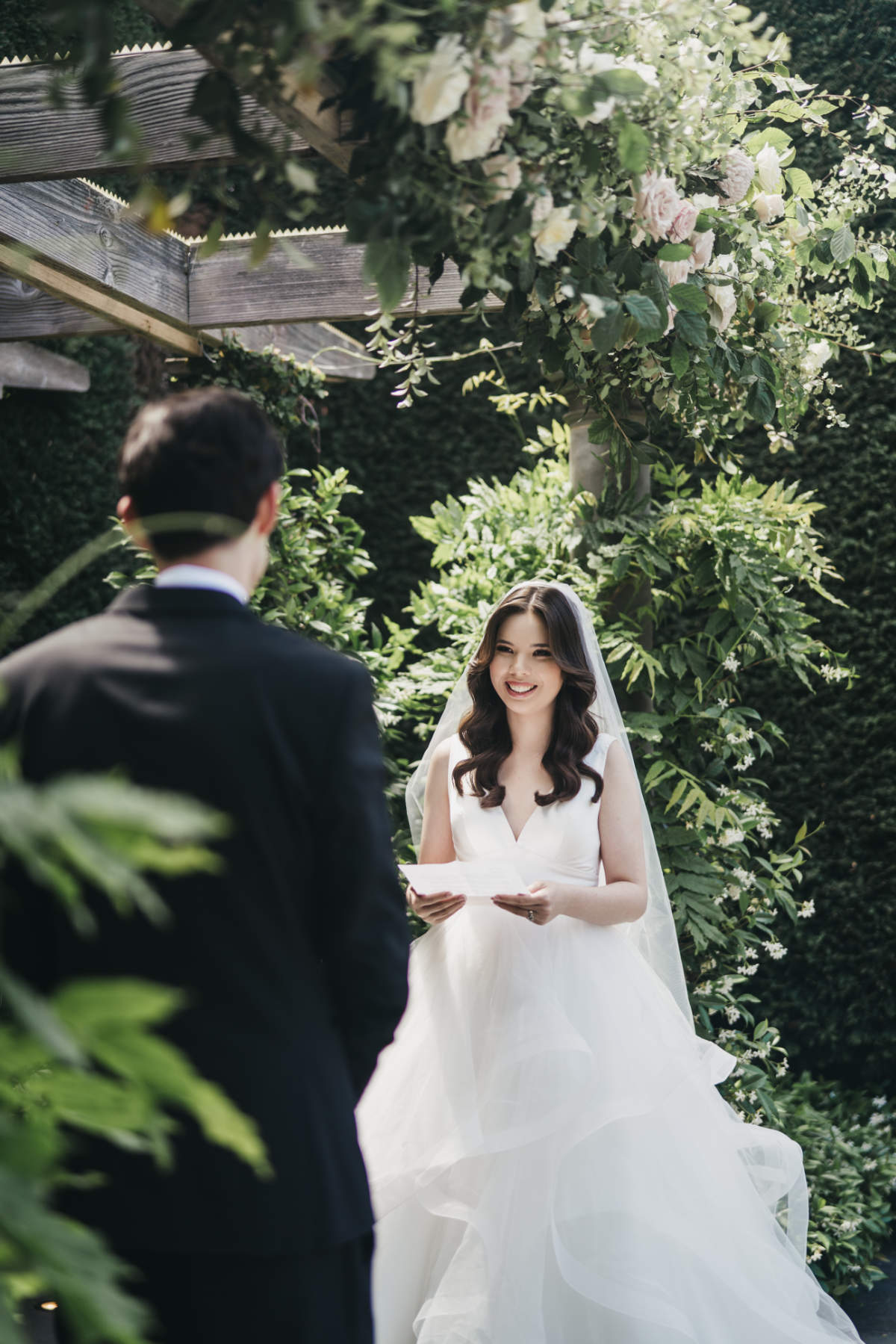 1. Engage your audience.
If you pay attention to only one of these tips, it should definitely be this one! Giving a wedding speech is a lot like telling a story. If you're not making eye contact or speaking with tone, they're going to lose interest very quickly. It's always beneficial to put personality and flair into a speech.
This comes out naturally when chatting to a group of friends or when reading to a child. Take a deep breath, relax, and speak conversationally — not formally as if you're about to give your year 11 science presentation.
Bonus tip: Try not to read from a sheet or cue cards if possible, and if you must use them, stick to brief notes and dot points. This will help you tell the story far more naturally.
2. Structure.
Sticking with the analogy of a speech being like a story, it's a good idea to think carefully about the structure. Great stories have a beginning, a middle and an end — and your speech will be easier to follow should it be structured in a similar way.
Bonus tip: Conclude your speech by referring back to your opening remarks.
Check out hens and bucks party ideas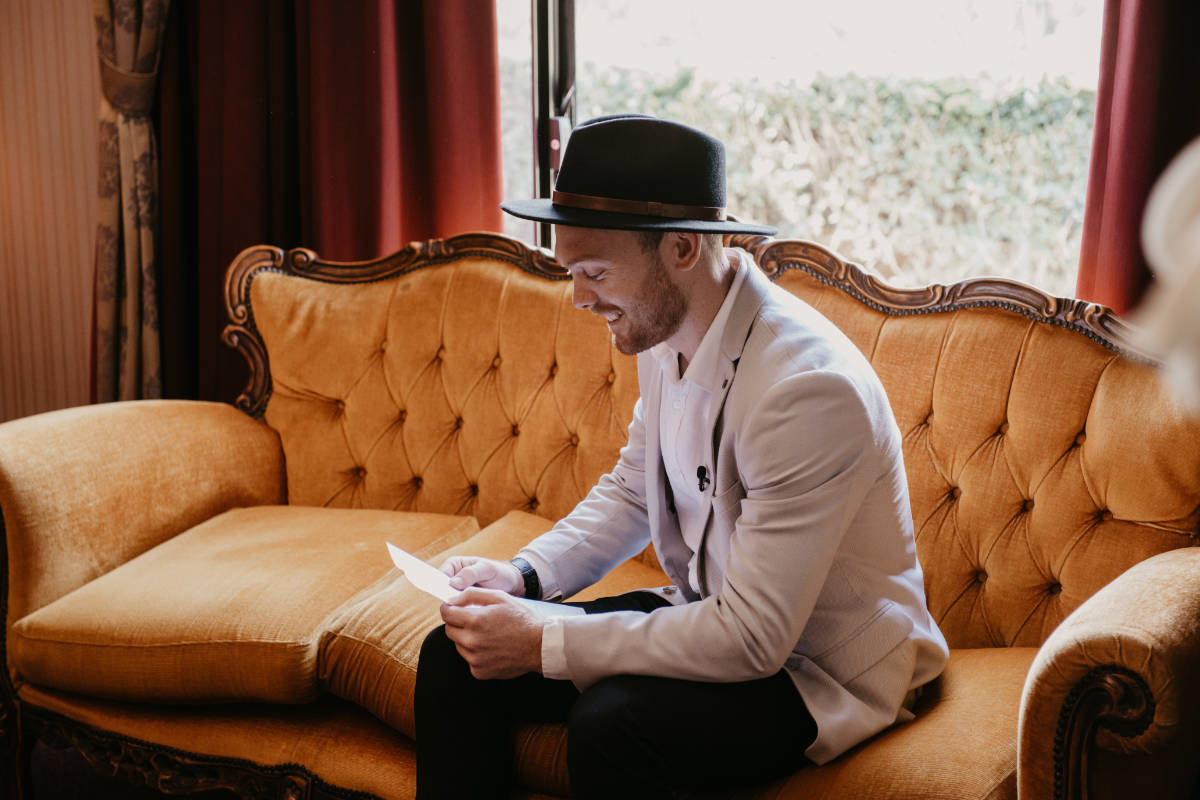 3. Balance humour with emotion.
Adding a couple of zingers or funny lines is a fantastic way to get the audience to engage with your speech, but remember, no one is expecting you to be the next Jerry Seinfeld!
Humour should ideally be used in moderation, and your bestie's reception isn't an opportunity for you to perfect your stand-up comedy routine (yes, even if it's really good).
You might like to start out with a good joke to break the ice, but keep in mind that grandparents and children are likely to be present so avoid anything too risqué.
Bonus tip: Balancing jokes with emotional anecdotes is a surefire way to nail your speech.
4. Don't get wasted.
Do we… even need to say this one? No matter how nervous you are, it's not especially wise to down eight cocktails pre-speech. Giving a wedding toast when drunk is a recipe for disaster — and embarrassment for your friend.
It's smart to set yourself a limit, such as only having one or two drinks before giving your speech. That way you can settle your nerves without being in danger of slurring your words.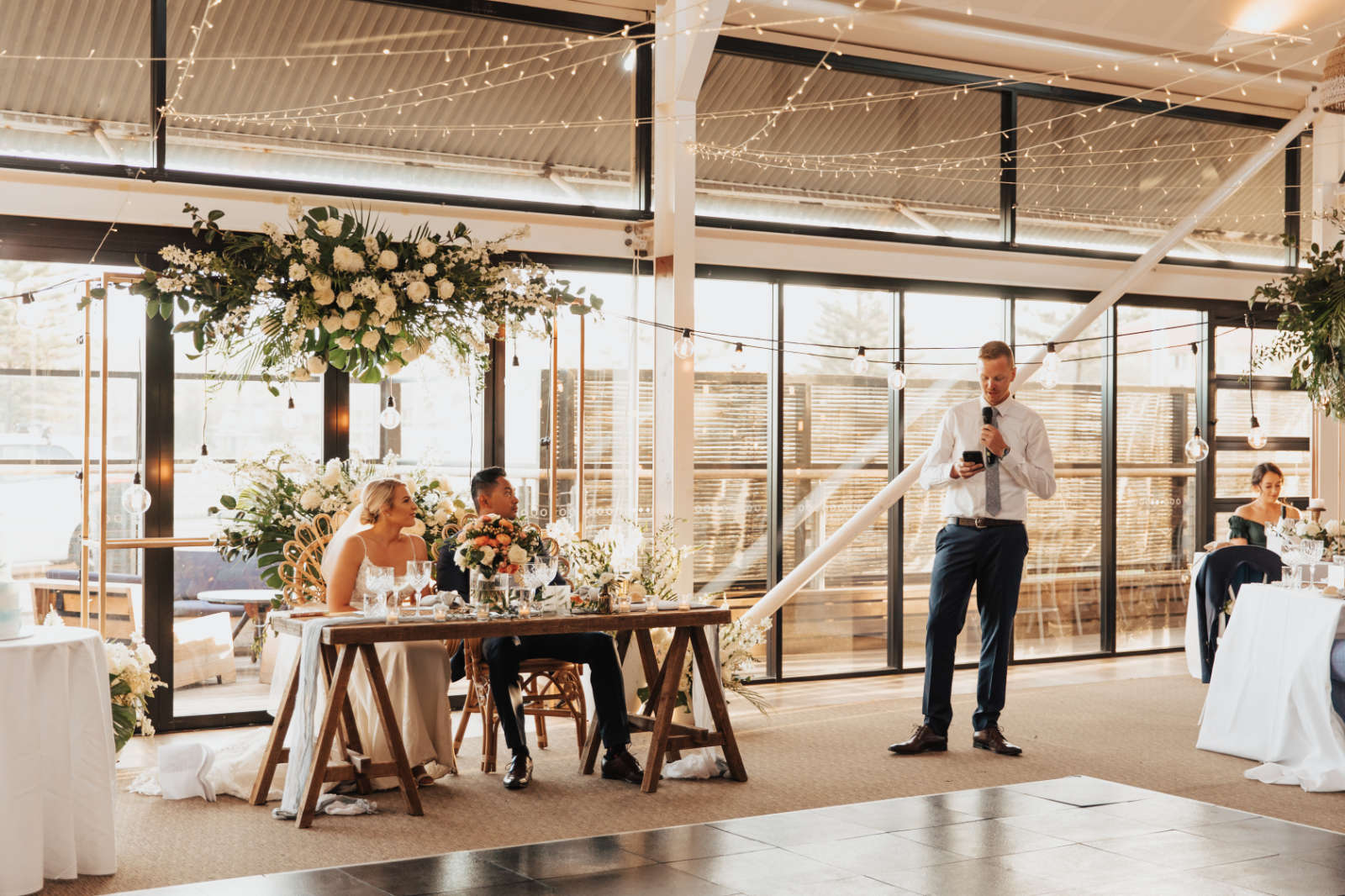 5. Timing is everything.
Trust us, if you go on for too long, things will get a little… awkward. Cue guests shifting in their seats and polite smiles from the happy couple. When it comes to giving a wedding speech, it's important that you keep it short and sweet. Aim for around five minutes and you will be on the right track.
Bonus tip: Time yourself when practising. Or better yet, present your speech to someone else and ask them if they think it's getting a little monologue-y.
6. Take it seriously.
One thing that you need to keep in mind is that being asked to deliver a speech at someone's wedding is *Anchorman voice* kind of a big deal. While it's okay — nay, encouraged — to have a little fun with it, it's still important to take the responsibility very seriously. You have the honour of telling the happy couple's story so you need to treat it with the respect it deserves.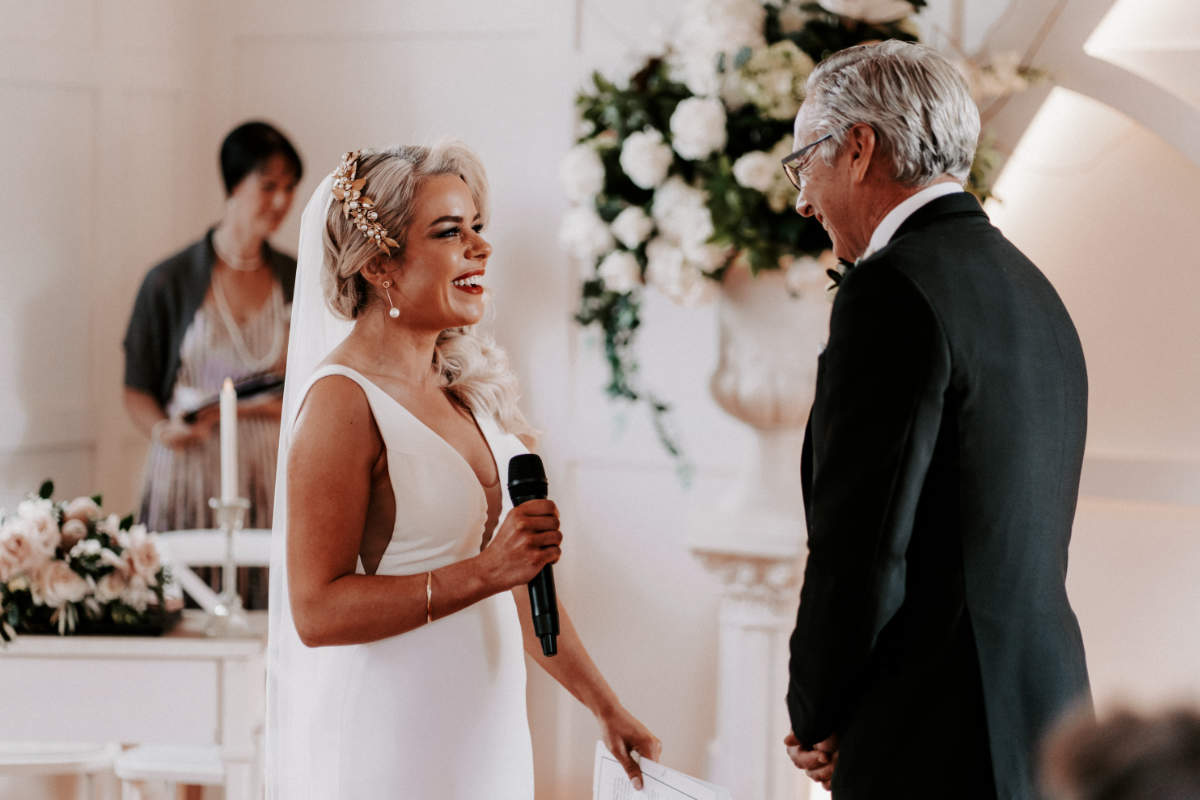 7. Practise makes perfect.
The less you need to rely on your notes, the more natural your speech is going to sound on the day. The best way to get yourself to a point where you are not dependent on your notes is to practise, practise, practise! Run through your speech at every opportunity using everyone and anyone as your trial audience.
Bonus tip: Beginning practising is difficult as you actually need to think about giving the speech. Try to push through the nerves and practise anyway, even if you feel silly — your future self will thank you for it.
8. Choose a quote.
If you're at a loss finding somewhere to start, then it can be useful to include a quote or a song lyric. However, make sure that the quote you choose is appropriate.
Stay away from tired quotes that have been done to death and pick out something that really means something to the newlyweds.
READ MORE: Need song recommendations? These beautiful wedding songs are big hits with our readers.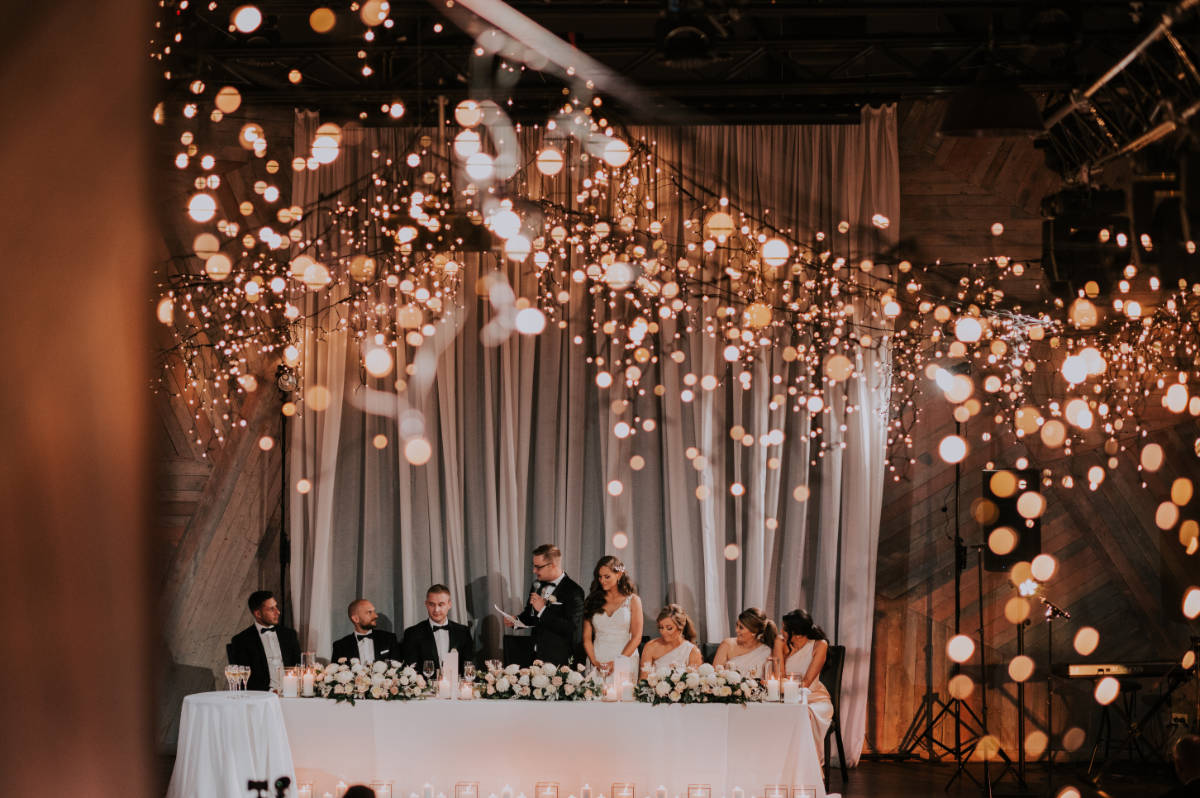 9. Know your own style.
So, we've mentioned that when giving a wedding speech you're going to want to connect with your audience. And if you're forcing yourself to be someone that you're not, then you're going to find this a bit tricky.
If you're not exactly known for being a laugh a minute then don't feel pressured to make jokes! Similarly, if you're generally a bit of a clown, then a formal, sentimental speech might not feel genuine. Instead, play to your strengths.
Bonus tip: Determine your own personal style and stay true to it.
10. Relax.
Above all else, relax! Your speech is just a few minutes of the whole day, and everyone wants you to do well. Remember why you're doing this: you love your friend and want to congratulate them and wish them a happy marriage — try to focus on them and what they mean to you.
READ MORE: Real brides share their best hens and bucks party ideas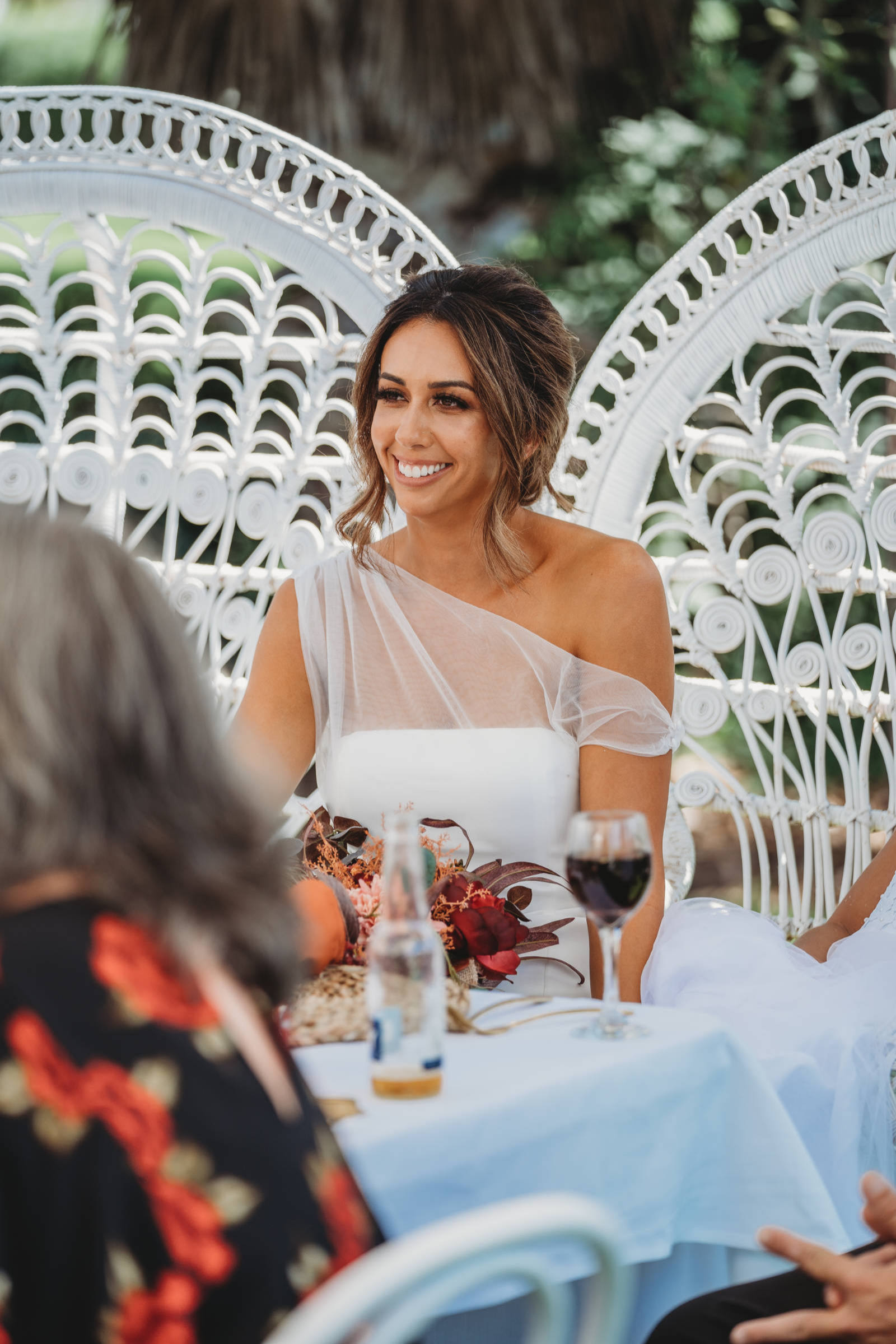 So you've nailed the perfect speech, but have you planned the bachelor or bachelorette party? You'll find some fab ideas when perusing our list of hens and bucks suppliers.
Incredible hens and bucks party ideas