Dreaming of a romantic alfresco ceremony in Sydney's Royal Botanic Gardens with a sophisticated ballroom or restaurant reception nearby? Here are the ceremony spots you need to know about and ten of the best wedding venues in and near the botanic gardens in Sydney.
Sydney is a world-class city choice for weddings that combine two contrasting urban destinations. The CBD showcases a plethora of waterfront wedding venues, garden ceremony locations and inner-city hotels and restaurants within close proximity of each other.
In this article, we'll reveal a top ten list of luxury 5-star hotels and 'hidden gem' venues in and around the Royal Botanic Gardens Sydney. This 30-acre heritage-listed horticultural park is a national treasure that welcomes thousands of visitors each year. Known for its natural beauty and awe-inspiring harbourfront location on the eastern fringe of Sydney CBD, it's the perfect place to tie the knot and take stunning photographs for your wedding album. Read on to discover Sydney wedding venues near Royal Botanic Gardens & Domain.
The Royal Botanic Gardens Ceremony Locations
Australian Rockery Lawn
Eucalypt Lawn
Fig Tree Lawn
Flower Bed Lawn
Herb Garden and Pavilion
Harbour View Lawn
Mare & Foal Lawn
Palm House & Lawn
Rose Garden Pavilion & Lawn
Tarpeian Lawn
Bennelong Lawn
Lion Gate Lodge

Immersed in the Royal Botanic Gardens in Sydney, the Terrace On The Domain is a refreshing modern wedding venue with a relaxed and welcoming vibe. Surrounded by rolling green lawns and a decked terrace, it's a sociable and versatile location to host your wedding day reception. The large glass windows and doors create an easygoing atmosphere that your guests will love.
Venue highlights:
The maximum capacity is 180 seated and 350 standing wedding guests
Exclusive use of the restaurant venue and its wraparound terrace
Trippas White Group can provide you with bespoke menus to suit your theme
All weddings must end at midnight, and beverage service concludes at 11.30 pm
St. James and Martin Place are the nearest train stations to the Terrace On The Domain
The Event Space:
Terrace On The Domain. A light, open-plan events space that suits several different table arrangements. The circular room has large windows that look out onto the terrace and gardens.
What Terrace On The Domain wedding couples say:
'They were amazing! Our coordinator was excellent and kept checking in on us on the day and helped me out with my dress. The food was amazing and was catered to us perfectly and tasted amazing. They were always there for us and nothing went wrong because of them'. Hayley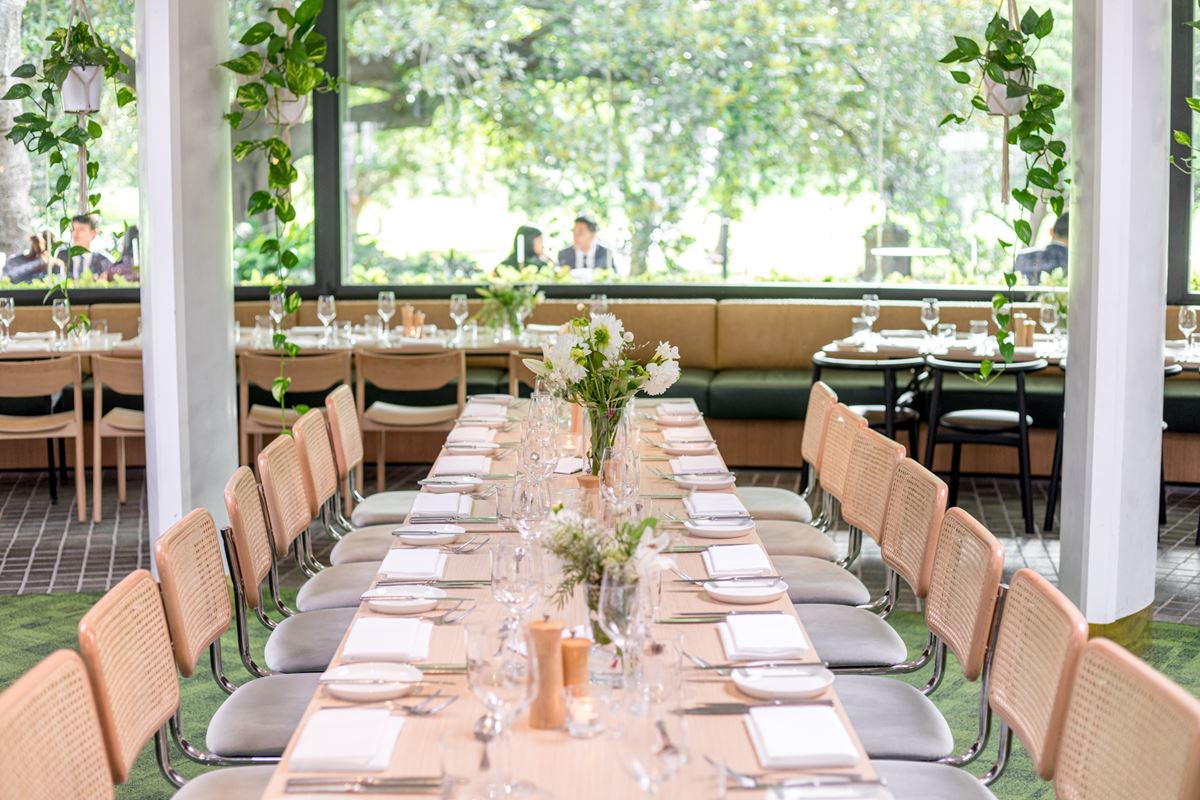 View Terrace on the Domain's Website

This architectural masterpiece is located in the centre of the Royal Botanic Gardens in Sydney. The gleaming white canopy is a striking example of modern design, and by night, it can be illuminated with colour-changing LEDs. Exclusive wedding ceremonies can take place on the island water feature, and indoor receptions are held in the large blank canvas exhibition spaces.
Venue highlights:
The maximum capacity is 200 seated and 400 standing wedding guests
Exclusive use of the terrace and exhibition spaces on your wedding day after 4 pm
Trippas White Group can provide you with bespoke menus to suit your theme
All weddings must end at midnight, and beverage service concludes at 11.30 pm
The largest living plant wall in the southern hemisphere for epic photographs
The Event Space:
The Calyx. This unique event space is an artistic representation of the sepals of a flower. There's an open-air terrace, an elegant water feature and a large gallery space for receptions.
What Calyx wedding couples say:
'In my opinion, this is the crown jewel of the gardens. The exhibits are intricate, interesting and beautiful. There are live plant exhibits, crafted into fine artwork. A must-see if you visit the royal botanical gardens.' Mark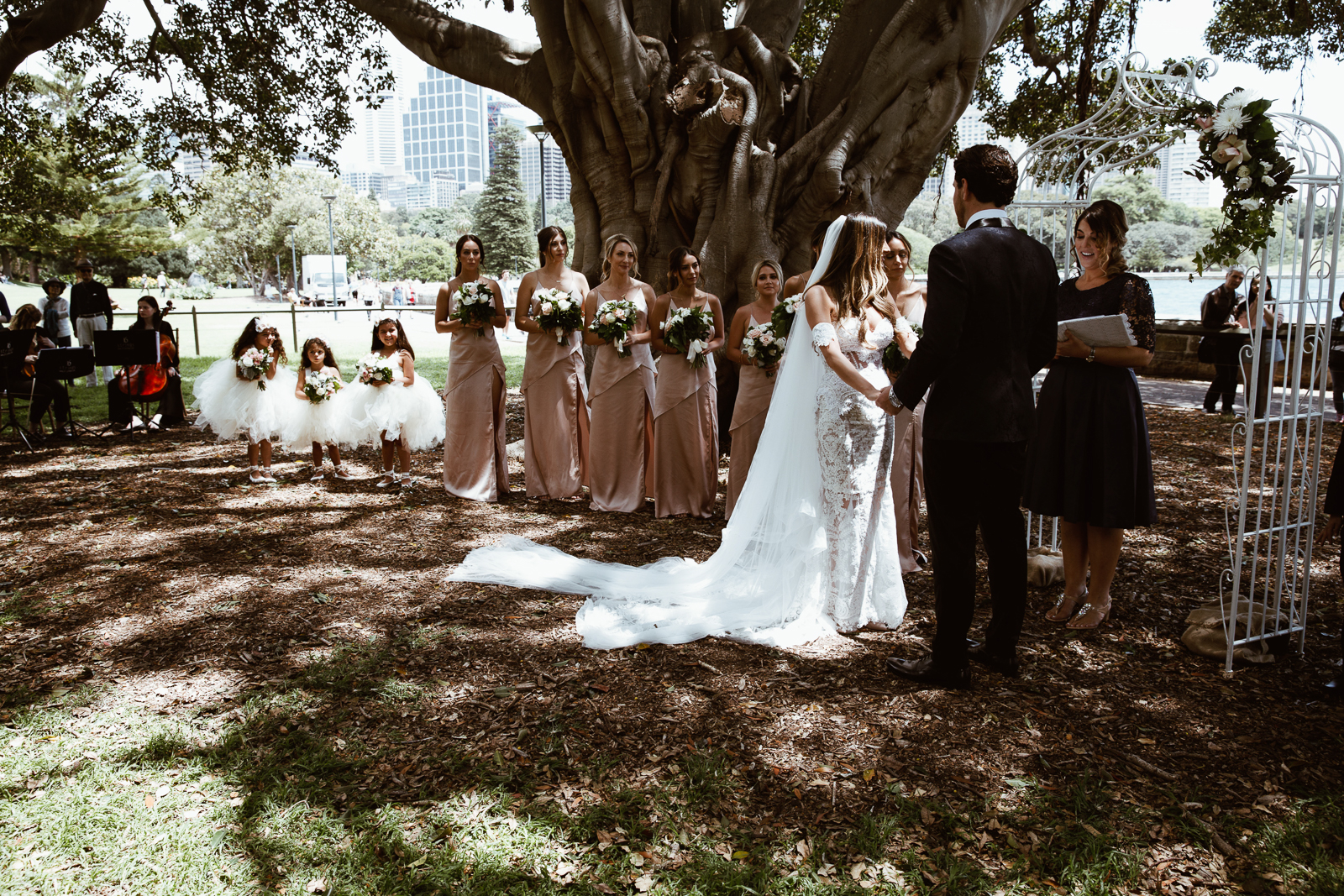 View The Calyx's Website

The Botanic House is an elegant and tranquil retreat next to a tropical pond in the heart of the Royal Botanic Gardens. Famous for its Asian fusion restaurant led by TV presenter & former Master Chef judge Luke Nguyen, this contemporary space is frequented by foodie lovers all of Sydney and beyond. The split-level modern venue can be hired exclusively for luxury weddings.
Venue highlights:
The maximum capacity is 150 seated and 300 standing wedding guests
Picturesque terrace for alfresco drinks and canape receptions
Trippas White Group can provide you with bespoke menus to suit your theme
All weddings must end at midnight, and beverage service concludes at 11.30 pm
The trackless train in the Royal Botanic Gardens can transport your guests from the gate
The Event Spaces:
Botanic House. The sophisticated Scandanavian inspired aesthetic sets the tone for a deluxe wedding at the Botanic House. The sweeping windows look out onto the lush garden landscape.
Farm Cove. On the ground floor, Farm Cove is a modern reception area that leads out onto the outdoor wooden decking and pond. It's a great wet weather option for wedding ceremonies too.
What Botanic House wedding couples say:
'Fantastic venue, the banquet was to die for and the team on the night were fantastic. Overall I would recommend this venue for the food alone. The location was amazing, definitely invest in the lighting supplier for the full ceiling fairy lights to add to the venue set up!' Zofia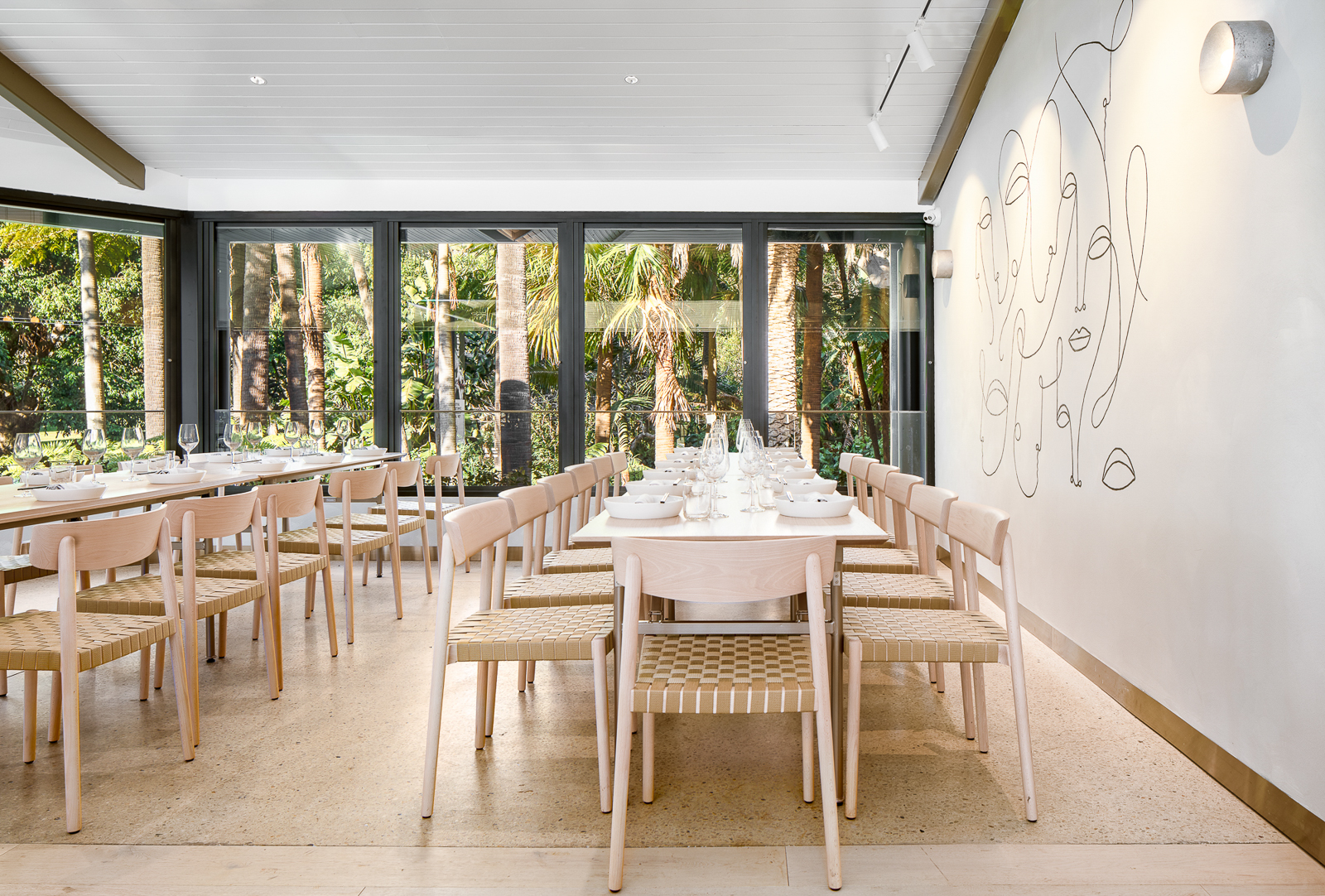 View Botanic House's Website
This prime hotel wedding venue in Sydney is a resplendent backdrop to traditional city weddings. Set near to the Royal Botanic Gardens, the Sydney Opera House and the Harbour Bridge, there are excellent photo opportunities between your garden ceremony and ballroom reception. Amora Hotel Jamison Sydney is a timeless 5-star option for luxury-minded couples.
Venue highlights:
The maximum ballroom capacity is 210 seated and 350 standing wedding guests. The smaller Hart Room accommodates 80 for a wedding ceremony and 60 for dinner.
415 boutique hotel bedrooms for guests to stay the night at special rates
Delicious bespoke catering provided by the Head Chefs at Amora Hotel Jamison Sydney
Guests have full access to the indoor heated pool, Jacuzzi, sauna and fitness suite
There are 80 car parking spaces at the hotel, with an option for valet service
The Event Spaces:
Whiteley Ballroom. This huge ballroom wedding venue is a fairy tale setting for classical weddings. With luxurious furnishings, it looks beautiful dressed with florals and crisp linens.
Hart Room. This is a more intimate events space with similar elegant features. Couples often opt for this as a wet weather option for their outdoor ceremony at the Royal Botanic Gardens.
What Amora Hotel Jamison Sydney wedding couples say:
'The Amora Hotel made our wedding a breeze. We had the reception here, as well as having the majority of the guests stay at the hotel. The service provided by the wedding coordinators was outstanding. They made the room look beautiful, and the whole day ran so smoothly.' Abby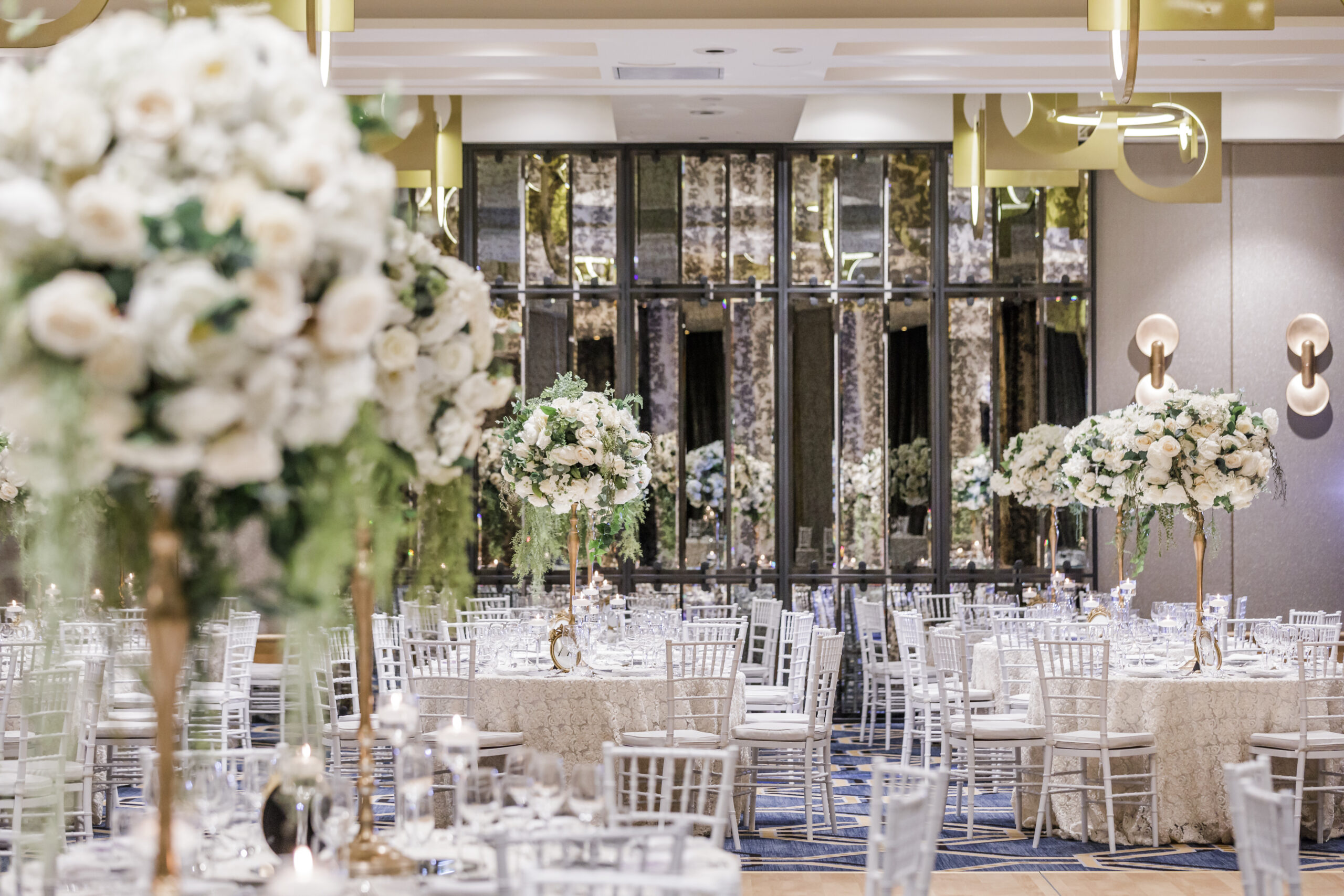 View Amora Sydney's Website

For couples wanting a relaxed restaurant ambience after their Royal Botanic Garden Ceremony, the Kittyhawk is a lively inner-city eatery with a vintage wartime aesthetic. Known for its great food, wines and atmosphere, it's a cool alternative space that already feels dressed and ready for a special occasion. You can dine and dance the night away surrounded by Old-World charm.
Venue highlights:
The maximum capacity is 350 standing and 198 when you exclusively hire the venue
Innovative cocktail list and delicious in-house French cuisine provided by Kittyhawk
AV equipment included, such as microphones, projector screens and a dance floor
They have a late license until 2 am on Friday and Saturday, midnight Monday to Thursday, and 10 pm Sunday
The Kittyhawk is a short 7-minute walk from Circular Quay train station
Full lift access to all levels of the venue
The Event Spaces:
Kittyhawk. This is the primary restaurant area of the venue. With exclusive hire available, you can redesign the layout and bring in your decorations to make the space reflect your style.
The Officer's Mess. An exclusive upper-level space accessed via a private lift. The quirky wartime inspired leather furniture can be arranged however you wish. It also has a cocktail bar.
The Conservatory. A naturally lit space with a glass ceiling. Located at one end of the Kittyhawk restaurant, it's a gorgeous space for photographs and relaxed receptions.
What Kittyhawk wedding couples say:
'Tucked away down Phillip lane, Kittyhawk is a fantastic place for cocktails in a relaxed friendly atmosphere. There are large tables as well as more intimate tables. Staff are very friendly and enthusiastic.' Leah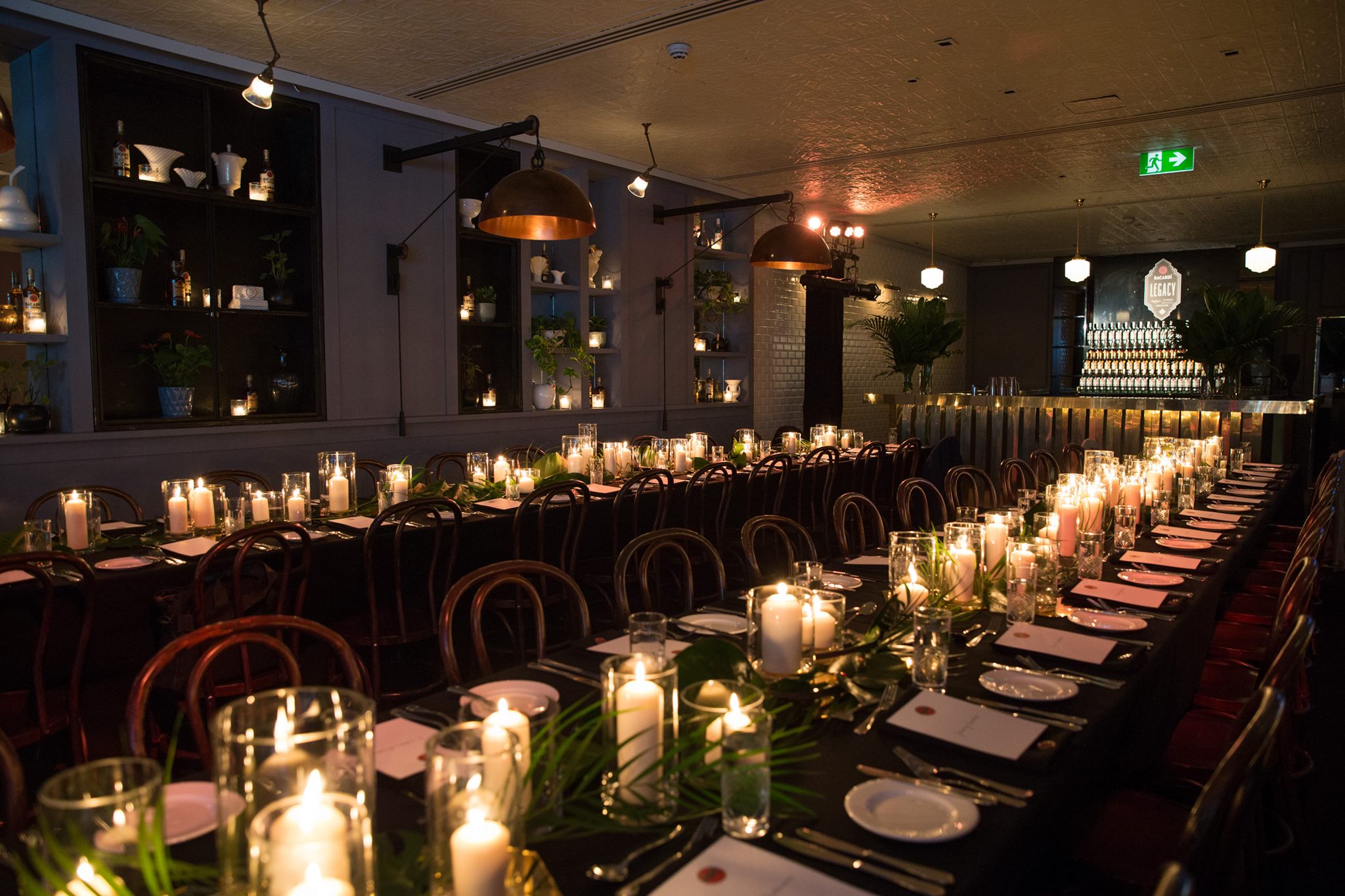 View Kittyhawk's Website

Known for its flawless reputation and 5-star facilities, the InterContinental Sydney is a hotel wedding venue with a range of different event spaces to use after your Royal Botanic Gardens ceremony. You can choose from a classical ballroom, the Treasury Room that's adorned with gold leaf walls, or even an elevated lounge bar with eclectic views over the Sydney city horizon.
Venue highlights:
The maximum ballroom capacity is 250 seated & 450 standing wedding guests.
509 decadent hotel bedrooms for guests to stay the night at discounted rates
Delicious world cuisine provided by the in-house InterContinental culinary team
Spectacular views of the Sydney Opera House and Sydney Harbour Bridge
A 4-minute walk from Circular Quay station or a 15-minute drive from Sydney Airport
The Event Spaces:
James Cook Ballroom. Dine and dance in traditional splendour in the James Cook Ballroom. This glamorous Art Deco-inspired space has all the AV equipment you could possibly need.
Harbour Room. A modern two-storey function room with incredible views of Sydney Harbour. The uninterrupted 200-degree vista will get your guests talking from the moment they arrive.
Club InterContinental. Evening wedding receptions can take place at Club InterContinental. Accessed via a private lift, it's the highest event room in the building with spectacular outlooks.
Heritage Room. An elegant event space with heritage details and high ceilings. The floor to ceiling windows bathes the room in natural light to create a sophisticated canvas to decorate.
Treasury Room. This eye-catching event space features arched hallways, elaborate gold leaf walls and a private entrance on Macquarie Street. It's the ultimate wedding photo backdrop.
What InterContinental Sydney wedding couples say:
'If you want something stunning and classy the Intercontinental Sydney is the place to go! The whole night was like a dream come true and the entire staff were so helpful! Our wedding coordinator Lauren made the whole process easy and stress-free!' Nadia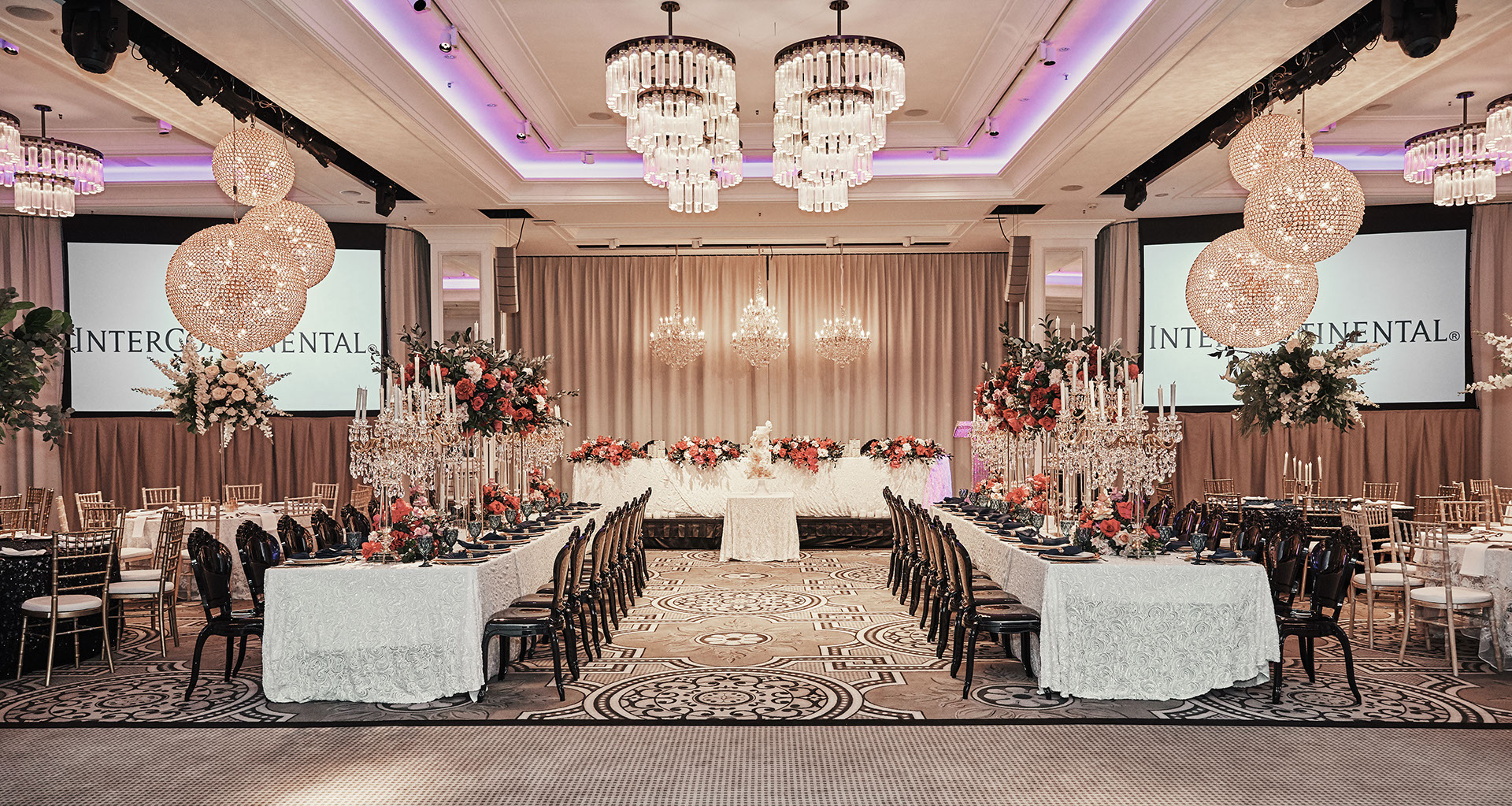 View InterContinental Sydney's Website

Wanting to keep up the alfresco vibe but have an alternative view? 55 George Street at Rydges Sydney Harbour is an exciting rooftop wedding venue with direct views over the Sydney Harbour Bridge and the Sydney Opera House. Decked out with a pool, a jacuzzi, lounge seating and a covered marquee area, it's the perfect poolside location for a relaxed BBQ reception.
Venue highlights:
Versatile open-air wedding reception venue with a capacity for up to 180 guests
176 4-star hotel bedrooms at Rydges Sydney Harbour Hotel
Unbeatable photo opportunities in front of Sydney Harbour Bridge and the Opera House
Flexible hotel catering packages including grazing platters and barbecues
Convenient location close to Circular Quay Station and Sydney Passenger Cruise Terminal
The Event Space:
55 George Street. This vibrant outdoor rooftop event space and marquee have a unique vantage point over the Sydney Harbour Bridge and the Sydney Opera House. Featuring a heated pool, Jacuzzi and lounge furniture, there's no other reception venue like it in the CBD.
What Rydges Sydney Harbour wedding couples say:
'If you are looking for some peaceful surroundings, away from the continuous chaos of modern-day living, this is the place. Opera at a walkable distance, enjoy the old Sydney, it's cool, comfortable style amalgamated with a very warm hospitality. A great place to stay and relax'. Prakash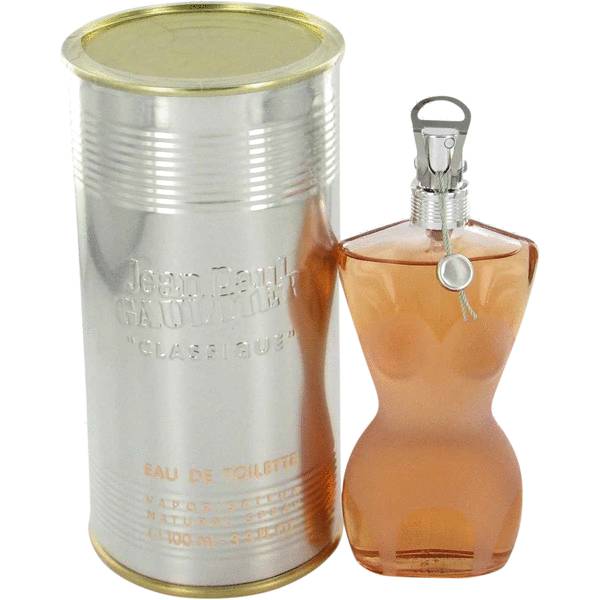 View Rydges Sydney Harbour's Website

Sydney Sofitel Wentworth is a slice of French sophistication on the Australian coast. The open-air terrace at the centre of the building is a beautiful area for outdoor drinks receptions and romantic dinners beneath the stars. Inside, you'll also find a ballroom and an intimate space on the fifth floor called the Velvet Room, which is perfect for micro wedding receptions.
Venue highlights:
Maximum capacity for up to 500 guests seated and 600 standing
436 5-star hotel bedrooms for guests to stay at Sofitel Sydney Wentworth
Beautiful French style outdoor terrace for receptions and gorgeous photo opportunities
Delicious in-house cuisine provided by the catering team at Sofitel Sydney Wentworth
Early setup time from 6 am so you can pre-organise all your suppliers to ready and waiting after your ceremony at the Royal Botanic Gardens Sydney
The Event Spaces:
Ballroom. A beautifully designed and well-appointed ballroom with glittering ceiling spotlights, the latest AV equipment and plenty of open-plan space to set up your ideal table arrangement.
Garden Court Restaurant. A tranquil, French-inspired courtyard with relaxed lounge seating, landscaped gardens and plenty of natural lighting for top quality wedding photographs.
Velvet Room. Located on the fifth floor of the hotel, this plush room is ideal for intimate weddings with close friends and family. It has direct access out onto the hotel's terrace.
What Sofitel Sydney Wentworth wedding couples say:
'An amazing hotel with the most wonderful and helpful staff. Our stay here was truly wonderful'. Renae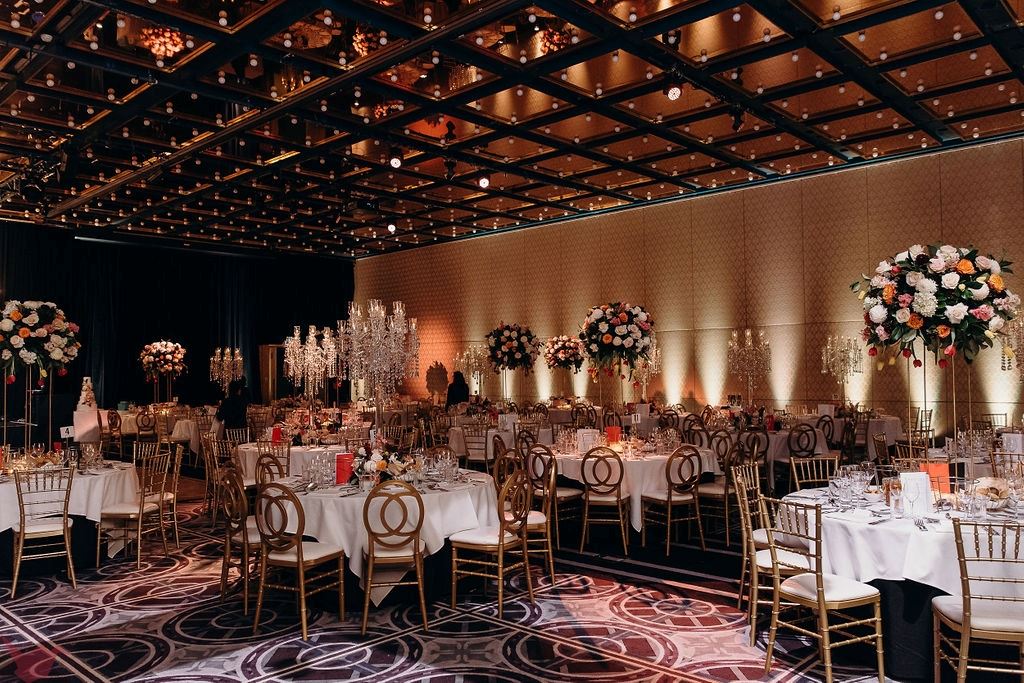 View Sydney Sofitel Wentworth's Website

Nestled under the iconic Sydney Harbour Bridge, Pier One Sydney Harbour in Walsh Bay is an exceptional waterfront wedding venue with three stunning event spaces for your dream day. This luxury five-star hotel has its very own picturesque pontoon that floats above tranquil waters and enjoys panoramic views of the spectacular Sydney Harbour skyline.
Venue highlights:
Unrivalled Sydney location next to the Sydney Harbour Bridge
3 spacious and flexible event spaces with panoramic Walsh Bay views
Outdoor marquee wedding venue with incredible photo opportunities
Fresh seasonal menus developed by the experienced catering team
Ideal location close to Circular Quay Station and Sydney CBD
189 5-star hotel bedrooms and pet-friendly accommodation
What Pier One wedding couples say:
'Not only does Pier One have amazing views, but the staff was also so accommodating, food was awesome and my two-night stay had the best service. I experienced a very smooth wedding planning experience, and my guests raved about the food and views both at the ceremony (Bridge Marquee) and reception (Water).' Cathy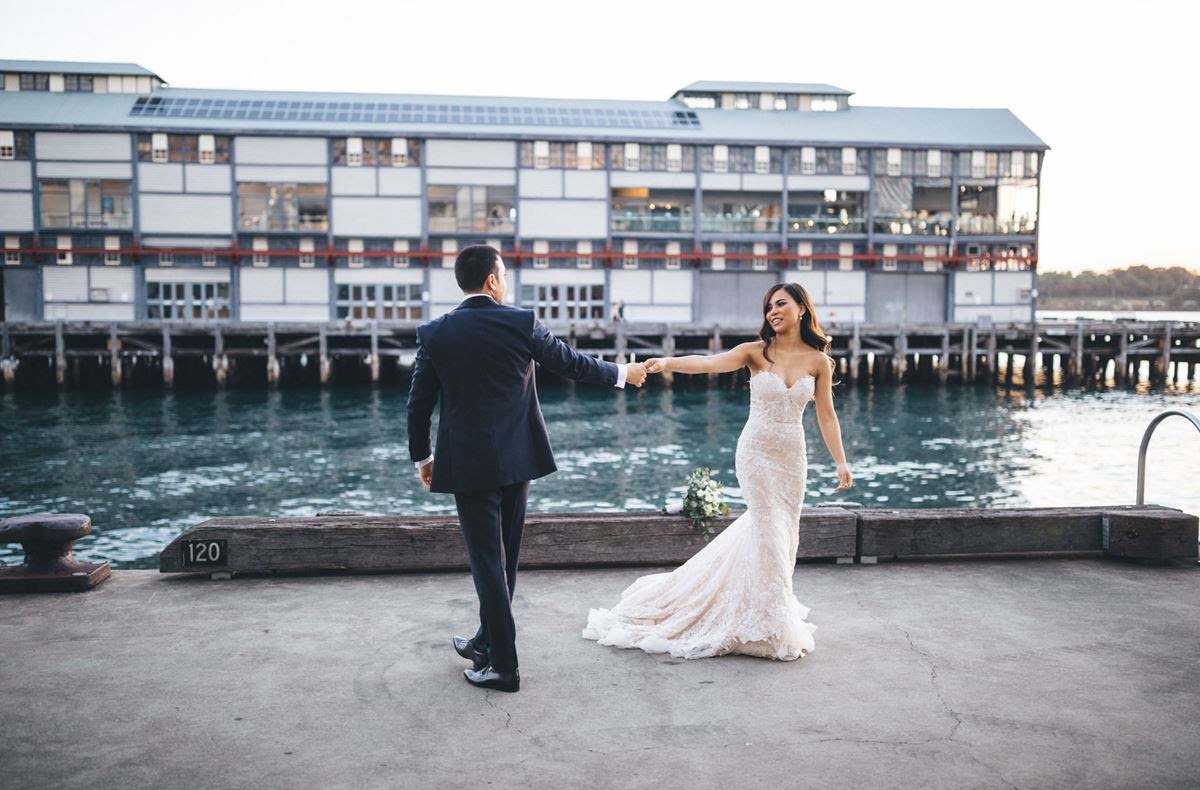 Visit Pier One

Located in Circular Quay, Sydney Harbour Marriott is a convenient and stylish location to host your post-Royal Botanic Garden wedding reception. Its 5-star reputation continues into all aspects of its offering, from the deluxe hotel bedrooms to the adaptable wedding spaces throughout the venue. The talented wedding coordinator can offer you a bespoke package.
Venue highlights:
Maximum capacity for up to 220 seated guests and 250 standing
Fantastic views of Sydney Harbour and its world-famous landmarks
Award-winning menus by the in-house wedding catering team
595 hotel rooms with special discounted group booking rates
Heated indoor pool, an indulgent spa & well-equipped gym available
Convenient CBD location, with Circular Quay station just a 4-minute walk away
The Event Spaces:
Thomas Keneally Room. The heritage stained glass windows are an attractive feature that creates a heavenly glow in the Thomas Keneally Room. It's a very graceful and versatile room.
Henry Lawson Room. A bright, elegant, neutral room that suits all kinds of wedding setups. You can go to town with creative installations or keep it pared-back with natural florals.
The Terrace. An alfresco area of the hotel that works beautifully for outdoor cocktail receptions. The faux grass and parkland views make it a little verdant escape in the heart of the city centre.
What Sydney Harbour Marriott wedding couples say:
'Great Reception, amazing wedding planner, amazing event organiser, the final day was perfect, 5 stars all the way!!' Nimra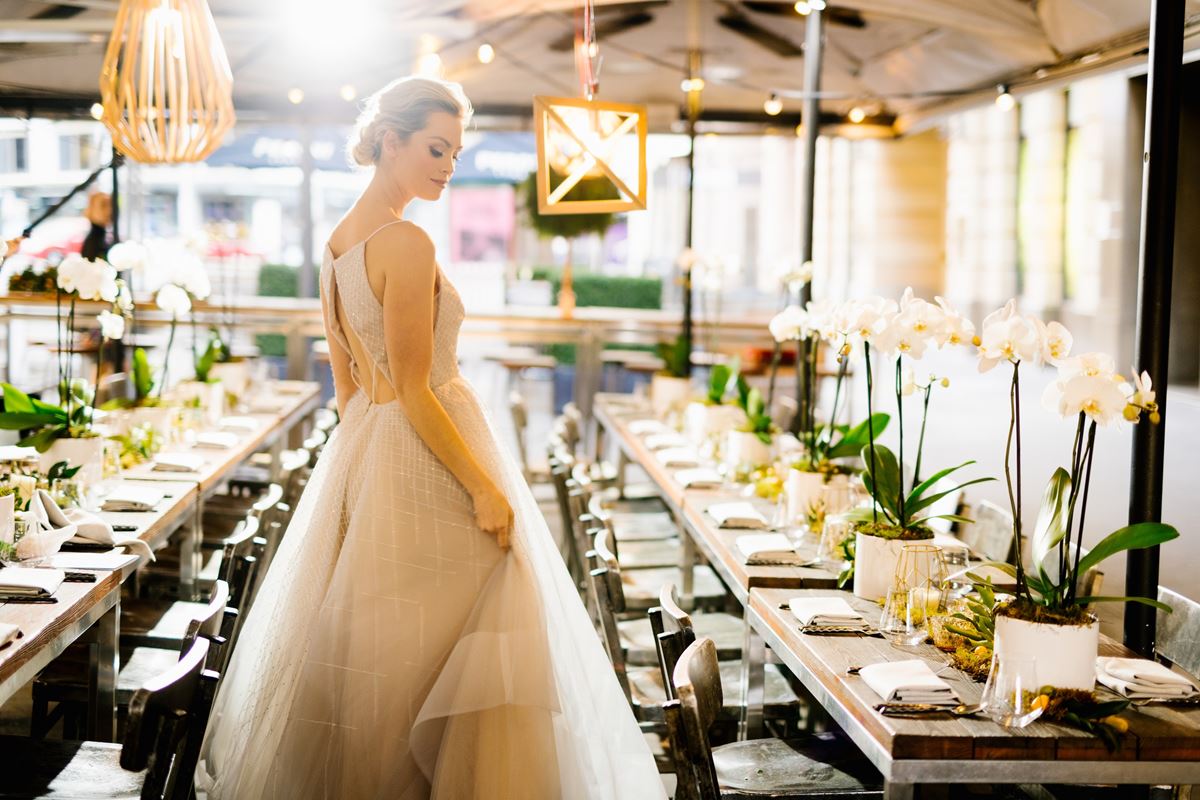 View Sydney Harbour Marriott's Website