You're engaged! Congratulations! We're so happy to help you with your wedding planning journey.
Whether you're kickstarting your planning now or are already halfway through your journey, we know that sometimes weddings can become a bit overwhelming. There are so many different elements to consider from setting your budget to deciding where you're going on your honeymoon.
To make it a bit easier, we've taken a look at when most couples book their suppliers so you know who to hit up first when you start planning.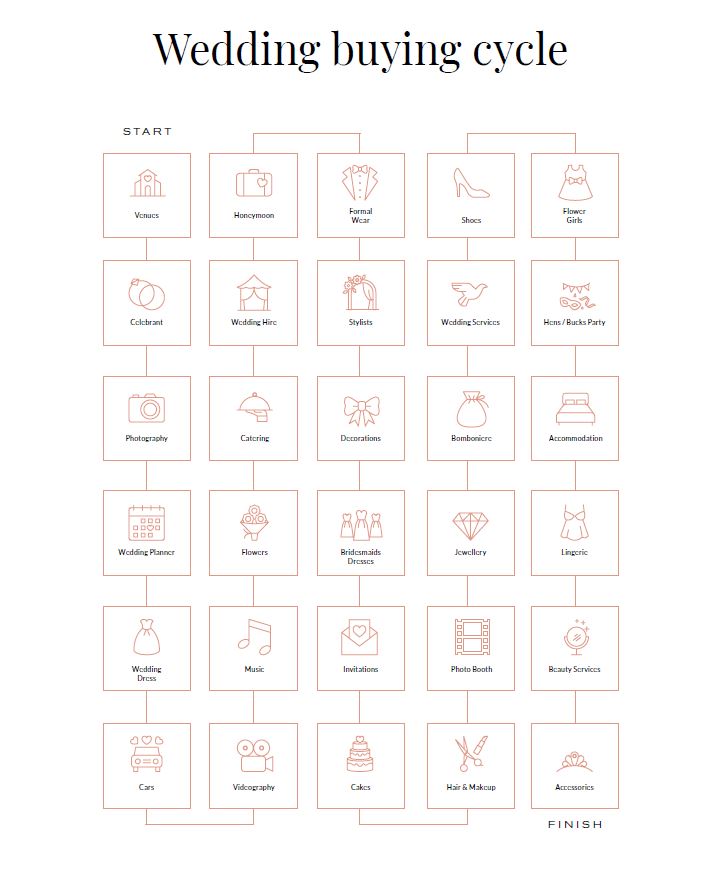 12 – 18 months to go
It's no surprise that wedding venues top the list of the first vendor most couples book. Wedding venues can sometimes be booked out for dates 18 or even 24 months out, so it's important to get in quick once you've found your dream venue.
Locking your venue in will also help you lock in your actual wedding date. 11% of all couples choose their date based on when their venue of choice is available. Once you've got your venue sorted you can start thinking about the elements that will bring your day together.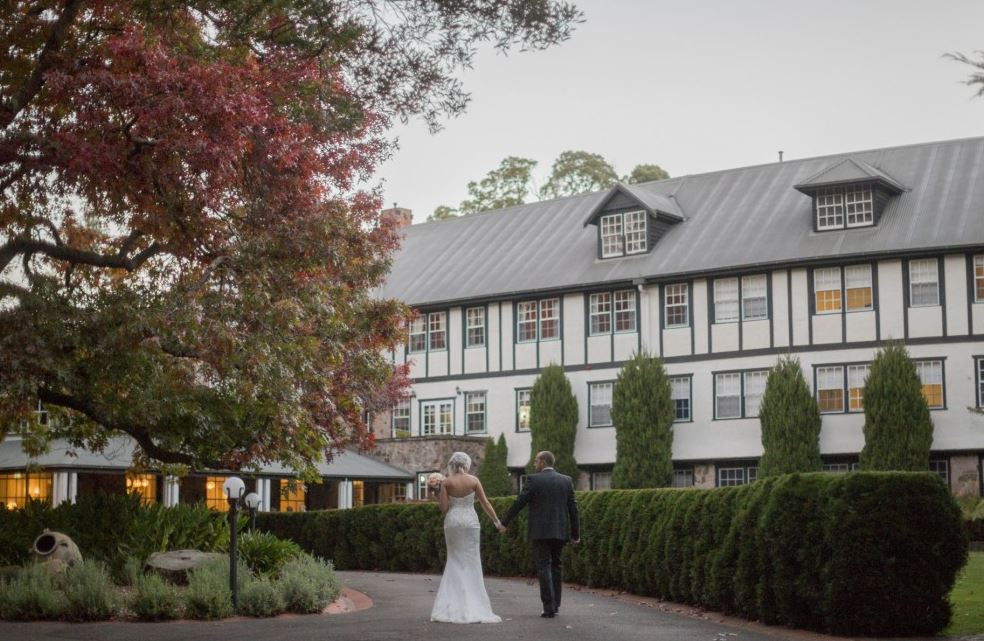 Technically, a marriage celebrant or religious officiant is the only supplier you need for your wedding. After all, they're the ones that officially marry you!
Think about what sort of ceremony you'd like to have and what type of celebrant will fit into this. Are you going to have a shorter ceremony to focus on your reception? Or you would prefer to exchange vows in a completely tailored and personalised celebration?
What you want to focus on will help you choose what type of celebrants you enquire with.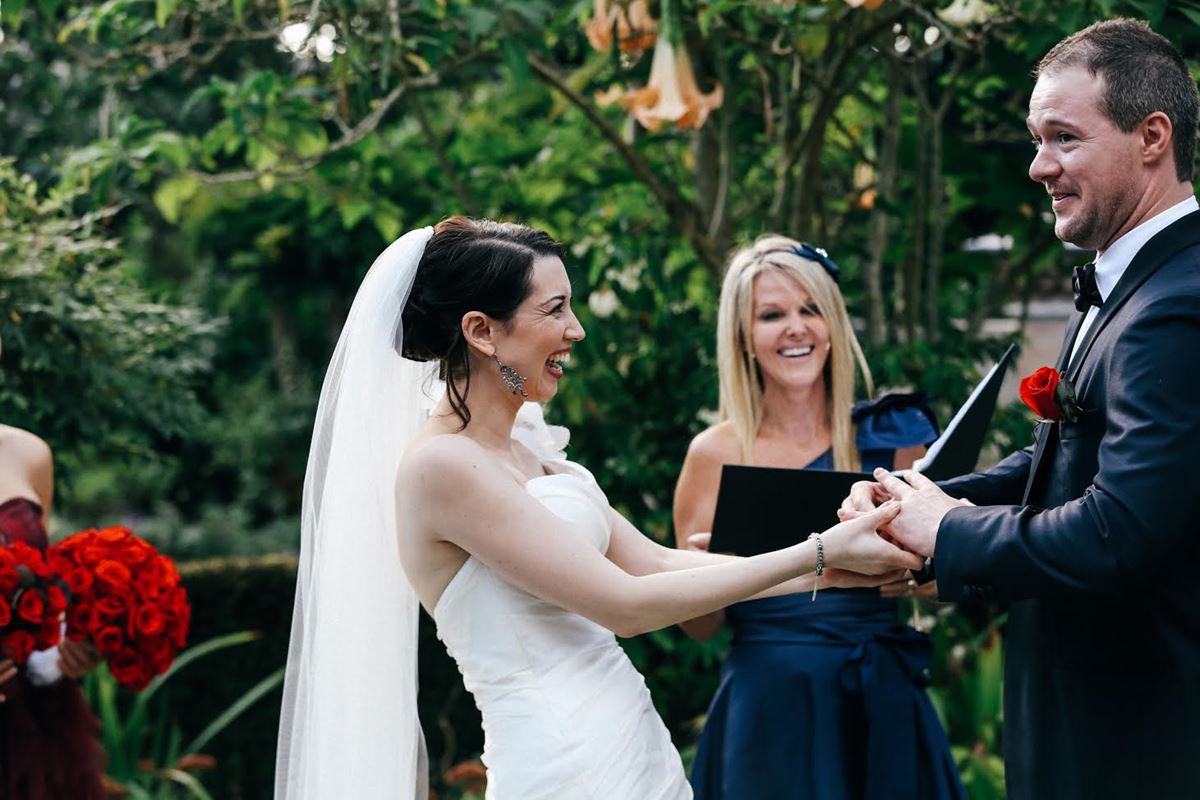 Wedding photography is considered the must-have for most couples. 98% of people getting married will have a photographer on their big day.
Think about the style of photography you like and what sort of photos you'd like to look back on for years to come. The style will change depending on what sort of photographer you hire so make sure you check out lots of online galleries to see what you love. As a guide, 63% of couples prefer candid and natural images.
Another 33% prefer a combination of traditional posed photos with their candid shots.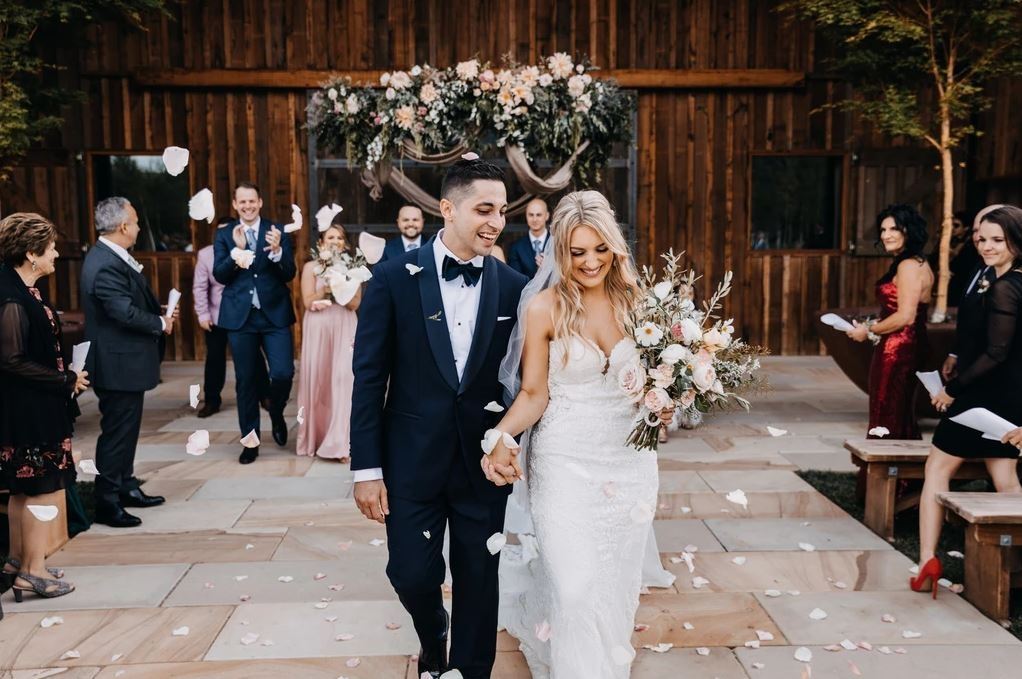 If you're struggling to choose your first three elements, or just don't have enough time, then you should consider hiring a wedding planner.
A wedding planner can help choose suppliers that will fit both the look and budget you're after. They can also help with the admin that comes with planning a wedding such as scheduling appointments.
If you want more time to enjoy the fun parts of planning take a look at our different planning options to see what will suit your lifestyle.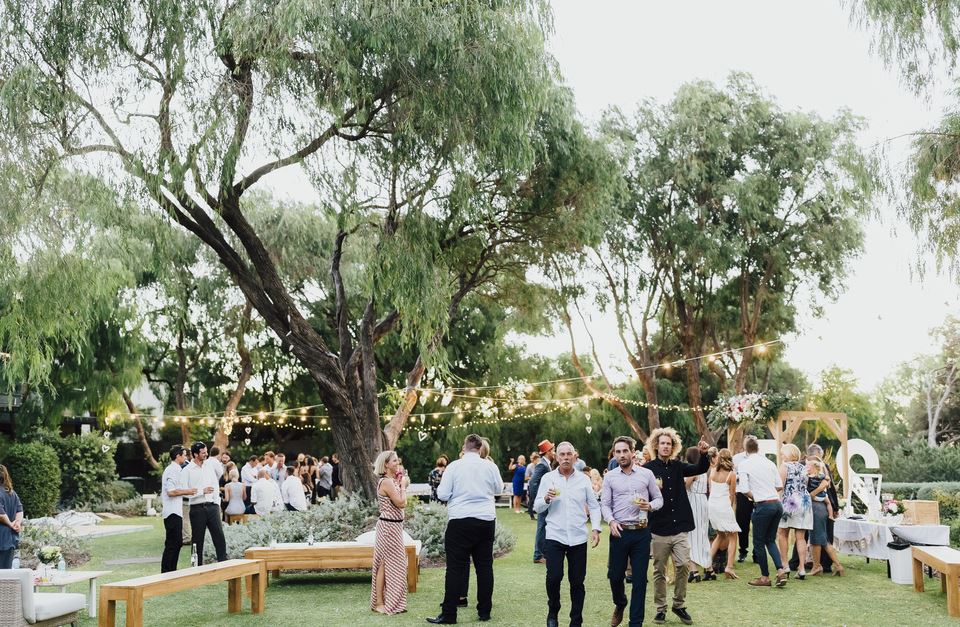 It's time to pick THAT dress! We all want to look like a princess (or prince) on our big day and choosing the perfect wedding dress is a big part of that.
In fact, 23% of brides say that if they found the perfect wedding dress they'd buy it, regardless of whether it fits in their budget or not!
For a more detailed dress buying timeline factor in details such as having it custom-made or getting alterations done.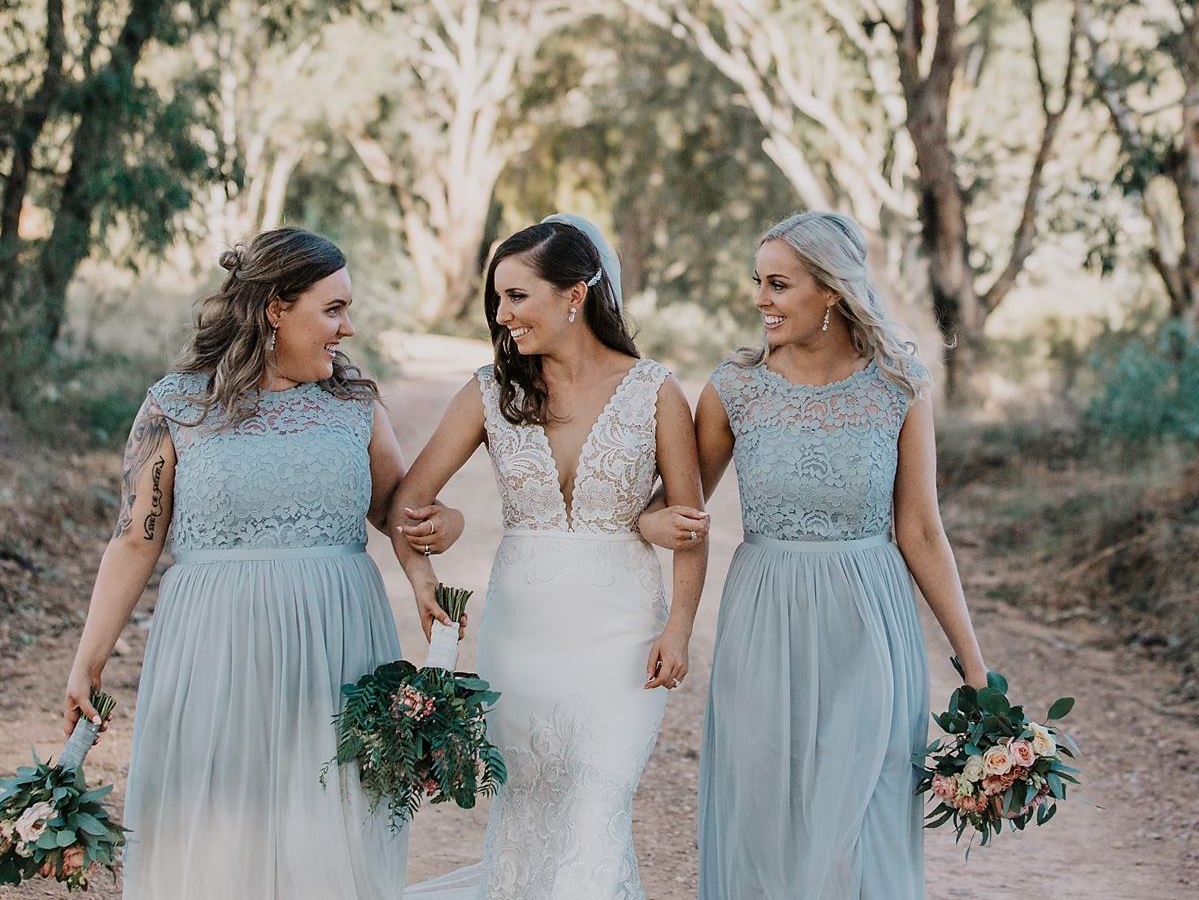 9 – 11 months to go
If you already know who is in your wedding party then it's time to figure out how you're going to arrive in style. This will help you choose how many cars you need, or how big they need to be!
Vintage cars are still the most popular style of choice and are booked by 32% of all couples. 24% of couples will then hire a classic-style car followed by limousines at 16%.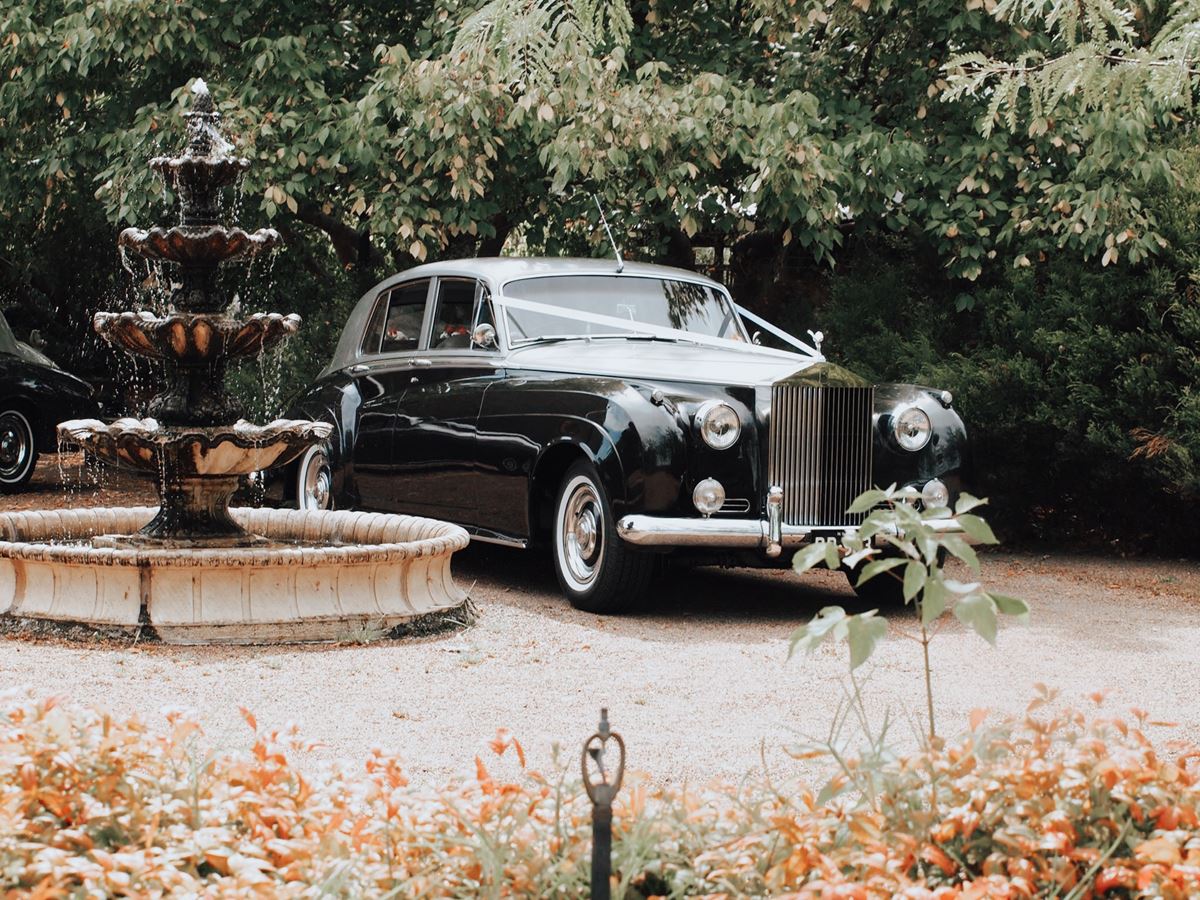 Honeymoon
Around about now we know that planning your big day can be a bit overwhelming, so take a break and start planning the holiday you're going to have after it instead!
Whether you're heading on a minimoon straight after the wedding or a honeymoon a few months afterwards, knowing that you've got a break locked in can inspire you to get planning again.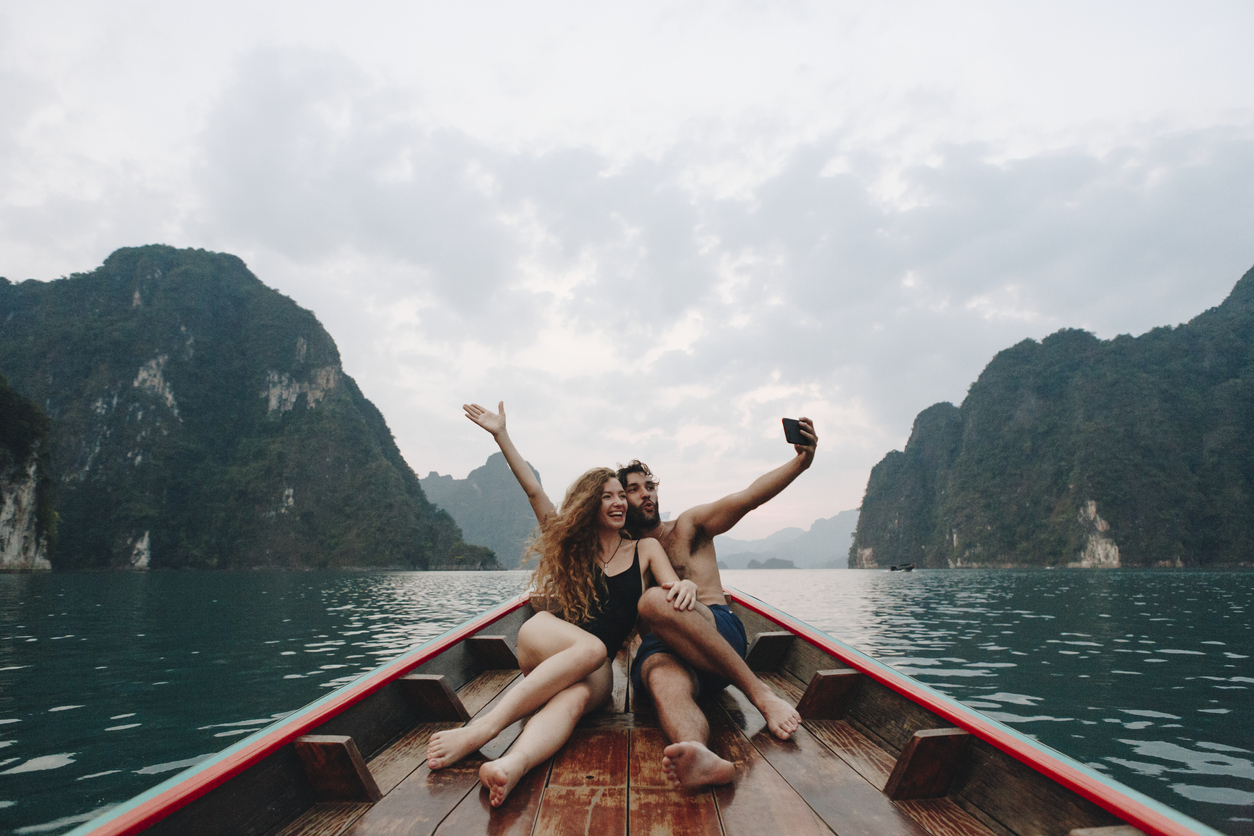 Now it's time to deck out your ceremony, reception or venue space. Consider what your venue already provides and whether there are any more items you want to add.
Decorative items such as floral arbours are extremely popular at the moment and can give you some gorgeous photo opportunities. Don't forget about the necessities either, such as ceremony seating or chairs and tables for your reception.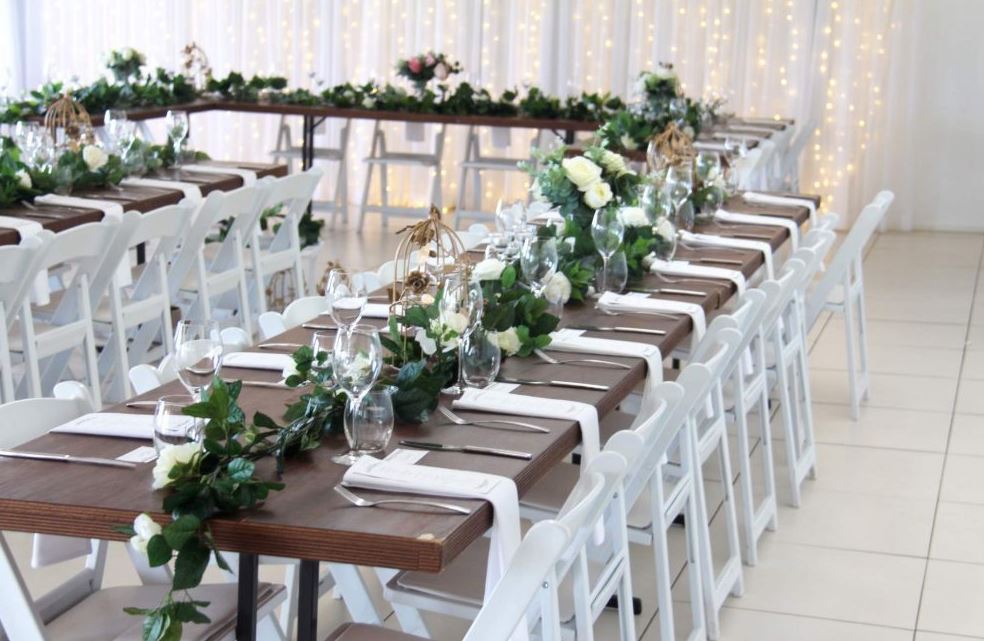 Once you know what you're going to eat off, it's time to decide what you're going to actually eat! Book a tasting with your venue to see what options you have to choose from. Or if you want external hiring chat to some catering companies to see what you can get for the day.
Don't forget about more alternative options for your food either. 32% of couples will design their catering around their guests choosing where to sit rather than having set seating. Interactive food stations are also one of the top 10 wedding trends coming into 2020.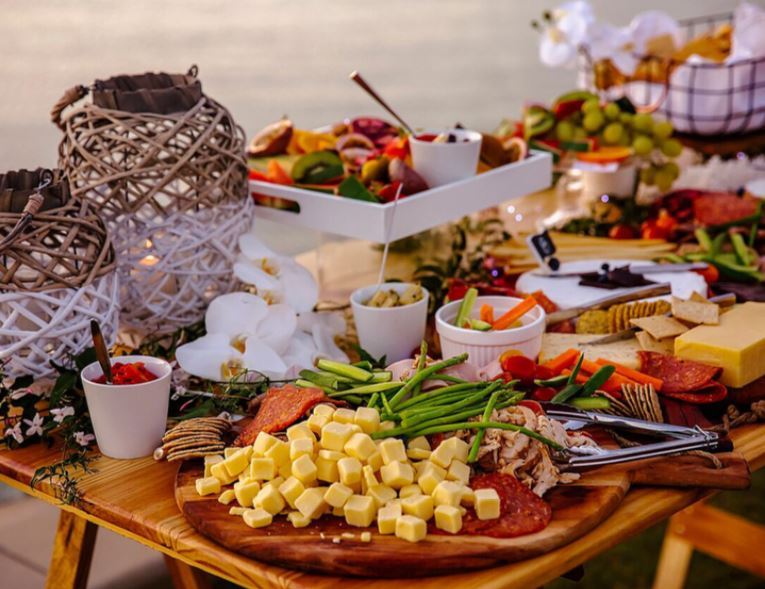 Most couples opt for a bouquet at the minimum for their wedding flowers, with button holes also popular for grooms. Once you've decided on these see where else you can add florals into your wedding.
It could be your wedding party, closest family members, arbour, centrepieces, or even your wedding cake. Chat with your florist about what you like or what will be in season on your wedding day.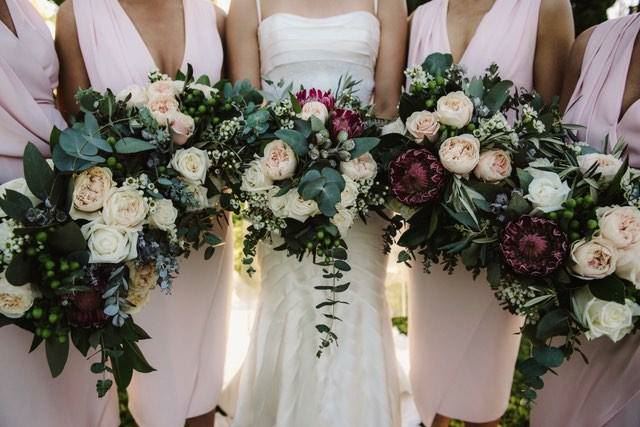 You might have some idea what song you'd like to walk down the aisle to, but what about the rest of the evening? Think about how you're going to play the music at your ceremony, as well as how you'll get the party started at your reception.
48% of couples prefer to book a DJ to get the vibe going, while 35% prefer the aesthetic of a live wedding band. Then there's another 17% of couples who can't decide and will have both! Weigh up the pros and cons of what you want in your decision to have a DJ or wedding band.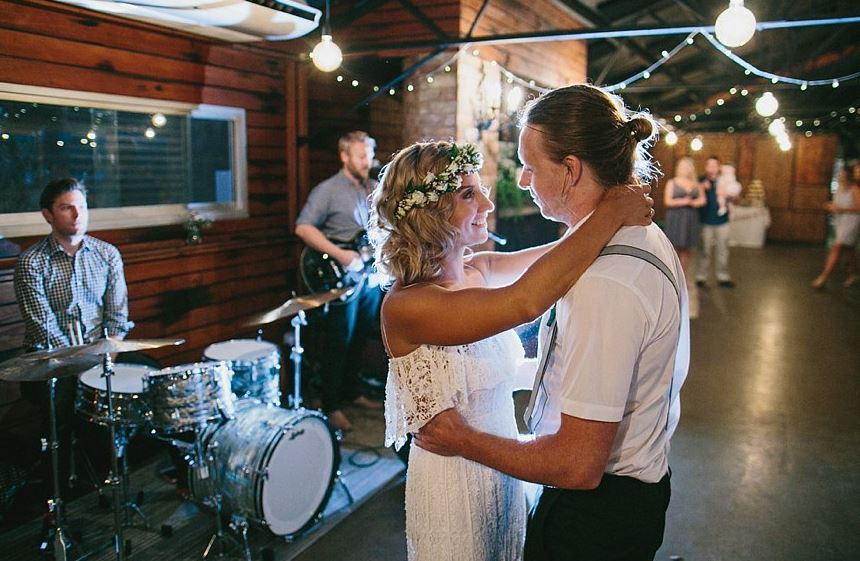 Your choice of videographer can be made in a similar way to your choice of photographer. Think about what style you want to capture your wedding video before you start to look at suppliers. This will help narrow down exactly who you should get in touch with.
Then it's time to think about what parts of the day you want to capture. We've found that more couples are wanting to capture every element of their day every year. In 2020, 68% of couples will hire their videographer from start to finish.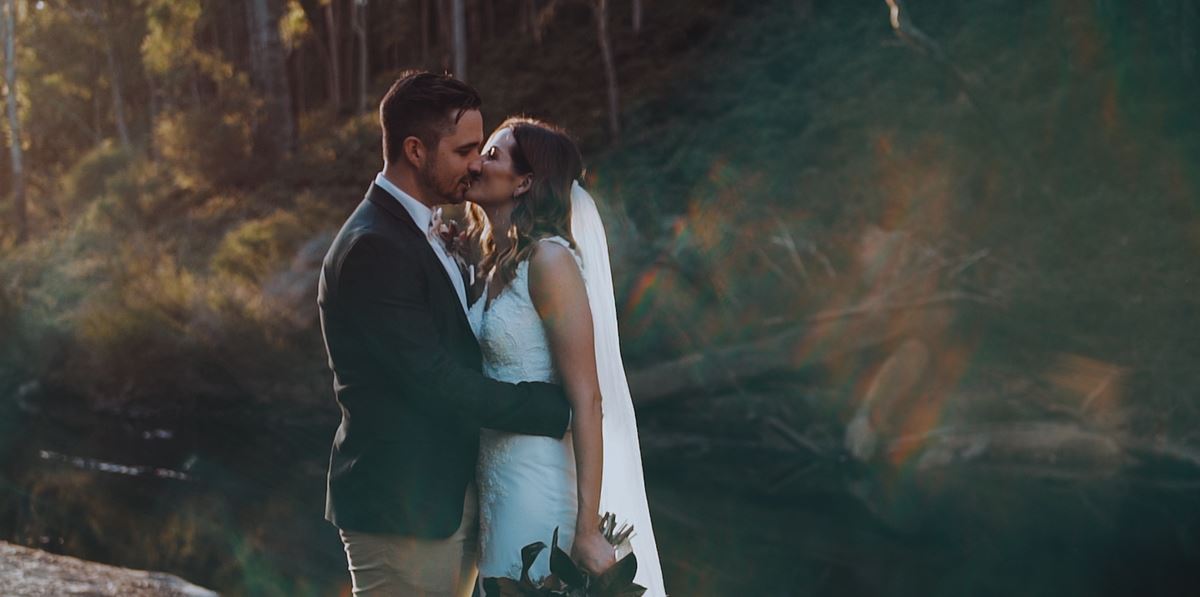 6 – 8 months to go
Grooms, it's time for you to choose your formal wear! Look at whether you want to buy something off-the-rack, have it custom-made, or hire for your big day. 57% of grooms will buy their formal wear off-the-rack while another 25% will make a statement with something custom-made.
If you're having groomsmen, or even a bridesman or two, this is also a good time to get their formal wear sorted.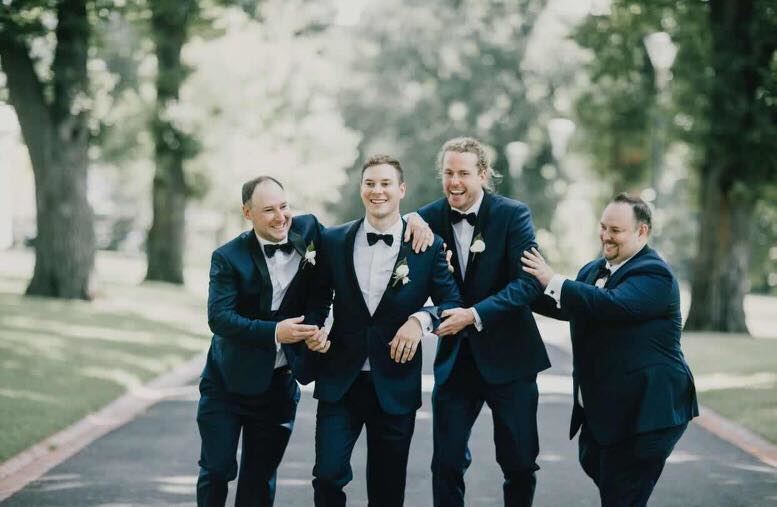 Congratulations, you've reached the middle of your planning journey! With most of the wedding day essentials sorted, this is a nice time to switch your focus and think about how you want to style your wedding.
A wedding stylist will help bring your vision and theme to life in the way you want it, without you having to worry about the stress of doing it yourself.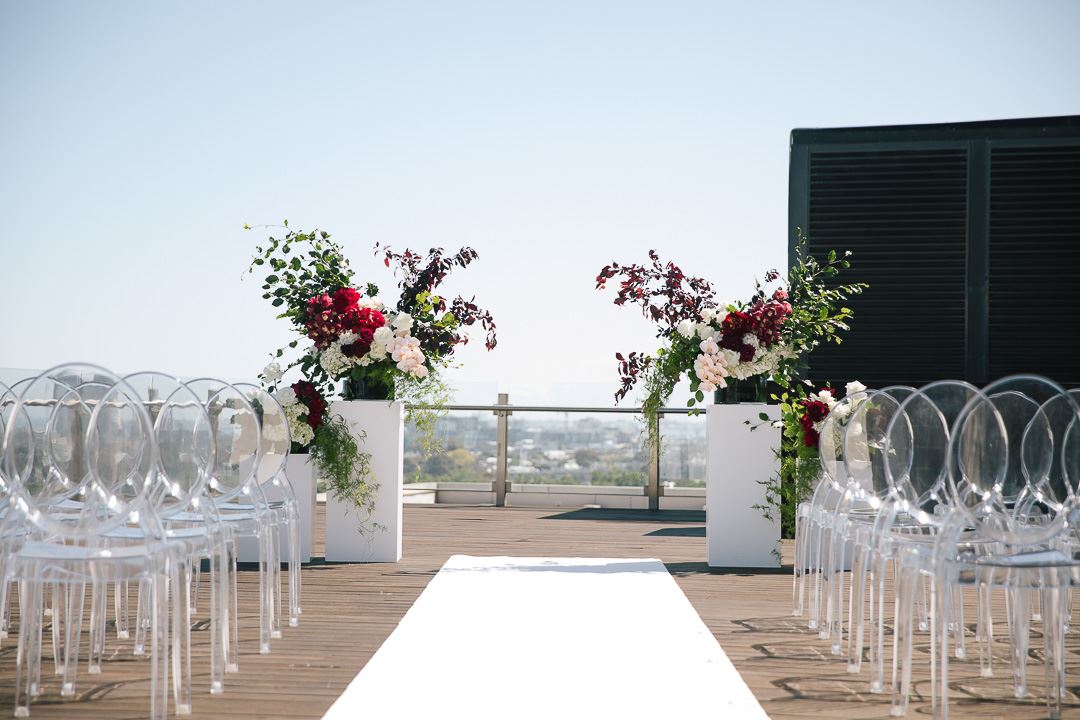 Once you've decided whether to hire a stylist or do it yourself it's time to look at what sort of decorations you want. You've likely already thought about your colours, theme and aesthetic. Consider what sort of styling props or furniture could add to your ceremony or reception.
Greenery, personalised details and floral arbours are some of the most popular decorative trends coming into 2020 and will suit any venue and theme.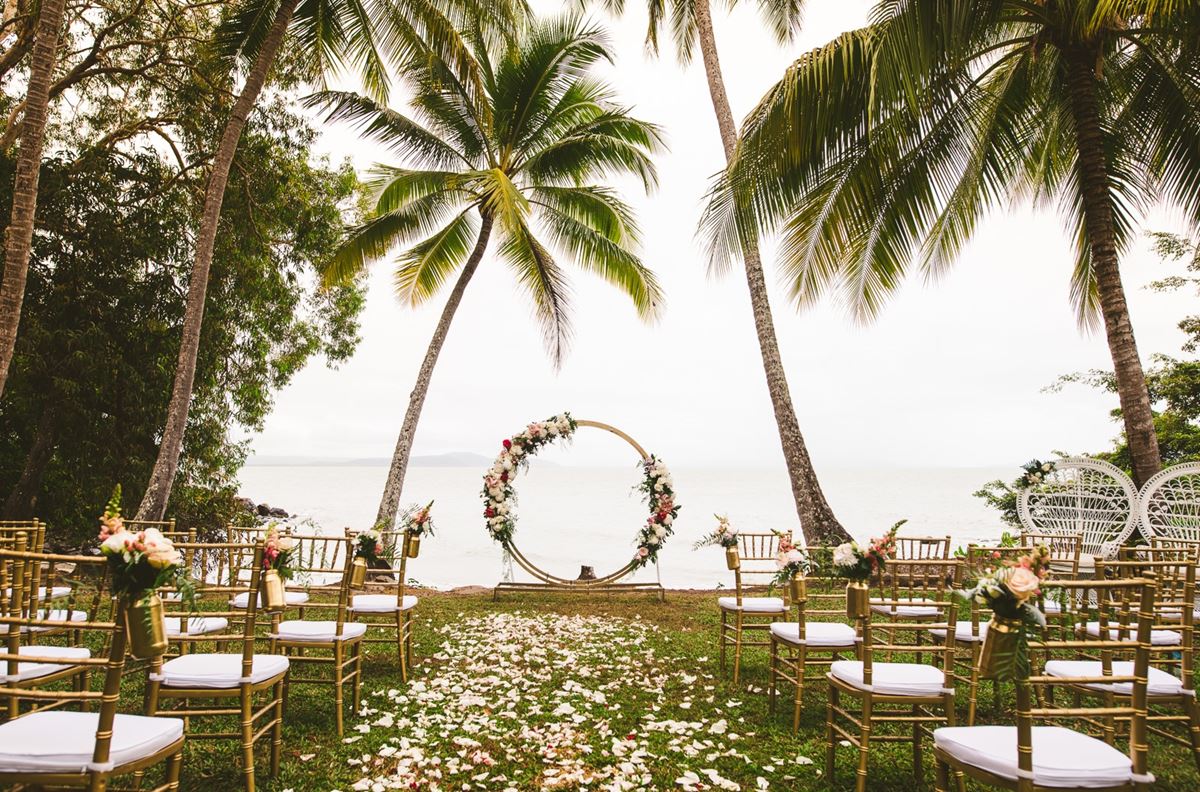 Once you've chosen your theming and colours it's time to pair this with your bridesmaids or bridesmen. This means you'll know exactly what sorts of colours will work together when your squad makes their grand entrance on the big day.
This is also a good time to finalise who will be in your wedding party. After all, you want to make sure you've chosen the perfect people for the job.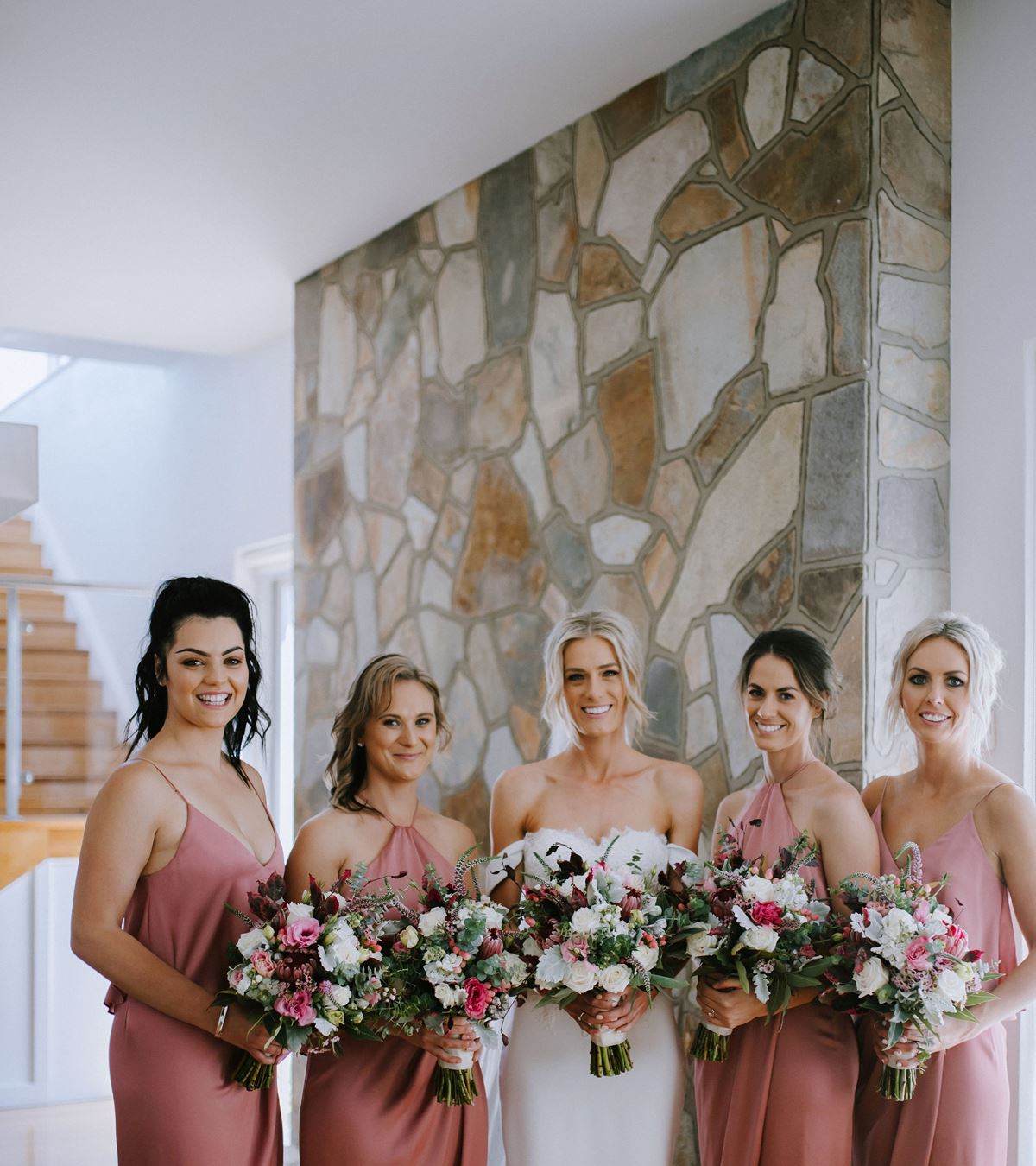 4 – 5 months to go
Now that your wedding venue, date, theme and ceremony details are sorted, it's time to think about who you actually want to invite. Order your wedding invitations to fit in with your theme and give your guests a taste of what's to come.
Check out our guest list and seating planner tools to help you decide on your nearest and dearest before looking at what style of invitation you're going to send to them.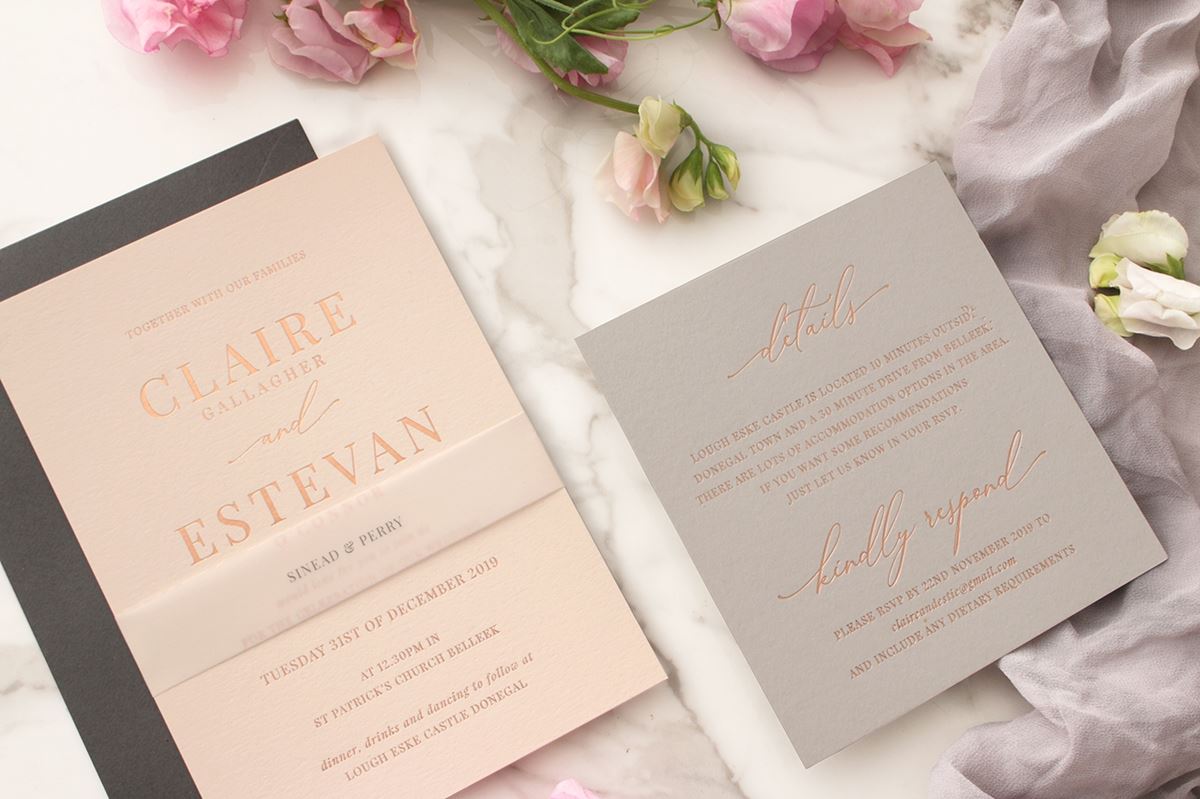 This is possibly one of the best parts of wedding planning. Find your favourite cake suppliers and taste away! We love cake tasting and there are some stunning and delicious creations out there.
46% of couples will choose a wedding cake that has two tiers while another 34% will order a cake with three tiers. Factor in how many people are on your guest list to know how many serves you'll need to get out of your cake.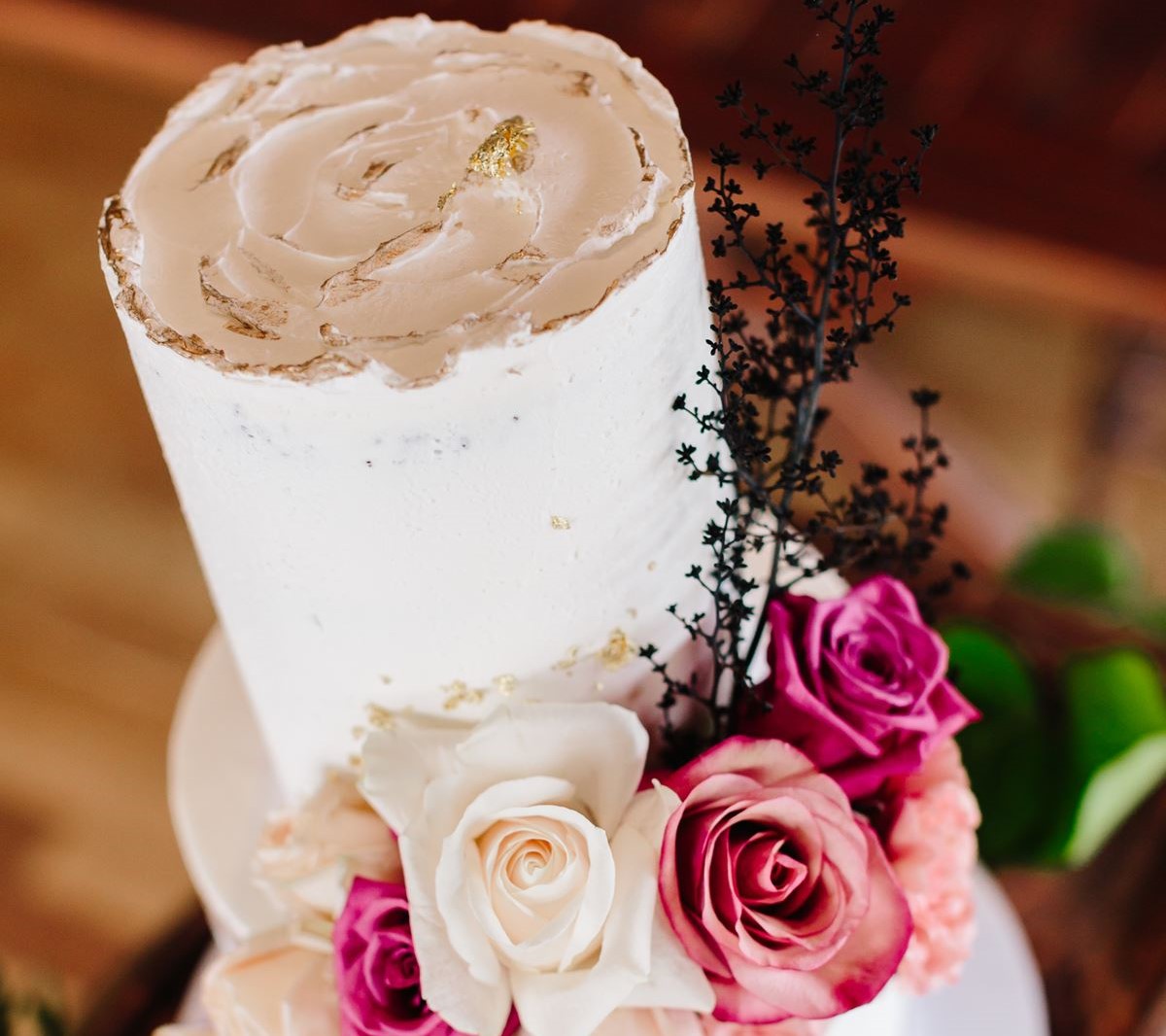 2 – 3 months to go
You've already chosen your dress or formal wear so now it's time to see what you can pair them with. You might want to make a statement with your shoes or simply have something that will be comfortable for the whole day.
Once you have your shoes make sure you wear them in for any important moments, such as your first dance or walking down the aisle.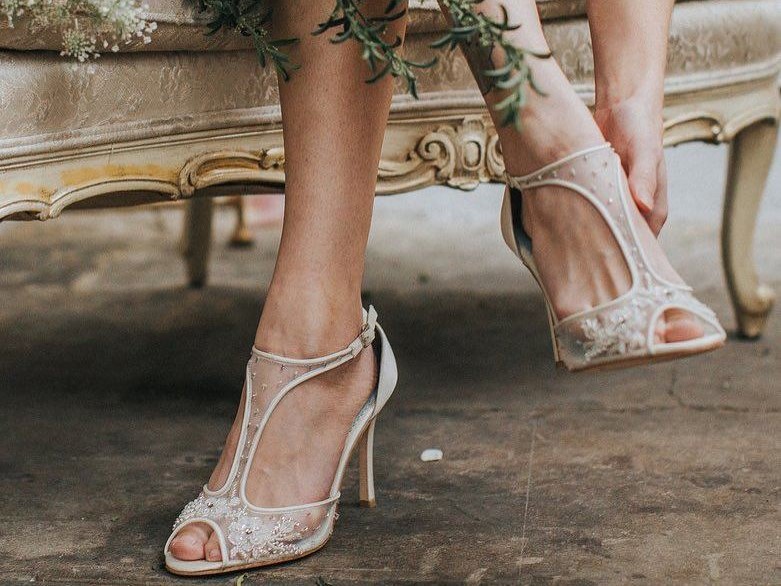 If you'd like to add something a little bit different to your wedding then now is the time to book it in. Entertainers, alpacas, wedding insurance, or even someone to transport your pup to the big day are all unique services you might not know are available!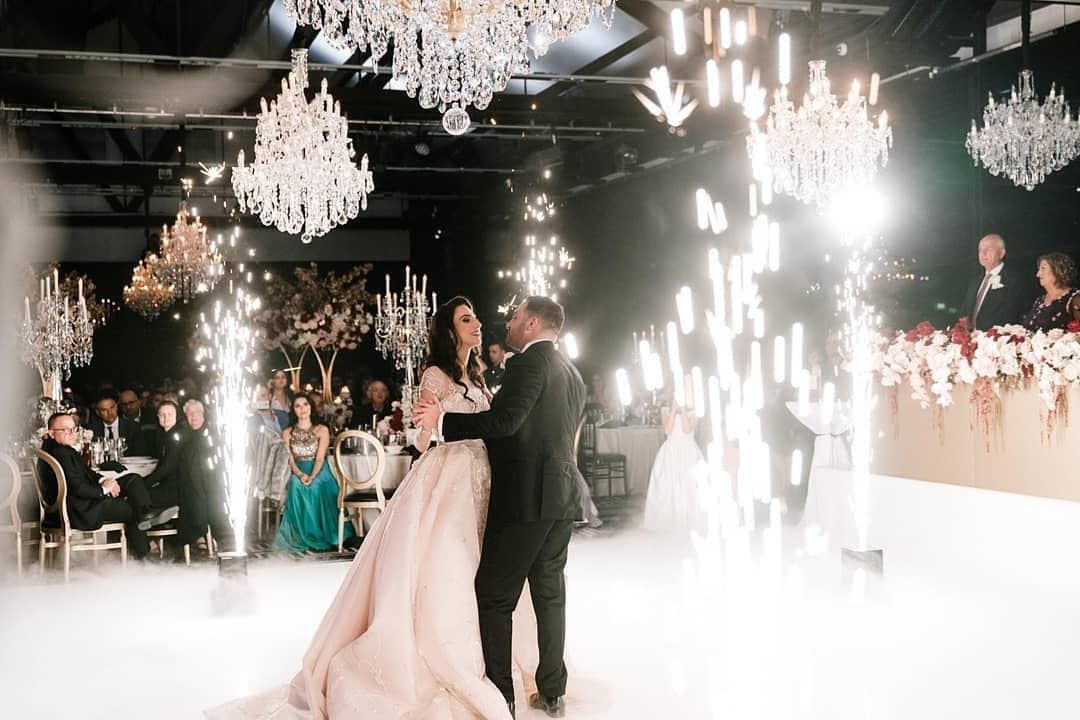 By now you should know how many guests you'll be inviting and how many pieces you'll need for your wedding favours. We love features such as charity donations, succulents or personalised spirits to give a gift that will keep on giving.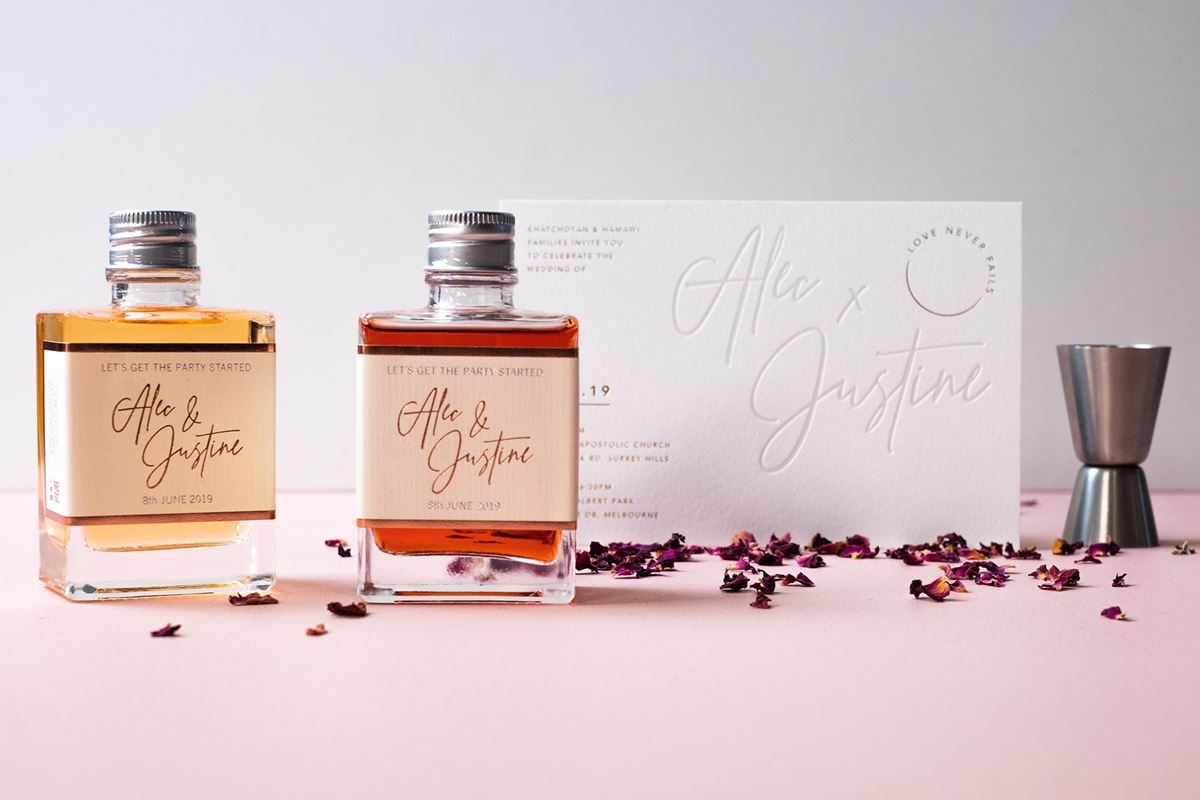 It's time to pick out your rings! Choose what design you're after and how it fits in with other jewellery that you might wear on a day-to-day basis. When you pick up the rings it's also a good time to designate who is going to make sure that they make it to the ceremony!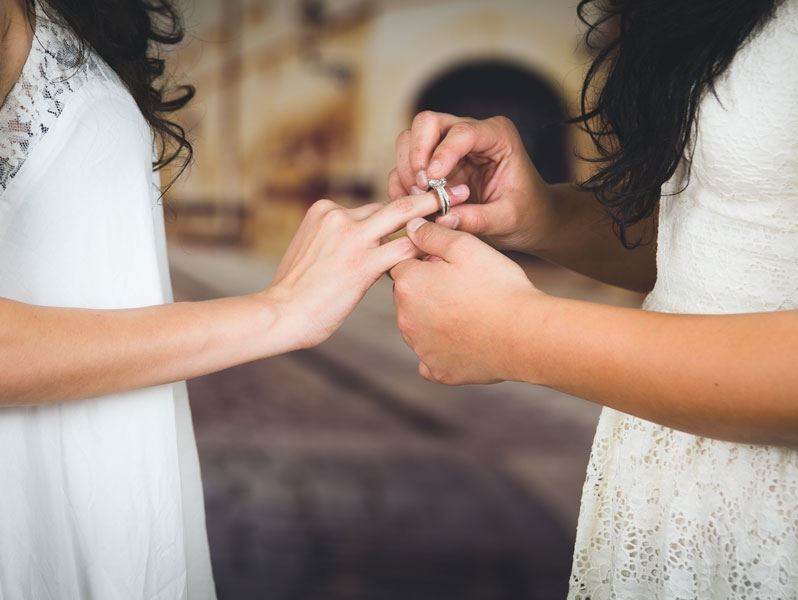 Not sure if your wedding is going to have that wow factor? Still have money in the budget? Add a photo booth to your big day! The booth will be heaps of fun for both you and your guests and can even be something that you add into your guest book after the day.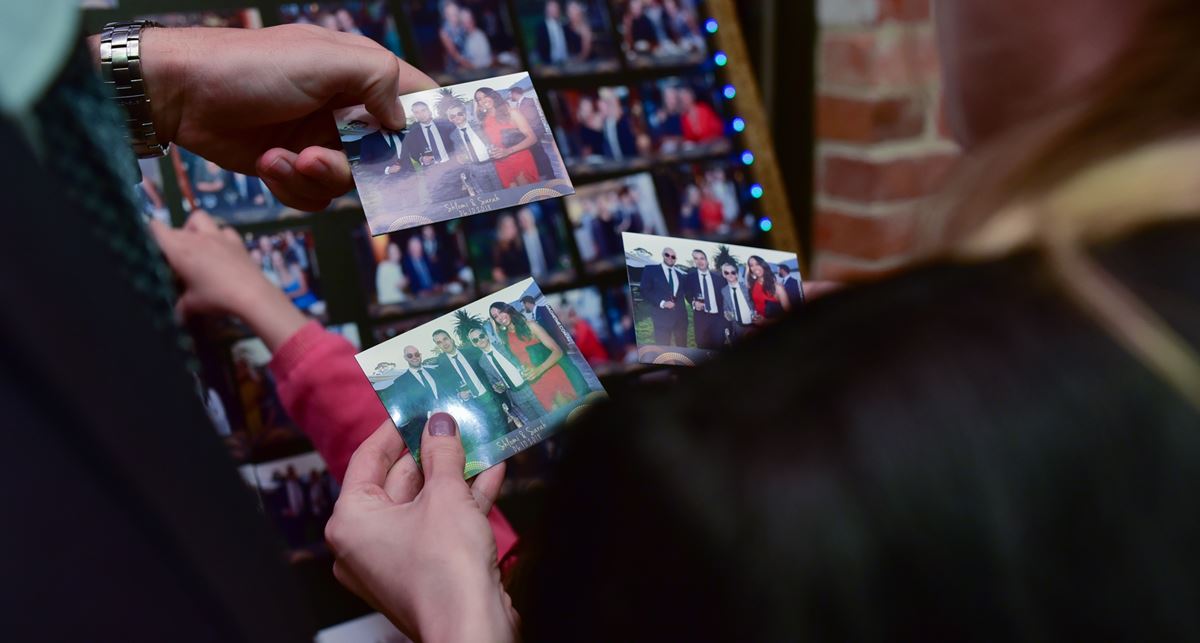 Your hair and makeup artist will make sure you look your best for your day so it's important to find the right fit. Think about how much makeup you wear on a regular basis, or what style your hair is usually in.
We recommend booking a trial to work together with your hair or makeup artist to find your perfect look.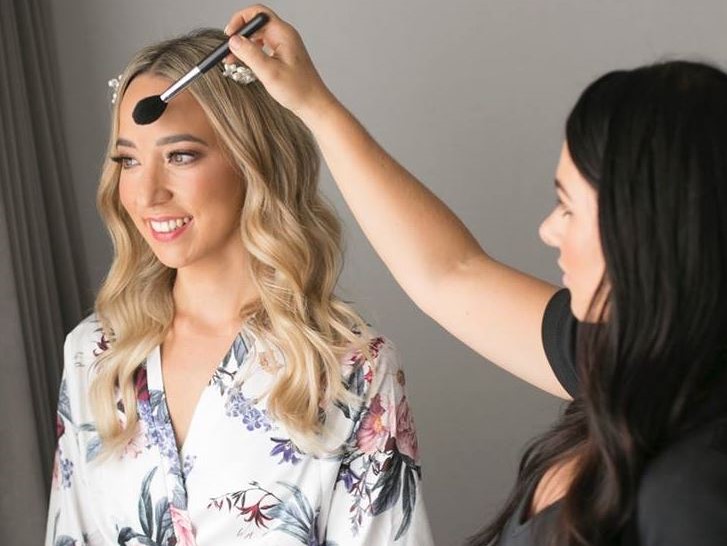 This is something that you don't want to do too far out from the big day, especially if your flower girl or page boy is still in the growing phase.
If your flower girl or page boy aren't your own children then chat with their parents about how quickly they're growing. It might be worth getting those pant legs a little bit longer…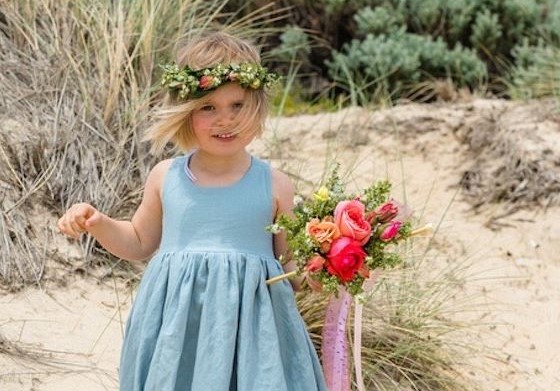 You're so close now! And while you don't have to organise your own hens or bucks party (come on you've already got enough to plan!) this is the time to delegate to your wedding party and let them know what you want.
Some couples like their celebrations to be a surprise, while others feel more comfortable giving some parameters around the evening. Whatever your choice, let your wedding party do the planning and sit back and enjoy the celebrations!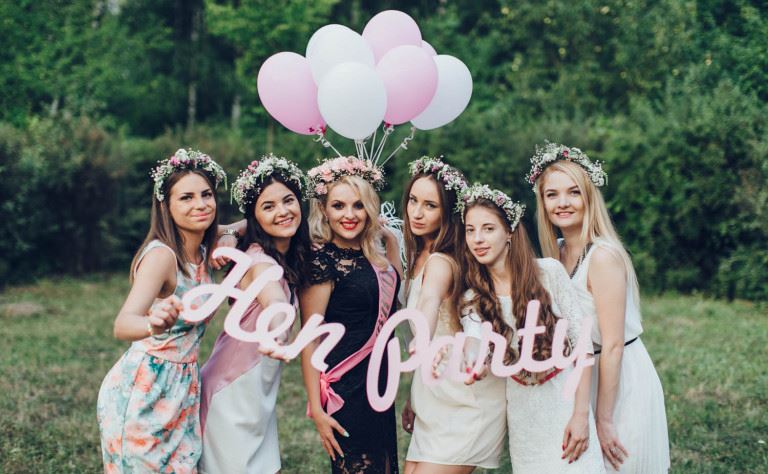 If this hasn't already come in a package with your venue look at where you're going to stay the night of your wedding. You could choose somewhere just for the night, or you might be staying there a few days afterwards to relax.
If you're getting married in a regional area it's also a good idea to see if you can get group packages for your guests. Many hotels will offer a group code that you can provide for guests to book their own accommodation if they don't want to make the journey home.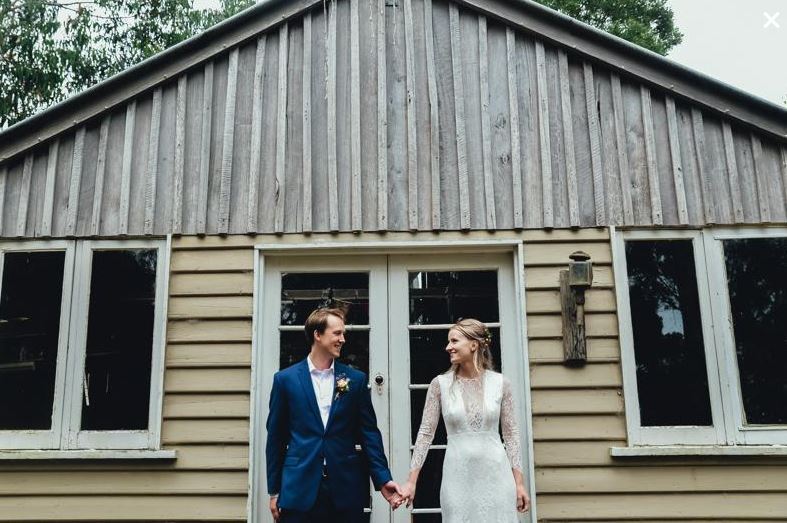 You might think this is just reserved for the wedding night, but don't just think about the decorative stuff. It's also about what is going to work with your wedding outfit!
There's nothing worse than a stunning slimline dress with a visible line, so think about what you may need to buy to pull off the perfect look.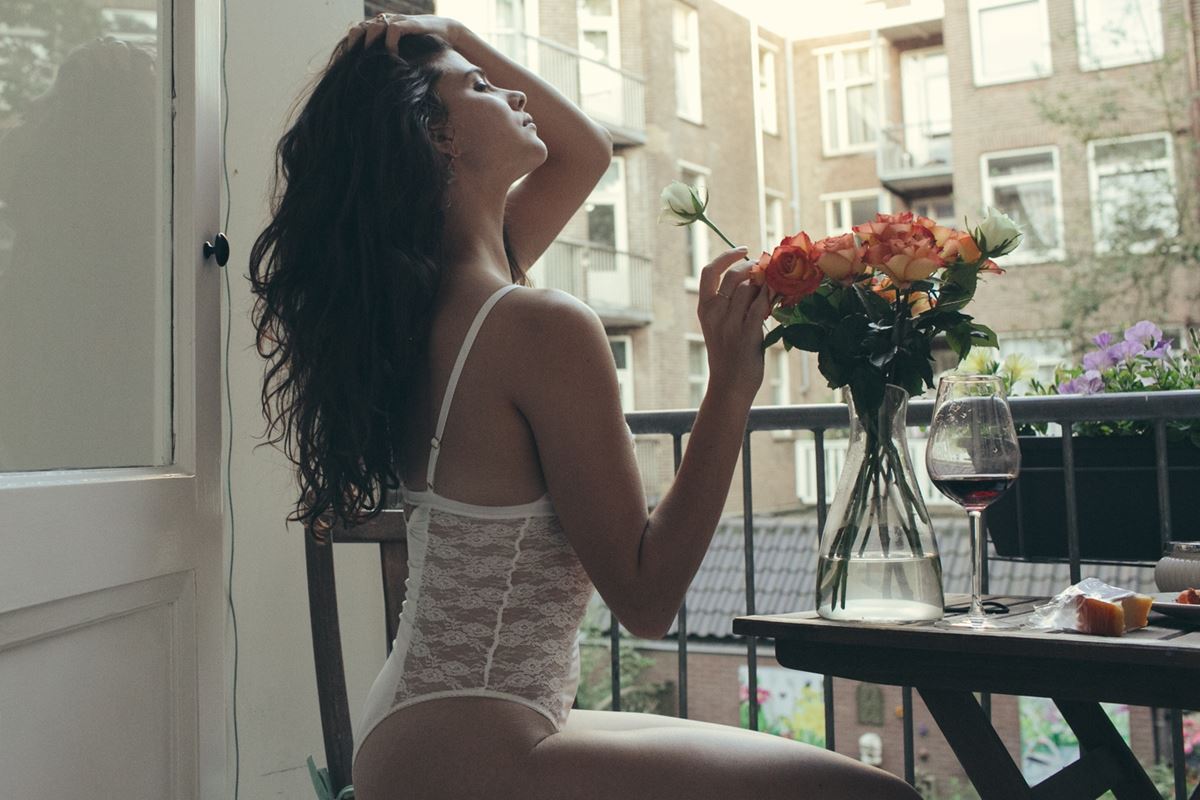 Now we're in the final stages it's time to pamper yourself. Look at whether you want to book in a regular beauty service to help you relax and prepare for the big day. Weekly facials might give you that stunning glow, while a regular massage can help keep you relaxed.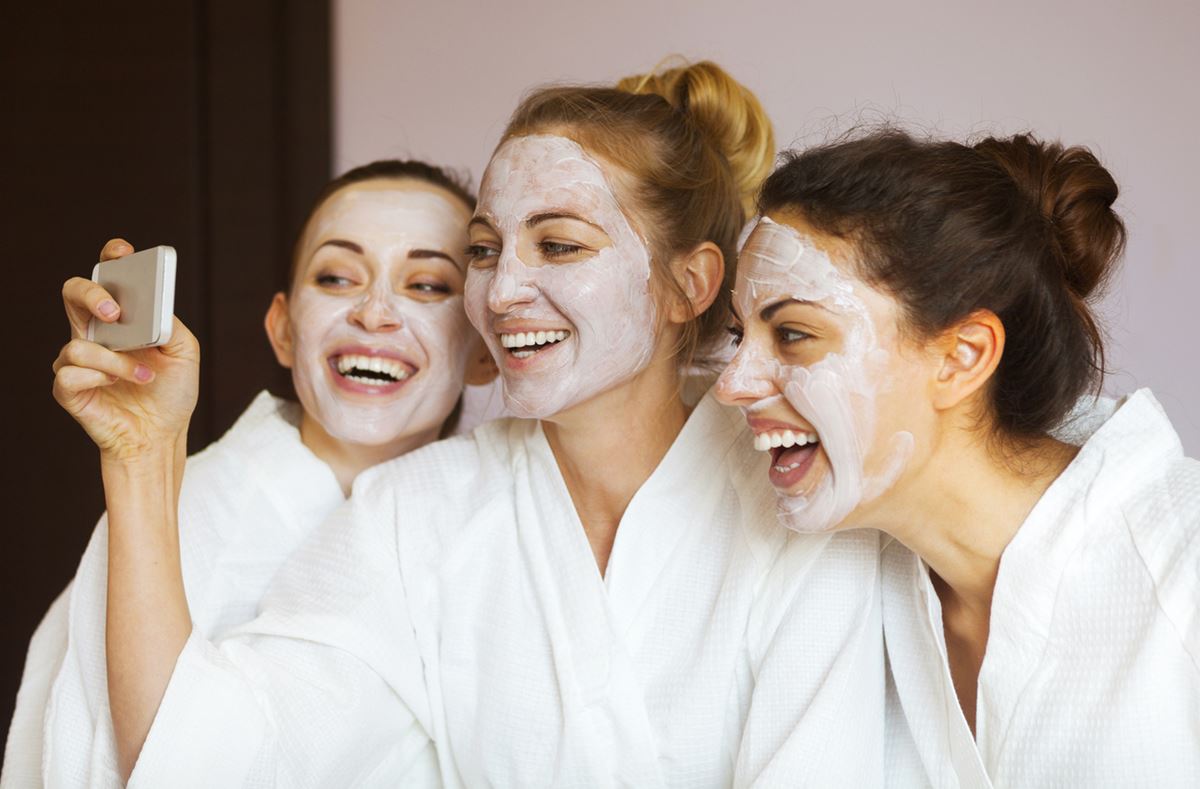 You're nearly there! This is the last item in our wedding planning guide and it's one of the most fun ones! Looking at what jewellery, crowns or general fabulousness you want to wear on your wedding is always enjoyable and will finish your planning with a fun twist.
Just remember that if you are wearing some form of headpiece or veil you might want to have it prepared in advance for your hair trial.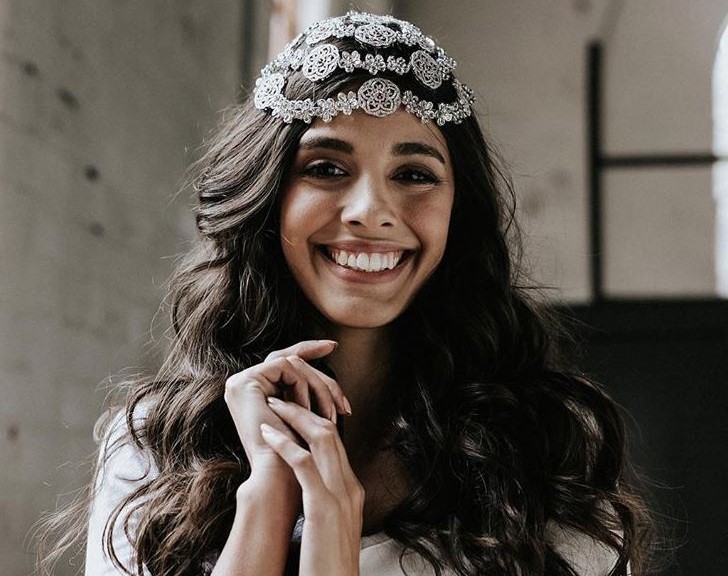 Less than 2 months to go
The final touches
The last month of your wedding planning should be for finalising the details you already have planned. Chat to your venue about wet weather options. Send out your invitations. Confirm your honeymoon details. Finalise your deposit.
By planning what you're hiring and buying earlier in your planning journey the last few months will be left to relax knowing you've planned the best wedding you can!