One thing you want to get right when it comes to your big day is your wedding music!
Your music sets the tone for your wedding day and can be the difference between having everyone up on the dancefloor or having some awkward silences in between.
We know that when it comes to your wedding music it can be difficult to decide on what to have. Should you book a DJ or a wedding band? What are the pros and cons of each?
In 2019, 65% of couples will book a DJ while 35% will book a wedding band. So we chatted with Phoebe from Phoebe and the Night Creatures to get an idea of what the difference is to help you make your own decision.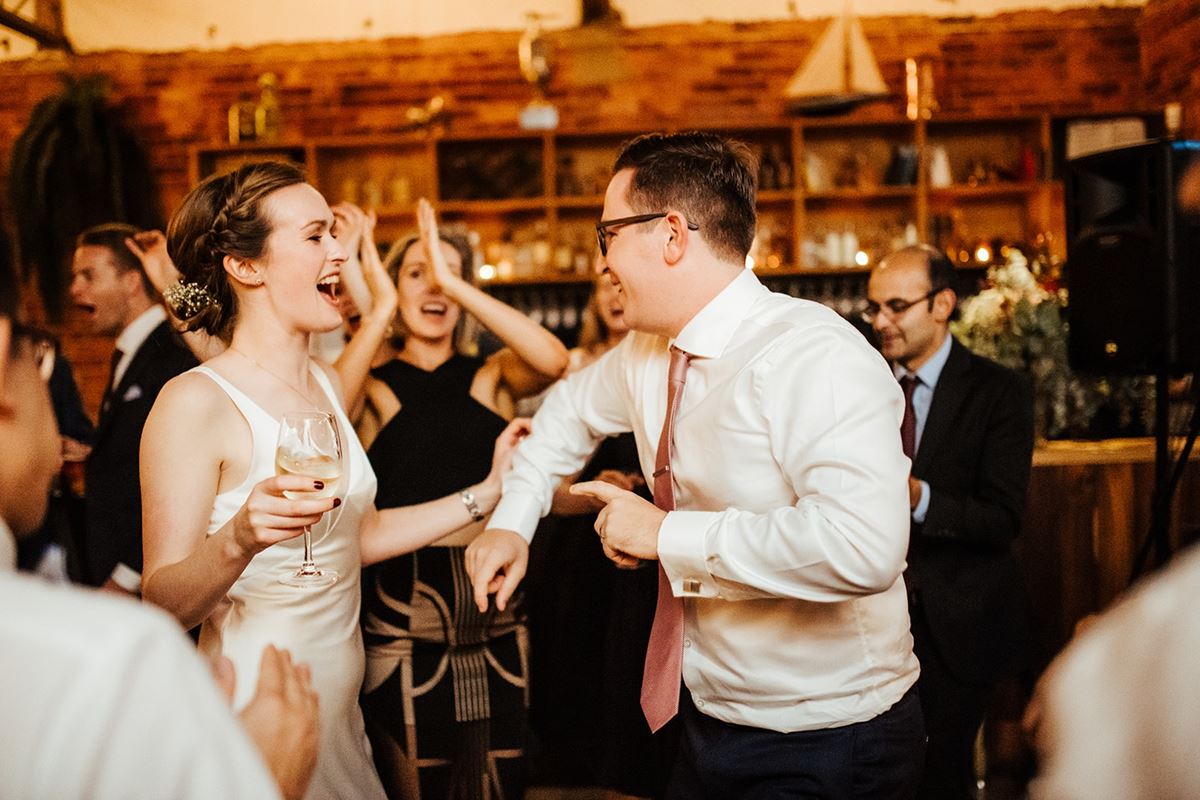 Can you request songs from a band?
It's easy enough to request a song from a DJ, but what about making requests of a wedding band who needs to actually know how to play that song?
"Every band is different but you should be able to request some specific songs," Phoebe says.
As amazing as it would be if you could pick the whole set, both bands and DJs need flexibility on the night. That means if they're playing a particular style of music, like disco tunes, and the crowd isn't digging it, they can quickly change it up and start playing something else.
This is one of the reasons why most wedding music professionals won't allow you to pick the entire song list for your evening.
"What we do is ask the couple to pick 25 songs from our song list, in order of preference," Phoebe says. "We promise to play the top 5 songs no matter what, and then we include as many others as we can."
Don't worry if you have a particular song you want to be played either, because the chances are you can ask for that as well.
"We offer to learn a song for every wedding," Phoebe says. "Usually it's the first dance song, but sometimes it could just be something that you both love."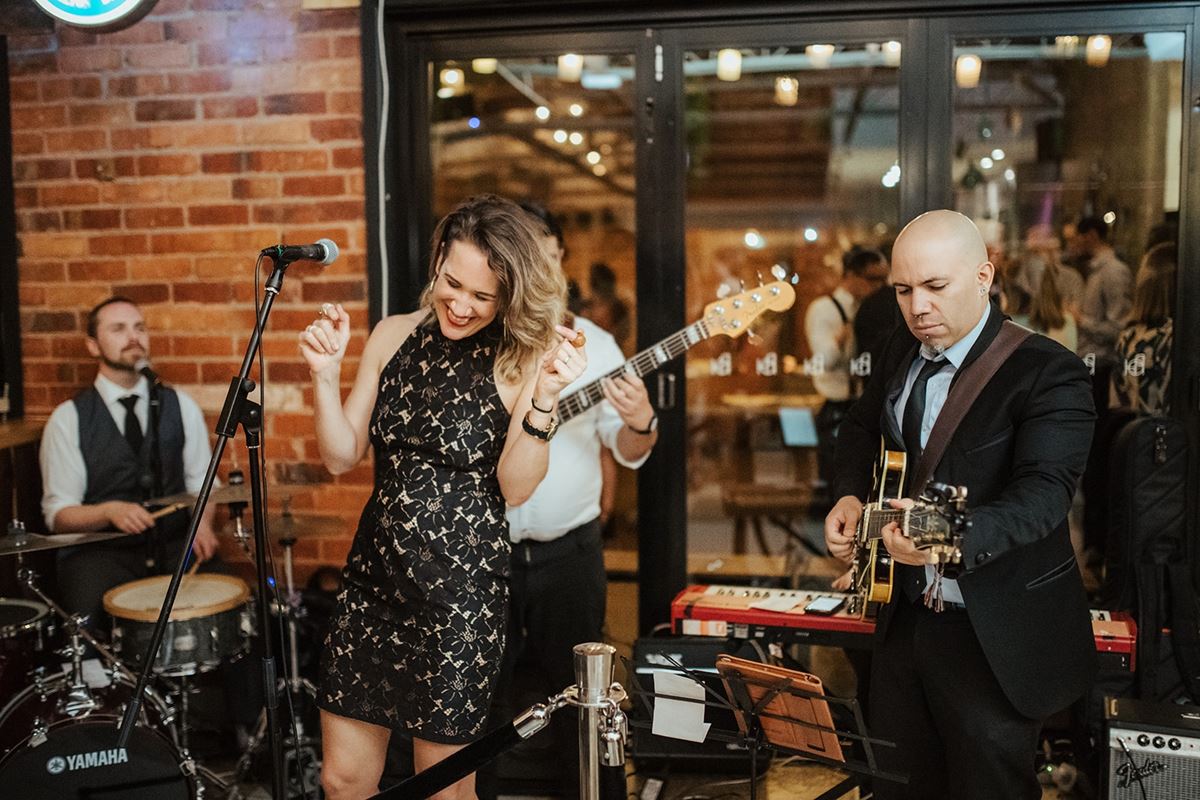 How long will a band play for vs how long will a DJ play?
"A band will usually do an instrumental set over meals, then a few dance sets with music playlists in between," Phoebe explains.
"So we are providing music all night, but we aren't playing the whole time."
A wedding band will let you know how long they play for and in what time frames they can play on your first meeting with them. A wedding DJ can play music for the entire night.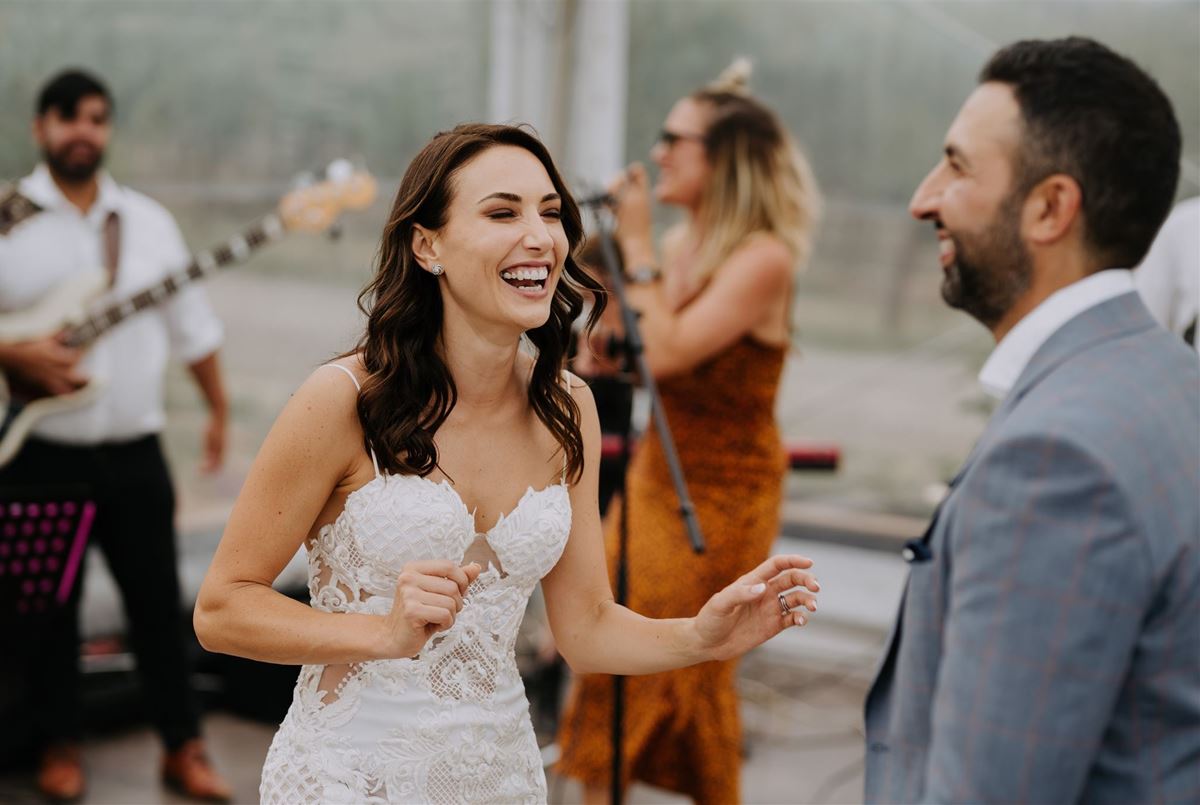 How interactive is a band vs a DJ?
"There are some great DJs out there who will get interactive with the crowd," Phoebe says.
"But if you're looking for consistent interaction nothing beats a live band in that respect. You get the vibe between the members of the band on stage and that flows into the vibe between the band and the audience."
"We can play even harder, elevate the sound even more, and make a song run longer if the crowd is really loving it," Phoebe says.
A good band or DJ will also be able to read the mood of a room and see what your guests are enjoying, or not enjoying so much. They'll then be able to play more music along those lines to keep the dancefloor going.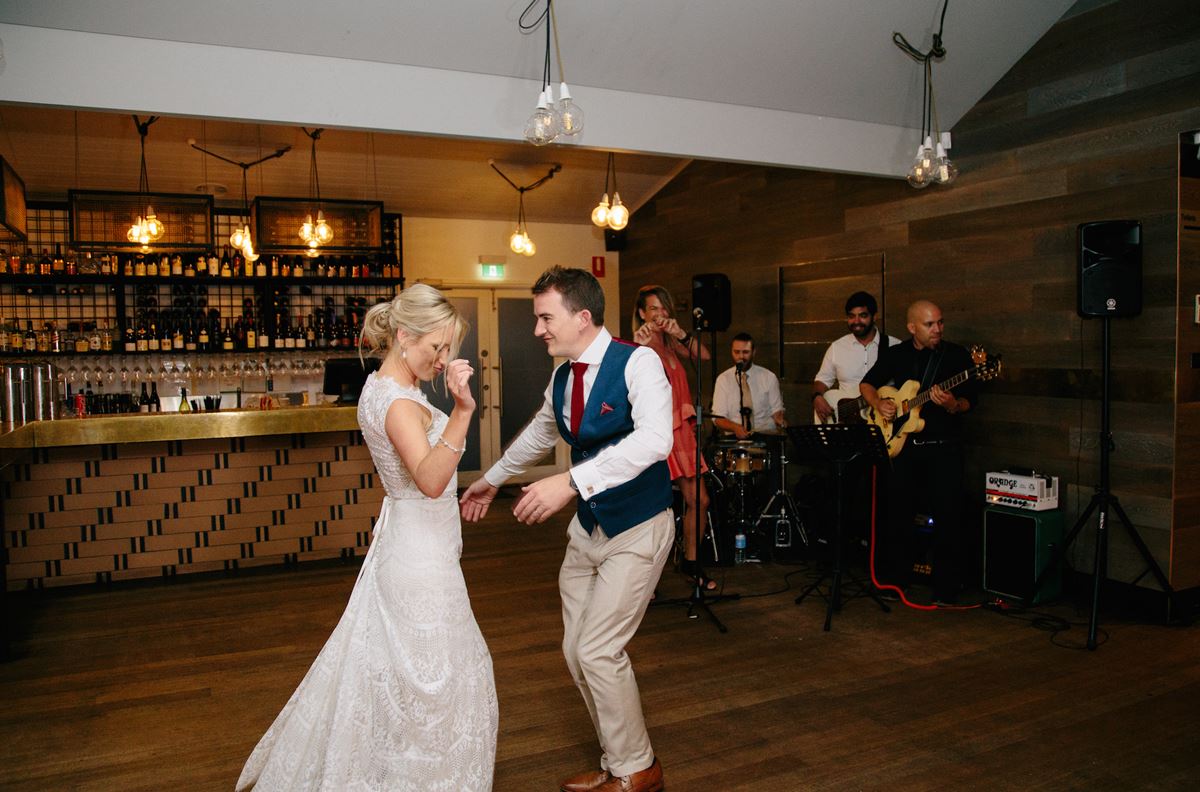 Will I get the same DJ or band on the day?
If you're booking through an agency for either a band or DJ and have a specific preference as to who you want, it's important to confirm you're booking with that particular performer.
This is definitely something to look out for when booking with a DJ agency or an individual DJ service.
When it comes to bands, while replacing a member who might be sick is understandable, you want to make sure your band doesn't have a history of replacing the entire crew.
"We know what a huge decision it is to pick the right band for your wedding and we don't want to ruin that," says Phoebe.
"Sometimes an unavailable band member is unavoidable, and in those cases, we'll replace them with someone equally as good. We also make sure that we've played with this person regularly to make sure we have the same vibe going."
Some bands will actually offer another option for your wedding if they are unavailable. This is usually made up of their stand-ins who have an equal amount of skill and experience playing weddings. Don't be afraid of losing out on quality here, these musicians have usually gone through a rigorous audition phase to make sure they are at the same quality and professionalism of a regular wedding band.
Which one should I have for my ceremony?
We speak a lot about music at your wedding reception but what about your ceremony?
"You could definitely get a DJ to cue up recorded tunes for the ceremony if you don't want to ask a friend or staff member to do it," Phoebe says. At least then you know the right song is being played!
"If your ceremony is at the same venue as your reception you could also get a stripped back version of the band to match the mood."
This is usually in the form of a duo and can be packaged up if you are having a band at your reception as well. The wedding duo should also be able to learn specific songs for your ceremony.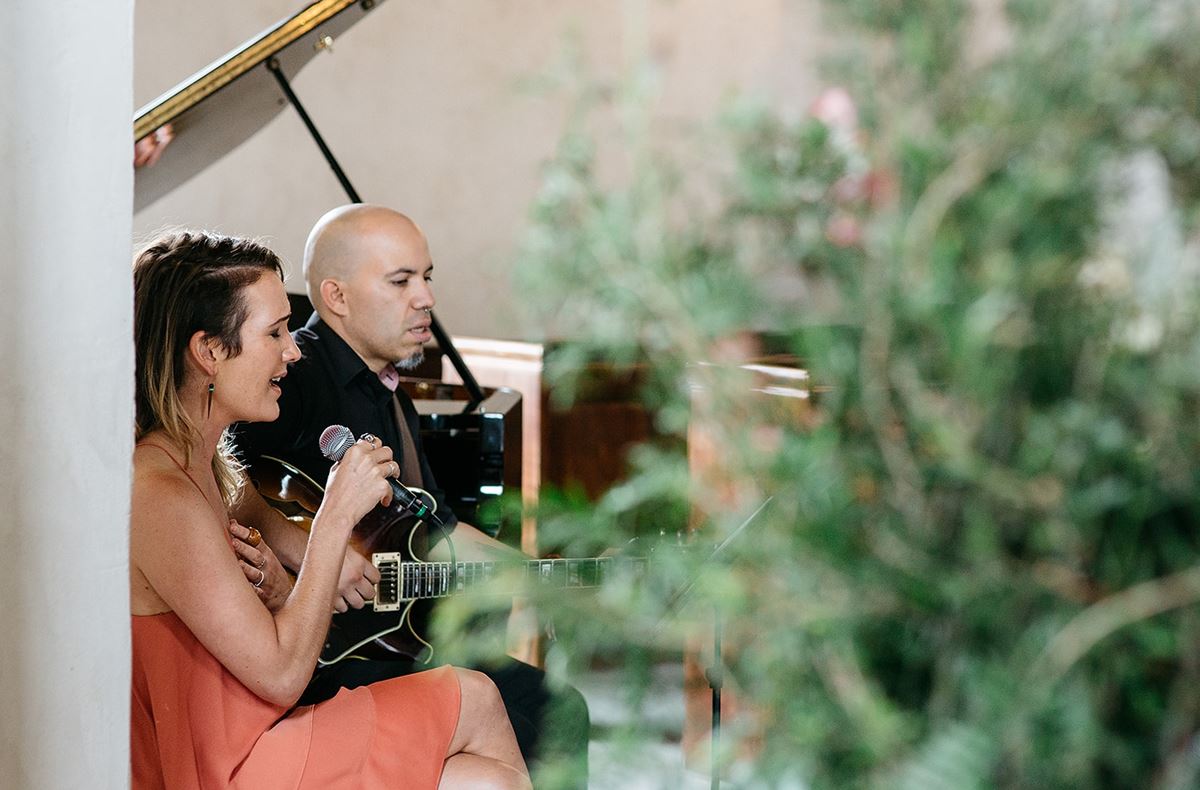 How much space or equipment do I need to provide?
If you're hiring a professional DJ or wedding band you shouldn't need to sort out any of the equipment yourself. At your initial quote, your DJ or band will ask how many guests you're having at your wedding to be able to factor in for the sound system.
"Bodies absorb sound, so the more guests that you have the bigger system you'll need," Phoebe says. "Your band or DJ should go through all of these inclusions in the initial quote."
"This will also give you an idea of the size of the gear the band or DJ will need."
As a general rule, you'll need to allocate more space to a wedding band than a DJ because there are more people and instruments involved.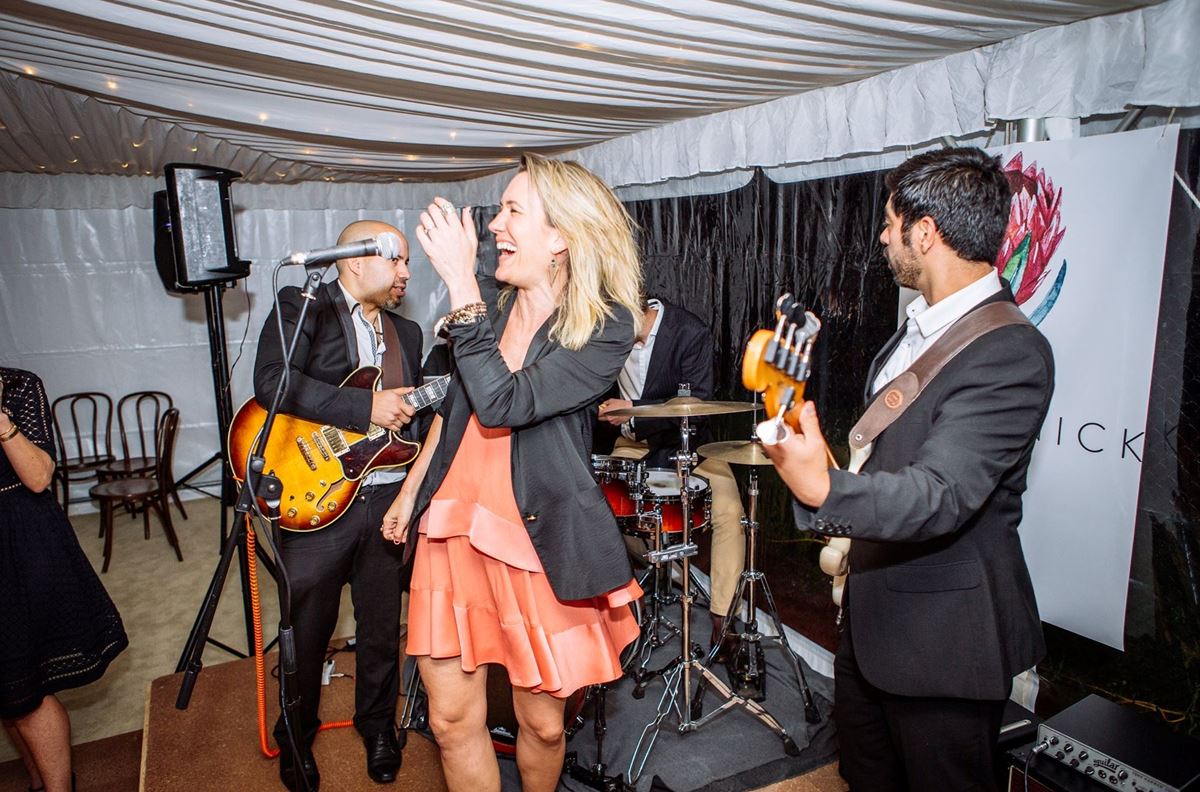 So what's better – a live band or a DJ?
"There's a reason I do what I do, so I might be biased," Phoebe laughs.
"I think that a band is always better, but the truth is both are fantastic. In the end, it comes down to what sort of vibe you want as well as the budget you have."
"A DJ is a single person, whereas with a band you're paying anywhere from two to ten people. So obviously, that will end up being more expensive."
As we mentioned earlier, a band will also have more of a vibe with your guests as there are multiple people on stage. Even if you have an interactive DJ, the chances are they can't interact as much as multiple people at once.
"A band can play as close to the original version of a song, but it will still be slightly different," Phoebe says. "Whereas a DJ will play that exact song."
"So if you do have a preference there, that's something to consider."