More and more couples are choosing to hire a marquee for their wedding reception, to be set up either in their own or a parent's garden, or in the grounds of a wedding venue such as a stately home or hotel. Marquees can offer more flexibility than most indoor venues when it comes to numbers of guests and reception layout. They also allow couples to have the outdoor wedding of their dreams, safe in the knowledge they will all stay dry if it rains on the day.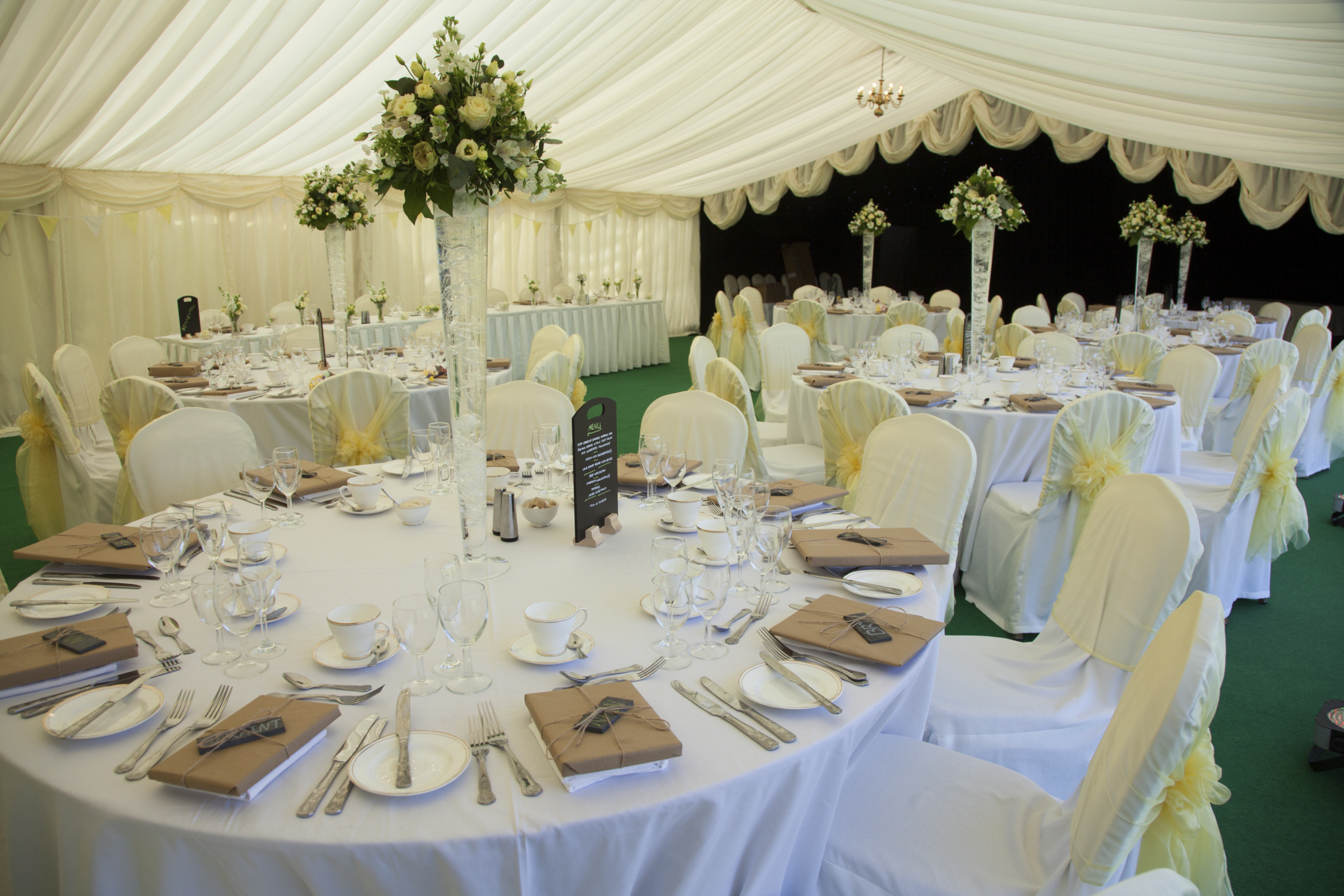 When to book your wedding marquee
When you need to hire your marquee will vary depending on the season of your wedding, but generally nine to eleven months in advance should be enough. You will need to meet with your marquee provider again a month or so before the big day just to confirm details and arrangements.
Seasonality can affect your marquee wedding
A marquee can be used successful in all seasons, but there are certain issues to be aware of with wedding hire at particular times of the year.
Perhaps the most obvious time to have an outdoor marquee wedding would be summer or autumn, but the intense summer heat can be a little overpowering, and you may want to choose an evening reception rather than a lunchtime celebration during these seasons. Bear in mind that summer is peak marquee hire season so you will need to book in advance and pay premium prices.
Spring can be a wonderful time for a marquee wedding as the temperatures are fresher, the hire equipment will have been overhauled during the winter, and hire costs will be significantly lower. However, you are at the mercy of the wind and the rain, so be prepared to spend most of the reception inside the marquee if you are unlucky with the weather.
A marquee may not be an obvious choice for a winter wedding, but when kitted out appropriately, they can be very cosy affairs. Marquee suppliers can provide heating, flooring and walkways to ensure your guests are dry and warm throughout the party.
Advantages of a marquee reception
The marquee you hire can be as large as you need to accommodate your guests and your chosen reception format. You can incorporate an area for welcome drinks, separated from the main eating area by screens or curtains. You can have a dedicated area for dancing as well as stage for the band, and an informal seating area for those that would rather sit and chat.
You can bring the outdoors indoors by having the sides of the marquee open, or raised, and by having the seating area spill outside with some parasols and an outdoor bar area.
With a marquee wedding you have more choice in catering and can choose informal arrangements such as a barbeque or spit roast, as well as the more traditional sit down dinner or buffet.
The interior of the marquee can be adapted to suit your own personal tastes, and can become part of your overall reception design. The lining and valance of the marquee can be coordinated with the chair covers, table clothes and wedding flowers. Lighting can be used to create interesting effects on the marquee walls and ceilings if you are having an evening reception.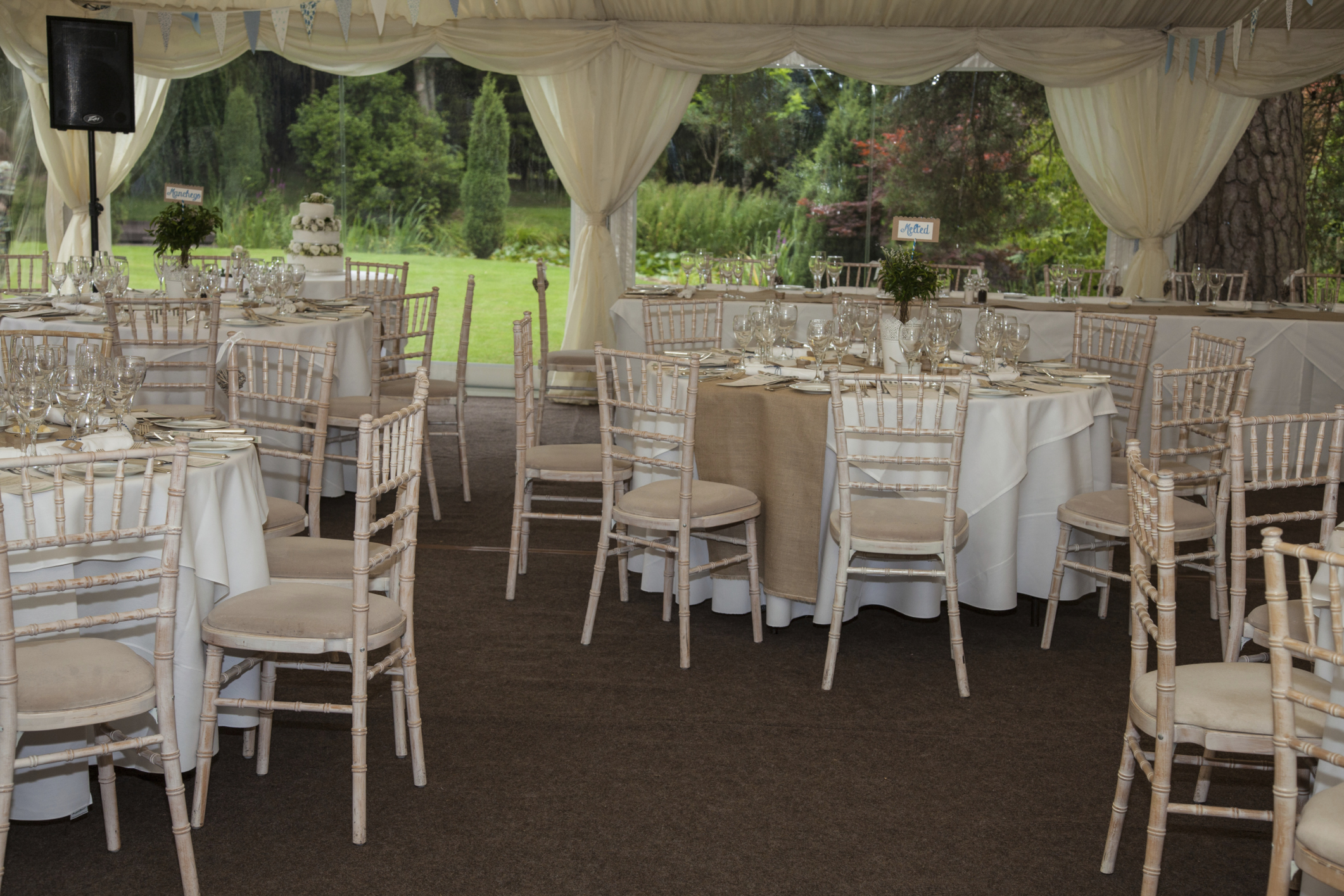 Choosing your wedding marquee supplier
Do a little research before you start talking to marquee suppliers. Look online, and in magazines to get some ideas about the type of look you are after so the supplier has something to work from. You will need a rough idea of the number of guests you are inviting, the type of facilities you want your marquee to have, whether you want a daytime or an evening event, and the general budget you have available for marquee hire.
Most marquee suppliers will be happy to tailor their standard packages to suit your needs so don't be afraid to ask for something they haven't offered, or to speak up when you don't think something is necessary. The more information you can give the supplier about what you want the better.
If you have special ideas about how you want your marquee set up, or different colours and design options, discuss these with the various marquee providers, they should be able to give you sound advice on what is possible and come up with suggestions and alternatives.
Ask to visit the supplier to check out chairs, tables, decoration colours and interior fabrics. If possible you want to be able to see the actual marquee you will use set up and ready for a wedding reception or other function.
Check whether you supplier has a back up team including electricians that will be on call if there are any hiccups during your wedding reception. You don't want your guests to be left standing in the dark with no music to dance to.