We love beautiful weddings. And we love being able to host beautiful weddings! So when it comes to getting your theme and colour scheme down pat for your wedding, every little feature counts.
There are a lot of different details that go into making an aesthetically beautiful wedding. This doesn't just come down to the styling and design on the tabletops and chairs, but also to what sort of backdrop you have for your day.
You might choose an old heritage building or a rustic farm that has a gorgeous natural backdrop, or you might decide to go down the more industrial route and manufacture a gorgeous setting that is unique to you.
Whatever your style, here are some of our favourite modern wedding backdrop alternatives to make standing side-by-side that much more beautiful!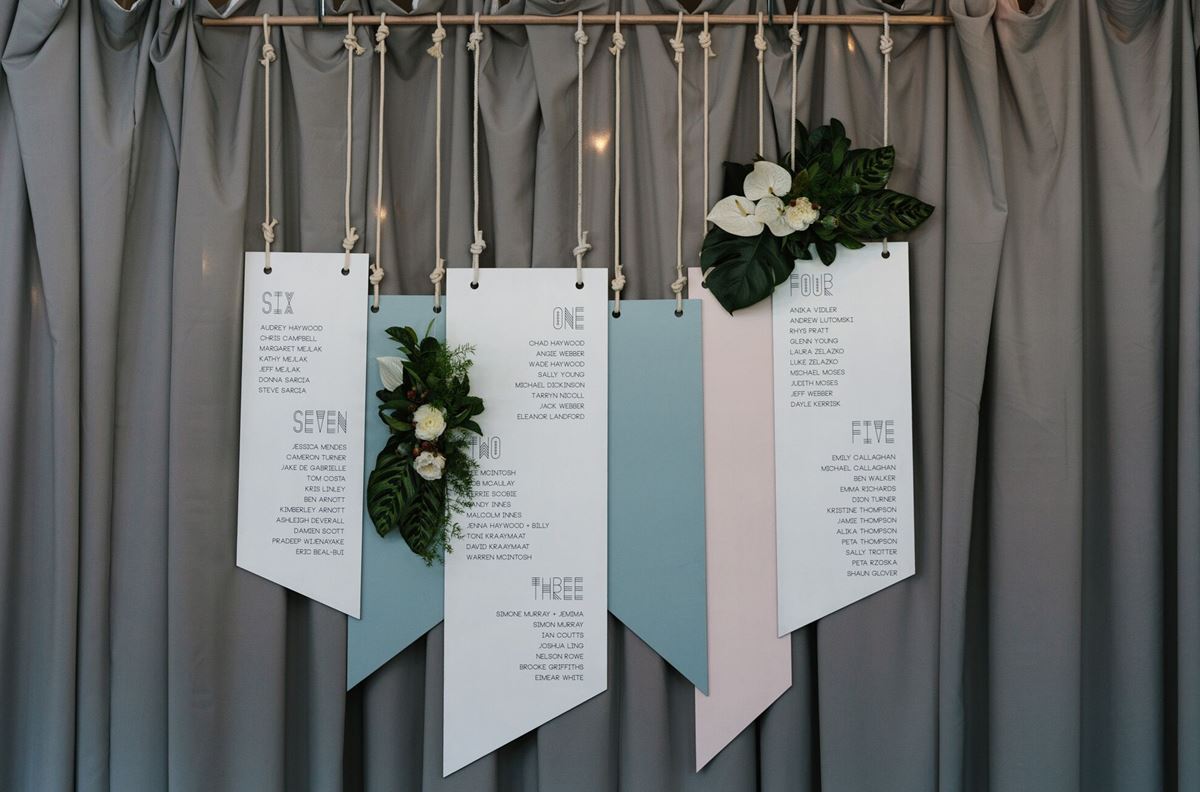 Draped linens
Often when you think of draped linen it can be hard not to think of old-fashioned tulle tied around every nook and cranny. But that doesn't have to be the case! Lighter more breezy fabrics are becoming more and more popular for different settings of your wedding, and they can do a great job of creating a clean slate for you to design off.
Of course, the benefit of having a draped cloth means that you can not only make a beautiful backdrop, but you can also cover up an ugly one! So if you're not 100% on the backdrop of your venue, it's easy to manufacture something that is a bit more your style.
Fairy lights, florals and mixed metals can work really well against the blank slate that is a clean, draped design. They can help give your wedding a more elegant or luxurious feel, as well as make your day feel that much more romantic. They're also perfect for designing both outdoor and indoor venues, to either doll out a blank space or work with the natural light that will shine through the cloth.
We love this glam drapery design by SAS Events with its metallic features and boho-inspired florals giving it an elegant modern charm rather than a traditional aesthetic.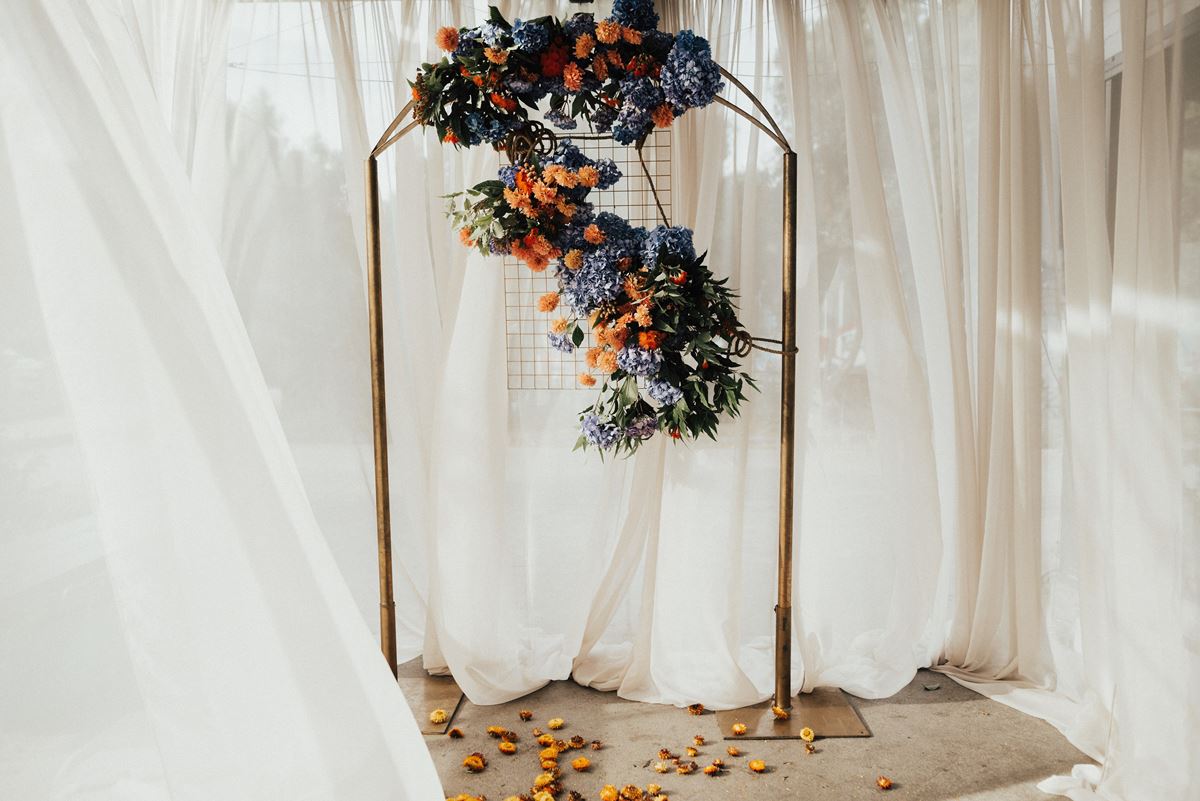 Rope and macrame features
Flying the boho flag at the moment are macrame and woven rope features. Considered a little more luxe than its rustic cousin twine, rope features can be a great addition to your wedding day aesthetic and are really versatile for what you want to do. They're also very complementary to many of the most popular wedding themes at the moment, particularly with boho-chic weddings become more popular across 2018.
You can have roped greenery, dream-catching macrame or a dazzling roped lighting feature depending on whether you're having a rustic, boho or contemporary wedding.
Ceiling features are also very popular at the moment, giving you more and more room to play with than just the traditional wall display. You can have an elegant wall design with roped centrepieces falling from the ceiling to create an elegant and romantic feel to your day.
You'll particularly love the way that different rope designs can create different aesthetics and themes for your day, whether you stick to one or experiment with many. You can have an incredible boho corner with draped macrame, while an indoor greenery roped design can give your wedding that more industrial feel.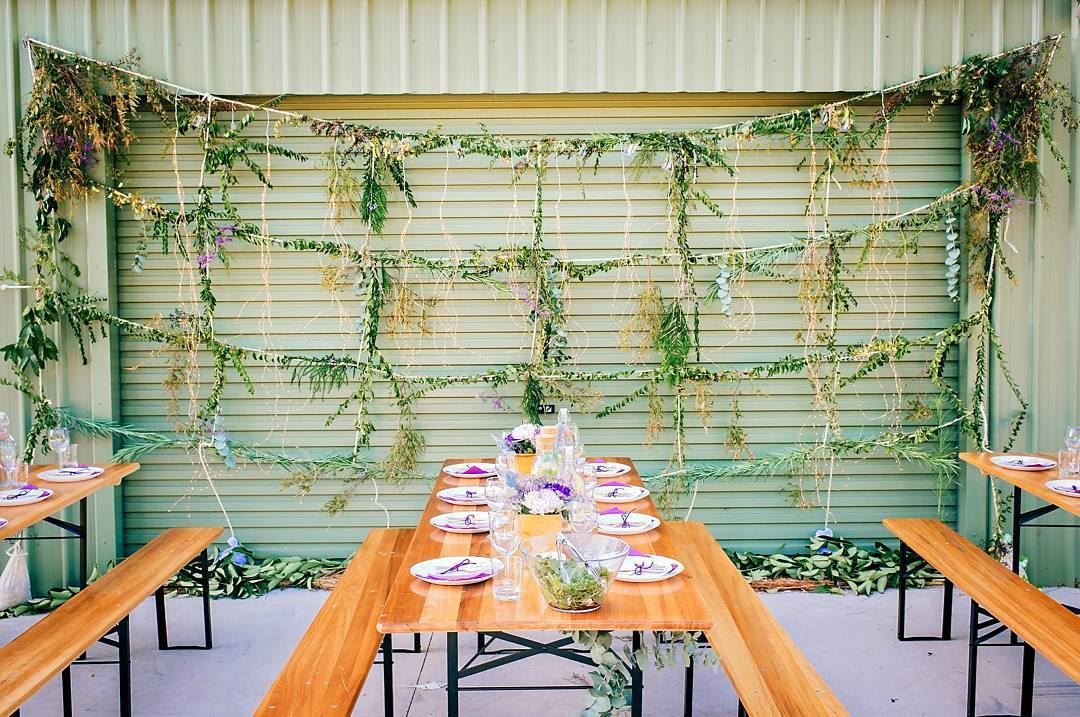 Circular designs and hoops
Give us some hoops and circles every day of the week! Circular designs are taking over in 2018 and your wedding backdrop is no different. We love the way that these designs create a real 'circle of love' feel while also making your wedding look A+ on the decor front.
The best part about circular designs is that they're also so versatile for what you're after and what sort of wedding you're hosting. Contemporary and luxe weddings might go the route of having a lot of hooped metallic and floral features on the walls, while a romantic garden wedding can have a circular archway rather than a traditional arch.
A lot of personalised signs are also available in circular designs now too, which means that you don't have to go too full on with these sorts of backdrops. A bit of circular signage here and there will give your wedding a really nice backdrop without reminding your guests of the circus.
With squares and rectangles still the traditional go-to for most wedding decor, we love that circular elements are becoming more accessible to give you a unique element to your wedding without going too extreme.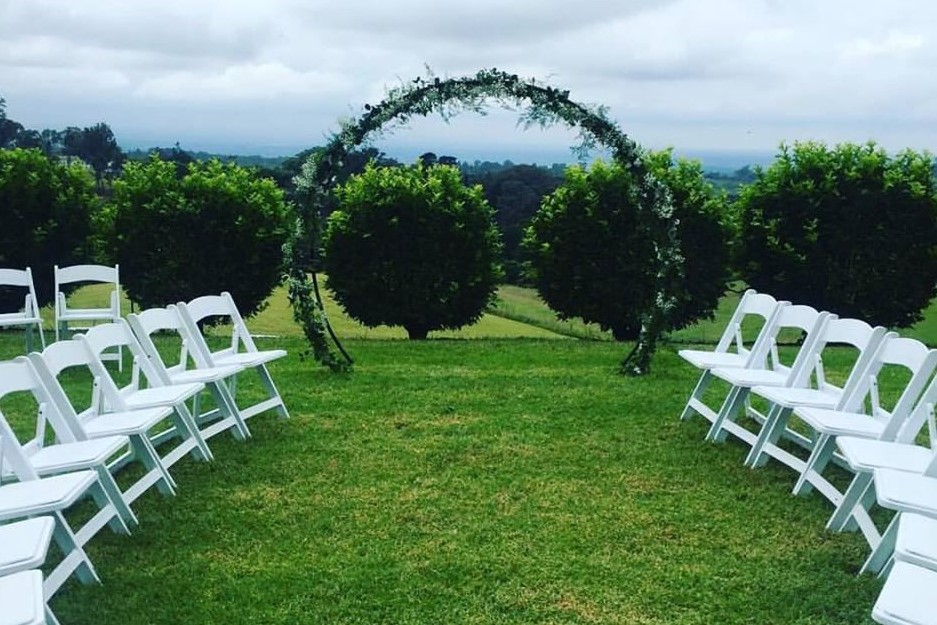 Elegant balloon features
While flower walls were a popular feature a few years ago, balloon walls and arches are now the trends to have! And as long as we're no the ones blowing them up, we love the playful and elegant feel of a good balloon backdrop.
Again, this is one trend that is versatile to a lot of different colour schemes and will go perfectly with your industrial or romantic wedding theme. You can have a really clean design with just a few (excuse the pun) pops of colour, or you can go all out with a coloured extravaganza. Just remember that sometimes less is more when it comes to theming your wedding and your colours together. Our favourite look is a few gorgeous metallic features in your balloon display alongside some more matte neutral colours.
The added element of different sized balloons give an additional 3D aspect can make the design stand out even more, and with a rise in luxe and contemporary elements, it's no wonder that these backdrops are growing in popularity.
Just make sure that your young, or young at heart, guests don't get too excited during the event and get too close to your balloon feature with hair pins!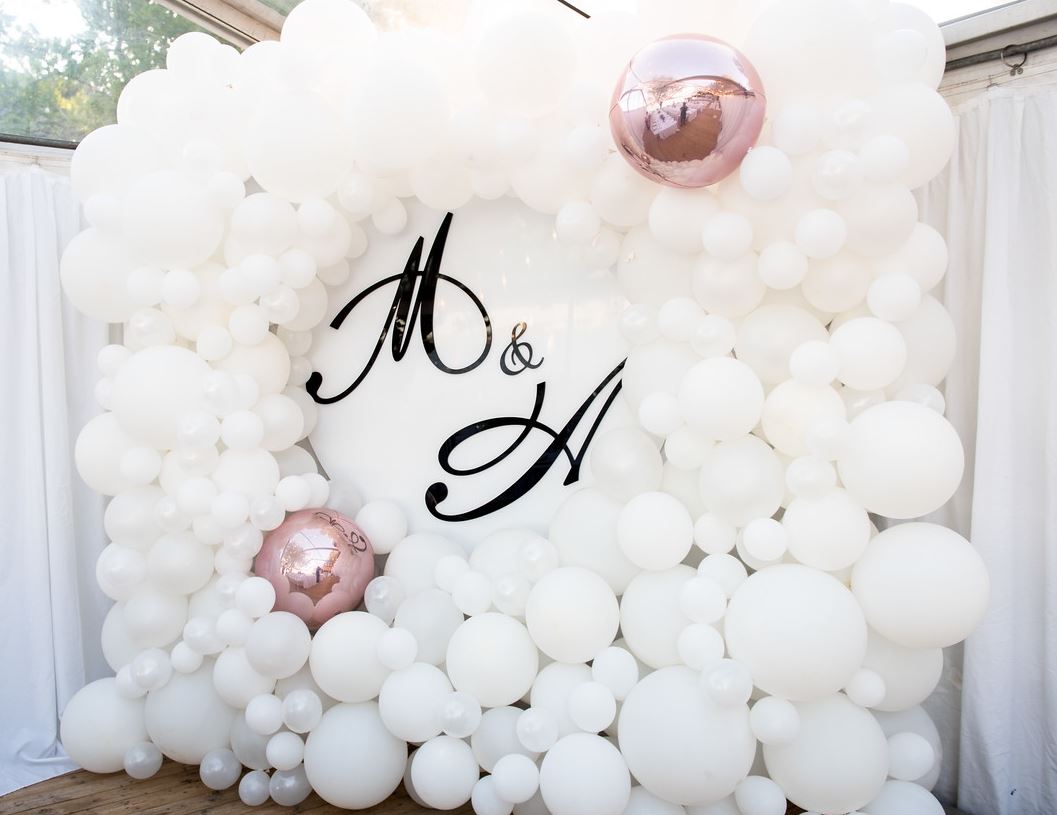 Geometric centrepieces
We're big fans of adding a unique element to your wedding and we love geometric designs, so adding geometric backdrops to your day is a big yes in our books!
Not only will your photos look amazing against your geometric backdrop, but it will also give your wedding that added pop for your guests to remember it by!
We particularly love this geometric setup from Wallflower Events. While seating and arches are popular features in modern weddings, this clean and floral design really helps the setting stand out to give the ceremony a really unique feel.