One must have for your wedding day is a beautiful photograph of you and your new husband. As well as being one of the most significant days of your lives, you will both be looking great, so it's just too good an opportunity to miss. If you are hoping to get something a little different for your wedding portrait, here are seven unique wedding photography ideas for the classic bride and groom photo.

Use your wedding venue
If you are getting married at an unusual wedding venue such as a golf club venue or winery, try to incorporate this into your bride and groom photos. Imagine a shot with the two of you teeing off at the first hole, or sipping a vintage Shiraz perched on a barrel in the wine cellar. Whatever your wedding venue you are sure to be able to find a quirky aspect to use in your wedding photos.
Try unusual angles
Make full use of your photographer and don't be afraid to ask them to take photos from usual angles. A great idea is to have your photographer right under your cake as you are cutting it so it looks as though the photo is taken from inside the wedding cake. If there is a way for your photographer to be looking down on you during the ceremony, the exchange of rings looks wonderful from above.
Add a touch of Hollywood glamour
There is a huge trend for glamorous photo shoot style wedding pictures, and many brides are hoping for the type of photos you see in glossy magazines rather than more traditional bridal poses. Think attitude and pouting into the camera rather than gazing lovingly into your husband's eyes.
Forget it's your wedding
For something really different, try to get a photo of you and your new husband all dressed up for the wedding but doing something totally non wedding related such as doing the washing up, getting some shopping, or waiting for the bus. These types of photos are unique, with a touch of humour, and show a lighter side of the wedding day.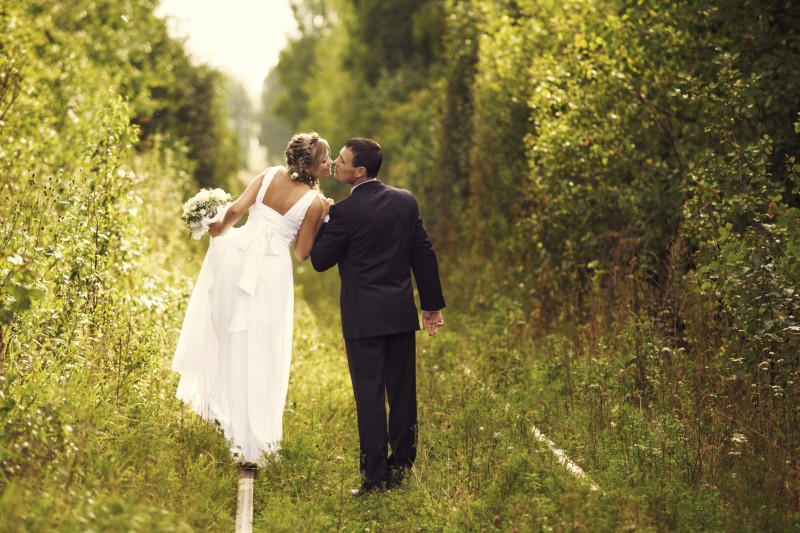 Let something else take centre stage
Try having your photographer take a photo of something other than the two of you, but just catch you in the corner of the picture. It could be your wedding venue, your wedding car, or even a group of wedding guests at the centre of the photo, but the two of you should be happily kissing in the corner as if blissfully unaware that there is a camera pointing at you.
Get moving
Action shots are very popular and movement adds energy to your wedding photos. Whether you are dancing, jumping, or being thrown in the air by your groom, action shots are becoming a popular alternative to static portraits. Action shots also work very well for group photos of the bridesmaids or groomsmen.
Mix photo media
Photo technology has made all sorts of special effects possible, but for a simple, elegant, and fashionable portrait, have your pictures printed in black and white with just a couple of coloured features such as the bouquet and the groom's boutonniere.
---
80% of Australian couples use Easy Weddings to connect with their dream wedding suppliers.
Browse the directory and start planning today!