Making sure you are happy with the way you look in your wedding photos is crucial for most brides; after all most couples have a bride and groom picture smiling out at them from the sideboard for the rest of their days. Your wedding photos will also be a major expense so you want to be sure you are happy to show them off to your friends and family.
Here are some of the ways you can make sure you look great in your wedding photos:
To make sure a double chin doesn't ruin your photos, make sure you keep your head held high. This will also give your jaw definition and make you appear more confident. If keeping your chin up makes your neck ache, try leaning forward a little instead to achieve the same effect.
Think what to do with your hands. Fiddling with your dress or hair can spoil your pictures and make you look nervous. Try to keep your hands hanging loosely by your sides, otherwise hold a clutch bag that complements you dress or hang onto that bouquet!
Keeping a fixed smile in place can make your jaw ache, and can begin to look false after a while, but you can't look sulky in your wedding photos. A great tip is to push your tongue against the back of your front teeth to keep that smile bright and natural looking.
Avoid heavy fake tan which tends to look flat in photographs and can come out orangeier than it looks in natural light. Pink and red tones are picked up by the camera so use a foundation with yellow tones to balance out your complexion.
Choose your dress colour wisely. You may have dreamed of that pure white wedding dress but some skin tones just look washed out next to white. When you go dress shopping get someone to take photos of you in a variety of whites, creams, and ivories, and take a good look at the results before you make your final decision.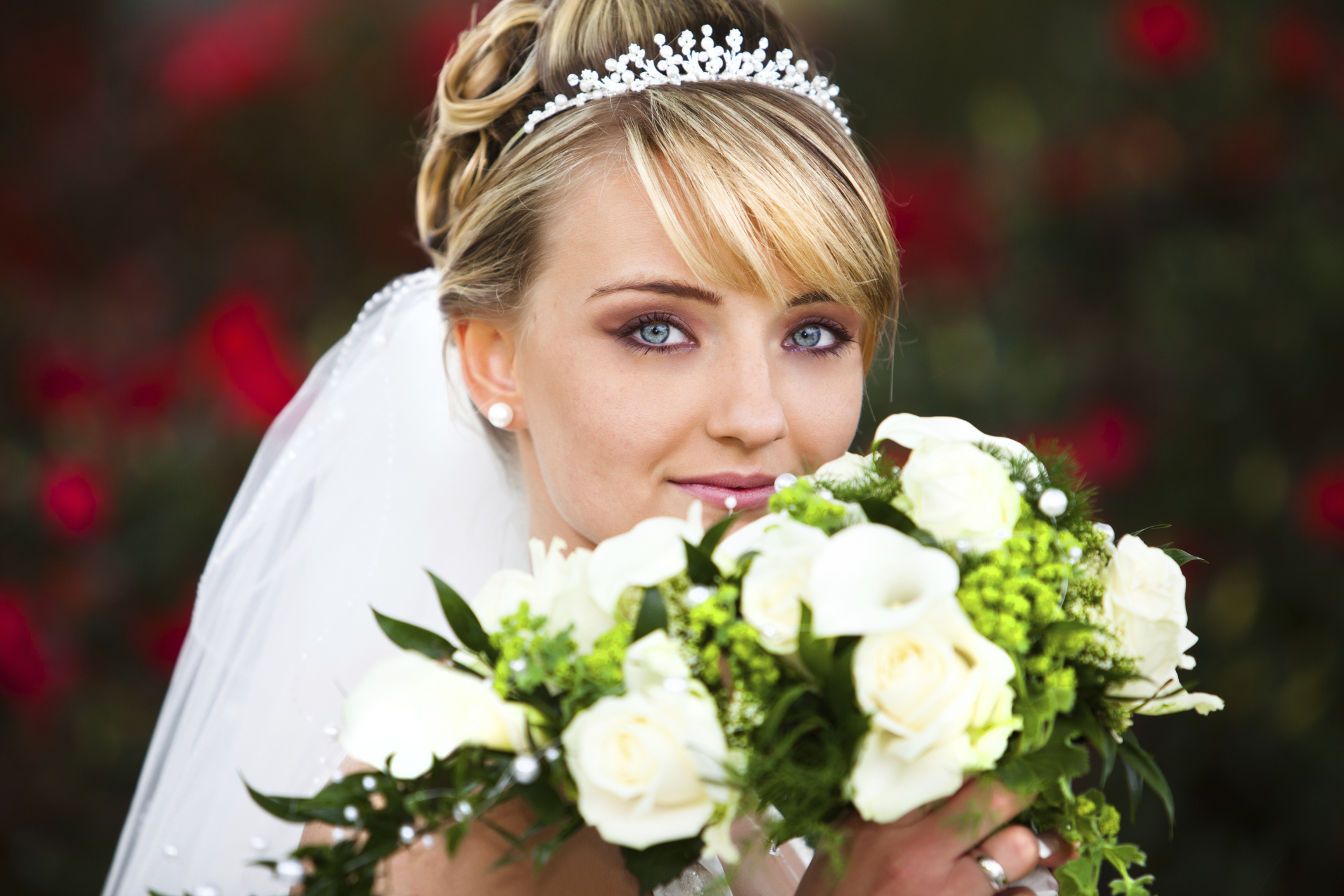 You may feel silly perfecting your wedding photo pose in front of the mirror, but a little practise will pay off on the day. Every bride is a different shape and various poses will accentuate our best features. Try turning your body slightly to the side and just turning your head and shoulders towards the camera, or standing with one foot in front of the other.
If you are wearing a veil with detail such as beads they can look like spots on a photograph. Ask someone to take a photo of you in your veil beforehand and if you are worried about the effect make sure you fold it back for the crucial pictures.
Some people just aren't comfortable posing for formal photographs, and despite your best efforts you can end up looking stiff and uncomfortable. Make sure your photographer takes some reportage shots of you mingling with your friends and family; often the natural pictures of you laughing and smiling are the best in the end.