We recently caught up with the wonderful Sarah Levett from Sarahmonial Services Sydney to chat about all things wedding ceremony related. Keep reading to discover her tips for finding the perfect celebrant and crafting a memorable ceremony.
Sarah Levett from Sarahmonial Services is a warm and engaging Sydney celebrant and MC with a knack for creating beautiful, personalised wedding ceremonies. As a former radio host, Sarah has years of event and MC experience, making her a wonderful choice if you're after a charismatic celebrant with effortless storytelling skills and a great sense of humour.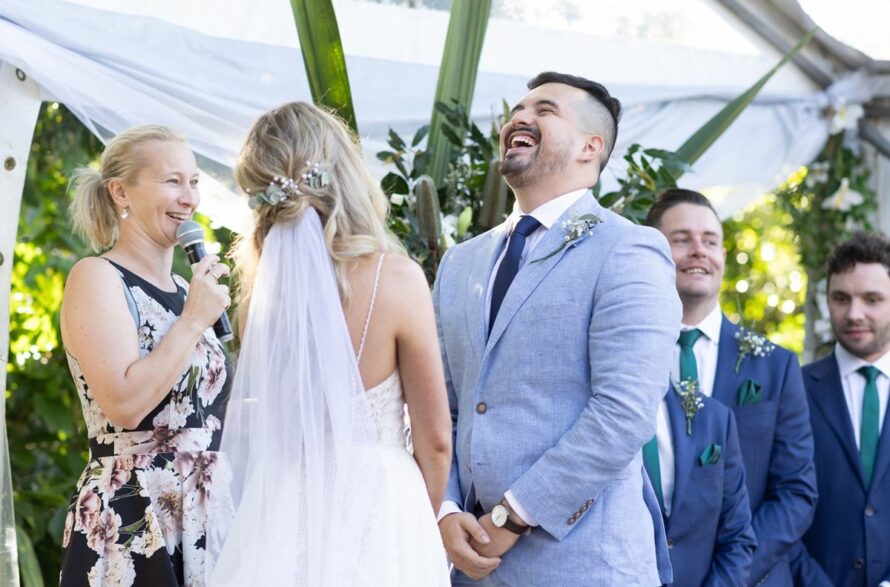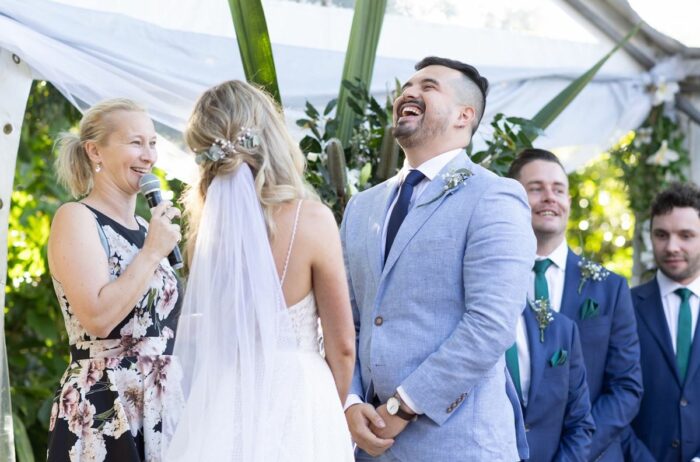 meet Sarah
---
Easy Weddings: Hi Sarah! Tell us a bit about yourself and why you started Sarahmonial Services.
I am a big romantic. I love love and being able to celebrate people and their unions. I also love people and their stories. I thought it could bring all my skills together in one. And I could help people create the day of their dreams. It's such an honour!
How would you describe your celebrancy style? What sets you apart from other marriage celebrants?
I have always had the ability to help people feel at ease. I know how to remain calm when others may not be. I also bring humour if that is what people desire. And I have lots of experience in being on stage and know how to read a crowd and deliver. I also have years of experience in event planning and as an MC, so I can bring all of the above to couples in one package.
What do you think are the key ingredients for a unique and memorable ceremony?
Personalisation — making sure it reflects the couple and their vision. Being authentic and open. Music is important, of course too. Location. All the elements coming together is what makes it. I am only one part of it. But at the end of the day, LOVE is the overriding energy of the day! And the coming together of two people. And having the people they love celebrate them.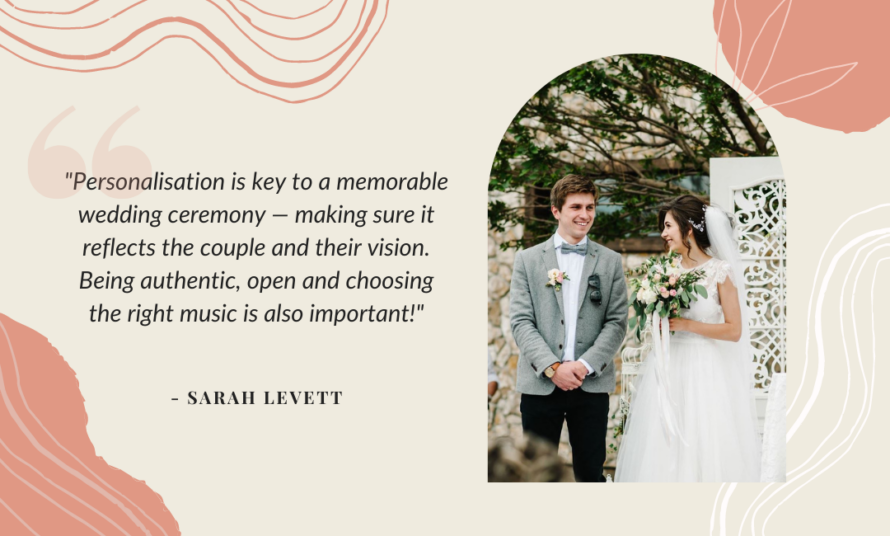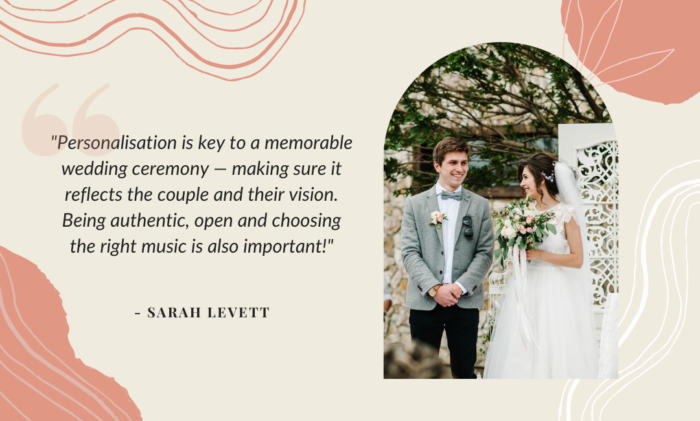 read Sarah's glowing reviews
What should couples consider when searching for their celebrant?
Feeling it's a good fit. I won't appeal to everyone, and that's okay. Just like all the other aspects, you need to shop around. And have the "that's the one" feeling.
What do you enjoy most about being a celebrant?
I love meeting people and being able to help couples achieve the ceremony they desire. The celebration. It's such a joyous time. The energy is always amazing!
Do you have any advice for couples writing their own vows?
This may sound cliche but speak from the heart, prepare, and look into each other's eyes. There is no right or wrong with feelings and expressing your gratitude. Take your time to write and deliver your vows.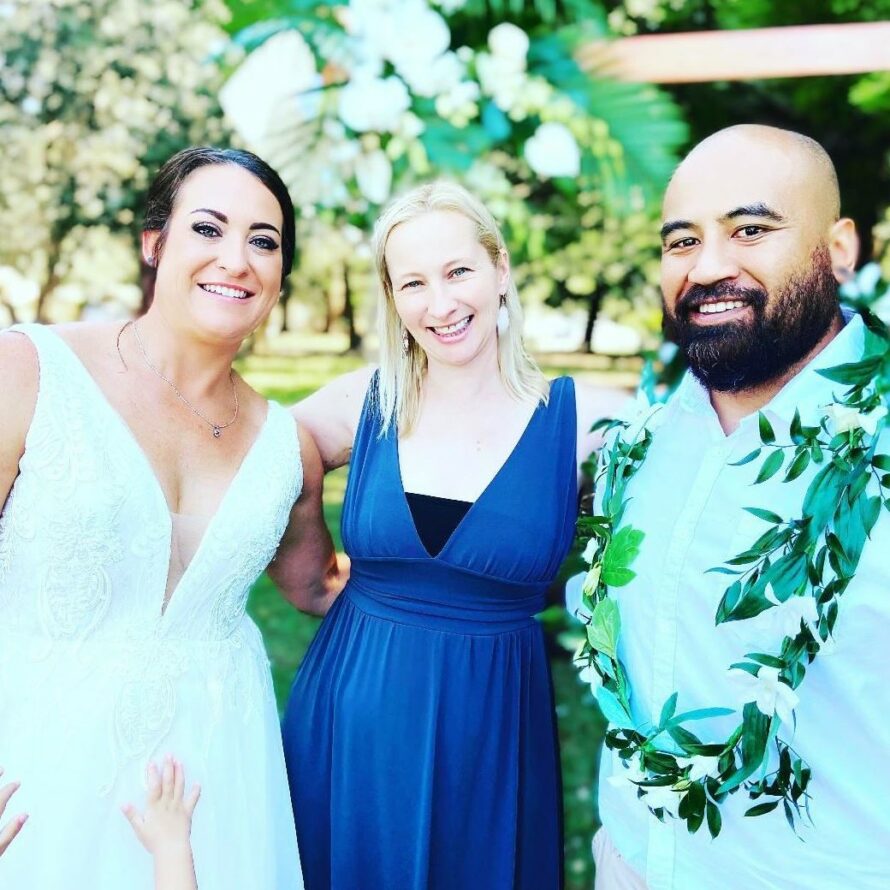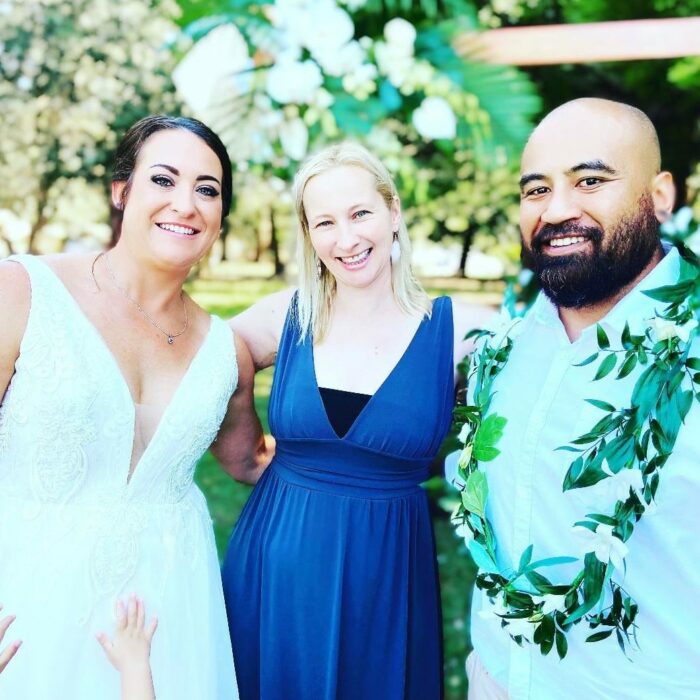 We've heard you're also a pretty awesome MC! What does this involve?
Thanks. I do enjoy it! It's more organic, and you have to be flexible and adaptable. My years of comedy taught me that. Listen, observe and be ready to let others shine. An MC is about driving the show/ceremony! Not being the centre of attention or being the one to shine. You need to let the couple and their family shine. Or the audience. You are the facilitator of making it run smoothly and on time. And helping everyone else shine and relax.
I always focus on keeping the energy up and reading the room. Knowing when to step up or step back. And if you have confidence, so will everyone there. It's lovely as you really get to know the couple when you can do both. I like being able to see the whole day through. To share in all the excitement and celebration as I learn more about them through the eyes of friends and family.
---