From detailing how to get healthy, luscious locks to divulging your best skincare secrets, when it comes to helping other brides feel and look their best, you guys did not hold back.
The Easy Weddings social team recently asked our loyal followers a bunch of beauty and wellness-related questions on our Instagram, all in the name of Very Important Journalism. We asked brides how they get healthy hair, how they feel better when struggling with body confidence, and how to get a good night's sleep – especially the night before the wedding. So, without further ado, here are the tips and techniques from real brides you're going to want to know in the lead-up to your wedding.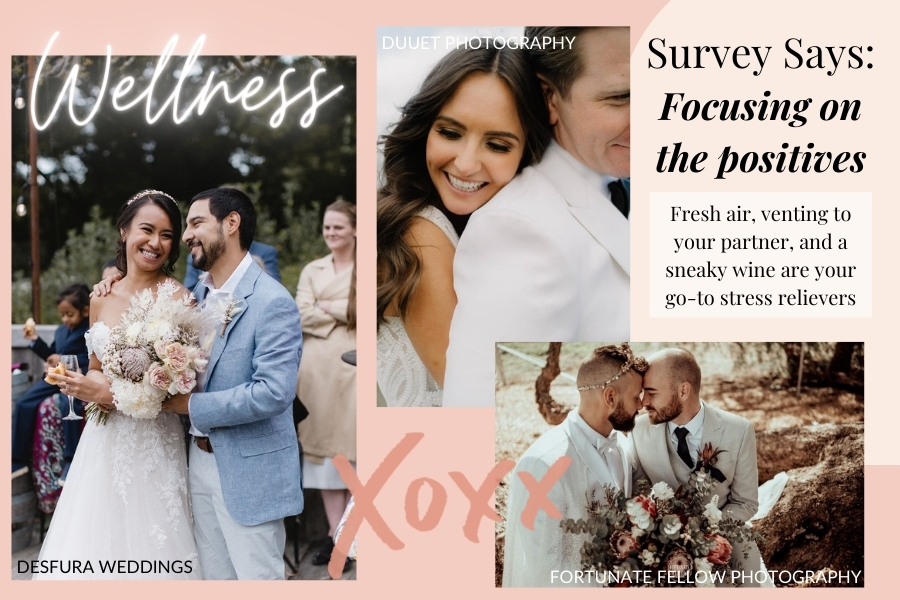 Wellness.
How do you get a great night's sleep?
Calming tea, white noise sounds, meditation. Write down thoughts so your mind isn't overwhelmed
No screens one hour before bed and read a book
Breathing exercises before bed to help me relax
Wind down by reading a physical book (no screen time) and a consistent sleep/wake up time
1-2mg of melatonin, and a screen dimming/blue light filter app for your phone at night
Magnesium and a warm shower before bed
Magnesium oil, silk pillowcase
Pssst. The above ideas work for the individuals who suggested them, but when it comes to health, the best advice you'll receive is from your GP. So, if you're seriously struggling to get some shut-eye, please consult a healthcare professional for assistance.
For brides struggling with body confidence, what are your best tips for loving and appreciating your body as it is?
Buy clothes that fit you and make you feel confident, don't try to force-fit into small sizes
You are beautiful as you are and your future husband/wife is so excited to see you in the outfit you picked
Remember, your body is part of you and your story and everybody is so, so beautiful!
Following diverse body types on Insta, not just skinny influencers
Love the features you love. E.g. if you like your eyes, love your eyes
Unfollow people on socials that highly edit their images
Get a dress that suits your body shape and make sure you feel comfortable and confident
Think about all the amazing things your body does – it's working hard every day to keep you alive
Go for a walk when you can – it's not strenuous, but it makes you feel fantastic once you're done!
Start with body neutrality (if you're not sure what this entails, check out this article for a rundown on what body neutrality is)
For more advice on how to feel body confident, this article is filled with helpful tips on loving your body in your wedding dress. Psychotherapist Dr Julie Sweet has provided practical strategies and ideas for feeling your best and challenging negative thoughts.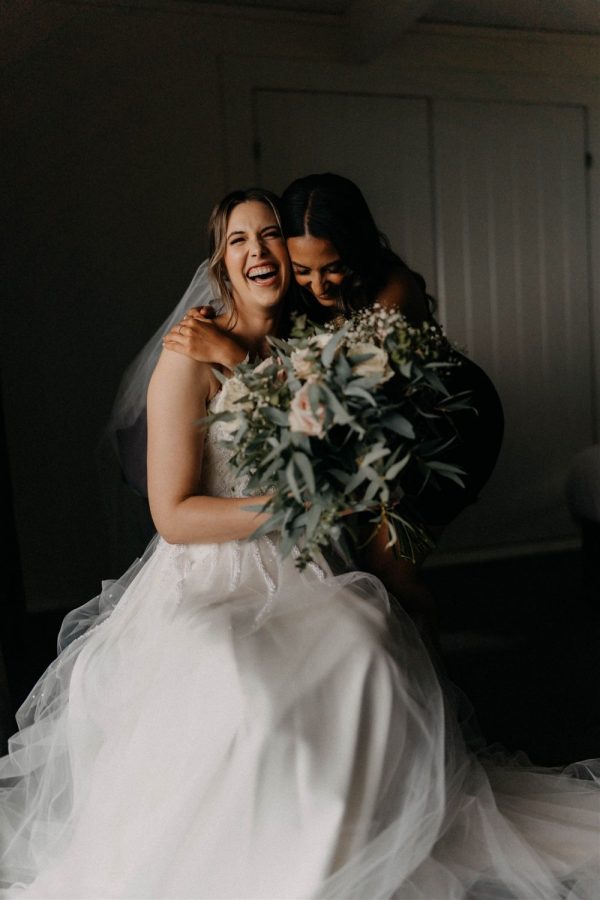 Are you exercising pre-wedding? If so, what exercises do you recommend to feel great?
Move so you feel good, don't overdo it. Do what you can maintain
Lots of core exercises, cardiovascular, and heavy weights (and no, you won't look manly)
HIIT to help me feel comfortable in my tight-fitting dress
I do some HIIT workouts before cardio but now I prefer yoga and pilates workouts
Weights, walking, 10,000 steps
Find what works for you! I personally need to be held accountable, so F45
Recommend finding a class that works for your schedule and is something you enjoy
I love lifting! Especially deadlifts
Get outdoors! Walking and running are great!
Yoga – fantastic for confidence, stress, and reflection
Strength and boxing
Pilates makes me feel good and gives me great posture
Here at Easy Weddings, we are firm believers in body positivity – there will be no body-shaming here. The above ideas are for women who think they'd benefit both mentally physically from more movement in their lives, but we stress there is no pressure to exercise pre-wedding if you don't want to. Trust us, we understand you've got enough on your plate with wedding planning during a global pandemic.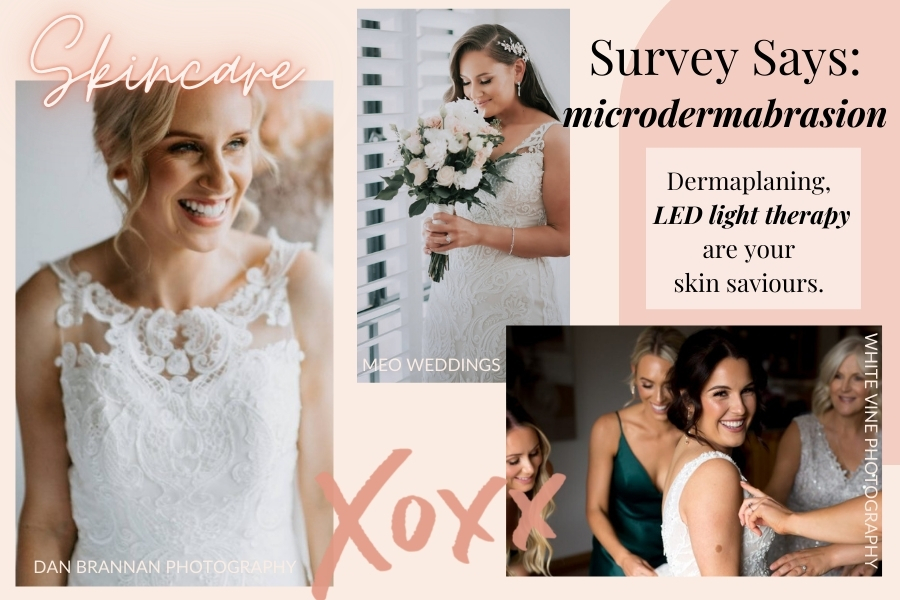 Skincare.
Did / will you change anything about your skincare routine to prep for your wedding?
Get a facial or try and follow a skin routine
I've had microdermabrasion and started with a cleanser and exfoliation
More facials and a targeted skincare regime with a skin clinic
Started getting microdermabrasion, peels, and dermaplaning
Started using retinol to get more of a natural glow and even skin tone, got facials, LED
I had regular Lymphatic Therapy and LED light therapy treatments
Cut down on sugar lol
Monthly microdermabrasion for 5 months. Dermaplaning the week before
Gentler steps (no acids, new products, or thick clay masks), lots of hydration, eye cream, and oils
What skincare tips are you following for glowing wedding day skin?
Start skin needling or facials early, know what foods your skin is intolerant to, and retinol!
Make sure you get enough sleep! And enjoy your special day, happiness has a different kind of glow
Double cleansing in the lead up to minimise breakout
Always remove makeup, and double cleanse every night regardless of whether you've worn makeup that day
Hydrate, hydrate, hydrate skin, and water
For more advice on pre-wedding skincare, you might like this article on how to get clear, healthy skin in time for your wedding. Alternatively, read up on how nutrition affects your skin health if you're looking to improve your skin's texture. It's full of nutrition tips that will have you glowing in no time.
After an expert to help you with your pre-wedding skincare regimen? Check out our beauty services suppliers.
View beauty services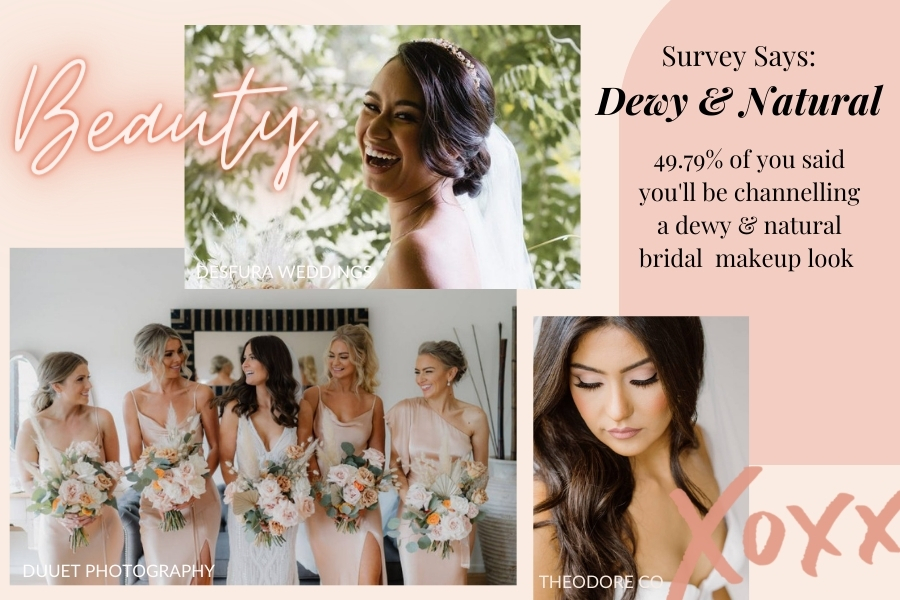 Beauty.
What game-changing makeup hack have you learned that other brides need to know?
DON'T DO DARK EYES! Looks like you have two black holes on your face in photos
Use lip liner over the whole of lips – it lasts longer, then add a touch of gloss
If you have oily skin, use a setting spray and/or cornflour (or powder) before applying your foundation
Dermaplan your face for super smooth makeup application
Airbrush makeup
That good skincare is the best base for flawless and long-lasting makeup
Haven't got your makeup artist sorted for your wedding? Check out talented makeup artists in your local area. Be sure to opt for a pre-wedding makeup trial!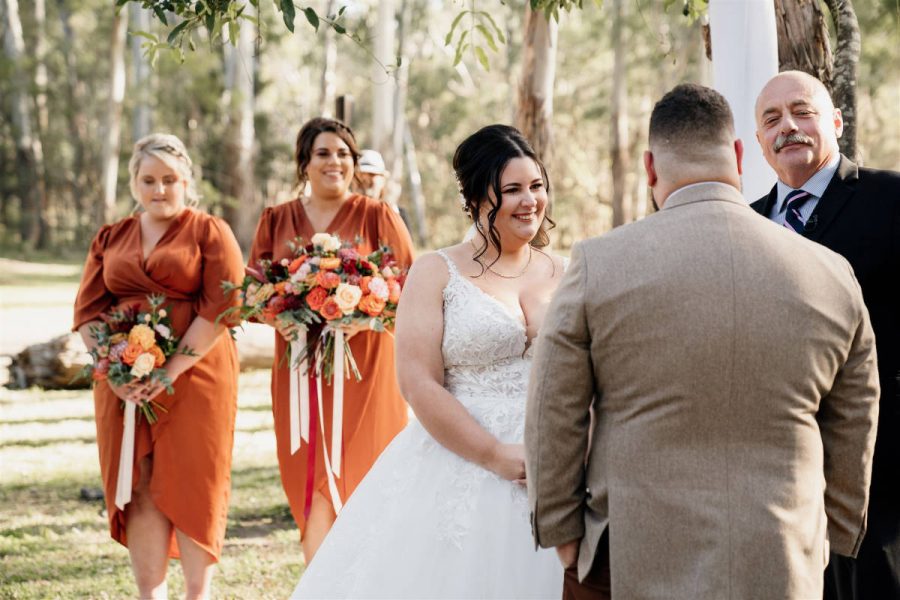 There's not a bride alive who doesn't want healthy wedding day locks! What are your best tips for healthy, strong hair?
Only wash your hair once a week! It's magic. And do oil massages
Reducing heat in the months leading up, regular trims, and moisture masks
Limited heat drying/styling, regular scalp massage, and good shampoo/conditioner!
Take supplements, brush hair regularly (depends on hair type), INVEST in good products
Hairdresser-only – never a home job, Olaplex treatments, avoiding heat, silk pillowcase, leave-in treatments
Less washing and JS HEALTH vitamins
MCT oil is fantastic for hydrating without the oily feeling. The oil chains are the smallest possible
Silicea gel vitamins from Chemist Warehouse! Swear by it!
John Frieda hair mask and apple cider vinegar
Salon-quality shampoos/conditioners
Coconut oil
PSA: Need some wedding hairstyle inspo? Check out this article to discover our favourite hairstyles for long hair. It's a helpful, comprehensive list of bridal hairstyles that look gorgeous and flatter many brides. And if you haven't sorted your bridal hairstylist, head to our directory to find hairstylists in your local area.
View hair and makeup artists