Looking to improve your skin's appearance before your wedding day? Here's an expert-approved timeline and skin treatment suggestions that will help you glow.
If you'd love nothing more than beautiful, glowing skin on your wedding day, you might want to think about prepping your skin early so it looks clear and healthy for the occasion. This is where your nifty wedding skin prep timeline struts into the picture. Your wedding skin prep timeline should start as soon as possible after your engagement, and holistically look at improving the texture and overall health of your skin, with lifestyle factors, current skincare regimen, and skin concerns all taken into consideration.
So, where and when should you start in order to have radiant, healthy skin for your wedding? According to Sia Psicharis, skin therapist and director of Beautyologist, you should start "as soon as that ring is placed on the finger". Whether you're tackling cystic acne, melasma, pimple scarring, or simply want to glow on the day, it's best to start as early as possible as some skin problems take time to heal, and – in some cases – can get worse before getting better. So as soon as you can, head into a skin clinic for a consultation with a qualified skin therapist.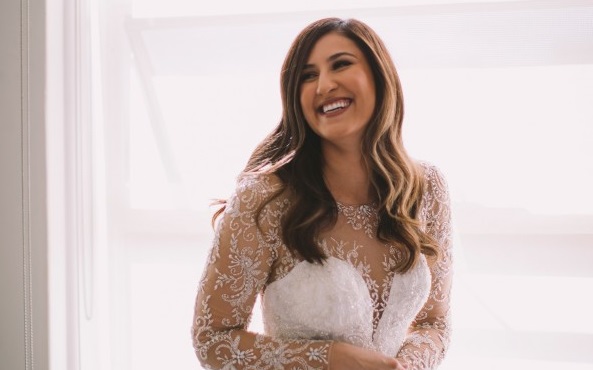 A Year In Advance
Depending on your concerns and skin type – be it combination, oily, normal, or dry, your skin therapist will advise when and if you should begin a new skincare routine. They might suggest a targeted, hard-working skincare routine for you to implement at home, with high-performance products for morning and night.
They'll also recommend some in-clinic skin treatments that will get to work rejuvenating and brightening your skin, and target any skin problems you may have. Incredibly, they do work, and are a great investment if you're hoping to rival Jen Aniston's glow at your wedding. However, more than one session is needed to see beautiful results, and ideally, you should be starting these treatments at least six months out from your wedding.
Common skin concerns and possible treatments include:
Cystic Acne: Skin Needling, Carbon Peel and Skin Peels, Light Therapy.
Normal or Combination Skin: Lactic Skin Peels, Dermafrac, Oxygen Infusions, Epidermal Levelling / Dermaplaning
Hormonal or Jawline Acne: Skin Needling, Carbon Peel and Skin Peels, Light Therapy.
Blackheads: Extraction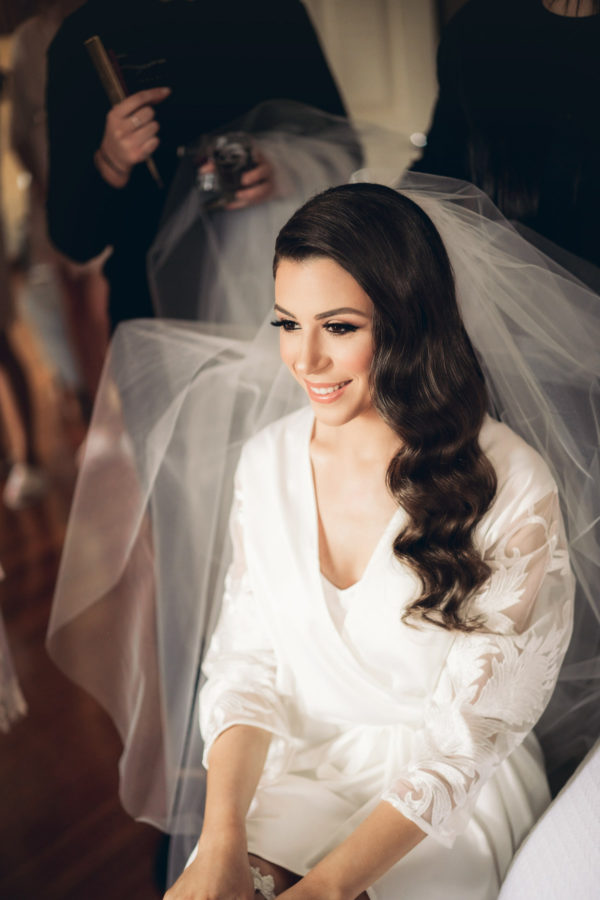 6-12 Months Out
While it's all well and good to include treatments in your wedding skin prep, if you're not looking at your skin's overall health holistically, you're doing yourself a disservice! According to skin therapist, Sia, from a lifestyle perspective, to improve the appearance and health of your skin there are a few things you can do.
Aim to get eight hours of sleep, eat earlier than later, increase your water intake, exercise, and decrease your intake of refined sugars and processed foods. Even the most powerful, concentrated skincare products and treatments will struggle if you're not taking care of your body from the inside out.
Of this, Sia says, 'Great skin is not just about the products you apply on your skin, it's about living a well-balanced lifestyle. A generous amount of sleep, mixed with exercise, mixed with a healthy diet, mixed with spending quality time with loved ones, talking beautiful words, and practising mindfulness is ideal'.
In terms of introducing skin-friendly foods to your diet, nutritional biochemist Dr Libby Weaver, says, "a diet rich in essential fatty acids, such as avocado, nuts and seeds, and plenty of leafy green vegetables" could be beneficial. Interested in learning more about nourishing your body with food? Dr Libby's The Beauty Guide and Jess Blair's Wellness are excellent reads.
If you're chugging back green smoothies, sticking to your heavy-duty skincare regimen, and practising yoga more than Meghan Markle – doing everything you can to improve your skin's texture and appearance with little success – you might be considering cosmetic procedures to help up your skincare game. This will need to be done a minimum of six months before your wedding day, according to cosmetic nurse Cat Tyler, as this allows enough time to assess how your skin is responding to treatment and wiggle room for adjustments to your treatment plan.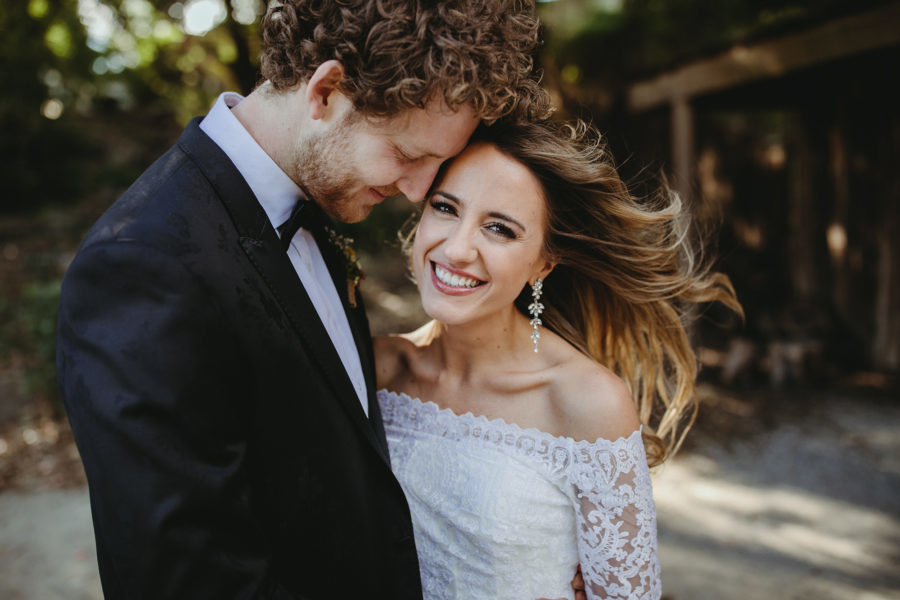 3 Months Out
At this stage in your wedding skin prep timeline – three months out, how exciting! – there are a few skin treatments you can incorporate into your routine to up the ante.
According to Annie Graham, the founder and formulator of XO FACEcare, roughly three months from the big day, you might want to consider microcurrent and radiofrequency treatments. Apparently, this helps "get a lifted and toned look (without the injections). They are excellent at providing lasting effects with no downtime."
However, if you're fretting about sunspots, breakouts, or acne scars, Anne recommends peels to help diminish these pesky concerns. However, she cautions that on average, peels take seven to 10 days before they're completely healed, and can be done again every four to six weeks.
Cosmetic nurse Cat agrees, and says chemical peels and laser pigmentation removal are fantastic ways to improve your complexion for your wedding day.
"I would advise treatment with dermal fillers three months before the wedding as this allows time for the swelling to resolve and more product if required. With anti-wrinkle injections, it's best to have treatment four weeks before the wedding to allow for top-ups 14 days before if needed," says Cat.
Two Weeks Out
While it might be tempting to throw in a few more skincare products into your routine this close to your wedding, don't start a new skincare routine or introduce new products in the weeks leading up to your wedding (no less than two weeks if you're using actives, or four to six weeks for larger skin treatments) – you have no idea how your skin will react or if the new product will bring underlying, sneaky pimples to the surface of your face.
In the final two weeks, Sia suggests the following for gorgeous, glowing skin:
Lots of water to flush out toxins which could cause breakouts.
Lots of sleep reduces stress. Stress spikes cortisol levels which lead to an increase sebum production.
Reduction of sugar.
As for cosmetic nurse, Cat, she says, "I highly recommend a dermaplaning treatment a few days before the wedding as this removes dead skin and peach fuzz and allows your makeup to sit beautifully."
Reese Witherspoon glow or not, the best thing you can do for yourself on your wedding day is to smile and enjoy the moment – you will have a wonderful time regardless of whether a spot has decided to rear its head or not.
Sample Pre-wedding Skincare Routine
Here's a sample skincare routine you can incorporate into your routine, keeping in mind a qualified skin therapist will be able to suggest high-quality products and ingredients that will best address your skin's needs. If you're looking to change your skincare routine, you should do so at least six months out from your wedding.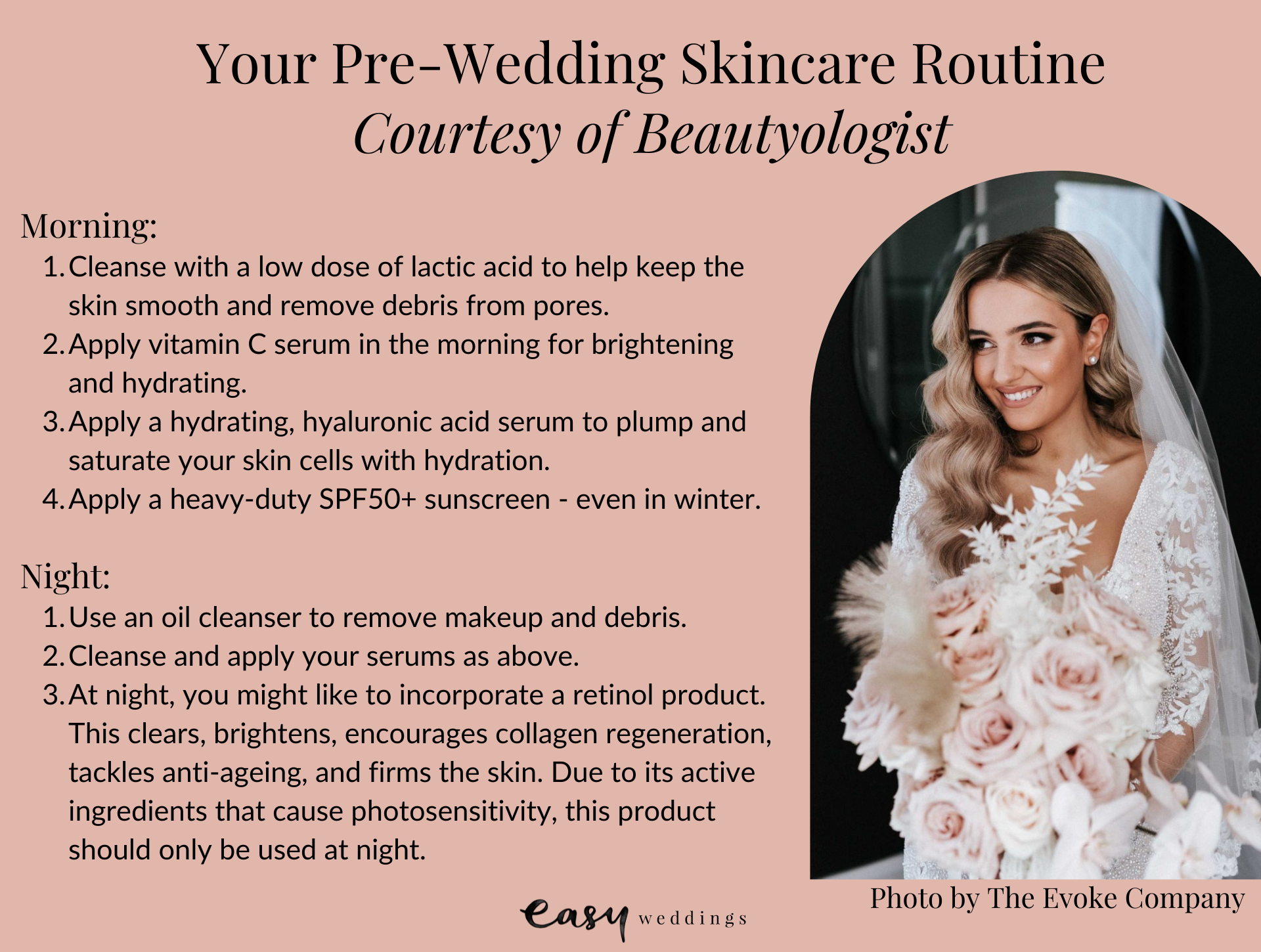 ---
Looking for a skincare expert in your area? Head to our beauty directory.
---