If you've decided on an outdoor wedding, the chances are you've already hired everything for the reception, but what about the ceremony? Just because you are getting married under the blue sky it doesn't mean you can't have a beautiful aisle to process down as well. There are various items that you might want to consider hiring for your outdoor wedding ceremony to create a stunning location for you to exchange your vows.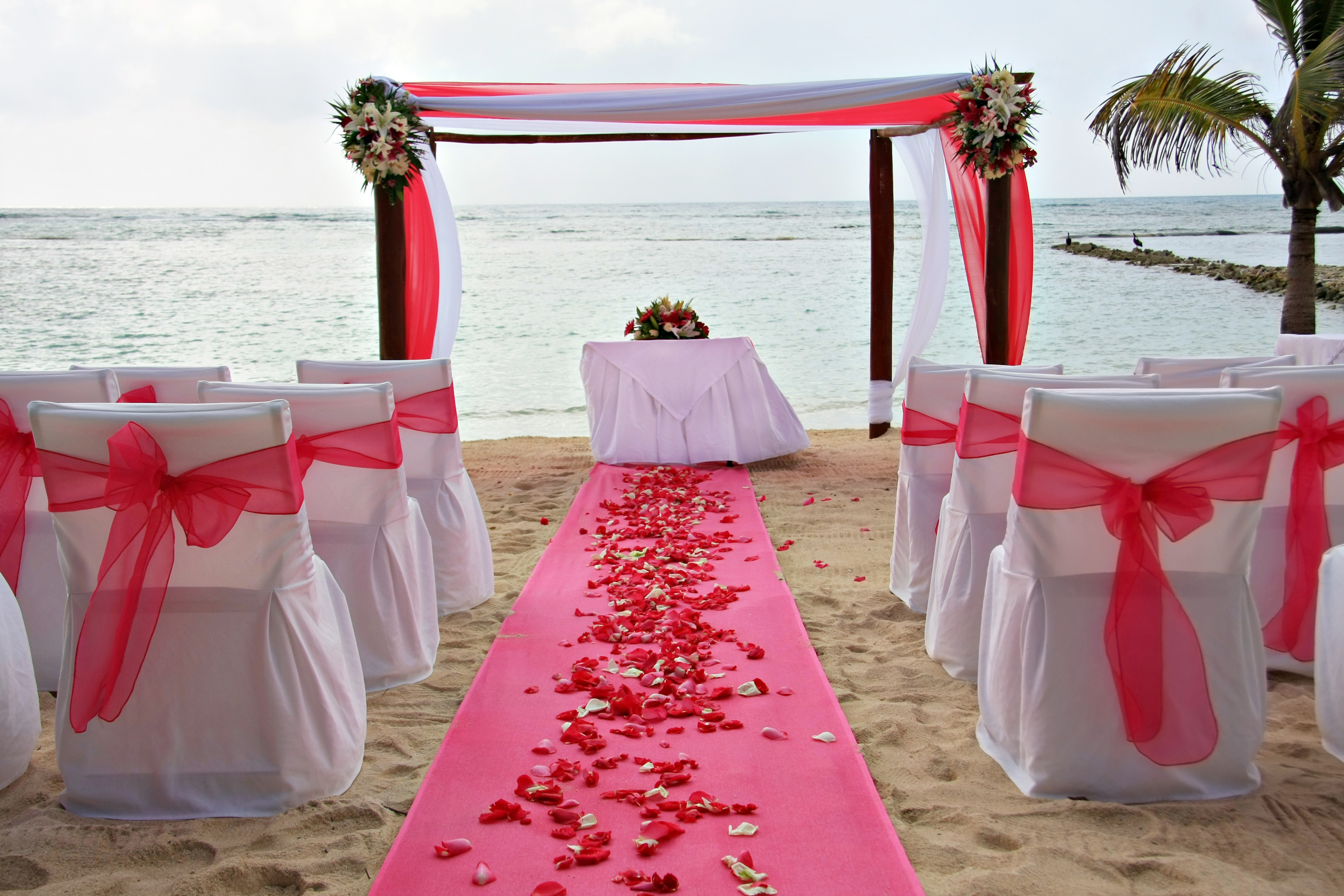 An aisle runner
Aisle runners can be used just as easily outdoors as inside a venue, as long as there is a way to anchor them to the ground so they don't bunch up or trip you over. White or red carpet runners are popular, or a bamboo matt style runner can work well for a beach wedding. Once your aisle runner is in place it gives a clear walkway for the bridal party, and can be scattered with rose petals, leaves, or glittery stars depending on the season.
Aisle markers
Hiring markers to place alongside the aisle is another way of defining the processional route for the bridal party. Wooden posts joined by ribbons or strips of white voile fabric, and adorned with flowers are a popular choice. You could also hire potted plants, miniature trees, or lanterns on poles to mark your outdoor aisle.
An archway or gazebo
A wooden or wrought iron archway can be a wonderful focal point for your outdoor wedding ceremony and can either be placed at the entrance to the aisle, or at the end of the aisle where the altar would be in a traditional church ceremony. The archway can be decorated with ribbon and wedding flowers to complement your wedding theme. A gazebo can be used instead, but this is generally placed at the end of the aisle so the ceremony can take place under or in front of it.
Wedding chairs
The wedding guests' chairs themselves will help to define the outdoor aisle, and hiring ornate white wooden or wrought iron chairs can help to create a beautiful ceremony setting. The chairs along the aisle could be hung with flower arrangements, and the others could be decorated with coloured sashes or bows to match your wedding colour scheme.

Flower pedestals
Flower arrangements look beautiful at any wedding ceremony, but they may lose their impact if they are placed on the floor at an outdoor ceremony, where guests won't be able to see them. Hiring decorative stone or wooden pedestals to place either side of the end of the aisle provides the perfect location for pretty flower arrangements.
A register table
As part of the ceremony, you and your fiance, as well as your witnesses, will need to sign the marriage register. Having a dedicated table set up for this purpose makes the task easier, and if it is decorated to co-ordinate with the rest of the ceremony furniture it will look great too. You will want photos taken while you are signing the register, so having a table draped in beautiful fabric with flowers, and stylish chairs, will help to create that perfect snapshot.
An area for musicians
If you have hired musicians to play at your wedding ceremony, you may want to create a shady place for them to set up. This could be as simple as a small white gazebo, or as complex as a purpose built stage area. Either way it should be decorated to match the rest of the ceremony furniture.
Creating a beautiful setting for your outdoor wedding ceremony just takes a little thought and creativity. When you discuss hiring an outdoor wedding aisle with your supplier, they should be able to suggest ideas and alternatives that will suit your particular location, as well as your budget and wedding style.