We recently caught up with much-loved Melbourne marriage celebrant Dimitrios Psyllos (aka The Stellarbrant), who shared all of his top tips for finding the right celebrant and nailing your wedding ceremony.
Dimitrios Psyllos, also known as The Stellarbrant, is a charismatic, highly experienced Melbourne celebrant who specialises in crafting meaningful and polished wedding ceremonies. With 10+ years of experience in the event and media industries, Dimitrios' scripting, planning, and positioning skills will help you get the absolute most out of your big day.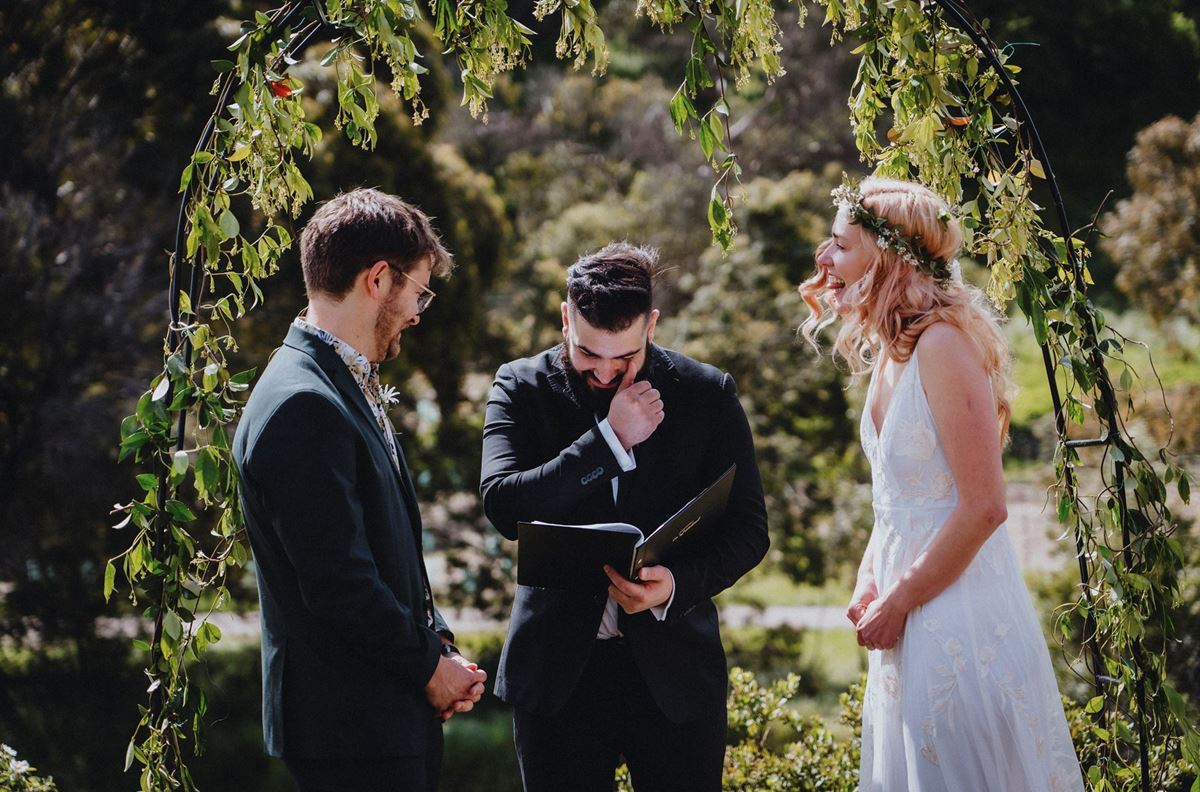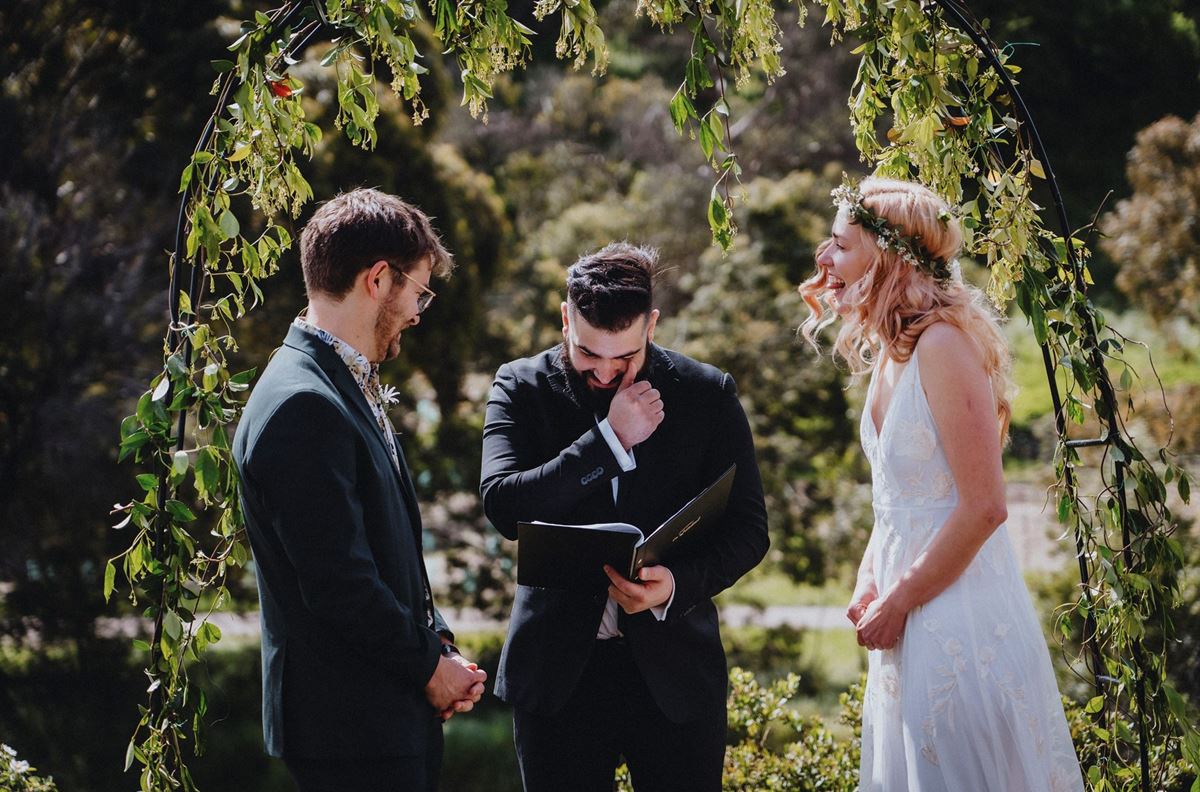 MEET THE STELLARBRANT
---
Easy Weddings: Hi Dimitrios! Tell us a little bit about yourself and why you became a celebrant.
Despite having worked in event hire and media coverage for over ten years, becoming a celebrant was never something I considered as a career until a friend in the industry suggested it. In their words, I knew the ins and outs of the industry, I worked as a voice-over artist and copywriter, I looked okay in a suit, and I could speak in front of crowds. Eight months later, fate laid the cards out for me, and I was on my way to becoming a fully registered celebrant.
How would you describe your celebrancy style?
The best way to describe my ceremony style and presentation would be to look at my tag line: 'Bridging the gap between modern and traditional wedding ceremonies'. I like to keep things light, fun and relevant while remembering to maintain a sense of gravitas and occasion. I adapt my tone and delivery to the feel of the room and, most importantly, to your personalities — no cliches, no outlandish language, no cringe-worthy gags better suited to late-night stand-up or cheesy sitcoms.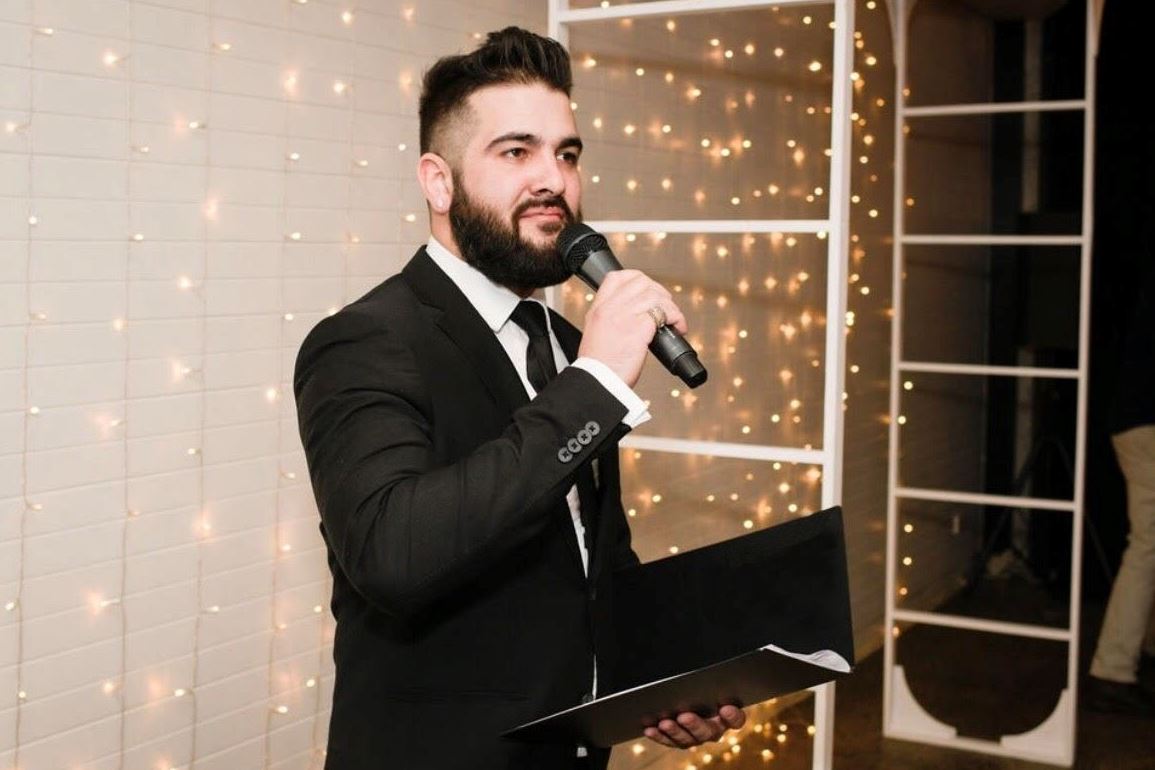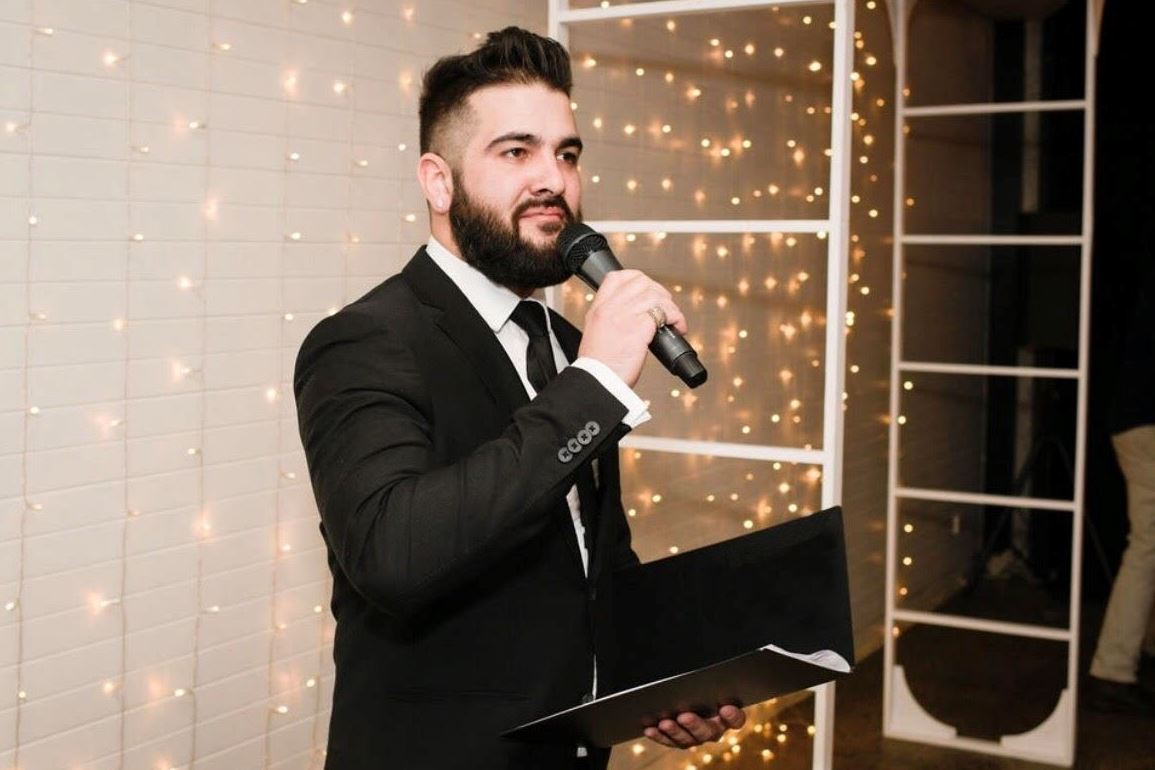 What sets you apart from other marriage celebrants?
I have worked in the wedding industry in different roles and have seen just what it takes to put together a wedding from start to finish, so I know and preempt what your venue manager is going to think, what your photographer is looking to capture and what you've probably overlooked or forgotten about.
My scripting, planning and positioning are all there to get the absolute most out of your big day, from the personal touches within the script to coaching you through the aisle walk down to the ring exchange.
Having formal accreditation in vocal performance and a folio of voice-over work means the ceremony will be delivered in a clear, polished tone. My celebrant handle 'Stellarbrant' comes from the fact that I have a background in music and media and always perform to a professional standard, no matter how big or small the event is.
Lastly, and most importantly, I would say my experience. Having performed over 200 wedding ceremonies since 2019 and already filling bookings for 2024, you want to have confidence in your celebrant and to know that they've got you covered with every aspect of your wedding, from the legal documents to the ceremony music.
Oh, and I absolutely guarantee — NO PHOTO BOMBS. Your special day is not my marketing opportunity.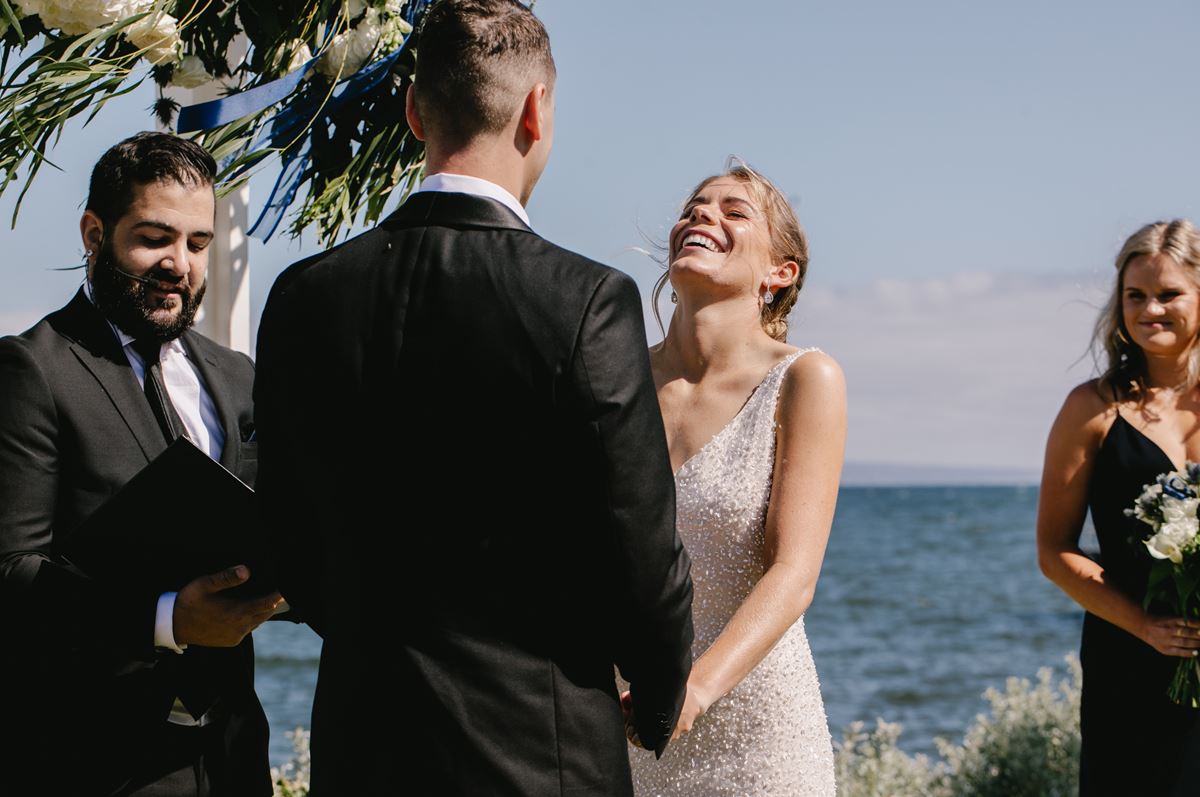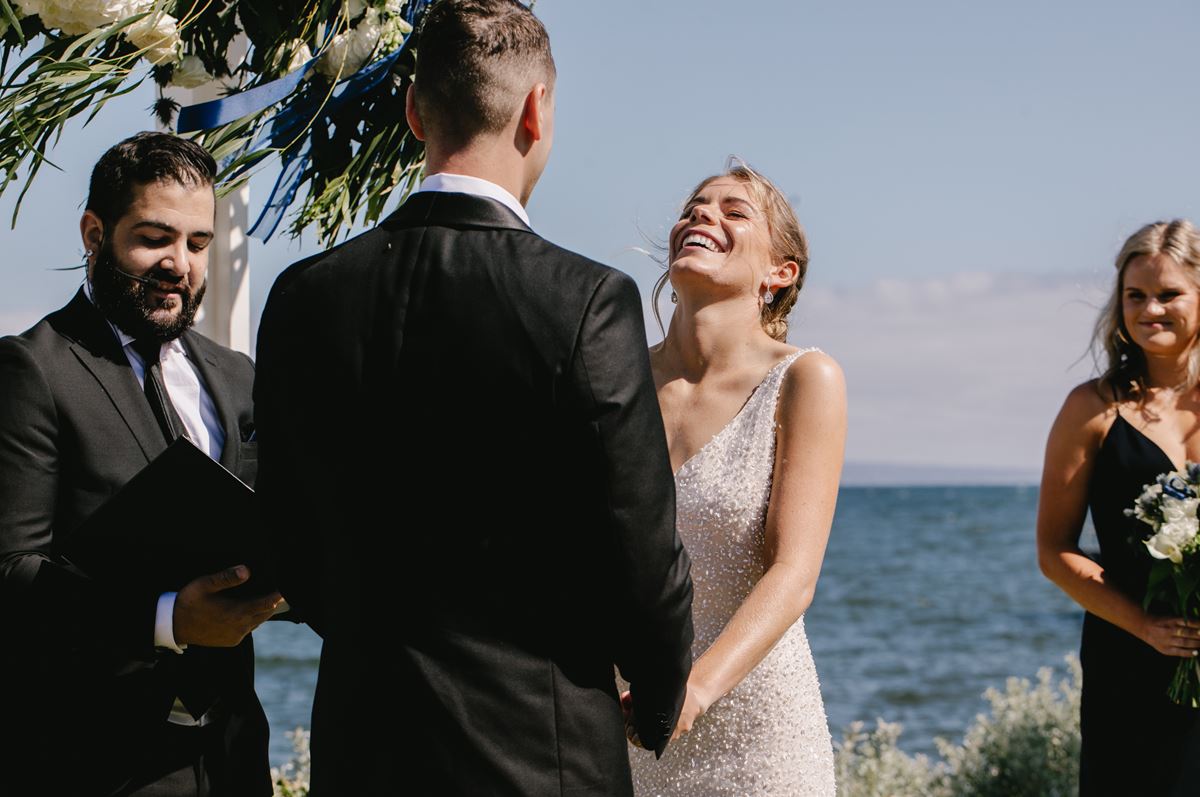 READ DIMITROS' GLOWING REVIEWS
What should couples consider when searching for their celebrant?
I'm a big believer that there is a celebrant out there for everybody. Personalities will always find each other, and if you meet a celebrant you gel with, don't hesitate.
I also understand couples are usually tied to a budget and have to prioritise. Still, the celebrant is often where they start swinging the hammer, without realising just how important the role is and crucial to how your wedding pans out. The ceremony sets the tone of the whole day, and sometimes it may be something as simple as forgoing the second photo booth or personalised hip flasks for the groomsmen in order to have an experienced, professional celebrant deliver you the wedding you're after.
What do you think are the key ingredients for a memorable ceremony?
Honesty and involvement. I often tell my couples to forget anything people have 'suggested' they do and go with what they WANT to do. I look for ways to get my couples actively excited and engaged with their ceremony, to add their in-jokes, style and flavour. I really push for both parties getting married to have their say when it comes to the big day and actively pursue this with my inclusive ceremony questionnaires.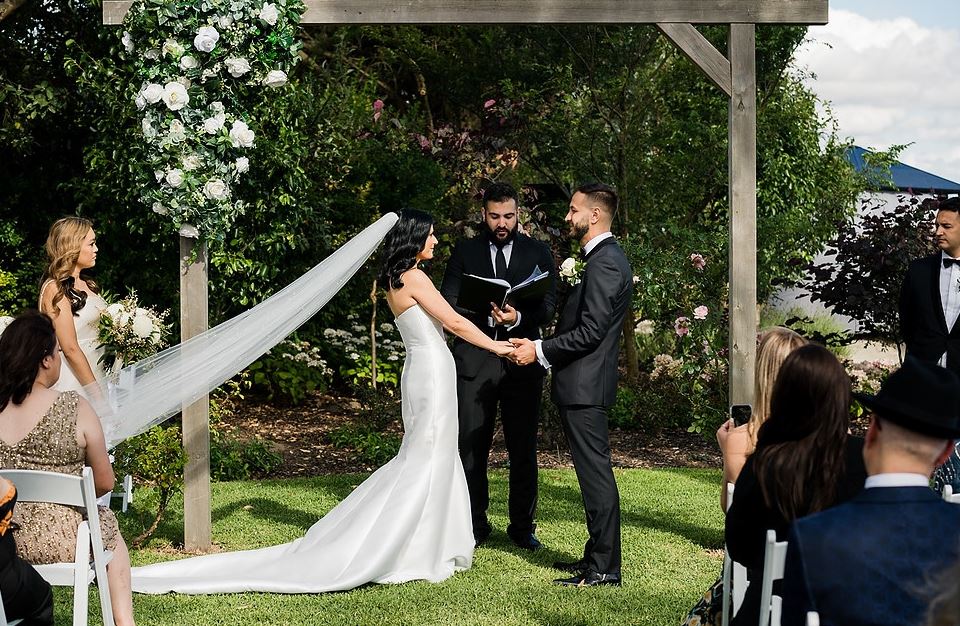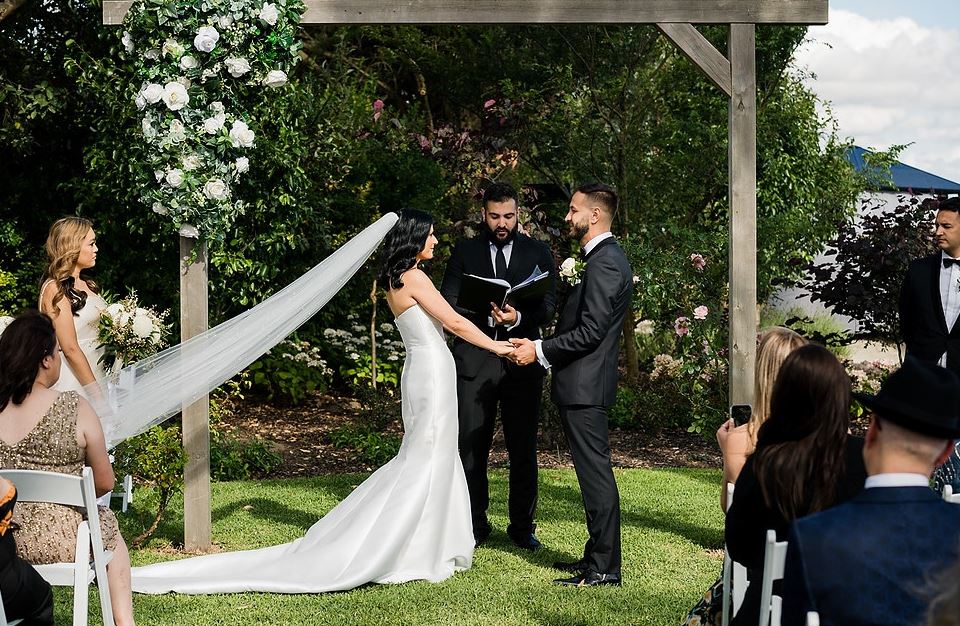 How do you help couples craft their vows?
I have a vow builder kit with all the right tools to inspire couples while writing their vows. I am also there to help personally. I won't ever put words in my couples' mouths, but I may tweak and rejig a few things to flow better and add a bit of oomph.
Do you have any advice for couples dealing with wedding day nerves?
Breathe and enjoy the moment. You hire suppliers to cover all the bases so you can be present during the day, not worrying about canapés and centrepieces. And at the end of the day, even if something doesn't go as you planned, it doesn't matter. You're getting married to the person you've chosen to spend the rest of your life with, surrounded by the people who mean the most to you.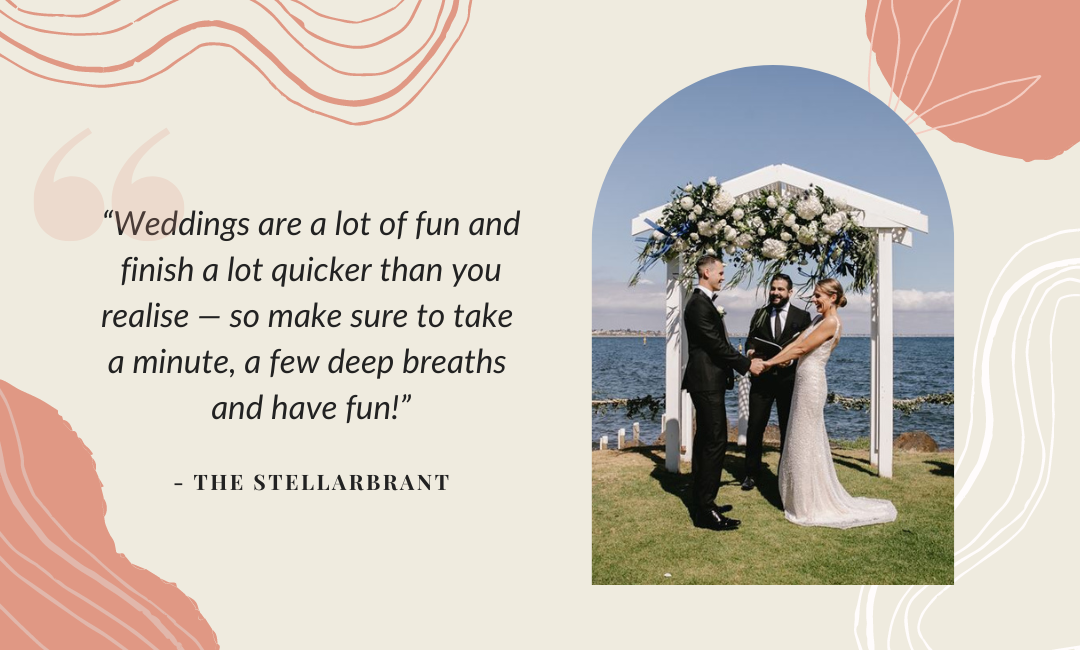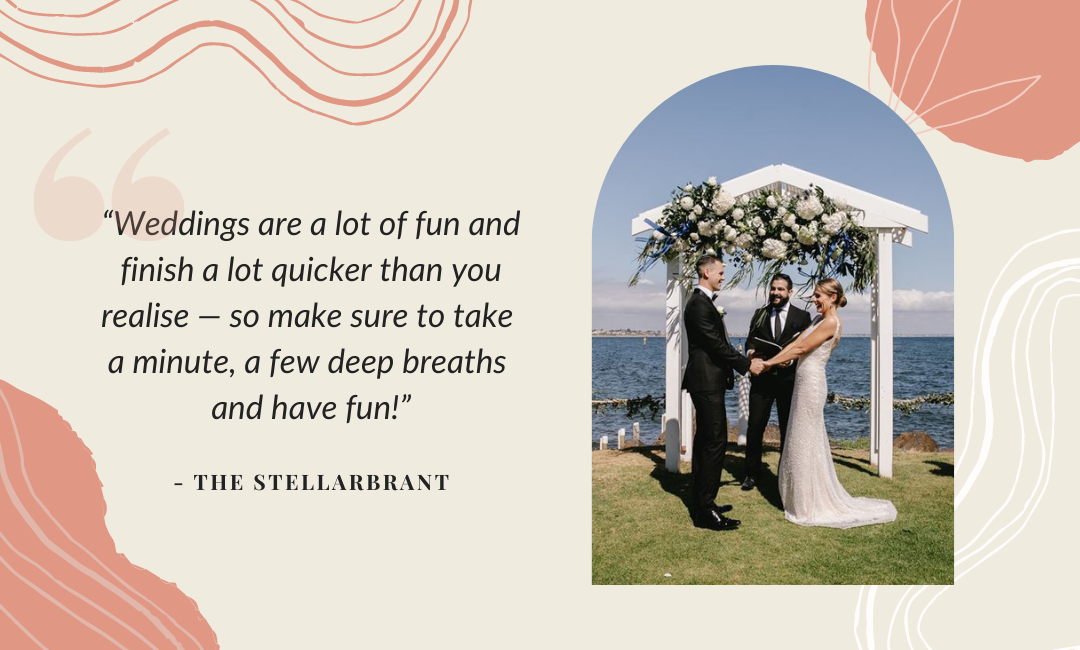 ---
FIND YOUR CELEBRANT