A wedding marquee is the perfect way to accommodate a lot of guests for a wedding at home, or in your favourite garden location. A marquee provides a blank canvas for your wedding decorations so you will need to put a little thought into the look you want.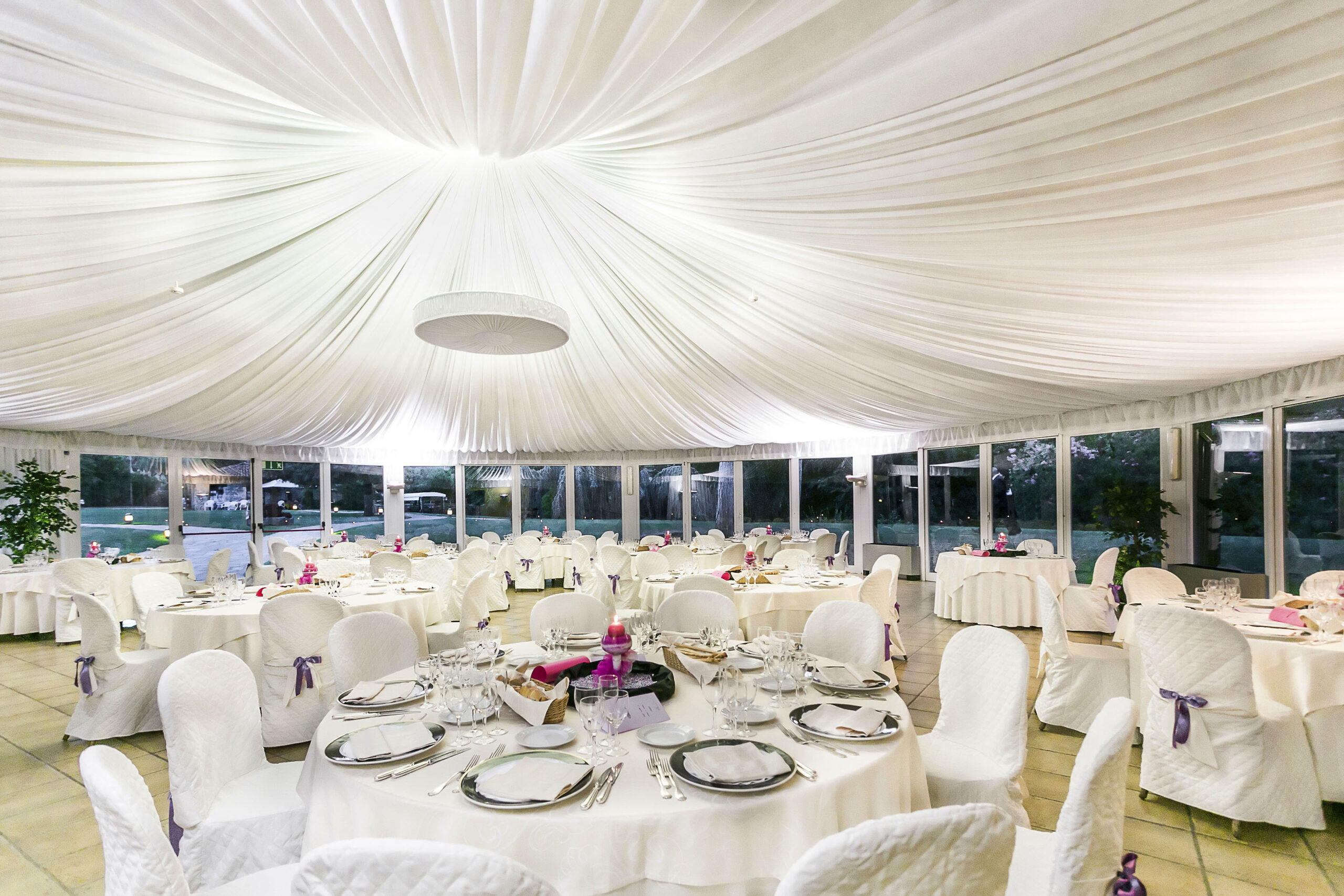 Here are seven tips on decorating your wedding marquee:
Choose your marquee lining first
Most marquee suppliers will have a range of coloured or patterned valences and linings for you to choose from. Make sure you check out all the options and reserve the one you want before you make any decisions about your colour scheme and the decorations that you will use.
Use big bold decorations
A marquee may be a blank canvas, but it is also a large space to decorate. This means that small delicate arrangements may get lost so don't be afraid to be bold with your decorations. Tall table centres and pedestal flower arrangements will help to fill the space and create a dramatic impact.
Don't forget the ceiling
A marquee ceiling is often a great expanse of white, and no matter how colourful your decorations at eye level, a bare ceiling can make the venue seem empty. You can hang almost anything from a marquee ceiling; consider paper lanterns, chandeliers, balloons, or garlands.
Hire a projector
The latest trend in marquee decoration is to project a coloured pattern onto the plain interior walls of the marquee to look a little like wallpaper. The colour and design of the projected wallpaper can change throughout the day to reflect the changing mood of the party. You can also use the marquee walls as a screen to project photos from your engagement party and the ceremony.

Look for cosy lighting
Most marquee suppliers won't allow you to use candles because of the risk of fire, so if you want a cosy romantic atmosphere you may need to look for alternatives. Cordless table lamps and fairy lights can be very effective, and you can also use LED lights incorporated into your flower arrangements.
Hire the marquee and furniture together
One of the advantages of hiring your furniture from the same supplier as the marquee is that you can be sure it will fit properly leaving plenty of space for guests to move around. You may also get a discount on your hire costs and this will leave more space in your budget for exotic decorations.
Create spaces within your marquee
Attractive screens can be used to section off zones within your marquee, making it cosier and easier to decorate. Even if you expect good weather and plan to be outside for most of the day, make sure your marquee is big enough for a bar area and the dining tables. That way the tables can be cleared for dancing and you still have a bar area for tired guests to sit down.