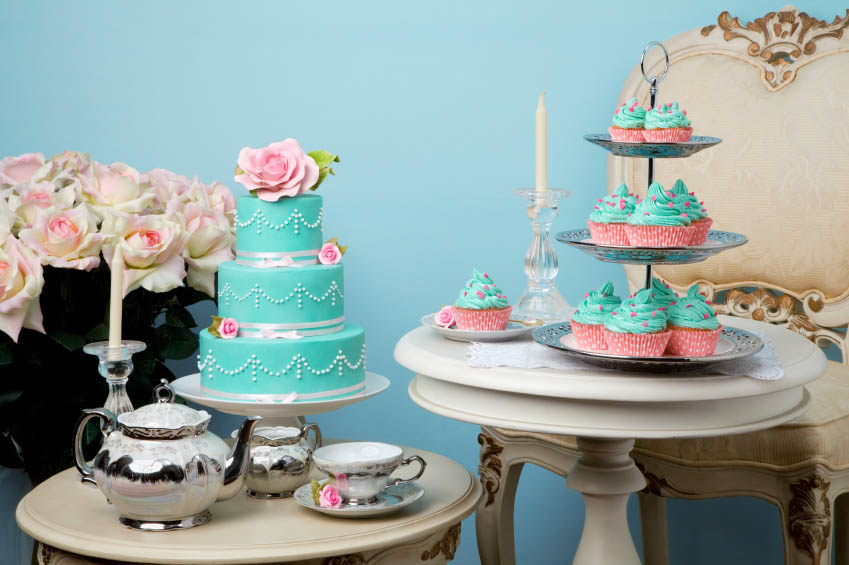 What is a kitchen tea? What do you do at a kitchen tea? What are some kitchen tea ideas? Here are the answers to all your kitchen tea related questions, and some great kitchen tea party ideas too!
What is a kitchen tea?
A kitchen tea, is similar in nature to a bridal shower, and is essentially a pre-wedding celebration in which women who are friends with or related to the bride to be will gather together, traditionally at the bride or her mother's home, and celebrate her upcoming wedding with games, food and drink.
Traditionally, a kitchen tea suggests that guests may bring the bride a gift for the kitchen so they can assist her in setting up her marital kitchen/home. However, in a modern context, many brides to be have lived away from home for a period of time or they may already live with their future spouse, and have therefore acquired all the necessary items for their home. In this context the focus of a kitchen tea is more about celebrating with loved ones and playing some games, as opposed to an emphasis on gift-giving.
Can you have a kitchen tea and a hen's night?
To put it simply, yes. A bride may choose to have both, or have neither, or she may just pick one – it is ultimately up to the bride.
Some brides may even choose to host both a kitchen tea and hen's party on the same day or weekend. The bride's older relatives or friends that don't want to go out in the evening may prefer to attend the kitchen tea, and any guests who can't make it to both events can choose which celebration suits them.
[ew-supplier-carousel]
Are there any alternatives to a kitchen tea?
A bridal shower is an alternative to a kitchen tea, as the events are quite similar in nature but not traditionally the same. The slight difference being that kitchen teas are traditionally more focused on helping the bride set up her marital kitchen, whereas the origin of a bridal shower relates to 'showering' the bride with gifts for her entire home, as well as items for the bride herself.
Many brides may create a gift registry for their bridal shower too, so they can provide their guests with some gift suggestions. Modern brides may choose to have either event, or have both and a hen's party which is perfectly fine too.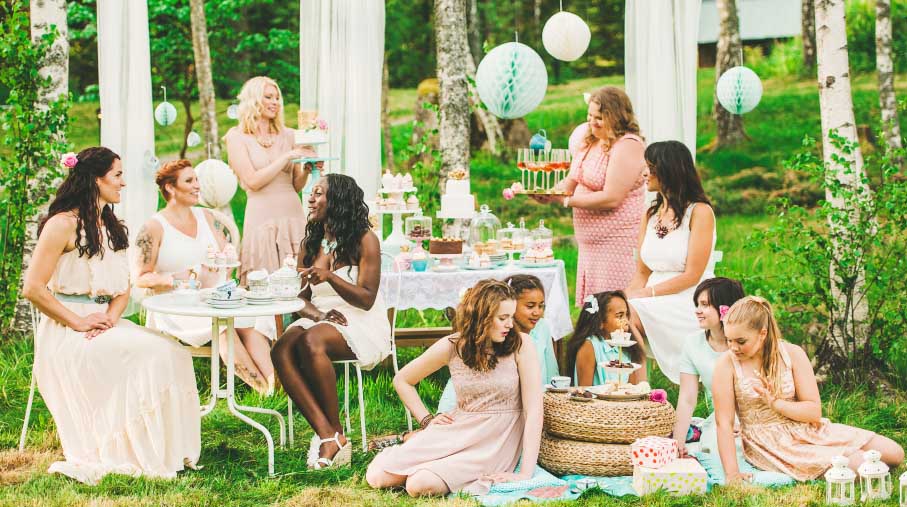 What games and activities can you have at a kitchen tea?
The games at a kitchen tea tend to be less raunchy than at a hen's night, but some of them can be quite similar. A popular game played at kitchen tea parties is to quiz the guests to see how well they know the bride, with questions about her childhood, her likes and dislikes, and even her future spouse. Another popular game involves asking each guest to write some words of wisdom/marriage advice on a sticky note, and the notes are collected for the bride to keep and read through.
Games can also be a little more hands on, such as breaking your guests off into small teams and getting each group to adorn a chosen guest in a makeshift wedding dress made from toilet paper. Adult versions of children's games work well at kitchen teas too; try 'pass the parcel' with elegant wrapping and the prizes can be anything from lip gloss, to potato peelers, a journal or planner, or even a recipe book.
Click here for more kitchen tea game ideas.
Kitchen tea theme ideas
Many modern brides are opting to apply a theme to their kitchen tea party, or host the event in a non-traditional location such as a park, or even hire a venue depending on the amount of guests they invite. Here are a few creative kitchen tea ideas:
'Mad Hatter' tea party
Host a kitchen tea party in a garden with a theme such as 'Alice in Wonderland's Mad Hatter Tea Party'. You can set up a long table with an array of classic high tea items such as scones with jam and cream, and play on the theme with mismatched crockery and teasets! Even go a little step further and ask everyone to wear a hat or dress up.
Floral affair
Host a kitchen tea with a floral theme – you can ask guests to arrive wearing something floral, or perhaps just a colour the bride likes. You can decorate the space with bunches of fresh flowers and even have flower crowns made for guests to wear and hand them out as the guests arrive.
Picnic party
Traditionally a kitchen tea is held in a home, however, modern brides are opting to host a kitchen tea in whatever location suits them. An outdoors kitchen tea idea could be a picnic at a local park – or simply in the bride's backyard.
Ask guests to each bring a dish, or a bottle of wine. You can sprawl out on the grass with dozens of picnic blankets, and share and enjoy cheese, fruits and wine with all your nearest and dearest. Even go a step further and arrange for an outdoor cinema to screen a movie for your guests as the festivities are winding down.
Scenic celebration
Head to a rooftop, or a venue which boasts nice views, and enjoy the scenery whilst you and your guests have some yummy food and drinks to celebrate your upcoming nuptials.
Cooking queen
If you love to cook, you could host a kitchen tea party with a theme of cooking and food. You can ask your guests to each bring their favourite recipe. Go and step further and organise to have a group cooking class on the day and plan lots of kitchen related games.