While strippers, shots and suggestively shaped foods may be synonymous with hen's nights, they're not every gal's cup of tea. Read on to see some fun bridal shower games!
For many brides-to-be, a quiet and comparatively tame evening at home, at a restaurant or at a day spa with her besties is preferable to a wild night on the town.
But, just because you'd prefer a hen's night that won't make your grandma blush, doesn't mean it has to be boring, uneventful or missing in all those fun, girly moments and conversations that are so very much part of a memorable hen's night.
"Whether you call it a hen's night or a bachelorette party, the final 'do' held for the bride-to-be is about bonding with the ladies who are closest to her, be they gal palsof her own age or her mother, aunties and other females in her circle," says Liz Morrow, Managing Director of Mi Emporium, which specialises in fabulous (and a little bit cool) clothing and personsalised accessories for pre-wedding activities including hen's nights.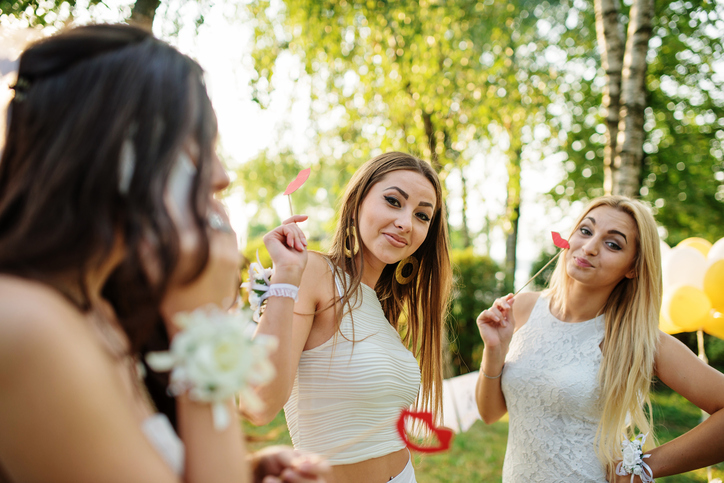 "We're long past the days when hen's nights were about all the women getting together and sharing their advice on sex and marriage with blushing brides," she adds. "And, though today's hen's parties are much more open and can be very wild, they're still a great opportunity to celebrate with your nearest and dearest and get the generations of women who are important to the bride together to have one last 'hurrah' before she settles into married life.
"And it certainly doesn't have to be boring!"
Liz's business has supplied wedding-related goodies to more than 12,000 couples in the seven years she has been running Mi Emporium. Her shop sells hen's night sashes, diamante encrusted t-shirts featuring the words 'Bride' or 'Bridesmaid', bride-to-be flashing tiaras and "anything else you might need for your hen's party," she says.
Though Mi Emporium does supply the usual 'naughty' hen's night supplies, Liz says she's seeing a surge in women looking for more sedate ways to celebrate their hen's parties, especially by those marrying for a second time.
Their purchases of choice? Hen's night sashes, embroidered t-shirts featuring bridal party members' positions and PJs. as well as cosmetic gift packs.
"We're seeing an increasing number of women opting for a less wild hen's night," says Liz, "especially those women who are marrying in their '30s, '40s and '50s or those brides who may be marrying for a second time and just want to hold an elegant gathering for her girls."
"They still want to have a fabulous and fun night or weekend with their girlfriends,"  adds Liz, "but that gathering may include older family members or other friends, or even children from a first marriage, who are there to celebrate with them, so they really don't want to do anything that may embarrass their guests or make them uncomfortable."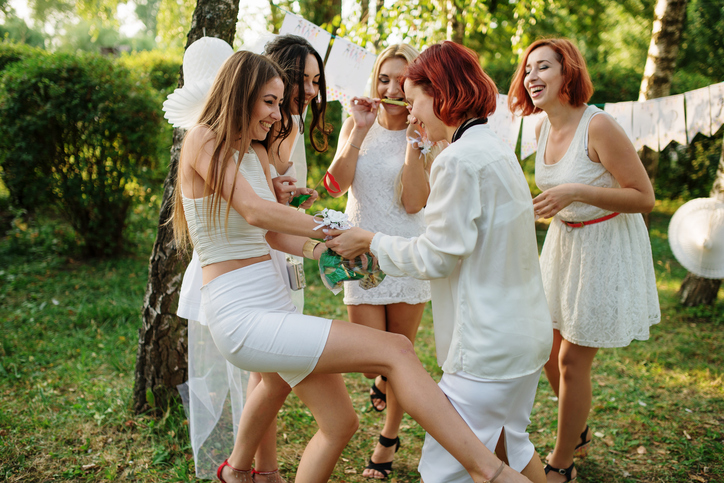 "If it's their second marriage, they may even have their own children at the hen's night, so it can often be a reverse case of the older brides not wanting to embarrass their younger guests!" says Liz.
Below, Liz outlines her 15 favourite hen's night party games that are unlikely to embarrass you or your guests – no matter what their ages.
"Most can be played with a few simple materials making them great for a shower on a budget," Liz says.
"To add an element of competition, provide small prizes for the winners, but regardless of how you end up celebrating you hen's night, remember that it's about holding a memorable event where everyone feels special and everyone feel included."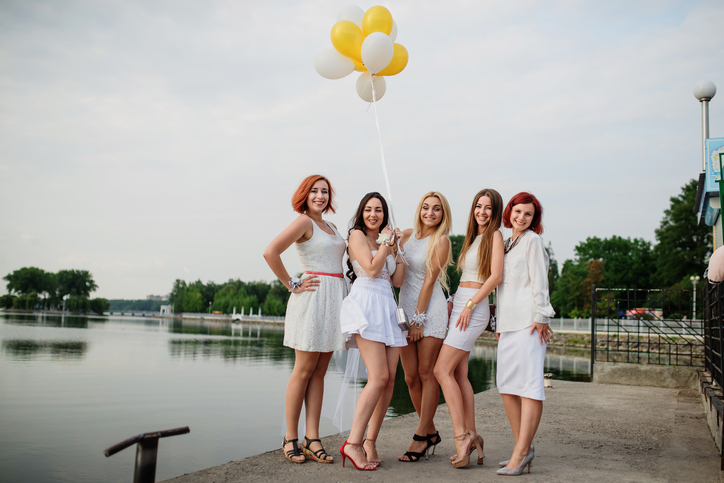 1. How well do you know the bride?
This fun game focuses on how well the other ladies at the shower know the guest of honour. It is easy to set up and can be great fun to play. To start, type out twenty questions about the bride-to-be and print enough sheets for everyone in attendance. Hand them out at the beginning of the event and inform guests that all questions should be answered by the time all of the gifts are open (or at some other point in the shower). At that time, the bride will gives her answers to the questions aloud and each guest marks whether their answers are correct or not.Those with the most correct answers are then given a prize! Sample questions include:
If she could travel anywhere in the world, where would it be?
What is her favourite drink?
What was her high school nickname?
How many kids does she want?
What is her biggest pet peeve about the groom?
Materials needed:
Enough sheets of questions for every guest
Pencils/pens for each guest 2.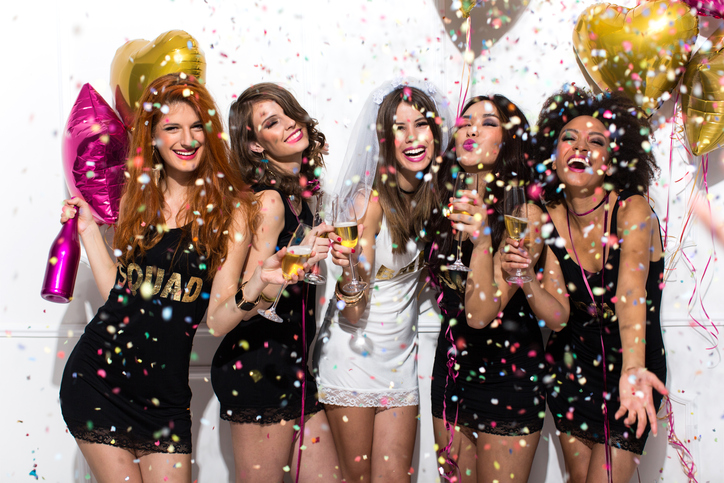 2. Groom trivia questions
For this one, you'll need to send a questionnaire to the groom before the bridal shower and have him return it at least a day ahead of time. Sample questions to ask include:
How old was the groom when he had his first kiss?
What is his favourite film?
What is her worst habit (according to him)?
What was his first pet's name?
What was his nickname as a child?
Print out a sheet containing only the questions and cut them into strips, one question per strip. Then fold them in half, placing them in a large bowl.
On another sheet of paper write a list of silly tasks for the bride to complete if she gets a question wrong. These can include:
Doing a silly dance
Answering an embarrassing question
When playing the game, the bowl with the questions is passed around the guests (or, for a simpler version, members of the wedding party) who read the question out aloud.
The bride provides her best answer. If she gets it correct, the next question is asked. If she gets it wrong, a task is picked out of the other bowl and she must complete this in front of everyone. The game continues until all of the questions are gone!
Materials needed:
2 bowls or boxes
1 sheet of questions, cut into strips
1 sheet of tasks, cut into strips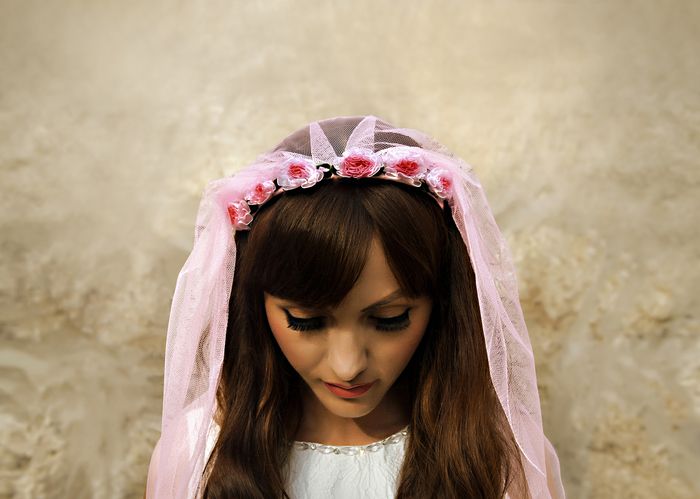 3. Toilet paper wedding gown competition
As corny as this sounds, any hen's party attendee will tell you it's also usually a highlight of any hen's party!
All this game requires is some imagination, sticky tape and lots of toilet paper!
If you are having a meal or other seated event, make each table a team. Otherwise, divide the shower into small groups.
Give each group a roll of toilet paper, sticky tape, and a time limit of ten minutes. Each team picks one member to be the model of their own toilet paper wedding dress creation!
After the ten minutes is up, each team's chosen member models the dress for the whole bridal shower. The bride gets to pick her favourite dress and that team is the winner! Members of the winning team should be given a small prize.
 Materials Needed:
Enough toilet paper for 1 roll per table
1 roll of sticky tape per table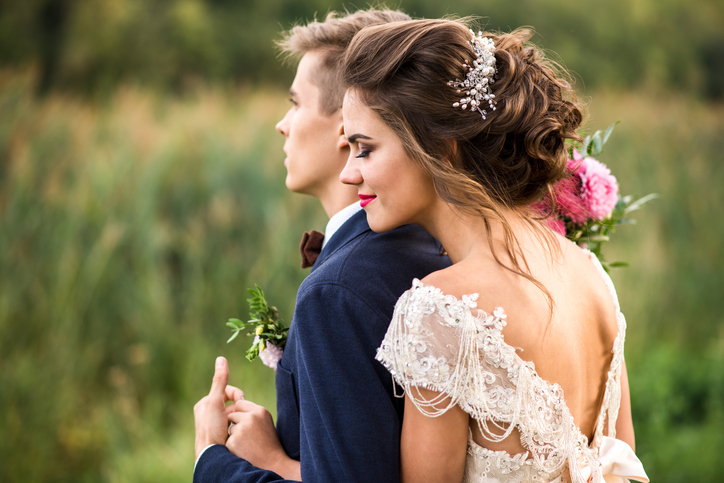 4. Bridal bingo
Bridal bingo is a fun way to entertain guests! Before the shower, prepare bingo grid sheets and fill them with wedding related words.
Print a sheet of the words out, cut each word out individually, and place it in a bowl or box to be used at the shower. On the day of the shower place a bridal bingo grid sheet at every guest's seat!
The Maid of Honour (or other chosen bridesmaid) should be put in charge of picking the words out of the box and reading them aloud to all of the shower's guest.
If the word appears on the guest's bingo grid, they mark the word with a pen/pencil "X".  The first guest to get a bingo wins a prize! Bingos include: a horizontal line (an entire horizontal line covered in "x"s and vertical line (an entire vertical line covered in "x"s).
Materials Needed:
Bingo grid sheets for each guest (templates can be found online)
Pencils/pens for every guest
A bowl or box for the words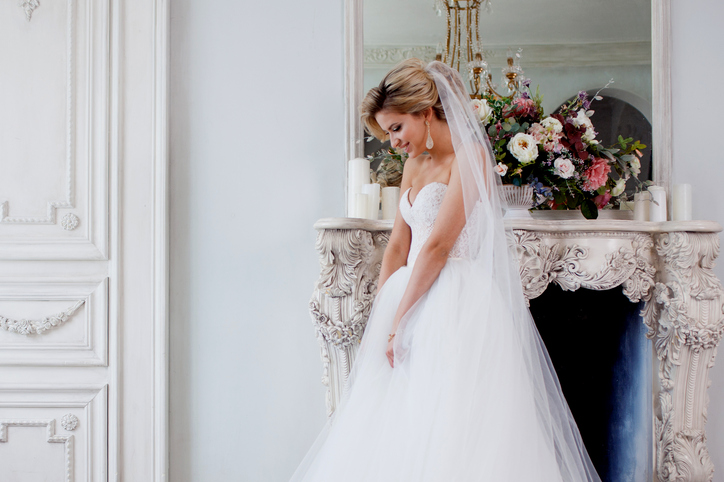 5. Bridal Pictionary
Like Bingo, this is another fun bridal twist on a traditional game.
Before the shower write down wedding-related items for guests to attempt to draw. These can include wedding items or even wedding –themed movies like My Best Friend's Wedding, The Wedding Singer, and Four Weddings and a Funeral.
As with some of the other games, list out each item on a sheet of paper, cut into strips, and divide the strips between two bowls for each table.
At the shower, divide each table into two teams and provide each team with a large piece of paper on an easel and a bowl of the strips.
The teams alternate taking turns that last one minute each. On each turn a team member picks one item out of their bowl.
The goal is to get their team members to guess the item ONLY through drawing pictures.
When the team correctly guesses the item, they are rewarded with a point and play passes to the other team.
After the minute is up, an announcement is made and the player's turn ends.
If the team has not guessed the item, the other team is able to steal the point by correctly guessing the item. The game ends after ten minutes and the team with the most points is the winner.
 Materials Needed:
Two bowls/boxes for every table
An easel with large sheets of paper
Pens/pencils
A timer and a bridesmaid to keep/announce time
A sheet of wedding-related items cut into strips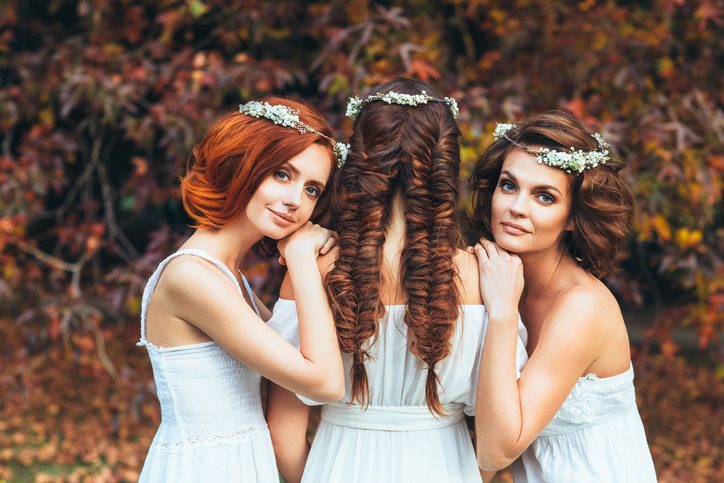 6. Bridal lingerie guessing game

Before the bridal shower inform every guest to bring a piece of lingerie (only if they are comfortable with it, of course!).
Designate a bridesmaid to collect the items when each guest arrives at the shower.
Hang the lingerie around the room or place each piece on a long table.
Have the bride walk around the room and announce who she thinks brought each item.
If you are also playing the Groom Trivia Question game, you can reuse those silly tasks here for the bride to complete whenever she mismatches lingerie and shower guest!
 Materials Needed:
Lingerie items from guests
Box of silly tasks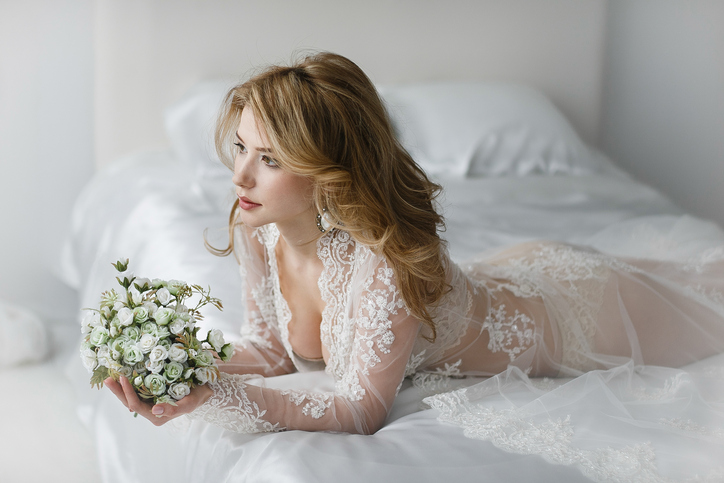 7. Finish his sentence
Before the shower ask the groom to write ten sentences about the bride, for example: "The thing I love most about my bride is …" or "My favourite thing to do with my bride is …. because …".
Provide each guest with a pen/pencil and a piece of paper so that they can guess how the groom finished his ten sentences!
Have a bridesmaid read each statement aloud with blanks left.
Each guest should write down how they think the groom finished the sentence. Those with the most correct at the end of the game should win a prize!
If you only have a small party, a longer version can be played in which every guest is asked to reveal their answer! This can lead to some hilarious responses.
Materials Needed:
Pens/pencils for every guest
Paper for each guest
10 sentences about the bride written by the groom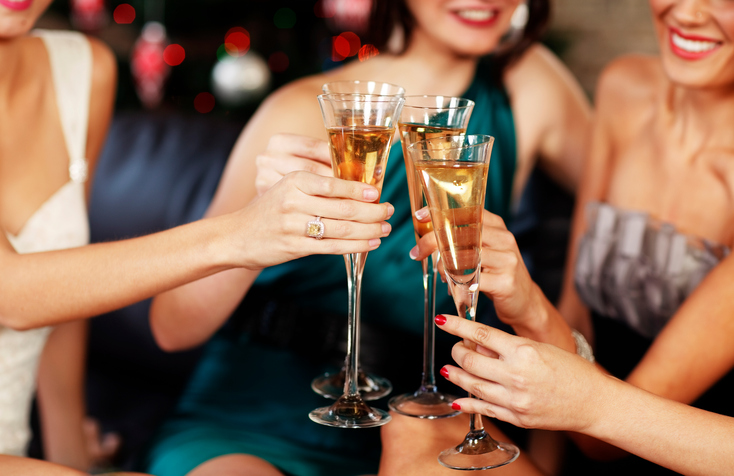 8. Once upon a time…
This game is a fun way to create a keepsake for the bride!
At the top of a blank sheet of paper simply write "Once upon a time, a girl named [BLANK] met a boy called [BLANK]" with the blanks filled in with the bride and groom's names.
Pass the paper around to each of the shower's guests and request that they each add a sentence to the story.
Suggest that every person only look at the last two or three words of the previous sentence to make the story funnier and less predictable!
Once the story has been to every person, finish it with "and they lived happily ever after" and read the entire story aloud. Give the story to the bride as a way to remember her shower!
Materials Needed:
A paper with the story started
Pens/pencils for every guest
A little imagination!
9. The clothes peg game
At the beginning of the shower, announce five wedding-related words that guests are forbidden to say throughout the entire shower!
This can be quite hard since most of the conversation will revolve around the wedding.
For example: love, honeymoon, dress, and bride can be extremely difficult not to say at a wedding shower.
Provide each guest with five clothes pegs for them to pin onto their clothing.
Throughout the shower, they can confiscate one of the clothes pegs from another guest if they hear them saying a forbidden word.
At the end of the shower, the guest with the most clothes pegs wins!
Materials Needed:
Enough clothes pegs for each guest to have five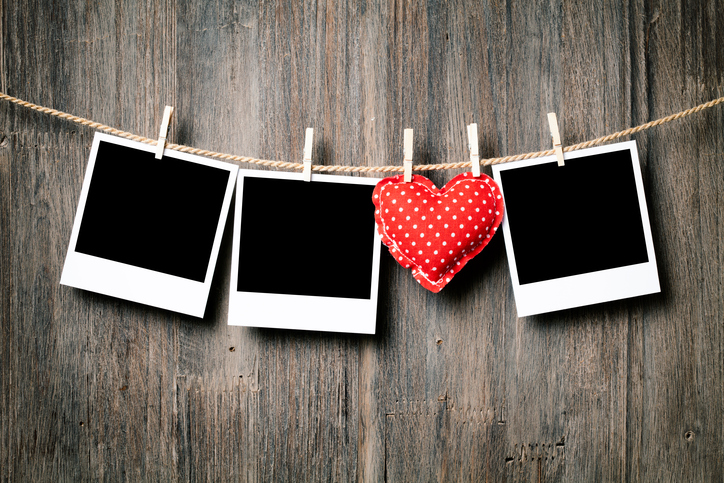 10. Purse Scavenger Hunt
Every guest is likely to show up at the bridal shower with a purse!
Before the shower, make a list of items that might be found in the girls' bags (feel free to include random, funny, or risqué items to make the game more fun).
Print the list off on a chart and assign points for each items with obscure items being allotted more points.
Place this list at every seat.
When the time comes to play the game, the Maid of Honour or a bridesmaid should call out the list of items while guests search their bags and mark off their found items.
The person with the most points at the end of the game wins. Be sure to check that the items are actually in their bag before crowning a winner!
Materials Needed:
Pens/pencils for every guest
A chart of items and points for every guest
11. Guess the dress
A great way to inspire creativity at the bridal shower is to challenge guests to guess the dress!
At every table place setting, provide guests with printouts they can draw on. Encourage them to guess what the dress shape is, and provide prizes for the most creative! But remember – don't give too much away. The overall winner (the guest with the closest dress guess) can be given a prize on the wedding day, after the big reveal.
Materials Needed:
Pens/pencils for every guest
Printouts of a bride without a dress – these can be sourced from Etsy.
12. Guess how old
This game is a fantastic way to break the ice.
It's easy – have a photo board featuring the bride's childhood photos and get guests to guess how old she was in each photo. The host (usually the Maid of Honour or a bridesmaid) will then read out the correct answers while guests tally their score.
Materials Needed:
Photo board with photos numbered
Plenty of paper and pens for guests to write their answers
Prize for the winner
This game can even be done with photos of both the bride and the groom!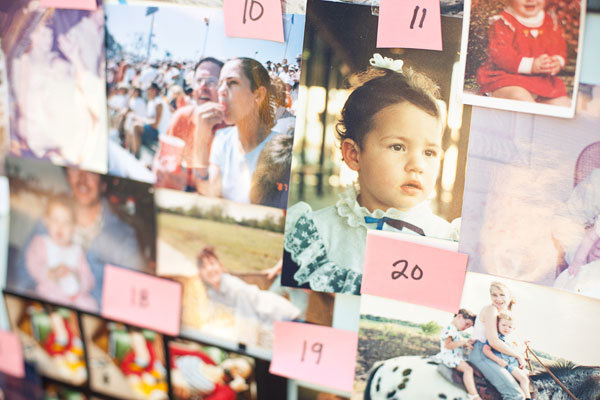 13. Who sang the love song?
This game is perfect for music lovers!
To play this game, the hostess should create a playlist with 12 recognisable love songs. Then, when everyone is seated and enjoying themselves, start the game. Play snippets of the songs, and encourage guests to write down who they thought sang it. Make sure there's a prize at the end for the guest with the most right answers!
Materials Needed:
Love song playlist and adequate speakers
Pens and paper for guests to write their answers
14. Hashtag help
While this is a great bridal shower activity, it also helps brides find the perfect hashtag to suit their wedding!
Divide guests into small groups of two or three and get them to come up with their best wedding hashtag idea. These hashtags can be puns, a play on words, or simply a combination of the marrying couple's names. The most creative (judged by the bride) wins!
Don't forget to provide a prize for the winning team!
Materials Needed: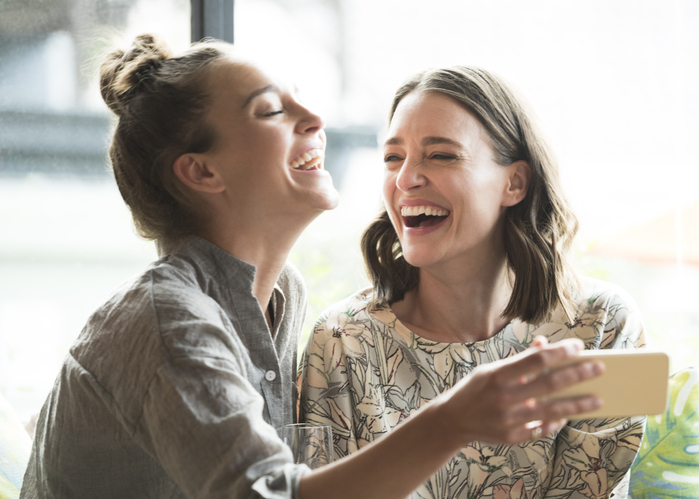 15. Who said it?
This is a great way to test how well guests know the marrying couple!
To play this game, the hostess should create a list of sayings and sentences said by both the bride and the groom. These saying are read out loud, and guests are encouraged to write down  who they think originally said it. The answers should then be read out, and the guest with the most correct answers wins!
Materials Needed:
Pens/paper for guests
Enough funny/memorable sayings to create the list
Prize for the winner