The extent of the wedding flowers you need will depend a little on your venue. If you are having a garden wedding, the additional flowers will be minimal, but in a large hall you will need plenty of flowers to make an impact.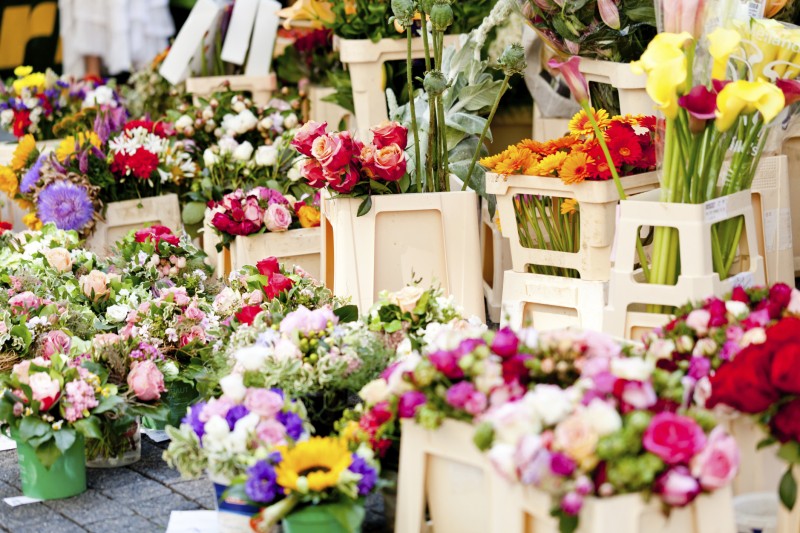 Here are some common wedding flower items to include on your wedding flower list:
The Bridal Bouquet
Whether you choose a hand tied posy, a gigantic cascade, or a cute pomander, the bouquet is an essential part of any bride's outfit. Although this would traditionally consist of white or cream flowers, many modern brides are choosing bold, bright flowers to contrast with their wedding dress. Think how you want to display your bouquet during the reception, and consider ordering a special bouquet to throw so the original doesn't get ruined.
Bridesmaid Bouquets
These can be miniature versions of the bride's bouquet, or they can consist of similar flowers in a different colour scheme. There is currently a lean towards simplicity for bridesmaid bouquets. Three beautiful calla lilies tied with a ribbon is an elegant choice which is also easy to carry.
Button Holes
The groom and best man wear a flower attached to the lapel of their jacket, and often any ushers and the fathers of the couple wear these too. Traditionally the button hole would have consisted of a single rose taken from the bride's bouquet, but modern grooms are wearing everything from miniature bouquets to sunflowers on their lapels.
Corsages
If your bridesmaids aren't carrying bouquets, you can order them floral corsages, in the same style as the men's button holes, to be attached to their dresses or worn around their wrists. The mothers of the couple should also be offered corsages. As they will choose their own wedding clothes the corsage is the only visual indication that the mother is part of the bridal party.

Ceremony Arrangements
The type of flowers you order for your wedding ceremony will vary depending on the venue and whether you are having a church or civil ceremony. You can decorate the altar and the window sills with flower arrangements that can then be transported to the reception venue. You could also hang floral arrangements along the aisle to make it an extra special place for your processional.
Floral Archways
Although an archway decorated with flowers can be expensive, it can also be a spectacular focal point for an outdoor wedding ceremony, a beautiful entrance for the bride, or an original backdrop for your group photos. An archway will make a strong visual impact, so you may be able to reduce the amount of flowers arrangements you have elsewhere.
Table Centres
Dressing the tables for your wedding breakfast will probably be the main focus for your decorating theme, and the table arrangements are the central feature of that theme. Table centre trends contrast between simple single stemmed blooms in tall vases, and exotic displays mixing feathers and butterflies with tropical flowers. Whatever you choose, make sure they suit the scale of your venue, and that guests can talk over, under or around them.
Floral gifts
It is customary for the newlyweds to give thank you presents to their mothers and the bridesmaids, to thank them for their role in the wedding. Giving bouquets, or flower arrangements can be the perfect way to show your gratitude, and may save you money if you include them in your wedding flower order.
---
80% of Australian couples use Easy Weddings to connect with their dream wedding suppliers.
Browse the directory and start planning today!