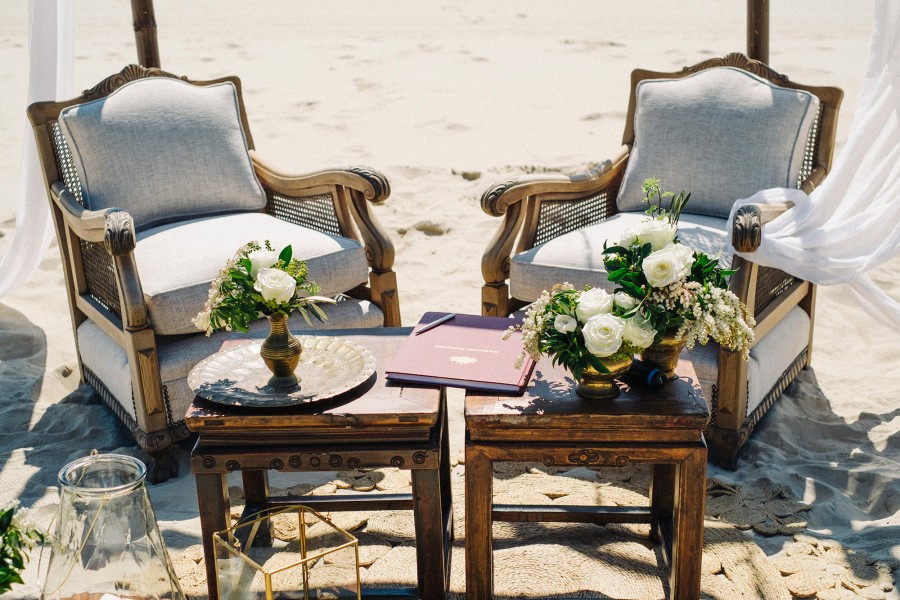 Choosing a wedding theme involves considering a few factors. Things like you and your partner's personalities and tastes, as well as the vibe and mood you want to create for your special day.
Consider the below questions to help you hone in on a wedding theme that reflects you and your partner's personalities in the most perfect way.
When will your wedding take place?
Are you having a summer, autumn, winter or spring wedding? It may not seem relevant, but this is a very important consideration.
For example, if you are having a winter wedding, you can being to plan a theme that will suit a cold winter's day. For example, a wedding colour palette which features dark dramatic tones such as emerald green or a deep burgundy, are ideal for winter weddings.
Additionally, a winter wedding can be a theme in itself, or, you could have a classic, glamorous wedding theme.
In contrast, a summer wedding beckons a beachy wedding theme, and, a spring wedding is perfectly paired with pastel colours, bright bouquet featuring berries and garden settings.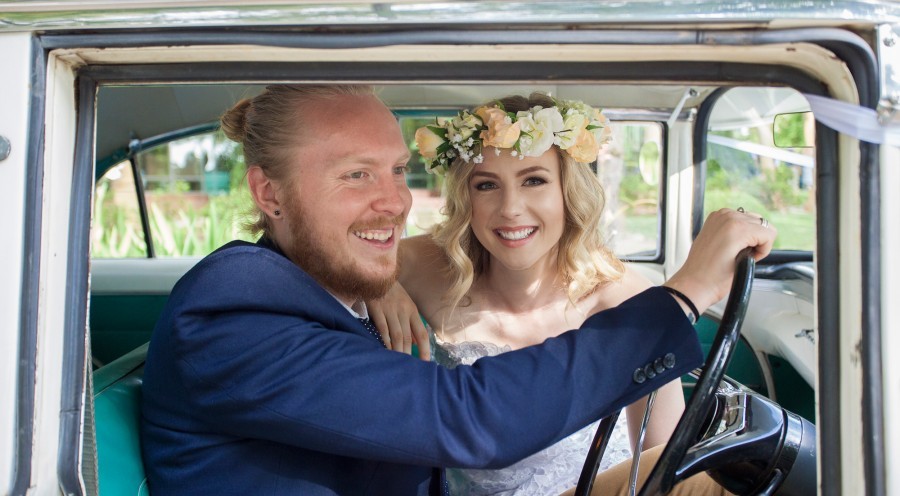 Where will your wedding be held?
Think about your venue – and then consider what colours will suit it. If you're holding your wedding reception in a low-light venue such as a night club, do you really want your wedding colours to be black and white? Nobody will be able to see any detail.
Instead, use your wedding venue as a springboard for inspiration. Is it by the beach? If so, a beach-themed wedding with blue, while and silver hues would be a perfect choice.
Will you marry in a garden? Or perhaps a rainforest? Use the surroundings of your venue to inspire your wedding theme, and consider what natural elements work as a good foundation for your wedding styling.
What sort of mood are you going for?
This is a very important factor to consider. Are you and your partner quite laid back? If so, a laid back and relaxed vibe would be very suited to your personalities. Additionally, wedding themes such as bohemian or beachy often lend themselves to a very relaxed, natural vibe. See how you can start to paint a picture?
In complete contrast, perhaps you want a glamorous, party vibe for your wedding day? With lots of food, music, flowers, lights and dancing? A contemporary, glam wedding theme might be a perfect fit, or even an Art Deco theme with glamorous styling reminiscent of The Great Gatbsy?
Consider what mood you wish to portray through your theme and how you envision you and your guests celebrating.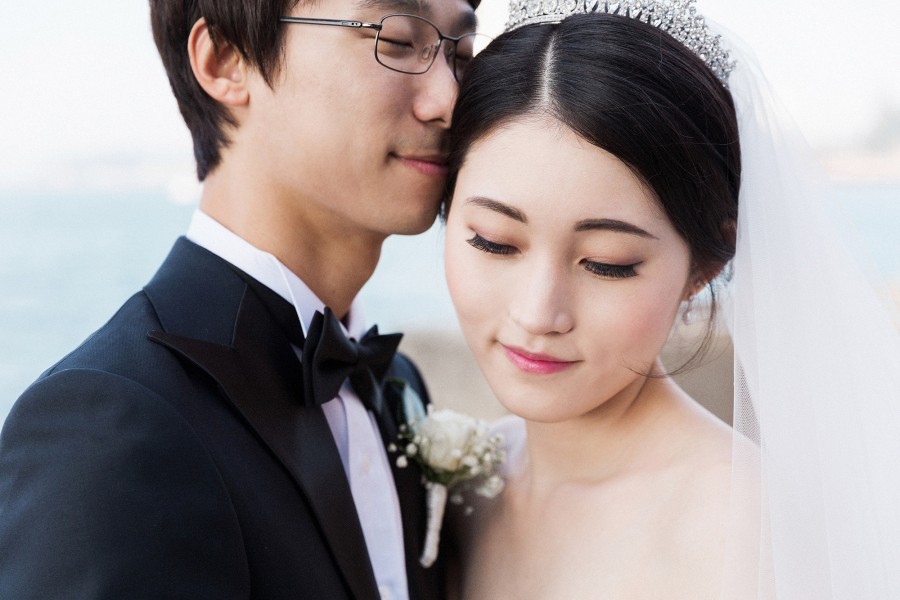 What is your favourite colour?
Choosing a wedding theme colour will really help you to choose an overall wedding theme.
Think about some of your favourite colours and what styles of weddings they are typically used in. For example, white, gold, silver and black are classic colours that are often used in traditional and luxe weddings.
Similarly, colours like navy blue and silver are often used in elegant contemporary style weddings.
Every primary colour and combination can be reworked and used in various shades, so if you've dreamed of a purple-themed wedding but can't make violet work, you could always opt for a pastel shade of lavender.
Create a moodboard
Another great way to hone in what kind of wedding theme you want is by creating a moodboard of images that you like. You can find images on Pinterest, Instagram or even the Easy Weddings' inspiration boards.
Once you've collated a bunch of images that you like, print them all out and pin them to a large piece of cardboard, (or, if you're a Photoshop pro create a digital moodboard.) Seeing all the images together will help you to decipher what kind of styles and colours you naturally lean towards.
You may notice that most of the photos you like incorporate gold or silver, or, maybe, all the photos you like cohesively portray a certain vibe or style.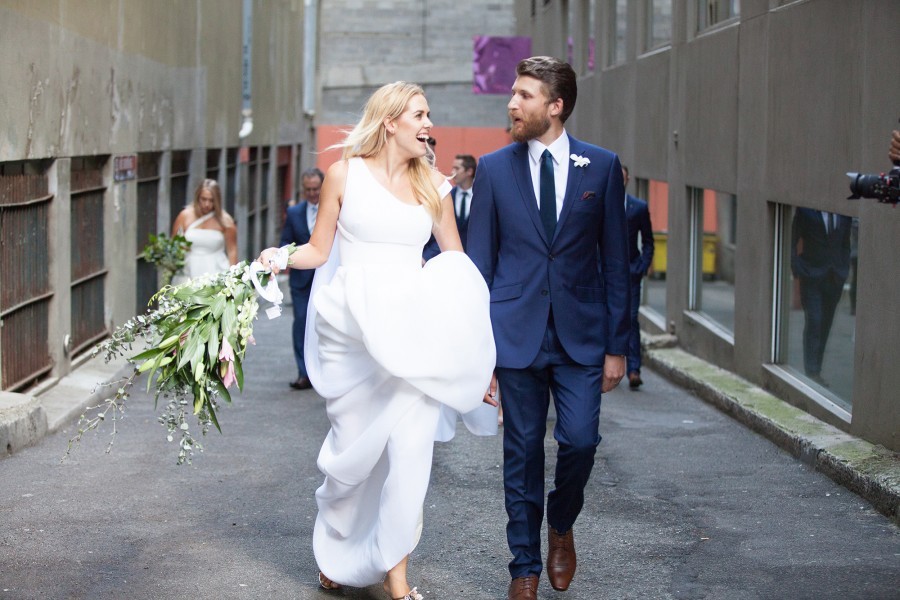 What is your dress like?
Many people do this the other way around – they choose a wedding theme and location, then they choose a dress to match. But, if you're the opposite in this scenario, then use the style of your dress to choose your ultimate wedding theme.
If you've picked your dress already, or, you know what style of dress you are looking for, consider the elements and aesthetic of the dress.  Is it delicate and whimsical? (Perfect for a luxe bohemian wedding.) Or is it modern and minimalist, with clean lines and edges? Or, perhaps it's a full princess ballgown with plenty of lace and embellishment?
Use the style of your dress to guide you when choosing your wedding theme.