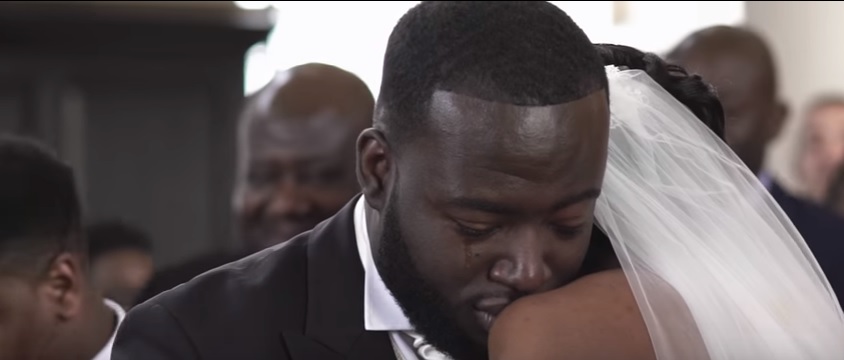 A video of a British groom who became so overwhelmed seeing his bride coming up the aisle towards him that he breaks down in tears has gone viral – and it's guaranteed to have you in tears, too.
The spine-tingling video captures the moment groom Gabriel Deku sees his gorgeous bride-to-be, Annabella, for the first time. As he glimpses her, Gabriel, 25, becomes so overwhelmed with emotion, tears of joy begin to roll down his face – and do not stop.
The groom, a financial advisor, is so overcome, he cannot even look at his veiled bride who, with the help of her mother, Damaris, is walking towards him.
The assembled guests, sensing Gabriel's overwhelm, break into shouts of joy and, between their own tears, make it clear that he shouldn't at all be embarrassed by his tears.
After a few words of encouragement from his best man, Tolu Ige – and just as Anabella, 24, reaches Gabriel at the top of the aisle – the groom gathers all his strength to look at her.
Understandably, she, too, has tears in her eyes – as does most of the bridal party. The couple hug. The crowd goes wild and the ceremony continues as planned.
The loved-up couple who met while studying at Portsmouth University four years ago were married on May 14, 2016 at St Martin In The Fields church at Trafalgar Square.
Their wedding video, by UK wedding videographer De Rienzo Films, recently made it online – and, once people saw it they, understandably, had to share it, too.
It has since been viewed by millions of people across the globe.
Find wedding videographers that will capture your big day to perfection here.