Writing wedding invitations during COVID-19 is a bit daunting for many couples. Should you ignore the elephant in the room or address it? Here's what the pros advise.
"Regardless of the circumstances presented by COVID, you'll write your wedding invitations almost exactly as you usually would," says Darcy, the lead wedding planner at Easy Weddings. "The main difference is that your details card will be completely different, and you'll use it to communicate any COVID messaging you need to convey."
Free consult with our planners
---
What's included in this article:
---
Usually, a details card includes suggestions for nearby accommodations as well as gift registry information, but you can add to that and either include an additional card for COVID details or have a longer list of details on one card.
Each state has its own COVID rules and regulations, which you'll want to be familiar with prior to sending out save-the-dates and wedding invitations. The best way to keep your guests comfortable and at ease about attending your wedding is to be really upfront about all things COVID related, whether it's about social distancing at the reception or where you'll post info on wedding date changes due to COVID. Our COVID Wedding Restrictions Tracker is a great state-by-state tool for referencing Australian wedding rules.
"No couple wants to think about what they'll do if they have to postpone their wedding due to an outbreak of the virus, but having a clear communication plan will save you so much stress if it does happen," says Darcy. Your wedding invitation details cards and inserts are the perfect place to get this information across to your guests.
---
Here are some things to include in your COVID wedding invitation inserts.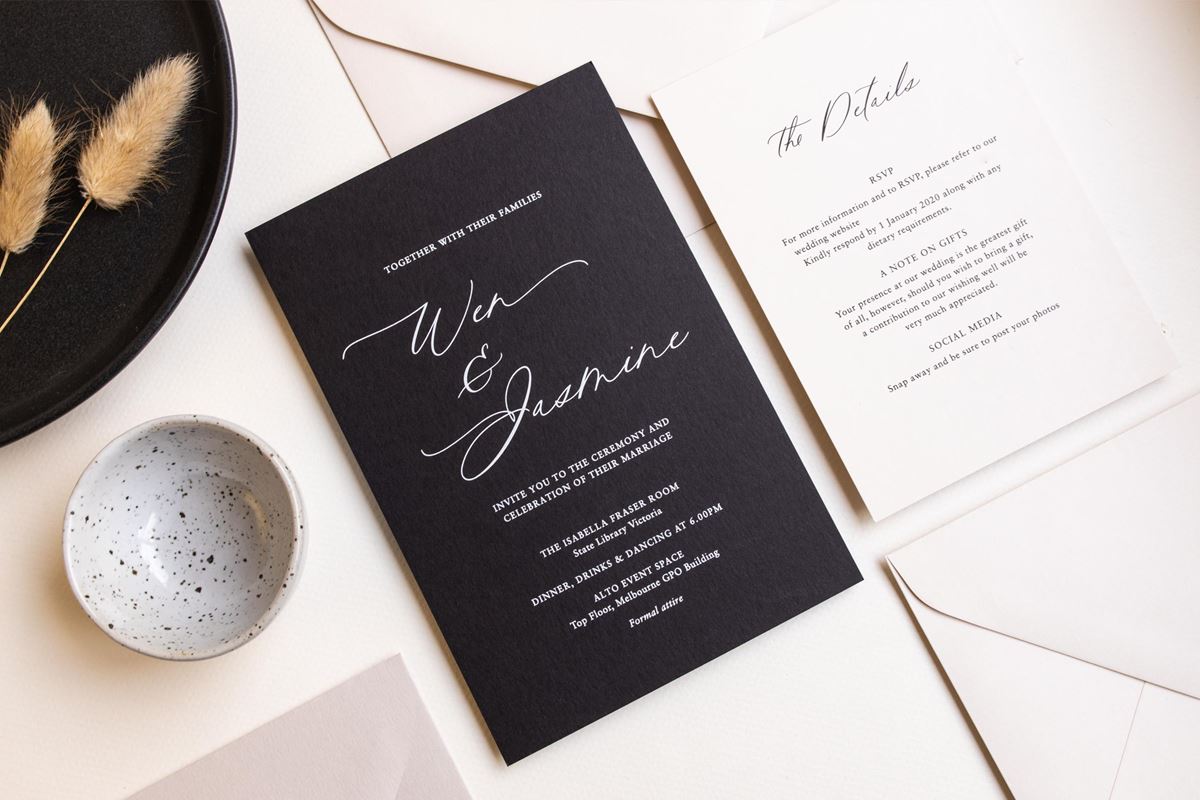 Include details about your COVID Wedding Safety Plan
"Honestly, the more info you give your guests, the more comfortable they will be about attending your wedding during the pandemic," says Darcy. The great thing about a details card is that you can be long-winded as you'd like. You're not fighting for space on the page like you are on the actual invitation card.
You might include your plan for social distancing, mask-wearing, dancefloor limitations, food service safety, and any details guests would find helpful about the venue. For example, if the venue is outdoors or has a wall of open doors for good airflow, you might want to highlight these features to ease your guests' concerns.
Many couples also offer guests the opportunity to ask questions about their COVID Safety Plan. A great way to do this is via your wedding planner or a close friend who can take phone calls and emails on your behalf. They should have a detailed plan from you so it's easy to tackle any questions without involving you.
The way you write and format your details card is entirely up to you, but you can be pretty informal with this info and just include the highlights. Or, you can set it up like a more formal note to your guests.
Sample text for your COVID wedding invitation details card:
Dear family & friends,

We're hopeful that COVID will no longer be a concern by our wedding day on the 15th of April, but we also want to ensure that everyone attending our wedding feels safe. We've been in contact with our venue and caterer to devise a COVID Safety Plan that closely follows local rules and regulations.

As of now, our plan is to host both our ceremony and reception outdoors, limit our guest list to 100 guests and have an extra-large dancefloor. Our caterers will individually serve all courses of dinner and there will be no grazing tables or shared buffets.

We're now allowed to gather without masks, but should that change, we'll happily amend our mask expectations accordingly.

For those of you who aren't able to travel during our wedding weekend, we will stream the ceremony virtually. Let us know on your RSVP if you'd like the Zoom link.

We've set up a wedding website (bradandjenarebackon.com) where you can find the latest info on our COVID Safety Plan. We'll keep this updated regularly, so please check it out in the weeks and days prior to our wedding in case there are any changes to our plan. We'll also send out an email a few days before our wedding to confirm any major changes.

Lastly, if you have any specific questions about COVID and our wedding, please get in touch with our wedding coordinator, Sarah. You can reach via SMS or call 0298 989 765.

We can't wait to celebrate with you in person! We've never felt more excited to see you all x

With love and gratitude,
Brad and Jen
---
Shop invitations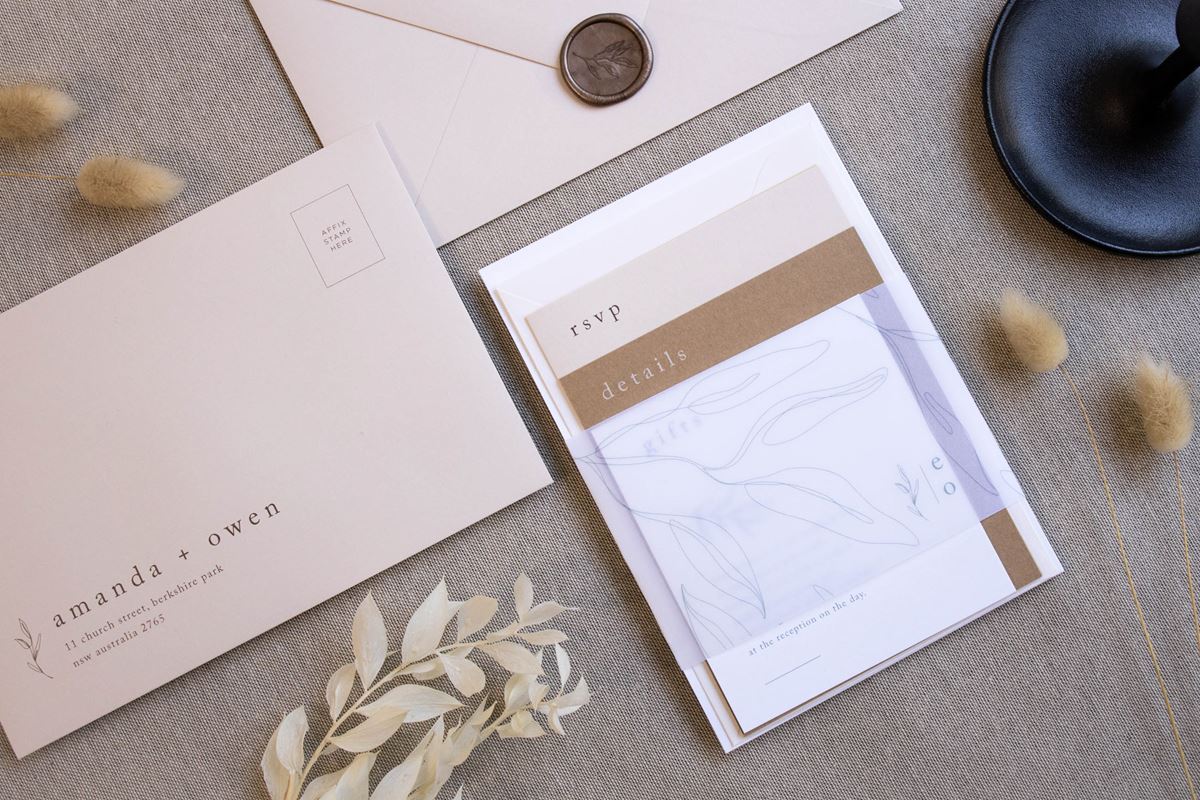 Address travel restrictions and changes during COVID
International and interstate travel continue to prove challenging during COVID, and while that may change over time, it's important to let guests know how to get in touch with you if their travel plans have to change unexpectedly and they can no longer attend your wedding.
Would you like them to get in touch via text, email or phone call? If so, can you request a family member or close friend manage last-minute RSVP changes so you don't have to field them during the final weeks and days leading up to your wedding?
"Most couples manage RSVP themselves up to the caterer's due date, which is usually 2-3 weeks prior to the wedding," says Darcy. "With COVID, last-minute cancellations might come in after that due date if travel restrictions change unexpectedly. So, I usually recommend that those last-minute cancellations go through a family member who can communicate with the caterer. I'm all for making things as seamless as possible in those final days before the wedding, and last-minute cancellations, even if unavoidable because of COVID, can be really stressful for couples."
Sample travel text for your COVID wedding invitation details card:
Travelling During COVID
To each and every guest who's considering travelling for our wedding, thank you! We'd be delighted to have you if you're able to make it during this crazy time.

If your travel plans change after you've sent us your RSVP, please let us know by texting Brad's mum on 0425 243 9085. She'll be happy to pass the message along to our caterer and to us.
Browse invitation designers
---
Include your wedding website link
Many couples consider their wedding website or social media group their primary means of communication with guests. Whether you're using a Facebook group or creating a custom site about your wedding, you'll want to include this info on your wedding invitation details card.
Some couples provide additional announcements for guests via group emails and text messages, which can be a great way to ensure guests see any announcements you've made on your website or social media posts.
---
Options for your RSVP card
Pre-pandemic, wedding reply cards were a simple yes or no tickbox, but things have of course become more complicated to reflect the current circumstances. "I've seen a few couples offer a third option that's more flexible, or include space for guests to write a note," Darcy says.
Here are some COVID wedding RSVP card wording options to consider:
_ We'd love to attend, but can't travel due to COVID
_ We can't wait to participate in your virtual wedding!
_ We'll be there with bells on (and masks too, if needed)
_ If COVID restrictions ease in time, count us in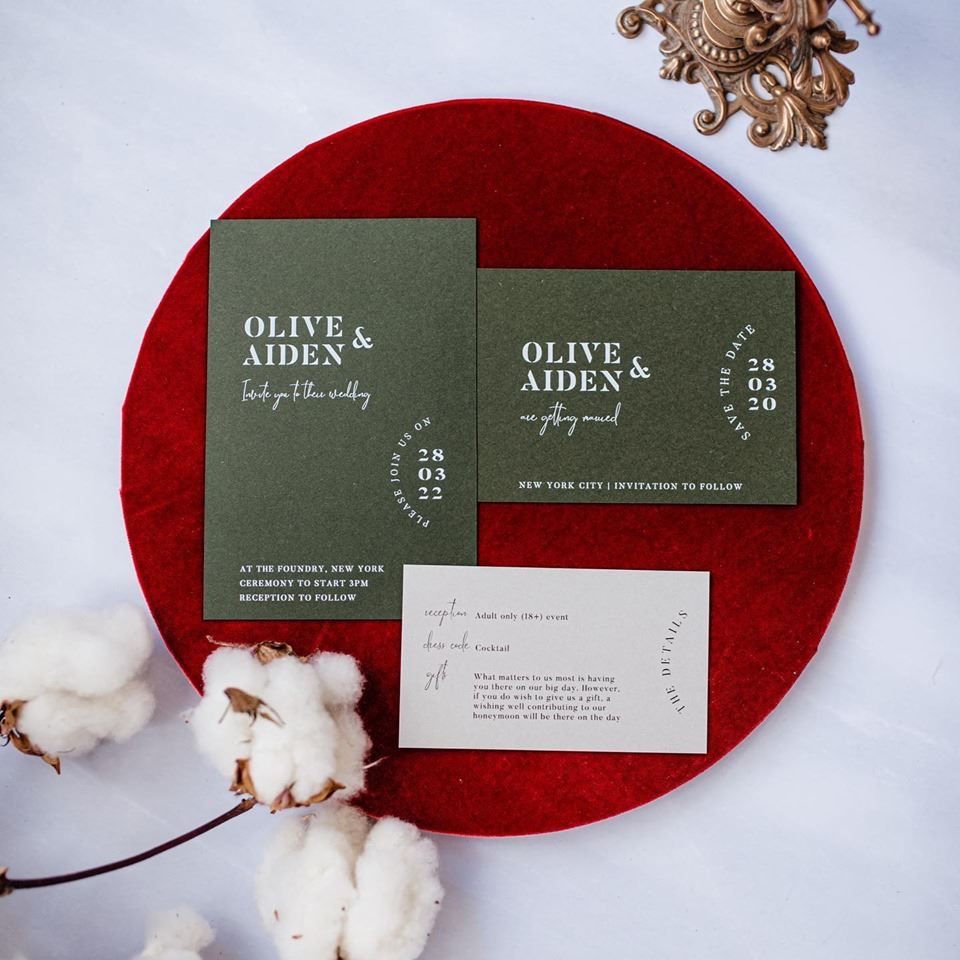 ---
What to do if you have to postpone your wedding
If you're in a situation where you have to postpone your wedding after you've sent your save-the-dates but before you've sent your invitations, the change of date is pretty simple. In this case, you can include a note in your details card highlighting the date change.
If you've already sent your wedding invitations and have to postpone due to a COVID outbreak, you have a few options. You can send a change of date card in the mail, via email or in a text. "If you go the digital route, check with your invitation designer to see if they'll create a custom PDF that matches your wedding invitations," suggests Darcy. You can also do a combination and email the PDF then follow up with a mailed change-the-date.
Sample text for your wedding change-the-date:
Due to circumstances beyond anyone's control,
Brad and Jen's wedding date has changed to
29th July 2021
All other details remain unchanged
See you then!

OR

Crazy times call for crazy date changes!
Brad and Jen's new wedding date is
29th July 2021
See you at 5pm at Piper's Pier in Sydney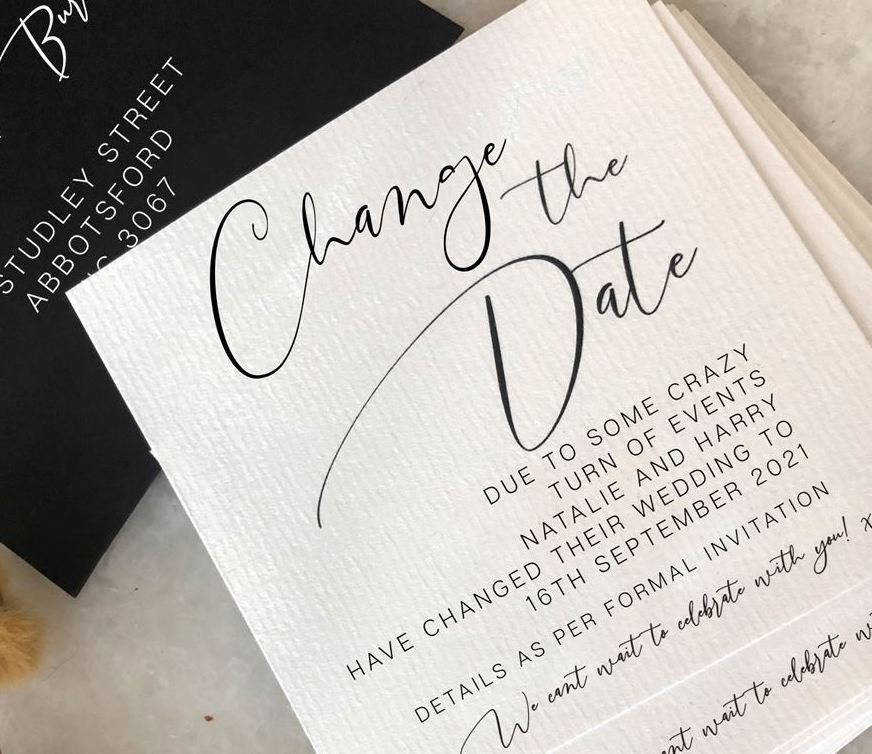 Though planning a wedding right now can be unpredictable and stressful, there's always a solution to whatever changes come your way. If you'd like to take a look at local wedding stationery designers in your area, head to our directory.
---
If you're interested in working with a wedding planner from our team, check out our Personalised Wedding Packages.