Not sure where to begin when planning your Brisbane wedding? To help you get started, we've put together this in-depth guide covering all the essential steps for planning your dream day.
In this article, we'll walk you through all the key elements of planning an unforgettable Brisbane wedding, from finding your perfect venue to locking in your dream team of suppliers. We also share some handy planning tools and give you the low-down on our favourite real weddings across Brisbane and surrounds.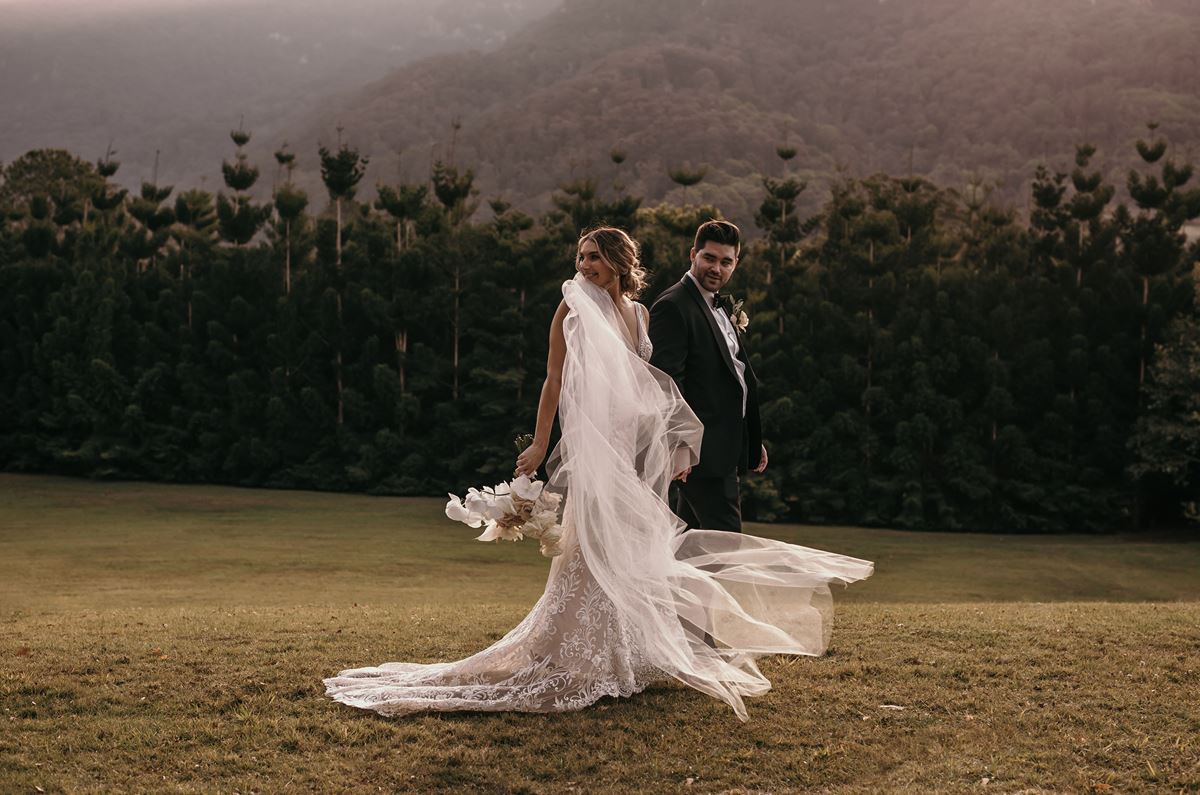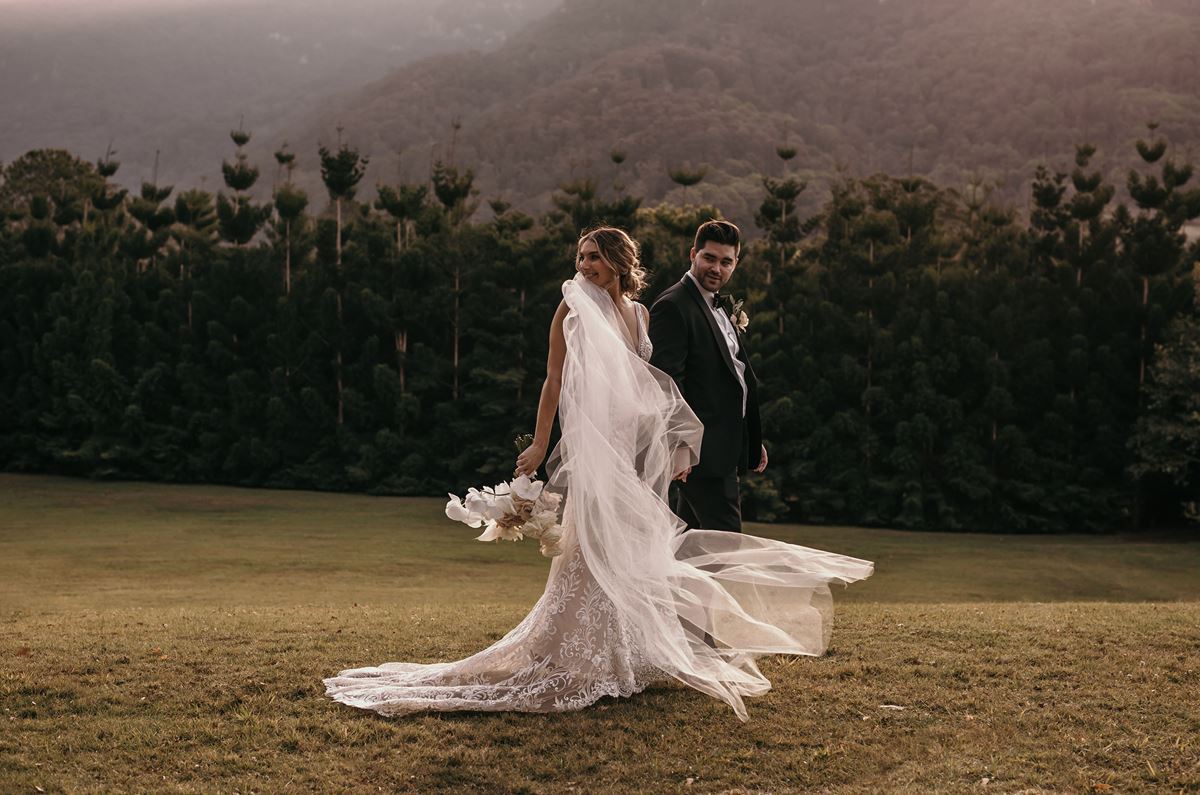 ---
Choosing a date for your Brisbane wedding
First things first, you'll need to decide on a date for your Brisbane wedding. You might already have a specific date in mind, and in that case, we recommend reaching out to your venue as soon as possible to make sure they have availability.
Our resident wedding planning specialist Darcy Allen recommends giving yourself around 12 to 16 months to plan your wedding. "Most couples take about a year to plan their wedding," explains Darcy. "That being said, if you want to have the most options for availability in regards to venues and suppliers, 18 months of planning is the perfect amount of time."
Read more of Darcy's tips for creating the perfect wedding planning timeline here.
If you're a little more flexible when choosing your wedding date, you might consider having a weekday wedding. This is a great way to save money and will mean your suppliers and venue will have more availability during the week. Many vendors actually offer special discounts for mid-week weddings!
Setting a budget for your Brisbane wedding
Setting a budget for your wedding is often seen as the most painful part of wedding planning, but it doesn't have to be. We recommend sitting down with your partner, cracking open a bottle of wine, and listing your non-negotiables for your wedding day. This will help shape the budget naturally while allowing you to remove any expensive extras that aren't actually important to either of you.
To help you get started with the budget chat, our wedding specialist Darcy has put together some helpful discussion points. These include:
Will you have an intimate or larger wedding?
How many guests will you be inviting?
Will any of your relatives be contributing to the budget?
"You'll then need to consider the location and non-negotiable elements of your wedding," explains Darcy. "For example, will you spend more on food and drinks and less on flowers? Or more on entertainment and less on photography or videography? These things should be discussed with your partner in great detail before finalising the budget."
Read more of Darcy's wedding budget tips here.
plan your budget
How to find a Brisbane wedding venue
Once you've finalised your wedding date, budget, and guest list, it's time to begin your Brisbane wedding venue search. It comes as no surprise that this vibrant, sun-soaked city is home to a multitude of stunning wedding locations. A couple of our favourite inner-city wedding venues that should be on your radar are Cloudland Brisbane and The Warehouse.
If you're dreaming of a gorgeous destination wedding on a sprawling private estate near Brisbane, Austinvilla Estate, Bundaleer Rainforest Gardens, and The Bower Estate should be at the top of your list. Alternatively, if a luxurious wedding at one of Brisbane's trendy five-star hotels is more your style, we recommend checking out Emporium Hotel on South Bank and The Inchcolm by Ovolo in Spring Hill.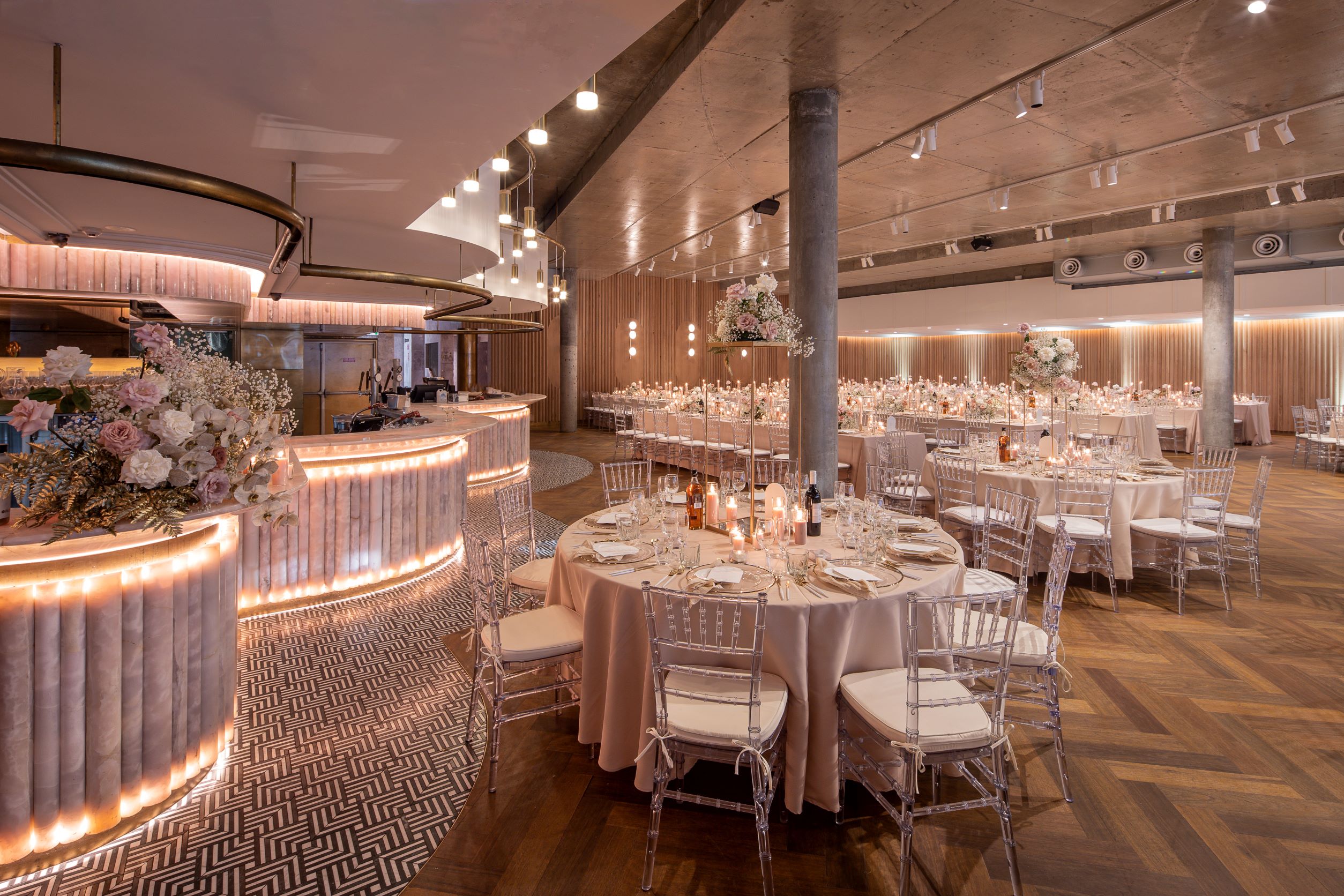 Find a Brisbane venue
Whether you're on the hunt for a stylish inner-city wedding venue or a picturesque country venue on a sprawling private estate near Brisbane, our expert Venue Finders are here to help you find the perfect setting for your Brisbane wedding.
These industry experts know the best spots around Brisbane and will take the stress out of the venue search after a quick chat on the phone. It's super simple — just let our Venue Finders know your style, budget and must-haves, and they'll match you with a list of your most suited Brisbane wedding venues.

How our Venue Finder service works:
We pair you with a list of your perfect Brisbane wedding venues
We schedule site inspections for you at your preferred venues
We finalise the details and arrange a contract for your chosen wedding venue
Find a venue
Finding the best Brisbane wedding suppliers
Once you've booked your Brisbane wedding venue, you'll need to start thinking about your supplier dream team. This can often feel daunting, and you may have lots of questions running through your mind, like do I need a videographer as well as a photographer? Should I book a DJ or a live musician? How many hours will I need my suppliers for?
These are all questions we've heard many, many times here at Easy Weddings, and our wedding planning experts have all the answers. Our lovely planning specialist, Abbey Sands, has helped plenty of couples find their supplier dream team for a seamless and stress-free wedding experience.

"We have years of experience planning weddings and an extensive network of amazing five-star suppliers that we can lean on," says Abbey. "This makes it easy for us to create personalised wedding packages by matching our couples with their perfect suppliers."
When you work with our planners, you'll receive a bespoke wedding supplier package that matches your budget, vision, and style. They'll put together your supplier dream team, help you stay on track with your budget, and share lots of insider tips and helpful planning tools along the way.
Chat to a wedding expert
Useful planning tools for your Brisbane wedding
Suppose you're finding it hard to stay on top of all your wedding tasks. In that case, the Easy Weddings mobile app is jam-packed with useful planning tools, including a wedding checklist, budget calculator, style quiz, extensive supplier directory, and vision board creator.
This all-in-one pocket wedding planner allows you to keep track of all the different elements of your Brisbane wedding, from your preferred suppliers to your ever-changing budget.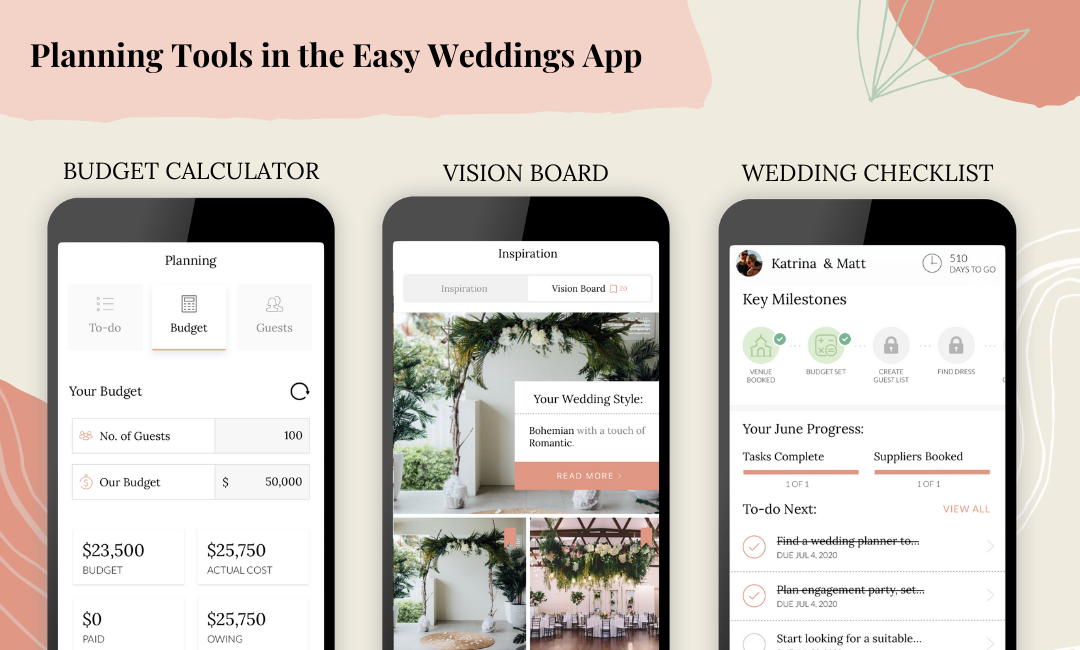 download the app
Our free planning guide is another wedding planning game-changer that will help ease any stress you're experiencing. Our in-house wedding experts have carefully written this handy PDF guide to ensure it covers everything you need to know, from pre-engagement through to your special day.
download free planning guide
Gathering inspiration for your Brisbane wedding
Now that you have all the planning basics covered for your Brisbane wedding, you're going to need some serious inspiration! Here are a few of our favourite real weddings from stunning venues across Brisbane and surrounds.
Emma and Mark's gorgeous rustic wedding at Bundaleer Rainforest Gardens was nothing short of magical. Their romantic outdoor ceremony took place against a backdrop of lush greenery and was followed by a night of laughter and dancing in the gardens' dreamy wedding marquee.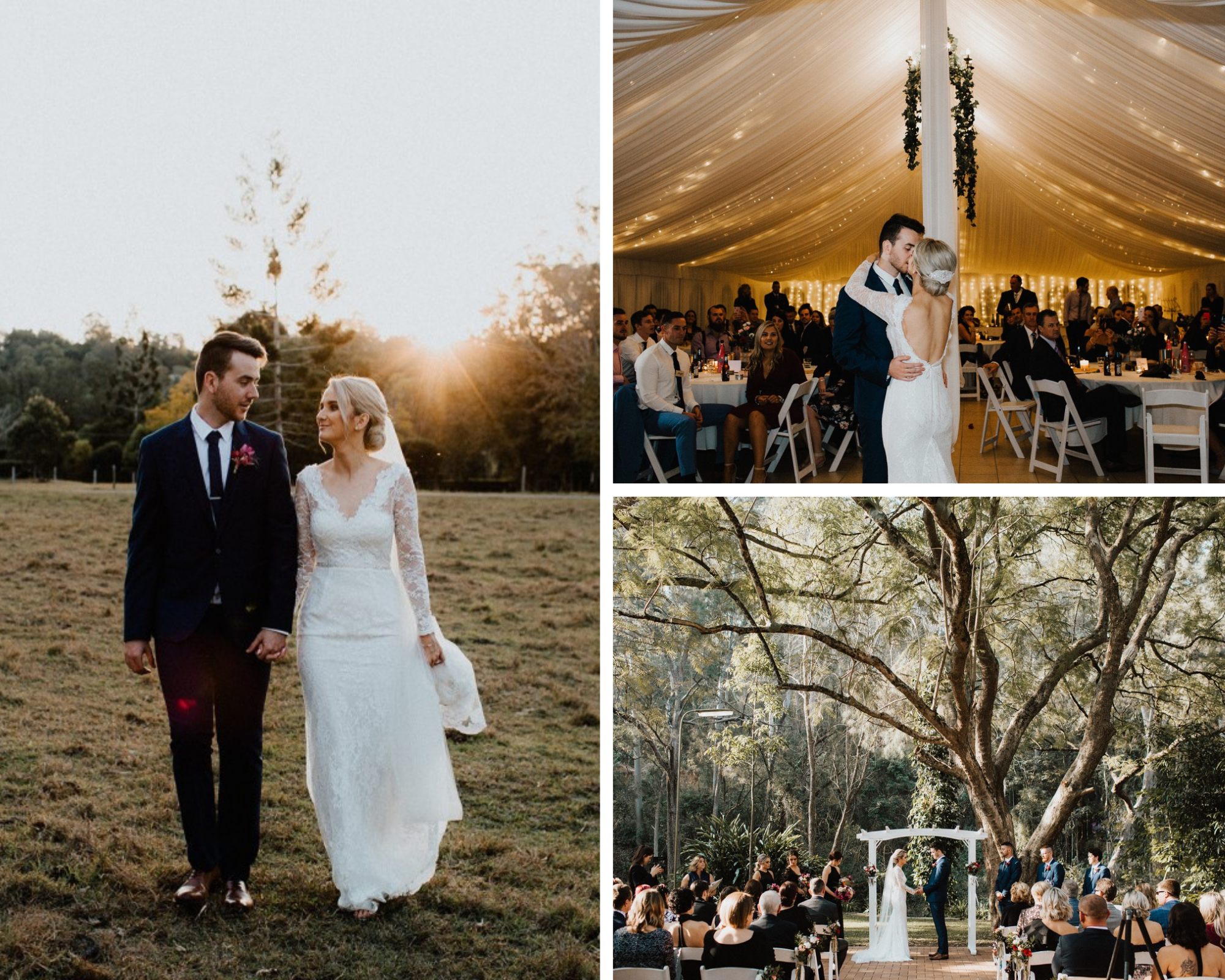 Visit bundaleer gardens
If you're dreaming of an elegant destination wedding on a picturesque private estate near Brisbane, Gabie and Scott's beautiful boho wedding at Austinvilla Estate Mudgeeraba has all the inspiration you need. The couple said their vows at the estate's stunning open-air Wedding Pavilion and continued the celebrations with a relaxed cocktail reception in the rustic Homestead.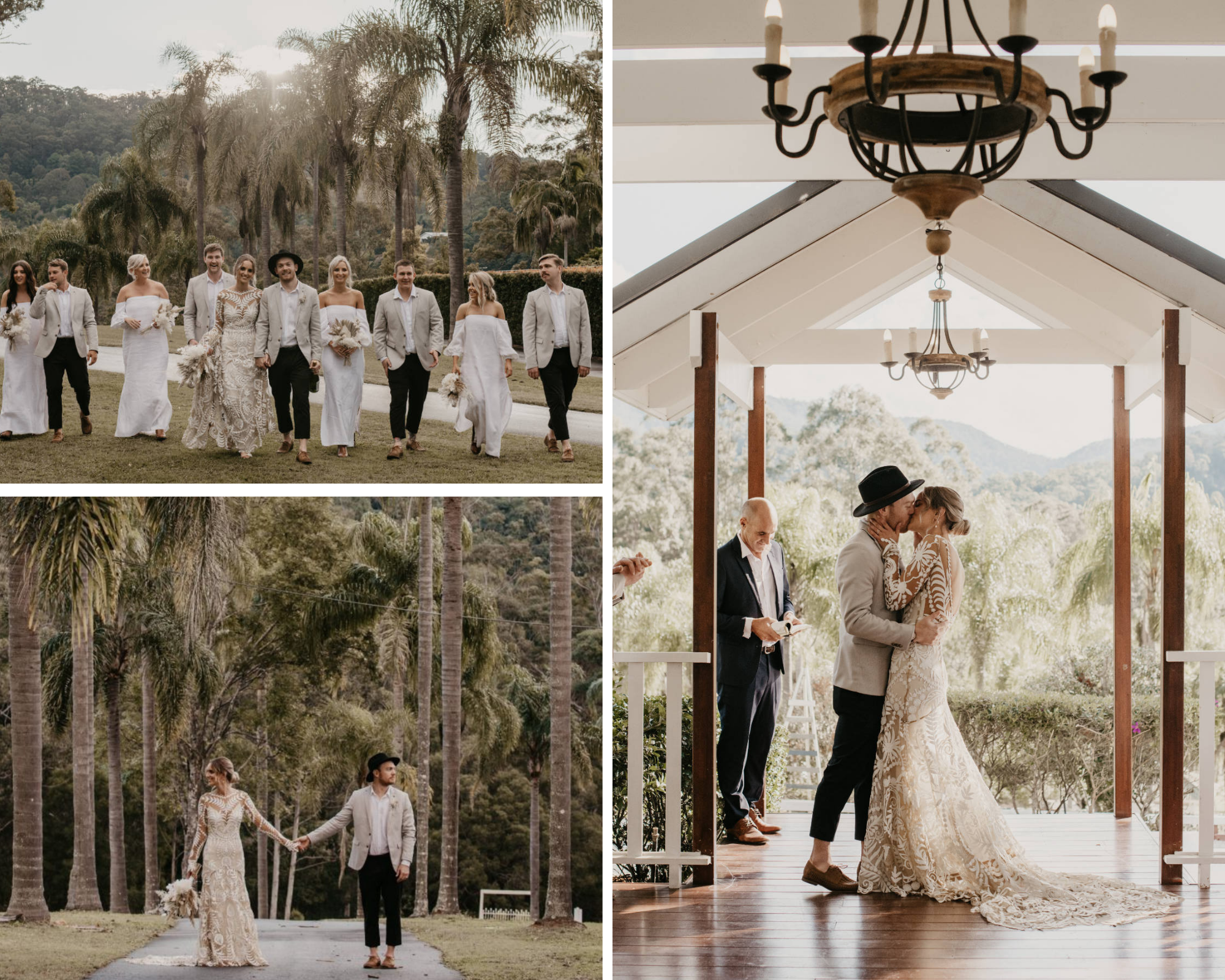 check out austinvilla estate
Searching for some more inspiration for your dream day? Check out more real weddings from across Brisbane and the rest of Queensland.
---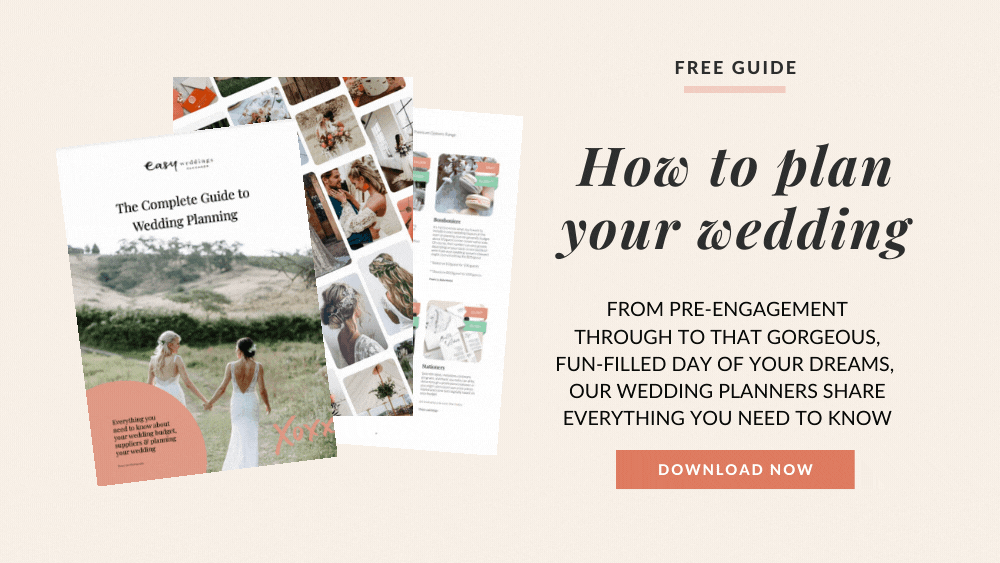 ---