Booking a photographer or videographer for your wedding is a big deal, and you'll no doubt have plenty of questions. To assist you in making your decision and answer all of those burning questions, we've enlisted the help of Veri Photography, Australia's leading boutique wedding studio.
We recently had the pleasure of catching up with Cheng from Veri Photography on IGTV  to chat about all things wedding photography and videography related. In the interview below, Cheng answers all of the questions asked by our Instagram followers, including:
Capturing the best moments of a wedding day
Visiting the venue beforehand to scout photo locations
Booking a wedding videographer and a photographer
You can watch the IGTV Q&A session on our Easy Weddings Instagram profile or keep reading below to discover all of the highlights.
View this post on Instagram
visit veri photography
Easy Weddings: Hi Cheng! Can you tell us how long you usually schedule for a day of wedding photography?
Generally, we need an hour and a half with a bride and an hour with a groom before the ceremony, so that's about two and a half hours before the wedding starts. Then, usually, from the time we start, it's about an eight to ten-hour day to take us to the end of the reception.

We usually suggest that the couple contact their venue to ask what time the ceremony will be and the schedule for the day. When we know what the run sheet for the wedding day looks like, we can figure out the exact hours of coverage needed from there.
What's the best part of the wedding day to capture? 
The hours leading up to your wedding can naturally produce some of the most beautiful, candid and touching images.

You've had your hair and makeup done, you are in your dream dress and looking like a million dollars, about to be married! You might be a little nervous or just plain excited with all these feelings rushing through you before you meet your other half at the end of the aisle.

It's critical to photograph those beautiful times spent together with your family. It's these moments captured of you – a stunning, confident bride – that will set the tone for the rest of the day.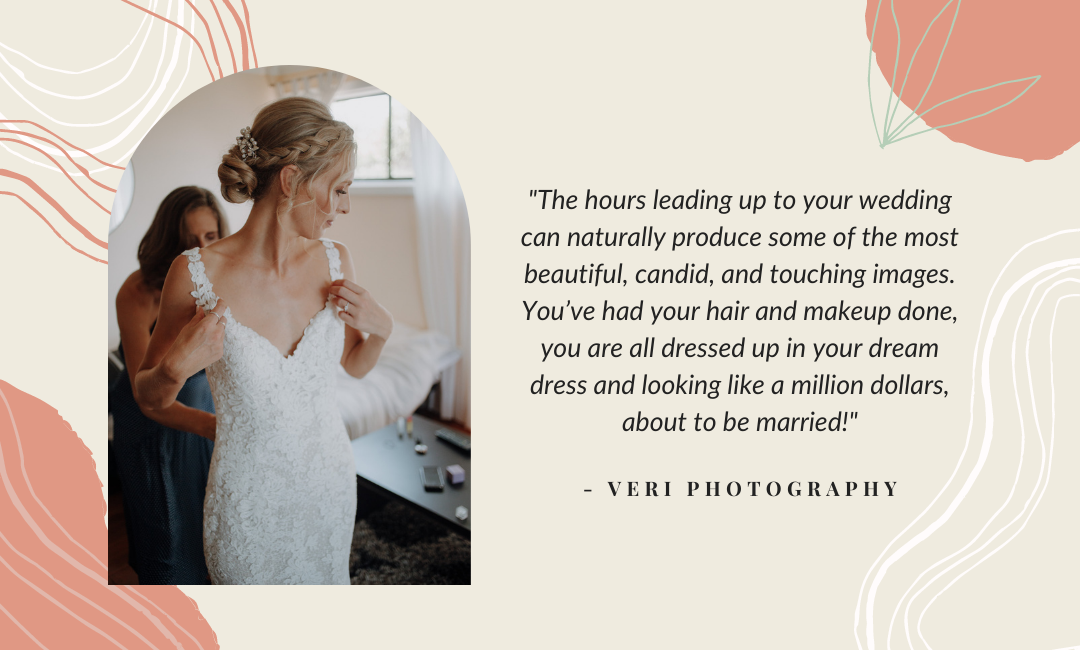 check out veri photography
Can I send a mood board of photos and videos I'd like to have replicated?
Usually, if couples have taken so much time researching their photographers and decided they do want to go with us, it's because they like our style of work. This means we're already in sync in a certain way — they understand what we can do, and we're on the same page.

Feel free to send us your mood boards or Pinterest boards. This way, we can see your colour palette, your wedding design style, and your source of inspiration. It will also help with our post-production edits as well.
How many photos do you usually end up with?
Our work rate is about delivering 80 photos per hour. So if you book Veri Photography for six hours, you're looking at a minimum of about 500 images, and for 10 hours would be a minimum of 800, but that's just our bottom line.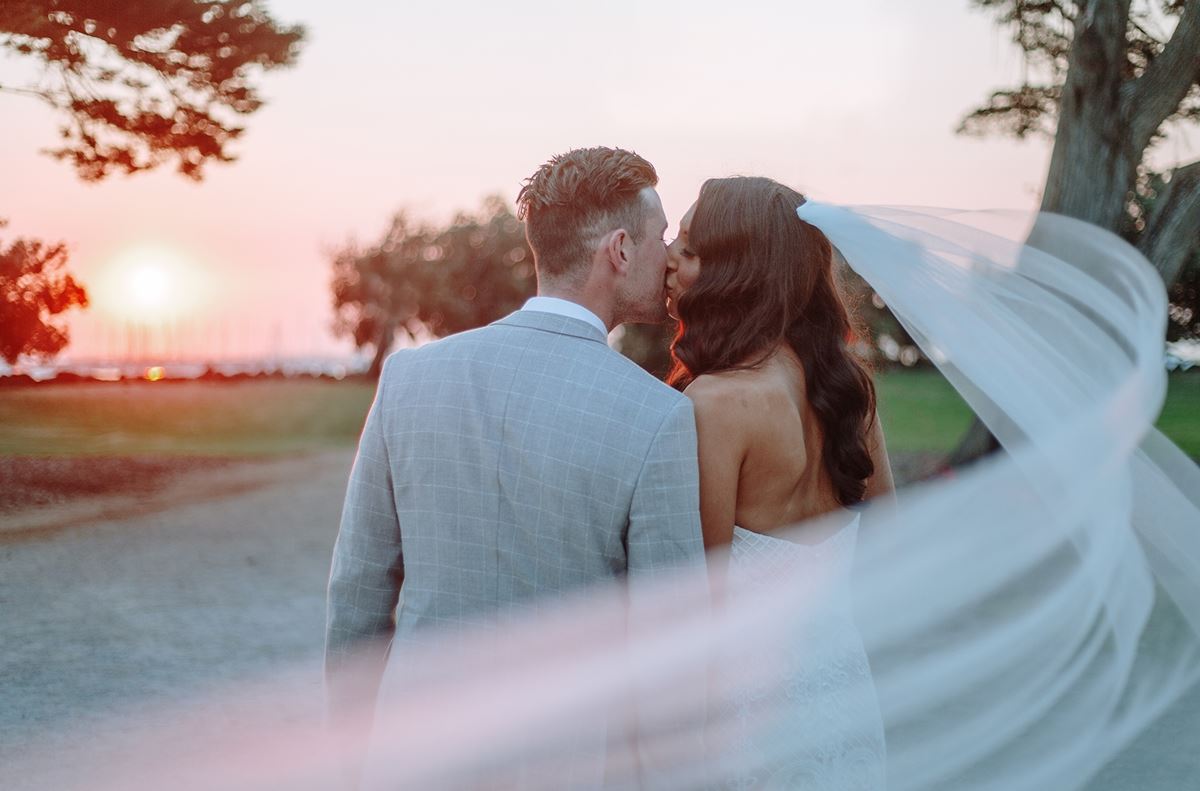 How long do I have to wait to get my final photos/videos? 
It takes about eight weeks to get the final product because a lot of time is spent sitting behind the computer in post-production to deliver the perfect footage to our couples.

But we understand that it's really difficult making couples wait, so rather than waiting so long for the whole lot to be ready, we usually send our couples a teaser gallery within one to two weeks so they can share it with their family and friends or on social media.
How do you give us the photos after the wedding? 
The entire wedding gallery is delivered via a password-protected online gallery. It has a beautiful layout with an online shop where you can order prints, save your favourites, download images, and share them with family and friends. We also send our couples' photos and videos on a USB in the mail as well.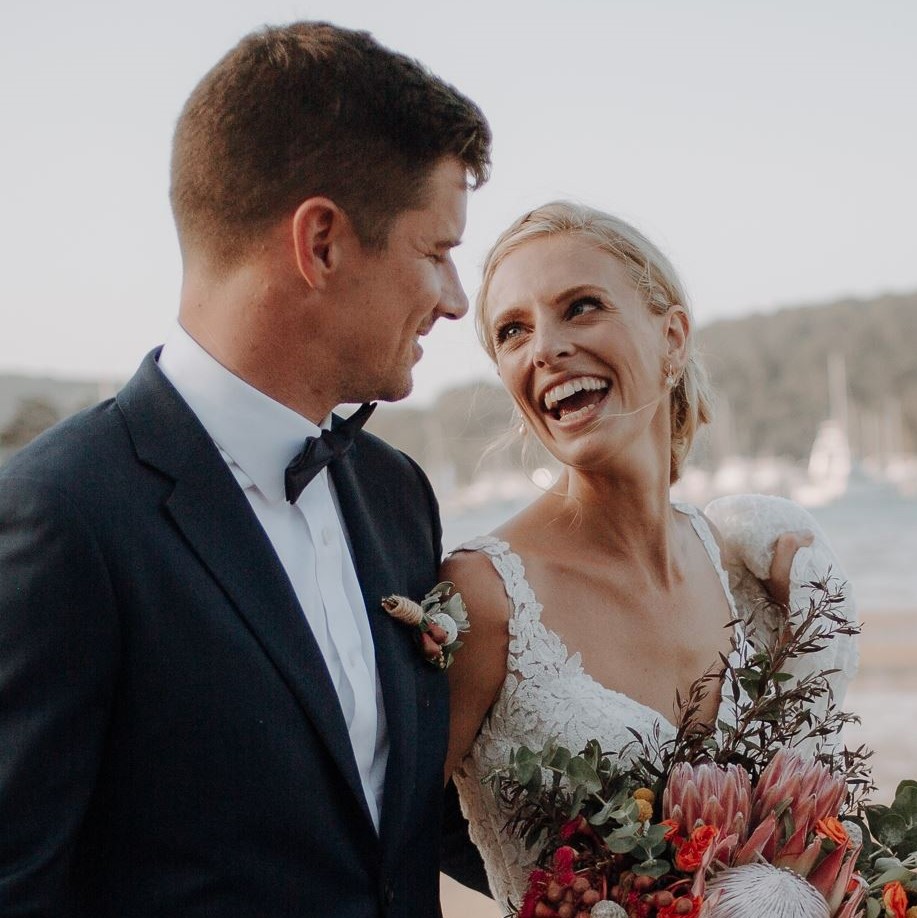 browse photographers in your area
What are some key moments you like to capture for a final video?
Don't get me wrong, there are a lot of important moments of a wedding day. But I think one moment many photographers and videographers miss – and it's a shame because it's such a great moment – is when the ceremony has ended, and the couple walks out of the ceremony.

This is the moment the couple start the new chapter of their life together — the pinnacle of the day. There's so many heightened emotions, the uncontainable excitement and relief, and with all the family and friends coming together to celebrate with you, all the kiss and hugs, happiness and love – and there's only a five-minute window for you to capture all of that!

Many photographers and videographers miss this moment. For me, there's just so much emotion, so we'd just keep shooting non-stop because you only have those five minutes to get as much footage as you can!

It's just wonderful, it's my favourite moment of the day.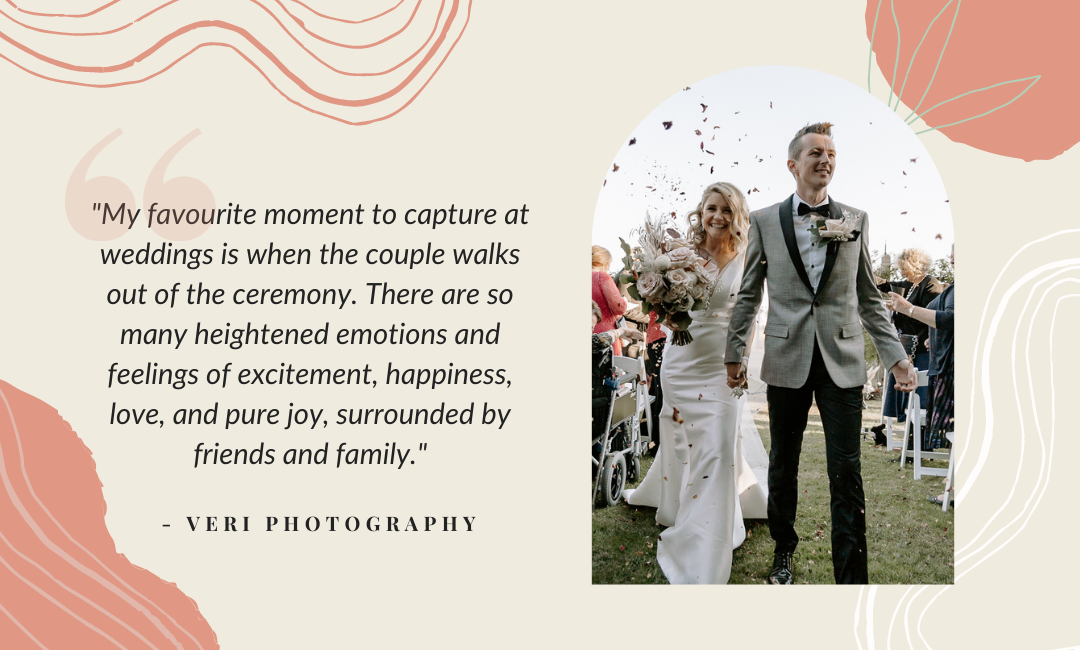 How long is the final video?
We provide two final videos. The first one is a highlight reel, which is generally the length of a song, so around three to five minutes or so.

Then, you have the full-feature film with all the recordings compiled together, including exchanging the vows, guest speeches, and the first dance. This video is generally around an hour minimum to three hours, depending on the coverage you book.
Can you record the vows to overlay on the video?
Yes, of course. We have the audio set up for everything to ensure we can record the vows and speeches etc. We can add those to any part of the wedding video.
Do you usually go to the venue beforehand to find good photo locations?
If a couple asks us to scout locations at the venue beforehand, then yes, of course. If we haven't covered a wedding at the venue in the past, we can visit before the wedding day to find special spots for photos.

I do want to mention that before you make a venue visit, make sure you organise it at the same time as your ceremony so the light condition is similar to what it will be on your wedding day.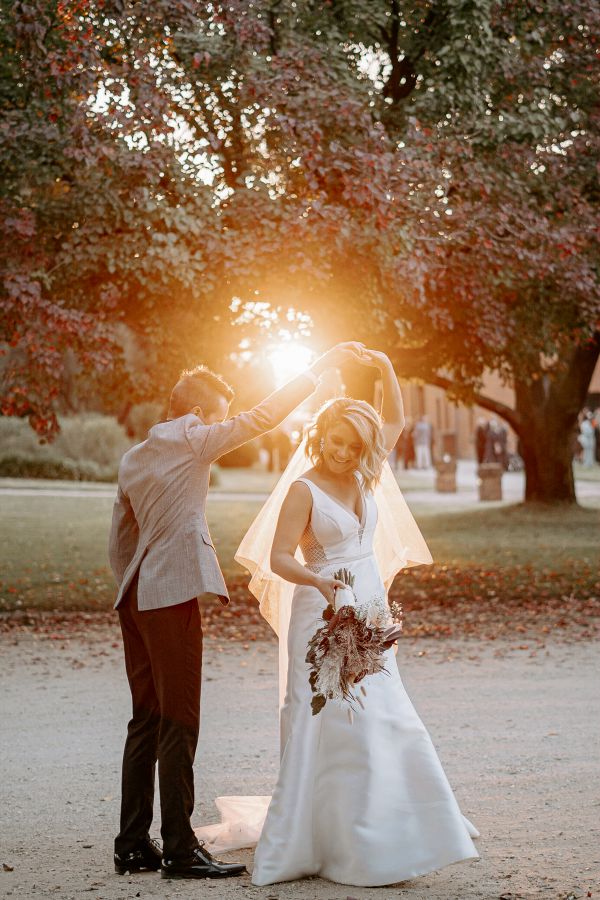 If we book both photography and videography, will two people come or will one person do both?
When booking a combination package for photo and video, you'll have one photographer (or two photographers depending on your package choice) and a separate videographer.
Should I order an extra meal for my photographer, considering they're here the whole time?
Yes, please! We don't really take breaks during wedding coverage, and it is difficult to take time off during the reception to find something to eat offsite. Most venues have crew meals included in their packages, so we recommend having the conversation regarding staff meals with your venue in advance.
I don't want a watermark or logo on my wedding photos. Does that usually cost extra?
None of the photos delivered to our clients come with watermarks or logos, so there is no extra charge for that.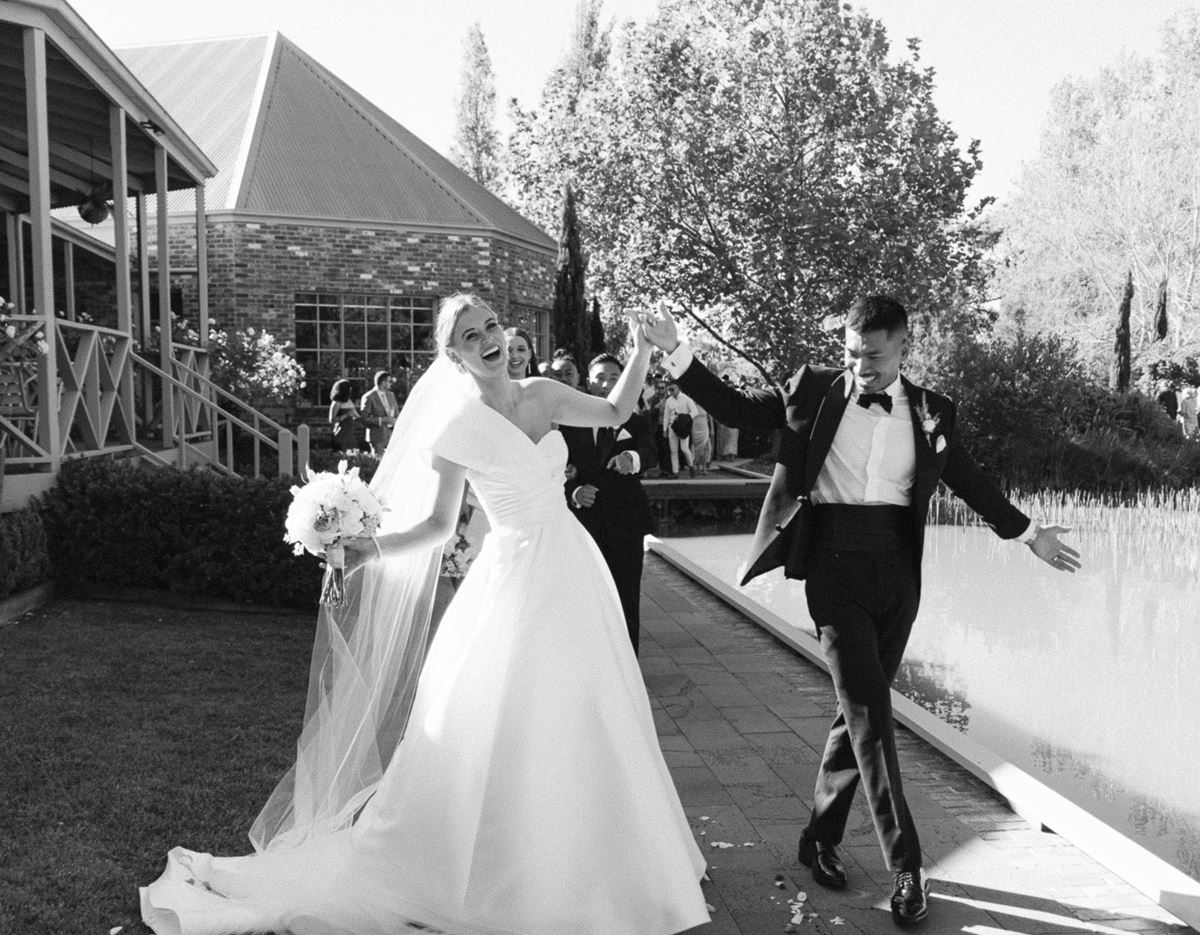 ---
find a photographer