"They had someone follow us around while we had photos to make sure we were hydrated."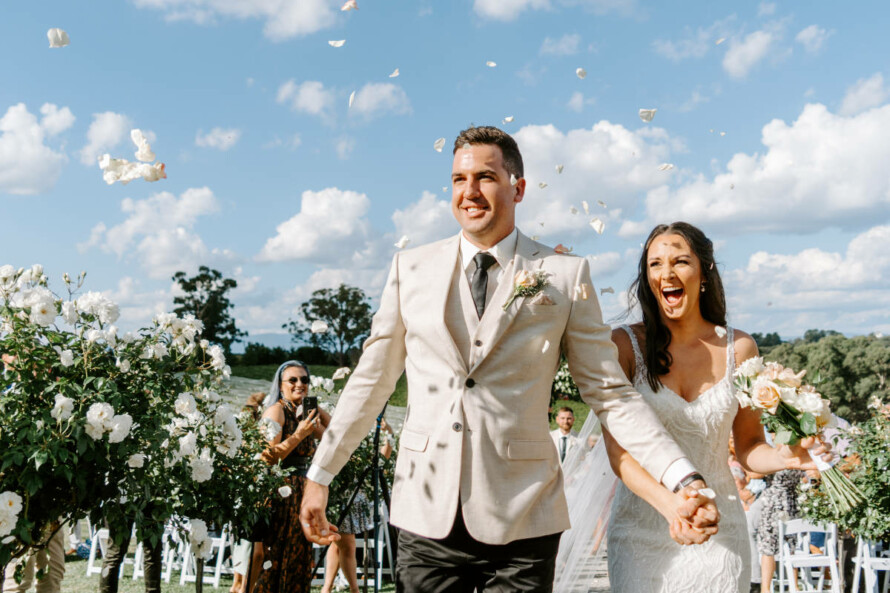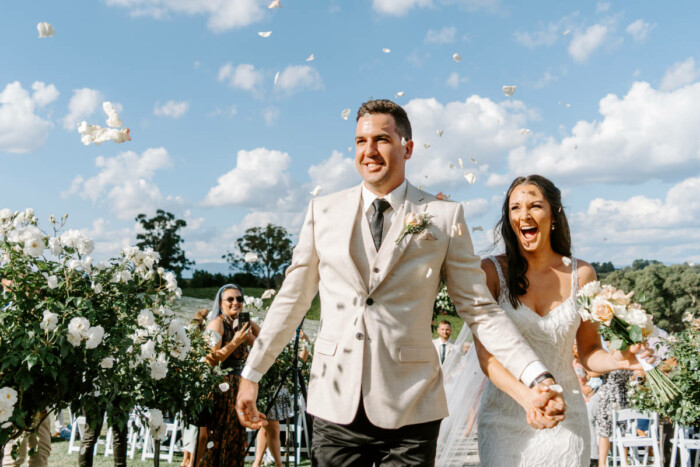 Lauren and Callum's Yarra Ranges Estate wedding ticked so many boxes, but the standout on the day was the impeccable service received from the staff.
Wedding industry professional, Lauren, knew a thing or two about what to expect from a wedding venue when she planned her March 19, 2022 wedding with partner Callum.
The pair were after a fun, laidback celebration where they could really let their hair down with their 105 guests. Heading out to Melbourne's far east, to the calming rolling hills between the Dandenong Ranges and Yarra Valley, the rustic vineyard wedding venue created the perfect chilled scene to party.
The official proceedings began as Lauren walked down the rose-lined aisle with her dad, wearing a slimline lace gown from The Sposa Group. Florist Tricia Ferguson had arrived earlier to adorn the timber arch in white, pale pink and green florals, as well as prefilling 40 bags of rose petals for guests to toss.
Perhaps the most memorable use of those petals was from the couple's 'flower dudes'! Two friends wearing petal-filled bum bags trail-blazed the aisle to Queen's Another One Bites the Dust, letting all who were present know — we're going to be having some FUN today. "Guests loved it and they set the mood perfectly for the whole celebration," reflects Lauren.
Following their I dos, it was straight to cutting the cheese wheel cake so that it could be served during canapé hour, meanwhile, Veri Photography took candid photos with the wedding party around the expansive property. A sit-down reception was followed by a pumping dancefloor with guitarist, vocalist and DJ, Jake Turner.
The next day, the newlyweds hosted a 'recovery sesh' for their nearest and dearest. Lauren says, "Our tip is to have it at a location near the wedding venue so that it is close for anyone who booked accommodation."
Yarra Ranges Estate ticked all our boxes; onsite location for ceremony, a great back-up wet weather option if required, beautiful areas for photography, a great menu, killer beverage list and a friendly, knowledgable team. They also provided amazing personalised service, they had someone follow us around while we were taking photos making sure we were hydrated (with sparkling wine and beer) and fed with the canapes they were serving our guests.
Lauren & Callum
CHECK OUT YARRA RANGES ESTATE
---
This romantic rustic wedding at Yarra Ranges Estate was captured beautifully by Veri Photography.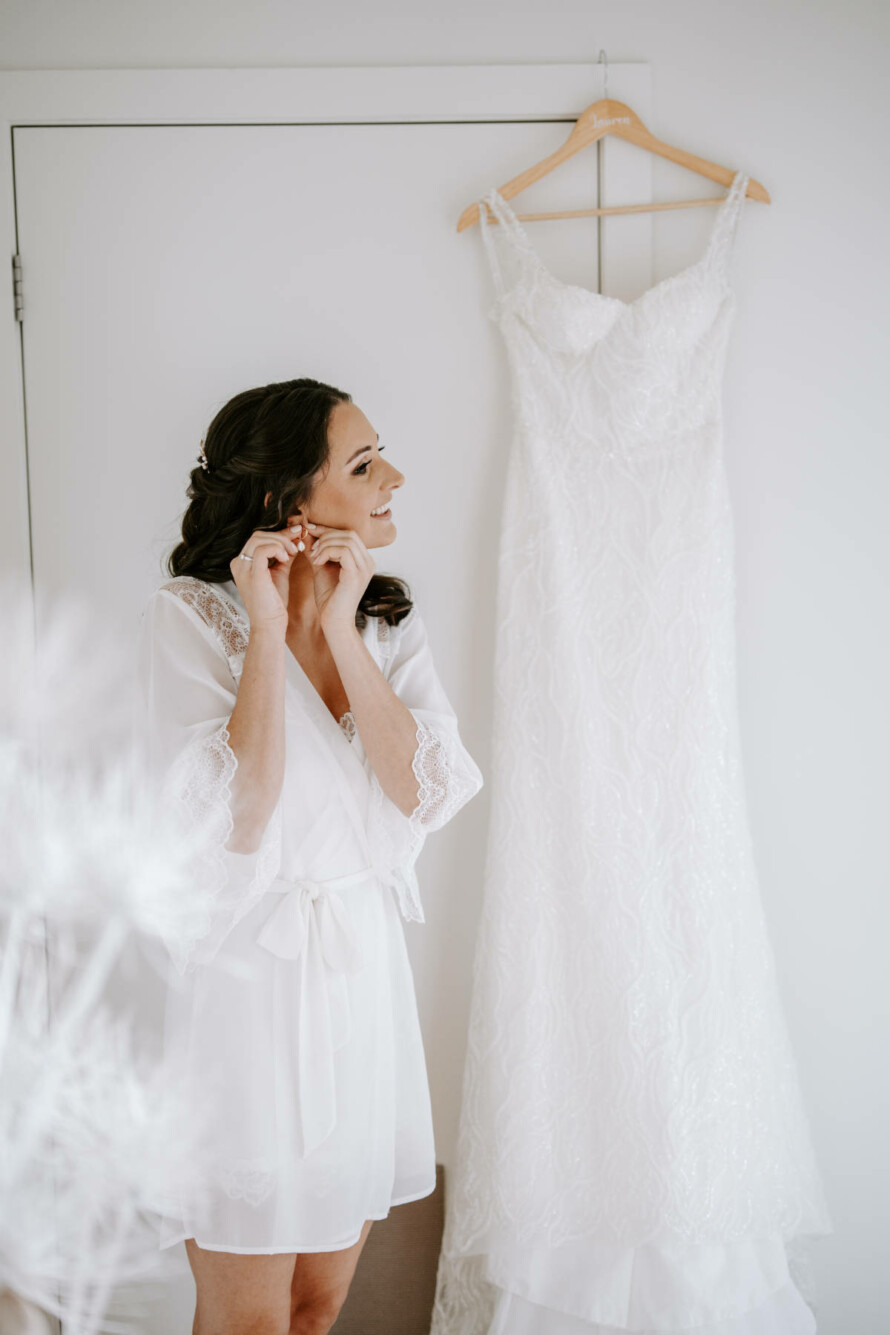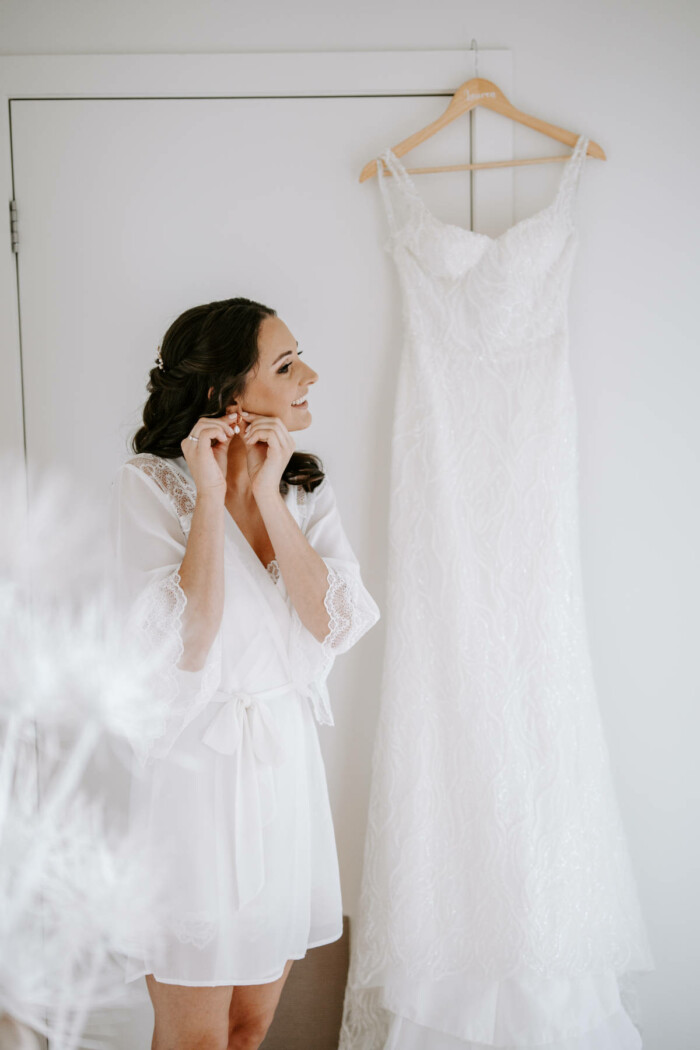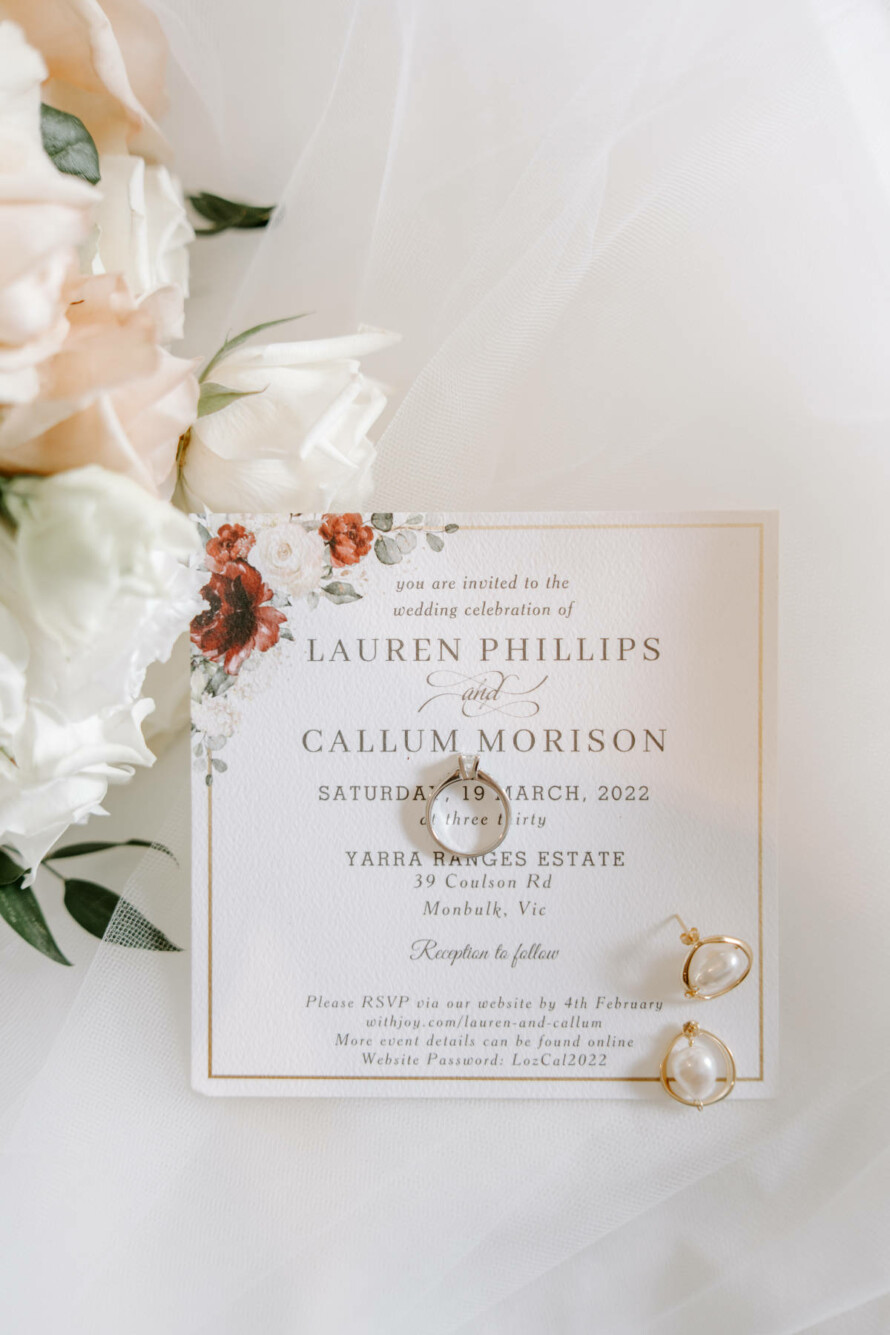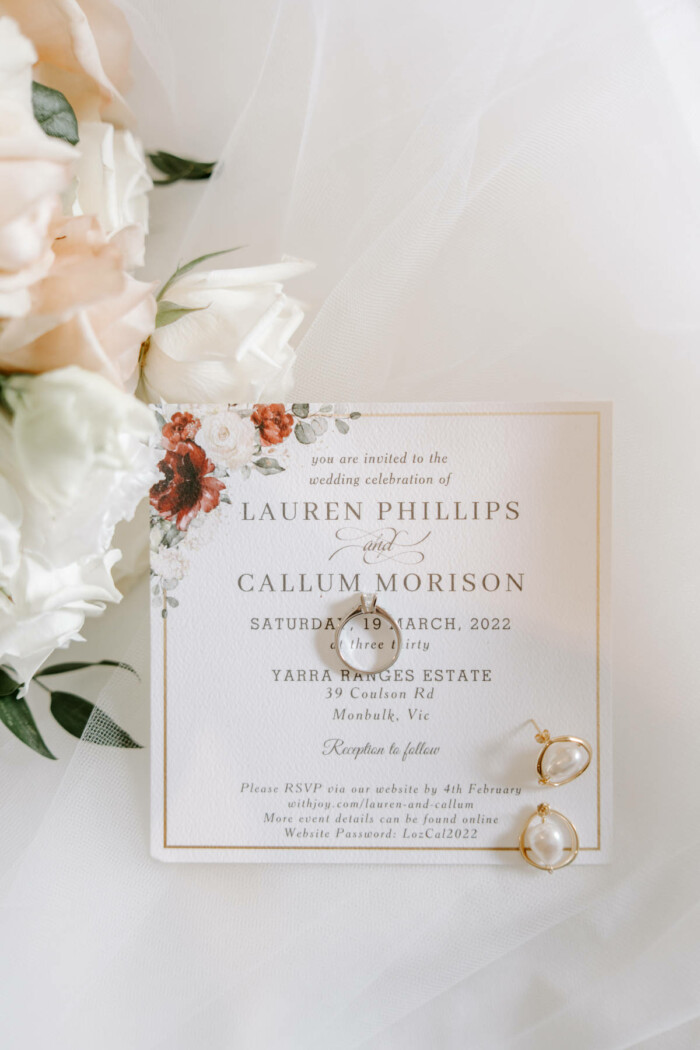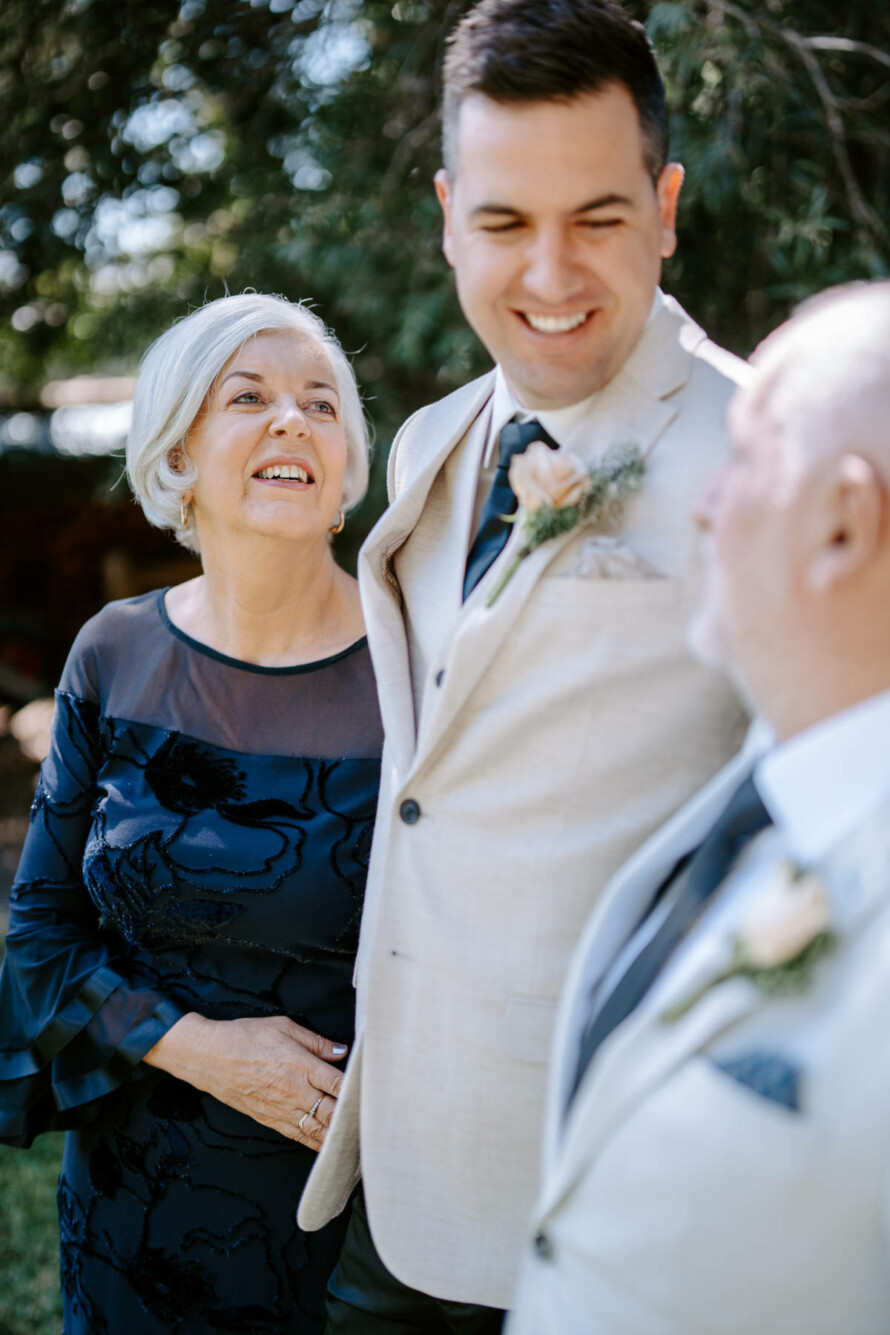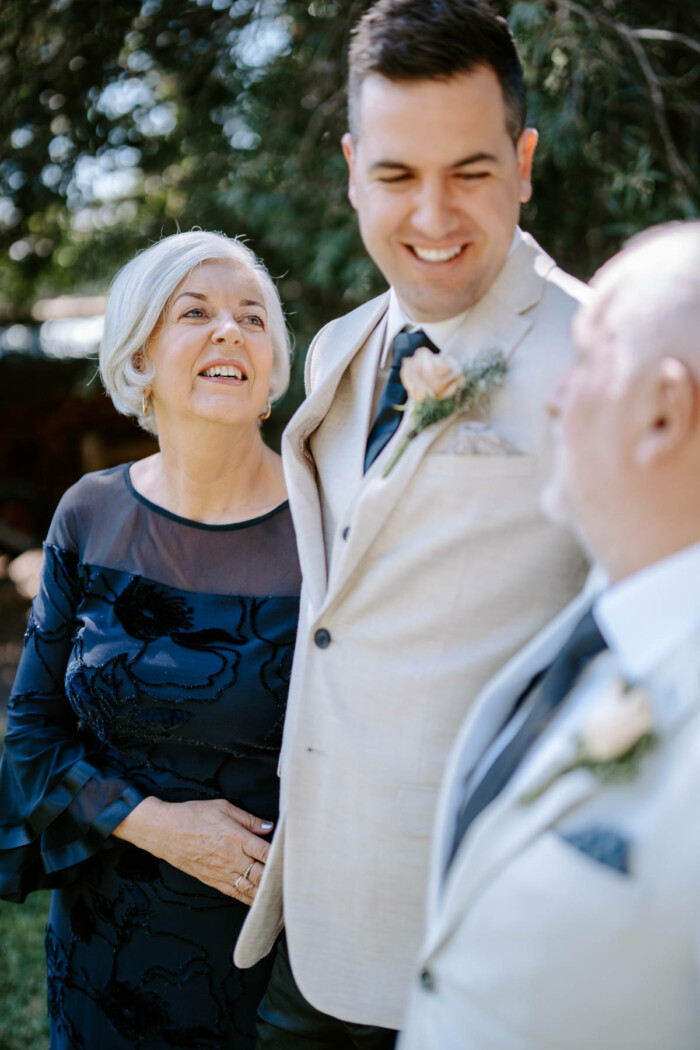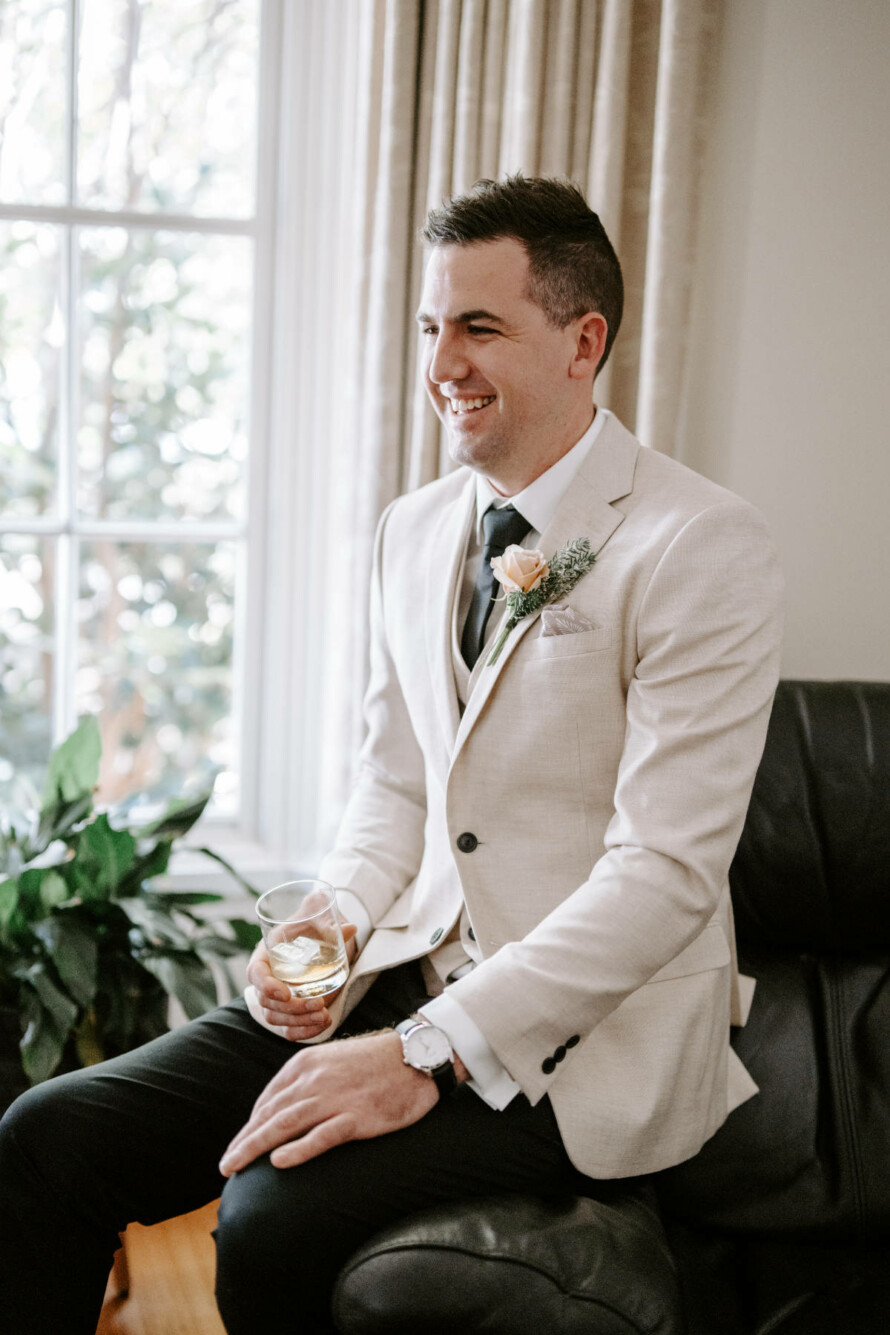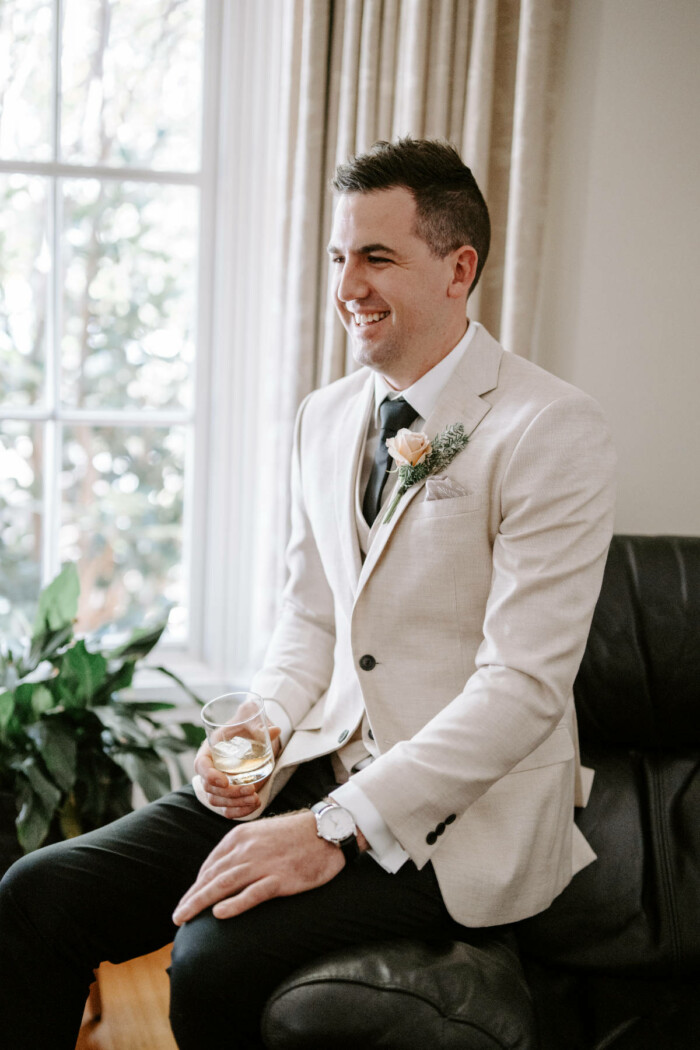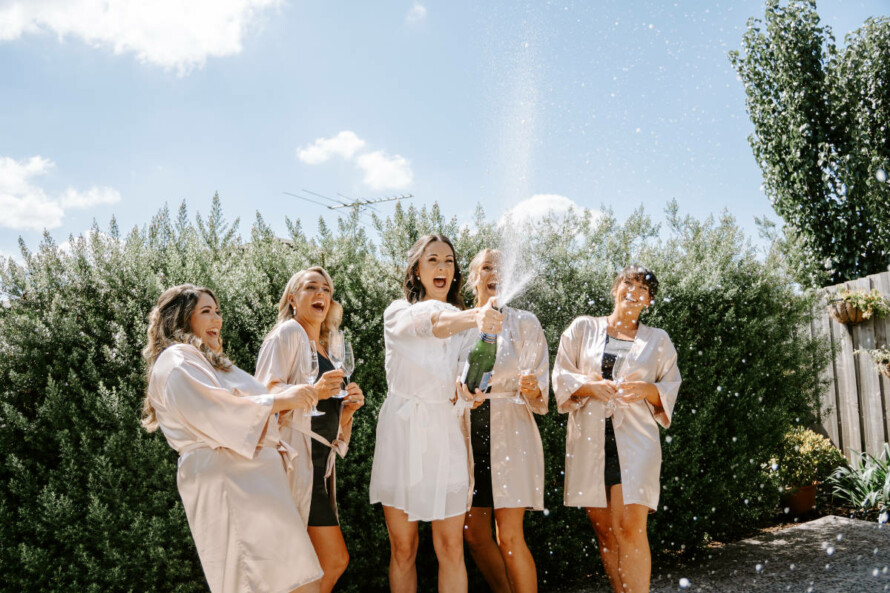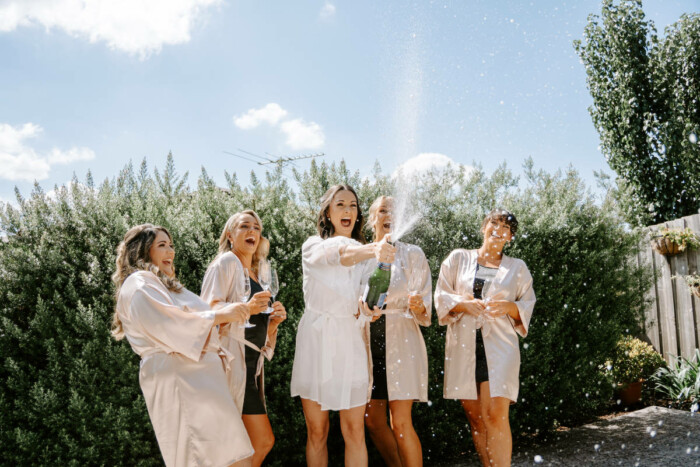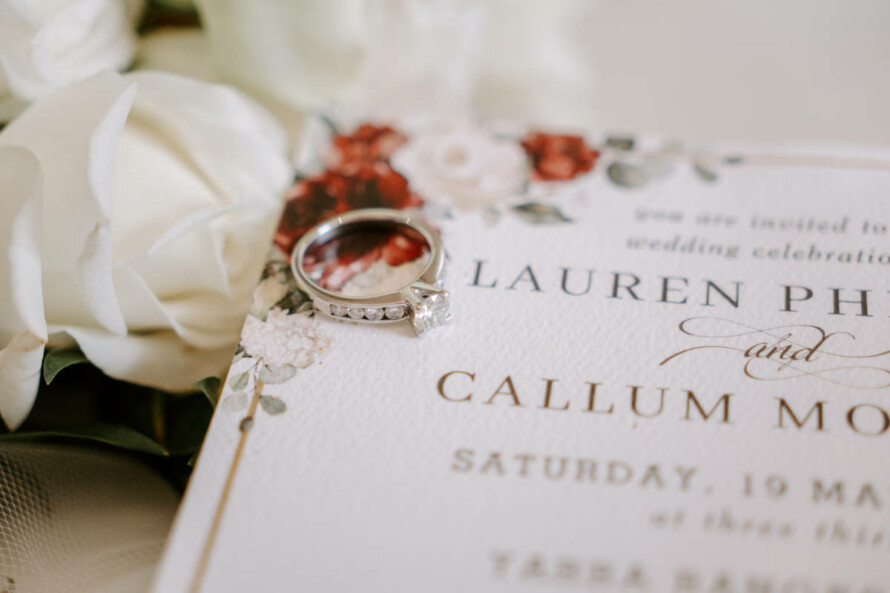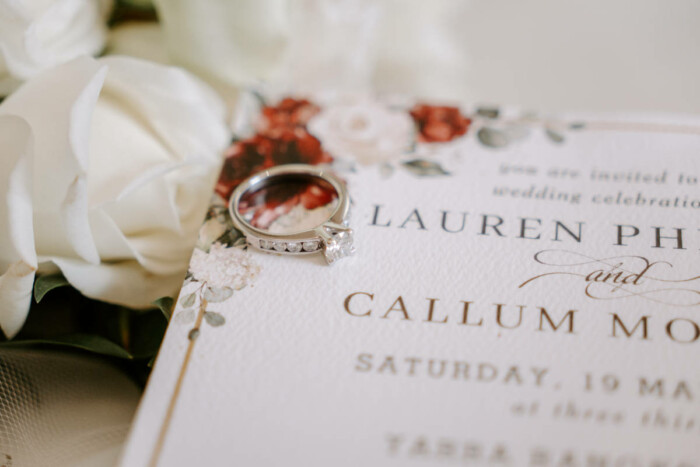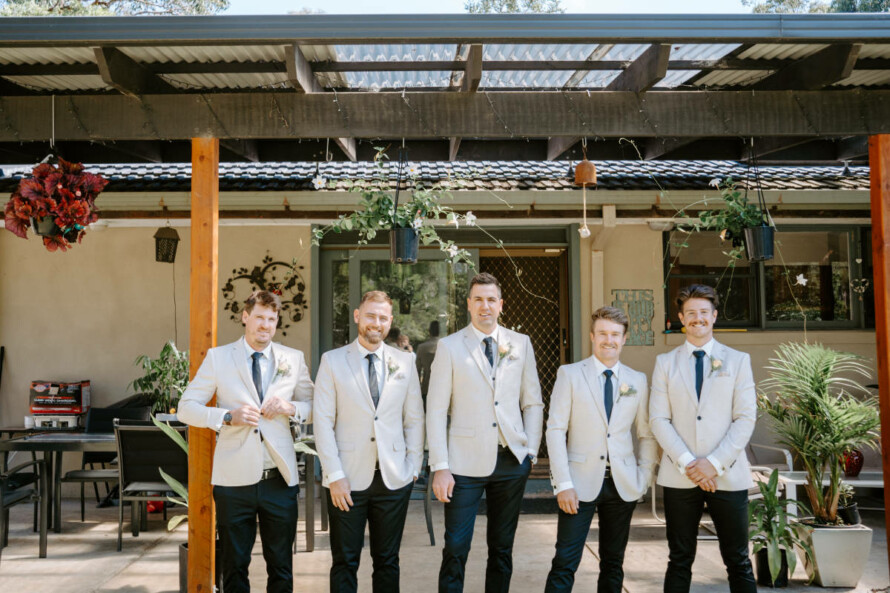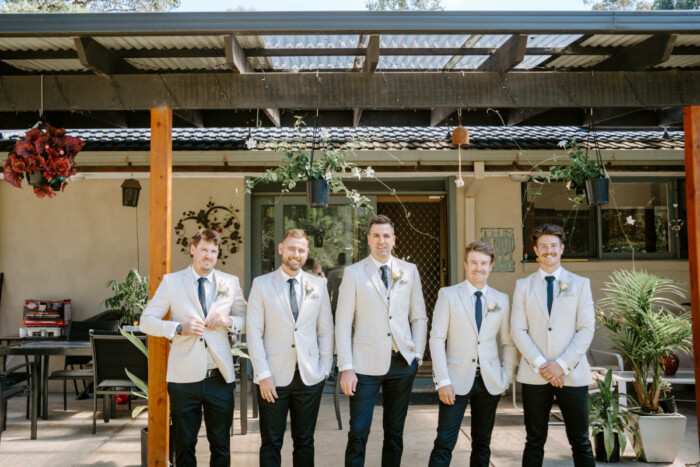 "We changed the buttons from a natural colour to black to make it slightly more formal."
The boys' suits were from Politix. They wore natural coloured linen blazers with black chinos and black ties. Callum also wore a matching vest to set him apart from the other boys. Each groomsman was gifted personalised cufflinks with their initials on them to wear on the day. Callum's cufflinks had our wedding date and our initials on them.
Lauren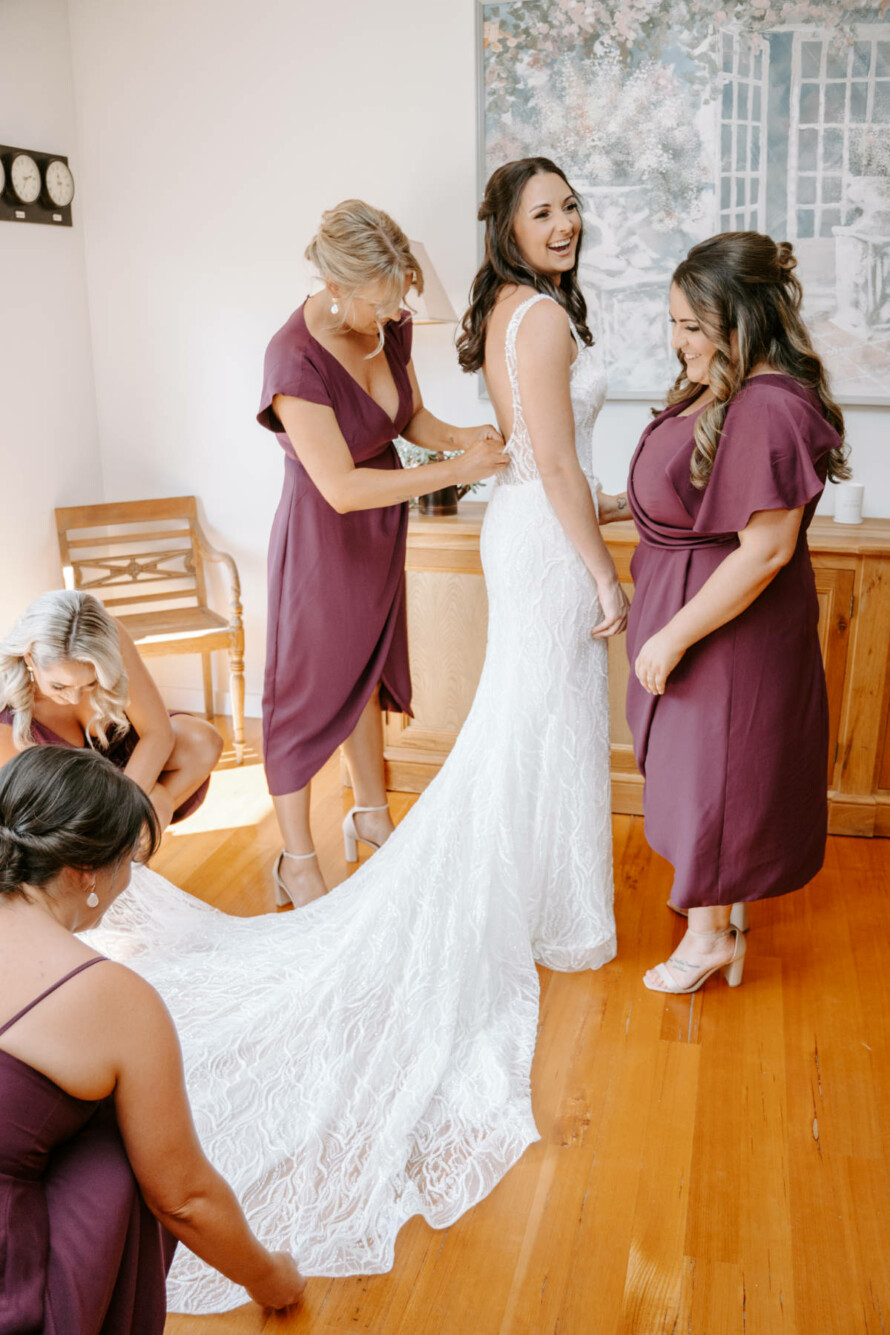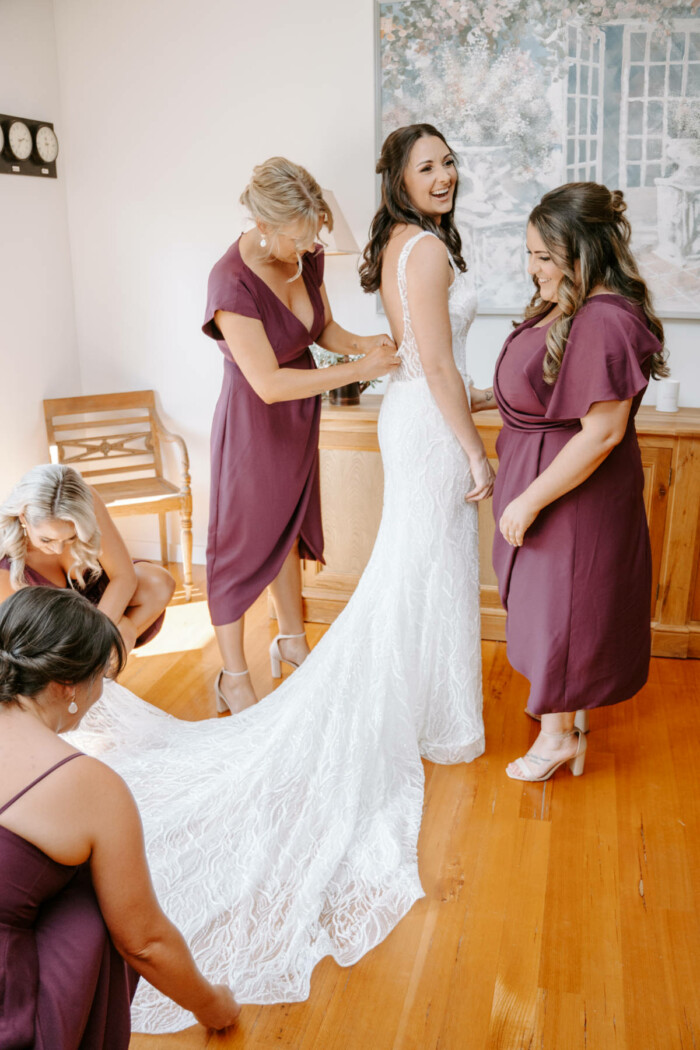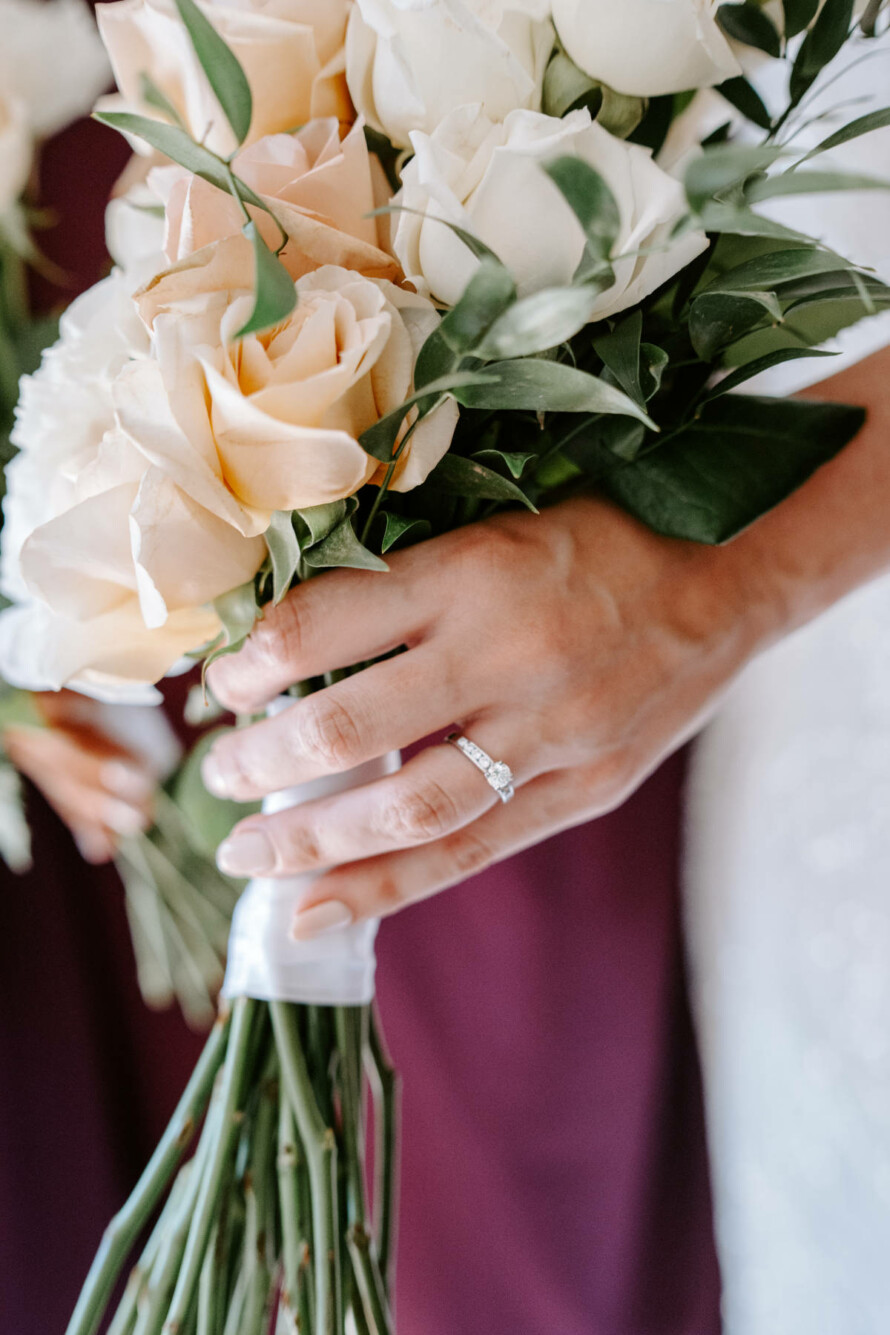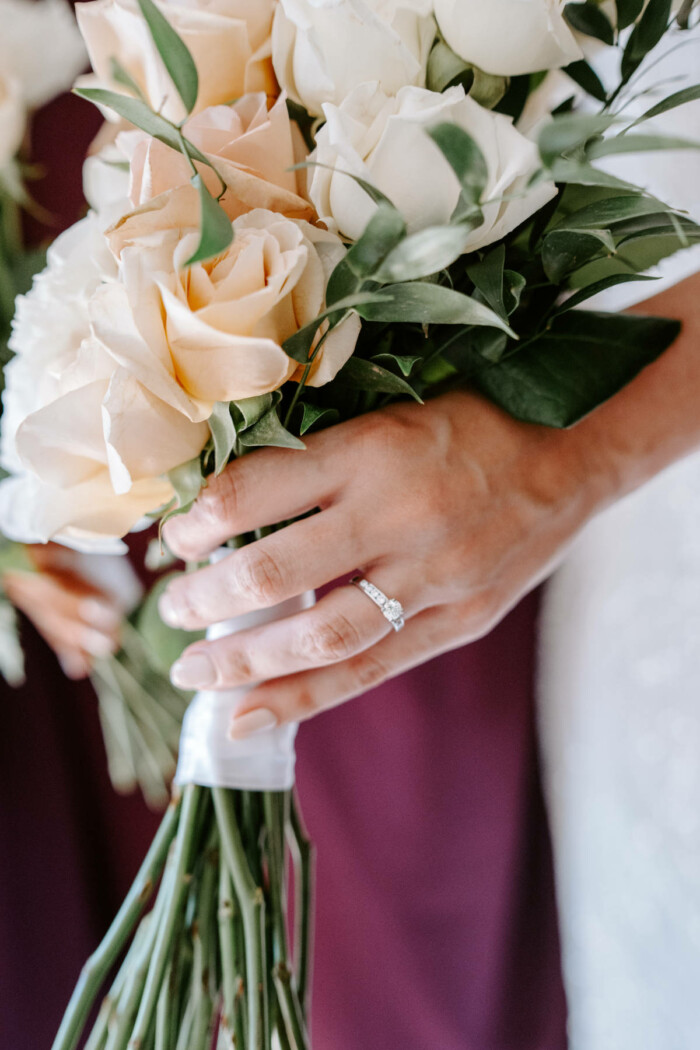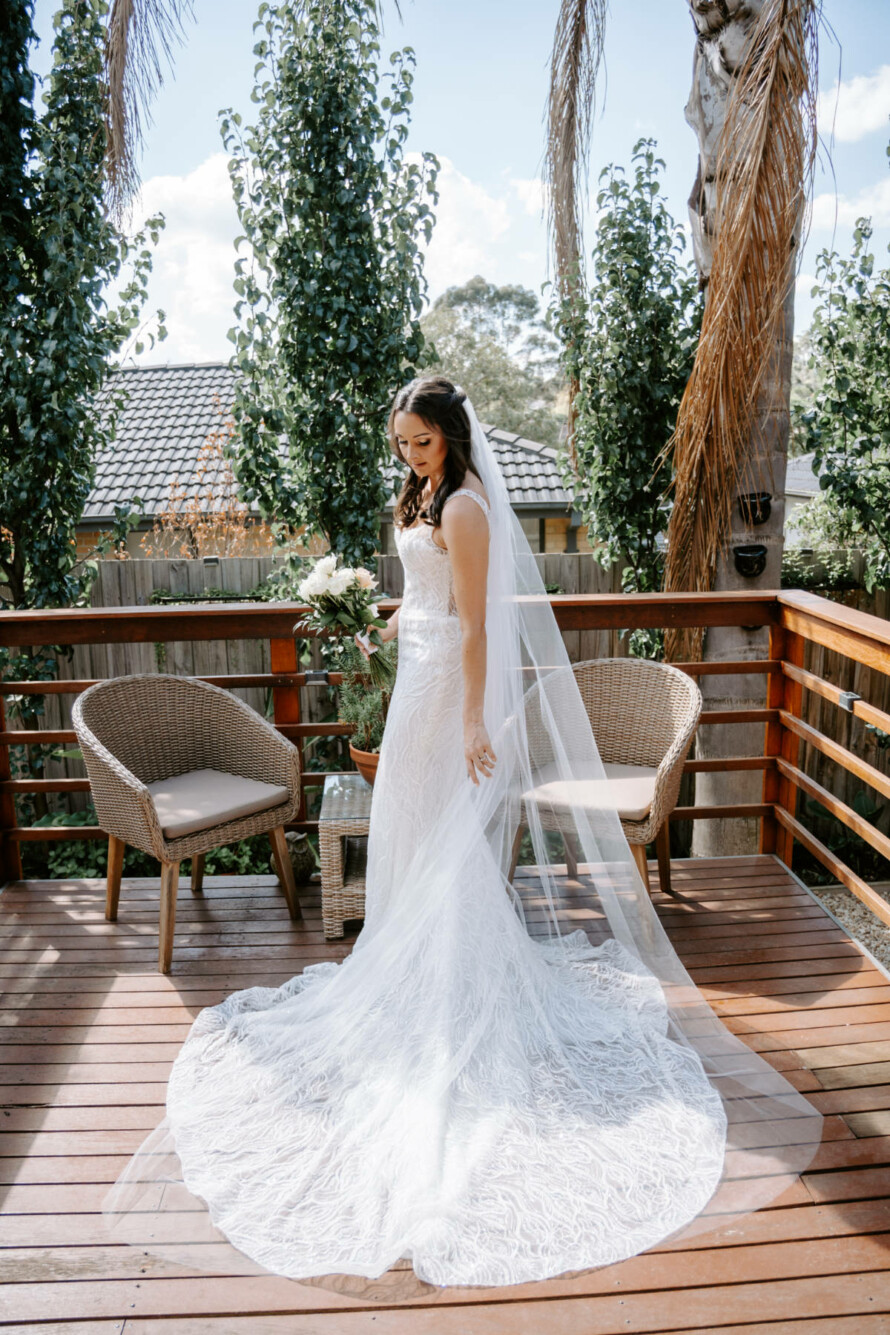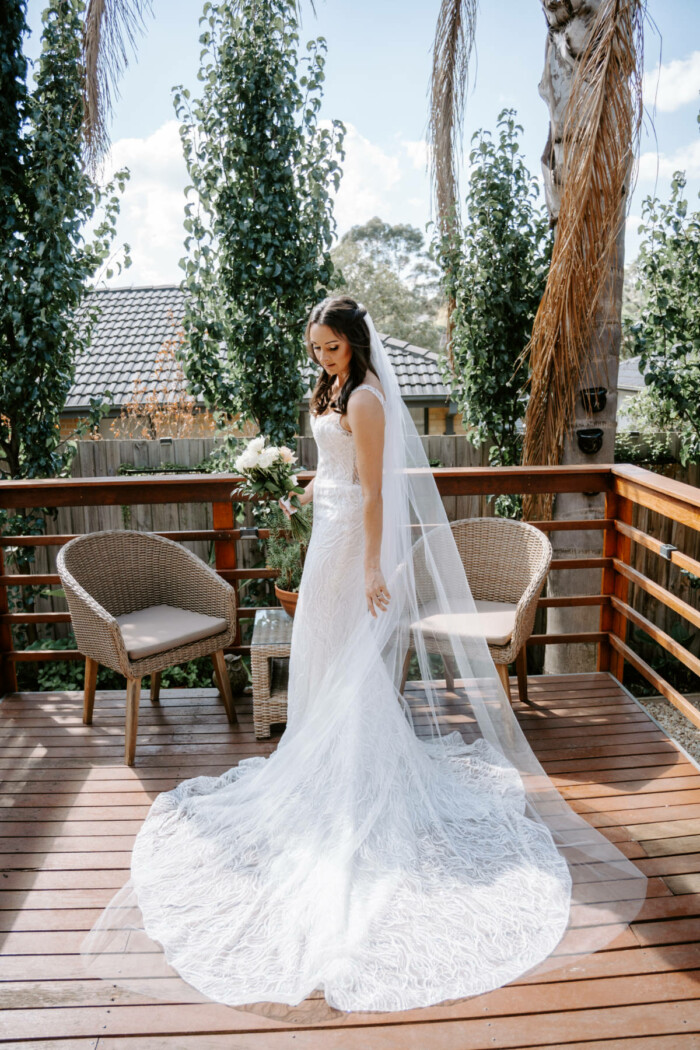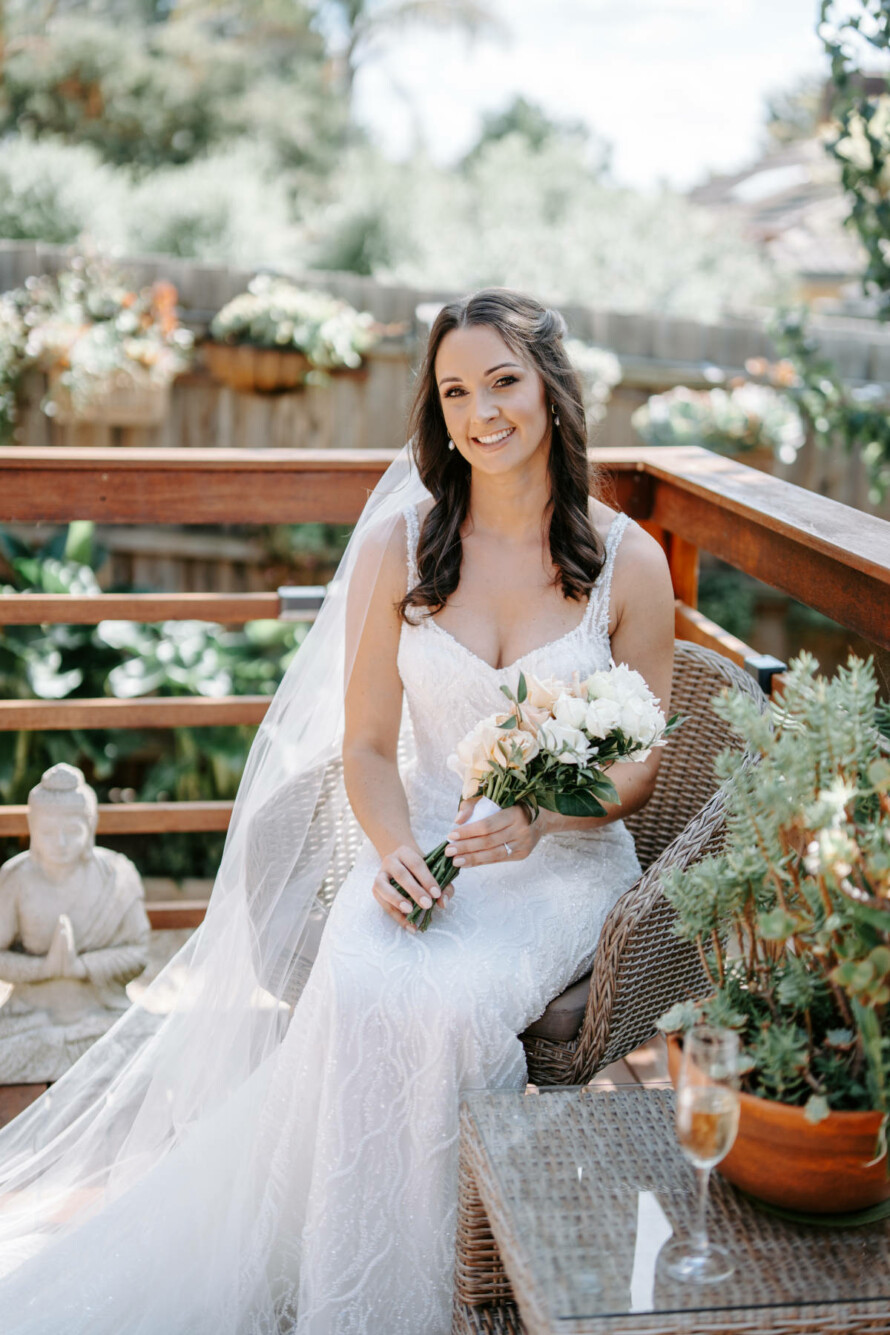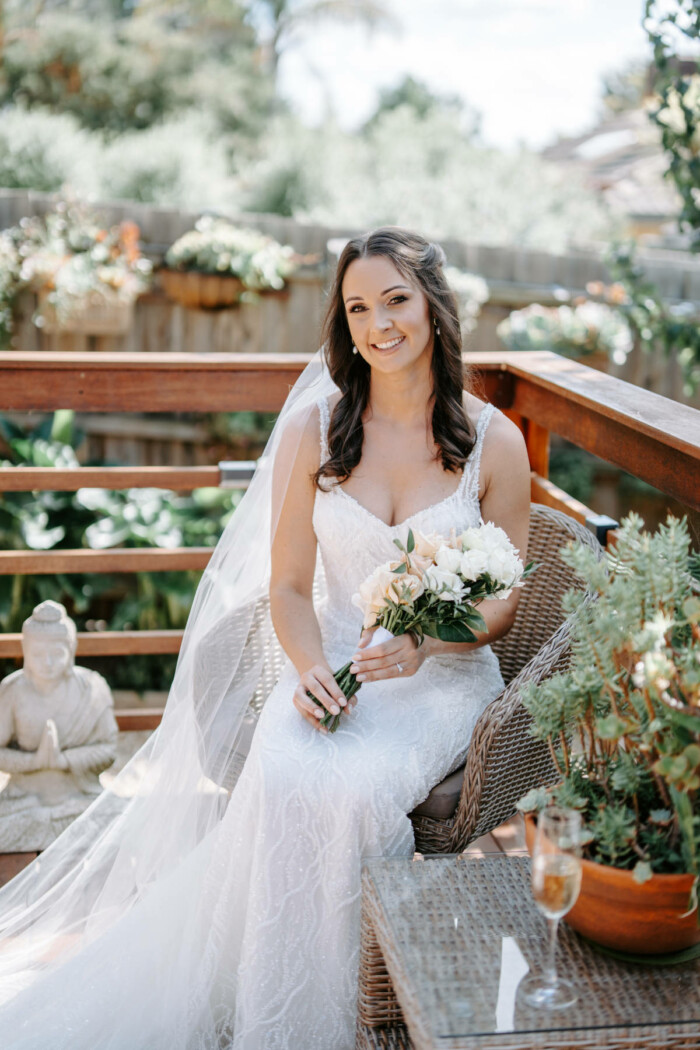 "I had my dress customised from a scoop to a sweetheart neckline."
I got my dress from the Sposa Group Melbourne. It was fit-and-flare, made with beaded lace, and a low back with sheer detailing. The whole team at Sposa Group were great! I had my dress customised from a scoop neckline to a sweetheart neckline, filled in the bodice to match the skirt, and added a belt. They were great throughout the whole process from initially trying on dresses to the final fitting.
Lauren
CHECK OUT SPOSA GROUP MELBOURNE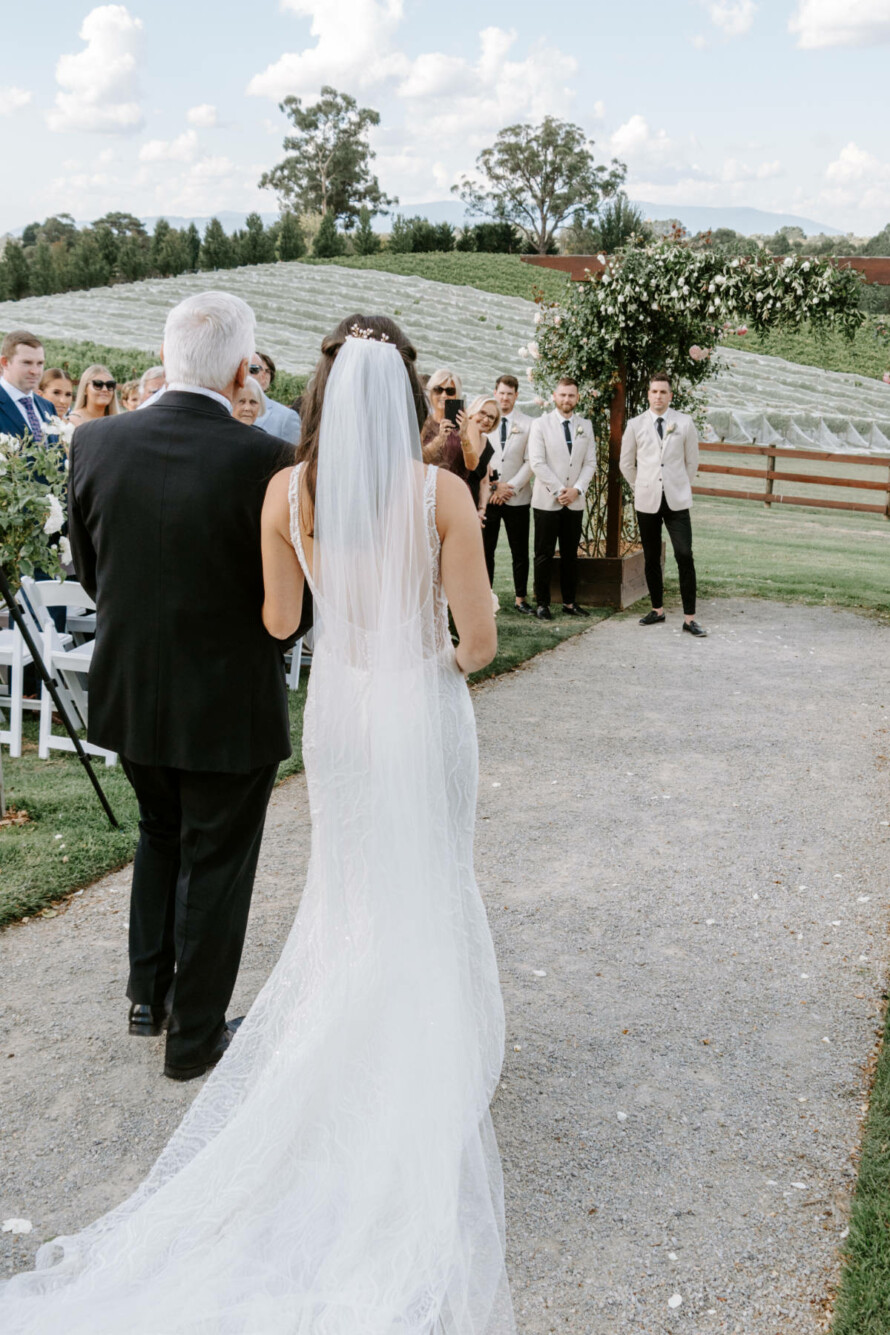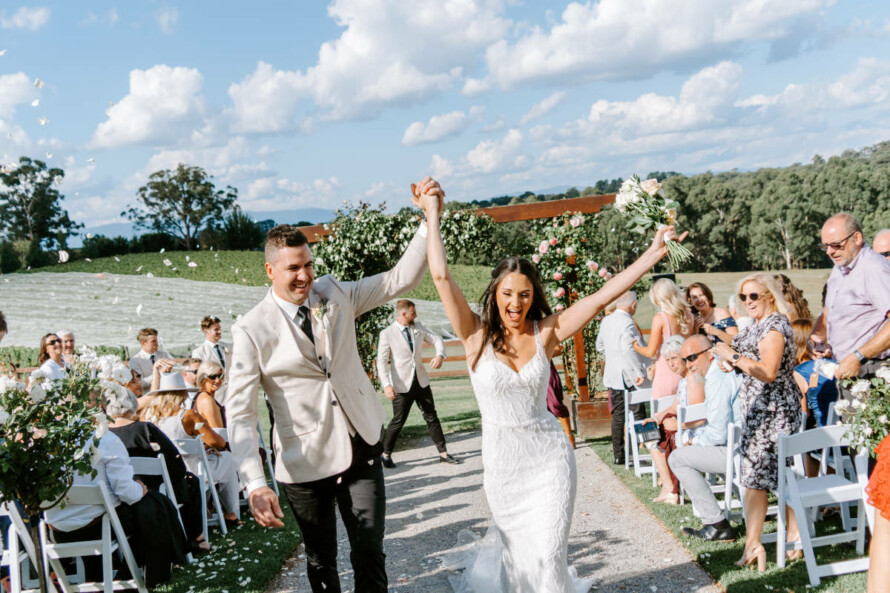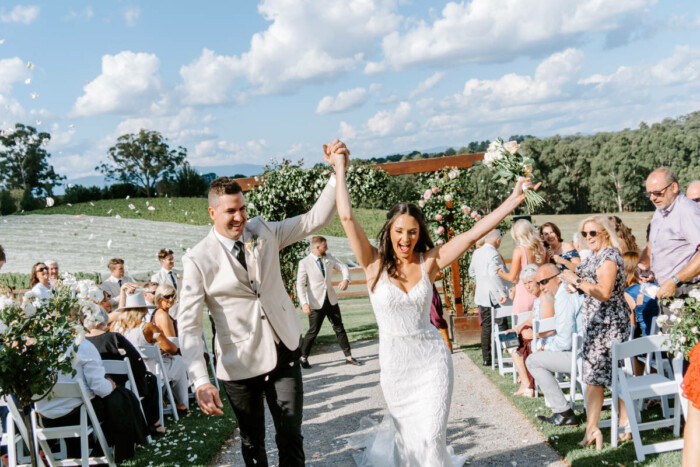 "I am not a flower type of girl so was quite clueless about what type of flowers I was after."
Tricia Ferguson Flowers was great with answering questions and went absolutely above and beyond such as prefilling over 40 little bags with petals for the ceremony without charging extra. She provided bouquets, buttonholes, throw petals, cake florals, florals for the ceremony arch, and a long and low arrangement for the bridal table. Our flowers were quite neutral with whites, greenery and a little pale pink. Even though we were battling against the heat on the wedding day, the flowers were still amazing.
Lauren
CHECK OUT TRICIA FERGUSON FLOWERS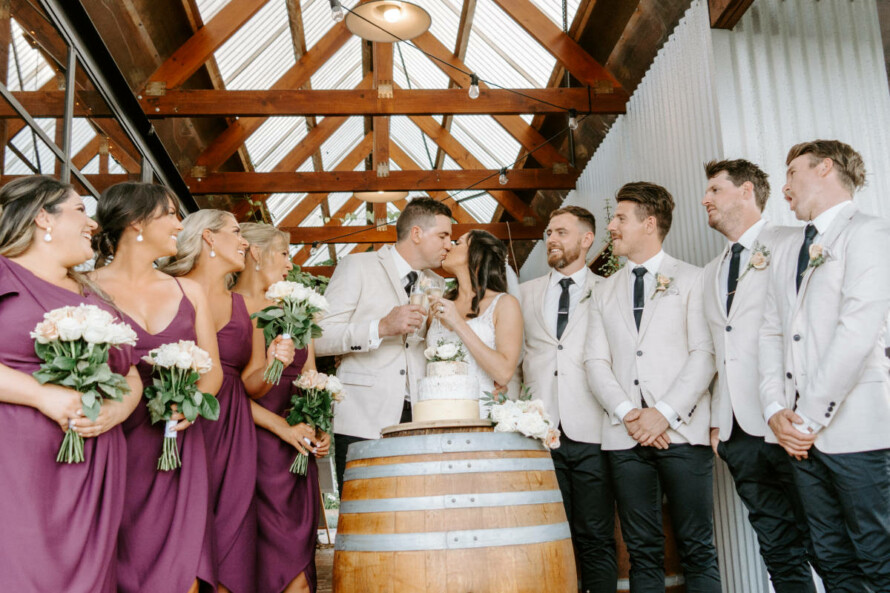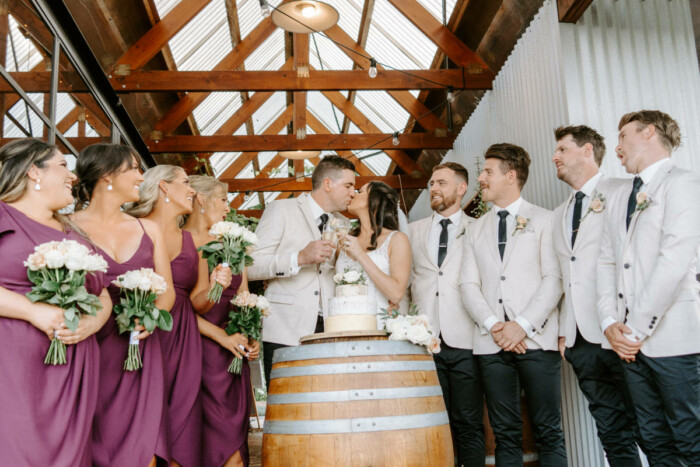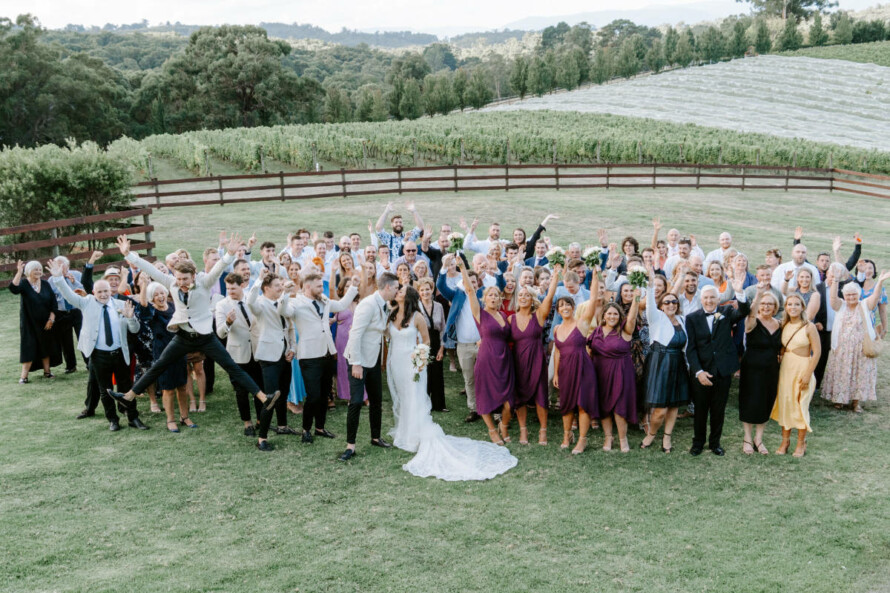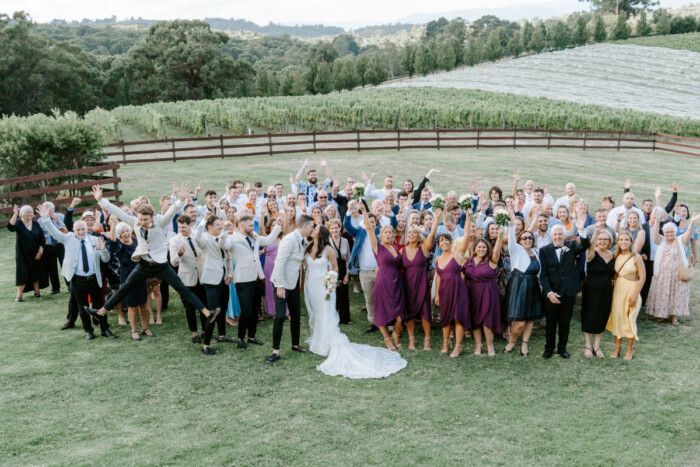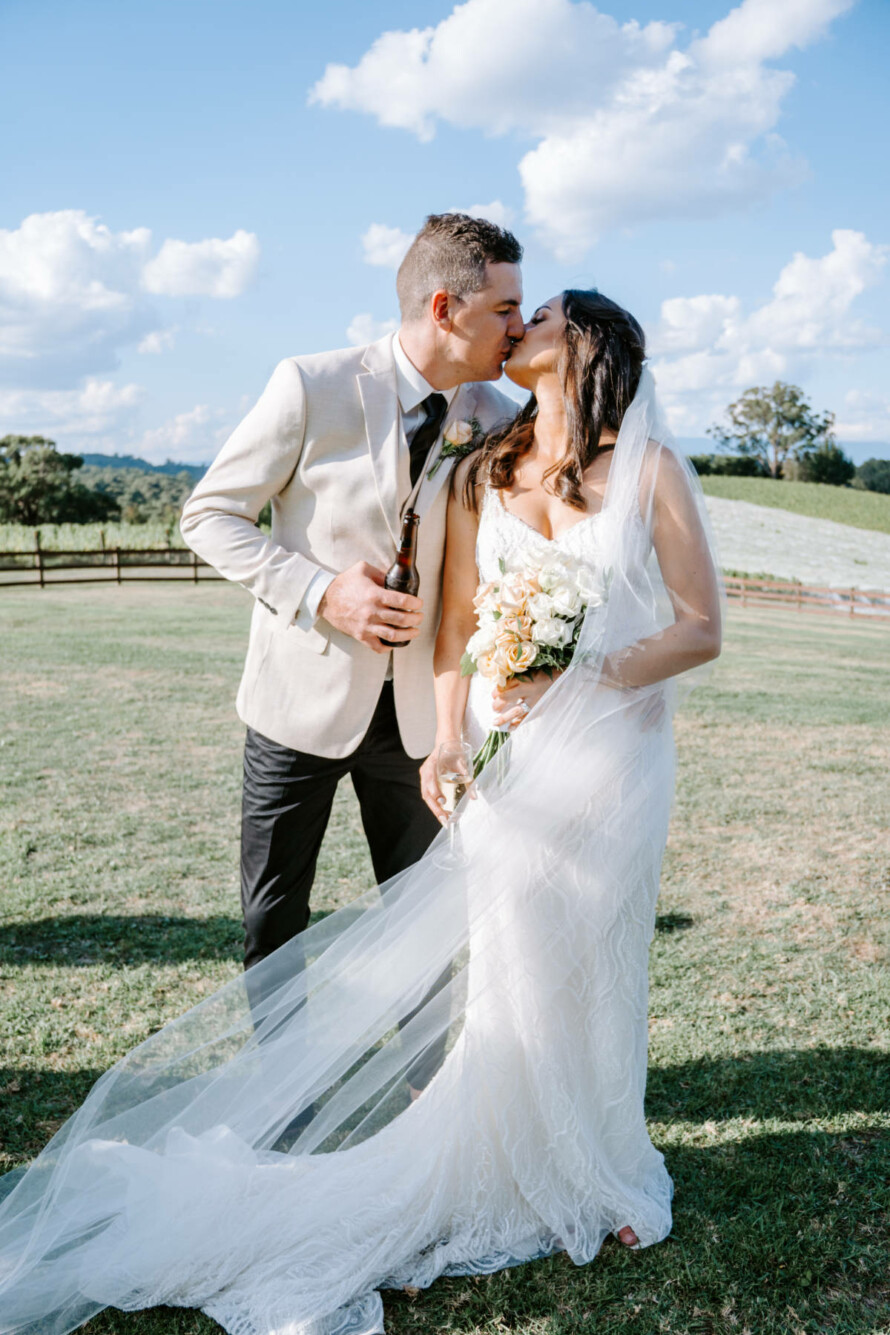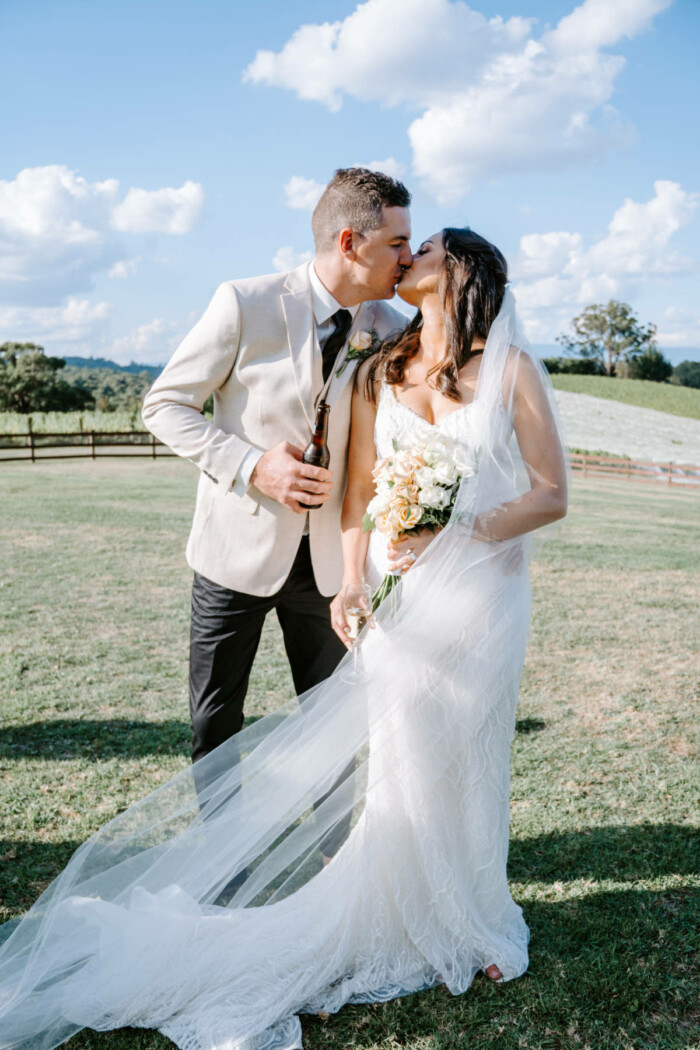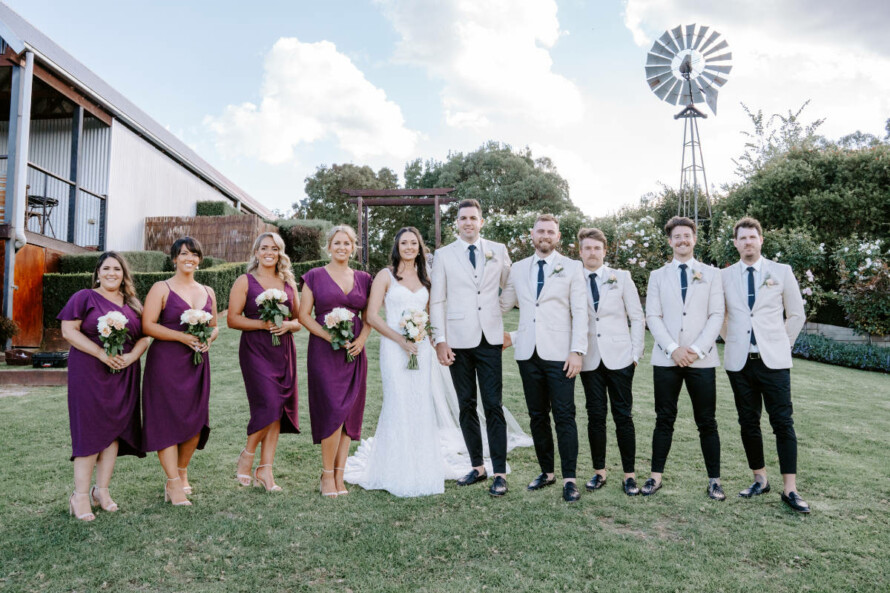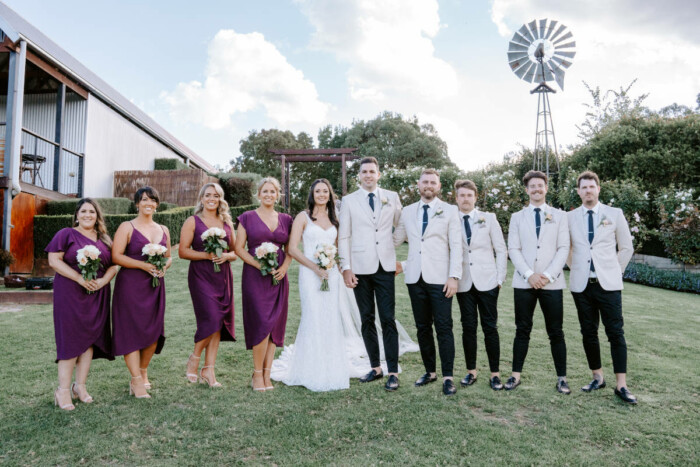 "Veri Photography was absolutely everywhere at all times but never in the way."
Cheng was always working so hard, running around getting the perfect shot even though it was a really warm day. He was funny and got the job done while keeping our bridal party in line. We received our sneak peek images a week after the wedding and we are so in love with them. Cannot wait to see the rest.
Lauren
CHECK OUT VERI PHOTOGRAPHY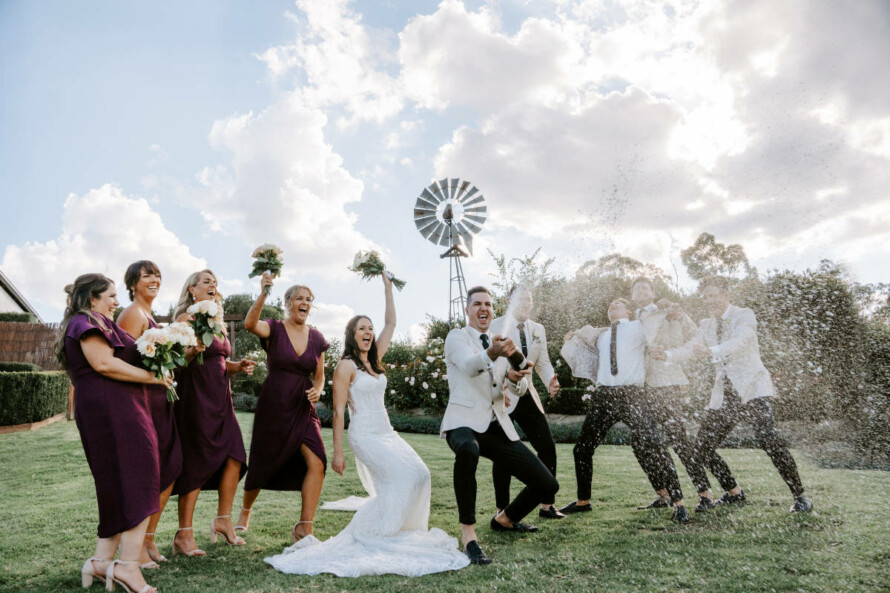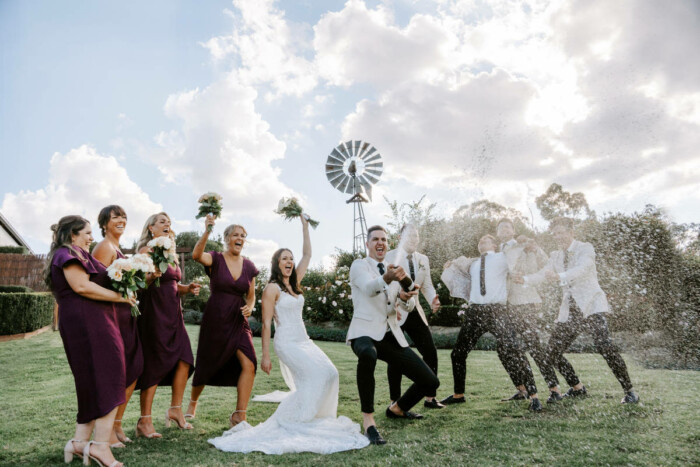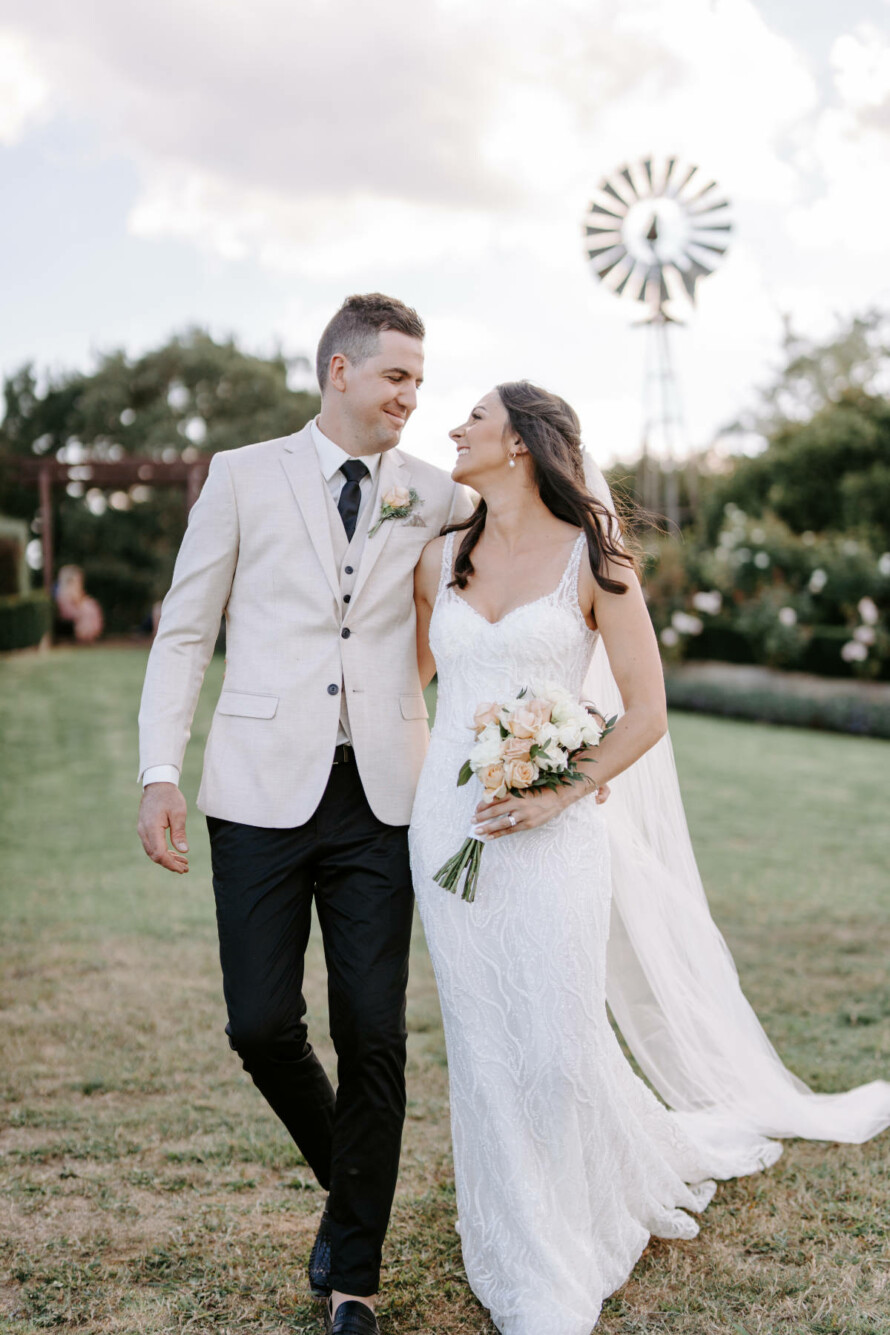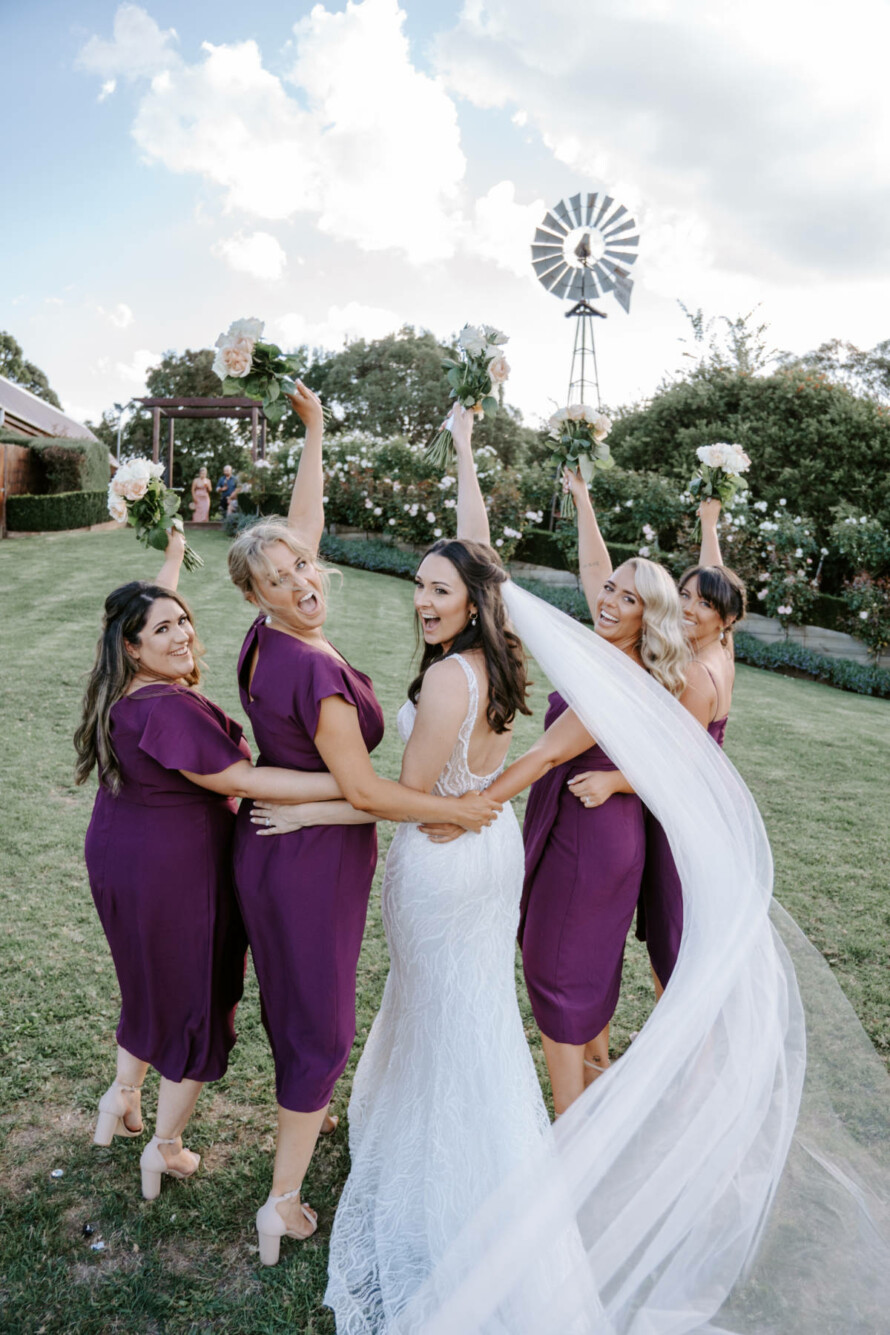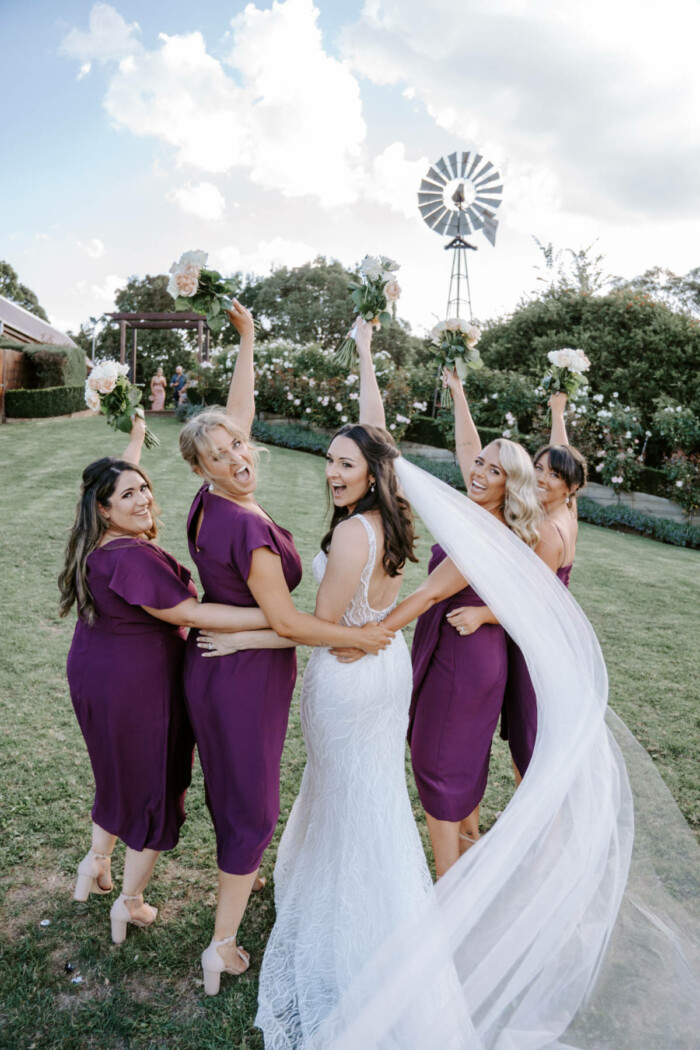 "I had four bridesmaids all with different body shapes and style preferences."
We initially were looking in a range of bridesmaid dress shops to find something that was the same colour but in different styles that suited the girls. This ended up being quite difficult as there were never enough options plus lockdown after lockdown kept getting in the way of dress appointments. I then reached out to Genevieve Grace Label who created dresses for each of the girls from scratch based on their own style preference, all in the same wine/eggplant colour.
Lauren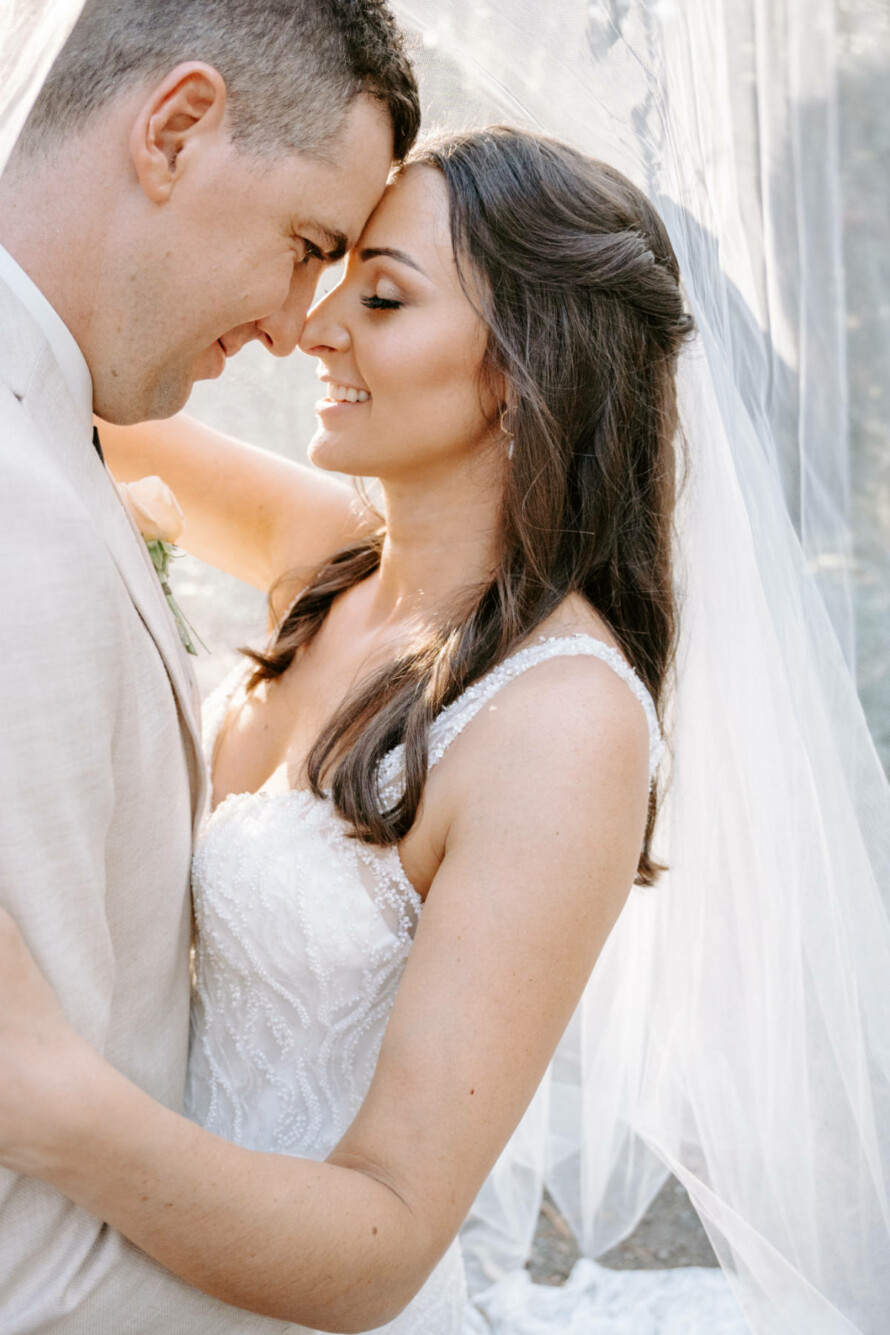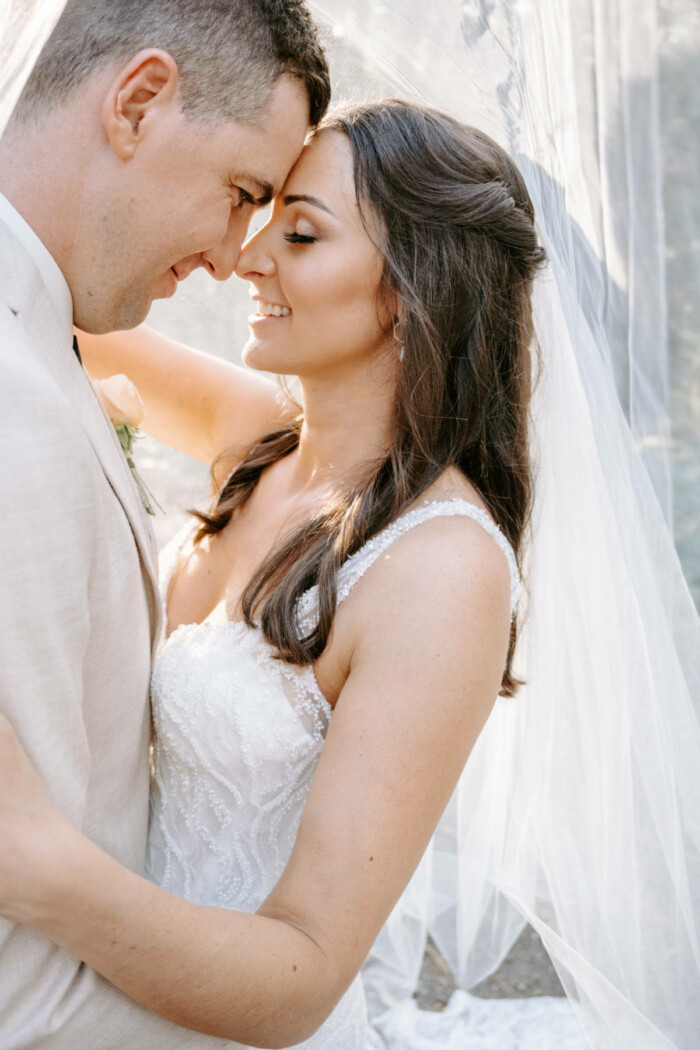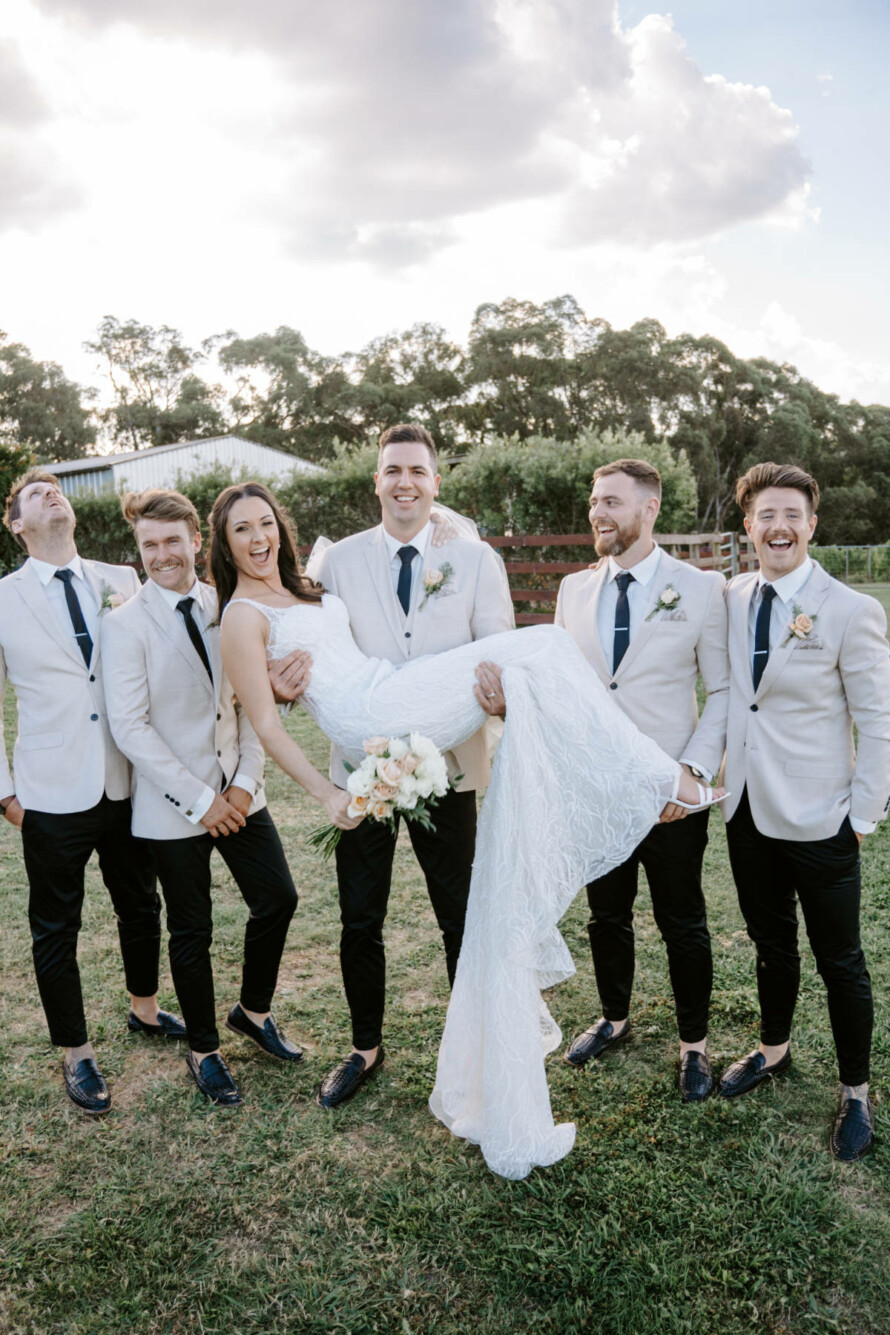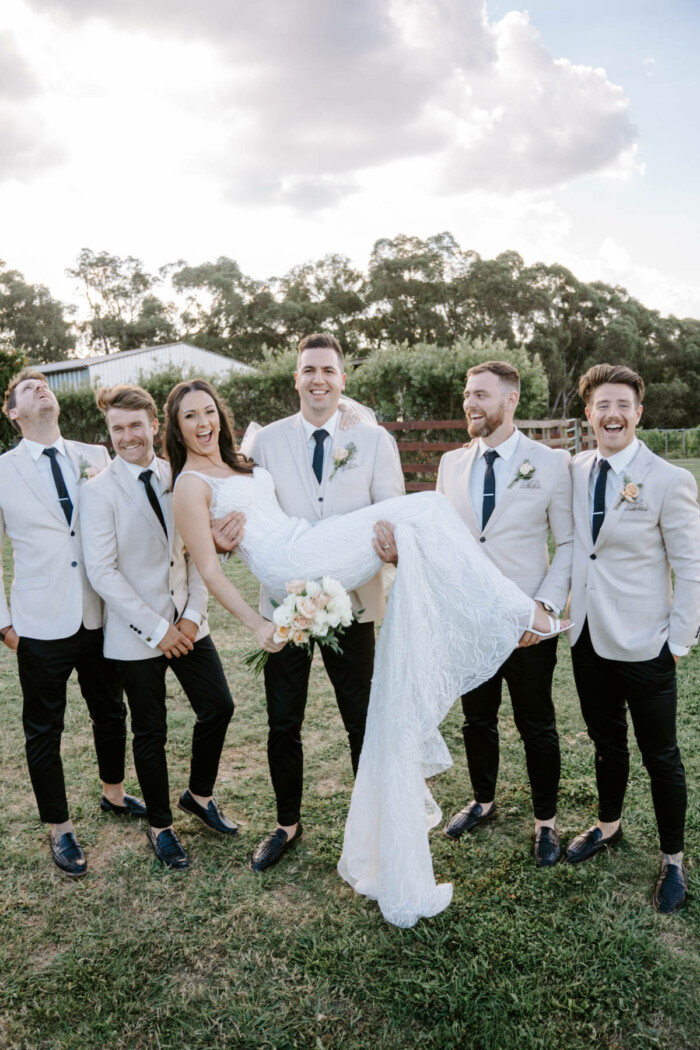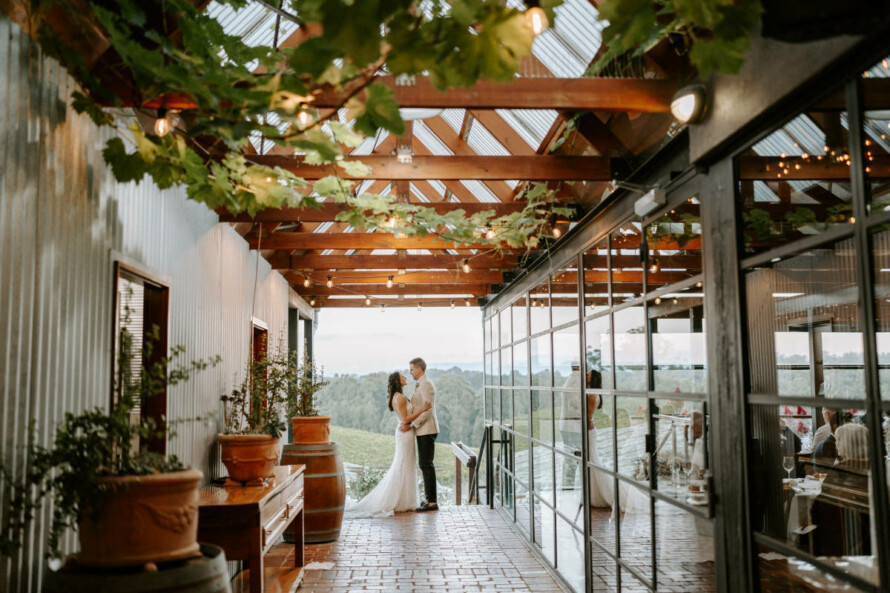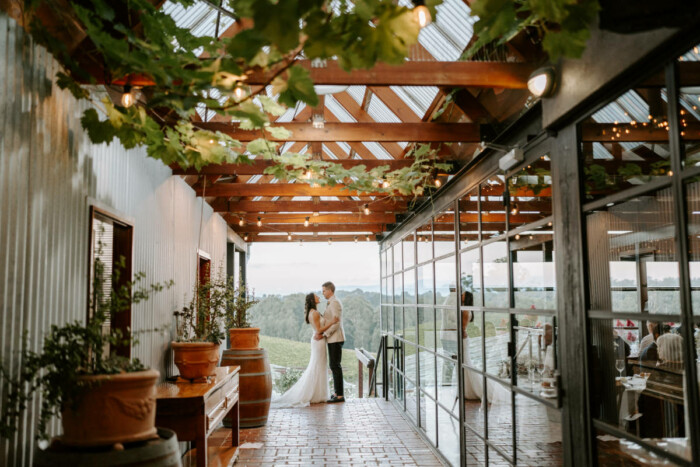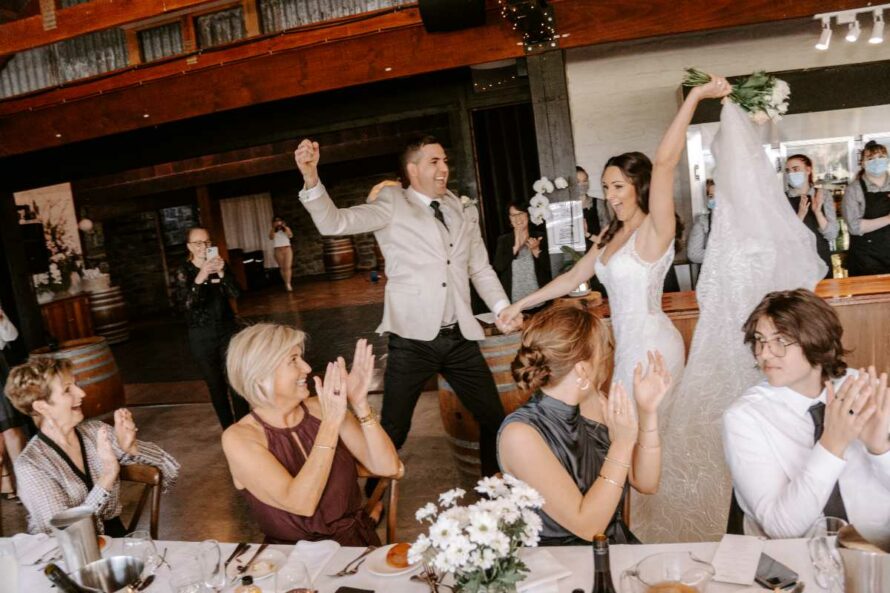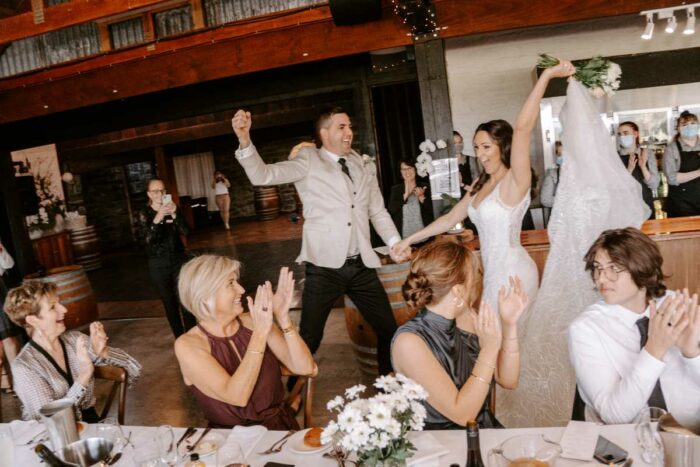 "All catering was provided by the venue and was outstanding."
We started off with assorted canapes as well as a grazing station, followed by an alternate sit-down two-course menu and a dessert buffet.
ENTREE
Kingfish and Ora king salmon ceviche pickled zucchini, capers, fennel, orange alternating with
Beetroot ravioli, hazelnut & lemon browned butter, Tuscan kale
MAIN
Roast pork belly, granny smith puree hash brown, green slaw, jus alternating with
Eye fillet, browned pinot noir butter, thyme scallop potatoes, root slaw, salsa verde
DESSERT BUFFET
Lemon Meringue Tart
Orange Crescents
Chocolate Mousse
Sticky Date
Pavlova Roulade
Semi freddo Ice Cream
Crème Brulèe
Apple Rhubarb Crumble
Fruit Salad
Lauren
CHECK OUT YARRA RANGES ESTATE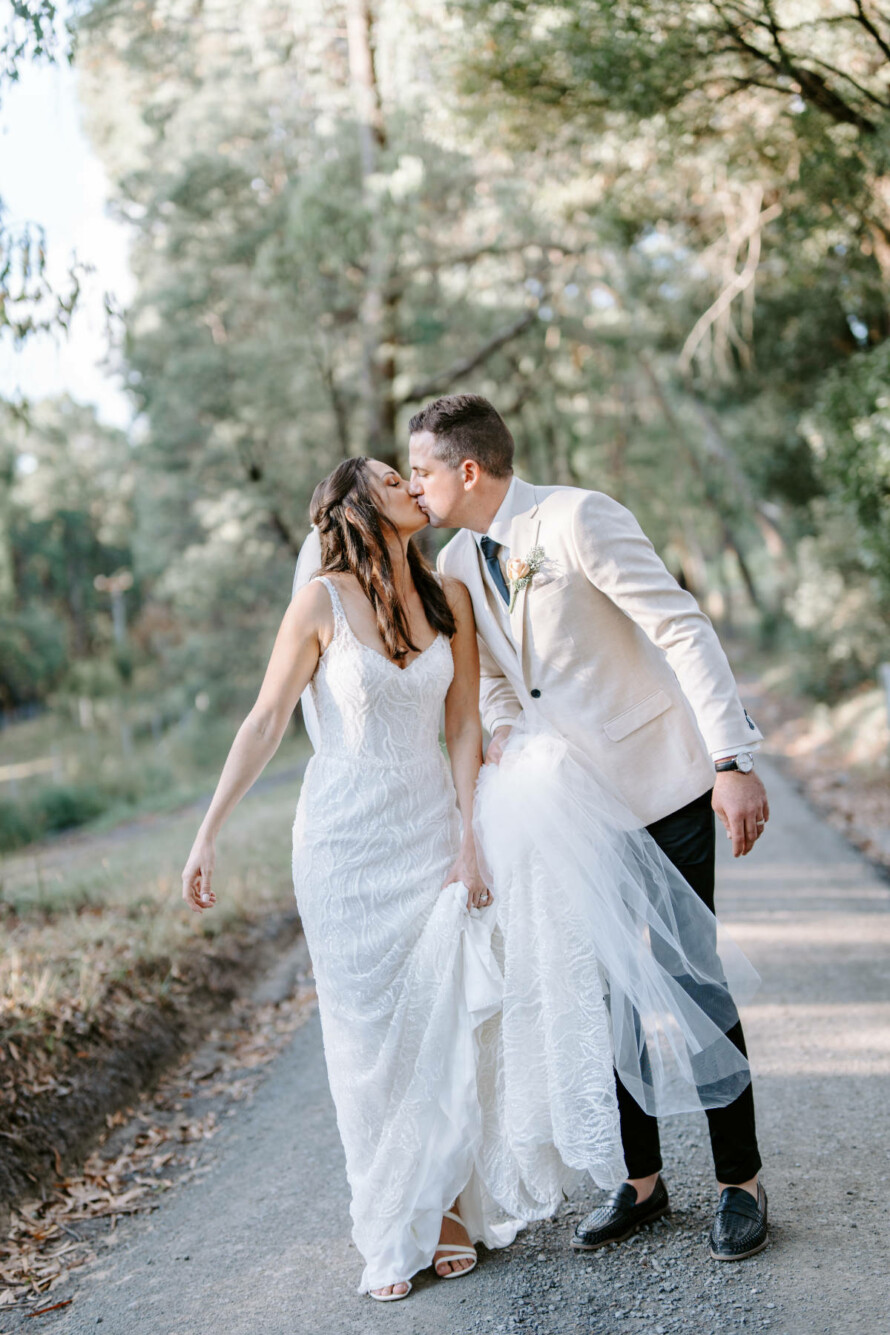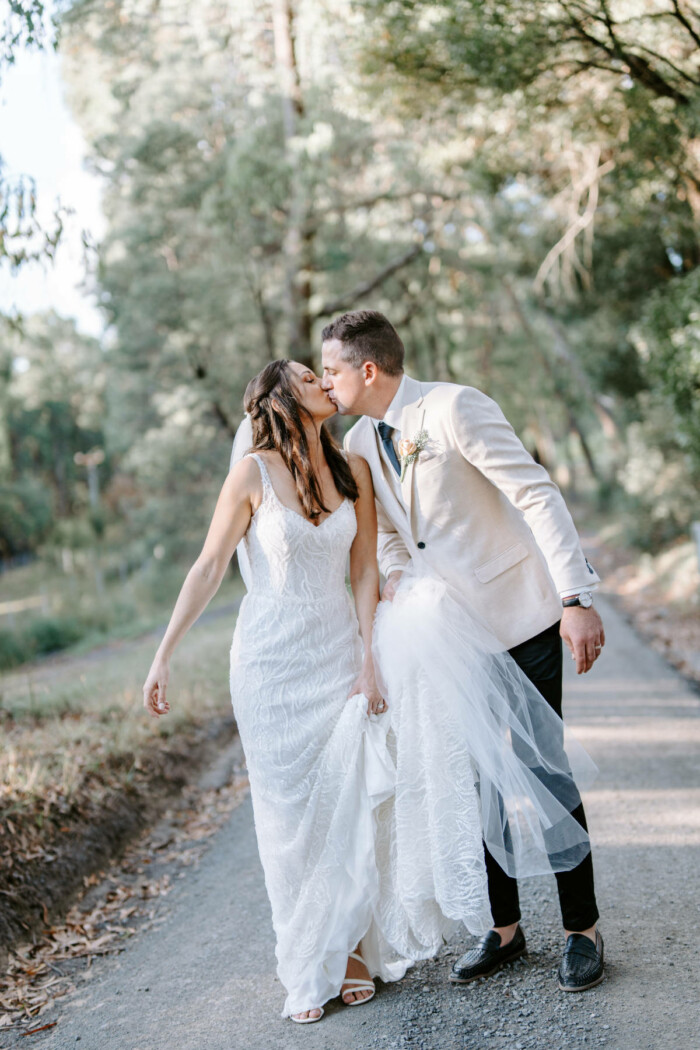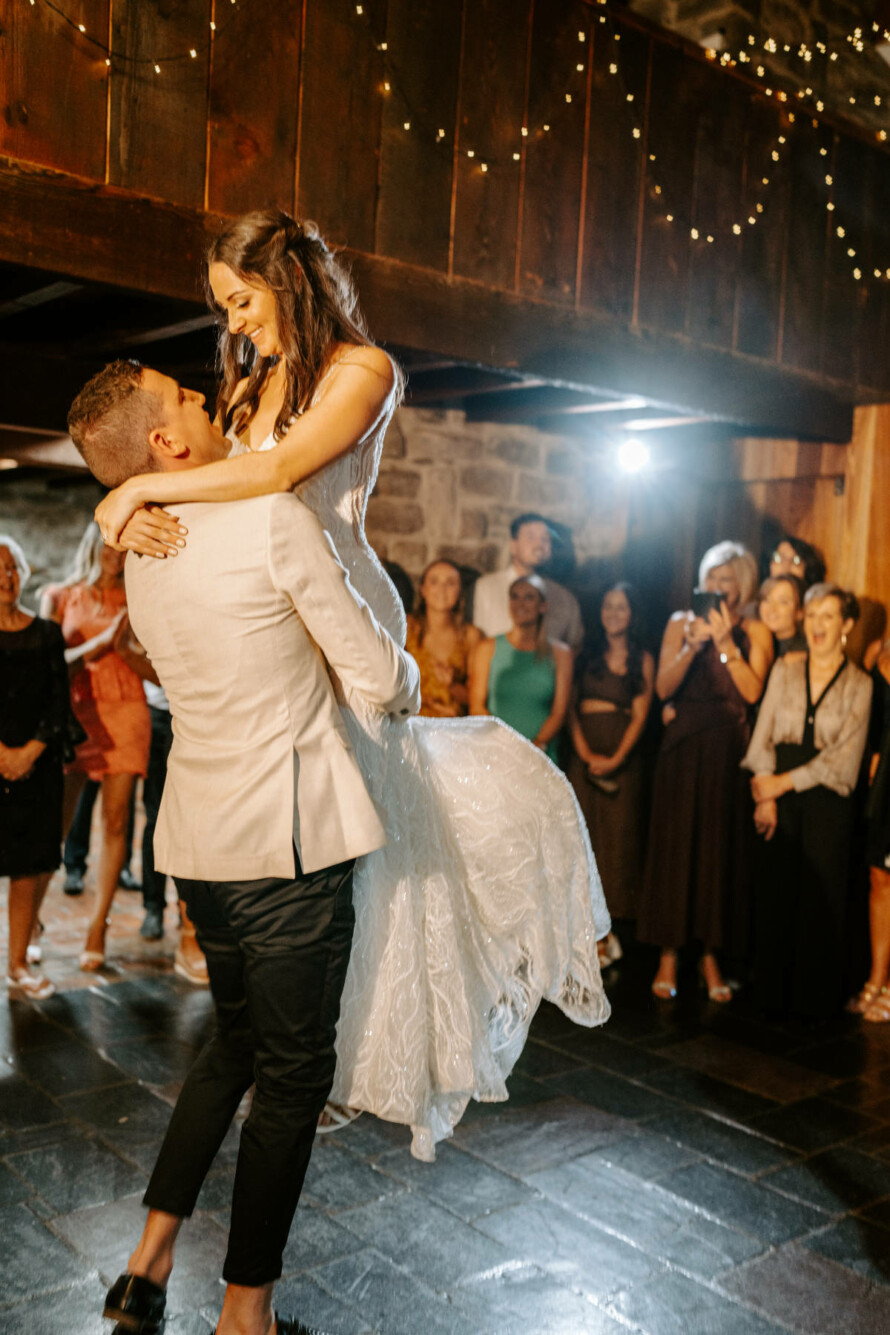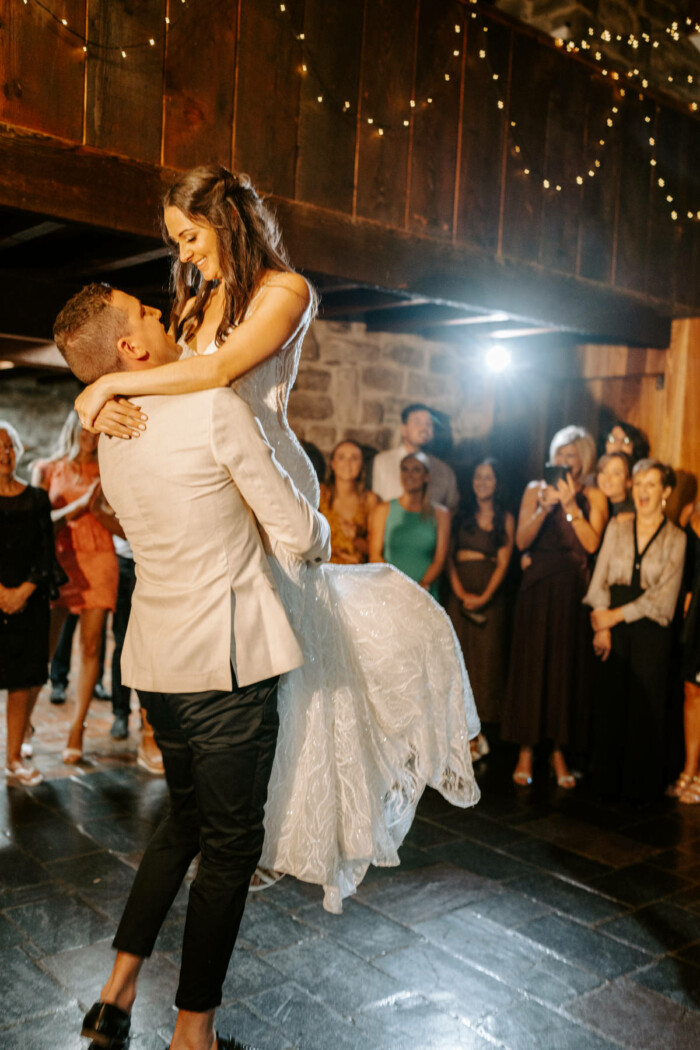 ---
How's your venue search going? From rustic wineries to unique spaces, our in-house venue specialists can suggest and plan site visits for venues that match

your

style and budget. (It's free, too!)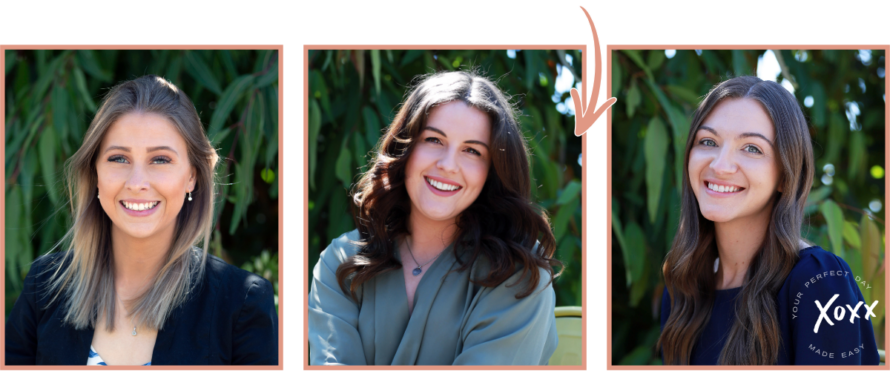 SPEAK TO A VENUE EXPERT HERE