Just two years after same-sex marriage was legalised here in Australia, Melbourne couple Daniel and Michael have been crowned Easy Weddings 2019 Wedding of the Year.
Wow!
It was an incredible two-week campaign among 12 finalists; 12 awesome couples whose unique weddings were voted best of the month in 2019.
But it was Daniel and Michael, with their talented photographer Corey Wright, who not only scored the most votes in the final round but who also blew us away with their creative campaigning.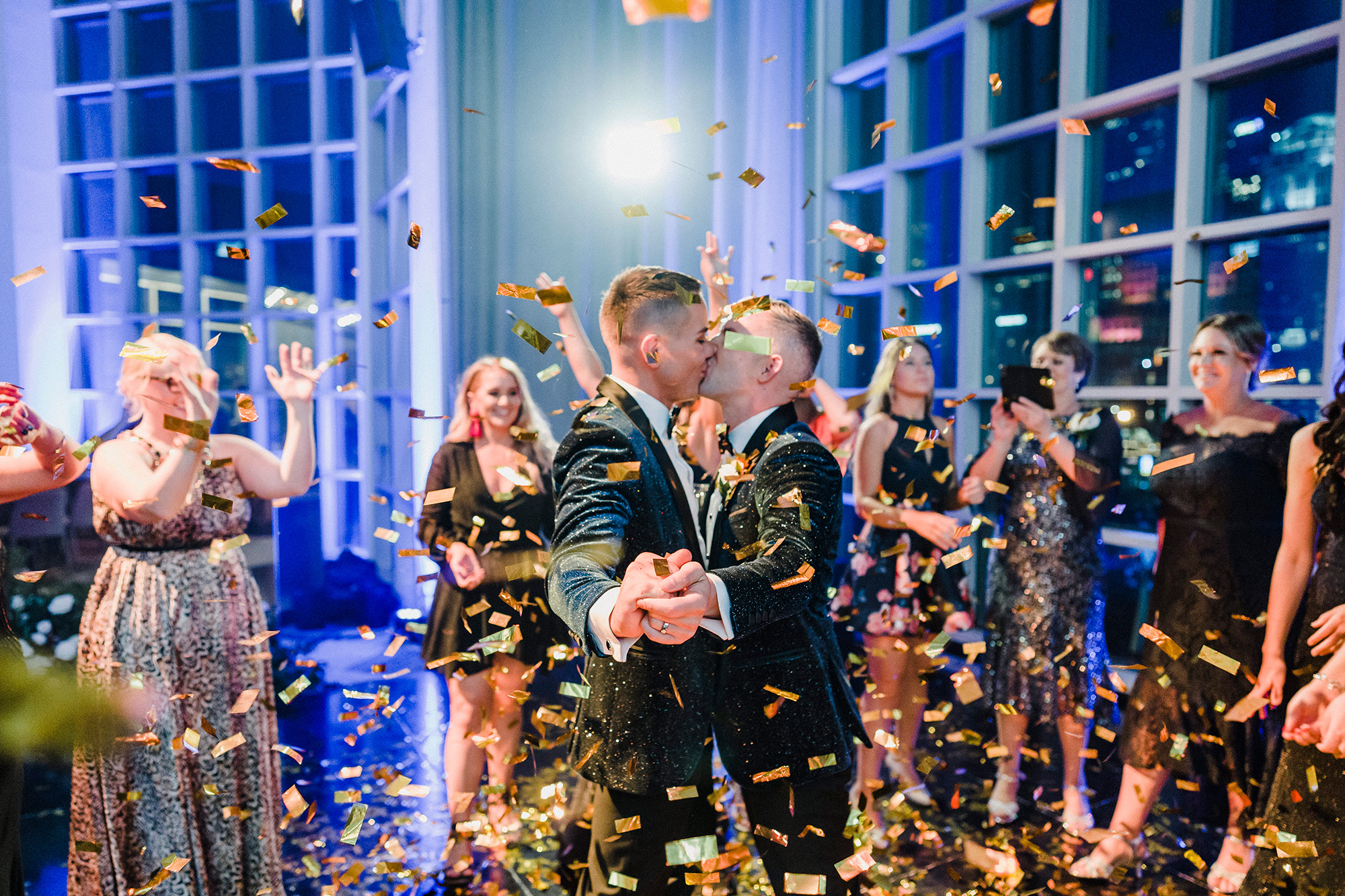 Daniel and Michael held their luxury nuptials on April 5, 2019, at the exclusive Metropolis Events in Southbank, Melbourne, and were married by Real Housewife of Melbourne (and recent celebrant) Gina Liano.
They invited their best girlfriends and boyfriends to be in their mixed wedding party, getting ready together on the wedding day; and instead of a traditional first-dance, they filled their dancefloor with all their friends and loved ones. Not to mention, a truckload of confetti!
"I've never seen so much confetti at a wedding," laughs Metropolis General Manager, Helen Boulter. "Daniel and Michael are such a lovely couple, it's one of the best weddings I've been part of."
Daniel and Michael were discerning in their choice of wedding suppliers, in particular photographer Corey Wright and Tea of True Story Wedding Films.
"The passion they have for equality and the meticulous detail they put into their craft was inspiring," said Daniel.
But to the Melbourne couple, it's their marriage that means so much more than the one day they said 'I do."
"Marriage means 'forever'. It is the ultimate commitment and gesture you can give to another person. A commitment of partnership, a team, and a promise to love, support and experience life with your 'other' person, every day – for the rest of your life," states Daniel.
"There is something pretty amazing about how that feels."
We couldn't have said it better!
Daniel and Michael have won a lavish (second!) honeymoon to the Maldives, thanks to one of the Maldives newest luxury resorts, Heritance Aarah – including 6 nights in an Ocean Villa with their own private butler, all meals and beverages included – as well as $2,500 cash from us here at Easy Weddings.
We are incredibly grateful to the other 11 finalists and in particular Kezzia and Jacob (Agape Stories) and Chaitanya and Sameer (Splendid Photos & Video) who were the runners up.
Wishing you all a love-filled Valentines Day.
Here are some of Corey's photos stunning from the day – you can see the full feature here.
View Metropolis wedding packages