Blogging about your wedding business is a highly effective way to showcase your expertise and attract those much-needed new clients. Your blog gives potential customers a place to find you, get to know you and your wedding business, and learn what you're all about.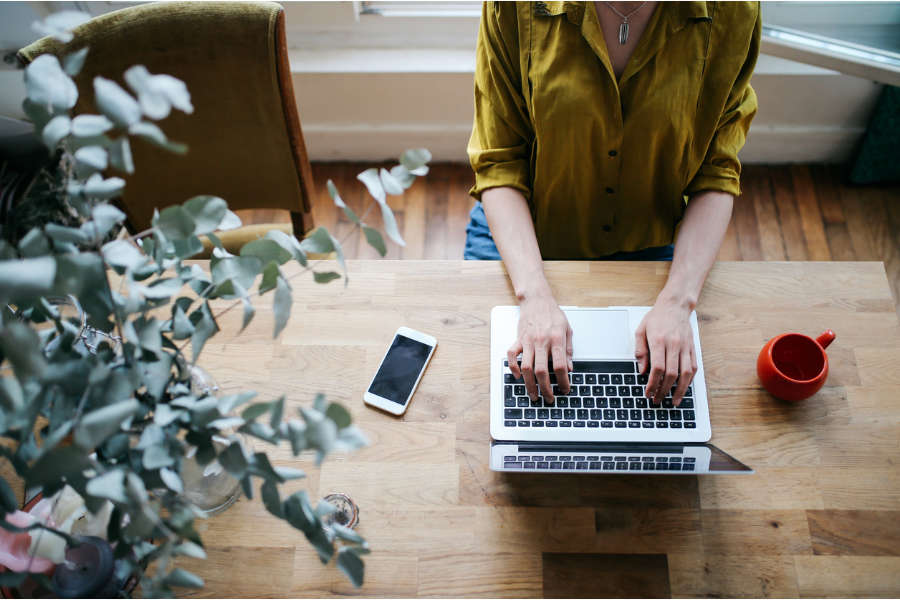 Our in-house SEO experts here at Easy Weddings recommend blogging as a great way to improve search engine rankings for your wedding business. It's important to appeal to search engines by creating fresh content at least monthly. Having more helpful information on your website will also help elevate your authority in the market.
We know that content writing isn't for everyone and coming up with wedding blog ideas isn't always easy, especially when you're busy with the day-to-day running of your business. That's why we've compiled a list of wedding business blogging tips and topics to help get you started.
Tip #1: Write What You Know
STAY IN YOUR LANE
You are an expert in your field, so it's key to show off your skills by blogging about what you know. If your specialty is making beautiful wedding cakes, don't spend hours trying to write a blog post on finding the perfect wedding venue. Stick to what you know, and potential customers will be drawn to your knowledge and experience as they're searching for wedding suppliers.
Tip #2: Make Sure Your Content is Relevant
BECOME YOUR IDEAL CLIENT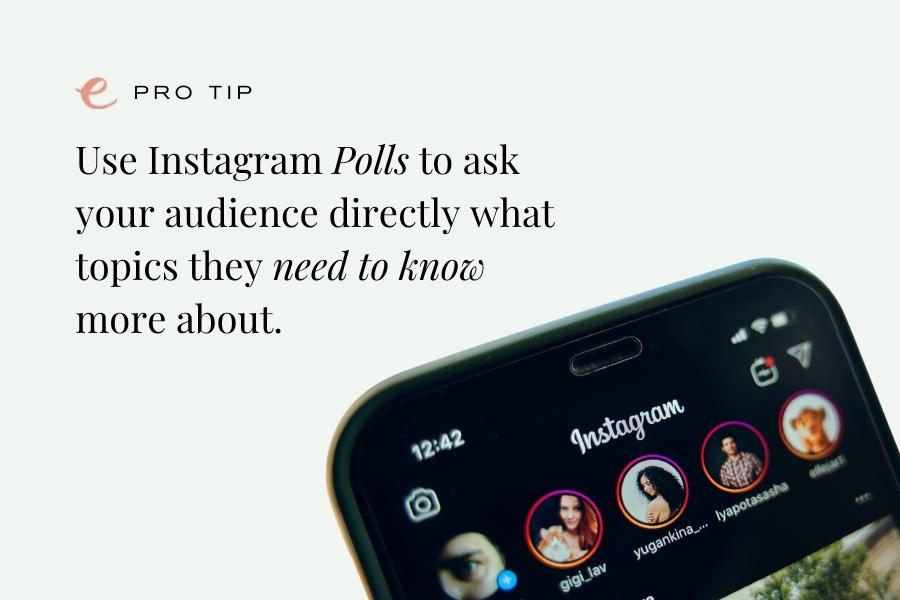 As you start to brainstorm ideas for your wedding blog, it's crucial to ask yourself what your ideal client would be looking for. What kind of questions are they googling? What information do they need? Basing article topics on questions you've been asked frequently by previous couples is a great way to ensure the content you're creating is relevant and useful.
PRO TIP: Create a poll on your Instagram asking your followers if they have any wedding questions they'd like to ask you and write a few different blog posts based on those topics.
Tip #3: Keep it Simple and To the Point
SNACKABLE AND SKIMMABLE IS BEST
If you're just starting out with blog writing, it can feel like a pretty daunting task. To keep things simple, approach blogging with the mindset that you're just telling potential clients about yourself and sharing your thoughts and advice. Keep the content concise and to the point, and add images after every 100 words or so to break up your discussion topics.
Tip #4: Share Helpful Tips and Tricks
BE GENEROUS, OFFER VALUE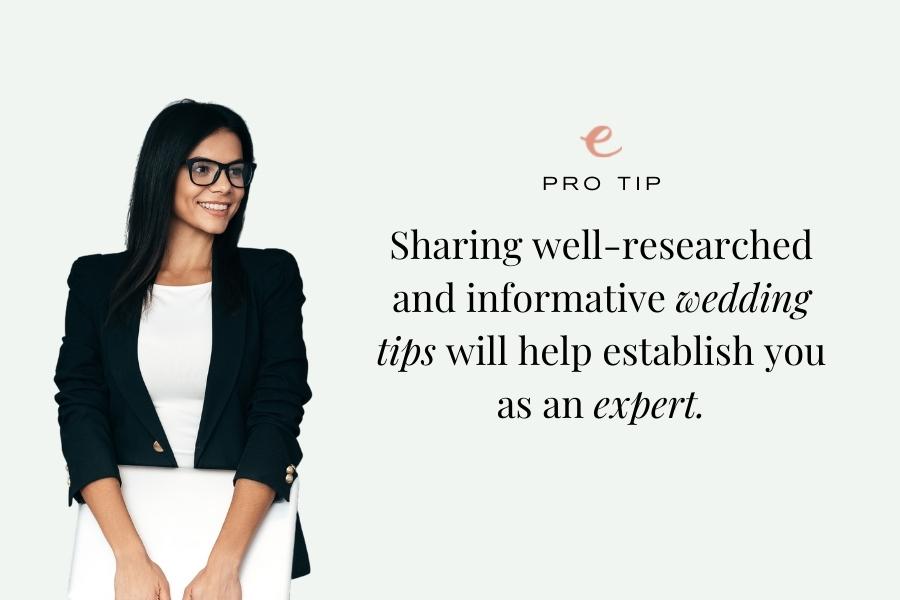 A great place to start with your wedding blog is to share some helpful resources that will set potential couples up for success on their wedding day. Trust us, everybody LOVES a good checklist or cheat sheet. You might have a handy wedding day run sheet or photography checklist that you could incorporate into a blog post.
PRO TIP: Sharing well-researched and informative wedding tips will help establish you as an expert in the industry, meaning couples will be more likely to reach out to you when planning their wedding.
Tip #5: Use Content Tools for Efficiency
DON'T GO IT ALONE
Digital marketing guru Neil Patel has a fail-proof formula for writing killer blog posts in under 60 minutes. He recommends using tools like Ubersuggest to research topics and ideas, a voice to text tool to help you write faster, and a digital timer to keep yourself focused. You can check out Neil's in-depth blog-writing guide here.
Don't forget to use a spelling and grammar checker like Grammarly, and pass it off to someone to proofread before you hit publish.
Tip #6: Turn Video Content into Blog Posts
LEVERAGE OTHER MEDIUMS
If you'd rather speak off the cuff into a video camera for YouTube or Instagram than plonk down with a keyboard, no problem. You can turn your video posts, how-to videos, or webinar and podcast appearances into SEO-friendly wedding blog posts. You can hire a content writer on freelance sites like Fiverr or Upwork to do this for you, which will you save time but won't compromise on your voice and authority.
Conversely, if you're a naturally better writer than speaker, your blog posts become the perfect practise ground for gathering your ideas, cutting down the number of times it takes to shoot your social media videos.
Content Ideas for Your Next Blog Post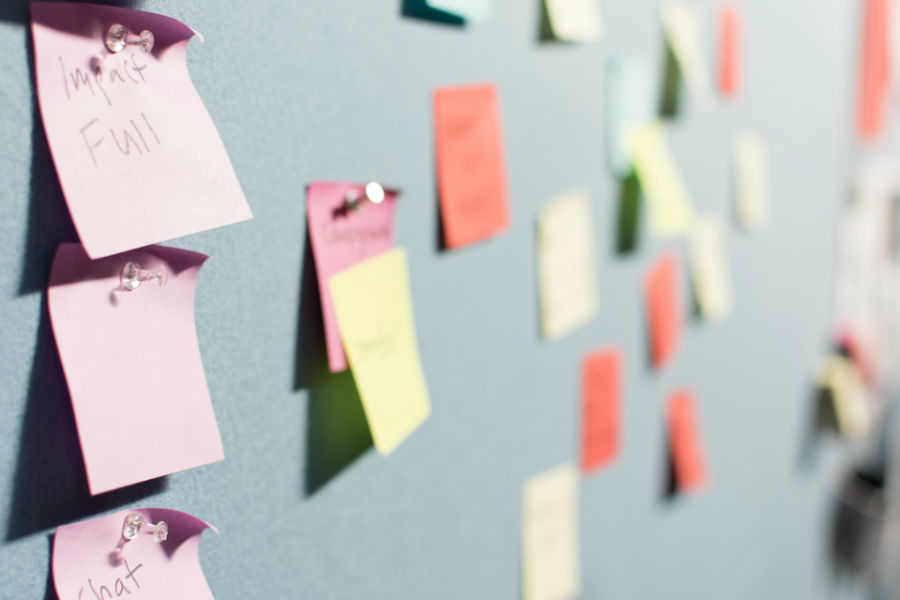 Recap a real wedding you were recently involved in
An 'ultimate guide' covering everything couples need to know about your product or service, e.g. The ultimate guide to choosing a wedding photographer
Dos and don'ts when choosing a wedding supplier
Answer a question you get asked frequently by clients, e.g. How much does wedding catering cost? Or Why you should book a wedding videographer and photographer
Create and share a wedding checklist or planning guide related to your niche
Discuss your favourite wedding trends for the current year and beyond
We hope this list of blogging hacks has inspired you to create some fresh content for your wedding business blog. And remember, you don't have to be a professional writer to create content that will inspire and educate your couples; you just have to be YOU!
BROWSE WEDDING ARTICLES HERE