Are you somebody that doesn't half do anything? Have you been dreaming of jumping on the plane and saying 'I do' among your nearest and dearest at a completely foreign – and often beautiful – location? Here's everything you need to include to create the ultimate destination wedding.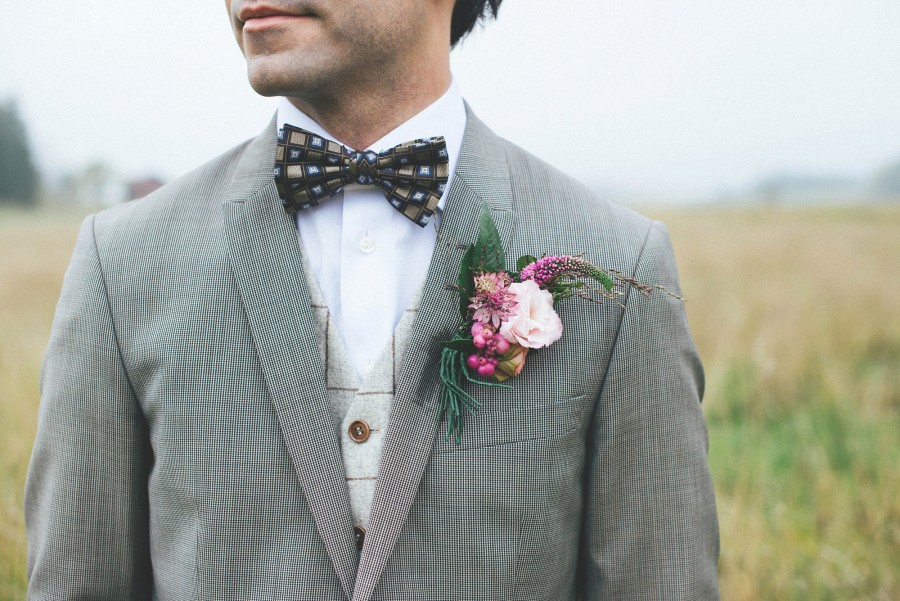 The destination wedding theme
The quintessential destination wedding focuses on the marrying couple's chosen destination, rather than themselves or their individual personalities. It's all about exchanging vows in a beautiful location rather than the extravagance that often comes with traditional weddings hosted in couples' hometowns.
While a destination wedding is not among the 10 most popular wedding themes (rustic, elegant, traditional, romantic, garden/outdoors, vintage, contemporary and glamorous, beach, vineyard, and boho chic), those who choose to host a destination wedding often also pick a theme to drive the style and overall aesthetic of the day.
The vision
Couples who choose to host a destination wedding do so for a variety of reasons. Firstly, a destination wedding can be seen as a two-for-one deal. While you get a wedding – you also get a fantastic holiday! Couples may even turn their destination wedding into their honeymoon, and sometimes guests are asked to stay on, making the wedding/holiday/honeymoon an event for all to enjoy!
Secondly, some international couples choose to have a destination wedding closer to their home countries. This makes it easier for family and friends who still live in those countries to attend, rather than having to travel to attend your wedding.
Thirdly, a destination wedding can help keep your guest list intimate. Likely half of your expected guest list will not attend due to travel costs, and this can be seen as a good thing for couples who want to exchange vows in the presence of only their nearest and dearest. Those who truly care will attend, no matter the cost.
And finally, as Australia lags behind the rest of the world in regards to marriage equality, some same-sex couples may make the decision to host a destination wedding in a place they can legally marry.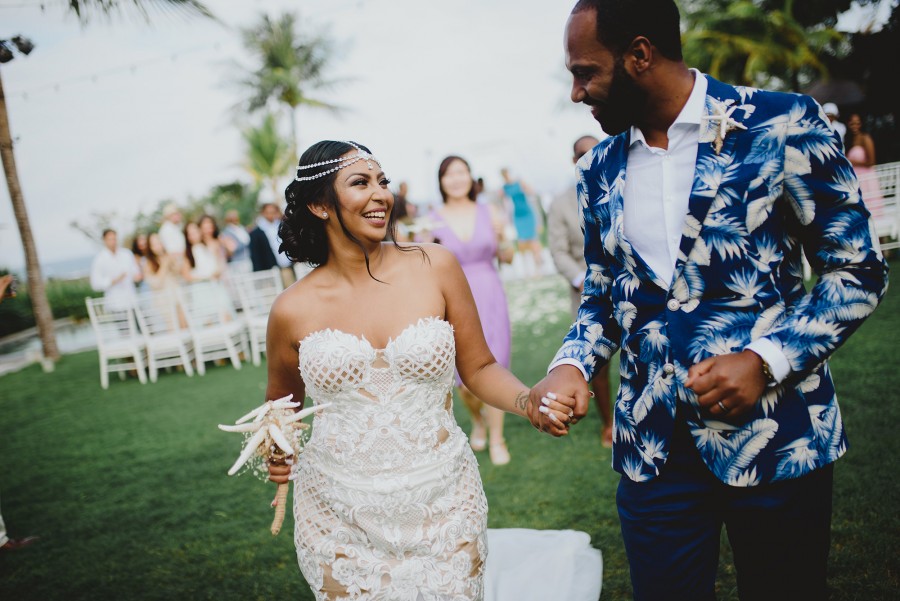 Things to consider
Couples toying with the idea of hosting a destination wedding have a lot to consider before sending out their invitations and booking their flights. For instance, you must understand that not every guest who receives an invite can attend a destination wedding.
For instance, you must understand that not every guest who receives an invite can attend a destination wedding. Unless you are willing to fork out travel and accommodation expenses for each and every one of our guests, some of the people you invite may not have the monetary means to attend your wedding. When you consider travel expenses, accommodation, food, outfits, and gifts, your guests are forking out an arm and a leg just to attend your wedding in the location of your choice! Because of this, you have to expect many to RSVP no – meaning your wedding may end up smaller than you originally hoped.
Another thing to consider is that you may not receive everything you've ever dreamed of for your wedding, because of the sacrifice you make to wed in the destination of your choosing. For instance, you may have to forgo certain traditions depending on the country you choose to marry in. Some countries only recognise certain religious ceremonies, so this might be something worth considering before booking your destination wedding.
Budget
As every wedding is different, it's hard to put an approximate amount on how much a destination wedding would cost. As destination weddings often have fewer guests, this may save you some money. On the other hand, as you might be planning your wedding somewhere incredibly popular, even a small wedding may cost around the same as a larger one back home.
Click here to create and manage your wedding budget!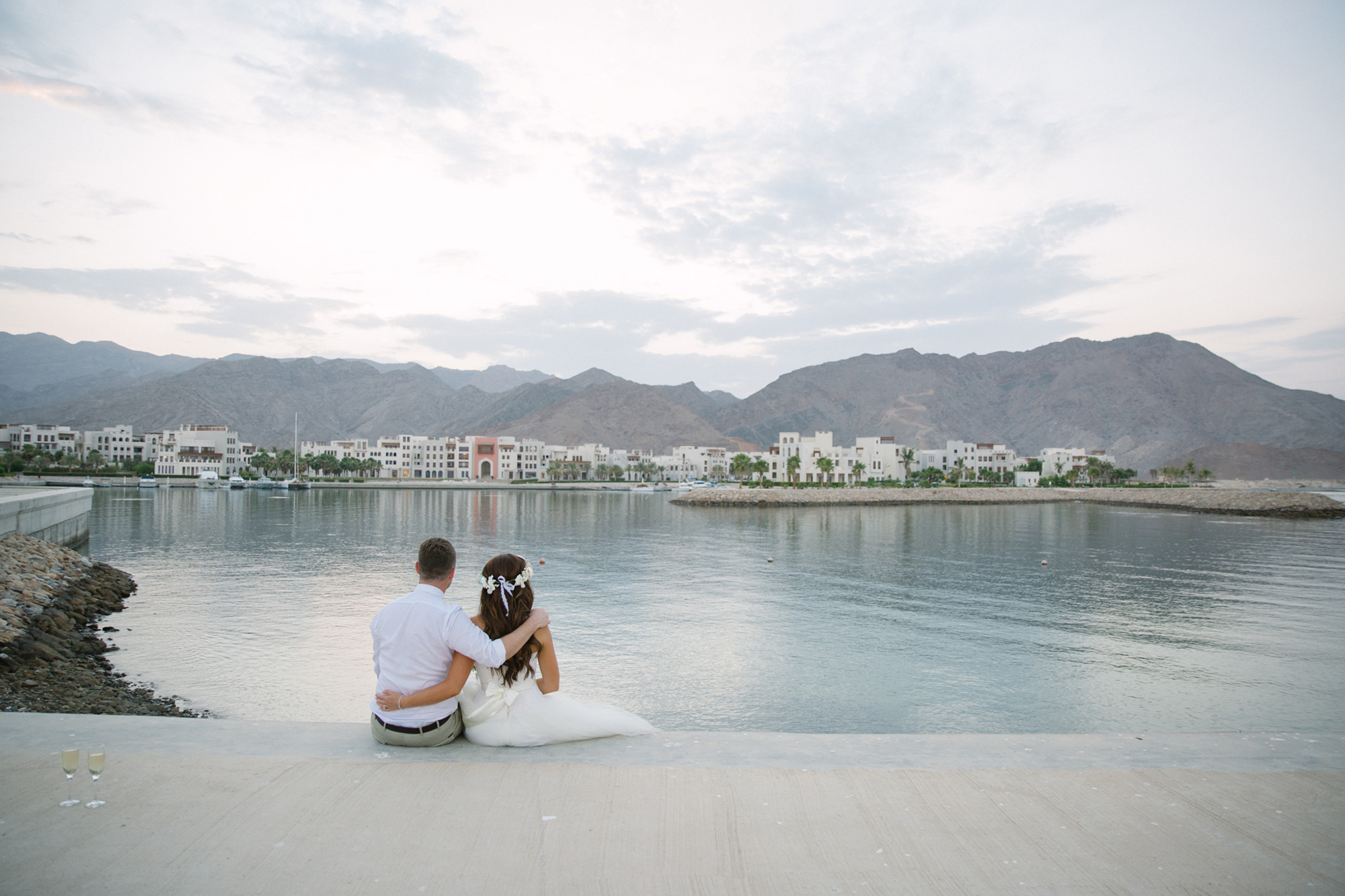 Guests
As said above, guests are a big deciding point when it comes to destination weddings. While not every guest you invite will be able to cover travel, accommodation, and food expenses that come with your destination wedding, the ones who do attend are usually the only ones that truly matter. At the end of the day, even if you have an intimate guest list, you'll still exchange vows in a completely foreign and often stunning location – and that's all that really matters when it comes to destination weddings.
Wedding date
Those who are planning a destination wedding must think long and hard about their wedding date. If you've chosen a destination that is famous for its summer days, it wouldn't make sense to hold your wedding during the winter months. Similarly, you may have to consider when popular tourist destinations are likely to be swarming with tourists and therefore vendor pricing may increase.
You'll need to book vendors well in advance to secure your wedding date, and let your guests know with enough time to plan their own travel to attend your wedding. There's no use springing a destination wedding on guests with only a few months to spare – likely only a few of them will attend.
Invitations
Your invitations are integral to notify your guests of your impending destination wedding. Those who are planning a destination wedding must send out their invitations with enough notice for their guests to save, book flights, and arrange accommodation. Your guests might also need some time to think about it – you're essentially asking them to come on holiday! – so keep this in mind when sending out your invitations.
It's also worth considering creating a wedding website to keep your guests up to date with wedding and travel plans.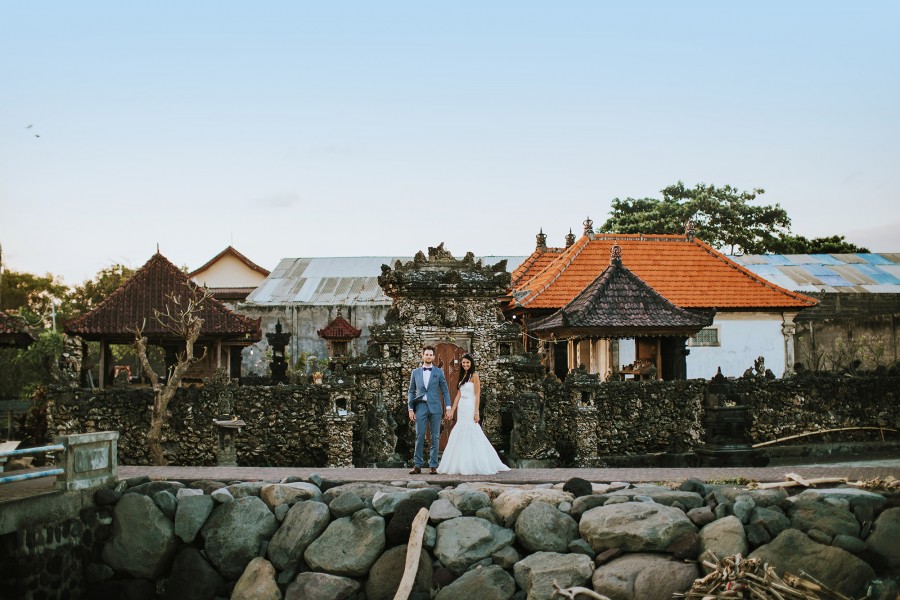 Vendors
Booking vendors is a little different when it comes to destination weddings. Having a wedding in your hometown comes with the luxury of choice when it comes to vendors. However, in regards to a destination wedding, you may have to book whatever vendor is available to you or be a little less picky when it comes to creating your wedding.
Some couples side-step this issue by literally importing Australian vendors to their country of choice. For instance, here at Easy Weddings we've heard of couples paying for their favourite celebrant to officiate their Bali wedding. This is an expensive alternative, however, and most couples hosting destination weddings will book whatever is available in their chosen destination.
In countries that are famous for destination weddings – ahem, Santorini – there may be wedding packages available to create the quintessential Santorini wedding. This means your entire wedding, including the planning and its vendors, is taken out of your hands. For some, this is a plus as it reduces any wedding planning stresses. For other, perhaps this option takes the fun out of wedding planning.
Photography
Photographers at destination weddings often focus on capturing the chosen location – that's the whole point of a destination wedding, isn't it?
Instead of focusing on the little details, as wedding photography often does, photographers at destination weddings will focus on what makes the location so beautiful, and show the couple in the place of their choosing.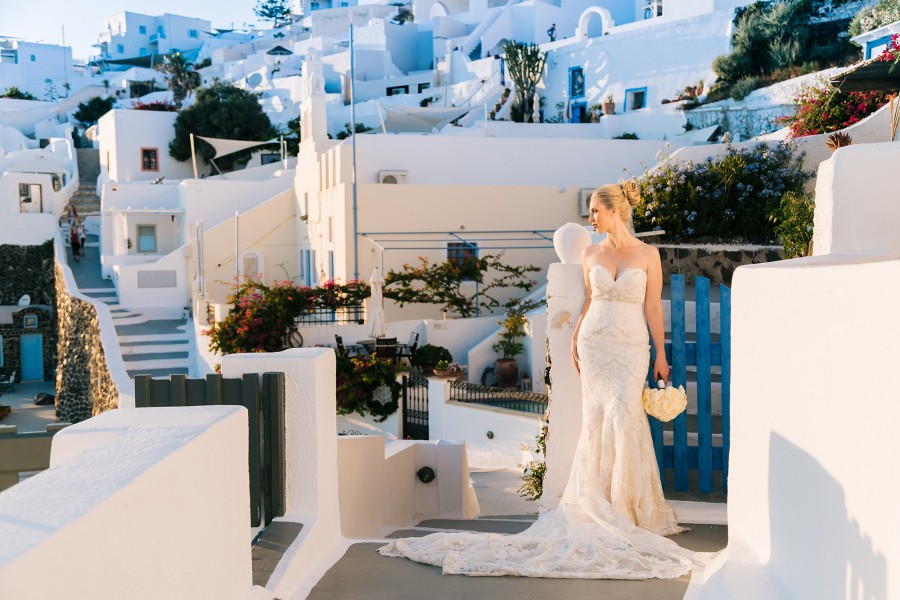 Bridesmaids
As destination weddings often have an intimate guest list, brides often only have one or two bridesmaids. Usually, the bridesmaids will wear a colour that perfectly complements the location. For instance, if your destination wedding is on a beach, the bridesmaids might wear blue. Or, if your destination wedding is in Paris, they might wear pink or burgundy.
Wedding dress
What the bride wears to her destination wedding often depends on the location chosen. If, for instance, the couple has chosen a beach destination, she might wear a flowy lace number paired with bare feet and flowers in her hair. Similarly, it might look and feel strange to wear a princess dress on the black sand beaches of Bali.
Formal wear
The groom often wears whatever perfectly complements the chosen location. For example, if the couple is marrying somewhere hot, he might wear a shirt and waist coat instead of a full three-piece suit. Or, if they are exchanging vows somewhere near the beach, the groom's chosen suit colour may be light and fun, incorporating blues and greens into his boutonniere.
Catering
Those toying with the idea of hosting a destination wedding may have to forgo their favourite dishes when it comes to catering. Your wedding catering may have to align with the chosen country's cuisine, rather than what you're used to back at home.