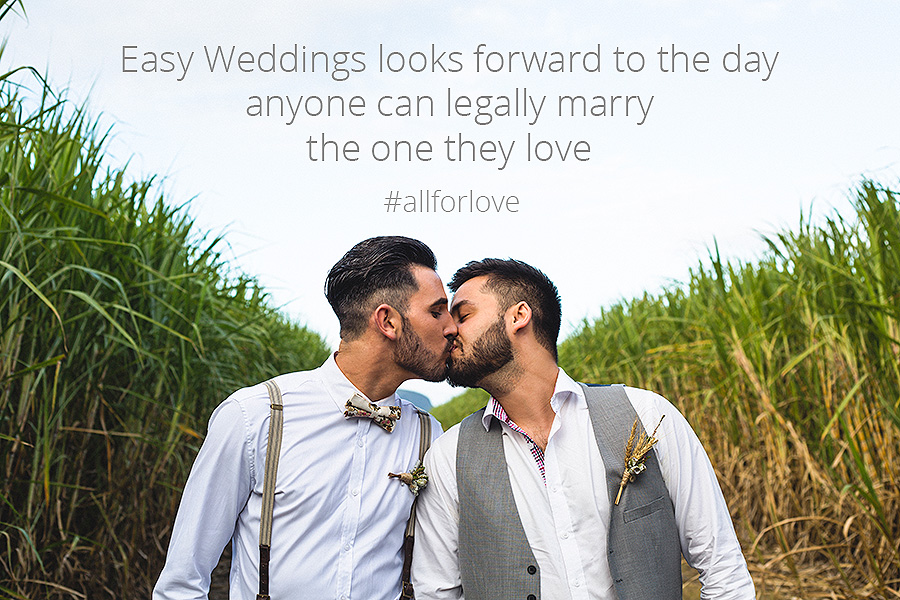 Image: Freyee Photography. See the rest of this beautiful love shoot here.
Here at Easy Weddings we're all for love. We've always been that way but now we're taking steps to really show what we mean and that we wholeheartedly want marriage equality for all Australians.
And it begins right there on our homepage, by being one of the only wedding websites in Australia to feature same-sex couples in their hero images – as if marriage equality is no longer an issue.
"Whilst we've always supported same-sex marriage, we had to stop and do a thorough review of the site and work out whether we were really communicating that," says founder and CEO Matt Butterworth.
The review included the types of imagery being shown, content in articles and language being used.
"The answer was clearly 'no' so we've worked hard to implement quick but positive changes with the goal of normalising same-sex unions and showing inclusivity for all couples," adds Matt.
As well as featuring the powerful image of two grooms kissing (courtesy of Freyee Photography) as one of three rotating hero images on our homepage, we have also included an image from real-life couple Cara and Sophie, whose real wedding story garnered hundreds of votes and positive comments on social media in our 2017 Wedding of the Year competition.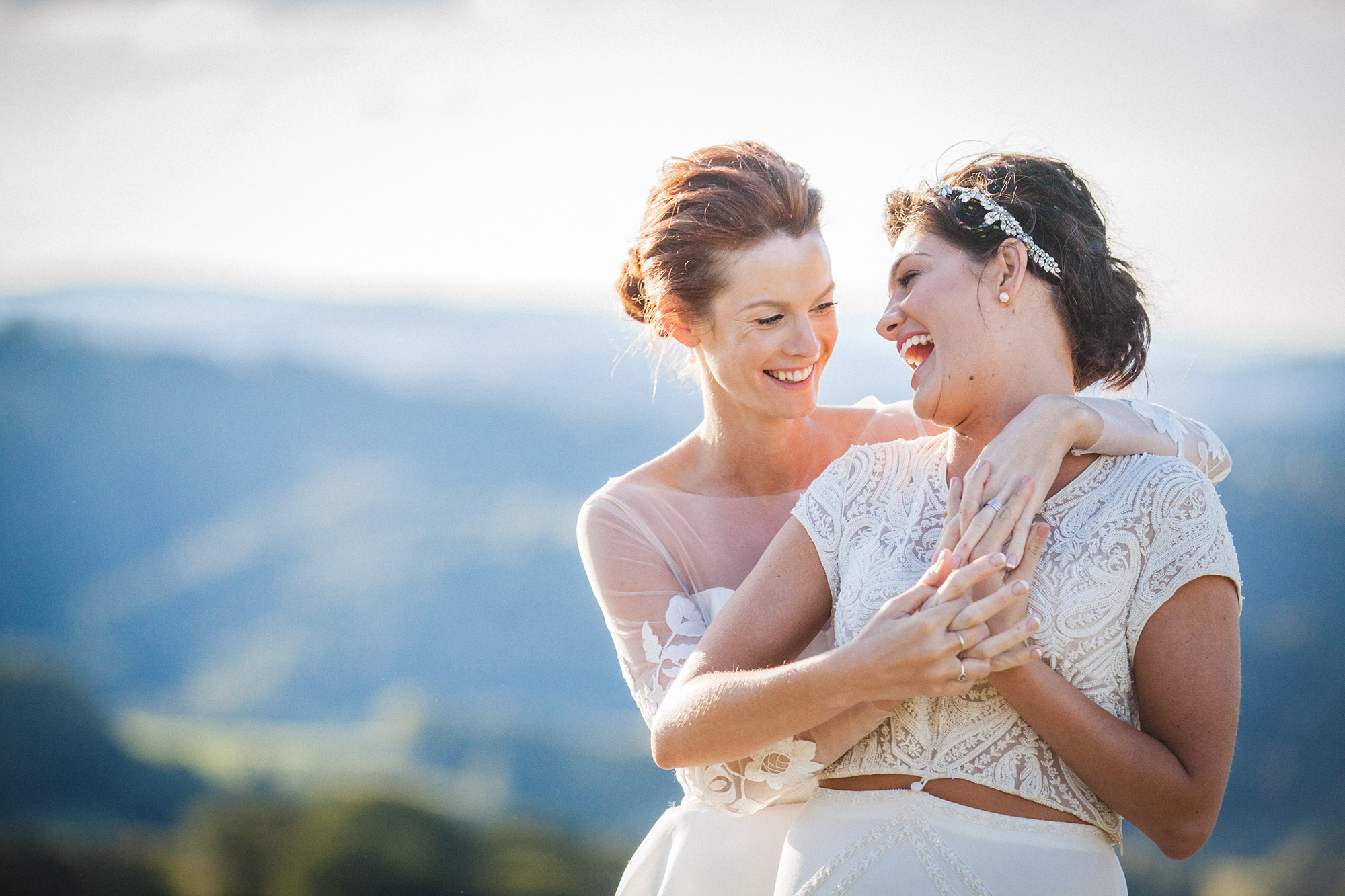 Image: Catseye Productions. See the rest of Cara and Sophie's wedding here.
"This only further supports our belief that same-sex marriage is no longer a minority issue – it's one that affects us all," says Matt. "It's our friends, brothers and sisters, sons and daughters, colleagues, and acquaintances."
In addition to imagery, we've combed through the site changing instances of language that excludes, and have even implemented an Easy Weddings 'swear jar'!
"Any time a staff member is caught using the word 'bride' instead of 'couple' they're required to give a gold coin donation," says Matt. "We'll donate whatever money we raise to Marriage Equality Australia."
Other positive changes include a rainbow pride version of our logo that we'll display on our  social media platforms until same-sex marriage is legalised. This logo also appears among more than 1270 corporations, including eBay, Coca Cola and Google to name a few, on the "Open Letter of Support" page of Marriage Equality Australia.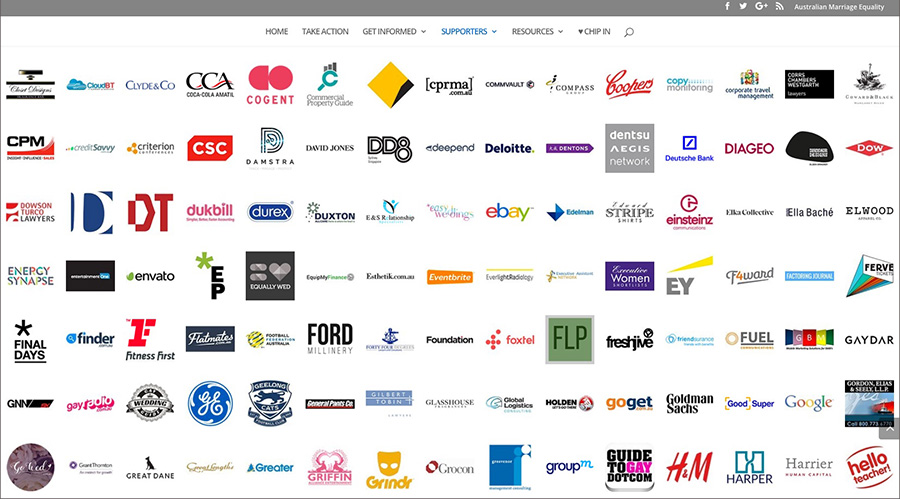 "We know Australia is embarrassingly behind the times when it comes to this issue, but we're beyond waving flags," says Matt. "Until the government can get its act together and give parliamentarians a conscious vote or the people a proper referendum – not an unbinding plebiscite vote – we'll get on with it and ensure inclusivity for all couples is at the core of all we do."
Marriage equality – some interesting stats
Since 2001, 22 countries have legalised same-sex marriage including South Africa, England, USA and most recently, Malta.
In 2013 our trans-Tasman neighbours New Zealand passed marriage equality legislation and in 2016, 270 Australian couples flew there to get married, despite the union counting for nothing when they returned home.
New Zealand now conducts more foreign same-sex marriages as native ones and 58% of those are of Australians.
The 2011 Australian Census showed there were 34,000 same-sex couples, a third more than the five years before. And in 15 years between 1996 and 2011, the number of same-sex couples has tripled.
In a 2015 report, ANZ Banking Group estimated that the legalisation of same-sex marriages would directly contribute $1 billion to the Australian economy if half of all same-sex couples were to be married in the first year proceeding legalisation. This doesn't take into account the flow-on effects coming from related services such as honeymoons and tourism for foreign same-sex weddings.
In 2015 79% of the 2227 respondents in Easy Weddings' Annual Australian Wedding survey said they believed same-sex marriage should be legalised.
Of the same-sex couples who responded to the same survey the following year, 59% hadn't decided whether or not they would wait for same-sex marriage to be legalised before marrying. A quarter said they'd get married here regardless. And 7% said they'd travel overseas to get married in a country where it's legal.
Easy Weddings estimates 5,000 same-sex couples access its site every year and that this will will grow upwards of 25,000 when same-sex marriage is legalised.