Choosing the right bridal lingerie, shape wear, and underwear is an important factor in making sure you feel comfortable and your dress sits well on your special day. Here's your personal guide to bridal lingerie.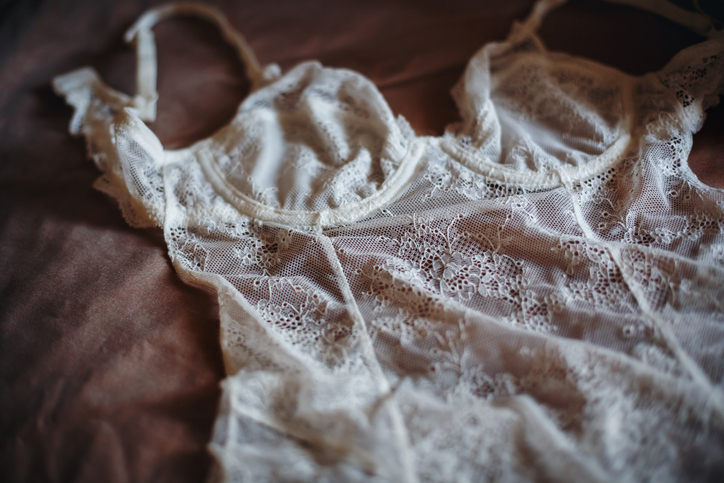 Choosing bridal lingerie
The type of bridal lingerie you choose really comes down to three key factors; your body shape, the type of dress you are wearing and your personal taste. Wearing bridal lingerie is a wedding tradition, however, this does not mean that it is mandatory. Some brides may not like wearing lingerie and would rather wear something simple and comfortable, whereas some brides may like to wear a full ensemble.
Bridal bras
For most women, bras are an integral part of an every day outfit. However, on your wedding day you may feel inclined to wear a bra a little more delicate and intricate that your trusty old t-shirt bra. In saying that, your choice of bra will really depend on the type of wedding dress you wear.
For example, current trends are headed towards more structured bodices that already incorporate an inbuilt bra or cups for the breasts, and are so similar in nature to a corset that it may not be necessary to wear a bra at all. Opposite to this, you may be wearing a high-neck or fitted long sleeve gown that requires a padded bra to fill it out, or perhaps you need the extra support to work with the neckline of your dress.
If your dress is backless, you may have to consider options such as stick on cups or an adhesive bra. However, these types of bras generally offer limited, if any support, but work well for covering nipples. Other bras include plunge bras, low back bra and convertible bras that allow you to adjust straps so they are hidden by the shapes and contours of your dress.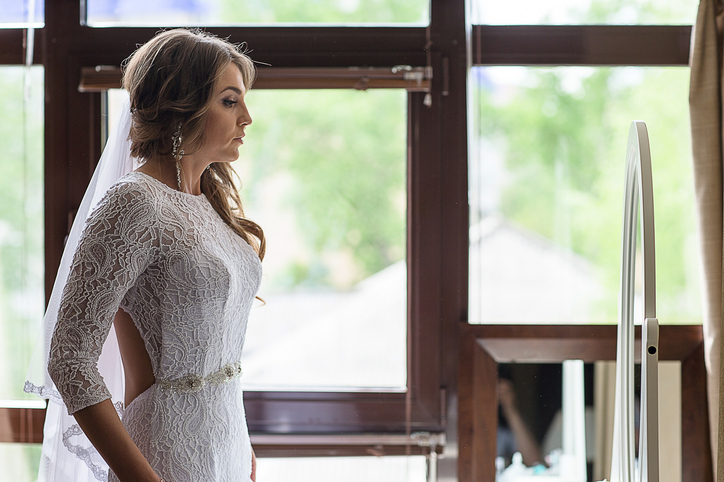 Panties and stockings
Panties and stockings are almost as important a decision as choosing the correct bra. It is important for a bride to pick panties that will not bunch up under her dress, cause any visible panty lines, and a pair that will not be visible through the dress. To prevent visible panty lines brides can opt for seamless under wear or a g-string/thong.
A bride can opt for the traditional pantyhose that cover toes to waist or she can opt for knee high pantyhose used with a garter belt and garters. This would make for a more comfortable and sexy option. The combination of a lace thong or Brazilian, or briefs paired with the matching bra or corset, thigh-high stockings, and a garter belt is an excellent option for a wedding night lingerie ensemble. (Read what really happens on your wedding night here).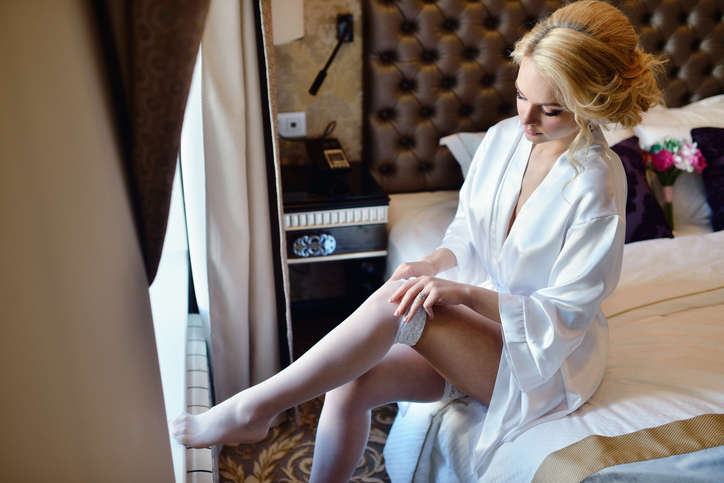 Shapewear
Shapewear styles work for different parts of the body. The main purpose behind shapewear or spanx is to create a more flattering silhouette or shape to the body. A bride can opt for shapewear that will cover her entire body or simply target certain areas such as enhance the bust, or flatten the stomach.
Corsets or bustiers are great for women that want to cinch in their waist providing more definition while supporting and shaping the breasts as well as enhancing cleavage for dresses with a low neckline.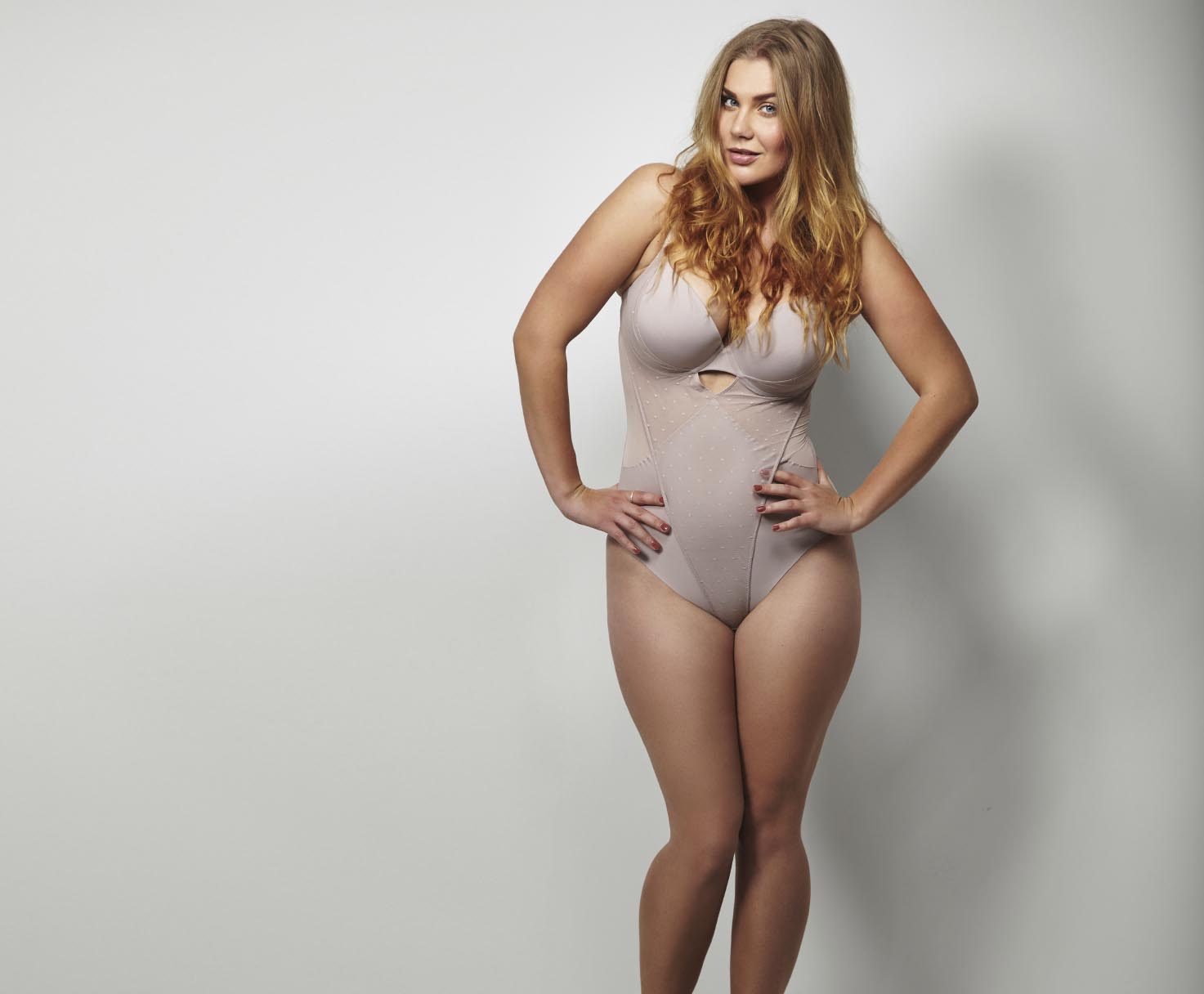 Chemises, teddies, and babydolls
Chemises, teddies, and babydolls are lingerie options ideal for the wedding night or honeymoon. Each of these items comes in different designs and although babydolls and chemises are very similar in appearance, there are differences. If you are a bride that wants something very feminine that accents her breasts and legs while subtly disguising her waistline babydolls work perfectly. Babydolls tend to be snug at the bust and flow loosely down the body to just below the bottom or mid-thigh.
Chemises on the other hand are more form fitting, appear to look like a mini-dress, and accent more of the body. In some cases, chemises can also be long. On the other end of the spectrum are teddies. Teddies are garments that cover the entire torso and crotch are much like a bodysuit or one-piece bathing suit.They come in a broad range of styles in fabrics that include incredibly sheer fabrics, to styles that offer minimal coverage. These are a great choice for the new bride that wants to wear something sexy on her honeymoon.
Sleepwear
An additional option in bridal lingerie that a bride can select is sleepwear. Sleepwear includes nightgowns, pyjamas, and loungewear. A more conservative bride that may prefer to choose a pretty nightgown made from silk or satin instead of a sexy lingerie ensemble. If traveling to a colder destination pyjamas are an option a bride can choose that can offer the warmth and coverage needed while provide a bit of sexiness for her new spouse.