There are many different attire avenues to explore when considering a winter wedding. Here's how to dress your bridesmaids when it's cold out!
While most couples simply pretend the weather stops during their wedding, others honour their choice of season through theme and attire based around the chill.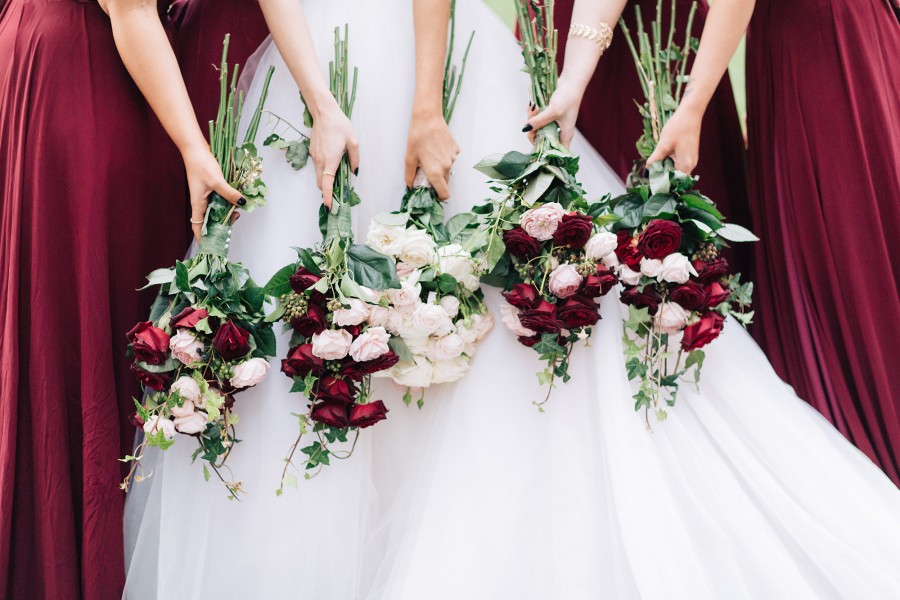 Colours and textures
Couples can opt to pay homage to the cold weather through both colours and textures. Below is a list that combines the two – some ideas are based on the colour tones of winter, while others stem from practicality and warmth.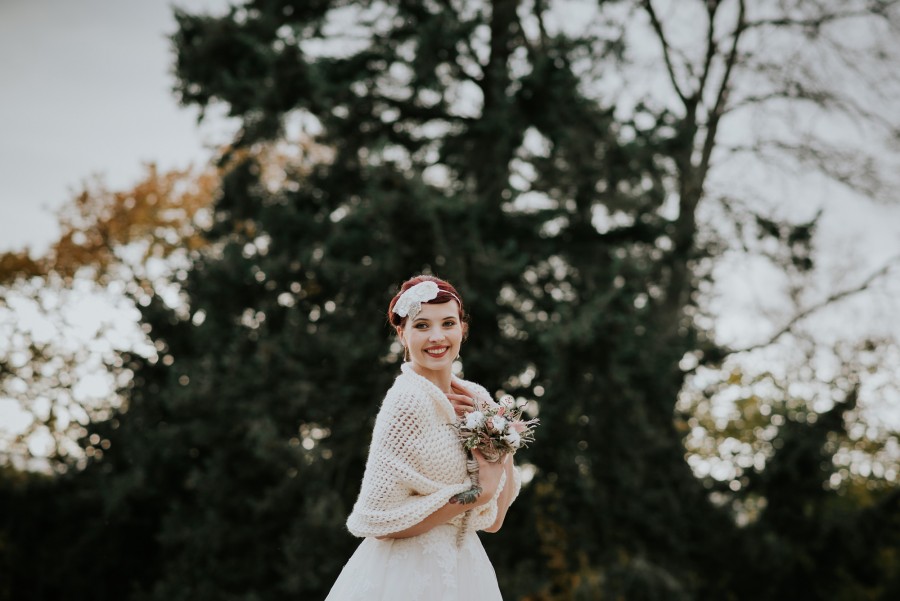 Burgundy
Some weddings opt to keep the dresses relatively summery (no sleeves, as photographed below) – instead choosing to make the winter element the colours used. For example, the couple from the wedding below – Maggie and Richie's romantic winter wedding – chose a theme that was romantic and whimsical. They paid homage to the colder weather by incorporating touches of burgundy and blush – which are colours that suit everyone, no matter your lack of a tan! Also, the fabric appears to be something a little heavier than usual bridesmaid dresses, which could mean all the difference against the cold.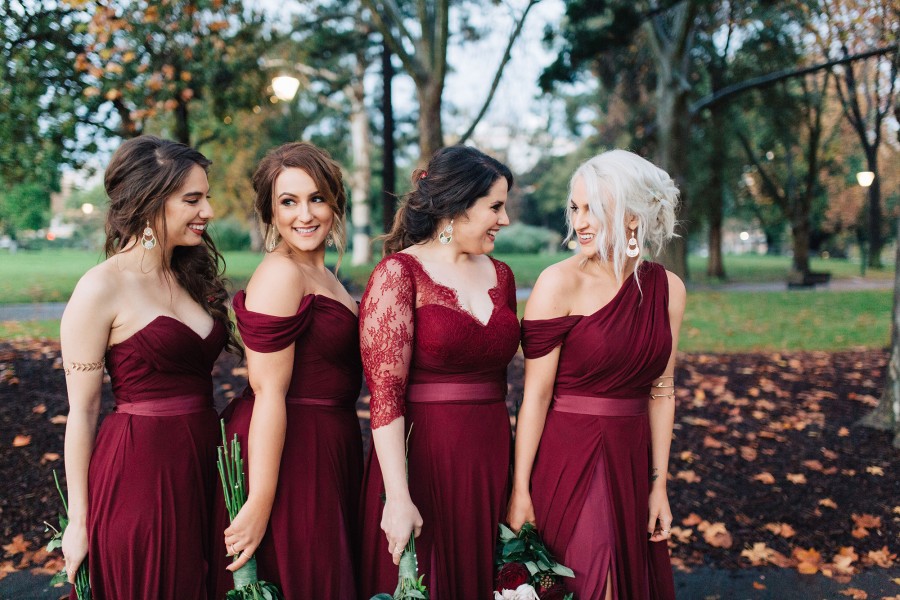 Cover up
Some couples opt to simply 'cover up' against the cold. Shawls and faux-fur wraps can look incredibly elegant against formalwear, and can add a romantic feeling to the overall winter theme.
The couple who's photo features below chose to dress their bridesmaids in white, while the bride (who traditionally usually wears white) wore blush. To shield the ladies from the cold, they wore white faux-fur stoles sourced from a local retailer. The faux-fur coupled with the elegant gowns created a fairytale element, and went perfectly with the overall black tie dress code for the day.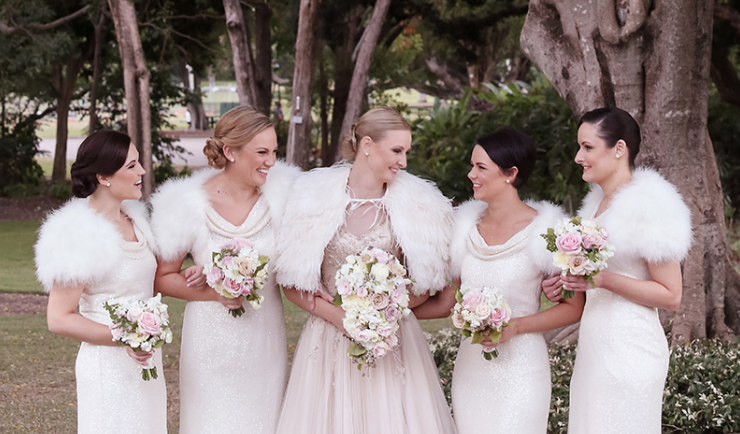 Dark plum and faux fur
Nothing quite says 'cosy winter's night' like faux-fur and dark plum tones. The bridesmaids below wore plum floor length gowns, covering up from the cold weather with white faux-fur shalls. The bride wore the exact opposite, a white wedding gown with a deep plum faux-fur snug. The different textures make for great wedding photography, too!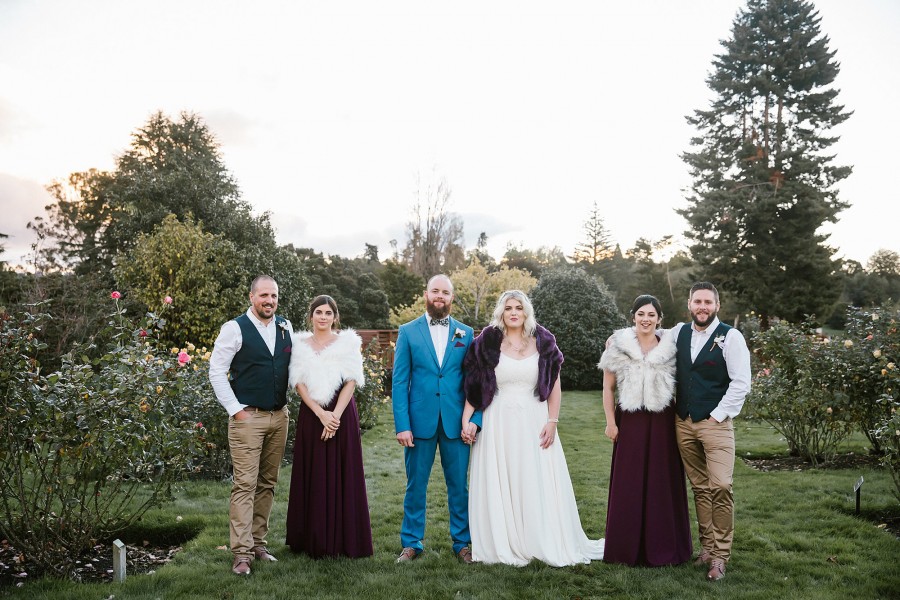 Blush
Blush seems to be the 'go-to' colour for romantic weddings – which is an increasingly popular theme among weddings that fall during the winter months. The colour goes perfectly against all backdrops, including ones of a ominous, dark sky. Pair it with deep red roses for that perfect valentine romantic look.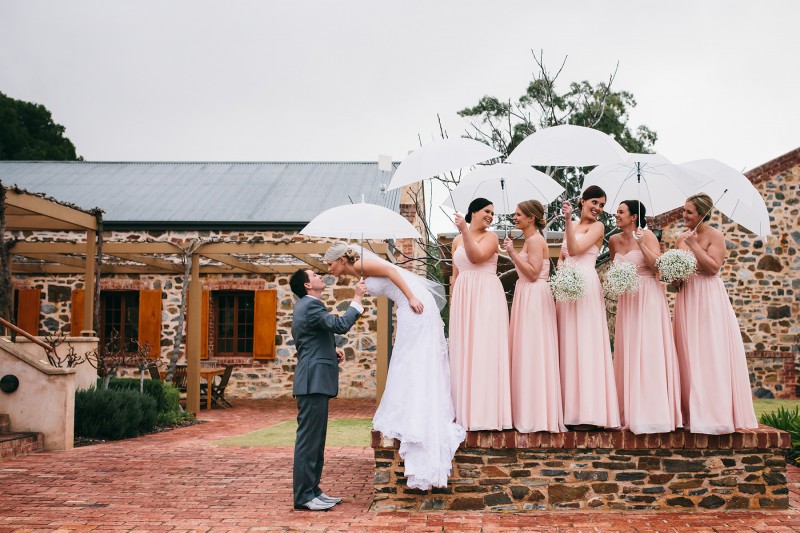 Navy
Dark navy is the perfect colour for a winter wedding. The tone looks elegant with or without a tan, so navy bridesmaid dresses are a safe bet for winter weddings! While the colour blue usually pays homage to the ocean in summer weddings and beachside ceremonies, a darker blue could (maybe?) resemble the ocean on a darker, colder, more windswept day.