All white weddings are an eternally popular choice, and white is currently a very fashionable colour for a fresh wedding theme. It's hardly surprising then, that we are seeing a move away from bright coloured icing and a return to traditional white wedding cakes. This leaves contemporary brides with one dilemma; how do you create a fresh modern look with white and prevent your cake looking dated?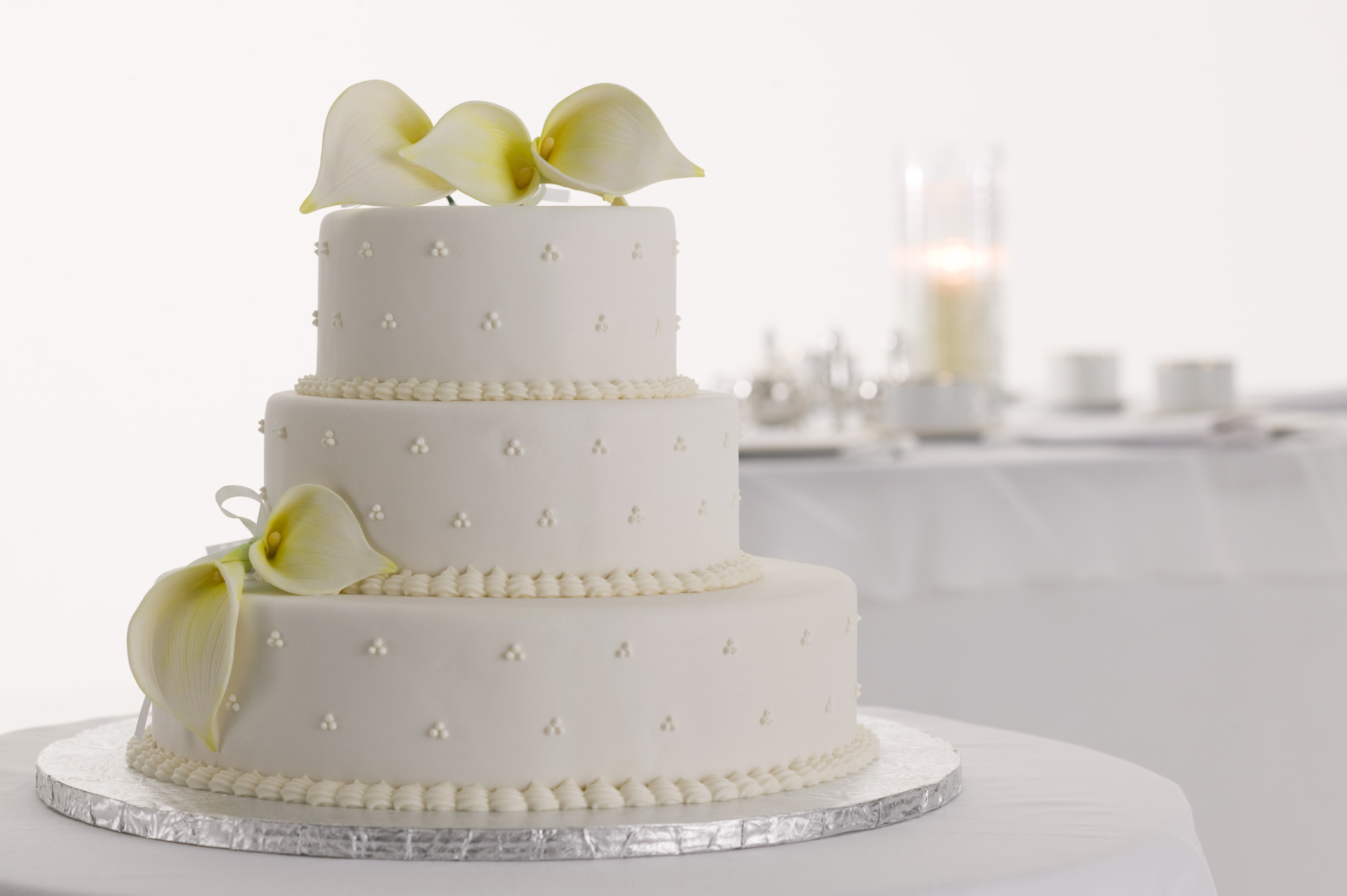 Here are ten ways you can add a modern edge to white wedding cakes:
Add contrast with black
The monochrome theme has been popular in wedding cakes for a couple of years, and simply adding a black swirling pattern, a couple of black flowers, or some black polka dots to white wedding cakes, can bring them right up to date.
Use lace effect icing
Have your cake iced in a very pale pastel version of your accent colour and then have white lace effect icing applied over the top. This will give the overall impression of a white wedding cake, with just a glimmer of colour, and is perfect for a vintage wedding.
Use alternative icing
When we think of white wedding cakes, we usually expect white fondant icing. However, there's no reason you shouldn't use white butter cream icing or even white chocolate for an unusual and delicious effect.
Add a ribbon
It's one of the simplest accessories for white wedding cakes, but a plain ribbon in your wedding accent colour, wrapped around the base of each cake tier, can give a sophisticated and modern look that ties in beautifully with your wedding theme.
Add white decorations
White wedding cakes don't need to be plain, they can be adorned with all sorts of white decorations such as butterflies, flowers, lovebirds, or tulle bows to add interest and texture.

Crystal and pearl accessories
Crystal and pearl are both ideal for accessorising white wedding cakes as they will add a new dimension without adding colour. Choose the stones that best match your dress and either wrap them around the cake tiers, or adorn the cake stand itself with jewels.
Use fresh flowers
Piling fresh flowers onto simple white wedding cakes can easily bring them to life. If you are having a pillared cake stand, stack white roses between the tiers to hide the pillars. If you are stacking your tiers one on top of the other, try piling white peonies around the base of each tier.
Mimic your gown detail
White wedding cakes present the ideal opportunity to use the detail of your wedding gown in the cake design. Design details such as embroidery or beading can be mimicked using applique patterns, piping, or delicate iced flowers.
Try textured icing
Having the icing applied in a textured or patterned way, rather than having it totally smooth, can add interest to white wedding cakes. Chunky vertically striped icing is a very popular option; simply add a couple of flowers to accessorise and you have a stylish yet traditional cake.
Add a fun topper
A wedding cake topper is always a great way to add interest to your wedding cake, and white wedding cakes won't detract from the topper if you've gone to a lot of trouble to find the right one. Consider having a bespoke topper made as a caricature of you and your groom.