Easy Weddings has a new feature on the site… and it's going to completely transform your wedding planning. Have you ever spent hours trawling the site, finding many suitable suppliers, only to forget their names or not remember if you sent them an enquiry? Well, do not fear. The new My Supplier Tool can do all of that and more.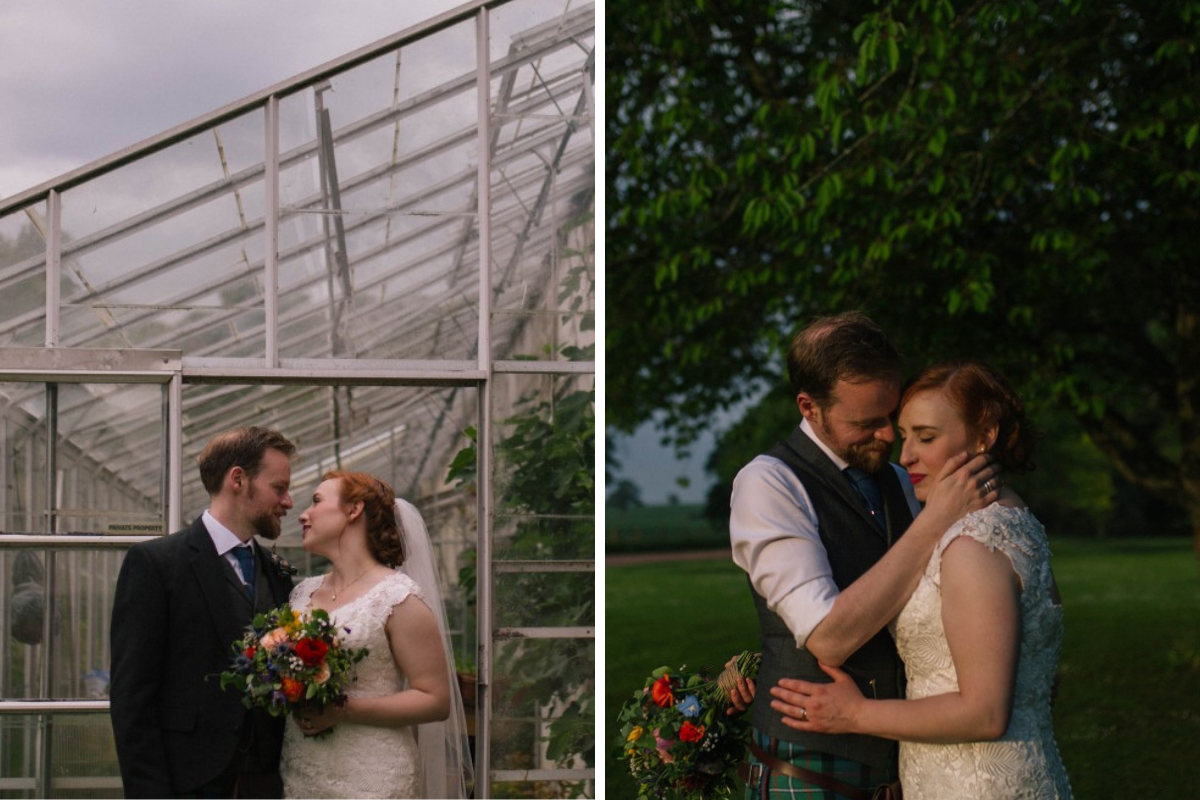 Whether you want a tool that can hand-select the perfect suppliers to work at your venue or something that can remember all of your enquiries, saved suppliers and viewed suppliers, then this tool is utterly perfect for helping you through the wedding planning process. It's basically like a virtual bridesmaid version of Siri… but better. Because the My Supplier tool knows the local wedding scene inside and out, thanks to our 200,000+ couple reviews, and it can help you create the ultimate wedding day for yourself, once you have this information at your disposal.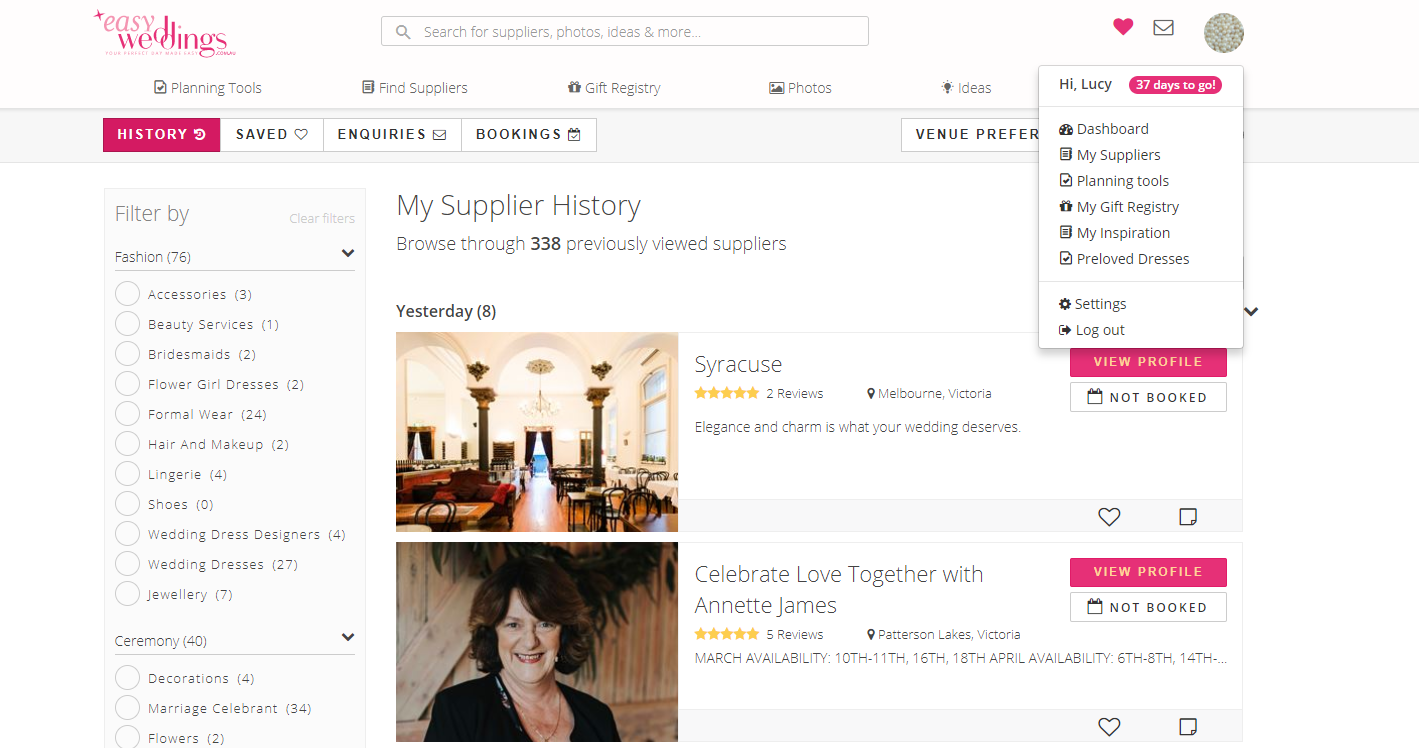 To see the My Supplier tool, simply log in to your Easy Weddings account (or register, it's 100% free), and then click the drop-down on the top right-hand side. You will see "My Suppliers" under your dashboard as the 2nd option. As you can see here, I have viewed 338 suppliers in order to find the perfect team for my own wedding day (wow)! The My Supplier tool is perfect for organising these suppliers and creating the perfect wedding dream team.
1. Select and view your booked suppliers
You can easily see all of the suppliers that are part of your wedding day! Simply Add a Supplier and then click on the "Booked" to select and deselect them. From here, you can view their profile as well! Easily select and deselect booked suppliers as needed. And add as many as you want! If you're having more than one band or decorator, you can easily add extras into the "booked" category. This section will help you get a clear vision of what your wedding day will look like.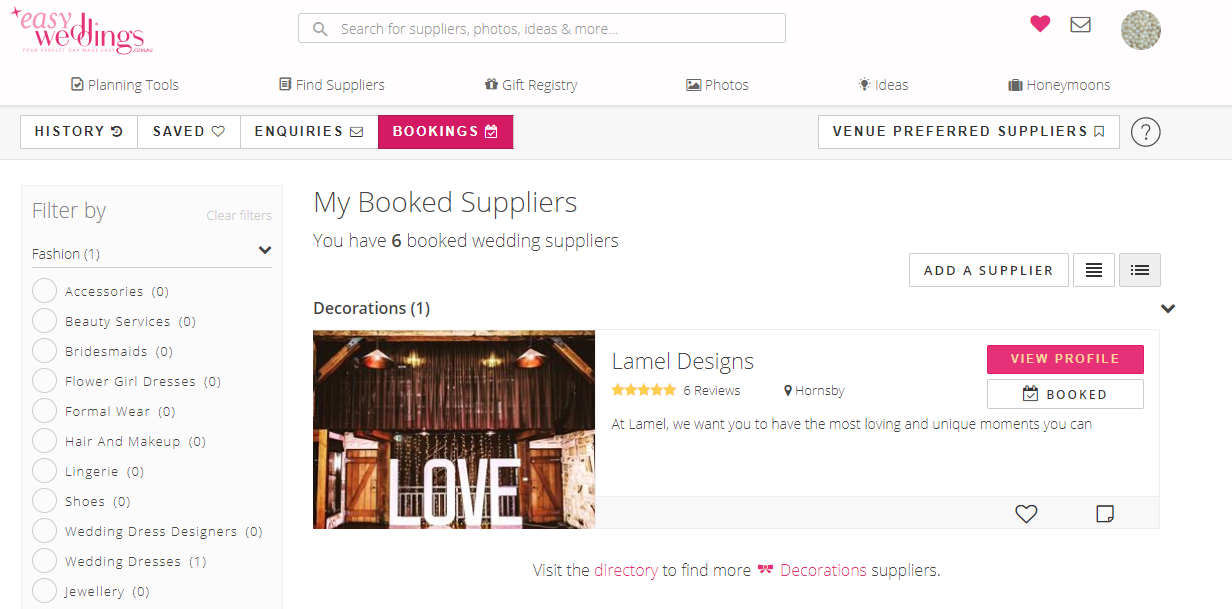 2. View the enquiries you have sent
If you need to review the enquiries you have sent, feel free to check them with the My Supplier tool! You can see where you sent enquiries to without having to open your emails up and check every time you are in the wedding planning zone! All you need is the My Supplier tool to get you into full planning mode and organising how your wedding day is going to come together perfectly.

3. Save suppliers for later while you browse the directory
While you are looking around the directory, you can click on the little heart and save those suppliers for later! This is hugely helpful if you want to create a shortlist before enquiring or booking your suppliers. The categories down the side of the screen show a huge range of suppliers that you will be needing on your wedding day, from accessories to marriage celebrant all the way to your wedding night accommodation! This way, you can't forget a single thing, as all elements of the wedding ceremony, reception and even your honeymoon.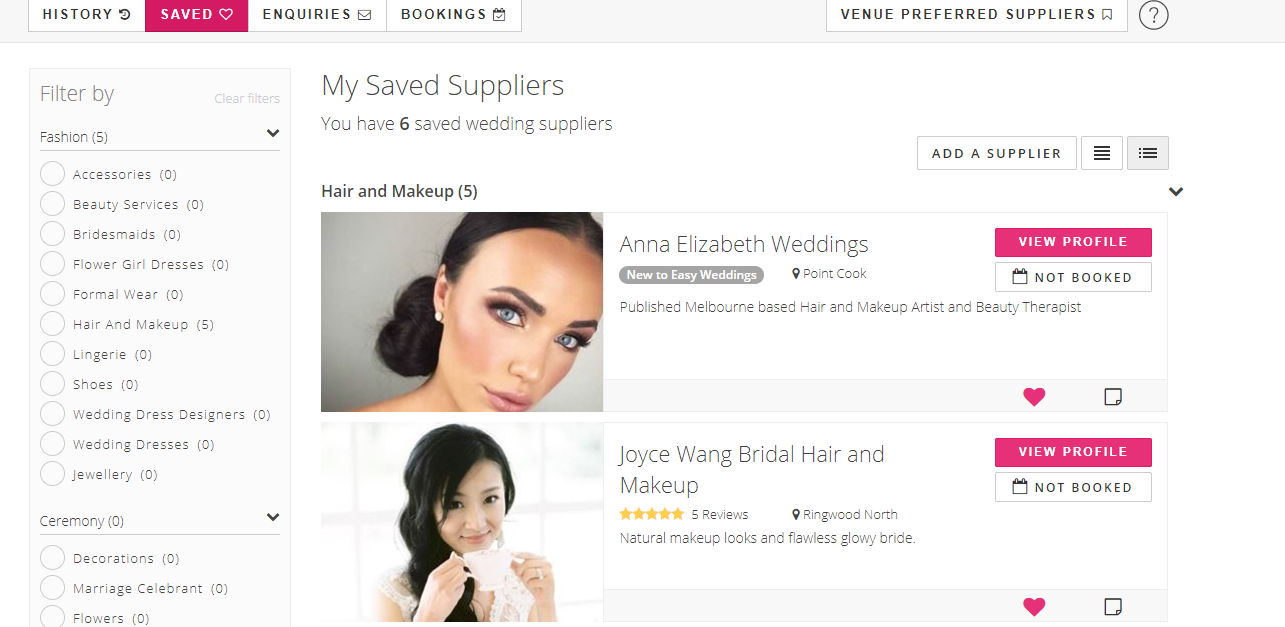 4. The Venue Preferred Supplier tool!
And the part we are most excited about… the Venue Preferred Supplier tool! Once you have found your venue, this tool can basically plan your wedding for you! But… how? Well, we have used our couple reviews (over 200,000 of them) to link suppliers with venues that they have worked at. So when a couple reviews a venue and a celebrant, for example, and gives them great reviews, then they become a pair in the Venue Preferred Supplier tool. So if you have your venue but are stuck for finding your other suppliers, simply put the venue name into the tool, and it will give you options for all of your vendors that have worked there before. Cool, right? This is the ideal scenario for couples who simply don't have the time to search for suppliers extensively in the directory, but still want to find the best suppliers! Here, you can find amazing suppliers with less effort required on your part! And it's also a huge plus when your suppliers already know each other and have worked together before, as they know each others styles and how to create the best day for you!

For example, say you are getting married at Brighton Savoy in Melbourne. There are 128 suppliers to choose from that have worked there before, and received a five-star review! There are 17 photographers, 11 wedding car suppliers, 15 wedding music providers, and much, much more! This way, you can be comfortable knowing that each supplier knows the venue and can help your vision come together perfectly.
Or, say you want to book a venue that has fewer reviews, like Sault Restuarant in Daylesford. There are still SO many suppliers to choose from that would suit your wedding perfectly. There are four marriage celebrants, three wedding music suppliers and much more to choose from. Of course, you can instead head to the directory and find some extremely talented suppliers yourself- but this is a great basis to start from if you'd like to enquire with a few suppliers in each category to see which one fits you the best.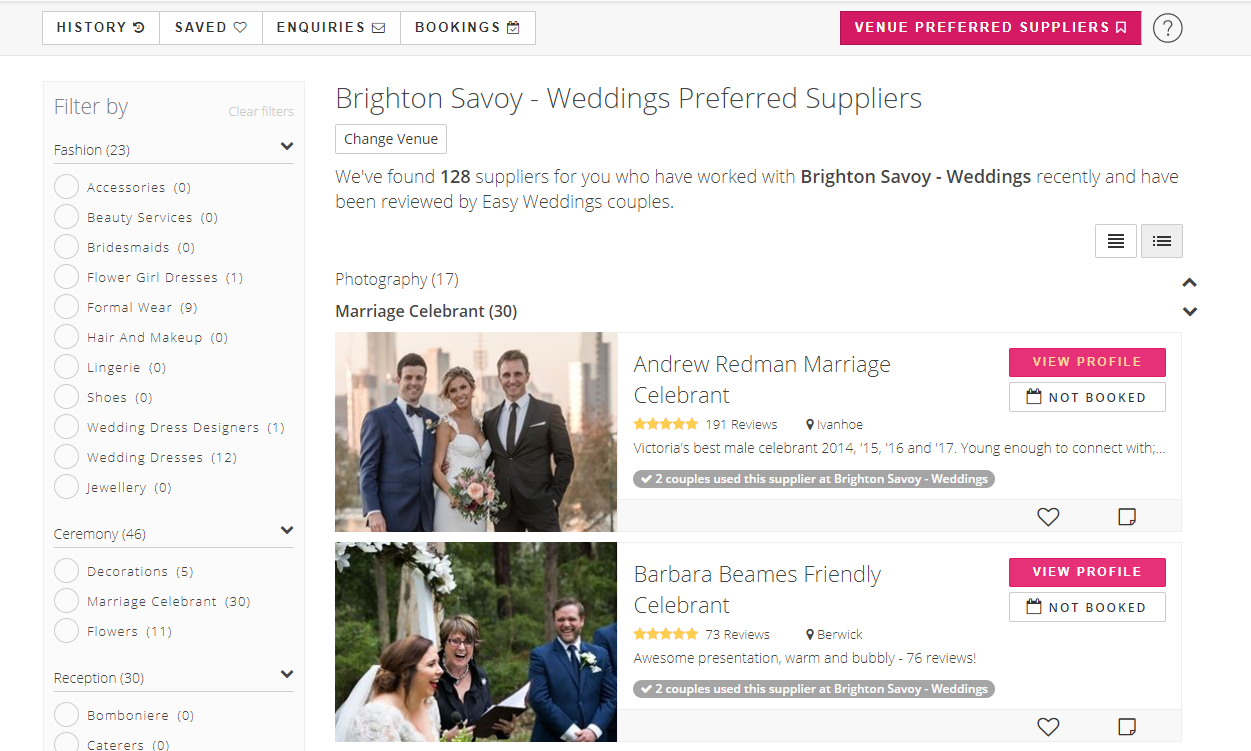 Of course, this isn't the only tool we offer couples for free on Easy Weddings. We also have a wedding to-do list, budget calculator, guest list tool, wedding websites, a gift registry and mobile apps for iPhone and Android! This way, you can take your wedding planning with you anywhere, without lugging around a book or a bunch of wedding magazines!
Get our free Wedding planning app for couples here, or read up on new wedding trends, amazing wedding news and stories here.