With a ridiculously thorough wedding checklist, easy budget and payments tracker, and access to 5,000+ wedding pros at your fingertips, the Easy Weddings app takes your wedding plans wherever you go – and it's available on Apple and Android.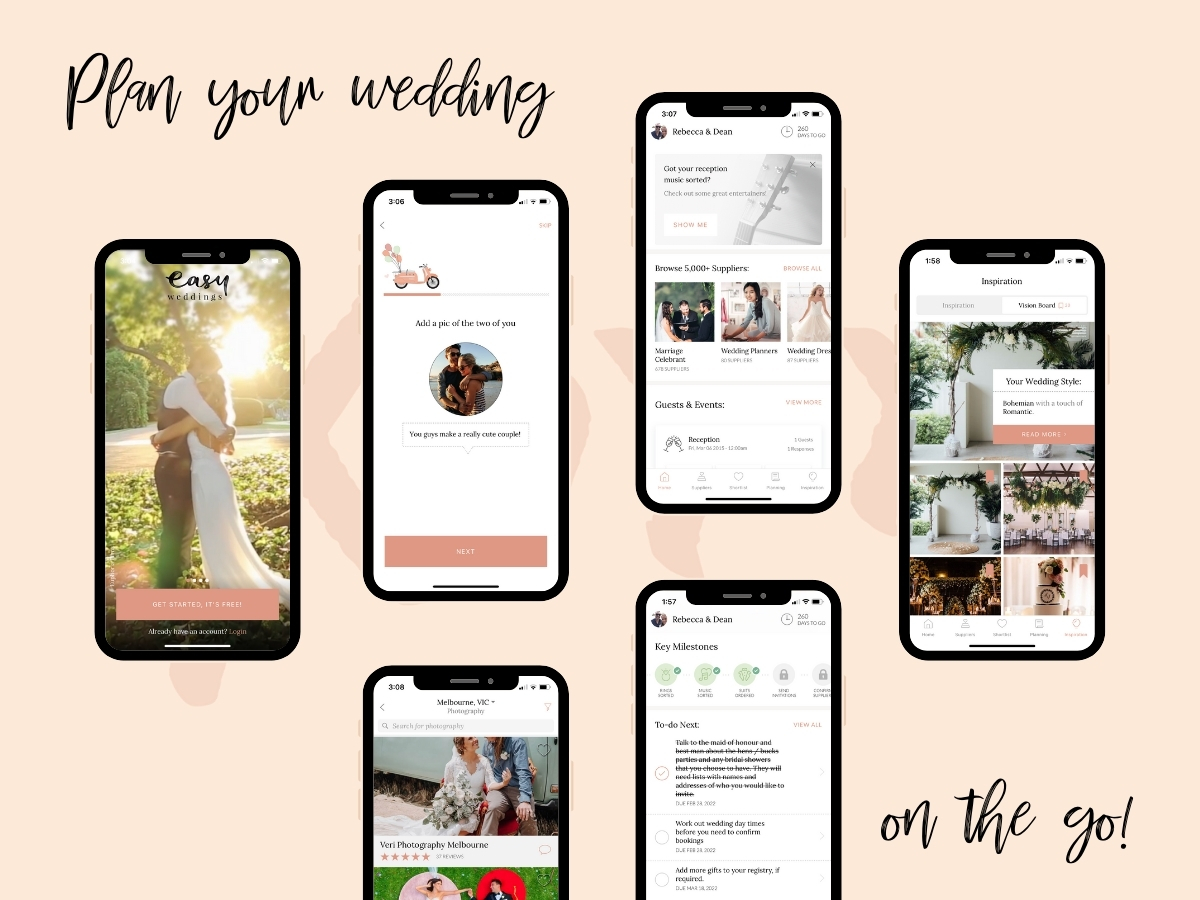 We've rounded up an easy guide to all the features of our wedding planner app – so you'll know exactly what to expect when you hit download in the App Store or in Google Play. Oh, and did we mention that it's 100% free? No in-app purchases; no locked-down content – just our most helpful tools to truly take the hassle out of getting hitched.
Last update: September 2021
What's New ⤑
Personalised Vendor Suggestions
Want to save time, money, and stress – and create your dream wedding at the same time? Easy Weddings now offers personalised supplier recommendations by our team of in-house wedding experts – and you can book a time to speak with them directly through the app.
In your free consultation, our wedding experts will listen to what you want (and don't want) for your wedding. They'll curate a dream team of vetted, 5-star suppliers who match your vision, but importantly – fit in with your budget. And you'll feel confident making your journey to the aisle with an extra ear to lean on (who's a little more objective than, erm, your mother-in-law?)
You can learn more about our wedding packages here.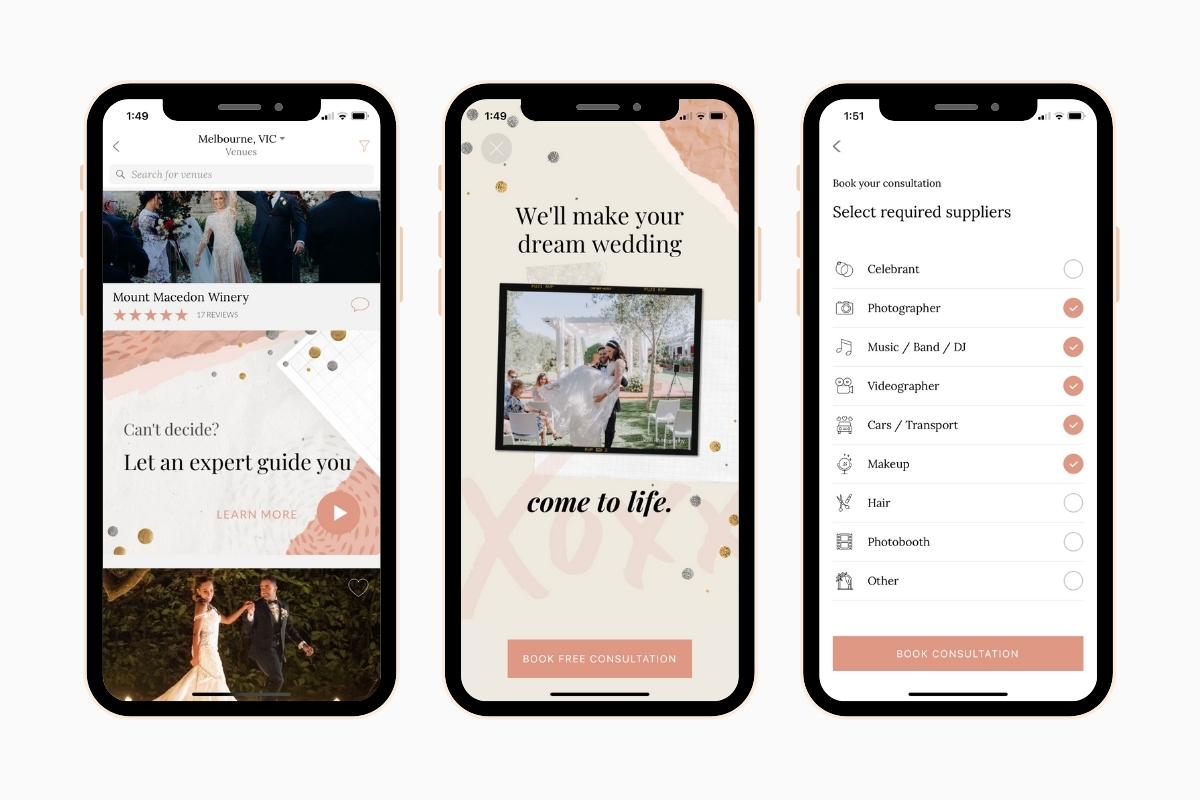 Widgets!
In our latest release for eligible Apple devices (iOS 14 and higher), we've introduced widgets!
What are widgets, you ask?
They're personalised icons on your mobile phone's home screen to give you what you really want to know at just a glance – without even having to open the app.
For example:
How many days are there till our wedding?
Boom – there it is, right on your home screen.
What's the next wedding task on our to-do list?
Boom – there it is, right on the home screen.
Which suppliers do I need to book next?
Boom! There it is, right there on the home screen.
There are 3 sized widgets to choose from depending on how much 'real estate' you want them taking up on your device.
All you need to do is:
Tap and hold on your home screen until the icons start jiggling
Click the '+' icon in the top left corner
Type 'Easy Weddings' in the search bar and select it from the results
Swipe across to see the options available
Click 'Add Widget'
Re-tap the home screen to stop the jiggle
Done!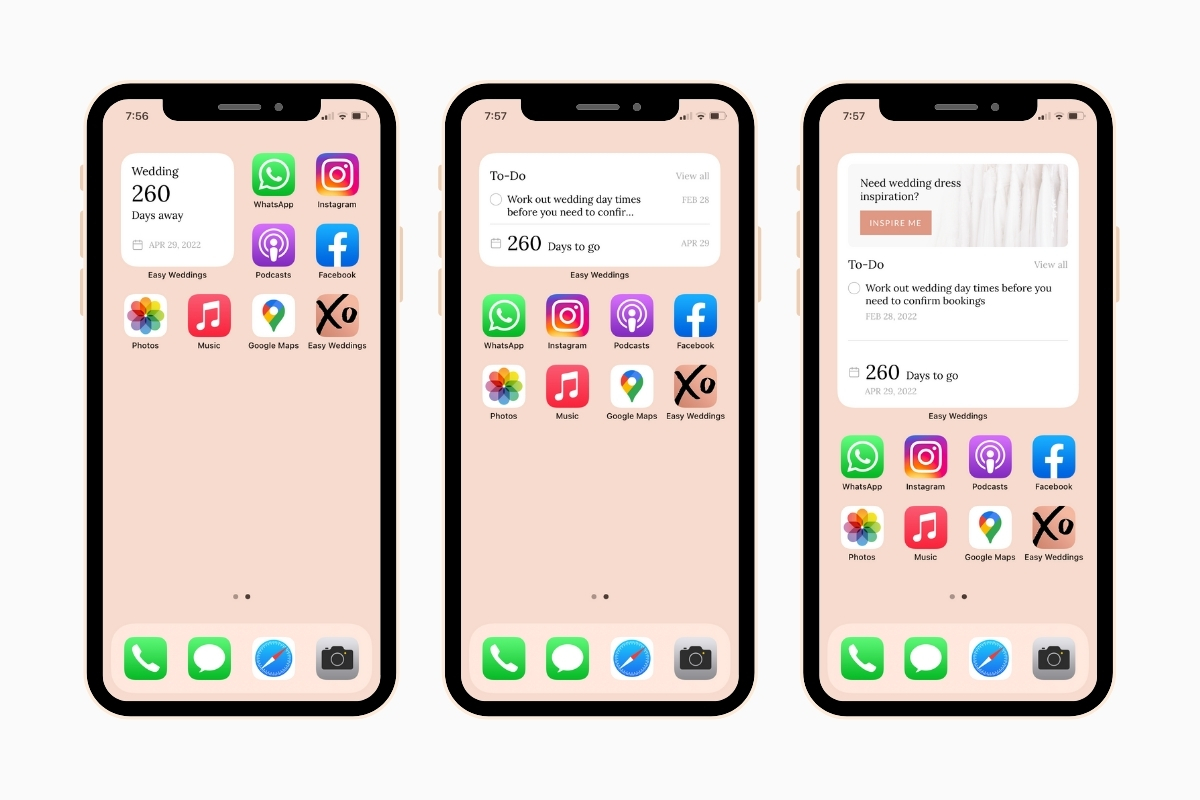 Planning Tools & Features ⤑
Wedding To-Do List
Mark Off Wedding Tasks
Honestly, we think we've thought of every wedding task you're likely to need for your big day – and we've sorted them into manageable months to minimise the overwhelm.
Feel the satisfaction and excitement grow as you tick off tasks in the countdown to your wedding day. Earn fun wedding badges as you complete key planning milestones like setting your budget and booking a venue. You can also add your own items and delete the ones you don't need to make the app truly yours.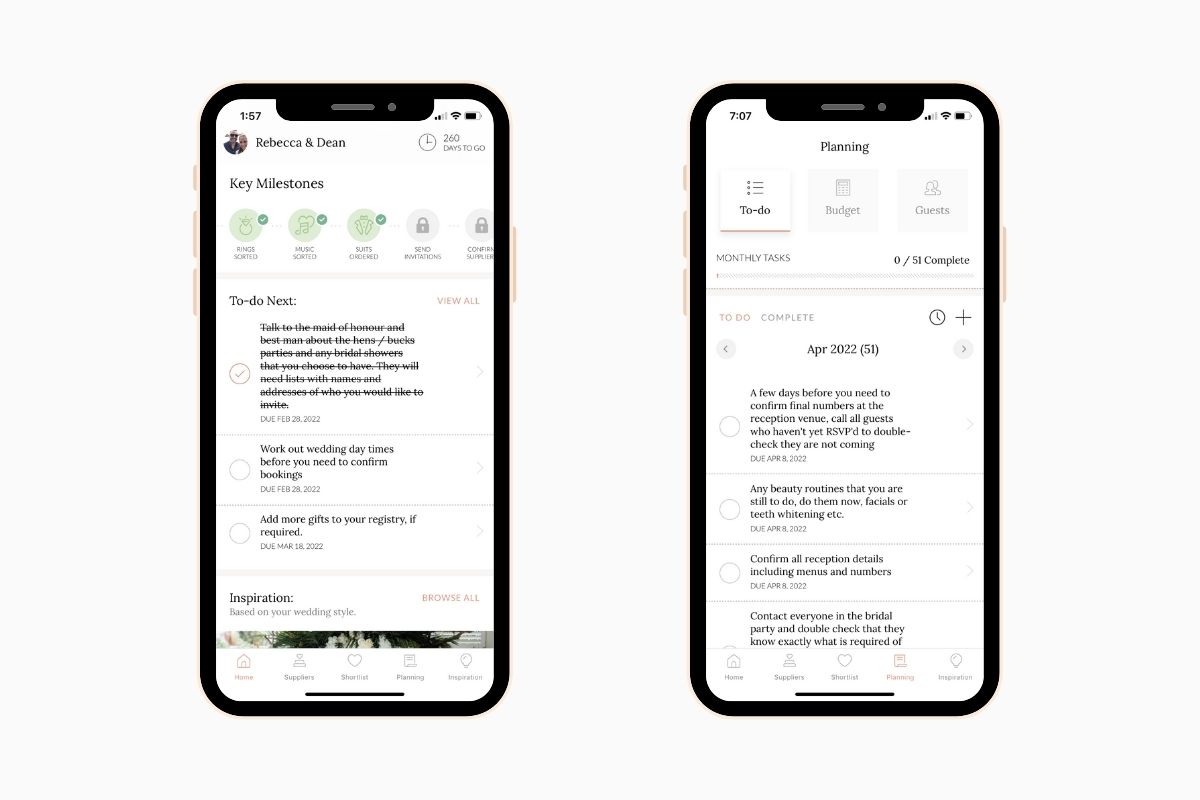 Budget Calculator
Set a Budget and Stick to It
Did you know that on average, couples spend $10K more than their original wedding budget? Keep your spending in check with our easy-to-use budget calculator. Input what you'd like to spend on your wedding overall, then track the budget versus actual costs for each item.
We've also factored in budget suggestions based on what we know couples usually spend on each element of a wedding. So, you'll be able to see how your estimates stack up from the get-go.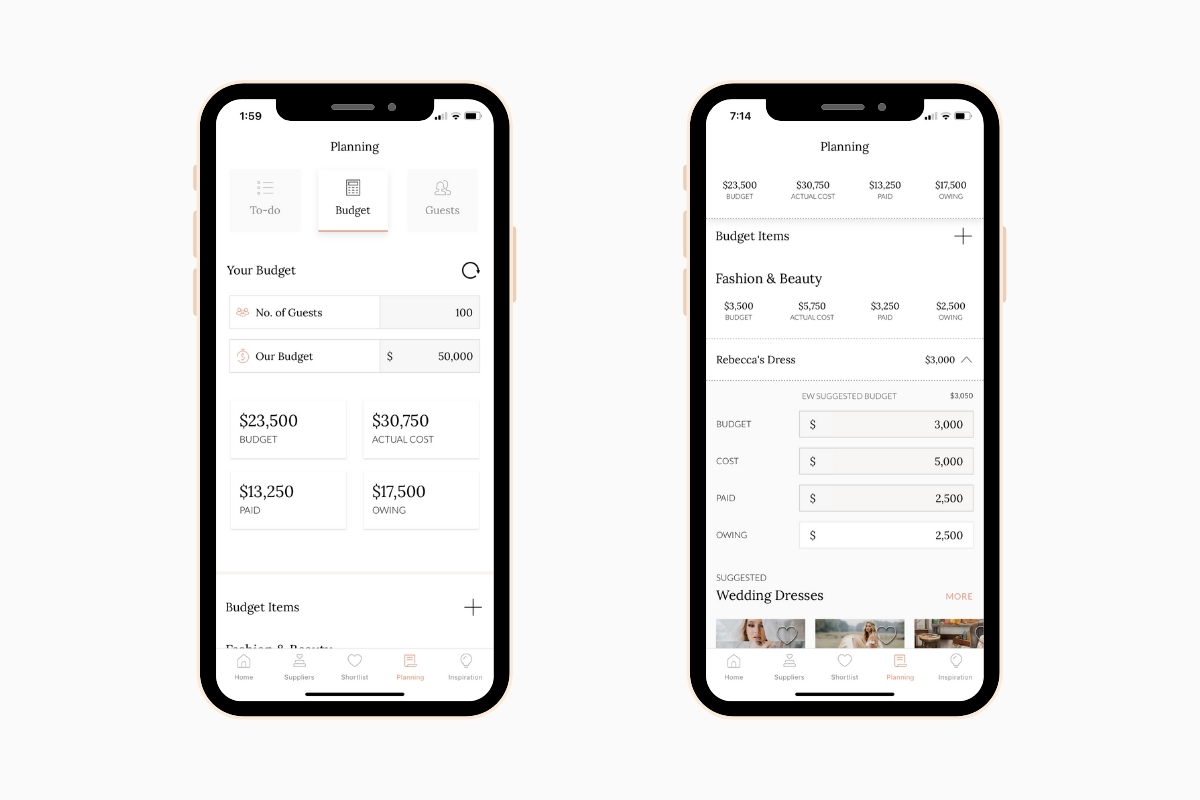 Wedding Guest List
Manage Your RSVPs
We know a wedding isn't about just one single event, which means invite lists aren't that straightforward. Who's invited to the ceremony? Who's invited to the hens? Who has and hasn't RSVPd to what?
Our guest list tool makes it easy to import guests from your contacts (or add them manually), sort them into family and friendship groups, and allocate them to the different events in your wedding. You can add details like meal requirements and special notes, and see at a glance who's accepted, who's declined, and who's not yet sure if they can make it.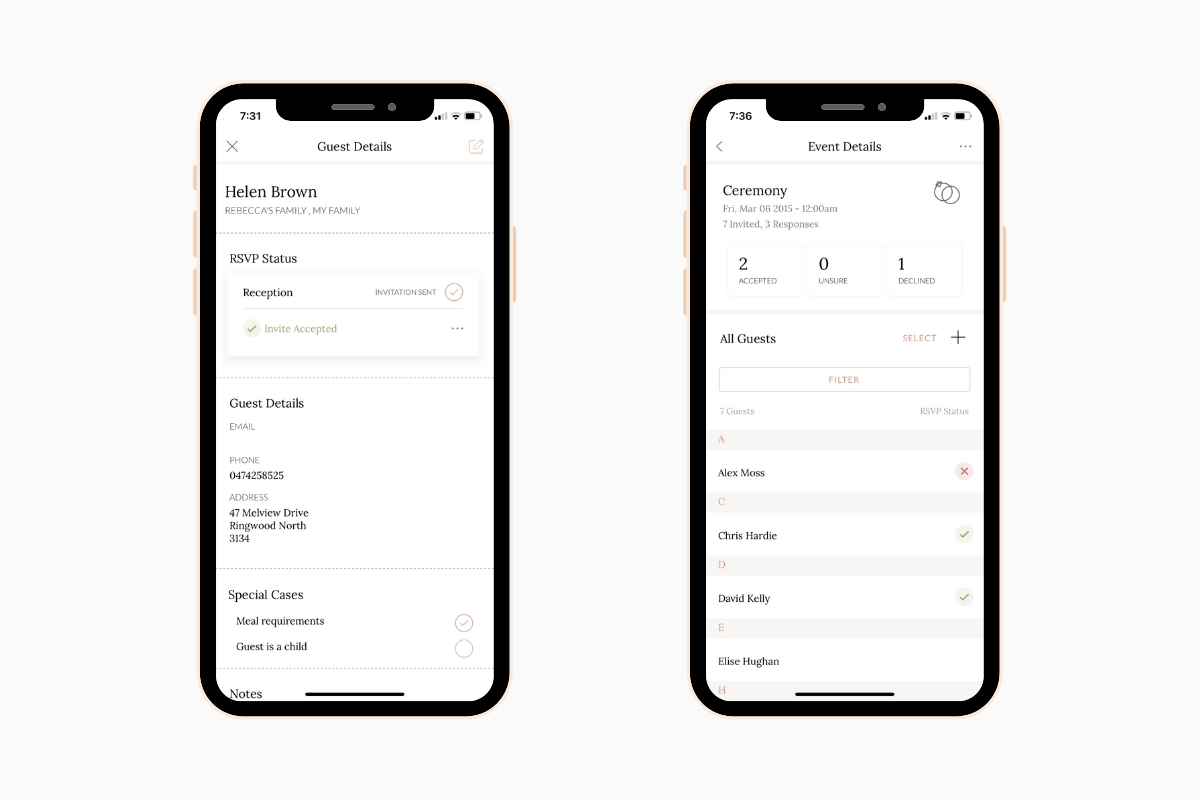 Wedding Directory
Browse Suppliers Near You
Easy Weddings brings you Australia's largest selection of top-rated wedding vendors; with everything from venues, photographers and cakes; to hair and makeup artists, musicians, and more. With just a few taps you'll be able to:
Browse 5,000+ suppliers across every state
Flip through vendor photo galleries
Read about their services
Watch videos
Read newlywed reviews
Shortlist your favourites
Enquire about prices, availability and more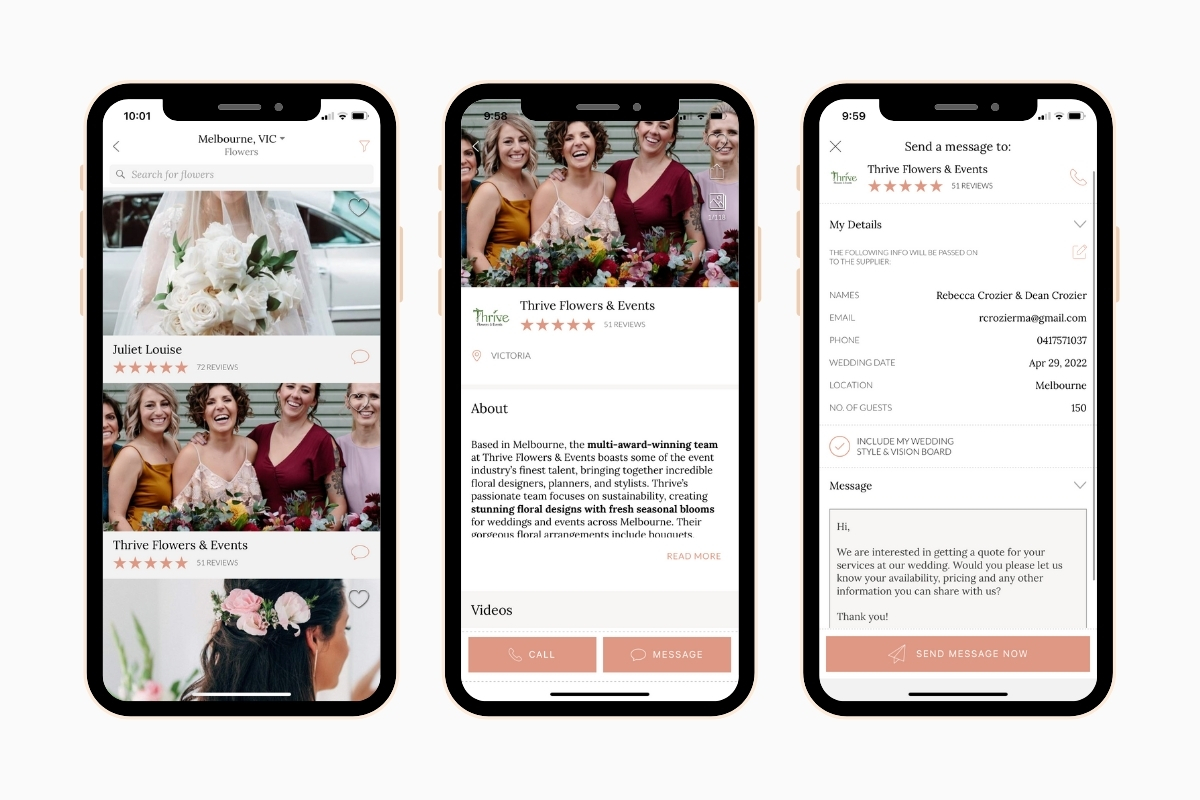 Reviews
Read Verified Feedback from Newlyweds
We know recommendations from other couples help to give the best picture of what it's really like to work with a wedding vendor. You'll be able to choose your vendor dream team with confidence; reading verified, detailed reviews with star ratings from past couples to help you book only the best, most trusted suppliers.
Wedding Style Quiz
Discover Your Wedding Theme
Not sure if your wedding style is classic, boho, or a combination of the two? Our interactive style quiz tests your tastes in the visual aspects of a wedding. We'll guide you through a series of looks for the ceremony, reception, cake and flowers to reveal your primary and secondary theme and a suggested colour palette. And if you're not happy with the result? You can take it again!
From there you can include your quiz summary with any supplier enquiry you make so that they'll better understand your vision from your first contact.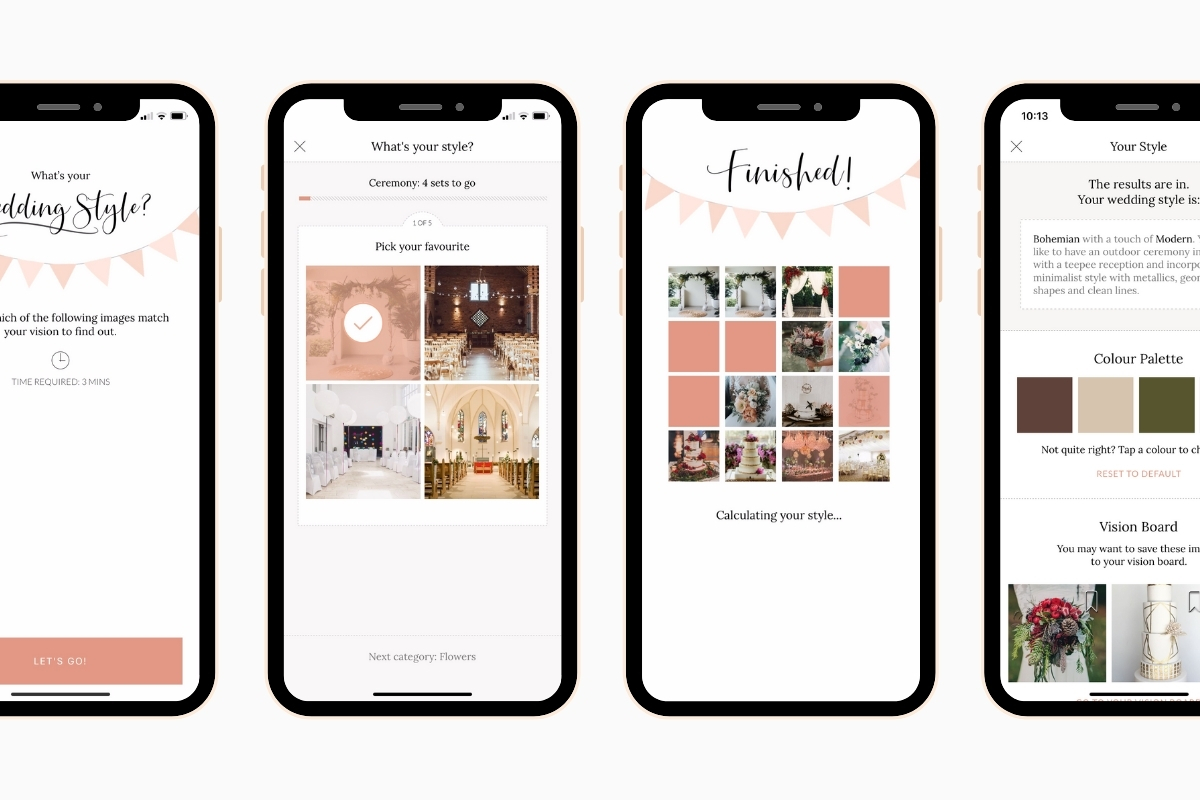 Real Weddings
Get Real Inspiration
It's hard to know exactly what you want for your wedding (and what you don't) without first seeing it. That's where our real weddings gallery comes in. Every week the inspiration section of the app is updated with brand new, gorgeous wedding photos from real-life Aussie couples.
And when you see something you truly love? Flag it with a bookmark, which will save it to your Vision Board so you can to refer back to it later.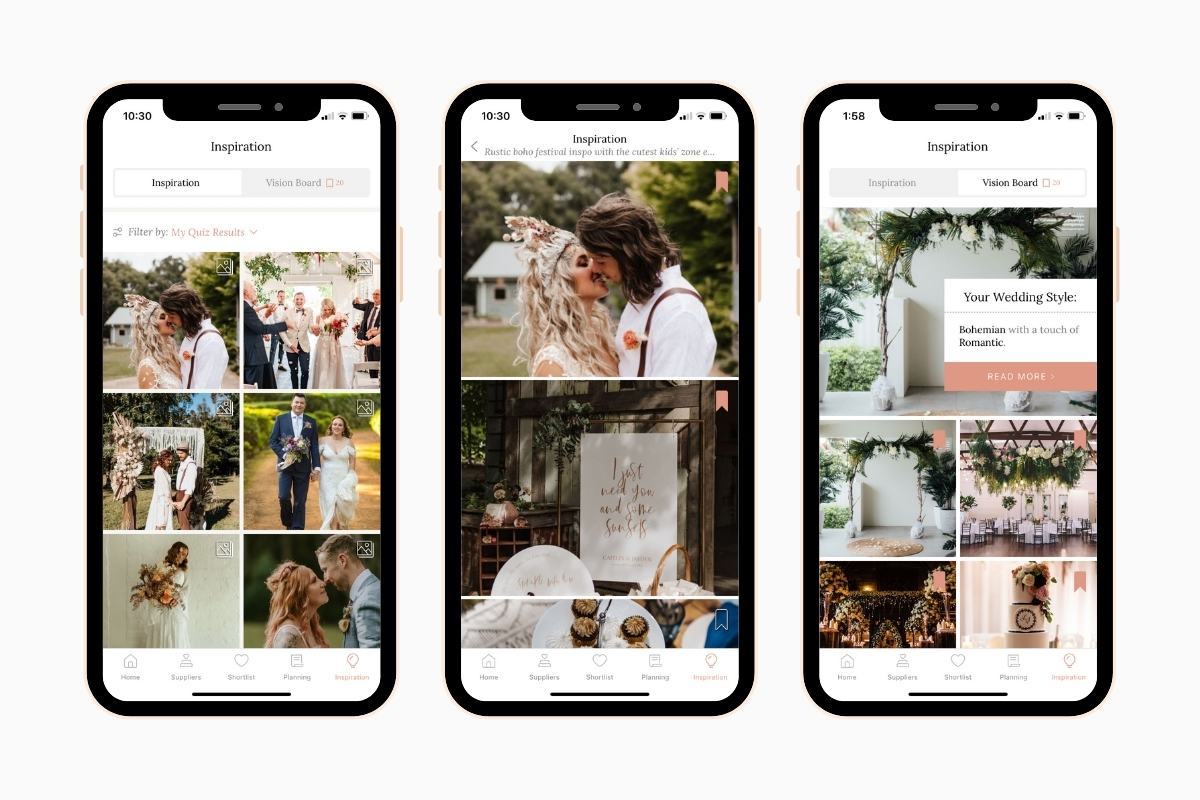 Syncs to Your Account
Plan From Any Device
Most features available on the Easy Weddings app also syncs to your EasyWeddings.com.au account for seamless switching between devices.
This means, after using the app from your mobile or tablet, you can log in to your account on a desktop or laptop; and your budget, to-do list, guest list, shortlist and supplier enquiries will all have been updated there, too. (And vice versa.)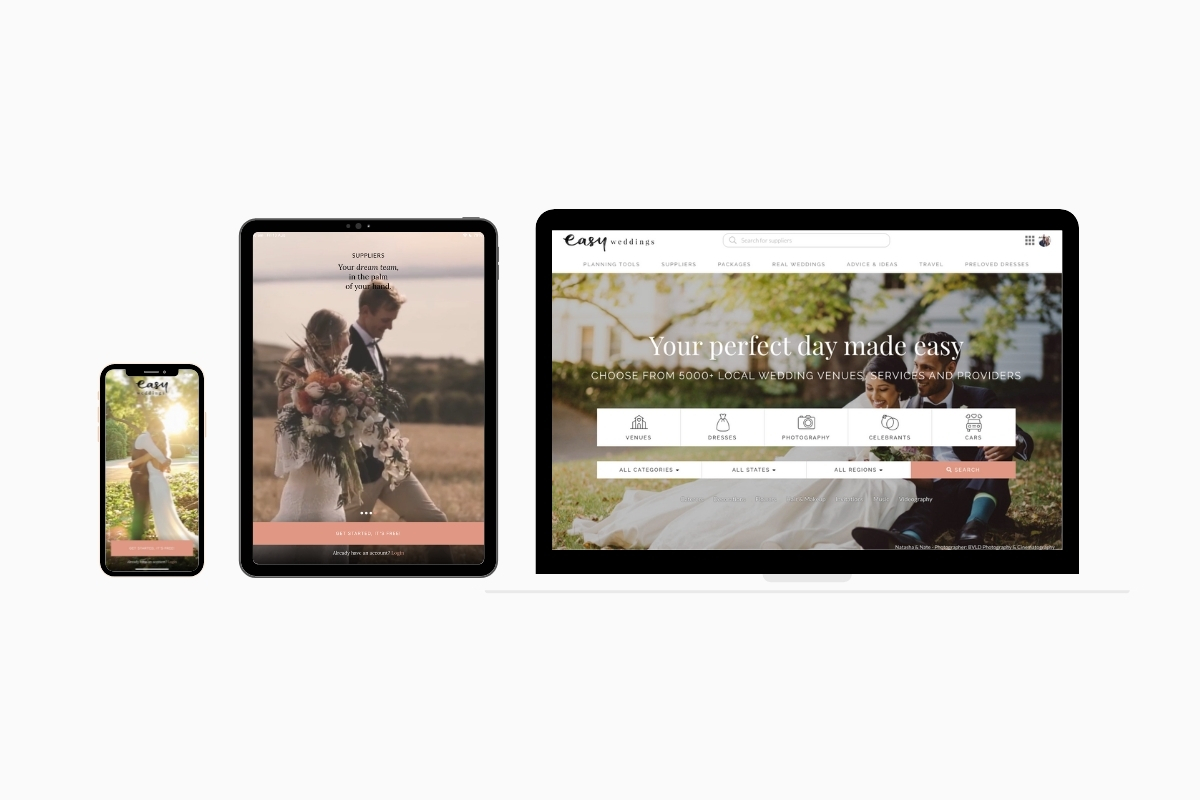 Excited to start wedding planning? Download the Easy Weddings app for Apple or Android today and start your stress-free journey up the aisle. ⤵