Trying to decide on the right bridal hairstyle for your wedding can be a complicated business unless you know a lot about the different styles and accessories available. This glossary of wedding hairstyle terms will give you a head start, and a chance of knowing what you stylist is talking about when she asks whether you will be wearing a Juliet cap or a snood.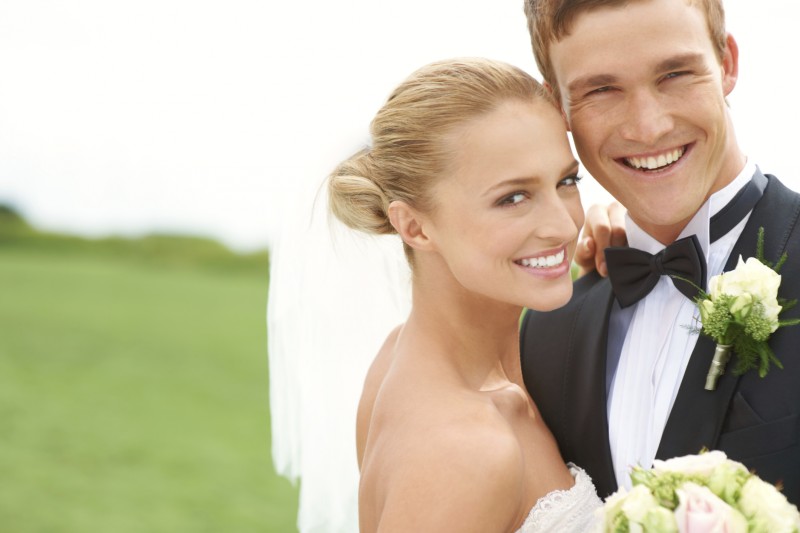 Backpiece
A backpiece is a hair clip or comb that is attached to the back of the head, usually under an up do. The veil is then fastened to the backpiece, which can be accessorised with crystals, beads, or flowers.
Barrette
Barrette is an American word that has been widely adopted by the wedding industry. It refers to a simple hair clip or hair slide that can be used to pin hair out of the way, to hold hair back in a half up do, or simply as an accessory. Sparkly barrettes are currently very popular.
Bun
A bun is a ponytail that has been wrapped around itself and pinned to form a sphere of hair. Sleek high buns are very fashionable and emphasise the neck, while unstructured low buns can be a less formal, more romantic look. If you don't have very long or thick hair, fake buns can be used to add volume, and your hair can be wrapped around these.
Bunwrap
A bunwrap is a band that encircles a bun to dress it up. They can be made of ribbon or wire with crystal and beads. Some tiaras are designed to be flexible and wrap around the bun as a bunwrap.
Chignon
Not too different from a bun; a chignon is a low knot of hair at the base of the head. The start of a chignon can be a ponytail but is more often a braid for those with long hair. It is a neat understated look that can be accessorised with a tiara or head band.
Comb
A hair comb is a hair accessory with long comb teeth that fasten into a bun or up do. The part of the comb that can be seen is often adorned with pearls, beads or flowers. Combs work well for vintage hairstyles and many brides use antique combs as their 'something old'. Veils can be attached to combs and placed at the top of the head.
Crown
A crown forms a full circle of gold or silver and sits on top of the head, further forwards than a tiara. A crown is often accessorised with gem stones, sparkling jewels and beadwork. Many modern brides feel a crown can be a little over the top.
French Braid
A French braid is a three stranded braid that is closely woven to the head. It usually starts at the crown moving down the back of the head, but some French braids worn with loose hair go across the top of the forehead, ending in a braid on one side. This can be a feminine look, especially when flowers are woven into the braid. It is good for controlling frizzy hair.
French Twist
The French twist is a classic and elegant choice and is formed when the hair is pulled back, twisted and pinned up to the back of the head. The ends of the hair can be left loose for a tousled look, or tucked away for a more formal style.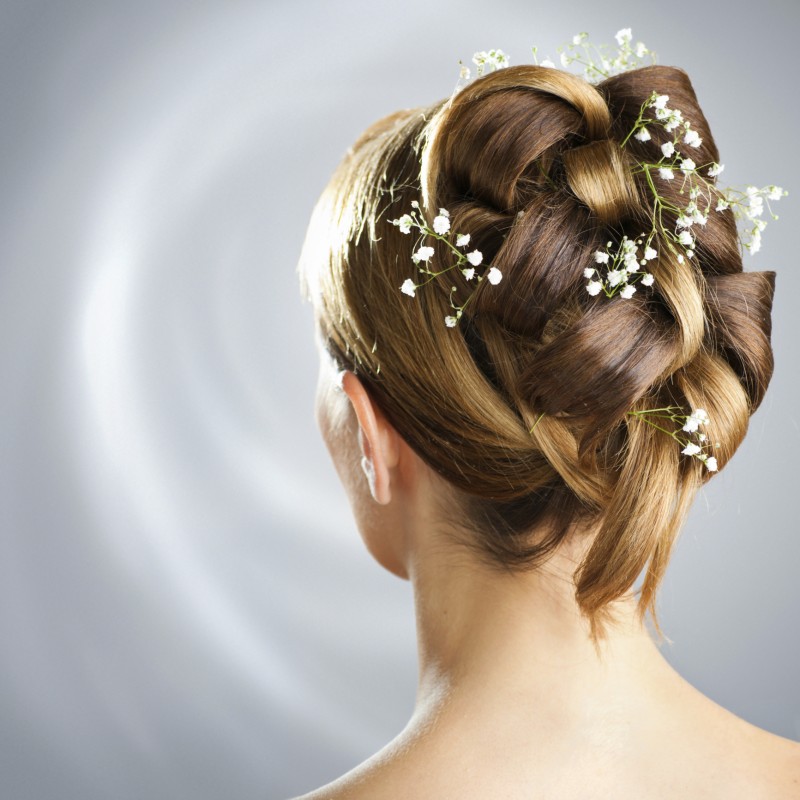 Headband
A headband is a material band that fits closely all the way around the head. Double bands are currently popular, with two very slim bands running parallel to one another. Wide headbands are also a popular option, particularly for those with loose curly hairstyles. Headbands form a complete circle, whereas more rigid Alice bands, another popular choice, are only a semicircle.
Juliet Cap
A Juliet cap is a small round cap that fits snugly on top of the head. It is usually in the same colour and material as the wedding gown and can be decorated with pearls or crystals.
Pixie
The pixie is a fashionable short hair style popular with brides all over the world. It combines very short layered hair at the back with longer, straight hair at the front, and is an extension of the cropped bob. It looks great worn with a side band.
Side bands
Side bands are a contemporary development of the classic headband, and are so called because they incorporate an accessory such as a fabric flower or jewelled ornament to one side of the head.
Snood
A snood is a tight knitted or openwork net that is attached to a hair comb and encases the hair at the back of the head.
Tiara
A tiara is a jewelled or beaded semi-circle worn at the crown of the head. It can be worn with virtually every hairstyle, and gives any bride the look of a princess. It has a loop on each end that can be used to fasten it to the head.
Up do
The up do is a general term for hairstyle where the hair is swept up. These include French twists, buns, or other more creative arrangements. Up dos are often worn with tendrils of loose hair framing the face.
Wreath
Perfect for a spring garden wedding a wreath is a garland or crown of flowers, leaves and twigs that sits on top of the head. Ideally it should be work with loose waves or a tousled up do.
---
80% of Australian couples use Easy Weddings to connect with their dream wedding suppliers.
Browse the directory and start planning today!