When it comes to nationally significant days that bring people together, you might think of Christmas, Eid al-Fitr, and Vesak. While all of those holidays certainly ring the bells at Easy Weddings, there's one day marked on our calendar that really gets the staff buzzing: World Cocktail Day. Here are the wedding cocktail recipes we'll be testing.
This year World Cocktail Day falls on Thursday 13 May, and aside from being the best day of the year, it's a great opportunity for experienced and innovative drink creators (known as mixologists) the world over to celebrate their craft.
In recognition of World Cocktail Day, we reached out to some of our favourite wedding mixologists and mobile bar suppliers to find out which cocktail (and mocktail) recipes wedding guests love, and hear a little more about cocktail trends for 2021.
Check out the wedding cocktail recipes these bartenders have shared below, and get inspired for your own wedding cocktail selection. We recommend getting your wedding party over for a cocktail tasting night so you can pick a few favourites!
*Whilst we're not opposed to a mid-week Negroni, we advise that you drink responsibly.
What's your most popular wedding cocktail/mocktail?
"We find that majority of brides select our signature Watermelon Margarita, a taste of tropical fruit, naturally sweet, perfectly tart and seriously delicious. Whiskey Sour is a classic favourite and definitely a crowd favourite for all genders.
Our infamous Virgin Mojito has been incredibly popular, as we have been able to create delicious mixtures with almost every other ingredient from the cocktail menu. We love personalising a mocktail for a guest, [it] keeps us on our toes and that means no guests miss out on the Mister Bartender experience."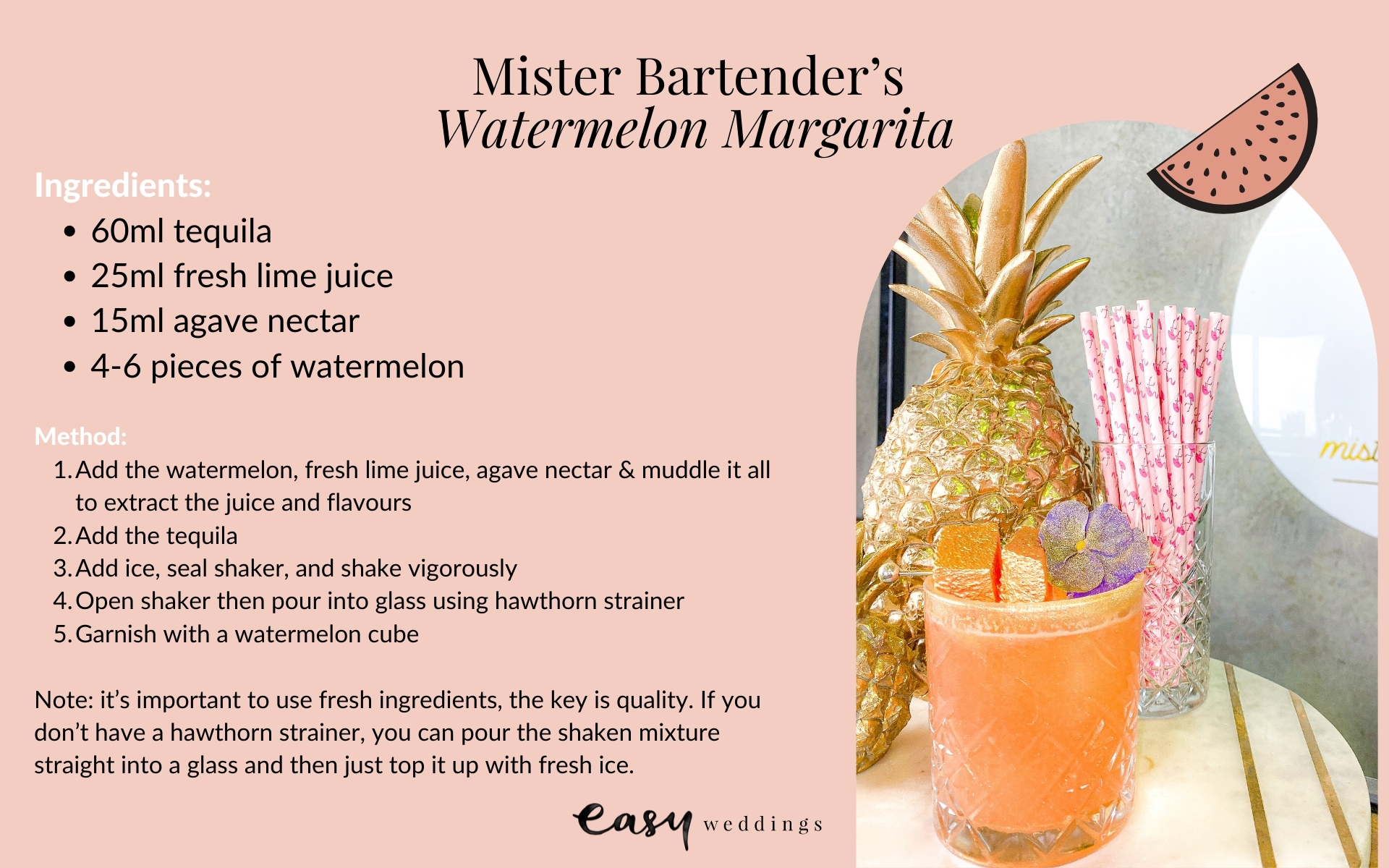 View Mister Bartender
What's your most popular wedding cocktail/mocktail?
"Without a doubt, the most popular cocktail at a wedding is an Espresso Martini – they are on almost every One of our signature gin cocktails is also one of our most popular mocktail recipes! It is called the Elderflower & Vin (named after our caravan, Vinnie)."
What's trending in cocktails/mocktails for 2021?
"Rums and spiced rums, in particular, are definitely trending. Aperol Spritz has also been quite popular this season, as well as the Dark & Stormy (spiced rum and ginger beer with a bit of lime). Gin was very popular in 2020, but we've seen a decline in gin requests so far this year."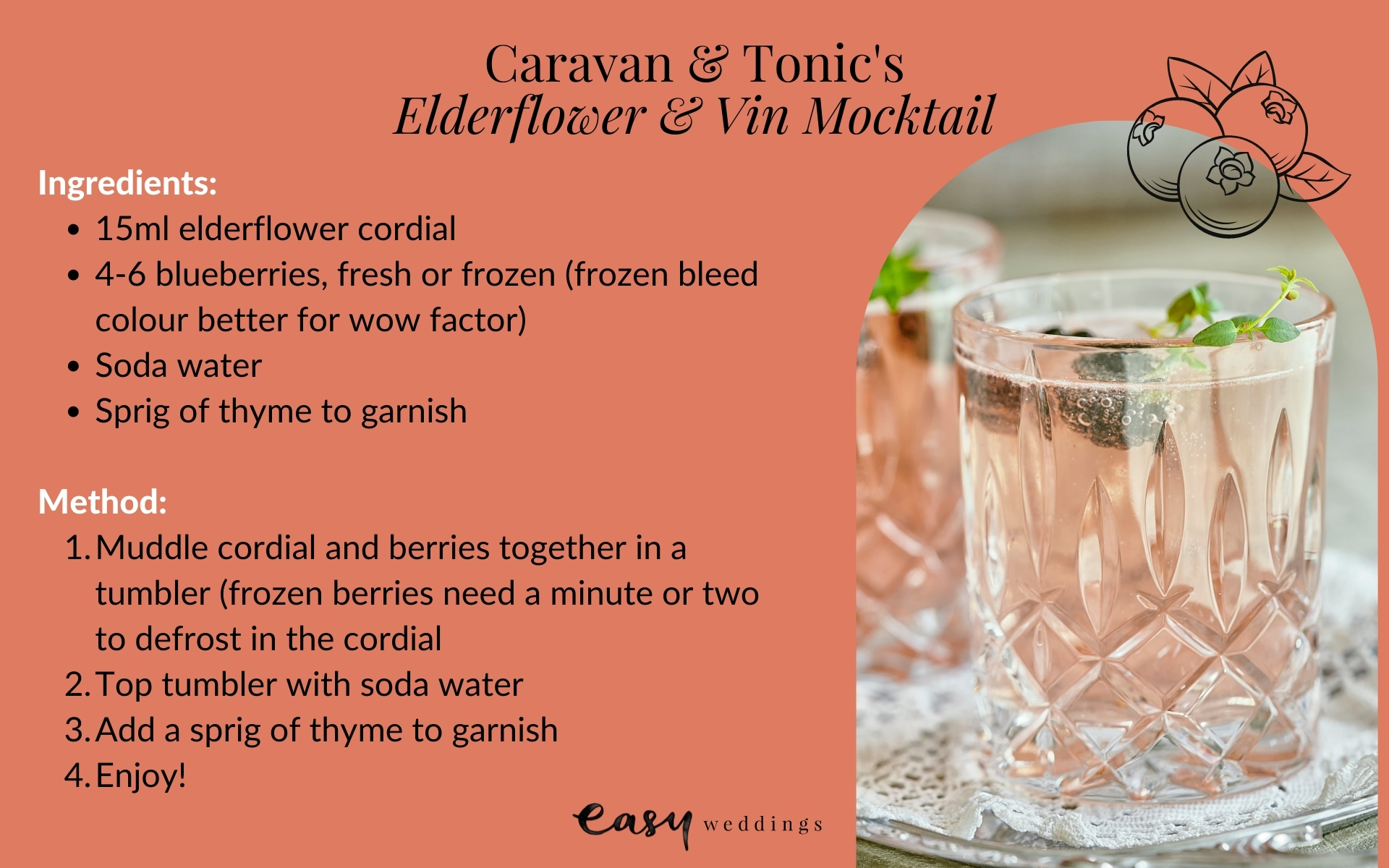 What cocktail trends are you seeing for 2021?
"Cocktail trends for 2021 so far have been in favour of low calorie. This has led to our clients favouring cocktails on arrival and then having a more premium selection of vodkas and gins behind the bar so everyone can enjoy the trusty vodka lime sodas or gin and tonics all night long, waking up the next morning not regretting the previous-selves decisions."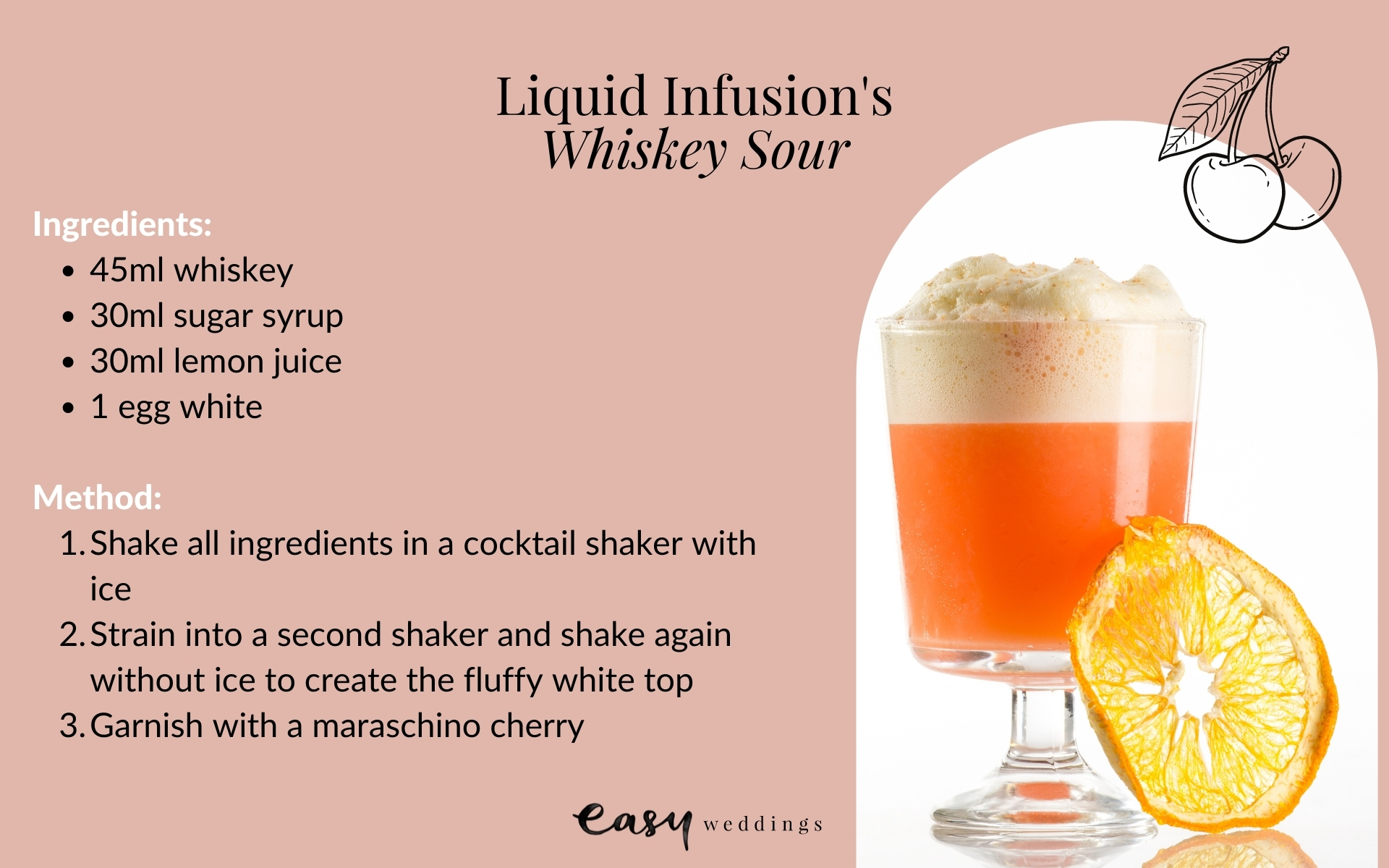 View Liquid Infusion
What's your most popular wedding cocktail/mocktail?
"Most popular of our Foxtails are definitely our Espresso Martini. Our espresso is made by infusing organic ground coffee in our organic vodka base accompanied by real cocoa nibs, real vanilla beans with a hint of ground hazelnut."
What cocktail trends are you seeing for 2021?
"Palates are definitely getting more complex, with an emergence in bittersweet amaro cocktails which are perfect for winter. Amaro is Italian for 'bitter' and refers to the herbal infusion of up to 20 botanicals to create a bittersweet liqueur."

View Foxtails