Whether or not you need to book a wedding caterer depends very much on your choice of reception venue. Many venues have their own caterers, or insist on you using their preferred suppliers, so you may not have much choice. Even if this is the case you should check out the venue caterer to make sure they can provide the service you want. Catering can make or break your choice of venue.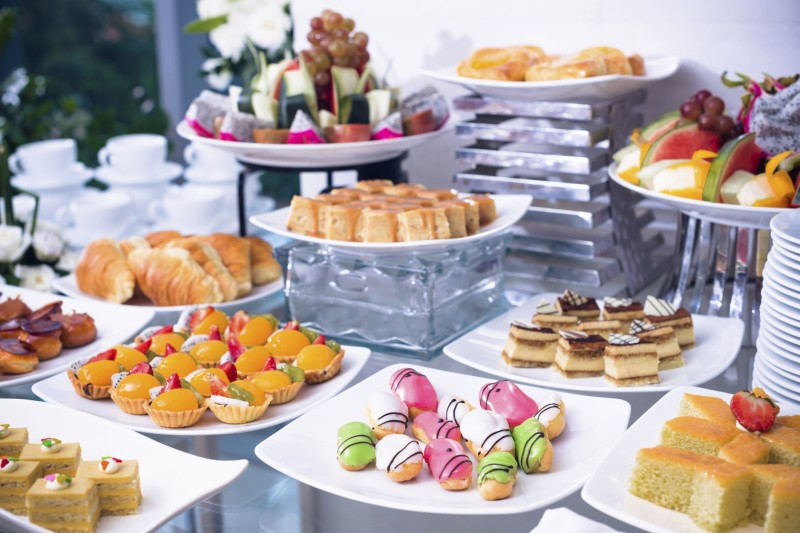 You may be tempted to self-cater rather than hiring professional wedding caterers to reduce wedding costs. While this is certainly an option, it doesn't usually work out very well as you are too busy worrying about the catering arrangements and don't have time to relax and mingle with your guests or really enjoy your day.
Choosing a wedding caterer
Nothing makes a wedding memorable like good food, and you want your guests feeling full and satisfied at the end of the evening, rather than wondering whether they can get take-away on the way home. Here are a few things you should bear in mind when you're hiring a wedding caterer.
Decide as a couple what type of menu you want before you look for caterers. A formal wedding may warrant a sit down dinner with several courses, or you may prefer a simple buffet. For informal outdoor weddings a BBQ or spit roast can be a good option.If you are having a home based wedding you will need a mobile caterer.
When you meet with caterers ask for references that you can call for a chat, and ask whether it is possible to arrange to sample the foods on the menu. A good caterer should be happy to set up a tasting session for you.
If there are any particular dishes that you love as a couple and want to include in your wedding menu, your caterer should be accommodating and willing to adapt to these. They should also suggest ways in which the rest of the menu can be amended to complement these dishes.
Find out the type of crockery and cutlery the caterer will be using to be sure that it goes with the overall theme and look of your wedding. Confirm the type of service, especially if it is a formal sit down meal. Will the waiters and waitresses be trained in silver service, and will they be dressed in an appropriate way for your wedding?
Check whether caterers can accommodate special dietary needs such as vegetarians and food intolerances or allergies. As well as being able to provide dishes that don't include certain ingredients, they should be able to tell you what measures they take to avoid cross contamination via cooking utensils.
When to book your wedding caterers
If you are booking independent wedding caterers you will need to do so twelve to eighteen months before the wedding, around the same time as you book the reception venue. You should meet with them again four to five months before the big day to confirm final details.

Trends in wedding catering
Popular wedding foods tend to change with the seasons. While most caterers will recommend salads and light dishes for a mid summer wedding, heartier dishes are usually served at an autumn or winter wedding.
Seafood dishes and soups are tending to replace salads as popular starters. Smoked salmon and fish mousse are good options. If you do want to stick with salad, it should include rich elements such as nuts and cheese, and if possible should be served with soup as well.
When it comes to main course dishes, keeping it simple with basic roast chicken, steak or salmon will always make your guests happy. More unusual meats like lamb or veal are also popular at the moment. If you have a special signature dish that your caterer can cook, the main course is the time to showcase it.
In recent years desserts have been flamboyant affairs, with most couples offering guests a wide selection of sickly sweet options to choose from. Desserts are becoming more subtle, however, and are seeing a return to traditional dishes. If you want something sophisticated, dessert trios consisting of three miniature desserts are a very popular option.
For a really contemporary twist, strolling receptions where guests move between a number of food stations serving different types of dishes are very fashionable. You can include foods from many different countries, specialities such as sushi, and whole stations dedicated to sticky desserts or tropical cocktails.
---
80% of Australian couples use Easy Weddings to connect with their dream wedding suppliers.
Browse the directory and start planning today!