Sweet-toothed people, get excited… Wedding candy buffets are back! Yes, one of the hottest wedding trends from a few years back appears to be making a come back – and, we're just a little thrilled to re-introduce them to a new generation of brides.
What is a candy buffet?
A candy buffet is a stylised table showcasing a vast array of jars and platters filled with sweets and lollies. They're a smorgasbord of sugary delights and, with all the colours and textures, sizes and shapes, they can also be a feast for the eyes.
"When wedding guests see candy buffets, you'd be amazed at how many of them transform into being kids again – complete with the squeals of delight," says Jonathan Dee, a Director of UK-based Swizzels Matlow, which makes the iconic Love Hearts sweets.
When choosing what sweets to include in their candy buffets, couples have no shortage of options "but many go down a nostalgic route," adds Jonathan. "They'll choose sweets that mean something to them, perhaps lollies associated with a childhood memory.
"Alternatively they prefer to opt for a candy buffet bursting with colours or, perhaps, they may even go for a single-colour theme, which can be very impactful.
"They can include anything from personalised 'Just Married' Love Hearts to Wine Gummies and Refreshers or Fruity Pops, Bon Bons and Fizzers ," he says.
Candy buffets can be formal, frugal, delightful or whimsical. It all depends on the sweet tooth of the couple marrying.
Image: Love Hearts
Why would I have one?
Candy buffet's remain a popular dessert alternative at weddings for a number of reasons: "Aside from the fact they offer a colourful visual delight at your wedding reception," says Jonathan, "they can also be an economical way to to add a little extra personality to your celebrations – and they provide an abundance of sweet options for your guests."
The visual spectacle created by an elegantly built candy buffet also provides a delicious backdrop for wedding cakes (and makes for gorgeous photos) and is an unexpected treat for your guests.
What can I include in my candy buffet?
One of the great things about candy buffets is they can be made up of anything you like! It just comes down to personal taste. Common candy buffets might include a mixture of hard and soft lollies, cupcakes, chocolates and anything in between!
Of course, a bonus of having a candy table is that your guests can enjoy sweet treats during the festivities and also take a bag home for later.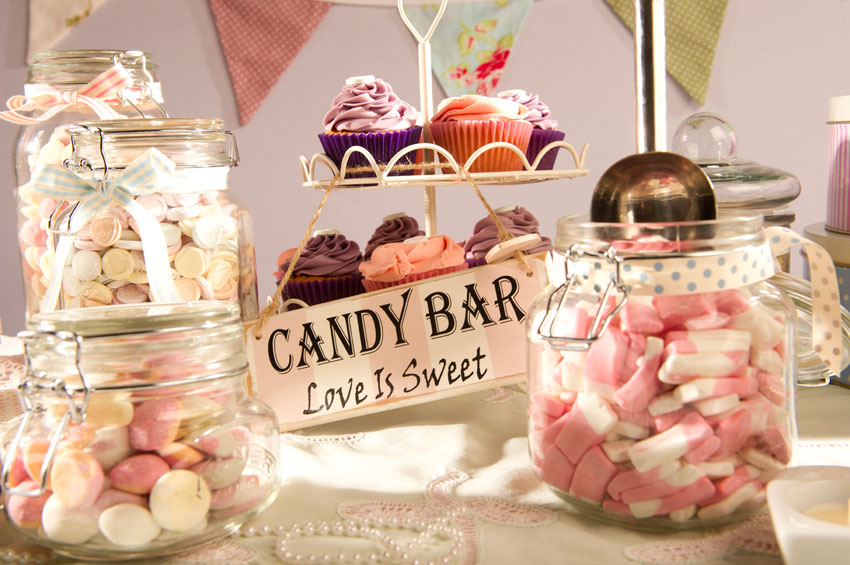 Oh, so sweet bomboniere
Picking bomboniere that all your guests will love an be a tricky task, however, it's difficult to go wrong with sweets, which can appeal to a range of ages and can, sometimes, offer a little sentimental value by reminding people of fond childhood memories. Some confectionery places offer personalised sweet wrappers, ideal for wedding favours.
Candy buffets are a great addition to any wedding table as they are affordable, fun and nostalgic. What better what to celebrate your sweet love than with sweets!