The ancient front doors at Villa Botanica were hand-carved in India and were originally built to allow elephants through. Image: Iconic Bride Photography
After being ripped from his idyllic tropical home in New Caledonia and sent to boarding school in NSW's comparatively dreary Southern Highlands, Ralph Hogan sought comfort in his simple daydream: that he would one day meet a princess and build her a castle in which they could both live happily ever after. Of course, he never expected it to happen, but it did – two decades later. Thus, the idyllic Villa Botanica weddings was born!
It was in February 1980 that Ralph, now a hot-shot Sydney restaurateur, bumped into Janet Scrivener, the lovely and 'angelic' looking daughter of a competing restaurant owner – and it was love at first sight.
Ralph and Janet Hogan on their wedding day on December 8, 1984
Fast forward to 2014 and Ralph, now 64, and his princess Janet, 53, have been married for 29 years – and, between having three lovely daughters and running several successful businesses, Ralph built Janet that castle.[ew-supplier-carousel]
It's called Villa Botanica, a sprawling, other-wordly 5.2-acre estate located near Airlie beach in Queensland's tropical Whitsundays.
Though they now live in Bali, Villa Botanica was Ralph and Janet's home for nine years, five of which they spent turning the originally barren and granite-filled land into a remarkable place that has been described by several travel magazines as one of Australia's most romantic venues, but also one of our most exquisite.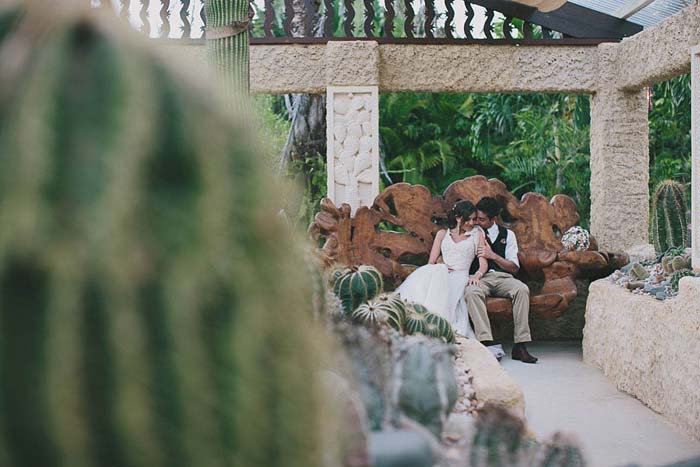 Today, it remains a weddings-only venue and was dubbed 'Heaven on Earth' by Better Homes and Gardens, so it's hardly surprising that Queensland's exquisite Villa Botanica only has few dates left for 2018.
"Villa Botanica wasn't originally created as a commercial venture, it was created as our home," says Janet, a life-long traveler who has filled each room with one-off pieces from across the world.
"So, there is an attention to detail and love that you would never find in a place built purely to host events. We hand picked every plant, every tile, every architrave, even every door handle."
And it shows.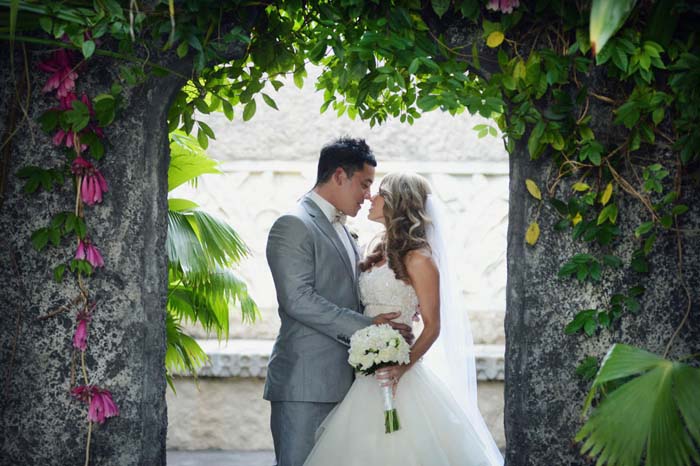 Aside from the spectacular views of the Coral Sea's crystal blue waters and direct views of Hayman Island, the house itself is magnificently unique because most everything comes from somewhere else – and it's all handmade, from the aquarium and ancient hand-carved door, originally used in India to allow elephants into a village, to a cactarium jam packed with hundreds of cacti, common and rare, from across the globe and a 1.3 tonne granite bathtub that was so big, the roof had to be removed to allow it into the house.
"We thought long and hard before turning our home into a venue,'' adds Ralph who designed the award-winning estate's spectacular gardens himself, despite no formal training.
"It's so special and means so much to us, we only wanted to open it up to others who would 'get that', and what is more special than a wedding?
"My parents were divorced, and Janet and I really value the institution of marriage, so the thought that the home we built so lovingly over so many happy years of marriage has become a place others can start their own married lives brings us joy every single day," he adds.
Villa Botanica is filled with all sorts of marvelous nooks, crannies and photo opportunities you won't find elsewhere.  Image: Iconic Bride Photography
All Villa Botanica wedding days are built around a journey, which starts at an ancient elephant doors. As each stage of the wedding progresses, the couple and their guest move through the venue and gardens and each step is designed to provide a picture perfect backdrop for wedding photos.
"The whole process mimics a journey, similar to the one the couple are about to embark on together," says Ralph.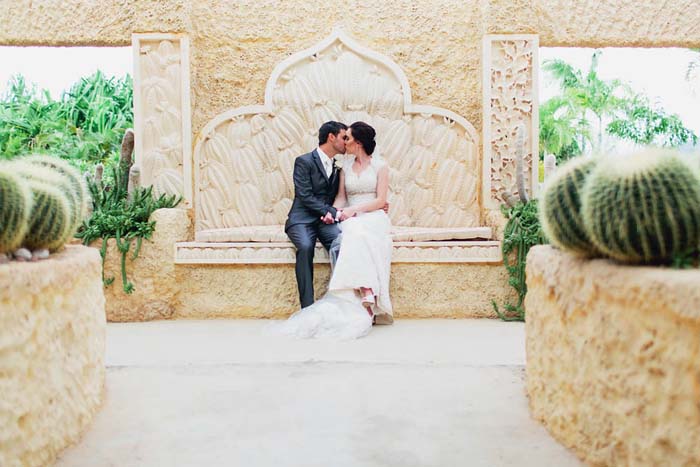 "I built the gardens in accordance with the running of a wedding ceremony. The actual wedding ceremony is the most important part of the wedding, so the bride starts her journey at the top of the sandstone stairs flanked by tropical greenery before descending into a sunken garden."
She then walks through a massive ceremonial arch and, when she steps through the archway, it opens up to a private seaside garden and the hand-carved ceremonial pavilion where her friends, her family and her groom are waiting.
"There are no strangers watching from afar, just a warm and intimate space where the couple and their nearest and dearest can enjoy one of the most important moments of their lives privately, surrounded by nature and beauty and family and friends," adds Ralph.
After the ceremony, the couple and their guests are walked through the gardens and up to the elevated sea deck where they enjoy cocktails and an uninterrupted view of the Coral Sea, as we well as the twinkling lights of Airlie Beach and the marina.
It truly is breathtaking and, the best bit is, nobody is allowed to see the next spot in the reception journey until the moment arrives to move on.
"It provide a lovely sense of discovery for the couple and, throughout the day, they move through different spaces which are designed for photo opportunities, including a frog pond, the cactarium, an aquarium, a palm forest and, of course, the spectacular foreshore, complete with giant black granite boulders," says Ralph.
The day starts at 9am in the Bridal Villa with hair, make up and massages for the girls, while the boys get ready at a nearby resort.
Lunch is provided before the couple head off for pre-wedding photos and vows are exchanged at 3pm before the sunset cocktails, which kicks off a night of festivities. When it's all over, the couple are whisked away to their own private villa to spend their first night together as a married couple.
"I built Villa Botanica as a testament to my muse, Janet," says Ralph. "All these years later, she's still my princess and nothing makes me happier than knowing that every single weekend, someone else gets to honour their own princess in the castle I built for mine."