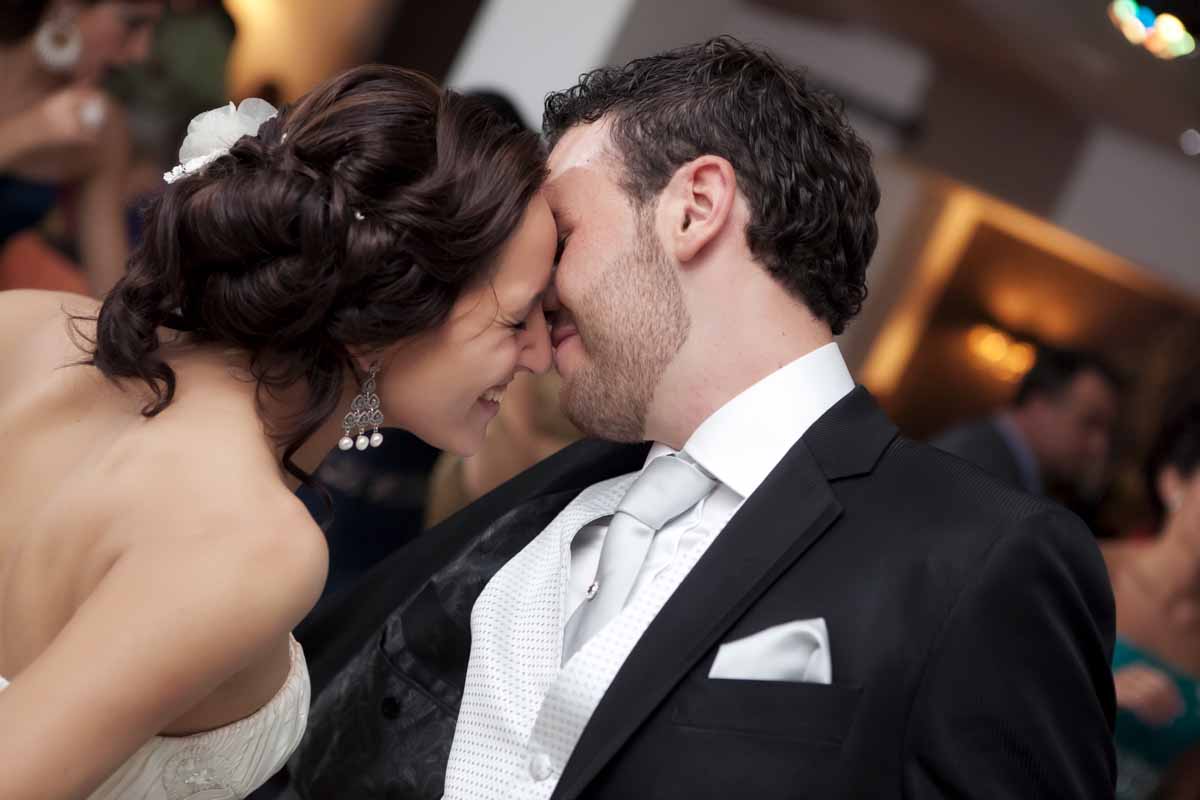 The vows have been exchanged, the toasts have been made and it's almost time for the bride and groom to grab a little time alone. In fact, there's just one more thing to do – the last dance. But, rather than fading off quietly, we say it's the perfect time for one last great surge of rhythm and energy. Here's 10 top modern songs to get people in the mood…
Live Louder
Some people – OK just us – discovered this song when it was used to promote reality TV show Dancing with the Stars. And when you think about it, there's no better endorsement for a would-be wedding boogie. It's hip, it's catchy and Nathaniel uses a lot of "na na na na na nas", which is very handy for anyone who likes to sing along as they dance.
Party Rock Anthem
We have a confession to make – this is another tune that boasts links to reality television (in this case the ratings juggernaut that is Big Brother). But there's a good reason why they picked it up in the first place – an ultra catchy beat courtesy of Redfoo's LMFAO that almost begs the toes to tap. Cut loose!
Raise Your Glass
Aussies absolutely adore Pink, and her discography offers the perfect way to kickstart a night of fun through an anthem such as True Love. Fast forward a few hours and she can also then bookend the celebrations with the equally catchy Raise Your Glass, accompanied by an invitation for guests to enjoy one final toast or tipple in the presence of the bride and groom
Shake It Off
Baby, I'm just gonna shake, shake, shake, shake, shake, I shake it off, I shake it off. … Sorry, we got caught up for a minute there. That's how catchy Taylor Swift's latest upbeat anthem is. It's partly her way of having a dig at critics (and maybe ex-boyfriends) but in true style she's done it in such a way that everyone can enjoy the moment.
Uptown Funk
Bruno Mars has more than one song which almost seems like it was written specifically for a wedding. Think singles such as Marry You or Just The Way You Are. Throw DJ Mark Ronson into the mix here, and the combination has produced an incredibly funky song that wedding bands and DJs alike agree is guaranteed to get all ages on the dance floor.
Don't Stop Believing
OK, we're going to slightly amend the definition of 'modern' here to mean 'not classical'. And you'll want to thank us, because this Journey classic is one of THE best songs for packing a dancefloor. Because, let's face it, who doesn want to hold on to that feelin' as a wonderful day comes to an end.
(I've Had) The Time Of My Life
Again, this may not qualify as overly "modern", but if ever a song was made to bring together the last moments of a wedding, this is it. Even if you're not up to doing "the lift", it's still an epic romantic ballad – and a very danceable tune – on which to farewell friends and relatives and sweep out the door.
Get Lucky
We almost couldn't recommend this one as a last song, because it's just so good it will inspire people to want to dance on for hours. Which they are welcome to do … at the local nightclub after the reception. There's very little by way of deep and meaningful lyrics, but there is rocking guitar by Nile Rodgers and vocals by Pharrell. Enough said.
DJ Got Us Fallin' in Love
If there's one thing Usher (with a little help from Pitbull) has always known how to do incredibly well, it's get people out of their seats, so he's the absolute perfect person to hand the final song of the night to. On a similar upbeat note, you could try Australia's own Guy Sebastian with Who's That Girl.
Everything
What would a list of wedding songs be without the king of croon? And Michael Buble's in great form here, with a song that is equal parts enticing, all-ages and full of great swing. Plus, in true form, it nicely sets the mood for romance, not only for the bride and groom, but also for their guests.
Searching for the perfect soundtrack to your wedding? Find the best wedding bands, DJs and singers here.