For your wedding music, you want something that has meaning for the two of you, and won't make you cringe in a few years from now. Here are our tips on choosing your songs, and choosing your entertainment at the wedding reception.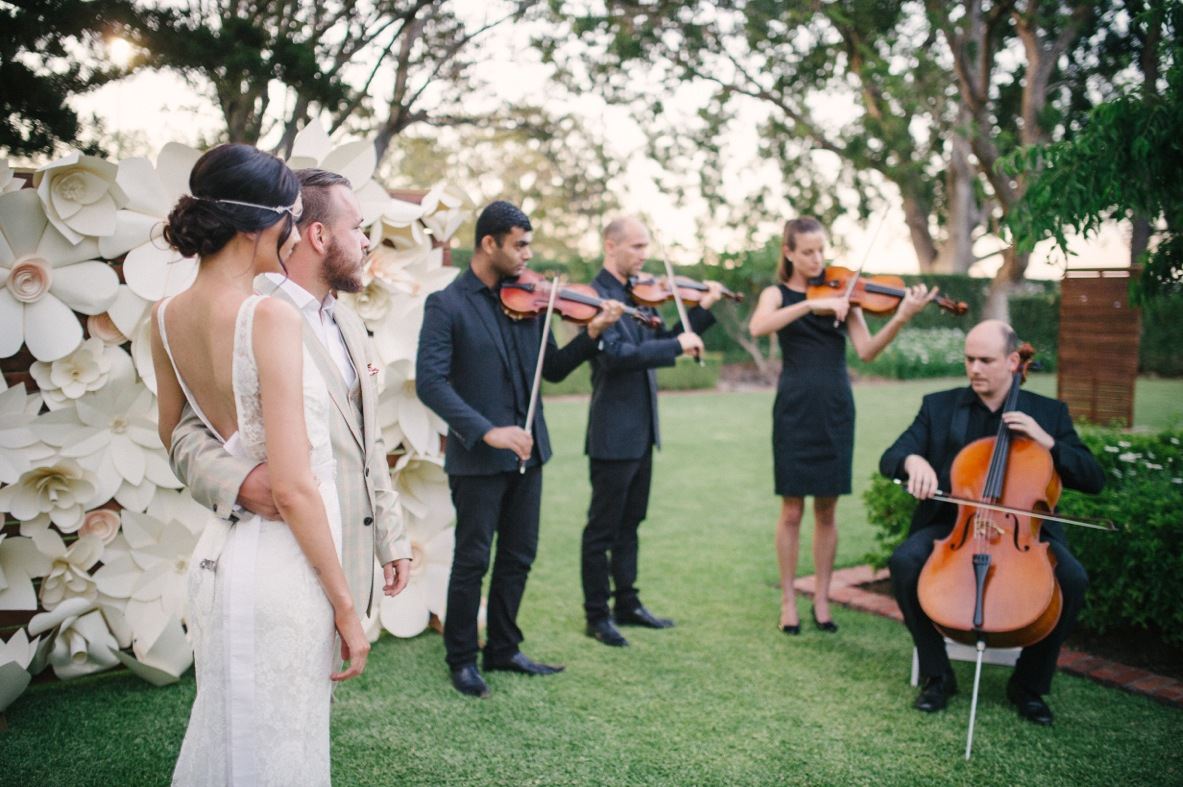 The basics:
You will need a few key songs, regardless of whether they are played by a band, a DJ or a string quartet. These are the processional, recessional and the first dance song (if you're having one). It's also wise to pick a few songs for while the papers are being signed and during the pre-ceremony time. Those are the key songs that you will need, but, ideally, you want music playing in the background from the time your guests arrive at the venue until it's time to grab an Uber home. Think more chilled out music while they are arriving, not too loud, so that people can chit chat and enjoy the pre-wedding vibes. Eventually, the tempo should rise, after the ceremony is over and the dancing shoes are on.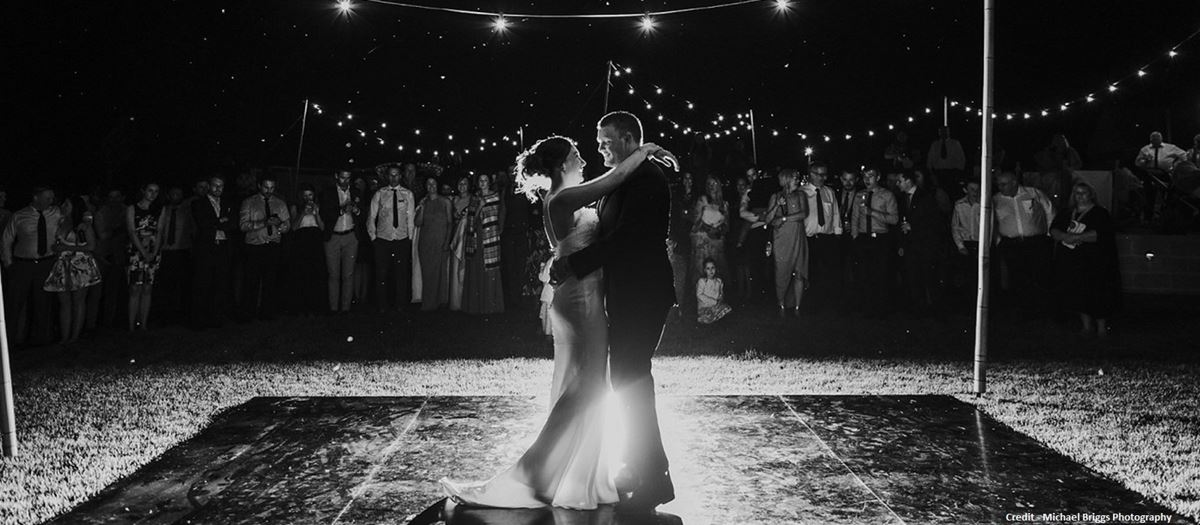 But, what even is a processional?
The processional song is what plays as the wedding party walks down the aisle. Typically, it's Canon in D by Pachelbel or Bridal Chorus by Wagner, but its' extremely popular for couples to choose songs that are meaningful to them in these modern times. For example, "A thousand years" by Christina Perri is extremely popular and a beautifully heartfelt song. In the end, this is going to be the moment you remember walking into the room yourself or having your partner walk in and becoming a married couple. So pick a good one!
A few more modern ideas for your processional include:
First Day Of My Life by Bright Eyes
Lay Me Down by Sam Smith
Young & Beautiful by Lana Del Rey
Tenerife Sea by Ed Sheeran
Flightless Bird, American Mouth by Iron & Wine
Skinny Love by Bon Iver
Kissing You by Des'ree
How Long Will I Love You by Ellie Goulding
Higher Love by James Vincent McMorrow
Make You Feel My Love by Adele
Hymn For The Weekend by Coldplay
I Was Married by Tegan and Sara
Magic by Colbie Caillat
There Will Be Time by Baaba Maal + Mumford and Sons
Real Bride Shann tells us why she chose her processional song:
"We chose Tenerife Sea by Ed Sheeran, because Ed Sheeran is the ONLY artist that Brad and I both like. It was also our first concert together. Plus, it's a beautiful song!"
So, it's best to choose something that has meaning for both of you, as this song will trigger memories of this day for the rest of your lives! This is a choice that you should be making together, as a team.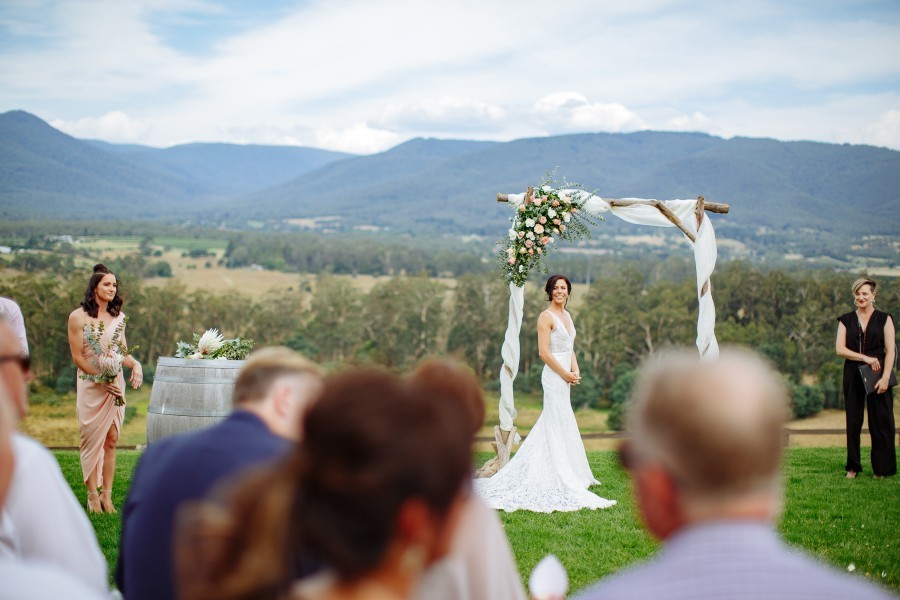 And also what is a recessional? Sounds like the economy is not going so well
No, not a RECESSION! A recessional is when you walk out of the area where you got married, back down the aisle past your guests and people throw rice at you (it's meant to be nice and not like a food fight at all). Alternatives to rice include: blowing bubbles, potpourri,  party poppers, rose petals, confetti and anything else that is incredibly difficult to pick up off of the ground.
For your recessional, you want something fun, happy and upbeat to celebrate this new moment as a married couple! You just got hitched, it's kind of a big deal. So choose something celebratory and savour the moment!
A few more modern ideas for your recessional include:
On Top of the World by Imagine Dragons
Crazy in Love by Beyoncé and Jay Z
Best Day of My Life by American Authors
Happy by Pharrell Williams
Dog Days Are Over by Florence + the Machine
You Give Me Something by James Morrison
L-O-V-E By Joss Stone
Skinny Love by Bon Iver
Riptide by Vance Joy
Mirrors by Justin Timberlake
Love on Top by Beyonce
Sugar by Maroon 5
Feeling Good by Michael Buble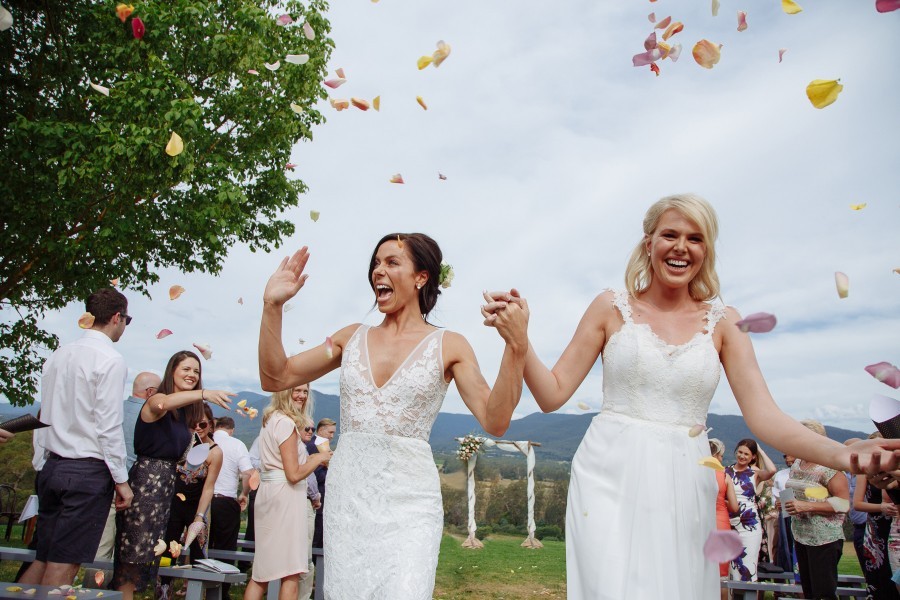 Our advice on creating the ideal wedding soundtrack:
What we recommend is having a spotify playlist each, and adding songs that mean something to you as you come across them. Then, once you've got quite the list together, you can sit together and consider where would be the most appropriate time to play each song. Any songs that don't make the cut for the processional, signing of the papers, first dance and recessional could be played at your reception to get people onto the dance floor.
Types of wedding music:
DJ's:
For those who really enjoy progressively upping the tempo as the night goes on, a DJ is ideal. They can arrange for dinner appropriate music through to music perfect for the early hours of the morning. Plus, many of them will take requests from your guests!

Bands:
Bands are sure to get people onto the dance floor, playing modern hits and old classics. The magic that they create on stage will create a focal point for the duration of the reception. And many wedding bands are happy to work with you to create the perfect set-list for your wedding, incorporating your "must have" songs onto the list.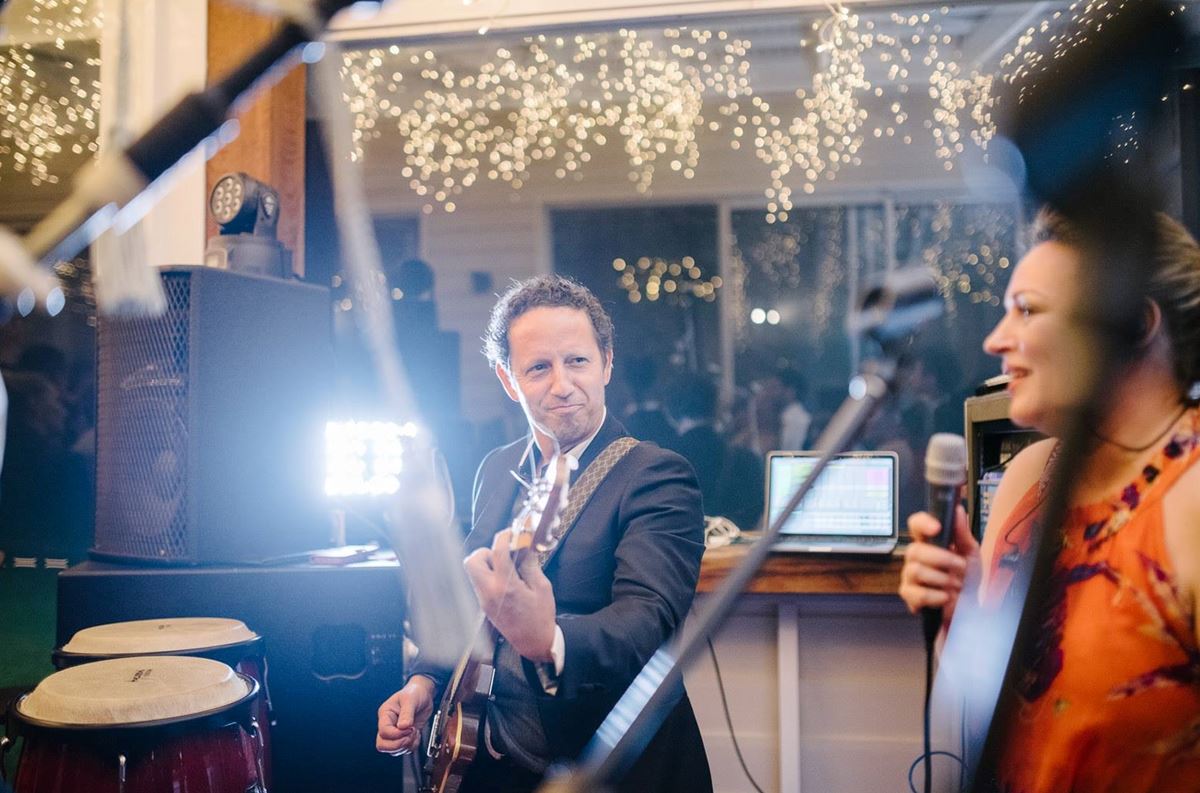 Something else:
There are so many options, from string quartets to acoustic duos, to hybrid DJ/musician combinations. You will find everything you could possibly imagine on our directory. We even have undercover entertainers that will surprise and delight your guests!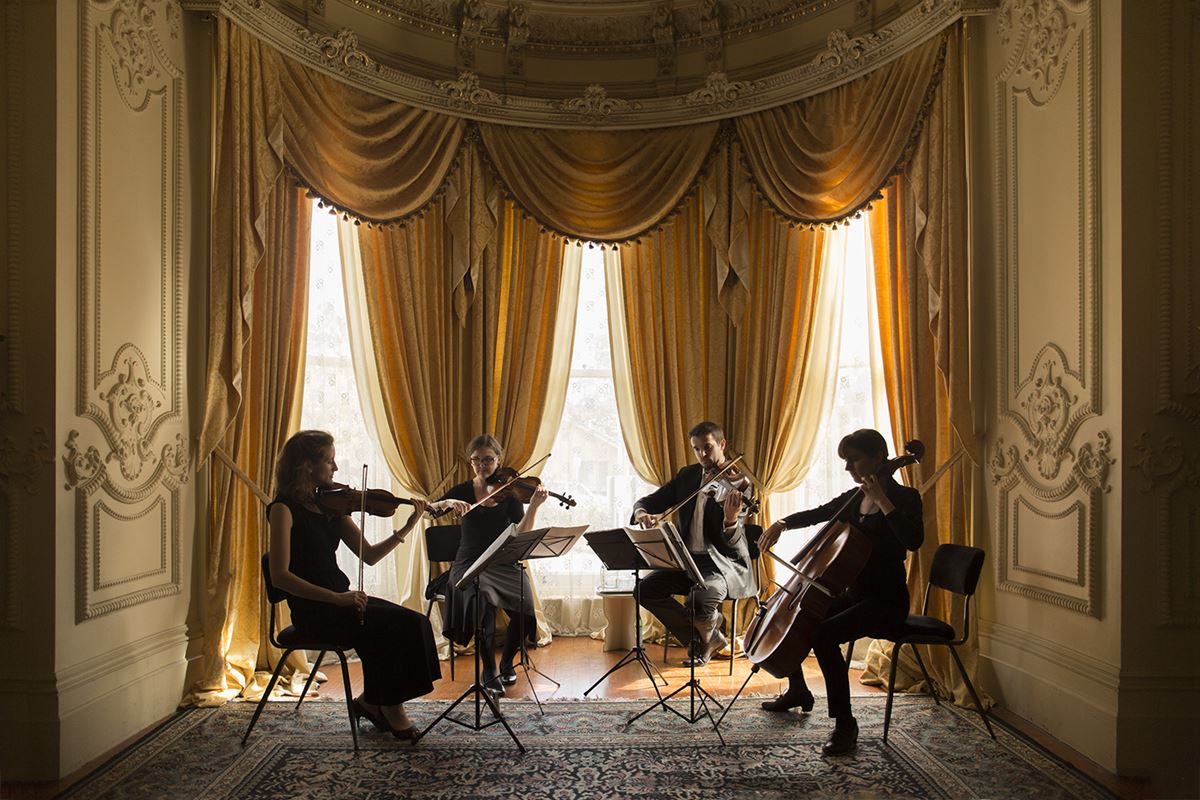 The fine print:
Some musicians will have minimum time or fee, especially on weekends or in peak seasons. So it may not be worthwhile to have 3 different acts play for one hour each. It would be better to get one person or company to cover the whole time., or have two acts, one for the guest's arrival and the ceremony, and another for when it's time to hit the dancefloor.